Leeds International Film Festival 2021: the conundrum of how to end a film.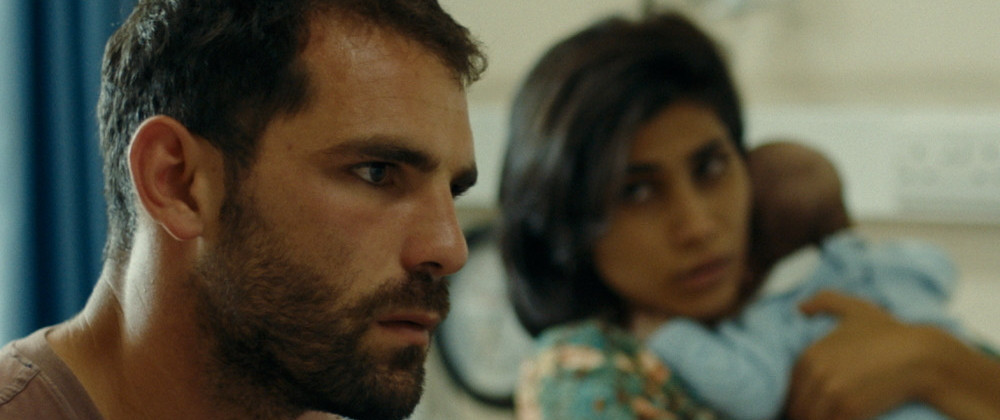 After last year's hiatus, the film festival is back as a feature of the Leeds calendar. The difference is that two regular venues are closed for renovation. These are the town hall (modifying that cavernous acoustic would make it more suitable for screenings) and the historic Hyde Park Picture House.
Those who battled the Byzantine and chaotic booking system and won were treated to an eclectic array of films including forty-two features in the Official Selection strand, seventeen of which were by debut directors. Complementing these were twenty-seven documentaries and the popular Fanomenon strand embracing fantasy, horror, sci-fi and animé. In addition there were programmes of short films and a small but carefully curated collection of retrospectives on Kafkaesque cinema, films based on Stanislaw Lem's writings and a selection of classics from the British Film Institute's Japan 2021 touring programme. I tried to see as many films in the Official Selection as possible. These were mainly 2021 releases, but they were likely to have been shot before lockdowns disrupted filming.
Fabian – Going to the Dogs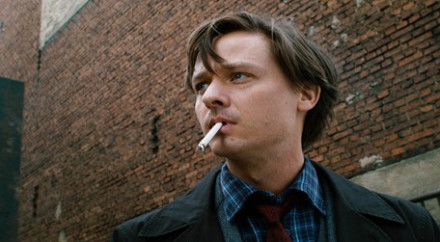 Fabian – Going to the Dogs (Dominik Graf, Germany, 2021) is adapted from Erich Cästner's 1931 novel Fabian Die Geschichte Eines Moralisten, which is little known in English-speaking countries and translates as Fabian, The Story of a Moralist. This suggests something less hedonistic than Graf's treatment. The film begins with a shot of passengers in a present-day underground station, which morphs into the station as it was ninety years ago in the dying days of the Weimar Republic. The camera lingers on posters proclaiming the Third Reich. As Graf explains in an interview with Variety quoted in the festival catalogue: 'The turbo-capitalist economic structures in Germany have become fully and openly totalitarian since 1990. The internal structures of the state have largely decayed. We are once again going to the dogs.' This manifesto makes his aim of drawing parallels between the two periods explicit. Whether he is successful in his aim can be debated.
Graf's protagonist is Jakob Fabian (Tom Schilling). He embarks on a passionate affair with Cornelia (Saskia Rosendahl), who works in a cabaret. Cornelia has her own dreams of becoming an actress or a lawyer. Her fortunes rise when she is taken under the wing of a famous director, while Jakob becomes penniless. His university friend the upper-middle-class Stephan Labude (Albrecht Schuch) is a left-wing agitator, which puts him at odds with the prevailing political tide. Things end badly. This world is familiar to English-speaking readers from Christopher Isherwood's Berlin Stories,(1945), but Cästner was not writing with the benefit of hindsight. Graf begins with a breathless array of cinematic techniques, but settles for a more conventional approach as the story unfolds. The intrusive stylistic tricks are more confusing than illuminating in establishing the period, while Fabian would not look out of place in today's world: his clothes and hairstyle are never quite right despite glimpses of 1920s cars to establish the period. This is revisiting old ground without adding anything new. Every country has dark corners in its history and elaborates myths. An issue that deserves attention is whether we have created a myth of the decadent Weimar years as being ripe for cleansing. Graf accepts the premise without question.
Great Freedom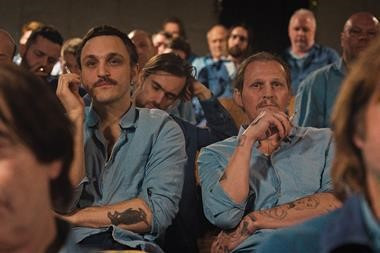 A similar blurring of periods mars Great Freedom (Sebastian Meise, Austria/Germany, 2021), which switches between 1945, 1957 and 1969. Homosexuality was criminalised in the Nazi era and remained so under Paragraph 175 of the German Penal Code until 1969. Meise follows the experiences of Hans (Franz Rogowski), who in 1969 is released from prison and becomes overwhelmed by his new-found freedom. Spells in solitary confinement and darkness mark the transition between periods. If you are unaware of this, the film loses coherence, though you might wonder why Hans's moustache keeps disappearing.
Petite Maman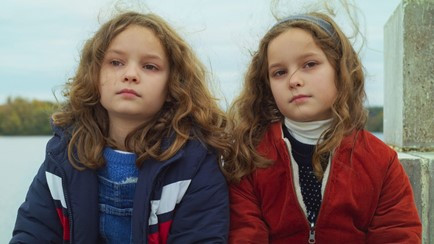 Petite Maman (Céline Sciamma, France, 2021) follows the adventures of eight-year-old Nelly (Joséphine Sanz), who goes with her mother to clear the house of her deceased grandmother. In the woods she meets Marion (Gabrielle Sanz) and the two girls become friends. They go to Marion's house, which appears to be identical to that of Nelly's grandmother. Sciamma has claimed that she designed the film as a therapeutic tool and that French cinema is stuck in the mud (Observer New Review). The increasing prominence of female directors is to be welcomed,, but the notion of film as therapeutic tool does not bode well: audiences do not go to the cinema for therapy. It is an interesting notion to consider the mother as the same age as her daughter, but the result is whimsical and inconsequential. Sciamma might want to break away from the typical French art film, but this is a characteristic upper-middle-class drama, where nothing too nasty happens.
Paris, 13th District
Sciamma was involved in the scripting Paris, 13th District (Jacques Audiard, France, 2021), which offers a different style of filmmaking. Adapted from stories by graphic artist Adrian Tomine, the film follows the intertwining lives of three young people. Emilie (Lucie Zhang) advertises a room to let. To her surprise teacher and prospective tenant Camille (Makita Samba) is male. They become lovers on their first encounter, but with no commitments on either side. Nora (Noémie Merlant) is a law student, who dons a wig and is mistaken for chat-line worker Amber (Jehnny Beth), who becomes her friend. When Camille stands in as manager of an estate agency, Nora abandons her course to work for him and inevitably their relationship becomes intimate. If the film offers no surprises, it has a vibrancy in its portrayal of big city life that holds the attention.
Playground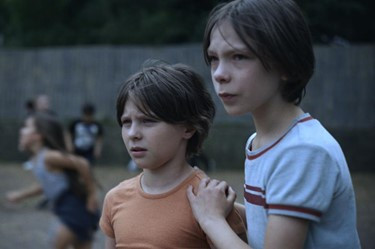 Playground (Laura Wandel, Belgium, 2021) won the First Feature Competition at the London Film Festival. 7-year-old Nora (Maya Vanderbeque) is facing her first day at school. She witnesses the bullying of her older brother Abel (Günter Duret), but when she tells their father, his intervention leads to Abel becoming one of the bullies. The playground is presented as a place of violence and conflict, the placing of the camera at child's-eye level emphasising that this is a world where teachers play a marginal role. Playground is a film about growing up and learning to negotiate the outside world. There are rules, but Nora discovers that not everyone plays by them. School bullying has been examined in Mark Waters' Mean Girls (2004) among many examples. This film adds little to the subject.
Mothering Sunday
Mothering Sunday (Eva Husson, UK, 2021) is another excursion into the world of the English ruling classes and like many films of its kind set in the early twentieth century from The Go-Between (Joseph Losey, 1971) to The Remains of the Day (James Ivory, 1993), war casts a pall over the proceedings. On mothering Sunday in 1924 the Nivens (Colin Firth and Olivia Colman) lunch with their neighbours the Sheringhams. Both families lost sons in the war. The only survivor among the young men and the person absent from the lunch is Paul (Josh O'Connor), the fiancé of the Sheringhams' daughter. He spends the morning with the Nivens' maid, the budding bibliophile Jane (Odessa Young). He is driving to the lunch when his car crashes and he is killed. French director Husson follows Losey and Ivory in taking an outsider's view of the English class system, but without the forensic approach needed. Subtle class differences between the Sheringhams and the Nivens remain unexplored, while Olivia Colman is underused. Jane appears in the film's final minutes as an elderly and distinguished novelist. This adds nothing to the story, but provides a cameo role for Glenda Jackson.
Banquet
A Banquet (Ruth Paxton, UK, 2021) was screened in the Fanomenon strand, which has the effect of preparing audiences for a film with fantasy elements. Holly (Sienna Guillory) is struggling to bring up two teenage daughters after her husband's suicide as an escape from terminal illness. Her older daughter Betsey (Jessica Alexander) goes to a party and after a walk in the woods she changes, seemingly controlled by some higher power, though cocaine provided by her boyfriend might have something to do with it. Food nauseates her. Holly's mother Jane (a scene-stealing Lindsay Duncan) sides with her against Holly's robust approach. Betsey's weight remains unchanged despite not eating, though as the scales are fixed at nine stone, that is not surprising. The film strives for a supernatural explanation, but there are mundane factors to account for her anorexia and the treatment regimens are sidelined. The film is more interesting as a study of three generations of women trying to cope with a sudden death. Whatever the emotional angst on display, shortage of money is never a problem. Transposed from well-heeled London to a council estate in Bradford, how would Betsey's problems be portrayed? Let Clio Barnard take up the challenge.
Întregalde
Întregalde (Radu Muntean, Romania, 2021) follows a group of well-meaning volunteers, who are delivering Christmas food parcels in rural Romania. One party gives a lift to a local man, Kente Aron (Luca Sabin), who directs them along an unmade road, where their SUV gets stuck in the mud. It is winter and darkness is coming. This is the familiar cinematic device of a group of people becoming isolated from society and thrown back on their own resources, which is when tensions become apparent. There is an external threat in this case from two Romany men. Roma are the perennial outsiders, though they prove helpful here. This is a more conventional offering than some recent New Wave films from Romania. In a cursory ending the stranded travellers are rescued, making their travails seem like an unfortunate interlude. What the film does show is the contrast between the poverty of rural Romanian society, barely changed in a century, and the comfortable urban world of the do-gooders with all the trappings of modernity. It is an insight that is a long time coming.
Evolution
Two films from Hungary look back to the Second World War. Evolution (Kornél Mundruczó, Germany/Hungary, 2021) is adapted by scriptwriter Kata Weber from her stage play. The film follows three generations of a Jewish family. In the first section child Eva is found alive in the drain of a gas chamber at the end of the war, which makes for an arresting opening. In the second section Eva (Lili Monori) is elderly and suffering from dementia. She is visited by her daughter Lena (Annamaria Lang). In the third section Lena's son Jonas (Goya Rego) is bullied for being different. He draws close to another outsider, the punk Muslim girl Yasmine. The film's stage origins are obvious in the first two sections. Long takes and bravura visuals doing nothing to counter this. Nor do the three sections gel dramatically. The film suggests that anti-Semitism can be overcome, though this has yet to be fully achieved.
Natural Light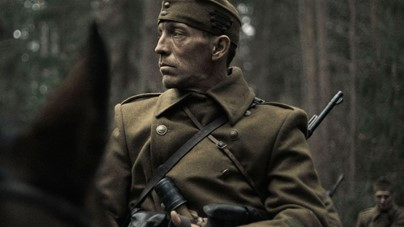 The other Hungarian film offers no such optimism. Natural Light (Dénes Nagy, Hungary/Latvia/France/Germany, 2021) is set during the Second World War as Hungarians allied to the Nazis move through the Ukraine. In this world of mud and endless pine forests the commander of a military unit searching for partisans is killed in an ambush, leaving Corporal István Semetka (Ferenc Szabó) in charge. He shows some fellow feeling for the villagers, but leaves them imprisoned in a barn. Sergeant Major Matyas Koleszár (László Bajkó) arrives to take over the unit and adopts a harder line. Semetka is sent on patrol and returns to find that Koleszár has set fire to the barn with the villagers inside. Koleszár knows Semetka and is sympathetic towards him, sending him home on leave. The corporal shows no emotion. The audience is left feeling compassion for the villagers, but should they also feel sympathy for the unfortunate corporal? A similar incident is at the heart of I Do Not Care if We Go Down in History as Barbarians (Radu Jude, Romania/Czech Republic/Germany/Bulgaria/France, 2018), which looks at present day attitudes to such an atrocity. Natural Light is more concerned with the look and feel of rural Ukraine and what we can infer from Semetka's impassive face.
Ane is Missing (David Pérez Sañudo, Spain, 2020) combines political and personal issues. Lide (Patricia Lopez Arnáiz) is a security guard on a high speed railway line being built across Basque country in the face of local opposition including from her daughter Ane. The ill feeling is graphically demonstrated by an arson attack on the depot when Lide is on duty. In the morning she discovers that Ane's bed has not been slept in. Thus begins her search for her daughter, culminating in a demonstration that is broken up by the police and from which they escape together. This is a film with a promising scenario, which fails to live up to its potential. There are moments which hold the attention such as Lide's trailing of Ane between the squats where the demonstrators live, but the pleasures are intermittent. Neither the political situation nor the mother and daughter relationship are sufficiently explored.
Tiong Bahru Social Club
Few features in the Official Selection emanate from the Far East this year, though this may be a matter of who made the selection. Appearing in the Fanomenon strand is Tiong Bahru Social Club (Tab Bee Thiam, Singapore, 2020). In this dystopian satire Ah Bee (Thomas Pang) is nearing thirty and his mother feels it is time for him to find a partner. She enrols him in the Tiong Bahru Social Club, where happiness is measured by an algorithm and the young happiness agents including Ah Bee are paired with older residents, who are not always keen on their upbeat companions. Happiness is a serious business and an agent who cannot reach the required standards is shown the door. The predominantly pink colour scheme emphasises the film's fantasy elements, but there is something cloying about the whole concept, which blunts the satire. It felt like wading through candyfloss.
My sole foray into the documentary strand was The Story of Film: A New Generation (Mark Cousins, UK, 2021), which takes his Story of Film project into the present century. The programme informs us that he 'expertly interrogates key sequences to reveal the new ideas which are extending the language of cinema'. His intuitive and emotional approach to film is welcome. The trouble is that for every example offered, he cites precedents in the twentieth century, which leaves the feeling that not much has changed. This is a consequence of his emphasis on the aesthetics of film. He notes the significance of Tangerine (Sean Baker, US, 2015) in the democratisation of film (it was shot on an iPhone), but it is arguable how far digital techniques have changed film production as opposed to exhibition. Green screen is mentioned, but its effects on the economics of filmmaking are passed by. So is streaming, which has brought profound changes in film distribution and viewing habits. It should provide intimacy for domestic dramas, though this is not always happening (Owen Glieberman). Films relying on a sense of desolation in nature such as Natural Light and Întregalde need the big screen, as do blockbusters, though the distinction is blurring: today's television screens seem limited only by the size of the living room wall. Cousins might have to produce another documentary sooner than he expects.
Watching so many films over a short period prompted a question: how should a film end? Filmmakers have lived with this problem since the early days of cinema. The solution is simple in the case of a whodunit, where the sole requirement is for the villain to be unmasked. A quest for treasure ends when it is found. If a group of people are isolated in a difficult situation, rescuing them provides a resolution. In Întregalde the do-gooders are taken to the village, which is as far as the story goes. My ideal is that characters are changed by their experiences and I should gain insights by sharing their story. Crucially the characters must have a life beyond the confines of the film. Several of the features so far considered are let down by their endings. Among the successes is The Exam (Shawkat Amin Karki, Germany/Iraq/Quatar, 2021).
The Exam
Rojin (Vania Salar) wants to attend medical school rather than being forced into an arranged marriage. She has already made one suicide attempt. Her sister Shilan (Avan Jamal) is unhappily married and helps her to cheat at the entrance examination rather than having Rojin face her own fate. Cheating is a sophisticated operation, which is used by a large number of people and commands high prices. Shilan's husband Sarder (Hussein Hassan Ali) discovers that his wife is using the contraceptive pill and suspects that she is having an affair. He follows her and stumbles upon the language school where the cheating is organised. He objects on principle and alerts the university authorities. New teacher Mr Jamal (Shwan Attoof) tries to mediate, but without success. Rojin is disgraced and disappears. Neither Shilan nor the audience discover whether she has committed suicide.
The drama is set in Kurdistan and presents a range of moral nuances. Sarder is a jealous but honest man. Rojin is unhappy about cheating, but she is trying to escape the traditional woman's role. Shilan is willing to condone cheating for the sake of her sister. Mr Jamal has liberal views, but he went overseas when his country was invaded. Even 'Mr Engineer' (Hushyar Nerwayi), who organises the cheating, protests at his interrogation that he is performing a social service. The characters are complex human beings rather than exemplars of moral positions. There is a streak of black comedy to leaven the social realism: the half-built office block that houses the School of English proclaims itself as a Turkish restaurant when the cheating scam is dismantled. This is a thoughtful, richly textured film, which deserves to be widely seen.
Between Two Worlds
A film which has prompted varying moral concerns is Between Two Worlds (Emmanuel Carrère, France, 2021). When writer Marianne (Juliette Binoche) goes undercover to write a book about job insecurity, she takes work as a cleaner. She befriends single mother Christèle (Hélène Lambert), a strong-willed single parent, whose family she comes to know. When the pair work on a cross-channel ferry, Marianne's true identity is revealed by a passenger. The cleaners have contrasting responses to this revelation: Christèle feels betrayed, while the supervisor hopes that Marianne's book will make more people aware of the working conditions. Critics have been equally divided, with some taking the view that Binoche is doing the exploiting (Peter Bradshaw). Audiences must come to their own conclusions, but they cannot deny the vivid characterisation.
Luzzu
Alex Camilleri makes his directorial debut with Luzzu (Malta, 2021), which recalls Bicycle Thieves and was a prizewinner at Sundance. Jesmark (Jesmark Scicluna) is a fisherman using the traditional brightly painted Maltese luzzu boat, which is passed down from generation to generation. Catches are dwindling and Jesmark's boat needs expensive repairs. His problems are compounded by a strained relationship with his partner and the medical bills for their sick child. He is forced to become involved in the black market, first by evading European Union fishing rules and then by ferrying money for bribes to the elected politicians. Reluctantly he accepts a lump sum under an EU scheme to conserve fish by reducing fishing fleets, which means he has to watch his newly repaired boat being crushed. The film resonates beyond the story of one man to a traditional way of life being eclipsed by big business, bureaucracy and corruption. It is a story that could be told in many countries.
Lingui, The Sacred Bonds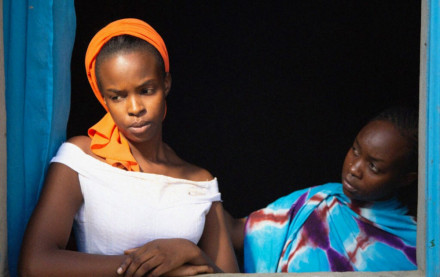 Another clash of modernity and tradition appears in Lingui, The Sacred Bonds (Mahamat-Saleh Haroun, France/Chad/Germany/Belgium, 2021). Amina (Achouackh Abakar Souleymane) is a single parent and a devout Muslim scraping a living on the outskirts of the city of N'Djamena in Chad. She was cast out by her family for having an illegitimate child. Now her 15-year-old daughter Maria (Rihane Khali Alio) is pregnant and has been forced to leave school. Maria wants an abortion, which goes against Amina's religion and is illegal. The film follows Amina's attempts to procure an abortion for her daughter despite her own religious qualms and the revenge she exacts on the man who raped her daughter. This is a society with the trappings of modernity. The roads are busy with cars, trucks and mechanised scooters, which Maria dodges as she hurries home. It is also a traditional, male-dominated society, where the imam presses Amina to confide in him – an offer she turns down. Yet the principle of Lingui or bonds between community members survives: youths rescue Maria from a suicide attempt and Amina helps her estranged sister, who is at risk of female genital mutilation. Modernity and tradition both have benefits, even if some beliefs and mores are slow to change.
Queen of Glory
Queen of Glory (Nana Mensah, US, 2021) was the only all-American entry in the Official Selection. Mensah is Ghanaian-American and wrote the film as well as taking the lead role for her debit feature. Sarah is a PhD student in microbiological oncology at Columbia University. She contemplates giving up research and moving to Ohio with her married lover, if he leaves his wife and children. The plan is thrown into disarray when Sarah's mother dies. Sarah inherits the King of Glory Christian Bookstore in the Bronx, which is run by ex-convict Pitt (Meeko Gattuso), who is more interested in cooking than selling books. Their blossoming relationship is disrupted when he discovers that she is trying to sell the shop. Another problem is that her family insist on a traditional Ghanaian funeral. Further tensions arise when her estranged father comes to stay and presses her to put on weight and have children. This is a warm, intimate portrait of the Ghanaian diaspora and a younger generation drifting from the old ways. The community live in a specific, multi-cultural district of New York. The film complements Little Men (Ira Sachs, 2016), Menashe (Joshua Z. Weinstein, 2017) and Skate Kitchen (Crystal Moselle, 2018) in portraying different facets of the city than those depicted by Woody Allen and Greta Gerwig, but with equal affection.
Clara Sola
Another directorial debut is Clara Sola (Nathalie Alvarez Mesén, Costa Rica/Sweden/Belgium/Germany, 2021). Clara (the dancer Wendy Chinchilla Araya) is 40 and held back by a crooked spine and learning difficulties. She is believed to perform miracles, while her over-protective mother prefers to trust in God rather than doctors and denies Clara an operation on her spine. Clara feels closer to animals than to people, until Santiago (Daniel Castañeda Rincón) comes into her life. Her sexuality becomes destructive when she learns of her niece Maria's relationship with him. This is a slow-burning, moody drama held together by Chinchilla Araya's performance. It portrays a rural world, though it is a community dependent on tourists for its income. Tradition is strong, symbolised by the religious ideals of Clara's mother and Maria's quinceañera or coming of age party on her fifteenth birthday, where Clara's emotions erupt. This is a slow, lyrical, but rewarding film.
Azor
Azor (Andreas Fontana, Switzerland/France/Argentina, 2021) is a directorial feature debut set in Argentina of the 1980s, when the military came to power. Yvan de Wiel (Fabrizio Rongione) is a Swiss private banker, who travels to Argentina with his glamorous wife. Azor is a code among Swiss bankers for 'Be silent'. The bank's previous representative, Keys, has gone missing. Yvan meets his bank's clients, the rich businessmen who flaunt their wealth with racehorses, swimming pools and mansions. One has a daughter who protested against the junta and like Keys she has disappeared. Racehorses disappear. The rich are becoming uneasy. Yvan is invited to a meeting with upper ranks of the military and the Church, where a priest seeks investment advice and dismisses the current situation as a 'purification phase'. Finally in an echo of Conrad's Heart of Darkness Yvan is taken by river to a military establishment. Here banking's amorality is put to the test and Yvan proves compliant in the face of the junta's activities.
Azor exudes an atmosphere of quiet menace as do other South American political films, notably Benjamin Naishtat's Rojo (2018), also set in Argentina. The only violence is seen at the beginning of the film, when the journey to the hotel is delayed by two men being captured at gunpoint by the authorities. Yvan's hesitation in the final frames is a sign that he has qualms of conscience, but it is momentary. We know that his course is set.
Reflection
Reflection (Valentyn Vasyanovych, Ukraine, 2021) has overt violence. It opens in a civilised world, but this is the Ukraine. Surgeon Serhiy (Roman Lutskyi) mends bodies during the ongoing war with Russia. He feels compelled to help on the front, but he strays into enemy territory and is captured and tortured. As the only medical man there, he has to determine whether prisoners are alive or dead. The dead are burnt in a portable furnace in a lorry marked 'Humanitarian Aid from the Russian Federation'. Serhiy is forced to help in the task. He is released under a prisoner exchange scheme, but life cannot be the same after his experiences. Even his beloved vintage hi-fi system has gone. Inevitably this is a partisan view of a conflict that people in other countries may forget. If there is an optimistic note, it is Serhiy's relationship with his daughter Polina (Nika Myslytska, the director's daughter), which is strengthened when she is unsettled by a pigeon killed by flying against the window. Father and daughter give the bird a burial. It is a small incident, but the bird was mistaken about flying into the sky, finding only a reflection of freedom. This might be Ukraine's tragedy.
Hope
Hope (dir. Maria Sødahl, Norway/Sweden/Denmark) was released in Norway at the end of 2019 and rolled out more widely as Covid regulations allowed, as well as being streamed on Netflix. The subject looks unpromising: choreographer Anja (Andrea Bræin Hovig) is diagnosed with terminal cancer, mirroring Sødahl's own experience. The director confounded the doctors. In her film she focuses on how Anja's family life is affected. She lives with theatre director Tomas (Stellan Skarsgård), their three children and three children from Tomas's previous marriage. Should she tell the family immediately, or wait until after the Christmas festivities? She looks for support from Tomas, but the couple have grown apart, finding fulfilment in their work rather in each other. This tension is ever-present in the creative industries, though given the centrality of work in the couple's lives, Sødahl might have accorded it more attention. Anja begins to question the basis of her relationship with Tomas, both of them admitting to infidelity since they have been together. Anja is also conscious of favouring her own children, which is a risk with extended families. The film ends as Anja is being wheeled into the operating theatre. The acting of Hovig and Skarsgård along with Sødahl's focus on the family mean that a potentially depressing and mawkish subject is subsumed into the drama of a couple coming to terms with change and questioning their relationship.
Do Not Hesitate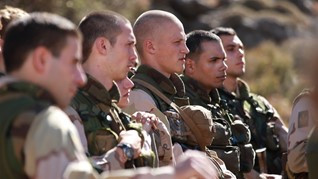 In Do Not Hesitate (Shariff Korver, Netherlands/Germany, 2021), a convoy of Dutch peacekeepers in an unnamed middle Eastern country is delayed when a vehicle breaks down. Three soldiers are left to guard it with Erik (Joes Brauers) in charge. A goat is accidentality shot and the enraged boy looking after it becomes a nuisance. In a fit of exasperation one of the soldiers kills him. The boy is buried and the incident is never mentioned when the trio are rescued and debriefed.
Peacekeeping seems like war by another name. In this case it provides the background for the trope used in Întregalde of the pressures on a group isolated from the world they know and thrust into a threatening and unfamiliar environment. The initial unity of the three squaddies breaks down under pressure of the boy's incessant demands and an attack by rebels in which the trio's stock of water is stolen. The psychological stresses multiply after the murder of the boy. The soldiers are little more than boys themselves: Erik is seen playing the drums at his parents' home before going on duty. He is the most compassionate and conciliatory of the three, but inexperienced in taking command and making life or death decisions. In the final frames the soldiers are seen on leave, dancing in a Greek disco. The events are behind them, but can they be forgotten? It seems unlikely.
The Leeds International Film Festival takes place in November and can draw upon successes at the year's other festivals. This means that few features are premiered at Leeds, though 132 short films are screened across seven competitions including the Oscar-qualifying International Short Film Competition and World Animation Competition. The other implication of being scheduled late in the year is that many feature films have been taken up by distributors. This does not mean they will be widely seen. They belong in the ghetto of festival films, which will be screened in universities and large cities, but seldom reach multiplexes, where subtitles and esoteric subject matter count against them. A lucky few will be streamed, but subtitles can again prove a handicap.
Surveying the features in the Official Selection as a whole, four trends are noticeable. First, there are many co-productions. This reflects the problem of financing minority interest films, particularly in developing countries, despite the reduced cost of producing films with digital equipment. At least such work is being made, though returns are likely to be modest and we shall never know how many productions fail at an early stage. Secondly, many of the films including Azor, Between Two Worlds, Clara Sola, Întregalde and Luzzu use a mix of non-professional and professional actors. There may be financial and pragmatic reasons for this, but it is also a way of democratising the filmmaking process and introducing a range of acting styles to the cinema. Thirdly, a quarter of the films are by women directors. This is an improvement over previous years, but there is still some way to go. Fourthly, tensions between tradition and modernity is a recurring theme. Films of urban life in Western countries are often set in an upper-middle-class milieu, which can make them seem parochial. Some of my favourite films came from countries with embryonic film cultures including Iraq, Malta, Costa Rica, the Ukraine and Chad. Long may this continue. One disappointment is that discussions and talks have been dropped over recent years. With four universities in Leeds there is no lack of local expertise. Let's talk about films.
Endnotes
1.'Acclaimed French director Céline Sciamma talks to Xan Brooks', Observer New Review, 14 November 1921, 12, 13 and 15.
2. Owen Glieiberman, 'The platform release has all but disappeared. Is that hurting films like Spencer or Belfast?', Variety, 21 November 2021. https://variety.com/2021/film/reviews/the-platform-release-has-all-but-disappeared-spencer-belfast-the-french-dispatch-1235116791/.
3. Peter Bradshaw, 'Between Two Worlds review – Juliette Binoche goes undercover in the gig economy', Guardian, 7 July 2021. https://www.theguardian.com/film/2021/jul/07/between-two-worlds-review-juliette-binoche-goes-undercover-in-the-gig-economy.