On Their Way Out: Call Me By Your Name & On My Way Out: The Secret Life of Nani and Popi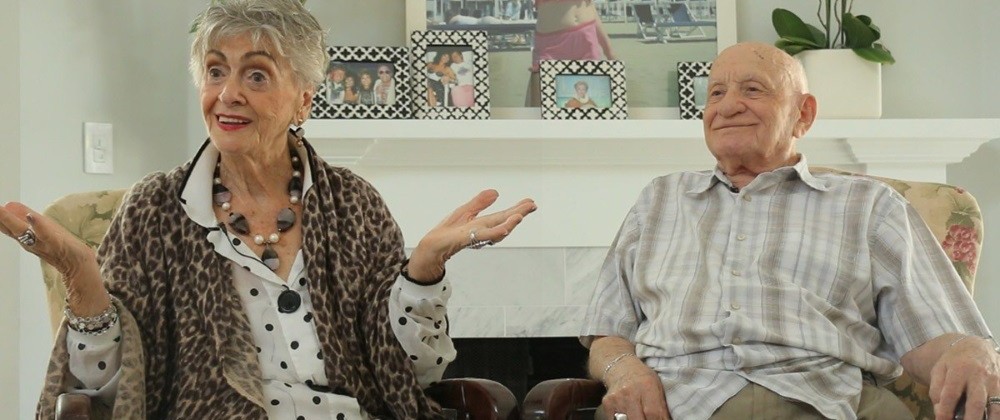 One of the nice things about practicing film criticism is moments of serendipity when choosing which films to screen and when. A friend sent me a link to view a film he recommended, a documentary short playing to good reviews at festivals (he had seen it at TIFF), On My Way Out: The Secret Life of Nani and Popi (2017, Brandon and Skyler Gross). As it turned out, the morning after seeing this short I would see a press screening of Call Me By Your Name (Luca Guadagnino, Italy, 2017), a feature also getting good reviews mostly everywhere. On the surface these two films seem a breed apart. One an American documentary short, the other an Italian directed fiction feature; one set today, the other in 1983; one featuring two 95-year old protagonists, the other two under 30 characters. And yet, the two films resonate thematically like a tuning fork, both being poignant expressions of a similar theme: forbidden love, in this case, homosexuality in a world where its public expression required discretion, or outright suppression, unless surrounded by perfectly considerate and sensitive friends, family, and work environment. In both films men make startling confessions about a homosexual past or homosexual identity. In one film (On My Way Out) a 95 year-old man makes a startling confession where we learn that he lived a life in the closet. In On My Way Out it occurs at the start of the film and feels somewhat vindictive (toward the wife), although also liberating (for the husband), where a 95 year-old man, Roman Blank, tells his wife of 65 years Ruth Blank, what she already knew, that he never loved her like he would have loved a man. The film then charts the at times funny but heart-rendering impact this revelation has on them and their immediate family, including the filmmakers themselves, grandchildren Brandon Gross and Skyler Gross. Not one to let age stop him, Roman even plans to leave his wife and make up for lost time, which leads to a scene where he drops in at a local LGBT center for seniors to see what he has been missing all these years.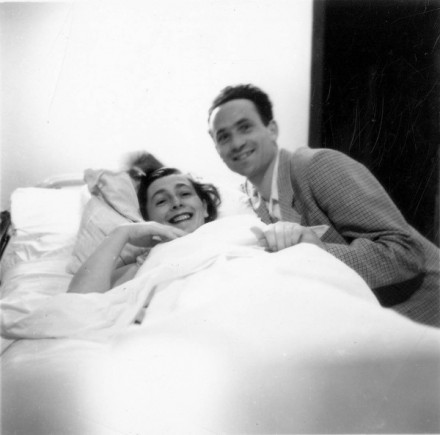 Roman and Ruth in their younger days
In Call Me By Your Name the confession comes at the end, by a father Mr. Perlman (Michael Stuhlbarg, who I just saw in The Shape of Water, another film which features a positive gay character, Giles, played by Richard Jenkins) to his 17 year-old son Elio (Timothée Chalamet), but the point of it is to free his son to live his life according to his true desire. The father (and mother) are both aware of the sexual affair their son has had with the academic father's visiting post-doc student, the super handsome, 6 ' 5" Oliver (Armie Hammer), and he tells him that he envies him for the experience he had, an experience which he did not have the courage to fulfill when he had the chance as a young man. In this scene between Elio and his father, the father's dialogue, handled mostly in a long take, is exquisite, tender and painfully frank, as is much of the film. Like the moment when he tries to impress on his son the importance of not letting time slip by, by telling him "no one looks at an old body, let alone come anywhere near it." What an achingly tragic vision of getting old. The image of 95 year-old Roman Blank comes to mind. I can imagine Roman Blank making a similar confession at a younger age if he had had the chance. It is an admission of a life lived in the closet, of a life not lived to its fullest, even though his life as an anthropology professor with a villa in Tuscany, a beautiful wife, suggests he does. It goes to show how deceiving things can be from the outside looking in. The admission is also a possible portent concerning the path Elio will eventually take in his life. If the social clime for Mr. Perlman was not right for him to express his 'forbidden' love, maybe it will for his son Elio (a point I'll return to later).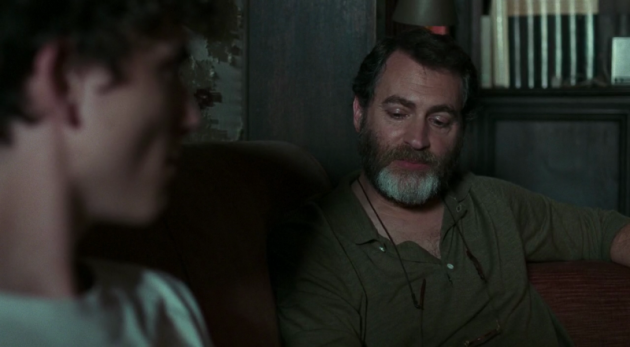 Elio's father sharing his one great regret of his life
Roman and Ruth, concentration camp survivors who married, raised a family and lived a comfortable, successful life, also seem to have much to be thankful for, but there is a great sense of lament in Roman's 'coming out' story. So whereas Roman's confession administers some pain and sadism along with self-therapy, it is wholly positive in Call Me By Your Name. When asked by his son whether his mother was aware of his secret desires, the father says, with certainty, that she does not know, but given the mother's razor sharp sense of intuition, we wonder otherwise, and can comfortably assume that Elio's mother Annella Perlman (played by Amira Casar) also played 'dumb', like Ruth Blank, to keep emotions and any potential heartaches at bay.
Another 'desire' that plays out as a form suppressed expression is the "Jewishness" of Elio's family, the Perlman's —with the 'Jewishness' forming another link to the short film, On My Way Out: The Secret Life of Nani and Popi). As Elio explains to Oliver, they are "Jews of discretion" which comes out when Elio notices how freely Oliver wears the Star of David around his neck. On one hand Oliver's ease of ethnic display is a reflection of his American 'brashness' and confidence, which is commented on by everyone in his temporary household. The "American" brashness seen as a strength to some, and a fault to others. On another hand his ease of Jewish expression is a sign of America as a Nation being more 'distant' (psychologically and politically) from the persecution of the Jews than the Italian-based Perlmans. But the overt display of Jewishness is also tied to Elio's homosexuality (repressed or not) when we can see that Elio is wearing a Star of David for the first time in the film's final scene. In this scene Elio's decision to sport the Star of David around his neck, while a way for him to pay homage to Oliver, and to remember him, is also a sign of him forming a sense of his own identity, which includes his Jewish heritage as well as his 'liminal' sexuality.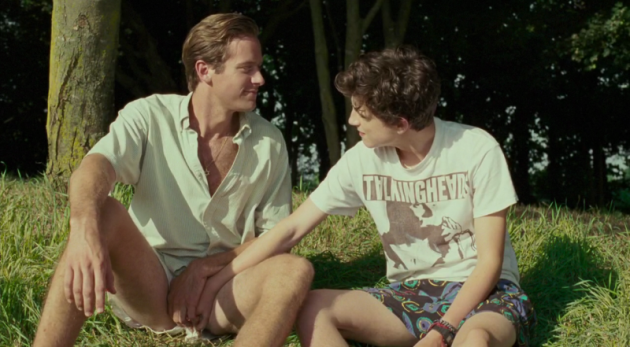 Oliver and Elio in an intimate moment (with Star of David visible on his chest)
The theme of forbidden love and living life to its fullest (carpa diem, the mantra of Robin Williams' character in Dead Poets Society, and a film that was in Guadagnino's drawer of influences when thinking of the Stuhlbarg character) comes to its emotional climax in the final scene (the ending plays out quite differently in the novel, by having the story carry on for years after the fateful summer). With Oliver back in America, the scene cuts to a short time ahead. Elio comes into the villa acting and looking like he hasn't before. It is now the mid 1980s and the New Wave/New Romantic 1 style is a backdrop, but it has been filtered into the group of friends Elio passed time with. He receives a phone call from Oliver, whose last words he and we hear are, "I remember everything". The scene cuts to the final scene. Elio enters the living room area listening to music on a Walkman, a portable music player released in 1979 and which had a major cultural influence on the 1980s. He removes the Walkman player, walks over and kneels in front of a sizzling fireplace. The camera now cuts to a close-up of Elio, positioned essentially where the fireplace would be. Elio's hair is styled differently, gelled into a curled spike resting on his forehead; he is sporting deep eyeliner and wearing a gaudy white shirt peppered with rough stencils of faces (a marker of his many identities?). His face is a palimpsest for 'bittersweet memories'. He has a mild smile on his face but tears swelling in his eyes. Guadagnino gives us time to look closely at this new face, as it ends, after Elio's painful phone call with Oliver, on this static long take close-up of Elio sitting in front of a warm fire. The song which has now come to define their brief but passionate 'fling' (though that word has an unfair harshness to it) "Visions of Gideon" by Sufjan Stevens begins to swell like the tears in his eyes, while we see snow gently falling through an out of focus window, and the servants preparing for lunch in the background. The credits have also started. What does this new look signify? In a span of just over five minutes Guadagnino's script tells us that Elio's father was not able to live a life in public as a gay man, so he married. Oliver's phone call is to tell Elio and his family that he is engaged to be married, telling Elio how lucky he is to have a father like he has because his father would never have accepted him as a gay man (in the novel, the story continues to the point where Elio's father dies, another poignant revelation).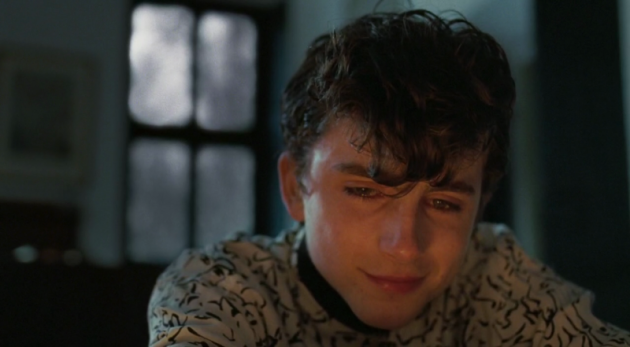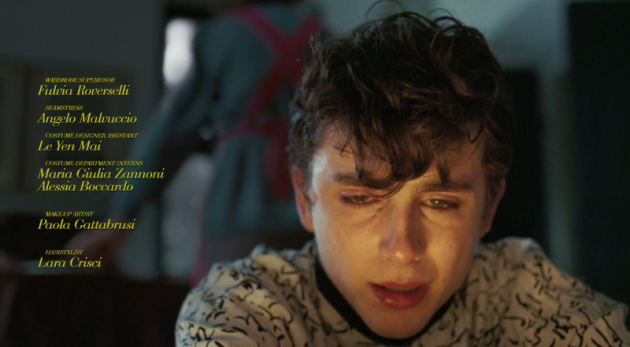 So Oliver too, like Mr. Perlman, like Roman Blank, renounces his 'natural' homosexual desires and marries. But Elio, in his last scene with his girlfriend Marzia, tells her what she probably knows deep down, that they will never be a couple, perhaps a tacit suggestion of his gayness. This expresses a theme that plays out more fully in the novel, the intuitive intelligence of women. In the film we have this in Elio's mother and Marzia, and in the world weary house servants, but the novel includes a 27 year-old, archly sensitive and intelligent woman named Vimini, who does not appear in the film. Vimini, who is terminally ill and later dies, befriends Oliver and shares many intimate and precious moments with Oliver, the likes of which he is not able to express with Elio. Marzia tells Elio that she loves him and wants to remain friends. "For life," he replies. This admission, coupled with his newly adopted flamboyant fashion style, compared to his rather conservative dressing style of earlier, suggests that Elio will not follow Oliver and his father, or at least that he has a much better chance of living more outwardly as a gay man. He has learned his lesson from his father and Oliver. And if Elio is anything he is smart enough to accept wisdom from others. Like when he begins to wear the star of David around his neck, like Oliver, in opposition to his mother's advice to live as a "discrete Jew". In On the Way Out the 95 year-old Popi, Roman Blank, could never have lived publicly as a gay man. Elio's father too did not have the courage, or social machinations, to live as an openly gay man, and neither does Oliver. But in the painful expression on Elio's face, and the slender moment where he looks into the camera, we can read an optimistic future for Elio, at least where his heart is concerned.
It is difficult not to admire Guadagnino's film for its beautiful setting, moments of 35mm splendor (yes as digital enthusiasts continue to call for the death of cinema, another film shot on celluloid), the Lombardian villas, mountains, gardens, rivers, lakes, the fruit (even a smack-you-in-the-face treatment of the forbidden fruit in a scene where Elio masturbates with a peach), and the gorgeous people. And not to forget what comes in through our ears, Guadagnino's use of music is equally sublime, mixing period music from the 1980s to capture the youthful exuberance of its younger characters, classical music to reflect the centuries old culture and art of the region, Italian pop from the 1970s to reflect Guadagnino's youth, contemporary pop music with a timeless feel (like Jones' Melt) and original music (by American alt pop singer Sufjan Stevens) to comment specifically on the plot and themes, sometimes on a scene by scene basis ("This is the last time we'll kiss" after Oliver leaves). It is a real smorgasbord of musical styles and eras that strengthen the timelessness of the theme.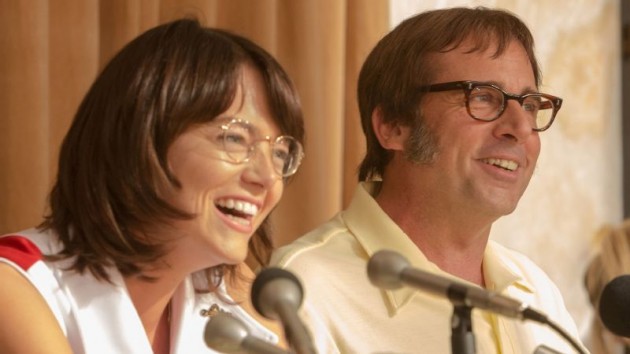 Emma Stone and Steve Carvell
As an addendum, a few days after seeing CMBYN I saw yet another film dealing with the same theme of gay love suppressed by societal norms, in this case in the world of sports, Battle of the Sexes. Directed by husband and wife team Jonathan Dayton and Valerie Faris) Battle of the Sexes is a bio-pic (a genre which has dominated Hollywood drama of recent years) about the famous tennis match between 29 year-old in her prime Billy Jean King and middle-aged 55 year-old hall-of-fame tennis icon Bobby Riggs. The film was less about sports as it was about a strong woman during the heyday of the second wave of feminism (1973) who sticks up for gender equality in sports. But the connection to the other films comes in the major sub-plot, which deals with the married King who for the first time (at least we sense this, we don't know exactly what happened in her life) enacts on her lesbian desires. She is seduced by her hairdresser Marilyn and begins a love affair, while trying to negotiate the new professional tennis players association, after the chauvinist Jack Kramer (Bill Pullman character) blackballs her out of the main tennis association because she will not accept a lesser financial purse as a women. In the end she has to renounce her lesbian desires because if she came out publicly her Virginia Slim cigarette sponsors and a section of her fanbase would turn their backs on her. So she remains in her stalled marriage (though she does seem to respect her husband, who seems a nice enough guy). Rather than Billy Jean King, it is her gay costume designer that gives THE speech about how one day people "like them" will be free to love who they love. Then the end title cards tell us that a few years after the end point of the film, Billy Jean King would divorce her husband and come out as a lesbian publicly.
Trailer for On My Way Out: The Secret Life of Nani and Popi: https://www.youtube.com/watch?v=YGQmL3o__w4
Notes
Thanks to Daniel Garrett for noting my original error of 'New Age' and suggesting New Romantic as the more appropriate style term. ↩