Beautiful Love, Despised Love: Maurice, The City of Your Final Destination, and Call Me By Your Name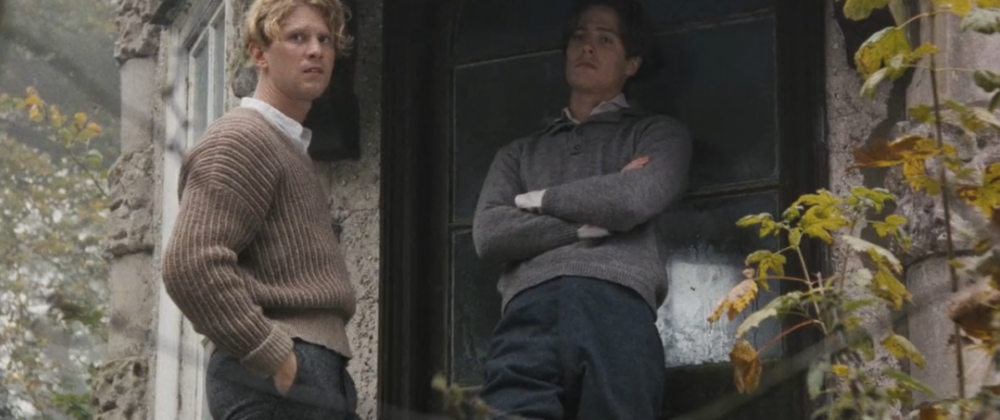 "As we dash down the slope of hate with gladness,
You trip us up like an unnoticed stone,
And, just when we are closeted with madness,
You interrupt us like the telephone."
—W.H. Auden, "Sonnets from China"
(Section 21, for E.M. Forster)
Collected Poems
"I did not answer but lifted my face to his and kissed him again, almost savagely, not because I was filled with passion or even because his kiss lacked the zeal I was looking for, but because I was not so sure our kiss had convinced me of anything about myself. I was not even sure I had enjoyed it as much as I'd expected and needed to test it again, so that even in the act itself, I needed to test the test."
—Andre Aciman, Call Me By Your Name (page 81)
Call Me By Your Name (Luca Guadagnino, 2017); The City of Your Final Destination (James Ivory, 2009); and Maurice (James Ivory, 1987)
Literature is built word by word—word set next word, like brick set next to brick; words as concepts, expressions, objects, and sounds—and literature for centuries has given us adventure and calmed anxiety, evoked love and justified complaint, explained manners and suggested meaning, creating persuasive inner lives and investigating social problems. Literature, especially the novel, as with poetry, once only entertainment, has come to seem a complete art. Yet, writers have sometimes thought their work was taken too seriously, in the wrong way: Saul Bellow, the author of Dangling Man, The Adventures of Augie March, Herzog, and More Die of Heartbreak, recalled E.M. Forster's anticipation of a visit to Harvard, where Forster, who knew love and loneliness, and wrote about charming and comfortable people trying to follow their own spirits in a world of discouraging conformity, expected to meet exacting readers at the Boston university: "In this age of ours serious people are more serious than they ever were and lightness of heart like Mr. Forster's is hard to find. To the serious a novel is a work of art; art has a role to play in the drama of civilized life; civilized life is set upon a grim and dangerous course—and so we may assume if we are truly serious that no good novelist is going to invite us to a picnic merely to eat egg salad and chase butterflies over the English meadows or through the Tuscan woods. Butterflies are gay, all right, but in them lies the secret of metamorphosis. As for eggs, life's mystery hides in the egg. We all know that. So much for butterflies and egg salad," wrote Bellow in "Deep Readers of the World, Beware!" (1959) in There is Simply Too Much to Think About, Viking, 2015; page 92. Is literature a complete art that requires no peculiar interpretive code? Many readers have thought that—and, yet, in the Andre Aciman novel Call Me By Your Name (Farrar, Straus, 2007), published in a 2017 Picador edition to meet the premiere of the Luca Guadagnino film it inspired—one of Andre Aciman's imagined characters, Marzia, claims that people who read are often people with secret selves, people who hide who they are (Picador edition; page 115). Are readers often the people who find who they are in books, in ways they cannot find themselves in the world? Many readers and writers have thought that, too—but others have declared opera a complete art, and cinema a complete art: an art that engages all the senses, enlightens the mind, and enjoins the aesthetic and imaginative resources of the other arts, such as that of choreography and dance, the orchestra, and painting and sculpture.
One can claim that Maurice is a classic work of cinema with little doubt that anyone who has seen it would disagree greatly. Maurice (1987), directed by the American James Ivory, winner of the Directors Guild of America's D.W. Griffith lifetime achievement award, and produced by the Indian Ismail Merchant, a Merchant Ivory Productions film interpretation—accessible, elegant, intelligent—co-written by Ivory with Kit Hesketh-Harvey of E.M. Forster's posthumously published novel, focuses on consciousness and class, friendship, love, and sex between men. Edward Morgan Forster (1879 – 1970) was one of the most important writers of the early twentieth-century, contributing moral conscience, a critique of class, curiosity about the international scene, and humor and sympathy to the English novel. The London-born Forster, educated at the University of Cambridge's King's College, published while he lived the novels Where Angels Fear to Tread (1905), A Room with a View (1908), Howards End (1910), and A Passage to India (1924); but Maurice, written around 1913 and published in 1971 after Forster's death, was a work Forster shared with literary friends but could not publish in an England that prohibited sexual candor (obscenity) in literature and criminalized homosexuality until the early 1960s. Forster short stories that dealt with love between men were published in The Life to Come (1972). The British Forster, like the French Andre Gide, the writer of Corydon, knew enough about western civilization to identity both liberty and limitations in its traditions. E. M. Forster in Maurice delineated the influences of ancient and lasting canons, pagan and Christian, on English society—the philosophy, sexual discipline, and sensuality of the ancient Greeks; and the spiritual discipline, piety, and sexual repression of the Christians—and Forster described the varied understandings of sexuality by English men of different economic stations. The book may be a little thin in texture, but its story is solid, and has firm bones. Director James Ivory with writer Ruth Prawer Jhabvala and producer Ismail Merchant have brought many literary works, several by Forster, to the screen, such as A Room with a View (1986) and Howards End (1992), to admirable acclaim. The motion picture Maurice (1987) won Ivory the Silver Lion award for directing at the 44th Venice film festival in 1987, and the film had its thirtieth anniversary in 2017. Maurice, about a man who found his way to knowledge and love with little help from his society, begins with the misplaced good intentions of an elementary school teacher toward the middle class fatherless boy, Maurice Hall, instructing Maurice in the facts of adolescent biology, of sexual intercourse, a brief clinical lesson featuring a beach sand drawing of the female and male forms. How do we represent this invisible, beautiful transmission of knowledge that is a force between generations?
Maurice
The Forster book and Merchant-Ivory photoplay, both dramatic and comedic, is named for a young man, Maurice, pronounced Morris, whose life moves from conventional lack of awareness and predictability (and isolation) to consciousness and genuine love, as he gets an education both formal and sentimental. The film viewer sees a 1909 University of Cambridge King's College, a formidable place, old and opulent, stony and sturdy, photographed by cinematographer Pierre Lhomme; and within the college's walls, in a private room, a somewhat befuddled yet confident Maurice Hall (James Wilby) sits among professors and students discussing arts and culture, music and opera and abstract art and death, while they eat: an interested Lord Risley, a character inspired by intellectual Lytton Strachey and played by the lean, tall actor Mark Tandy, emphasizes the value of thought and talk, but Maurice counters that deeds are more important than words. Lord Risley (Mark Tandy) invites Maurice Hall (James Wilby) to visit him; and when Hall goes to the older man's apartment, Hall finds instead Clive Durham (Hugh Grant) retrieving sheet music. Clive Durham (Grant) describes Lord Risley as a dangerous man and makes a slighting comment about Tchaikovsky; and the two young men play music on the piano of an acquaintance (and eat from the same apple, a sign of comfort between them, and possibly an inevitable allusion to the tree of knowledge). When Clive Durham returns from school vacation, spent at his family estate Pendersleigh Park in the Wiltshire area, Durham tells Hall about finding a flaw in his mother's character and disagreeing with her about religious observances; but Hall refuses a tone of seriousness and mocks Durham and they have a playful (tickling, wrestling) moment.
Maurice Hall (James Wilby) is not yet formed, and he, like Clive Durham (Hugh Grant), despite their prejudices of class and family, embodies the beautiful possibilities of youth. During a Greek literature translation seminar with Dean Cornwallis (Barry Foster) and other students, a homoerotic text is read but the dean refers to the unspeakable vice of the Greeks, suggesting the students skip over it. How do you read of another culture, seeking to understand it, and yet deny its fundamental principles and beliefs? When Hall (Wilby) recounts the translation session to Clive (Grant) and Lord Risley (Mark Tandy), Lord Risley (Tandy) talks about the dean's hypocrisy and Clive defends the idealism of Greek society, and the centrality of male friendship and love, while Hall defends Christianity. Yet, Maurice Hall leaves college chapel early to meet Clive, and Hall ceases to attend church with his family. The intimacy between Maurice and Clive grows; and when spontaneous warmth and caresses occur, Clive confesses his love, but Maurice says Clive is talking rubbish.
James Wilby's performance as Maurice is open-hearted; and Hugh Grant is charming as Clive (both received Best Actor commendations at the Venice film festival). Maurice (Wilby) watches Clive (Grant) reciting a Latin prayer before a college dinner (Maurice's friend Chapman, sitting next to Maurice, is obscured by a candelabra; as the relation between Hall and Chapman has been obscured by Clive). Maurice goes to Clive's room to confess that his own mind is in a mess, and that he loves Clive, but Clive thinks Maurice is just trying to be nice—until Maurice, later, returns to Clive's room by climbing through the window and kissing Clive (a similar window climb will occur later in the story). The two young men, Maurice Hall (Wilby) and Clive Durham (Grant), with Hall ignoring Dean Cornwallis's call, go on a country outing—one of the loveliest scenes in the film: alone, well-dressed handsome men, friendly, warm, surrounded by lush greenery; with each admitting that he has been awakened by the other. However, Clive—seeing distinctions among mind, body, and soul—wants their relationship to remain ideal, asexual, thinking the sexual act would degrade their feelings, ruin them. Is Clive remembering—and taking seriously—Plato's Symposium, that philosophical and poetic text devoted to love and virtue, a work of both praise and interrogation in which the relation of devotion and desire to honor and dishonor are discussed by a group of thoughtful acquaintances? There it is stated, "Evil is the vulgar lover who loves the body rather than the soul, inasmuch as he is not even stable, because he loves a thing which is in itself unstable, and therefore when the bloom of youth which he was desiring is over, he takes wing and flies away, in spite of all his words and promises; whereas the love of the noble disposition is life-long, for it becomes one with the everlasting" (Dialogues on Love and Friendship by Plato, The Heritage Press, 1968; page 71). Clive may be right in one way, and wrong in another: he wants their boyish affection to remain chaste, to keep them in a garden of Eden, but knowledge—of the body, of desire, of self, of world—means that they cannot stay innocent in a garden, park, or wood. They must grow, leave, risk. Love is more than emotion: love is something to be responsible for and to, the foundation of other virtues, the beginning of work.
Maurice Hall (Wilby), apparently, has been skipping some of his classes, and shown inadequate respect to Dean Cornwallis (Barry Foster), and Hall, refusing to apologize as a gentleman is expected, is expelled from college. Maurice Hall does not recognize his violation of a gentleman's code of conduct, or the significance of a college degree, and he is reprimanded by a family friend, Dr. Barry (Denholm Elliott). Hall, with the boyish intimacy between he and Clive intact, visits the Durham estate, Pendersleigh Park, for an elaborate family gathering, overseen by an observant, scowling butler/valet, Simcox (Patrick Godfrey), whose knowledge may be social or sexual (when Clive and Maurice go out riding horses and stop, embracing, they are seen by the butler). Clive's mother, Mrs. Durham (Judy Parfitt), tells Maurice that the main residence is Clive's upon his marriage and asks Maurice whether Clive has a girlfriend, a concern both maternal and practical.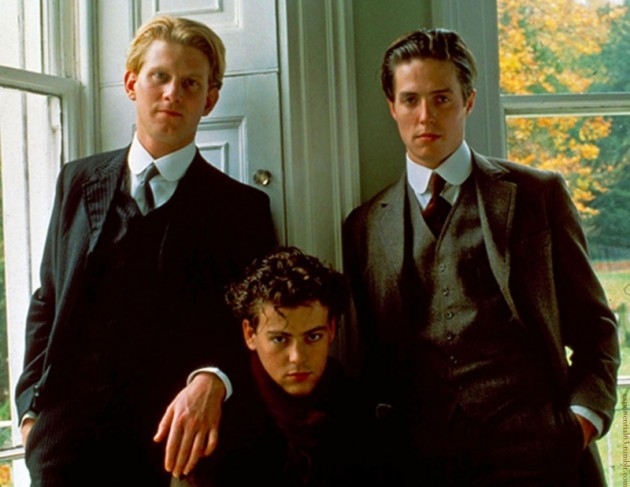 Maurice
The middle-class Maurice (Wilby), having given up college, goes into London stock brokering, while Clive (Grant) studies for his bar exam; and Clive's mother invites Maurice's sister Ada, who may inherit money, to visit Pendersleigh, considering her a possible wife for Clive (Grant)—whose policy of erotic restraint with Maurice (Wilby) yet renders Clive oddly passive, as if any act might be too leading, too powerful. The exchange of letters between the young men's mothers is polite and seems innocent, but are they forms of subtle intelligence exchanges and negotiation? The danger in which transgressive love and sex might put Maurice and Clive is illustrated by what happens with their college acquaintance Lord Risley (Mark Tandy), who flirts with a young uniformed man, a soldier, in a bar and tries to kiss him in an alley and is arrested, accused of gross indecency and corrupting working class youth. Clive, who is devastated by Lord Risley's arrest, does not agree to give testimony in favor of Lord Risley's character, for fear that will open Clive himself to suspicion and prosecution; and, accepting the arrest, followed by the court's condemning sentence of hard labor, as a social warning, Clive—while maintaining the form of friendship, but circumscribing its content —withdraws from Maurice.
While celebrating passing the bar exam with Maurice's family, Clive (Grant) faints—and Maurice (Wilby), in front of his mother (actor Billie Whitelaw), instinctively kisses Clive and later explains that impulse to his mother as being a sign of their fraternal friendship; but the doctor the family calls does mock Maurice's attentiveness to Clive, whose Pendersleigh butler subsequently alludes to Lord Risley's legal difficulty, a mention Clive rebuffs with a warning. Clive Durham, an aristocrat and a lawyer, considers a public career in politics with first skepticism then belief; and Durham makes a point of toasting the ladies at dinner, before going to Greece alone (was Clive looking for some trace of Plato and his Symposium?; or did Clive want to both face and give up a romantic dream?). Will Clive acquire public power while sacrificing personal authenticity? Meanwhile, Maurice volunteers with working class youth, boxing with boys and young men. When Clive Durham returns from Greece, Durham speaks of wanting to explore relations with women, and while he and Maurice—Maurice who echoes Lord Risley in saying they should talk more—both recognize their social danger, each man, deciding upon different responses to that danger, misunderstands the other and they fight. Clive becomes engaged to marry a woman he met while in Greece; and Maurice's sister Ada is in love with Maurice's longtime school friend Chapman.
Maurice (Wilby) receives another invitation to Pendersleigh Park, for a park versus village cricket match; and at the estate, Maurice will encounter a young working-class grounds man who will become, slowly, important to Maurice. Before that, Maurice, distracted and withdrawn, is accosted on the train by an older man, who seems crude and desperate, sexually avid; one more event that further worries Maurice, who visits a disbelieving Dr. Barry (Denholm Elliott) to discuss his own sexual inclinations: Dr. Barry, finding the matter disturbing, counsels Maurice to find a pretty girl, and asks his staff for a strong and soothing drink. Clive (Grant) marries and subsequently Maurice visits Pendersleigh for hunting and cricket; and there Maurice meets the brash and lively Alec Scudder (Rupert Graves), the gamesman and groundskeeper, who tries to be solicitous of, and useful to, Maurice, who at first barely notices the youth, until Scudder wishes him a happy birthday. Maurice performs a self-diagnosis before interrupting his country visit to see in town a psychologist, a hypnotist, Lasker Jones (Ben Kingsley), who attempts to reach Maurice's subconscious connections, finding Maurice lightly suggestible but resistant to assertions of female attractiveness. Meanwhile, Clive and his wife, newly married and still bashful about each other's nudity, misunderstand the purpose of Maurice's town visit, thinking Maurice has a girlfriend; while Alec Scudder (Rupert Graves) admires Maurice's sensual response to night rain. Maurice and Scudder have a short talk about Scudder's planned emigration to the Argentine territory; and, later, Scudder, observing Maurice looking out of his Pendersleigh bedroom window and moving a ladder, assumes Maurice is signaling him (surveilled and silenced citizens create their own symbolic language)—and Scudder climbs the ladder to Maurice's bedroom and they, as if in a dream, as if fulfilling the most natural instincts, make love.
The Pendersleigh cricket match, between park and village, occurs with Alec Scudder (Rupert Graves) leading the estate team in Clive's absence, and in light of Maurice's honest estimation of his own lack of skill, and Scudder is admired by young women; but Maurice (Wilby), though he looks good and performs well before the crowd, thinks that Scudder may be laughing at him, and Maurice flees. Maurice, now with more real world experience, is less suggestible at his second visit to the hypnotist Lasker Jones (Ben Kingsley), who thinks Maurice is resisting; and Maurice confesses his experience with Scudder, thinking that he may be blackmailed. The therapist recommends Maurice consider moving to France and Italy, where homosexuality is more accepted, rather than staying in England, which always has been disinclined to accept human nature. Although Scudder (Graves) is angry at Maurice's distance, Scudder would prefer another sexual encounter with Maurice (Wilby), what Scudder calls sharing; and the two, Maurice and Scudder, both insecure and hostile, argue, before making up and renting a room and going to bed together. Maurice sees the possibility of happiness and asks Scudder to stay, not to emigrate; but Scudder protests, citing their class distinctions, the incompatibility of their social circles. Maurice says he is ready to give up civilization, to live independently of its conventions and confinements—he, possibly, is willing to live in the wilderness. Maurice confesses as much to Clive (Grant), who is appalled—but Clive's thinking no longer matters much.
II. The City of Your Final Destination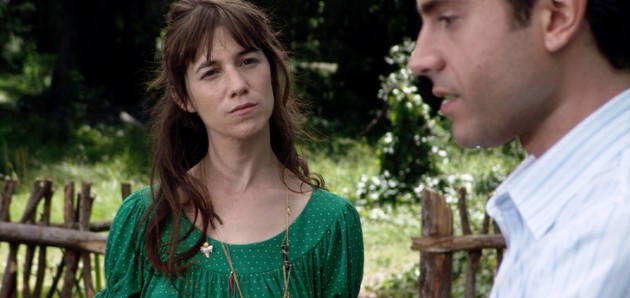 The City of Your Final Destination
Peter Cameron published an intimate novel, The City of Your Final Destination, full of eccentric characters, in 2002; and filmmaker James Ivory's longtime collaborator Ruth Prawer Jhabvala, the German-born, Britain-schooled fiction writer and the screenwriter of many Merchant Ivory films, wrote the script for the cinematic adaptation, the first film Ivory made after the 2005 death during surgery of his producer partner Ismail Merchant, whose birth name was given as Ismail Noormohamed Abdul Rehman. One of the early scenes in The City of Your Final Destination, a film made in 2007 and released in 2009, is of a very young boy helping his mother pick jewelry to wear for a special event, a boy who will grow up and old having held on to that jewelry which represents both a beloved memory and a significant practical option in the story; but the film begins with archival footage James Ivory shot of Venice, then that of a South American road trip taken by its lead character, Omar, sweet, sensitive, weak Omar, the same path the cast and crew took to the film's central location, a country house (the story's setting is Uruguay but the film was shot in Argentina by cinematographer Javier Aguirresarabe for director James Ivory). The Iranian-American Omar Razaghi (actor Omar Metwally), a young scholar and teacher, had been housesitting in America, taking care of the homeowner's dog, and getting stuck in puddles, while contemplating what to do now that the family of his subject, managers of the writer's estate, had refused permission for a biography Omar planned to research and write. Omar's girlfriend Deirdre (Alexandra Maria Lara), strong and willful Deirdre, encourages him to go to Uruguay and meet the writer's family and make his case in person, thereby saving his academic career. Omar arrives in Uruguay, solicits directions to the Gund family's Ocho Rios home, and finds himself on the same bus as the deceased writer Jules Gund's young daughter, Portia, the child of Arden, the author's mistress, whom Jules met while Arden was performing with a Christian music group. The daughter Portia (Ambar Mallman) and her mother, the long-haired, girlish mistress Arden (Charlotte Gainsbourg), and Jules's formidable and stern wife Caroline (Laura Linney) and Jules's playful but calculating brother Adam (Anthony Hopkins), and Adam's lover, the sensitive hard-working Pete (Hiroyuki Sanada) share dwellings in Ocho Rios (Eight Rivers); and Omar is given Adam's old room, there being no hotel for miles. The house is elegant, earthy, sensual; and there are a lot of gardens and trees (the production designer is Andrew Sanders).
Arden and Caroline visit Adam and Pete to discuss Omar's request, reviewing Jules Gund's wishes—Caroline says Jules did not want a biography, although there were rumors that he had begun his own memoir. Caroline and Adam seem decisive and defensive, wary, whereas Arden and Pete, the companions, seem friendly, and honest, especially when alone together. Arden tells the visiting Omar that Ocho Rios feels like her first home, as Arden was shuttled between her separated parents who died in different plane crashes when Arden was young. Omar's parents—pediatricians—died a few months ago: they are both orphans, Omar says; and they, Omar and Arden, do have a similar fragility. Arden, later, will show Omar around the estate, including a visit to an old favorite gondola—in which Omar and Arden kiss.
Caroline tries to be demonstrably kind to Omar, though she is very much against a book, offering Omar champagne. Pete, Adam's companion, his younger lover who is himself becoming middle-age, speaks about taxes and making the property pay for itself. Adam shows Omar a black-and-white film of the Gund family, a Jewish family that fled Nazi Germany (the family left and did not speak German again), with Adam narrating the scenes as he plays piano. Pete tells Omar about finding Jules's body, a suicide by gun; and about how Pete was young when he first met Adam, who had worked for the art and furnishings auction house Christie's and sent Pete to school in London. Although the family may not approve of a biography, they have begun, in their different ways, to confide in Omar. Adam begins to look favorably on a biographical book, but Adam asks Omar for a favor in return: to smuggle Adam's mother's jewelry out of the country for cash to give Pete, whom Adam wants to have more financial security, a chance at a broader life, although Pete says he has been happy with Adam.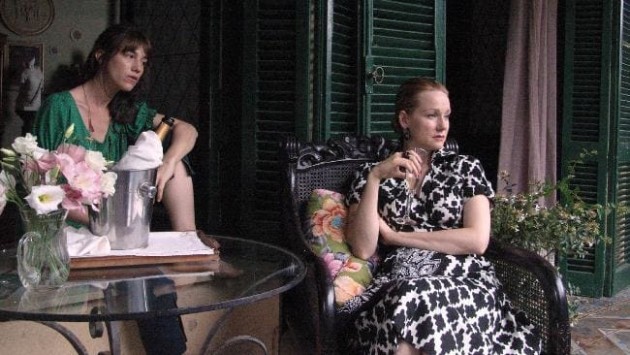 The City of Your Final Destination
The City of Your Final Destination does not offer the same amount and quality of beauty, thought, and delight of the very best Merchant Ivory films, but I think it is better than most films by other people, offering images and ideas that are worth contemplating; and it is great to see James Ivory handling the grace and grit of a contemporary story. In City, Caroline, smart, strong, lonely Caroline, interrogates Omar about his romantic life—wanting to know if Omar understands the complexities of love, of passion. (Is Omar himself awake and aware? Could Omar understand what Caroline, Arden, and Jules had?) Omar admits that if it were not for his girlfriend Deirdre's insistence, Omar would have given up the book project, which Omar begins to see as a portrait of a way of life rather than of a single person. Omar, while helping Pete put up netting for bees, is stung and falls off a ladder, one of several clumsy mishaps in Omar's life. Omar is briefly in a coma and Deirdre is sent for—and Deirdre, aggressive and admirable Deirdre, will confront Omar, Adam, and Caroline—Caroline who visits Adam, wondering if she, Caroline, stayed too long in Uruguay, if she should go to Manhattan, which Adam calls her Moscow (her city of civilization, a la Chekhov, in a story with Chekhovian and Shakespearean allusions). Have these people, alone and together, been living, or avoiding life?
III. Call Me By Your Name
Call Me By Your Name, following closely on the relationship between a gifted boy on the cusp of manhood and his relationship with his archaeologist father's summer assistant, an emerging scholar, set in early 1980s northern Italy, a film of family, friendship, and a surprising first love. Elio Perlman is played by Timothée Chalamet, who watched Maurice with Call Me screenwriter James Ivory during a week he spent with Ivory in preparation for the Luca Guadagnino film, based on Andre Aciman's 2007 novel. The Palermo-born Luca Guadagnino, the son of a teacher father and a mother who bought him a Super 8 camera, and the director of The Protagonists (1999), and I Am Love (2009) and A Bigger Splash (2015), is known for work that presents the passion of privileged people in idyllic environments. (Guadagnino lives in Crema, an Italian town, in an apartment that is part of a seventeenth-century palazzo; and he is known as an epicure, something he shares with his cast and crew, sometimes cooking for them.) Luca Guadagnino has spoken of some of the filmmakers he admires—among them, Michelangelo Antonioni, Jean Renoir, Roberto Rossellini, Maurice Pialat, Bernardo Bertolucci, James Ivory, Hirokazu Kore-eda, and Barry Jenkins; and said that he likes to focus on character, and appreciates the freedom of editing. In Call Me By Your Name, Elio, a precocious student and musician at seventeen, the son of an American father and Italian mother, watches Oliver (Armie Hammer) arrive, noticing his American confidence, and feeling a little resentful at giving up his own room in the beautiful big country house of the Perlman family, full of comfortably attractive and smart furnishings, to Oliver for six weeks.
The Perlman family is visited by Italian locals and foreign visitors. Their lives contain both nature and civilization. The fruit trees of Elio's Italian mother Annella (Amira Casar) yield a delicious apricot juice that surprises and pleases Oliver, pleasure that gladdens Elio's mother—before Elio's American professor father, Samuel Perlman (Michael Stuhlbarg), and Oliver (Armie Hammer) engage in a discussion of the root of the word apricot, a test of etymology that authenticates Oliver's knowledge. Elio (Timothée Chalamet) plays music, first on guitar and piano, gratifying the family and intriguing Oliver, who is impressed by Elio's varied interpretations. The twenty-one years old Chalamet, a LaGuardia High School of Music and Art student who has appeared in Interstellar (2014), Lady Bird (2017), and Hostiles (2017), learned to play the Bach music, for a film score that has classical and popular references, including that of the Psychedelic Furs, and new work by singer-songwriter Sufjan Stevens (his "Visions of Gideon" accompanies the film's last images, which indicate what Aciman's book confirms, how haunting Elio finds Oliver). They are a family of Jews, Jews of discretion, and only Oliver wears the star of David. Oliver (Armie Hammer) enjoys the family's ritual breakfasts of eggs and fruit and the reading of newspapers. (Actor Michael Stuhlbarg, who plays Elio's father Samuel, has noted the beauty of the film's scenes, thoughtful and light.) Oliver (Hammer), whatever his casual distance and independence, charms everyone, becoming admired. Armie Hammer, blond, tall, slim, with an ability to project ironic self-awareness or mad intensity, has a unique charm. He has an aspect of the gentleman—is it refinement or restraint? The actor of Russian Jewish heritage, also the great-grandson of the head of the Occidental Petroleum Corporation—Armand Hammer, appeared in films such as The Social Network in 2010, and in J. Edgar (2011), Lone Ranger (2013), The Man from UNCLE (2015), and The Birth of a Nation (2016); and this film, Call Me, respects and rumples his surfaces, challenging and deepening his talent, and inspiring hope and trust for his future. Oliver has his own glamour. Elio observes Oliver play poker—Oliver is, apparently, good. Is Oliver what he seems to be? Is Elio? Are they themselves or wearing masks? There is a group volleyball game and dancing; and Elio watches Oliver, intrigued and skeptical.
Elio Perlman (Timothée Chalamet) is not yet what he will become: he is a sliver of a young man, slim and quick, sometimes confident, sometimes insecure, by turns ignorant and wise, kind and mocking, attractive but not as handsome or beautiful as he is likely to be when he is older. Elio's friend Marzia (Esther Garrel) senses tension with Elio, thinking that he is angry with her because he is angry about Chiara's emerging relation with Oliver (Hammer). Whatever anxiety, or curiosity, or desire, or resentment, whatever complex uncertainty, Elio is feeling toward Oliver seems dissipated when the two young men accompany Elio's archaeologist father Samuel Perlman (Stuhlbarg) on a car trip to Lake Garda, where a 1827 shipwreck is being explored and a statue from it is being brought up through the water (Professor Perlman says that the gossip is that the statue—which seems to be a bronze of a naked boxer, a la Praxiteles—was a gift from a count to his lover; and the father, later, will acknowledge to Oliver the sensuality of some of the statues Samuel studies); and Samuel, Elio, and Oliver swim before returning home.
These are smart people living a simple life. They read and write. They pick fruit and cook and eat. They play ball and dance and swim. The father's driver and handyman Anchise comes by with a large fish he has caught and brought for cooking by housekeeper Mafalda. Oliver (Hammer) reads his scholarly work to Elio (Chalamet), who is kind about what Oliver is trying to say. Some things stay the same only by changing, notes Oliver in his philosophical notes—a reference to Heraclitus, to change within constancy, flux, metabolism; and not stepping in the same river twice. Elio's mother Annella (Amira Casar) reads a sixteenth-century romance about a knight and a princess who is not aware of her own feelings. Is it better to speak, or to die? (Elio has become more fascinated by Oliver, visiting Oliver's room when Oliver is not there, touching and smelling Oliver's clothes.) Elio's father (Stuhlbarg) notices Elio's shift in mood and his father says, "You can talk to us," but Elio begins a different conversation with Oliver during a bicycle trip to town: in revealing himself to another person, to Oliver, Elio sees himself anew. They talk near a second world war statue in town, a remnant of violent masculinity, of history and politics, these two young men who impress each other. Oliver asks Elio if there is anything he doesn't know; and Elio notes that he grew up in a scholarly home, without television. Elio admits that while he carries around arcane knowledge about the statue and other things there are simple experiences Elio has not had, fundamental things Elio does not know. They ride their bikes, stopping to get drinking water from a local, and then arrive at a mountain lake, where Elio has read many books; and between them there is playfulness, comfort, a kiss. Yet, Elio seems to have become closer to Marzia (Esther Garrel) too—Marzia resembles Elio's Italian mother Annella (Amira Casar): they have a similar warmth, sensuality, and intelligence. Elio gives Marzia a book (she says that she does not let others know how much she likes to read); and they kiss, are intimate. Marzia is younger, more innocent, but one can imagine her growing more sophisticated, like Elio's mother. Marzia seems to anticipate her own pain.
"Novels are being published today that consist entirely of abstractions, meanings, and while our need for meanings is certainly great our need for concreteness, for particulars, is even greater. We need to see how human beings act after they have appropriated or assimilated the meanings. Meanings themselves are a dime a dozen. In literature humankind becomes abstract when we begin to dislike it," remarked Saul Bellow decades ago, before literary study became even more deconstructive, more theoretical ("Deep Readers of the World, Beware!" in There is Simply Too Much to Think About, Viking, 2015; pages 94 and 95). Andre Aciman's novel, a remembrance of obsessive desire, is full of particulars, as is the film Luca Guadagnino made of the book: "Call Me By Your Name, directed by the great craftsman of emotion Luca Guadagnino (A Bigger Splash), is a story that thrives on specificity. The big things it gets right include the sprawling house and the secrets it holds as well as the operatic emotions that Elio feels. The smaller ones are as simple as a bathing suit carelessly tossed over a faucet, or the way a disposable pop song that plays in the background of an important moment becomes an anthem. It's a deeply queer movie whose charge comes from the care that went into every moment," wrote Daniel D'Addario in the holiday movie preview of Time magazine (November 27 – December 4, 2017). That writer's colleague Stephanie Zacharek seconded his endorsement of the film and appreciation of the relationship between Elio and Oliver, declaring, "What unfolds between them is, in Guadagnino's hands, a kind of languorous hynotism, a meeting of spiritual ardor and tender physicality. 'When you least expect it, nature has cunning ways of finding our weakest spot,' Elio's father tells him. Call Me By Your Name is all about yielding to nature, which means succumbing to its mystery, its sorrow and the everlasting beauty of its wistfulness, passed down in the cells of every plant and living creature" (Time, December 11, 2017).
The thrilling, heartbreaking love felt by the young is far, far, far from a new subject and yet it seems fresh in Call Me By Your Name. Must we focus on the gender of the subjects? Or do we recognize that the particularity of the persons is part of the profundity of the love (and the profundity of the love is part of the particularity of the persons)? Of course, what distinguishes a person is more than class, race, ethnicity, gender, sexuality, and religion: the inner life—the life of mind and spirit—is real, and not only real but inescapable; and human imagination reaches beyond the world's established barriers and boundaries. Decades ago, the great filmmaker Carl Theodor Dreyer made Michael (1924), a film about love between men, a painter infatuated with his model, inspired by myth, the tale of Jupiter (Zeus) and Ganymede, in which Jupiter liked the shepherd son of Troy's king and took him to be cupbearer on Olympus; years after Richard Oswald had made the more political Different from The Others (1919), in protest against a criminalization of homosexuality that leads to social ostracism and can inspire suicide (here, a violinist falls for a student and is blackmailed, and a case is brought before a judge, leading to ruin and despair). Since then, we have witnessed the careers of cosmopolitan filmmakers such as Jean Cocteau, Luchino Visconti, and Pier Paolo Pasolini, and had the opportunity to see films such as Ernesto (Salvatore Samperi, 1979; 1983) and My Beautiful Laundrette (Stephen Frears, 1985), My Own Private Idaho (Gus Van Sant, 1991), Wild Reeds (Andre Techine, 1994), Flirt (Hal Hartley, 1995), Brokeback Mountain (Ang Lee, 2005), Moonlight (Barry Jenkins, 2016), and Love, Simon (Greg Berlanti, 2018), examples of a broad, diverse panoply of films that by existing make an argument for a significant canon that recognizes love and sex between males, while seeing those boys and men as part of a larger humanity and longer history. Among other such works, there are Another Country, Before Night Falls, Cat on a Hot Tin Roof, Death in Venice, The Disappearance of Garcia Lorca, Edward II, Far from Heaven, Fox and His Friends, God's Own Country, Hamam, Happy Together, In & Out, Keep the Lights On, Kill Your Darlings, Kinsey, Kiss of the Spider Woman, La Mission, Law of Desire, The Living End, Longtime Companion, Looking for Langston, Love is Strange, Nijinsky, Parting Glances, Philadelphia, A Single Man, Six Degrees of Separation, Stranger by the Lake, Strawberry and Chocolate, Sunday Bloody Sunday, Taboo, Time Regained, Time to Leave, Total Eclipse, Tropical Malady, Weekend, Wilde, Wittgenstein, and Yossi and Jagger. Some of that work has been more ambiguous and complex than it is given credit for being; especially as regards the male ability and inclination to respond sensually and spiritually to both sexes—as regards bisexuality, a recurring but neglected phenomenon—and bisexuality, like celibacy, like any refusal of the approved categories of our time, is most radical, and most frightening, to many people, who prefer the old oppositions, such as male and female, heterosexual and homosexual (or native and foreign, cultured and barbarian, rich and poor, black and white). Call Me By Your Name is a work that brings us close to the experience—intellectual and cultural, emotional and sensual—of two young men living in a unique world; and it does that by being an excellent piece of cinema.
Elio and Oliver, young men of body, mind, and spirit, are singular characters cultivated by singular combinations of cultures, including family, village, town, city, and nation; arts and letters, schools and colleges, traditions and civilizations. Neither can be seen only in sexual terms. "Prodigies can be a pain, onscreen and off, and Elio—fevered with boyish uncertainties and thrills, though no longer a boy, and already rich in adult accomplishments, yet barely a man—should be an impossible role. Somehow, as if by magic, Chalamet makes it work, and you can't imagine how the film could breathe without him. His expression is sharp and inquisitive, but cream-pale and woundable, too, and saved from solemnity by the grace of humor; when Oliver says that he has to take care of some business, Elio retorts by impersonating him to his face. Chalamet is quite something, but Hammer is a match for him, as he needs to be, if the characters' passions are to be believed," wrote critic Anthony Lane in The New Yorker (December 4, 2017). (The married Armie Hammer—his wife is Elizabeth Chambers, with whom he is parent of two children—has joked about the friendship Hammer developed with Timothée Chalamet, during the film shoot and while supporting its release, saying they had gotten to the point that they were finishing each other's sandwiches.) As well: "More unusual still is that the movie steers away from the politics of sexuality. Elio makes love to Marzia, on a dusty mattress, in a loft like an old dovecote, only hours before he meets with Oliver at midnight, but you don't think, Oh, Elio's having straight sex, followed by gay sex, and therefore we must rank him as bi-curious. Rather, you are curious about him and his paramours as individuals—these particular bodies, with these hungry souls, at these ravening moments in their lives. Desire is passed around the movie like a dish, and the characters are invited to help themselves, each to his or her own taste. Maybe a true love story (and when did you last see one of those?) has no time for types," observed Anthony Lane. Yet, one of the most striking scenes, with the most memorable words, are the comments by the father Samuel (Stuhlbarg) to his son Elio (Chalamet) in Oliver's immediate absence, something that inspired the director. "That's what drove me to make the film: How do we represent this invisible, beautiful transmission of knowledge that is a force between generations?," Luca Guadagnino told Ned Beauman, a contributor to WSJ/The Wall Street Journal magazine (December 2017 / January 2018).
What do we see in the films we are inclined to revere? We see subject and theme, form and structure, patterns and rhythms, angles and perspective, colors and sounds and moods and tones, elements that are expressed in story, character, dialogue and costuming, and location, architecture, decoration and production design, and cinematography and editing and score—creating a philosophy and poetry specific to each work, while it establishes and fulfills or recognizes, frustrates and transforms expectations. Luca Guadagnino, preparing for Call Me By Your Name, recalled the work of Jean Renoir, Maurice Pialat, and Bernardo Bertolucci, relishing Renoir's human insight and the sense of an invisible camera; the courage and rigor of Pialat; and Bertolucci's documentary approach to performance. (Guadagnino had considered co-directing the film with James Ivory, who would win an Oscar for its screenplay and recognition from the Writers Guild of America; but the financiers preferred one director.) Luca Guadagnino spoke with Hillary Weston of Criterion about using one film camera and one 35-millimeter lens, which allowed for immediacy while placing the human action at the center of the work. "It's a swooning tale about the seismic power of first love—one that doesn't dismiss Elio's experience as a folly of youth, but instead digs into the unmistakable trace it leaves, for better or worse," wrote reviewer David Sims for The Atlantic (November 29, 2017). "It's also a story of queer love that isn't tinged with horror or tragedy, a gay romance about a genuine attachment" and "The story manages to transcend all its genre trappings," said Sims, whether that of film as luxury vacation, erotic dream and drama, or tale of youth's maturation.
How do we represent this invisible, beautiful transmission of knowledge that is a force between generations? In Plato's Symposium, most of the talk on the nature of love is had by men but there is one woman who speaks to Socrates, instructing him at points of confusion or mystery; and she, Diotima, speaks of generations, of constancy and change, asserting that knowledge, family, and love partake of immortality, stating, "Marvel not, if you believe that love is of the immortal, as we have several times acknowledged; for here again, and on the same principle too, the mortal nature is seeking as far as is possible to be everlasting and immortal; and this is only to be attained by generation, because generation always leaves behind a new existence in the place of the old. Nay even in the life of the same individual there is succession and not absolute unity: a man is called the same, and yet in the short interval which elapses between youth and age, and in which every animal is said to have life and identity, he is undergoing a perpetual process of loss and reparation—hair, flesh, bones, blood, and the whole body are always changing. Which is true not only of the body, but also of the soul, whose habits, tempers, opinions, desires, pleasures, pains, fears, never remain the same in any of us, but are always coming and going; and equally true of knowledge, and what is still more surprising to us mortals, not only do the sciences in general spring up and decay, so that in respect of them we are never the same; but each of them individually experiences a like change. For what is implied in the word 'recollection,' but the departure of knowledge, which is ever being forgotten, and is renewed and preserved by recollection, and appears to be the same although in reality new, according to that law of succession by which all mortal things are preserved, not absolutely the same, but by substitution, the old worn-out mortality leaving another new and similar existence behind—unlike the divine, which is always the same and not another? And in this way Socrates, the mortal body, or mortal anything, partakes of immortality; but the immortal in another way. Marvel not then at the love which all men have of their offspring; for that universal love and interest is for the sake of immortality" (Plato's Symposium in Dialogues on Love and Friendship, The Heritage Press, 1968; pages 98 and 99).
In Call Me By Your Name, Elio (Timothée Chalamet) is conscious of time, time alone and time with Oliver (Armie Hammer), with whom he is playful, expressive, nervous. There is honesty and humor, simplicity, before the first erotic encounter between Oliver and Elio; followed by Oliver's surprising insecurity, sexual reassertion, and sweetness. Elio disappears from Marzia's presence and perspective, after their growing intimacy, for three days; and, missing him, Marzia (Esther Garrel) comes to visit, dressed in red, the traditional color of passion, while Elio is wearing Oliver's shirt (he claims, and is claimed, by Oliver). Elio's parents allow him to join Oliver on a research trip, before Oliver goes back to America. There is both freedom and a beginning loneliness for both young men in such a trip; and the goodbye between the two is melancholy. Elio's mother Annella (Amira Casar) comes to get him at the train station, and Elio sees Marzia, who appreciates the book of Antonia Pozzi poetry, the posthumously published work of an Italian woman poet, that Elio gave her. Elio and Marzia promise to stay friends—Elio asks for that, a request that means Elio now understands the real possibility of loss. There is kindness in Elio's mother's touch, and in Marzia's words and in Elio's father's words: his father Samuel (Michael Stuhlbarg) talks about the friendship of the two young men, quoting Montaigne on friendship, noting, too, that both young men, Elio and Oliver, are good people; and Elio's father, acting as an ideal father, affirms the importance of experience, of accepting one's own emotions.