Looking deeply into the spirit: An in-depth interview with film director Yen Tan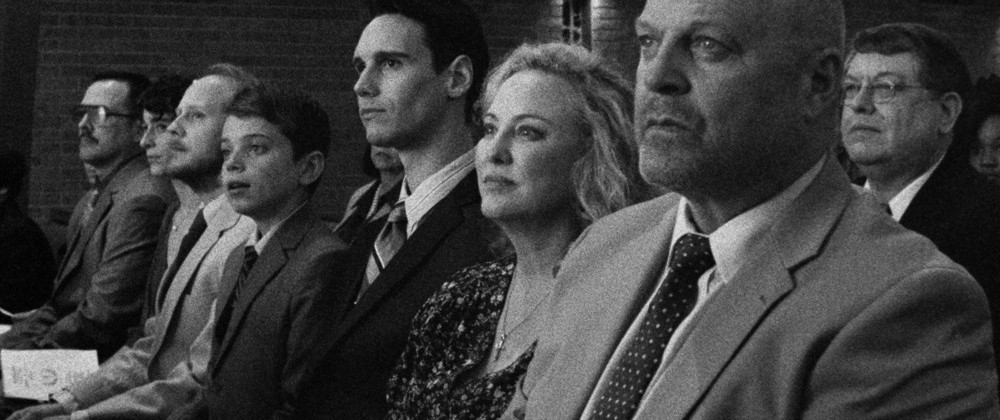 My first encounter with Yen Tan's films was the award-winning short 1985, a frank but graceful portrayal of illness and stigma, set in a time before AIDS awareness entered the popular imagination. Tan confronts a dying man's resolve with honesty – his attempt to cover up his visible symptoms prior to a family reunion – but finds the space for moments of deep human connection and kindness. According to Tan, this short led to a quick succession of investment interests and the production of his most recent feature film of the same name; the new 1985 (2018) premiered at the SXSW Film Festival in March and will be released theatrically on October 26th. The feature film explores the ostensibly final visit of a closeted gay man to a conservative town in Texas where his parents live. As I watched Tan's other film work in preparation for this interview, including a short, thoughtful comedy of self-deception, The Outfit (2015), and a tender drama about loss, Ciao (2008), I realized that Tan is a master of the slow-burning indie drama.
Watching Tan's films reminded me of what entertainment psychologists have long suspected about the value of serious movies. Social scientists have demonstrated that film audiences actually place more value on somber dramas than the more popular action genre. Movies that make you pause and reflect are often appreciated more deeply and are harder to forget because they may offer us insights —think Moonlight (2016). A recent study has shown that college students who thought deeply about their past while contemplating an award-winning film drama reported being kinder or less harsh towards themselves after four weeks, compared to those who only watched the film (although this kind of reflection may not benefit those who recently lost someone). Tan's new film falls squarely under this category and, like his previous films Pit Stop (2013) and Ciao, it provides viewers with generous space for reflecting on themes of social isolation as well as unexpected relationships.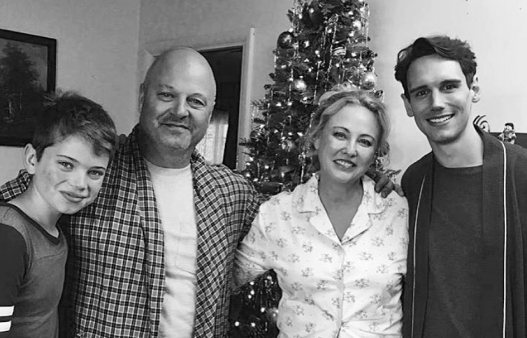 1985
The feature film 1985 tells the story of Adrian (Cory Michael Smith), a closeted AIDS sufferer in those early days of social neglect who briefly reunites with his estranged dad Dale (Michael Chiklis) and mom Eileen (Virginia Madsen), and attempts to revive his relationship with a teenage brother Andrew (Aidan Langford). A holiday visit that is driven by an instinctive need to return home in the face of an affliction, Adrian negotiates the apparent distance and discord with deflections and white lies. Each time he sits to talk to his Reagan-supporting, traditionalist dad, they would hit a roadblock. Although Adrian finds solace with an old friend Carly (Jamie Chung), the film's dramatic payoff is unveiled in the finale: as he makes peace with each parent, in separate scenes of sparse dialogue and great emotional depth, dad and mom reveal that they know more about Adrian's struggle than he had imagined. As a period drama, the film's title is significant; 1985 was the year that movie icon Rock Hudson died of AIDS, which put a face to the health crisis for most Americans. In retrospect, I recall seeing the news and hearing chatter about Hudson's death in my youth, all the way in South East Asia.
Like me, Tan was not born in the U.S., but grew up in Malaysia, the former British colony just south of Vietnam and Thailand, that is known for tourism, fusion cuisine, and industrial commodities, such as natural rubber. As a closeted person in high school, Tan would watch films like Philadelphia (1993) and less high-profile films with LGBTQ themes to feel connected to aspects of his identity; homosexuality remains illegal in Malaysia. After transferring to a college in the Midwest and completing his Communication degree, Tan worked in marketing in Dallas where he started writing after hours and volunteering on movie sets (he met a future co-writer, David Lowery, on one of those sets). He moved to Austin, Texas in 2011 and is now an independent graphic artist known for his key art and movie poster designs. To date, his most critically-acclaimed film is Pit Stop, a nominee for awards at Sundance and the 2014 Film Independent Spirit Award. Outside the realm of studio filmmaking, Tan is as independent as they get, and brings with him the unique perspective of a double minority: he identifies as gay and ethnically Chinese.
On a sunny afternoon in early March 2018, I sat down with Tan in a crowded coffee shop near downtown Austin to talk about movies. We started with his early influences as a storyteller and the relevance of his latest film to critiques of right-wing populism in the U.S. today. We also talked about his previous life experiences in the insurance business and discussing bequests with individuals dying of AIDS. Tan also revealed his approach to writing characters and the process of financing and producing independent feature films. We concluded the interview with a lively discussion of Lee Chang Dong's Poetry (2010), a film that Tan greatly admires.
Offscreen: Would you say that 1985 the feature, as well as the short, was influenced by Jonathan Demme's Philadelphia?
Yen Tan: I would say no, but at the same time that brings up when I saw the film. The first time I saw it was in Malaysia, and I remember seeing it with my high school friend. And, oddly, I don't remember the film being censored that much in Malaysia, [except] maybe that one scene when Tom Hanks and Antonio Banderas were physically affectionate with each other. But other than that, I could still tell what the film was about. But I think it's interesting to look back at that film, because it was me and my high school friend, and we were both gay, and we were both in the closet, and I think we were both drawn to go watch this film because maybe, subconsciously, we were hoping that the film addresses something we were going through. [Laughs]
I think there's this sort of moth-to-flame effect when we could finally watch something that had something to do with gay characters in films. It was like a safe way to go see something that feels like we can identify with, but then we don't have to identify publicly that we're gay. Just like, I remember, Farewell My Concubine (1993) was the same thing, where it's like, we were drawn to it, but we can say "Oh we just love movies," as opposed to "we want to see LGBTQ representation."
Offscreen: Andrew's (Tom Hanks) family in Philadelphia were portrayed as 100% supportive of the fact that he's not mainstream and not heterosexual, but gay. In comparison, the parents in 1985 have more tension and conflict with the protagonist Adrian.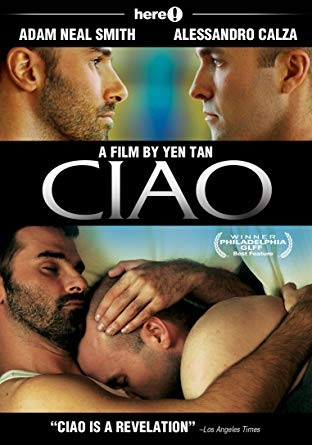 YT: The fact that Philadelphia is a film from the 90s is important. Then you have a lot of sort of iconic films about AIDS from the 80s, during the epidemic, like Longtime Companion (1989), An Early Frost (1985), and HBO's And The Band Played On (1993). I feel like those films have to be made at that time because the sense of urgency was so immediate, just in terms of the filmmakers in many of those cases, or the actors were living with HIV/AIDS while making their film. So, I think the sense of life-or-death was very apparent when you watch those films because it feels very raw and real and very much in the moment. And I think that sort of reaction, in terms of what they're actually going through, and then you feel it when you watch the film – as opposed to, in my case, where I am sort of looking back in hindsight sort of thing, and I think I do have the luxury to take a different approach.
Oddly, 1985 is a film that could only be made in hindsight – it couldn't have been made back in the 80s. I feel like if I made it back during the epidemic, the film had to hit very specific narrative points, because a lot of people still didn't know what the disease was. In terms of how it was transmitted, or how people get it. Philadelphia has this sort of narrative and it also has to be educational and informative because they have to assume that a lot of people don't know what's going on. I still remember, even up to the mid-90s where our school teachers were still telling us that you could get HIV through mosquito bites, which is complete urban legend that's already been dispelled for a long time.
With 1985, I have the luxury to not have to educate viewers because now we all know how it works, and all that kind of stuff. So in 1985, HIV/AIDS is not mentioned in the entire film. Nor is the word gay mentioned in the entire film. These are things I consciously wanted to not use in the film, because I feel like today, when you watch it, you know what's going on, you understand the situation without me spelling it out for you.
Empathizing with Characters
Offscreen: Let's talk about your new film. I went into it wondering how you were going to tell the story of the parents from a conservative town in Texas. The dad character has a Bush/Reagan campaign sticker on his truck and you sense that he is very disapproving of Adrian, but at the same time feels anxious about "losing his son."
YT: Yeah, Bush/Reagan, because that election happened in 1984. Reagan was also really popular so you can sort of get a sense of that period in time, you know, as opposed to now, where, even though Trump was elected, Trump is not really popular, overall. But Reagan was very popular.
Offscreen: Do you see similarities between then and now?
YT: I think it will be interesting to see how people see the film in today's context. I think there's definitely parallels that could be made between what happened in the past with Reagan and what's happening now politically with Trump. I think ultimately it's also about – and this might just be something I'm personally very interested in – how do we endure when things are bad? How do we deal with that?
Offscreen: So, in light of today's divisive political climate in the U.S., were you trying to "build bridges" by writing the dad character as a Reagan-supporter?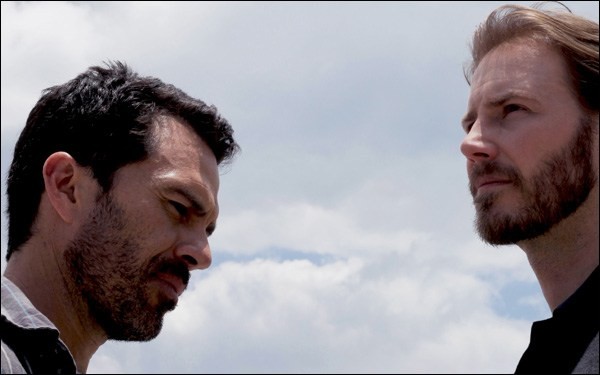 Pit Stop
YT: The approach I have with storytelling and characterization, is definitely intentionally where I'm always trying to dig deeper and find out what's going on with people. Because that reflects my experience with people in general. I haven't met people who are just completely one-dimensional, where it's like they're exactly what you'd expect them to be. Once I get to know them, once I spend time with them, I start seeing things, little nuances that makes me question things. Like, does this match what I initially thought of them?
So I feel like that should be the case in films as well. I believe that, ultimately, we all seek the same things, things like love, money, the basic essentials. And then, it's a matter of whether we get them or not, and how we respond to the outcome. And so I think it's about how we respond to getting them or not getting them, and it just sort of goes from there. I feel like we're all different in the way we respond. We deal with happiness differently, we deal with adversities differently. In that sense, that's my baseline in human psychology, and then I just sort of write characters in that way. I don't consciously think about building bridges with my films, but then at the same time I can see you or people saying that, and that's totally fine. More consciously, I think I am interested in opening up conversations. Ultimately, I believe communication is the key to dealing with conflicts. It's only when people don't talk to each other that you have a lot of problems.
Offscreen: You have a way of encouraging viewers to empathize with characters who seem "typical" on the surface: the conservative parents. For example, in the later scenes when the parents basically told Adrian "we sort of know what you're going through, and we're sort of having to deal with it ourselves too"…
YT: "But we're not going to tell each other about it either." [Both laugh]
Which, in some ways, is a very, I don't know, Chinese thing, too, right? I think it's relevant across the board, but I feel like that's a very Chinese quality. I would say that subconsciously I think that's my attempt at making this White family kind of Asian? I don't know! [Laughs]
Now that we're talking about it, I feel like that's a very Chinese thing.
Offscreen: I am of Chinese descent, so are you. In Chinese culture, even in the Chinese diaspora, the talking about it is seen as a very private thing. Which I think is very different from White American culture, which tends to be more expressive and direct in their communication style. So perhaps, as a filmmaker, you're closer to someone like Ang Lee?
YT: Oh yeah, totally. Ang Lee is very impressionable for me. When I realized there was this guy who went from Taiwan to America to go to university and then became a director, it was like "_whoa_, people can do that?" It was like a lightbulb moment for me when I was like 15 or 16 years old.
I would say that, in terms of where that empathy comes from, being an outsider, knowing that you don't belong at a very young age, which is something I knew from when I was like 10 or 11, I had an inclination that I was attracted to boys. And so, you just know at that point that you're singled out. When you're with your friends or in your class, you're not like them. Part of coping with being an outsider is sort of like stepping out of yourself and looking at you and other people from the outside – for me, anyway. I feel like it was sort of an out-of-body experience. For me, it's too painful to actually have to deal with it directly. So, it's like, if you step outside of yourself and look at it, it feels less threatening, and you can just objectively look at what's going on. I think I learned to do that at a very young age out of survival, maybe.
YT: I remember my mom and I were always very close and so I always was able to have really big conversations with her at a very young age. Like I could talk to her about sex when I was like 11 or 12. So there wasn't any kick back from her and she encouraged me to tell her everything. I think because of that, she ended up telling me a lot of things that, in hindsight, she should not have told me because I was not an adult. She sort of talked to me like I was her peer. Which is good and bad. It's good that I learned a lot of adult things at a very young age. It's bad that, as a child, you shouldn't have your parents' burden laid on you like that. When they tell you their personal problems or they tell you about marital things, it's like "I'm like 12, why am I hearing all of these things?" I think that started all of it, the foundation of empathy, listening to others, and knowing what's going on. I think all that essentially come together into film media.
Researching the Story for 1985
Offscreen: We have begun to talk about your early influences as a storyteller. For 1985, were there books or life experiences that influenced the way you told the story?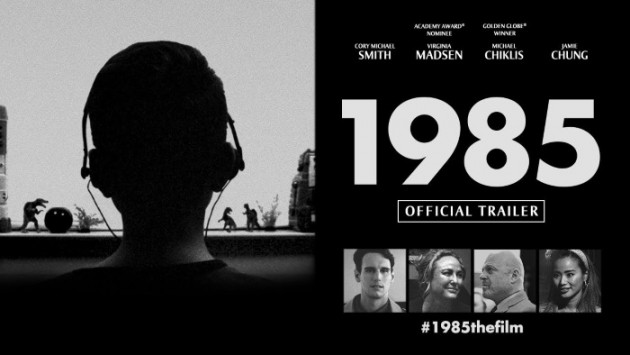 YT: I saw both the documentary and read the book, David France's How to Survive a Plague. I saw the documentary when it came out, but the book is something that I read when I was writing the script, so it was part of research. I also read Borrowed Time: An AIDS Memoir by Paul Monette very closely. There was one section in the book that says – and this is something that for me is very relevant for 1985 – it says something like, "and I feel the disease ticking in me like a time bomb." What I got from that sentence is this sense of running out of time. Once you're diagnosed you kind of know that your time is condensed and shortened. And for Adrian in 1985 that's kind of like his M.O. He recognizes that this is his last time seeing his family, and none of them know that. Meanwhile he's trying to do all these things to wrap things up in a bowtie, just distracting them with expensive gifts. In a way, for him that's his way of doing the right thing. Even though doing the right thing in this case is deceiving them.
But then… I remember hearing bits and pieces from people living with HIV/AIDS in my early job after college when I would talk to them, and they would tell me these little bits of information here and there, and I would be like, "gosh this is weird why would they say this or that?" But since I didn't have the complete picture – I didn't get a chance to sit down with them and ask them what's going on, they would just tell me stuff here and there.
Offscreen: And you had this job when you were younger?
YT: When I had that job, I was 22.
Offscreen: And in that previous job you had the opportunity to talk to HIV patients. And at the time you didn't really think of it in terms of the 1985 narrative. It was just part of your job to talk to these people.
YT: There was this one guy who said to me that, for him, the saddest thing was that his family never knew. And meanwhile, some of them were finding out from their insurance policy that their beneficiaries are designated to their families, and I also get the sense that they don't have a good relationship with their families, so I was like, "why are you letting them have all of your money?" Those kinds of things were very interesting to me, because they're kind of like a mystery I'm trying to solve now. It sort of made me realize that nothing was simple: it wasn't entirely black and white. If I imagined myself as dying of AIDS, I don't have a significant other in my life – and in a lot of these cases, they were single – then you have to figure out who to give your money to when you die. So of course, you're going to give it to your family. Whether you like them or not. Like, I have no one else to give it to, who am I going to give it to? And that's interesting for me as a character study, where that's the conflict, where you can't really get rid of your family, whether you like them or not.
Offscreen: I can see those experiences coming together to inform your writing of both the short and the feature. But, I was struck by the fact that none of the scenes in the short film are in the feature.
YT: It's essentially two different stories. I think part of it is this idea that, even though we have films that were made about the epidemic and characters dealing with that at that time, from my experiences with people living with HIV/AIDS in the 90s, I feel like there are still a lot of stories that haven't been told. It's the same way with Holocaust movies. To this day, we're still getting movies about what happened then, because I feel like it's unending. I feel like there's always a new perspective on what happened just because the tragedy was so unfathomable, it was just so big and affected so many people – everyone's going to have some story about what happened.
There's always something to learn from it too. Even if it feels like you're stepping into a story that has been told many times already. I feel like that's my experience with 1985, too. Five years ago, if you asked me if I would make a film that has to deal with coming out and AIDS, I'd be like, "No! Why would I want to do that?" It also feels like for me like I am regressing if I tackle those subject matters again.
Offscreen: Why do you say that?
YT: It's like, it's already been done so many times, it's already something that's been told over and over again. Especially with coming out, like, "oh my god, do we really need another f***ing coming out movie?" And so, with 1985 it was like trying to challenge myself in thinking, okay is there another angle to this that actually hasn't been told yet? Just like this idea that I can't think of a coming out film where it's about not coming out. And that is one of the things we did in 1985, where it's like, okay, what happens when you do that? And then, for me, it's like now I'm seeing things that I would have never thought have been possible until I made the film, and now I can watch it and be like, oh wow I didn't realize that – even though I personally believe that it's not good to keep secrets – but in the case of this film, I didn't realize that there's still a lot of beauty in keeping secrets. There's still a lot of poetic qualities to not tell everything, which is the case of this film. He arrives, and he leaves, and he takes his secret with him. But then when you're watching it as an audience, you're like, oh wow you know there's a sort of poetic quality to this. Even though it's like, yeah don't keep secrets, but even when you keep secrets, something beautiful can still come out of it.
Character Awakenings
Offscreen: In this film, Adrian isn't the only person who keeps secrets. I believe his parents, especially his dad is definitely very secretive about what's going on in his house. The mother is less so.
YT: I definitely feel like she's on the verge of an awakening.
Offscreen: Is this something that you deliberately do in your scripts? These potentially profound character transformations?
YT: The one thing that I was very consciously trying to do when I wrote the script was that. And this is something that I try to do in my films as much as I can. When I was a closeted kid in Malaysia I had to step out of my body to examine the situation so that it feels less threatening to me. I use film and storytelling in the same way. I can be going through some conflict in my head or feel like it's a challenging time mentally where I would then step out of my problems and sort of step into the shoes of others by making a film about that. And that way, I can sort of make the film, finish it, and then look at it and be like, okay, is there anything I can derive from this, that I can apply to the problems that I have more objectively. So, it's kind of the same coping mechanism I used as a kid. And the same way with this film, where ultimately my goal was that all the character in the film are on the verge of their own awakenings.
People are probably going to ask me what happened to the characters at the end of the film? And my interpretation of that is that they sort of become the better versions of themselves after the film ends. And you sort of get the hint of that when you watch the film, where even the dad, the seemingly most unlikable character in the film, kind of has a moment like, oh, maybe he can change. Maybe he could still be a really good parent to his child regardless of how he feels about him being gay, if he ever finds out. I feel like he's still ultimately going to step up if his child comes back home and he has to be taken care of. He's still going to do that. I believe that for each character. Where mom can be conditioned from years of being a housewife, and being in a small town in Texas, and be conservative and all of that, she still can change. Her thinking can still be challenged and changed. And that's her arc. Just like even with the younger brother, which is like a sense of, older brother comes home to visit, and then sort of gets the sense that, "maybe younger brother is just like me?" Short of telling younger brother that you're just like me, because it's just one of those things that you just don't confront a kid and tell them what their sexuality is. It's just too much, too early, and you just don't know. But I think older brother is wise enough to pick up on things and see parallels between what his younger brother is going through.
Offscreen: He treats his younger brother with respect. He just very gently says, okay here's a tape, here's some music.
YT: Here's something to hang on to. Whether it's music, and even the message he leaves for him at the end, and I think for the younger brother, for him it's sort of like, oh I now have an exit strategy. I can leave and be me elsewhere. And that's his arc. And the same way with even the high school friend, Carly, she now knows what's going on, so she can deal with reality differently. But she also strives to be a better friend to him. So, I think my view on humanity is very optimistic in my film even though in real life I'm not like that. [Laughs]
Offscreen: Your film ends with hope for Adrian. Perhaps it's because he's still okay. He may not be that sick.
YT: But the reality is that there were a lot of people who were sick who survived it. You could also say, maybe Adrian still made it at the end. And what does it mean if he actually survived the epidemic too. It's a completely subjective interpretation. But for me, my intention is that everyone kind of arrives at a moment of grace. And maybe that's me writing something because I seek to be a better version of myself. I need my characters to be a better version of themselves before I challenge myself on why I'm not trying to be a better version of myself. [Laughs]
Offscreen: Where do you think this approach to writing characters come from?
YT: I don't know. I don't know where that optimism about humanity comes from because it's not in my life. I don't think it's conscious, I think it's very subconscious. I don't go in there thinking I'm going to do that. Just like what I told you about poetic qualities and beauty in keeping secrets, it's not something that I [planned]. It's only now watching the film that I'm like, oh god is this the message? [Laughs]
Producing and Financing the Feature Film
Offscreen: Let's talk about how the film got made. I believe it got made fairly quickly after the short film premiered at SXSW.
YT: It was easy to engage that conversation. When the short played at SXSW, I already had a first draft of the script of the feature.
In a nutshell, my producer Hutch was also involved in the short film, and he was also the cinematographer of the short and the feature. I approached another producer I've known for a while, Ash Christian. Ash is someone I've known for a while, but I've never worked with before. So, this was my first time working with him. I had a feeling he was very good at packaging, which means when you attach talent and find money from there – you raise financing based on the cast. And that was the case, he was very effective at doing that. One of the advantages he has as a producer, is that he has a lot of personal relationships with agents and managers and actors, so getting people to read stuff was easy. It didn't take a long time. For most cases of indie films, you'll be lucky if you get actors to look at your script. It's not necessarily that the actors aren't reading it, but it's because their reps kind of evaluate the importance of your project. Because they know, oh this doesn't make us any money, so why are we wasting time making our clients read it. So, in our case, we didn't have to deal with that so much, which was very refreshing. It's like, oh, we get immediate answers right away, even if the people pass on it, it was still really fast.
That's the thing about the business that sucks. Which is like, yes, quality of script is important, but scale of your project is also pretty important to these people. In terms of, is this something that pays, or does it pay peanuts? And if it's a good script that pays peanuts, then you get moved down to the bottom of the pile. So, in our case, we got it to the right people who looked at it, and then people responded to it and came on board enthusiastically. So that was nice. And then so once that all came together it was just figuring out the financing, which is another thing of its own, trying to figure that out. And then we just sort of went into production and shot it. It's really weird thinking how fast it went.
Offscreen: Did it take a year?
YT: Yeah, pretty much. Within a year we went into production. We shot it in June and July of last year [2017].
Admired Filmmakers
Offscreen: Before I let you go, I'd like you to talk a bit about other filmmakers who have had an impact on you. You mentioned Ang Lee as an iconic influence. Who else?
YT: I'm also really into Mike White's stuff a lot. He's a writer/director. His last film was Brad's Status (2017) with Ben Stiller. He also did a TV show called Enlightened (2011) with Laura Dern on HBO. He's more into the comedy/drama vein, but his way of exploring characters is very appealing to me, too. He has this way of exploring the duality of characters, where people can be good and bad at the same time, and you're like, oh how do I feel about that.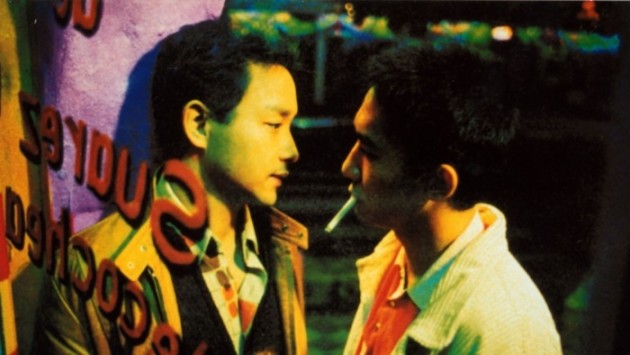 Happy Together (Wong Kar-Wai)
I would say that Wong Kar-wai was definitely a big cinematic icon for me, too. But he's also one of those guys who I preferred when he made things smaller. I was such a huge fan up until 2046 (2004). I just thought that was kind of disjointed and unfocused. It was too much of recycling of old stuff from his old films. It was all the same stuff being recycled. It was more apparent when he did My Blueberry Nights (2007), which was his first American/English language production. It's so weird… when you make White people do Asian things, it's ridiculous. [Laughs] That's when I realized his characterization is very culturally specific. For me, with My Blueberry Nights showed Chinese acts being played by White people. But he's still a favorite of mine.
[Below: Spoiler Alert!]
A filmmaker who still to this day strikes a chord in me is the South Korean director Lee Chang Dong. His stuff definitely hits a nerve. It's very…. when you revisit them, they taste differently each time. It's like a cup of tea that lingers differently. Then you think about moments in your life. Then you think about his characters in his films. Then you sort of see the connections… I still think about his stuff all the time. And it's like I would not have seen a film of his for a long time, but I still remember that scene.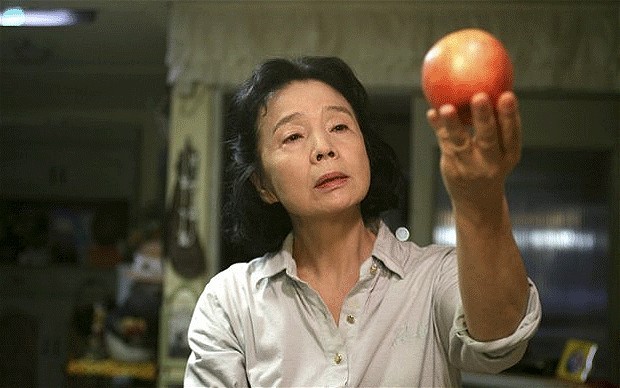 Poetry
Offscreen: I re-watched Lee's Poetry (2010) recently. The lead character Mija (Yun Jeong-hie) does not shy away from acknowledging the things that are happening around her. In a way, she's this humanist who is willing to talk about emotional things. And the people around her are not. In an early scene, Mija acknowledges the woman outside the hospital who's suffering because her daughter had just died, but everyone around her does not. Mija looks at the woman more deeply.
YT: Exactly! And she's taking a class about writing poems. She has a hard time writing a poem. But, her mind is already triggered in terms of thinking with a poet's eye, basically…. And there's that one scene that I didn't really understand until the fifth or sixth time. It's when she deals with this old man who hits on her and she's repulsed by him. But, eventually, she has sex with him in the bathroom. We see this old man as one-dimensional. He's horny, he's old and then she does this thing where she has sex with him and chooses to look at him deeply. I remembered watching this recently and wondered how I missed that moment. That moment is insanely powerful! That's when you know it has transcended itself. A movie has transcended itself. And, it is hard for me to name other filmmakers who have reach this level of… this spiritual level. It's so deep and human. It makes you think about so many things in your life, such as "have you looked at people deeply." Because we don't. Most of the time we don't.
Offscreen: And the film Poetry is not only about Mija's journey, it's also philosophical about the human condition. … The rich disabled man turns out to be human after all even though he's repugnant. And she was able to see that and, by extension, we are able to see it. And we the audience are initially wondering "Why are you doing this? Why are you having sex with this awful person? Then, we realize that she understands him.
YT: Yeah, yeah! Definitely. Because her perspective has shifted over the course of the film. Because she's experiencing a lot of difficult situations. And she's taking this class where she has to express herself in a specific way. So, yeah. This film is easily my top three film of all time. It's just so…
Offscreen: Truthful?
YT: It's truthful and dense. And it's very complex. You always see something new with each viewing.
The other one of his films that I still revisit, but is a very difficult film to watch is Secret Sunshine (2007). It is so heavy as a movie. It's another one where I see new things with each viewing.
Offscreen: Secret Sunshine shows suffering in pretty stark terms. The isolation, the helplessness, and the turning to organized religion because it promises to help you, and later being let down. At the end, she continues to struggle.
YT: I think it's a kind of religious film that religious films should aspire to be. Secret Sunshine tackles Christianity in a way that's very real. It's willing to say… and I'm not saying that religion is good or bad either, but I think it's up to you to arrive at your own conclusion about it. And, I think films like Secret Sunshine should be the type of films that churches play for their people so that people can talk about it. But, at the same time, these are the kind of films that they want to stay away from. Unfortunately, with many organized religions is that they want to arrive at very simplistic solutions to solve problems with thoughts and prayers. But that doesn't really solve anything. We're not really talking about the really difficult issues at hand.
And this sense of God will take care of it… I don't think that's what it's about… that's not what life is about at the end. It's not that I'll take care of you, but that you have to take care of yourself, take care of your own shit, and you have to learn your own lessons.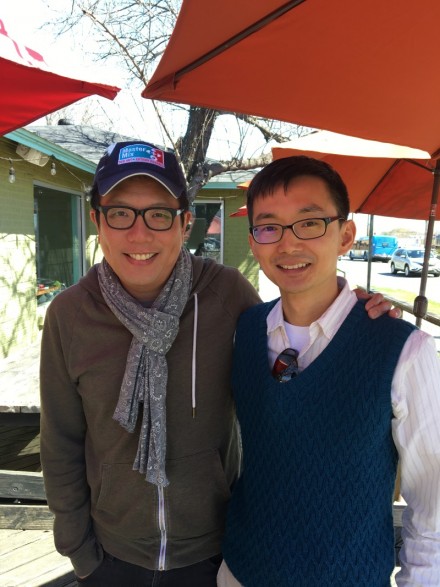 Yen Tan with Guan Soon Khoo
October 17, 2018
[many thanks to Madison McCall for transcribing the recorded audio of this interview]