New Zealand Korean Film Festival 2004
How to Take On Hollywood in 5 Easy Steps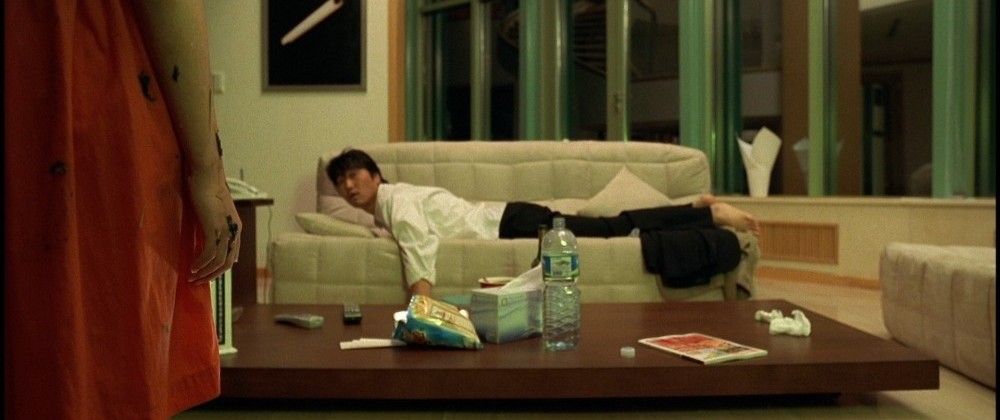 In October 2004 New Zealand held its first ever Korean Film Festival in
Auckland, not only revealing that Asians have other pastimes than boy racing,
kidnapping, and pouring their money into the NZ education system, but also
showing how one small country has turned its film industry into a force to be
reckoned with on the global scene.
The protagonist of Sympathy for Mister Vengeance, green-haired
deaf-mute Ryu is a kind-hearted guy who gets everything wrong. After getting the
sack at his factory job, he sells his own kidney to pay for his sister's
operation. But when the deal goes bad he turns to kidnapping a rich man's
neglected daughter, and it only gets worse from there.
One of the twelve films at Auckland's inaugural Korean Film Festival,
Sympathy for Mister Vengeance cleverly combines politics and
commercialism in a film which made virtually every top ten list in one of the
worlds few countries with enough domestic production (eighty films/year) to have
its own top ten lists. Perhaps just as interestingly, it offers some clues to
how the South Korean film industry has gone from unknown to unstoppable in the
past five years.
The characters of Sympathy for Mr. Vengeance all feel like the
collateral damage of the 1997 economic disaster that more and more South Koreans
are calling the IMF crisis. Democracy, industrialization and the 'free' market
have hit Korea at light speed, and so have the side effects. So in a film from a
country where 78% of homes have broadband Internet, comes a story about
unemployment, the organ trade, and robbing the rich to pay the poor's medical
bills.
After living under a series of repressive presidents put into power by
contested elections and frequent coups, South Korea was opening up by the 1990s
and relaxing censorship. After the 1997 crisis, a lot of big corporations began
investing in films and also demanding more profits from them. By 1999, Korea was
making its own blockbusters.
Another of this festival's features that couldn't have been made until
recently is Untold Scandal—a steamy costume drama based on the
French novel, Dangerous Liaisons. The film's Casanova, Bae Yong-jun
gets mobbed by teenage fans anywhere he goes in Asia. And it's easy to see what
they get excited about with Hollywood and Western TV options for Asian men still
require mainly buck teeth, submissiveness and inscrutability.
Of course art house hits like Untold Scandal don't make up the
bulk of Korean production, which despite liberalization (Reganomics), still
keeps the 40% local content quota introduced in 1966. At present, the quota
doesn't even come into the picture with homegrown films accounting for 56% of
the box office last year.
To find out why, look no further than My Sassy Girl, a
shamelessly commercial romantic comedy that looks and feels like a paint by
numbers exercise where younger versions of Meg Ryan and Tom Hanks have been cut
and pasted into a film that could just as easily have been in New York or any
other American city with a subway. The American government is lobbying Korea to
reduce its quota to 20% and allow more foreign (US) content on its screens. It
seems that Homeland Insecurity has located one tiny corner of the universe that
has not been taught the full meaning of freedom by the governor of California,
and Uncle Sam is eager to bring it into line.
In 2003, eight of the top ten films in the Korean box office were homegrown.
The same year was a bumper crop in NZ where we had two in our own
top ten. That's if you include the story about the Dark Lord and his
armies of doom destroying Middle Earth in search of the weapons of mass
destruction, I mean, one ring, to be a New Zealand film. In the US,
barring LOTR, you have to go down to number fifty on the 2003 box office list to
get something as vaguely foreign as the US/UK co-production, Love Actually.
Of course if you can't beat them, you can always remake them in your own image.
If My Sassy Girl wasn't Hollywood enough already, Dreamworks has
a remake scheduled for release in 2006. Another of the festival's offerings,
My Wife is a Gangster, has been picked up for a remake by Miramax.

While Korea remains one of the most developed countries outside the West,
it's still the only country in the world living in the Cold War. Just across the
border from 78% broadband coverage, North Koreans are starving, victims of a war
that has officially been going since 1950.
While the Cold War still makes box office gold fifteen years after it ended
in Hollywood, Koreans are living it today, and a few are doing very well off it.
Brotherhood is the story of two brothers drafted into the South
Korean army at the beginning of the Korean War and the biggest hit in Korea ever,
having brought in eleven million viewers and over US$56million in receipts.
Brotherhood is also the biggest Korean film ever in the US box
office.
While Brotherhood looks and feels a lot like Saving
Private Ryan, it distinguishes itself from most war movies and American
movies in general in developing morally ambiguous characters that don't fit into
Emperor Bush's doctrine of "You're with us or you're with the terrorists."
The shocking suggestion that North Koreans might actually be human beings
rather than axioms of evil has become increasingly common in South Korean films
from the last five years, like Double Agent, which takes two North
Korean spies as its protagonists.
Perhaps in the interest of convincing Winston Peters and his fans that
Koreans (20,000 of whom are also New Zealanders) may also be human beings, the
festival was accompanied by a delegation from the Korean film industry,
including directors Kang Je-gyu (Brotherhood), and Kwak Jae-yong (My
Sassy Girl).
As Asian films are increasingly gaining popularity in their own countries,
across Asia, and around the world, so the number of Asian co-productions is
shooting up, with notable Korean examples like Musa (Korea/China,
Incredible Film Festival 2002), and Spring Summer Fall Winter and Spring
(Korea/Germany, New Zealand International Film Festival 2004).
This first ever Korean Film Festival was inaugurated by none other than
Minister for the Arts (and Prime Minister) Helen Clarke, after her visit to
Korea last year with a delegation including Asia Down Under's
Melissa Lee, who the PM later asked to make the festival happen. With so much
contact between the two countries and a regional pan-Asian climate becoming more
and more of a cinematic standard, it may not be long before we start seeing our
first NZ/Korean co-productions.
For more information:
www.nzkff.com