Rodney Evans's Brother to Brother; or, "James Baldwin is Dead"
American Films, Harlem, and Baldwin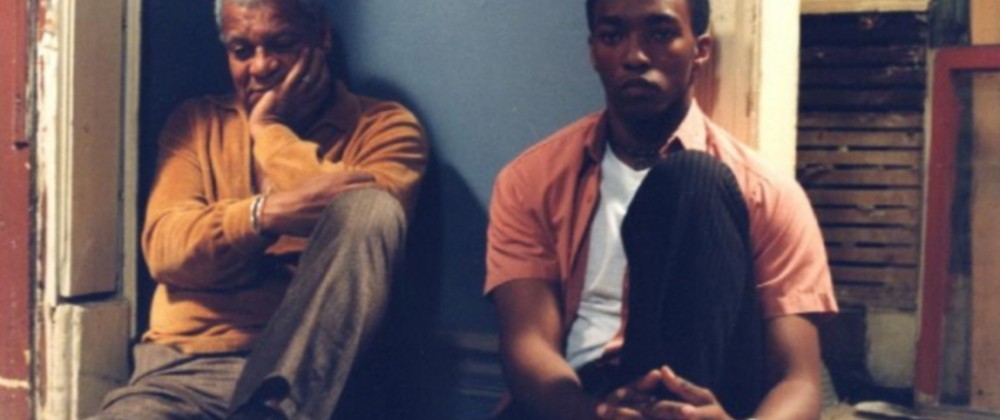 There are works that are less important for what they are than for what they inspire us to think about, and one such work is Rodney Evans's Brother to Brother, featuring Anthony Mackie and Roger Robinson. Before seeing the film, I found it interesting that many of the reviews seemed appreciative and respectful for what would be described typically as a marginal work, an independent film involving minority ethnic and sexual populations. Film critic Manohla Dargis in the November 5, 2004 issue of The New York Times wrote, "Filled with ideas and some nice acting, particularly from Mr. Mackie and Mr. Robinson, both of whom hold the screen easily, Mr. Evans has crammed a great deal of thought and a lot of obvious feeling into his first dramatic feature. As a consequence, Brother to Brother has the virtue of its grand ambitions and not a few of the usual perils. Mr. Evans's largest problem is that while he has given the actors plenty of room to find their characters and makes the most from his modest budget, he hasn't yet figured out either how to block scenes or edit them together dynamically." After seeing the film, I was rather amazed that some of the reviews had been that good. I suspect it's because the ideas the film handles are not those most of its reviewers know much about. Jorge Morales, in a Village Voice review posted online November 2, 2004, had written, "First-timer Rodney Evans's leaden script fails to live up to the poetry of its subjects and raises more themes—black-on-black homophobia, light-skin versus dark-skin prejudice, writers' envy—than it can fully develop." That sounds like the film I saw. For me, the most significant aspect of the film's inexpert technique is its handling of a famous argument involving the self-confessed rapist and political activist Eldridge Cleaver and the novelist and public intellectual James Baldwin, the author of Go Tell it on the Mountain, Giovanni's Room, Another Country, and Just Above My Head, as well as The Fire Next Time.
In Soul on Ice, originally published by McGraw-Hill in 1967 and republished by Delta/Dell in the 1990s, Eldridge Cleaver described moving from admiration for Baldwin ("I began experiencing that continuous delight one feels upon discovering a fascinating, brilliant talent…," Soul on Ice, Delta/Dell, 1999; 122) to discomfort ("I was disturbed upon becoming aware of an aversion in my heart to part of the song he sang," 123). Cleaver wrote, "There is in James Baldwin's work the most grueling, agonizing, total hatred of the blacks, particularly of himself, and the most shameful, fanatical, fawning, sycophantic love of the whites that one can find in the writings of any black American writer of note in our time" (124). Not only that, but Cleaver, an obviously impassioned but inattentive reader, counter-poses Baldwin to the great Richard Wright, who, for all his concern for African-Americans, wrote scathing criticism of black culture in Black Boy and provided its most brutal portrayal in Native Son. (Criticism is what a writer does, implicitly or explicitly.) I doubt, however, that many readers of Baldwin would agree with Cleaver's critique, which Cleaver compounds by attacking Baldwin's sexuality. (Baldwin described his early relationships with women and his long attachment to a European man and alluded to subsequent relationships with otherwise heterosexual men; and he is commonly thought of as homosexual, bisexuality being too complex an idea for Americans.) Cleaver wrote that the black homosexual has been deprived of masculinity by the white man, though he doesn't say how this was achieved or how the presumably more threatening heterosexual black man's masculinity was protected from a similar subversion (nor does Cleaver specify the value of masculinity in the lives of heterosexual black men who are unemployed, in prison—as Cleaver was, or disinclined to be in committed relationships with women or take care of the children they have fathered).
What did Baldwin say to this? In a New York Times interview with Julius Lester in 1984 for its book review section, reprinted in Conversations with James Baldwin (University Press of Mississippi, 1989), Baldwin said, "Eldridge's attack on me—quite apart from everything else—is preposterous. In any case, Eldridge cannot claim to know me in any way whatsoever" (224). In a Paris Review interview published the same year, also reprinted in Conversations, Baldwin said, "My real difficulty with Cleaver, sadly, was visited on me by the kids who were following him, while he was calling me a faggot and the rest of it. I would come to a town to speak, Cleveland, let's say, and he would've been standing on the very same stage a couple of days earlier. I had to try to undo the damage I considered he was doing" (252). Previously, in No Name in the Street, published in 1972 by The Dial Press, James Baldwin had written, "I felt that he used my public reputation against me both naively and unjustly, and I also felt that I was confused in his mind with the unutterable debasement of the male—with all those faggots, punks, and sissies, the sight and sound of whom, in prison, must have made him vomit more than once" (reprinted in Baldwin's The Price of the Ticket, St. Martin's/Marek, 1985; 539). Baldwin also used this disagreement to speculate about something more significant, as was his nature. Baldwin compared the relationship of the artist and the revolutionary to the people they both hope to serve, and wrote that one should remember that "the people are one mystery and that the person is another," and "a failure to respect the person so dangerously limits one's perception of the people that one risks betraying them and oneself" (540).
Rodney Evans's Brother to Brother, though enlivened by good performances from Anthony Mackie, Roger Robinson, Daniel Sunjata, and Aunjanue Ellis (who here plays Zora Hurston; and plays one of Ray Charles' singer-lovers in Ray), is an ambitious but frequently crude film. It is about a contemporary intergenerational friendship between two black men, each a lover of men and an artist; and the film depicts also the early twentieth-century Harlem Renaissance. (Harlem Renaissance history can be read in The Critical Temper of Alain Locke: A Selection of His Essays on Art and Culture, edited by Jeffrey C. Stewart, Garland Publishing, 1983.) Robinson as Richard Bruce Nugent spans then and now. The film calls forth thoughts about the often vacuous public portrayal of black intellectual life when it dramatizes the argument between James Baldwin and Eldridge Cleaver in which Baldwin, unbelievably, weakly, asks of Cleaver, "Who are you to judge?"—a sophomoric question that makes me want to find my old college manuscripts and edit them. We judge because we're forever making sense of our lives in the world; and we're forever pursuing choices and their effects. (I think Cleaver was concerned with choices and values that strengthened blacks as a group, whereas Baldwin was concerned with the achievement of a social freedom that would allow blacks to be individuals, with each person able to fulfill himself.) A sometimes ugly-looking and ugly-thinking movie—the cinematographer is Harlan Bosmajian, Evans wrote it—Brother to Brother has Langston Hughes (played handsomely by Daniel Sunjata) accused of careerism. When a movie presents such distinguished men as Baldwin and Hughes as less impressive than such as Cleaver and Richard Bruce Nugent, two intellectual midgets, one knows one has seen a low point in African-American culture. (Cleaver was witless enough to call rape an insurrectionary act; and often misogyny and homophobia go together.) Certain people deserve special —honest, rigorous, sympathetic— understanding, not only for what it might mean to them, in terms of being true to their eccentric complexity, but for what it might mean for us: Baldwin and Hughes are such people. Our world is different because they existed, different because of their ambitions. The healthiest aspect of Brother to Brother is the respect paid to art (we see this when writers Wallace Thurman and Zora Hurston refuse editorial interference in order to get published; and when the contemporary young man, Perry, and older man, Nugent, paint each other). I disliked that Wallace Thurman's lovemaking with his white male paramour is used as entertainment for the Nugent/Robinson character—he lurks beneath their bed (Thurman, whose novel Infants of the Spring is a more nuanced, critical, and entertaining portrayal of the Harlem Renaissance than this movie, is not allowed the individuality or dignity of privacy). I disliked that when Anthony Mackie's character Perry is beaten by his classmate and others for being gay, Perry hides in his room instead of going to the police—that Perry and his classmate exchanged fighting words in public meant that Perry had witnesses to support his charges. This is a film with a lot to say, some of which should not be said, as some of its concepts are illogical, malicious, or stupid. I think that the director is desperate to create an aesthetic—personal and political, contemporary and historical, moving and powerful—in an environment in which many blacks think the worst you can say of a black man is that he's an Uncle Tom or a faggot. (They're not actually the worst you can say; and a daily walk in an ordinary black neighborhood proves that.) I know that the film, despite what I see as its mistakes, will inspire others to do at least as well and possibly better: that's one of the accomplishments of even flawed art.
I think Baldwin, himself, would have appreciated that fact, though I cannot speak for him—and there's no need, as Baldwin spoke so well for himself. There have been times when I've read Baldwin daily and times when I have gone years without reading him, times when I have loved him and his work and times when I have been ambivalent. Baldwin died in 1987—I attended his funeral, and I cried for the dead man; but it was seeing the weak impersonation of Baldwin in Brother to Brother that made me mourn Baldwin's death as a thinker: I had no idea his influence had grown that imprecise, that undiscriminating, that lifeless, though the signs were there—in theatrical plays that presumed to show a private Baldwin and proudly slandered him—but this was something else, something worse, considering the power and reach of cinema. Cinema has a power Baldwin himself contemplated. James Baldwin's The Devil Finds Work, originally published by The Dial Press in 1976 and reprinted in The Price of the Ticket, is a memoir of his own film-going and a commentary on mostly American films from the 1930s through the mid-1970s. Baldwin, who had been born in 1924, mentions and/or discusses: Dance Fools Dance, The Last of the Mohicans, Twenty Thousand Years in Sing Sing, A Tale of Two Cities, They Won't Forget, The Grapes of Wrath, You Only Live Once, I Shall Spit on Your Graves, The Birth of a Nation, In the Heat of the Night, In This Our Life, The Defiant Ones, Home of the Brave, Guess Who's Coming to Dinner, Lawrence of Arabia, My Son John, Lady Sings the Blues, The Godfather, and The Exorcist.
Baldwin recalls Orilla (Bill) Miller, a young white woman teacher who gave him books and took him to plays and movies when he was young, about whom he said, she could teach him about poverty but not about blackness. "From Miss Miller, therefore, I began to suspect that white people did not act as they did because they were white, but for some other reason, and I began to try to locate and understand that reason," he wrote (The Price of the Ticket, St. Martin's/Marek, 1985; 559). Baldwin, a slim, small, large-eyed boy, sees Bette Davis and compares his large eyes to hers, and the connection undoes for him his father's claim that he is ugly, a mark of damnation. He also mentions the blues, and the possibility of turning one's infirmities into weapons. Baldwin notes that in the Harlem of his youth there were theaters with names such as Lincoln and Booker T. Washington, something he had not thought much about as a boy (it now indicates an affirmation of racial concern or pride). Baldwin recalls reading Dickens' novel A Tale of Two Cities and connecting the hatred in Madame Defarge to his own father's hatred and that seen on Harlem streets. Baldwin also noted that the film version of the book brought a different emphasis, different memories: a staircase; a carriage racing through a provincial village that rolls over a boy; and a man who dies in the place of a friend. He does not say it but I think he sees the pure visual entity that film presents in the first instance, with the staircase; an illustrated idea, a confirmed reality in the second, with the dead boy—the impervious quality of wealth or power; and in the third the emotional resonance of an important relationship and the sacrifice it inspires. (A story about poverty is a story about power and the lack of power—about politics.)
Baldwin remarks about the relationship of the wretched to the powerful, who see themselves as civilized: "The civilized have created the wretched, quite coldly and deliberately, and do not intend to change the status quo; are responsible for their slaughter and enslavement; rain down bombs on defenseless children whenever and wherever they decide that their 'vital interests' are menaced, and think nothing of torturing a man to death: these people are not to be taken seriously when they speak of the 'sanctity' of human life or the 'conscience' of the civilized world" (566). One does not need to be reminded of the lasting implications of these words, though the daily paper does remind us.
The vision power has of itself is often replicated in film. Baldwin, who describes the various resources of Bette Davis, Joan Crawford, and Sylvia Sidney, remembers that Henry Fonda (The Grapes of Wrath, You Only Live Once) was the only white male actor he identified with as he grew up. Baldwin had white friends, some of whom were alienated from him when he underwent a religious conversion—seeing his religion as a repudiation of his intelligence, of his literary and intellectual life. Baldwin, a young preacher, left the church to attend a theatrical activity and never returned to it on the same basis. Baldwin believed the event for which he walked out of the church was a performance of a play starring African-American actor Canada Lee, Native Son directed by Orson Welles, for which a friend had bought tickets. Baldwin admired Lee, and Paul Robeson (as well as Ethel Waters), and would later laud Sidney Poitier's film performances, though he also said that film rarely treated black experience well. (Baldwin saw Guess Who's Coming to Dinner, which starred Poitier, and The Birth of a Nation, on the same day, in the company of a woman Cameroons journalist, and noted that in both films there was a black maid informing a black man that she didn't like ambitious black men.)
"The resolution of a story must occur in us, with what we make of the questions with which the story leaves us," remarked Baldwin in his discussion of The Birth of a Nation (583), a film he found image-driven, densely plotted, obsessive, and thoroughly invested in stereotype, a historical lie.
The historical lie—regarding the relationship of one American of European descent to another of African descent—is treated indirectly in The Defiant Ones, the film starring Sidney Poitier and Tony Curtis about two chained-together convicts who escape. Baldwin says that, historically, if the white man and black man hate each other, their hatred has different roots—for the white man terror, and for the black man rage. Baldwin notes that two men chained together must learn to live together; petty arguments will not distract them from this fact. However, once the men are unchained, the film ends with the white male giving up his white woman (in the face of her racism) and the black man giving up his chance at freedom—which seems too great a sacrifice for both: it is a fantasy, one accepted by whites as being forgiving and rejected by blacks as being foolish. The relationship of two men, one white and one black, a relationship bearing social symbolism, was also featured in Home of the Brave, and there, too, extraordinary intensity and sacrifice is displayed, though homosexuality is not intentionally implied. (Baldwin wrote, "A man can fall in love with a man: incarceration, torture, fire, and death, and, still more, the threat of these, have not been able to prevent it, and never will," 600.)
In My Son John, featuring Helen Hayes as the mother and Robert Walker as the son, Baldwin identifies the American fear of strangeness—temperamental, political, and sexual—as leading to familial suspicion and betrayal of the renegade. (In Brother to Brother, a father beats his son and throws him out of the family house upon seeing the son's intimate embrace of a man, something that does happen to some African-American and Latino youth.) Baldwin prefaced his comments on My Son John with remembrance of the McCarthy period of the 1950s, recalling how easy it was to be seen as anti-American—if one spoke of how war stimulated the economy, spoke up for equal justice for all, or attempted to improve the conditions of the poor. Proof of one's loyalty required the betrayal of others. (That last confusion, I think, is similar to the idea that in order to love blacks you have to hate whites, and vice versa—rather than loving blacks having anything to do with work done on behalf of blacks. Such confusion was Eldridge Cleaver's and is still that of many black nationalists.)
James Baldwin also describes his brave, doomed attempt to work in Hollywood on what he hoped would be an honest film about Malcolm X (his script, still not filmed, was published as One Day, When I Was Lost). James Baldwin saw cinema as a history of showing and seeing, a history of technology, and a history of social thought; and by relating film to self and society he illuminates each. He practiced self-criticism and social criticism, which require strength and pride. Baldwin's maturation as a man, a writer, and a film viewer, corresponded with the increasing liberalism—though not always the increased honesty—of American film culture. Baldwin was a successful and famous writer, and like labor union organizer and civil rights activist Bayard Rustin he would be a great subject for a dramatic biographical film, but his authority did not rest on material success or fame (the power of blacks in American society is still too precarious for that to be the case); rather, the force of his authority was rooted in perception of the quality of his intelligence and sensitivity, perception of a sensibility that was a blend of his eyes' touch, his tongue's taste, his hearing, and of his articulated memory of personal experience and his reading not simply of books but of the world—all of which became his language. Baldwin's attention to dark films of the city—film noir—are among his more satisfying reviews in The Devil Finds Work; and it would have been interesting to have his response to the great European directors of the 1960s (he wrote well on Bergman, an essay not in his film book), and to know his thoughts on the more interesting American directors of the 1970s. Baldwin once described The Devil Finds Work as being about the role of blacks in American film, but it is a work of American (and sometimes international) history.
Baldwin, a writer to whom one returns to again to see both the limits of American thinking about identity and the promise of what it means to be whole, defines the devil at last (as part of his discussion of The Exorcist, another fantasy). He defines the devil not as something alien but as something familiar, perceptible in the eyes of policemen, landlords, housewives, football players, junkies, preachers, governors, presidents, wardens, orphans, and—in the mirror's reflection. He wrote, "It is that moment when no other human being is real for you, nor are you real for yourself" (635).
The people whom Baldwin, and other artists and some revolutionaries, hoped to serve were not all the same: some of them were comfortable, healthy, and intelligent; and some of them were struggling, in need. One can imagine their struggles with absent fathers, harsh mothers, rude ignorant children, unemployment, bad housing, alcoholism, drug addiction, illness and deficient medical care, and various forms of crime—prostitution, theft, and violence. However, a part of any people's problems are usually a lack of analysis, the impoverishment of vision—and it's not at all elitist or hateful to say this. I can think of black men I've known who admitted—gleefully—that they do not read books, magazines, or newspapers (nor the internet); and when engaged in conversation about issues of public concern—national politics, public education, or the economy—substitute conspiracy theory, banal religiosity, superstition, and obscene curses for reasoned thought. The development of standards and goals are part of the positive work of the artist and the revolutionary—to see the goals the people already have and to inspire new goals—and social movements occur when goals and methods are made compelling. It's one thing to say a man, woman, or child fails because his efforts are not supported by society; and another to say he or she cannot make any effort because of society. What force in America, and in most societies, exists so that a man, woman, or child can make no effort at all? In both art and politics, logic and sensitivity, beauty and truth, and knowledge and usefulness, can be standards. The standards in American culture are often use-value and profit, and conformity and popularity; and it is a culture in which simplicities frequently rule—in which you're either with us or against us, part of the problem or part of the solution; but these are neither all the standards nor unchanging essences. Culture does not transmit essences; it transmits ideas and encourages attitudes and emotions—through art, education, public media, and social institutions; and the ideas it transmits can be changed. We can ask of art, does it celebrate, criticize, reflect, re-imagine, and supplement our reality? We can ask of politics, does it facilitate our quest for suitable work, housing, sustaining food, and other resources; and does it allow our participation in decisions involving the practices of government and society? We can ask for institutions that sustain intelligent, humane criticism of art and politics; and we can ask of both art and politics, does it enlarge our vision of and our possibilities in the world? The struggle, in the individual mind and with and among other people, does continue.