Crime Naples Style: The Guapparia Movie
The guapparia movie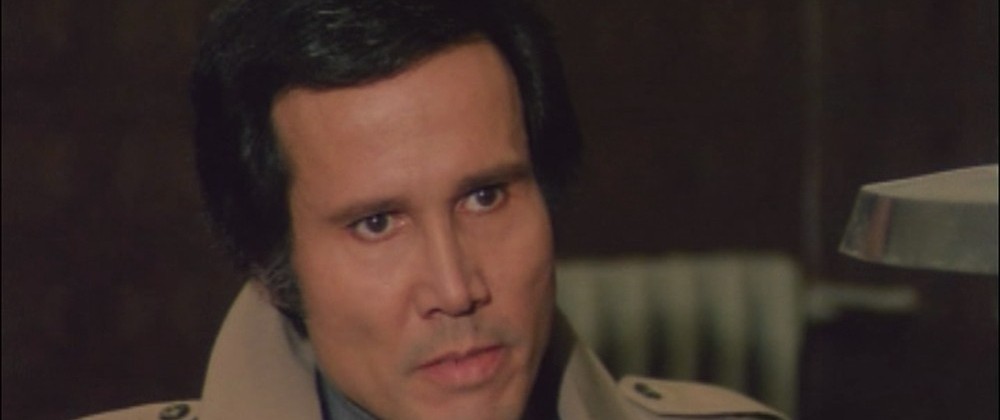 "Don't they know that if they stop smuggling in Naples, there will be a revolution?" (from Il Mammasantissima)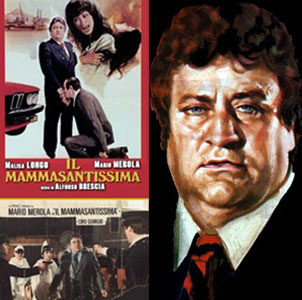 By the end of the Seventies, the trend of Italian police/crime films was in a decline. The huge popularity known by the genre since 1972 (thanks to Stefano Vanzina's La polizia ringrazia/Execution Squad) was gradually waning, caught in the deeper crisis that was submerging the Italian cinema industry as a whole. Nevertheless, an interesting and peculiar subgenre came to the surface, like a sort of spontaneous and geographically circumscribed excrescence of a genre which, in order to survive and perpetuate, had to branch out and bastardize.
The roots of the new hybrid (which could be roughly translated as "guapparia movie") lie in the so-called "sceneggiata," a form of play that belongs in the Neapolitan tradition and is characterized by a strong melodramatic component as well as a tragic fatalism: both lead to a final, emotionally powerful catharsis. Songs are an integral and binding part of "sceneggiata," and constellate the narration in its various parts, while the social environment in which stories take place is that of the "guapparia," the Neapolitan underworld. The hero is the "guappo," a good gangster with strong moral values (family and honor) while the villain ("'o malamente" – literally "he who [acts] badly") is a grim, unfair adversary who tries to seduce the protagonist's woman or to soil his reputation. "Sceneggiata" is an enclosed universe, where love and hate seem to be part of a natural order not unlike life and death: always absolute, complete, desperate.
The encounter between crime films and "sceneggiata" is undoubtedly a smart commercial move on behalf of producers; and with it we can understand the reason for the audience's soaring addiction to the genre and consequent migration to other plagues. Similarly to what was happening in the same period with other hybrids (such as the films starring Tomas Milian as inspector Nico "the Pirate" Giraldi, which blended the standard cop flick with comedy and whodunit), the so called "guapparia movie" is also a spontaneous and uncontrolled reaction to the excesses reached by Italian crime/cop flick between 1975 and 1978, mirroring the escalation of violence that plagued the country (kidnappings, acts of terrorism, robberies ending in bloodshed).
By circumscribing characters and stories into a precise geographical context (the city of Naples and its surroundings), these films make a traditionalist choice: they show a precise, decipherable reality, characterized by typologies and behaviours which can be endlessly replicated, since they are immutable. Thus, the recourse to a formula becomes an anchor for an audience in desperate need of a reassuring, emblematic spectacle: the dramatic excesses of the guapparia movie, no matter how heartbreaking they can be, are balanced by the expectation –which is never let down– of a final retribution where baddies are punished proportionally to their offence and, most importantly, once and for all.
The urban setting itself mutates in comparison to the standard crime films of the period, where cities are dangerous and hostile. Here, the city becomes once again a friendly, ideal place: a maternal womb, a uterine refuge which protects and has to be protected from the evils of the outside world – that is, drug traffic, a symbol of the corruption of traditional values and consciences alike.
Naples' architectural and urban transformations are perceived as a symptom of an anthropological mutation of Neapolitans themselves, seen as ideal and loyal people who are continually humiliated and offended by Fate. These mutations spawn a new criminal type which won't respect the old ethical code of the "camorra" and flourishes on the city's moral ruins. This way, Naples becomes a sort of city/body that exhibits the stigmata of its violation through the face of Mario Merola, an unwilling avenger and a living epitome of such an equation. [1]
Mario Merola was the king of "sceneggiata" on stage. Of humble origins, a former cook and dock worker, Merola became a stage actor after recording a song, Malu figlio, which inspired a "sceneggiata." Merola himself was the protagonist. He soon became the most successful actor in the genre, and was very popular among Italian immigrants in Canada and the United States. Merola's first film Sgarro alla camorra (An Offence to Camorra, 1973) is the prototype of the subgenre. Director Ettore Maria Fizzarotti, a specialist in the so-called "musicarelli" (song-and-dance flicks starring Italian pop singers which were very popular in late '50s and '60s) brings the rules of "sceneggiata" to the silver screen, leaving ample room for Merola's songs (Cielo e mare, A Camorra, Giuramento, O meglio amico). The result is still unripe and uncertain, permeated by an antimodern tension which is evident in characters (old guard boss Saro Urzì; comedy relief Enzo Cannavale and Pietro De Vico), places (the village of Cetara, seen as a timeless Eden), and actions: the final knife duel between Merola and "'o malamente" Giuseppe Anatrelli, to the sound of the song Curtiello cu curtiello (Knife vs. Knife), is a moment of pure popular cinema for an audience which is not used to urban violence as shown by Vanzina and Castellari (High Crime, 1973); yet the sequence where Merola beats a thug at the fish market hints at the formula's permeability, and suggests a possible deepening of the action component.
The subgenre spreads only several years later, with Tiziano Longo's Onore e guapparia (Honor and guapparia, 1977): it's a classic "sceneggiata," complete with the climactic knife duel between Pino Mauro (a notorious, paunchy Neapolitan singer, who will become Merola's alternative in the subgenre) and villain Mario Garbetta, with several unexpected (and clumsy) references to the present. Mauro's would-be son-in-law is a Communist activist and in one scene he lectures the bewildered protagonist on his social role, claiming that a "guappo" is "the natural moral institution of justice elected by people outside of authority's selfish schemes." A definition that, despite the feeble parodic purports of the script (by Longo and Piero Regnoli) perfectly summarizes the essence of "guapparia" in such films.
Onore e guapparia was a remarkable success in the local Neapolitan market, leading producer Ciro Ippolito to write and produce L'ultimo guappo (The Last Gangster, 1978), starring Merola and directed by Alfonso Brescia, a Roman-based director who had just finished shooting no less than five Star Wars rip-offs. L'ultimo guappo became an unexpected hit: made on a shoestring (110 million liras) and destined to regional distribution in Southern Italy, it did well even in Northern cinemas. Merola became a sort of mass phenomenon, starring in seventeen films in the following five years: many of them were directed by Brescia, and all made considerable profits at the box office, even though mainly in the South.
Plots were minimal variations on a well-oiled narrative scheme, but the bonds with the crime genre were stronger in titles released in '78-'79 (Napoli… serenata calibro 9, Il Mammasantissima, I contrabbandieri di Santa Lucia, Napoli… la camorra sfida, la città risponde). This led to the effort of transplanting the Merola character to the main genre: curiously, the good gangster turned into the villain in such films as Da Corleone a Brooklyn (From Corleone to Brooklyn, 1979, Umberto Lenzi) and Sbirro, la tua legge è lenta… la mia no! (Cop, Your Justice Is Slow.. Mine's Not!, 1979, Stelvio Massi) where Merola played opponent to the genre's most charismatic hero, Maurizio Merli. [2]
Other filmmakers tried their hand at the subgenre: Nello Rossati (hidden behind the pseudonym Nello Ferrarese) directed I figli non si toccano (Don't Touch the Children, 1978), starring Pino Mauro (a smuggler sets free his old flame's child, who's been kidnapped by the French rival band from Marseille), whereas Mario Bianchi helmed the forgettable Napoli una storia di amore e di vendetta (Naples, a Story of Love and Revenge, 1981) produced by and starring local singer Mario da Vinci and his son, Sal. Dated 1981 is also Il carabiniere by Silvio Amadio, a melodrama which harks back to Raffaello Matarazzo's film of the Fifties: but the final half hour, when farmer Fabio Testi goes on a rampage against the gangster (Enrico Maria Salerno) who killed his brother (Massimo Ranieri) gets closer to the "guapparia movie," because of Testi's researches into the Neapolitan underworld as well as the juxtaposition of the hero's strong moral values (family, hard work) and the villain's ruthlessness. Despite a character saying "Thank God we are in the Eighties," Il carabiniere conveys a timeless, unreal feel: in Amadio's small ancient world, a mother is "a priceless treasure, the greatest thing in the world," the parish priest and the Marshall are fatherly figures, love is a pure feeling that must necessarily lead to marriage. On the other hand, Lucio Fulci's Luca il contrabbandiere (The Smuggler, 1980) sabotages the firm solemnity of "sceneggiata," which the film apparently follows, by focusing on the conflict between good cigarette runners and bad drug smugglers (obviously foreign ones: the invader from Marseille has the face of Marcel Bozzuffi, who somehow reprises his role in The French Connection) under the Vesuvio. Fulci pays homage to classic sceneggiata moments such as the pro-smugglers speech ("There are no less than 200,000 people in Naples who earn their living on smuggling because they just can't get any other job… what are they gonna do now? Steal, rob, sell drugs… if we don't change this city's social structure the economy is gonna sink!") or the fast boat chases which could indifferently belong to either Il Mammasantissima or I contrabbandieri di Santa Lucia. But Fulci's Naples is quite different from the utopian Eden as it appeared in the aforementioned films: it's rather a labyrinthine, Piranesian maze intoxicated by violence and whose miasmas seize the city." [3] Blood and gore are over the top: throats are slashed, faces are blasted away with shotguns, people are disfigured, burned, maimed and abused. There is no pity, and no innocence whatsoever. The eponymous hero, a sort of sub-proletarian Robin Hood, doesn't have Merola's physical corpulence but Fabio Testi's athletic physique: yet Luca is an insignificant, anodyne character with no charisma at all. Fulci is much more interested in the villains. The final massacre, with the old bosses taking their guns and "cleaning up" Naples (Bozzuffi even dies on a mound of trash, just like Tomas Milian in Milano odia: la polizia non può sparare/??Almost Human??, Umberto Lenzi, 1974) ridicules the film's models by using hyperbole: the old gangsters (one of whom is the director himself) popping up from behind iron grates, kiosks and phone booths to kill the French invaders summarizes Fulci's anarchic and iconoclast spirit. And the punch line ("Drugs got nothing to do with Naples' sun") is a mocking note to a dark, mean film.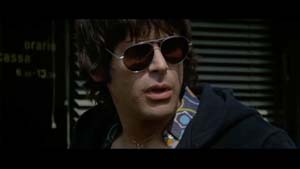 Tomas Milian in Almost Human
However, most of the "guapparia" flicks can be traced back to a factory of actors, scriptwriters and technicians; the mind is Ciro Ippolito, who in a couple of years co-scripted and produced half a dozen films. Ippolito's usual collaborators were prolific scriptwriter Piero Regnoli (a former journalist and also a director on his own) and Brescia, who became himself a specialist in the field, with 15 films from 1978 to 1983, covering every possible variation on the theme. L'ultimo guappo (1978), which pays explicit homage to the theatrical tradition of "sceneggiata," codifies the subgenre. Brescia leaves ample room for tear-jerking scenes with little orphans or "scugnizzi" (little Marco Girondino was so popular that he turned into a one-time star in the self-explanatory Lo scugnizzo) and doesn't spare the comedy, thanks to such character actors as Lucio Montanaro and Giacomo Rizzo, whereas the "guappo" sings just a couple of songs at most. On the other side, the final knife duel is substituted by the hero's armed rampage, something which brings the "guapparia" movie closer to another popular subgenre, the revenge flick Death Wish-style. Both have in common the cult of patriarchal family and the love for sons and daughters, but the Neapolitan subgenre is devoid of any political subtext.
Il Mammasantissima (Big Mamma, 1979, Alfonso Brescia) is perhaps the best example of the hybrid between sceneggiata and crime films, and surely the one which puts on screen most vividly the central character of the good gangster. Mario Merola becomes a living monument, a symbol, a divinity made of flesh and blood. The scene in which he dresses up before a mirror, surrounded by the women of the house, all in silent adoration, has a ritual quality which is sealed by the final drinking of a coffee cup as if it was the wine in a communion. The mythical stature of the hero is celebrated with a touch of irony: the scene plays like a smart variation of a famous sequence in Francesco Rosi's first film La sfida (The Challenge, 1958). Merola is Don Vincenzo Tramontano, a predestined do-gooder ("In life, we all are born with a destiny, we all have a cross to carry. And this is mine."), who dispenses advise and words of wisdom, a protector of the weak against the evil deeds of all the "malamente" (bad people) of this world. That is, the universe which Naples is. Il Mammasantissima is the most convincing of the lot in putting on screen a timeless, unchangeable Naples, epitomized by the parade of Pulcinellas which opens the film and which returns in the climax: Merola dresses up as Pulcinella (the Neapolitan popular mask par excellence) to take his revenge on Don Salvatore (Biagio Pelligra), who raped his daughter causing her death, and on the "Advocate" (Elio Zamuto), the rival gangster who wanted to take his place in the criminal underworld. As film historian Gianni Rondolino states,
What is left is the essence of simple moralism that permeates these stories of personal offenses and revenges, where justice finally triumphs. Everything happens in a city – Naples – which is perceived as a big mother, while family is the whole world. […] The laws of blood and honor are the only accepted ones, whereas the laws of the State are seen as extraneous, even harmful if not just useless. [4]
The police take a step aside and become an accessory presence, sometimes even laughable: Napoli… serenata calibro 9 (Naples… Serenade by Calibre 9, 1978) features a police district populated by moronic cops and transvestites (among them Leopoldo Mastelloni, soon to appear in Argento's Inferno, 1980) who improvise song-and-dance numbers. But the good gangster and the cop often share an unspoken pact of honor: Napoli… serenata calibro 9 ends with Merola surrendering to commissioner Nunzio Gallo, who arrests him rather unwillingly, whereas in Napoli… la camorra sfida, la città risponde (Naples… the Organized Crime Challenges, the City Strikes Back, 1979) hard-boiled cop Jeff Blynn lets Merola loose, implicitly legitimating his private revenge and therefore confirming the superiority of honor's unwritten laws. Napoli Palermo New York: il triangolo della camorra (The Mafia Triangle, 1981), is a sort of remake of Napoli… serenata calibro 9, where a tough cop (Howard Ross) who doesn't stand judges and the shortcomings of the penal code is shot in the legs in front of his own house: he then makes Merola escape from prison so that the latter can take the revenge that law denies him. Smugglers and police join forces against a common enemy –drug kingpins– in I contrabbandieri di Santa Lucia (The Smugglers of Santa Lucia, 1979): the same plot twist is given a subtler, ambiguous treatment in Sbirro, la tua legge è lenta… la mia no!.
The regret for a mythical past of law and order emerges from the opening sequence of L'ultimo guappo, the story of a gangster (Merola) who, after a vow to the Virgin Mary, starts a new life in order to give his son a respectable future. But the "new" organized crime has the face of well-dressed, cruel, icy gangsters who want to leave cigarette smuggling for drug trafficking; the delicate equilibrium on which the city's economy is based is fatally undermined. Even cops understand it: most Neapolitans make a living with cigarette smuggling, as Merola explains to police officer Gianni Garko in I contrabbandieri di Santa Lucia: "In Naples, smuggling is like working at an assembly line. Only, we don't have strikes!"
Elsewhere the bonds with crime flicks are even stronger. Napoli… serenata calibro 9 (Merola chases the robbers who killed his wife and child) is closer to films like L'uomo della strada fa giustizia (Manhunt in the City, 1975, Umberto Lenzi) or La città sconvolta: caccia spietata ai rapitori (Kidnap Syndicate, 1975, Fernando di Leo), while Napoli… la camorra sfida, la città risponde has roughly the same plot as Enzo Castellari's masterpiece Il grande racket (The Big Racket, 1976): Merola is an honest businessman blackmailed by gangsters, who set fire to his factory, rape his daughter-in-law and drug his son, making him end up in an asylum. Merola picks up his guns and leads honest workers against the villains: the ending is an over-the-top shootout featuring bazookas which takes place among the catacombs of Naples' underground cemetery, Camposanto delle Fontanelle. "May God forgive me!" yells Merola while transfixing evil boss Antonio Sabàto with a wood crucifix, as if he just stepped out of a vampire film.
Sometimes the guapparia movie tries hard to be cosmopolitan. With the help of stock footage I contrabbandieri di Santa Lucia jumps from Iran to New York and then to Istanbul, and deals with an international drug ring just like Castellari's The Heroin Busters (1977): bad guy Antonio Sabàto makes a deal with American drug kingpins and ships heroin to the US inside confections; in Napoli Palermo New York: il triangolo della camorra Merola follows the villain in Sicily and then in New York, in an ending cobbled with footage taken from Brescia's previous Zappatore (1980).
As requested by plots, bad guys are 100% bad. Their very same appearance is a nod to the sceneggiata conventions: they sport a thin moustache, expensive rings, an ambiguous smile, and dress with a vulgar, excessive elegance. Antonio Sabàto's characters are an evolution of the roles played by actors in crime films of early '70s such as Milano rovente (Gang War in Milan, 1973, Umberto Lenzi), while the ruthless thugs of Napoli… serenata calibro 9 are closer to the psychos portrayed by Tomas Milian and Helmut Berger, respectively in Milano odia: la polizia non può sparare (Almost Human, 1974, Umberto Lenzi) and La belva col mitra (Mad Dog Murderer, 1977, Sergio Grieco).
However, unlike crime films, guapparia movies don't press the pedal of sex and violence, and maintain an elliptical approach: rapes take place off-screen (see Il Mammasantissima), and cruelty is suggested by the evil smiles of Pelligra, Sabàto & co. rather than through blood and gore. There is an undeniable misogyny, though: women are invariably saints or whores, even though nudity is a scarce occurrence. Action is confined to scenes of fast boats careening away from cops, which substitute for the usual car chases (but I contrabbandieri di Santa Lucia incongruously poaches a spectacular stunt –a car jumping on a train– from Massimo Dallamano's Quelli della calibro 38/Colt 38 Special Squad), and of course the final shootout. But the catharsis is accompanied by a whole repertoire of effects, from slow motion to the use of music, in a dramatic crescendo which announces and amplifies the climax. In Napoli… serenata calibro 9, the thugs are sitting around a table in their shack, listening to the titular song on the radio, and have a vision of their imminent death, moments before Merola breaks in, gun in each hand –as in a later Hong Kong action film– in an emphatic low-angle, slow motion shot.
Surprisingly, Italian critics treated the subgenre with benevolence: it was probably an effect of the concurrent critical rediscovery of popular cinema of the '40s and '50s, with which the guapparia movie had so many things in common. Most reviewers praised the continuity with past, the "vital dialectal context" and the "endearing primitiveness" of these films, saluting them as examples of a popular cinema with no intellectual (and political) undertones. Yet the guapparia-movie is characterized by a strong self-referential quality, and often plays with the audience. The pretexts for Merola or Mauro singing a song are timely and shameless, while in-jokes abound. In Napoli… la camorra sfida la città risponde, scriptwriter/producer Ciro Ippolito plays a righteous journalist who denounces the racket, while in I contrabbandieri di Santa Lucia, Gianni Garko and Marco Girondino stop by a poster of Lo scugnizzo, for a not-so-hidden publicity stunt, and Brescia himself pops up for a cameo.
With the decline of crime pictures, in the early Eighties the subgenre changed skin, transforming into pure melodrama: Lacrime napulitane (Neapolitan Tears, 1981) directed by Ippolito himself, is considered the masterpiece of the new trend. Eventually, with the rising of teen idol Nino D'Angelo, the guapparia movie became an updated version of the old "musicarelli": the emphasis on violence was replaced by a "defenceless submission which sometimes is graced by providential, mystical interventions." This led to a "disown[ing] of the genuine socio-cultural roots in favour of the bourgeois vision and ideals." [5] Not surprisingly, given the political climate of Italy in the Eighties, the decade of illusory wealth and social indifference.
Endnotes
1 Giona A. Nazzaro, Napoli, curtiello cu curtiello, in Noir in Festival 1997, Fahrenheit 451, Rome, 1997, pp. 56-57
2 Pino Mauro too will bring his "guappo" character to the crime genre in I guappi non si toccano (l.t.: Don't Touch the Gangsters, 1979, Mario Bianchi). Mauro is also the star of the ultra-obscure, jaw-dropping Attenti a quei due napoletani – Sabotaggio a Napoli (Beware of those Two Neapolitans – Sabotage in Naples, 1980) directed by Mario Gariazzo, in which he plays a famous singer moonlighting as secret agent, who joins CIA Agent Tony Naples (Mario Garbetta) in order to dismantle a secret organization which sabotages NATO missiles. As if that wasn't enough, Gariazzo spices the plot with Mauro's live performances before ecstatic crowds.
3 Giona A. Nazzaro, Napoli, curtiello cu curtiello, in Noir in Festival 1997, Fahrenheit 451, Rome, 1997, p. 57.
4 Gianni Rondolino, Catalogo Bolaffi del cinema italiano, 6, 1979.
5 Alberto Castellano, Vincenzo Nucci, Facce, panze, lacrime (La nuova sceneggiata napoletana e i suoi eroi), in Il Patalogo 5 & 6. Annuario 1983 dello spettacolo, Ubulibri, Milan, 1983, p. 22