Loose Screws: Screwballs 2
Teen Comedy Canuck Style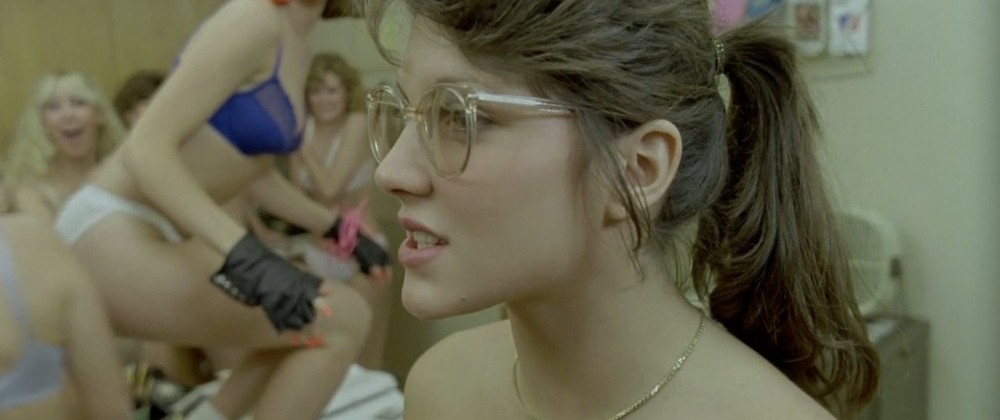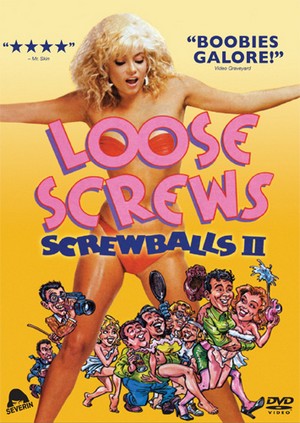 The purveyors of fine cinematic esoterica, Severin Films, follow up their DVD/Blu-Ray release of the Canadian teen comedy hit Screwballs (reviewed here) with director Rafal Zielinski's follow-up Loose Screws: Screwballs 2 (1985). The sequel ups the ante on the sexual titillation factor with added nudity, yet does so without feeling any sleazier than Screwballs. While there is more nudity in Loose Screws there is also more reliance on realism and plausibility of narrative and character. For example, in Loose Screws there is night-time beach scene which attempts a realist portrayal of a make-out scene, something that was never on the cards in Screwballs. Zielinski admits on the commentary track that he was going for a more 'realistic' style, with more believable characters. Of course this means realism by the standards of the teen comedy, or more precisely, by Screwballs standards, which is to say…don't expect neo-realism. So whereas Loose Screws may try as hard as Screwballs, it falls short in terms of the visual humour and comic timing that made Screwballs a cut above the standard teen comedy. With Loose Screws we have a film which, while still entertaining, falls short of the brazenly unrealistic tone that made the original a self-conscious parody of the teen comedy. While some viewers may see this as an improvement, it comes at the expense of visual humour and the outright zaniness of the original, where everything seemed at the service of comedy. So whereas Loose Screws may try as hard as Screwballs, it falls short in terms of visual humour and comic timing.
The sequel picks up with the same basic premise: a group of hormone loaded high school males spend 99% of their time trying to satiate their sex drives. While not all the girls are in a similar perpetual state of sexual overdrive (as in Screwballs), there are enough randy coeds to keep the sauce spicy. Another holdover from the first film is the use of sexual puns for almost every proper name (Wadsworth Centre, Mona Lott, Coxwell High School, Hardman, Nikki Nystroke, the only Asian character is, of course, Hung Lo, etc.). What also carries over is the point made in reference to Screwballs that the film is less mean-spirited and caustic (more 'Canadian') than the American teen comedy equivalent.
In Screwballs there were five male friends, and here the group is reduced to four, with two of the original cast returning: Alan Devau as the science nerd Howie Bates, only here as a different character (Hugh G. Rection), whose main science invention is a formula that when placed in the school swimming pool makes clothes evaporate, and Jason Warren as the overweight Marvin Eatmore (Melvin Jerkovski in the original). The preppy type, Steve Hardman, is played by newcomer Lance Van Der Kolk, and the stud Brad Lovett by Bryan Genesse.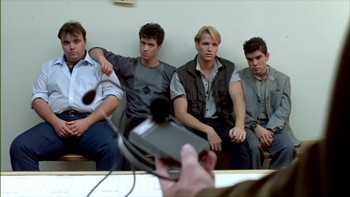 As perennial 12 grade failures the four students are transferred to a special school, Coxwell High School, run by an equally juvenile (and randy) Principal Mr. Arsenault (played by Canadian stand-up comic Mike MacDonald), who provides a virtual textbook of outrageous comic expressions. Both Mr. Arsenault and Brad Lovett vie for the attention of new French teacher Mona Lott, played by the too young Cynthia Beliveau, who may not be entirely convincing as a French teacher, but meets the physical demands of the sexy French teacher stereotype.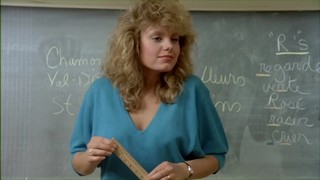 In my analysis of Screwballs I noted a possible allusion to Blue Angel, with the Emil Janning's Professor Rath character, and I'll do the same here. In Blue Angel Professor Rath assumes a morally superior position to his sex-seeking students, who frequent the bar where Lola Lola (Marlene Dietrich) performs. Rath uses this as a reason to go to the bar to catch the students red-handed. Instead of sending his students on the proper moral path he succumbs to Lola Lola's charms and ruins his life in the process. Likewise, Mr. Arsenault is forever punishing his students for things he is equally guilty of and, echoing Blue Angel, becomes a cuckold when his wife sleeps with preppy Steve Hardman.
Whereas the original was a period film set in the late 1950s, 1960s, the sequel is contemporary (1985) and feels more dated because of this, with the music, hairstyles, and costumes satirizing both the outgoing 1970s disco fads and the incoming 1980s new wave styles. On the other hand, Loose Screws functions as a bona fide time capsule of the 1980s pop culture and style. Rather than a tight plot Zielinski opts for vignettes that find the heroes hatching one plan after another in their attempt to score more 'points' than the other. Zielinski expands his reference points by borrowing the lesbian warden stereotype from the all-women's prison camp film with the butch (with penciled on facial hair) Hilda Von Blow (Deborah Lobban), who inspects the female co-ed bedroom and confiscates any suspicious objects (sexy magazines, dildos, etc.).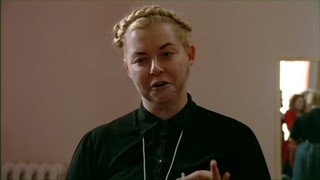 Lovett repeats Peter Keleghan's (Rick Mckay's) hilarious trick of insinuating himself into titillating situations by dressing in drag. In this case Zielinski seems to be going back to the source, Tony Curtis in Some Like it Hot (the DVD chapter for this scene is even titled 'Some like it hot"), by having Lovett (in a very convincing drag I might add) enter the female co-ed bedroom, where the girls are always caught by the admiring camera wearing sexy clothes and doing leg-spreading calisthenics. The set-up of this scenario as a ludicrous male wet fantasy is established in a subjective POV pan across the room of all the attractive female students lounging about in sexy lingerie, or doing an exercise that places their body in a sexualized position.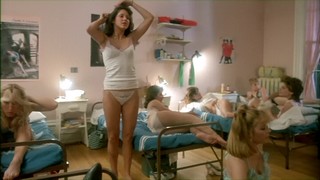 Lovett acts like the proverbial kid in a candy store, sharing a bed and then a bath with a sexy female student, who is conveniently blind without her contact lenses. In a gesture which will please the female viewers, Lovett blows his cover when drill sergeant Von Blow finds the toilet seat left up!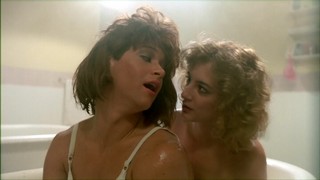 Even though the film is low budget, director Zielinski and DP Robin Miller went to some care to give the film an interesting visual style. For example, the way the 'romantic' bathtub scene is lit in a soft white haze. Loose Screws echoes Screwballs with an elaborate revenge scheme that takes place on a stage, in this case during a formal unveiling of a new school statue. This scene contains the most elaborate lighting and set-ups of the film, perhaps even considering Screwballs. The scene includes a film-within-a-film, a dutch angled, fast motion home movie of Mr. Arsenault and Mona Lott having sex, which, according to Zielinski, was shot on 16mm to get a grainier image (though his memory is fuzzy on details). The lighting throughout the scene is modeled on a comic book color palette of green and red colored gels, and also includes the Frankenstein/Metropolis-like reanimation of the statue. The saturated colors and elaborate set-up of this revenge scheme set in a high school auditorium seems to be closer yet to the original initial template from Brian De Palma's Carrie.
Continuing with the visual style, on the commentary Zielinski reveals that his initial intention was to shoot the film in black and white (which was of course blocked by the producers), and he tried to replicate this by the use of filters and muted colors in the wardrobe/set design (this is most evident in the finale stage scene). One of the most bizarre set-pieces in the film (which echoes the aerobic dance scene in Screwballs) is the beach dance scene, where about two dozen fit (except for Eatmore), bikini-clad students do a collective disco jig choreographed to a tracking camera (shot on Lake Ontario). As Zielinksi sarcastically notes on the commentary track, it was their effort to come up with a new dance craze, 'the screw' (it didn't).
The creative team behind Loose Screws will be ecstatic with the loving care given to this recent DVD release by Severin. The film itself is given an excellent 16 × 9, 1.78 anamorphic transfer which captures the original 35mm film look (no excessive DNR). The widescreen framing is also critical in maintaining Zielinksi's careful compositional sense, and the work of the art director and production designer. This fact can be easily confirmed by comparing the transfer of the 16 × 9, anamorphic domestic North American release with the longer (by 11 minutes), 88 minutes International version included as a special feature, which is presented in (to quote the packaging), "Authentic VHS-Vision." Severin is true to their word, because the International version transfer is cropped at 4:3 and has the low-res look of video. This longer version does not contain more nudity or material that could have been censored, or indeed any extra scenes, but rather gains its additional length by having existing scenes that are simply cut longer. Given the much poorer transfer of the longer version, coupled with the incorrect aspect ratio, the only compelling reason to watch this version is if you are feeling romantic for the VHS days –appropriate given the film's release date. My recommendation is that if you are going to watch only one version, watch the shorter, anamorphic version. And for whatever it is worth, during the commentary Zielinski states his preference for tighter edited North American version. Like Screwballs, Loose Screws is released by Severin in both standard DVD and Blu-Ray editions.