On Virtue, Friendship, and Political Participation in the film The Long Walk Home and in the book Contemporary Black American Cinema
Film starring Whoopi Goldberg and Sissy Spacek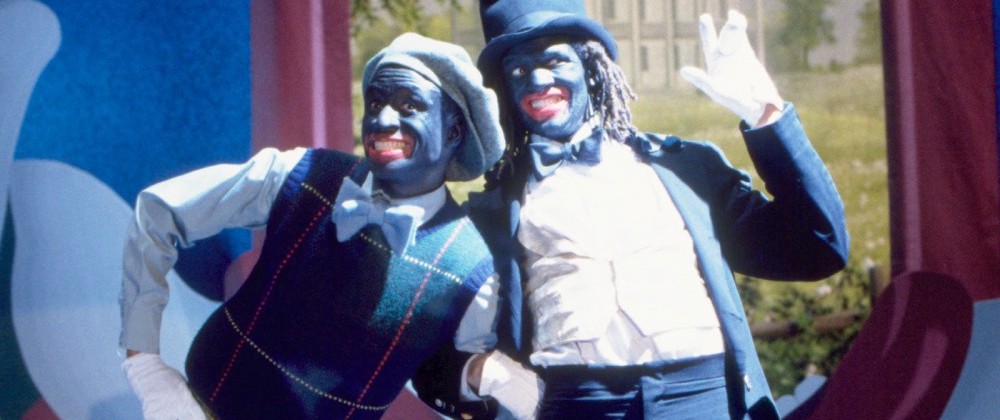 The Long Walk Home
Directed by Richard Pearce
Screenplay by John Cork
Art Director Blake Russell, Cinematographer Roger Deakins, Editor Bill Yahraus
Producer Howard W. Koch Jr.
New Visions/Miramax, 1990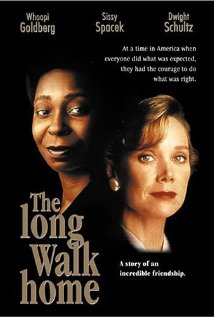 Contemporary Black American Cinema: Race, Gender and Sexuality at the Movies
Edited by Mia Mask
Routledge, 2012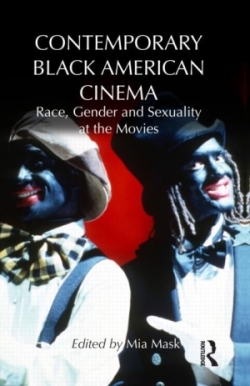 Courage, compassion, confidence, dignity, diligence, discipline, fairness, fellowship, generosity, gentleness, harmony, intelligence, knowledge, sensitivity, strength, and wisdom are virtues, virtues that define the good character of human existence. The virtues can be taught, and they can be modeled, but they must be chosen and cultivated in order to be possessed by anyone. In the film The Long Walk Home, written by John Cork, directed by Richard Pearce, and starring Whoopi Goldberg and Sissy Spacek, two women, one a household helper and one her white lady master, Odessa Cotter and Miriam Thompson, become friends and participants in the American civil rights movement of the mid-1950s. Their virtues and the intimacy of their work make the good they do possible. Whoopi Goldberg's Odessa is one of her most significant roles. Whoopi Goldberg, of course, is part of several traditions: a multifaceted woman performer, she belongs to a line that includes Ethel Waters, Josephine Baker, Lena Horne, Hattie McDaniel, Dorothy Dandridge, Diahann Carroll, Diana Sands, Cisely Tyson, Mary Alice, Gloria Foster, Diana Ross, Angela Bassett, Salli Richardson-Whitfield, Halle Berry, Viola Davis, Kimberly Elise, Anika Noni Rose, and Beyonce Knowles, transcendent and popular artists. Goldberg is also one of the great family of clowns, from Charlie Chaplin and Buster Keaton and Mae West to Lenny Bruce, Redd Foxx, Lily Tomlin, and Bette Midler. Goldberg is a chameleon—and she is always real. Richard Pearce's The Long Walk Home is a rather plain film, with very little artifice or excess, a work that has lasted and will last: its drama and passions are rooted in truth. The Long Walk Home tells a simple story—of the Montgomery Bus Boycott—with a long past and many consequences: its meaning is shaped by the enslavement and segregation of a people, and the liberty and respect of a people. The enslavement of Africans—between thirty million and one-hundred million—by the Portuguese, English, French, Dutch and Americans, was undertaken for economic reasons and justified by propaganda about black inferiority, a form of thinking so effective that it survived the end of slavery and preserved negative social discriminations. The liberation of blacks had to be fought for everywhere—in law courts and business offices and churches and homes and restaurants and stores and parks and on beaches. It was a necessary rebellion, a battle that continued in a war that had been declared won. The Long Walk Home provides a view of the struggle, focusing on one woman's refusal to ride on the segregated buses and the effect of that refusal on those she knows. With fairness, intelligence, and sympathy, the film imagines one woman's ordinary life, its challenges, pleasures, and resilient strength, in a time of public conflict and social movement. Intelligence refers to awareness, evidence, logic, and thought—and it is both ability and quality.
With the foundation of the American civil rights movement in moral principle and suasion, respect for law, knowledge of history, employment of eloquent language, and participation of the common man and woman in the use of the strategy of civil disobedience, the American civil rights movement was one superb demonstration of African-American intelligence, not the first nor the last. The National Association for the Advancement of Colored People (NAACP), The National Urban League, and the Congress of Racial Equality were the most prominent groups agitating for change. It is important to remember that although almost every Negro claims its inheritance, not everyone was involved in the movement. Yet, now, in the age of the brilliant, handsome, well-intentioned Barack Obama, the community organizer, lawyer, professor, and senator, the first African-American president of the United States of America, whose second inauguration—after his first-term promotion of progressive domestic social policy and questionable sustaining of two foreign wars, and his second election to the nation's highest office—fell on the day celebrating the birth of the country's greatest civil rights leader, Dr. Martin Luther King Jr. of the Southern Christian Leadership Conference, one can see how other demonstrations of African-American intelligence have been, and are, grounding and nurturing inspiration for current triumphs and future efforts. In one field and another one can see liberated imagination and intelligence. We know that Benjamin Banneker helped to build the nation's capitol but most of us, until we make a special effort to learn, do not know the names of other important African-American architects who designed structures and landscapes for form and function, for beauty, community, protection, and use, such as Louis Bellinger, J. Max Bond Jr., John E. Brent, Albert Irvin Cassell, Robert T. Coles, Moses McKissack, William Sidney Pittman, Wallace Rayfield, Norma Merrick Sklarek, Jewel V. Woodson Tandy, Robert Robinson Taylor, and Paul Williams. African-American scientists and inventors such as the light bulb carbon filament inventor Lewis Latimer and the train communication system creator Granville Woods and gas mask maker Garrett Morgan are known, though the recognition of Otis Boykin (electronic control devices) and Patricia Bath (eye surgery for the blind) is less certain, as is that of Bessie Blount, Jan E. Matzeliger, Elijah McCoy, Alexander Miles, Shirley Jackson, and James E. West. Figures such as W.E.B. Du Bois, Alain Locke, and Cornel West may be known as public intellectuals, and even as philosophers, but less so—for the general populace—are the trained and practicing African-American philosophers Michele Moody Adams, Anita Allen, Stephen Carter, Lewis Gordon, Leonard Harris, Tommy Lott, Charles Mills, Lucius Outlaw, Ken Perry, Adrian Piper, Lawrence Thomas, Naomi Zack, and George Yancy. Literary writers, from Jean Toomer, Countee Cullen, Langston Hughes and Zora Neale Hurston to Richard Wright, Gwendolyn Brooks, Ralph Ellison, James Baldwin and Lorraine Hansberry to James Alan McPherson, Toni Morrison, Toni Cade Bambara, Charles Johnson, David Bradley and August Wilson on to Percival Everett, Melvin Dixon, John Keene, Martha Southgate, and Michael Thomas, explored history and modern life and articulated new sensibilities and illuminated new possibilities. Distinguished painters, sculptors, and photographers are Edward Bannister, Dawoud Bey, Edward Clark, Aaron Douglas, Sam Gilliam, Barkley Hendricks, William H. Johnson, Rashid Johnson, Glenn Ligon, Reginald Madison, Edna Manley, Kerry James Marshall, Gordon Parks, Rose Piper, Martin Puryear, Faith Ringgold, John Robinson, Raymond Saunders, Henry Tanner, Mickalene Thomas, Bob Thompson, Carrie Mae Weems, and Kehinde Wiley. Choreographers, sometimes drawing on Africa, sometimes evoking the long black American history, sometimes inspired by abstract modern experiment, include Alvin Ailey, Ronald K. Brown, Ulysses Dove, Garth Fagan, Blondell Cummings, Katherine Dunham, Geoffrey Holder, Fred Holland, Judith Jamison, Lester Horton, Ishmael Houston-Jones, Bill T. Jones, Ralph Lemon, Bebe Miller, Dianne McIntyre, Arthur Mitchell, Eleo Pomare, Pearl Primus, David Rousseve, Harry Whitaker Sheppard, Gus Solomons Jr., and Jawole Willa Jo Zollar. Of course, music and sports and film are our most popular forms, exemplifying personal skill, talent, and thought, and cultural aesthetics and values, and human agility and worth. "Each time you look at a blank piece of paper, you wonder how you're going to do it, starting from scratch. Your stories just take a different form," said film writer and director Charles Burnett (Killer of Sheep, To Sleep with Anger) to James Ponsoldt for the Filmmaker article "This Bitter Earth" in 2007, going on to explain, "You want to do something that's new and interesting and challenging. And each one is like starting all over again" (the interview is collected with others from 1980 through 2008 in Charles Burnett Interviews, University Press of Mississippi, 2011; page 156). More relevantly, most significantly, the motion picture The Long Walk Home is a work that helps to make vivid the nature and development and potential of African-American experience, as do the films Antwone Fisher, Boomerang, Chameleon Street, Daughters of the Dust, Devil in a Blue Dress, Eve's Bayou, Ganja and Hess, Get on the Bus, The Great Debaters, Jumping the Broom, Losing Ground, Sankofa, and Sidewalk Stories.
Free Africans in Africa, the land of Egypt, Kush, Carthage, Ethiopia, Ghana, and Mali. The kingdoms of Benin, Dahomey, Oyo, and the Ashanti, kingdoms which became complicit with evil. Capture. Enslavement. Emancipation. Reconstruction. Discrimination. Protest. Change. The civil rights tale told in The Long Walk Home is a story of knowledge and ignorance, of tradition and modernity, of kindness and cruelty—a story of character and situation and emotion and manners. It is an American story, about the past and what is possible—a story of power and weakness, and transformation; and it has a resonance that Turgenev and Dickens and Henry James would recognize. The Montgomery bus boycott was long in coming, and found inspiration in a similar boycott that took place in Baton Rouge, Louisiana: Martin Luther King Jr. consulted with Reverend T.J. Jemison of Mount Zion Baptist in Baton Rouge. Reverend Jemison had been involved in the two-week June 1953 Baton Rouge boycott, with Raymond Scott of the United Defense League and others, in what is believed to be the first American bus boycott. After a Baton Rouge bus service that was owned by African-Americans was ruled illegal in 1950, the town's blacks were forced to ride the segregated bus lines, forming eighty percent of ridership, an example of whites refusing respect and sabotaging independence. Money was taken from passengers in fees, and compromised—disrespectful, uncomfortable—service provided; and then when bus fares were raised in 1953 in January, community complaints were brought by Negro leaders to the City Council—and, while maintaining segregation, some of the bus seating rules were made more flexible, allowing blacks to take free seats designated for whites rather than stand, but white drivers refused to observe the new ordinance. Consequently, there was a community bus boycott, with money raised to pay for alternate transportation, a free-ride system, until observance of more fluid bus seating—first come, first served, except for the first and last rows of seats, those remaining segregated—was reinstituted in June, 1953. However, the long history that came before the Montgomery bus boycott is not given but is assumed in The Long Walk Home. Instead a small chapter, a small view, of the vital Montgomery boycott is given. That is significant: as the film allows sight of the difficulties blacks faced and the suitable tactics found for social transformation. Lord, don't pass Montgomery by. "The surprise of the film is how intelligent and moving it is," wrote Owen Gleiberman in his January 18, 1991 Entertainment Weekly review of The Long Walk Home. Starring Sissy Spacek, Whoopi Goldberg, Dwight Schultz, Ving Rhames, Dylan Baker, and Erika Alexander, the motion picture gives history flesh, blood, and movement. "It's an impassioned movie, with vehement, soulful performances from Whoopi Goldberg and Sissy Spacek, but it's also a work of great restraint and proportion," wrote Hal Hinson in the Washington Post (March 22, 1991).
The Long Walk Home arrived decades before the film The Help, which focuses on the relationship of black southern maids to the white women they work for, with the maids in The Help including a longtime, loyal black maid impulsively fired, and a rebellious black maid who takes crude revenge on a disrespectful employer, as well as one maid with a spiritual sense and a small interest in writing. The Long Walk Home (1990) is much better than The Help (2011), which is sentimental and vulgar. "The melodramatic stereotypical story of black female domestics and white employers told in The Help is no new story," wrote cultural critic Bell Hooks in "Help Wanted: Re-Imagining the Past" (Writing Beyond Race, Routledge, 2013, though available in late 2012; page 63). It is impossible not to think that The Help, a motion picture directed by Tate Taylor based on Kathryn Stockett's book, was popular because of its sentimentality and vulgarity rather than in spite of them. The taste for work featuring African-Americans has always been complicated: and it is always hard to know whether to trust the judgments of whites or blacks regarding it. Of course, what that means is that while everyone has a right to his/her own opinion, and may see and say something of use, not just anyone's response should be regarded highly, but that those who actually make a regular and thoughtful study of such work—and its history and current context—should be consulted.
In the same shallow way as The Help, the film The Beasts of the Southern Wild (2012), written by its director Benh Zeitlin with playwright Lucy Alibar, received many accolades, though discerning reviews identified the film's conceptual problems: about a father and daughter living in a watery Louisiana wilderness among a scavenging community, Beasts is an attractive and impressive film, and it is also a film that reanimates old, old ideas about the poverty and passion of blacks. It is a film that basically assumes, even says, that those people are so strange, so different from us, that they cannot be judged in the same way: their virtues are not ours—and the things they do that might seem illogical or insane to us, we must take as signs of their tribal eccentricity. Beasts of the Southern Wild is a romance of primitivism. There are better—more fair, generous, intelligent and true—visions of black youth and family in Louisiana, from Sounder to Eve's Bayou; and a more contemporary, complex view of African-American (and white) southern life is to be found in the Home Box Office television program Treme, a great show. Why are the cheap and the lurid preferred to the complex and the true? Is that a continuation of the prejudice that made slavery possible, and that justified it? Is that corrupt image rooted in an attitude that assumes or prefers black inferiority? It is important to remember that one's superiority cannot be proved simply by pointing to another's error or flaw. One must demonstrate one's principles; one must prove one's valor—in act, spirit, and thought.
Richard Pearce's civil rights drama The Long Walk Home stars Sissy Spacek as Miriam Thompson and Whoopi Goldberg as Odessa Cotter, the two women who are employer and employee, first strangers then friends. Sissy Spacek is known for a wide range of work, including Carrie, Coal Miner's Daughter, and Crimes of the Heart among many other films, as well as The Help, in which Spacek plays a mother who laughs—improbably—when she finds out her snobby daughter has eaten something disgusting. Whoopi Goldberg, a comedian, actress, and talk show host, appeared in the films The Color Purple, Jumpin' Jack Flash, Clara's Heart, Ghost, Soapdish, The Player, Sister Act, Made in America, and The Deep End of the Ocean. She was in Tyler Perry's For Colored Girls, his interpretation of Ntozake Shange's signature work, playing a passionate and cruelly spiritual woman. The husky-voiced Goldberg, an artistic descendant of Ethel Waters and Paul Robeson as well as Moms Mabley and Richard Pryor, is as unique a film presence as Streisand. In The Long Walk Home, Goldberg's brave bohemian spirit is covered by the strategically humble and quiet manner of a character with limited options and power: the manner is the self-obscuring language and gestures of blacks in the presence of white power. Yet, Goldberg remains perceptibly, vividly, aware; and her Odessa is the wife of Herbert and the mother of Selma, Theodore, and Franklin, and Odessa's voice at home with her children has authority, the authority of honest emotion and personal responsibility. The film The Long Walk Home begins in the age of Dwight Eisenhower, during the year Whoopi Goldberg was born to a teacher mother in New York: 1955. It takes place in a land of long hot summers, a culture of fear and insult, a land of pine trees, oak, and the southern magnolia, a terrain for lumber and coal and cotton and chickens, the Alabama of history and nightmare, as southern a place as exists, bound by Tennessee, Georgia, Mississippi, Florida and the Gulf, a land of resistance to social equality. In the very beginning of December 1955, the seamstress and NAACP member Rosa Parks was riding on a segregated bus in Montgomery, Alabama—in the first seat allocated for blacks behind the ten front seats allocated for whites—and when Miss Rosa Parks refused to give up her seat for a white passenger, Parks was arrested, convicted, and her case appealed. However, the boycott of the town's bus system would last for more than a year, for three-hundred and eighty-one days; and finally first a federal district court then the Supreme Court would rule segregated buses as being against the country's Constitution. It was, for African-Americans, a time of shared purpose and sacrifice, a time of danger. Lord, don't pass Montgomery by. It was for the nation a time of turmoil, hope, and change.
One sees the relationship of the individual to family and community in the film The Long Walk Home: we, in the film audience, see the black woman maid, Odessa Cotter, at home, on the bus standing before the boycott, then during the boycott taking a long walk to work in the rain, and with her family in church among many. "Goldberg is the perfect embodiment of that quality of ordinariness; her greatness is in holding true to that most basic aspect of herself," the Washington Post's Hal Hinson wrote in his March 1991 review. An early scene shows the maid Odessa Cotter—who cooks, cleans, irons clothes, and takes care of a caucasian woman's children—when Odessa is humiliated—and terrified—by a young white male police officer as Odessa takes care of her young white girl charges in a park designated as white, a segregated locale; and Odessa's employer Miriam gets the offending man to apologize to the housekeeper and the children, a perfect apology—from himself, the police department, and the city. Later when the bus boycott begins in Montgomery, a small city with one and two-story buildings and old-fashion faces, we see Odessa and her family observe the early morning bus rollout with no one on any of the buses. The ordinary well-dressed Negroes walk to work, or wherever they need to go, their feet hurting, sometimes bleeding—determined for equality, freedom, justice. Odessa and her family walk among them, even though walking means Odessa will arrive home at night too late to cook and too tired to clean. People wake early to walk or find shared private transport. The community seems unified, but of course appearances can be deceptive—or incomplete: and Odessa's daughter Selma disparages the boycott as an inconvenience, especially as she wants to take a bus to meet a distant boyfriend. The girl's younger brother Theodore has a better understanding of the political struggle than Selma does (the girl, both understandable and foolish, is one of those characters one yearns to strangle). The organizing and visionary young—twenty-six years old!—minister Martin Luther King Jr.'s voice is heard in church, and coming through speakers placed outside for the large overflowing audience: Martin King connects the black protest to the United States Constitution and to Christian morality. King sees and speaks of common virtues and values; a shared humanity. That was an era when African-American leadership educated, guided, and embodied in public the best hopes and ideas of Negroes, the deep and passionate commitment to liberty and progress, rather than pandering to, reflecting, and confirming the ignorance of the worst elements in the black communities, their spiteful rage and useless resentment and disregard for education, accomplishment, and positive distinction. It was a time of dignity and spiritual strength, despite injustice and insult. The most despicable Negroes were not at the head of the parade, shouting down reason, complexity, excellence, and human sympathy—they left that to bigoted Americans of European descent. It was a noble time for African-Americans and other Americans of good will.
"She don't know us and she don't want to know us," the servant Odessa Cotter's husband Herbert Cotter says of the good white lady, Miriam Thompson, that his wife works for. Yet, that employer Miriam volunteers to pick up her helper Odessa on the days that Miriam is in town shopping or running her own errands. The limits of decency are demonstrated during a Thompson family Christmas dinner the maid Odessa helps to cook and serve with the joking and practical but proud maid Claudia, a dinner at which one of the guests—the mother of Miriam's husband Norman—makes overtly disrespectful and racist comments. The gathered white people's fear of integration is coolly agitated, angrily disapproving, taking refuge in the use of the word nigger and false suppositions about Communism. They—Americans of European descent—imagine forced intimacies, and white communities that are no longer safe. Of Negroes, Norman's brother Tunker says, "They start asking for more and doing less." Tunker (Dylan Baker), an enthusiastic bigot as well as a doting uncle, and the other pale faces assembled are focused on notions of black laziness, though exploited black labor has been the backbone of the southern economy for centuries. ("They manage to create, deliberately, in every generation, the nigger they want to see," said writer James Baldwin in "Black English: A Dishonest Argument," his 1980 defense of culturally idiomatic speech, from The Cross of Redemption, Pantheon, 2010; page 128.) Odessa Cotter must be silent while hearing rudeness. Meanwhile Odessa's blue-collared husband Herbert Cotter (a short-haired and muscular Ving Rhames), who works in a glass factory and wants a seat in the front of the bus, and their children give Odessa new comfortable shoes and a new coat. There is another demonstration of the vulnerability of blacks when Odessa's daughter Selma (Erika Alexander) bucks the boycott and takes a bus to meet a boyfriend, and finds herself on a bus with insulting white boys who harass, chase, and attack her. Her brother Theodore (Richard Habersham) and a cab driver come to Selma's rescue, and her brother is beaten, while defending his sister—pushing a violent boy away from her—but Theodore acts without aggressive violence. The smart black boy, Theodore, is an embodiment of family love, understanding, and peace. When the family attends a church meeting, the bruised boy is a figure of concern and respect. The real nature of people's values is revealed.
Lord, don't pass Montgomery by are the words of a preaching minister after he and his congregation hear the news about the bombing of Reverend King's house. Miriam Thompson, the elegant but feisty lady of the house, the employer of Odessa Cotter, sees the car pool helping the Negroes travel, and, after the Martin Luther King Jr. house is bombed, Miriam considers Odessa—the mystery of Odessa, the distance between them—and Miriam's own childhood with a black maid; and then Miriam begins to volunteer as a car pool driver, while her husband Norman (a lean Dwight Schultz, still youthful but with thinning hair) is going the opposite route: participating in the reactionary White Citizens Council, a large bustling council where there is casually hateful talk about niggers. It is interesting to see the council, full of men of differing complexions—it is almost always interesting to look on the skin tones of whites or blacks who are part of self-segregated groups based on color and to wonder about the roots of their varied pigmentation. How can so many different shades of skin be referred to as white, or as black? The businessman, husband, and father Norman Thompson points to prominent politicians and businessmen who have joined the citizens group, and Miriam says they would join a circus if they thought it would help their careers. It is easy to see how white masculinity and prestige are tied to the subjugation of blacks; and that white people fear and also face the loss of privilege when they stand up for justice involving blacks. Miriam's husband Norman is firmly disapproving when he finds out that Miriam has been driving Odessa, and he forbids it: "Don't go off on your own. Ask me. I know what's best," he tells her. His is the authority of the male, the authority of the money earner and bill payer. Miriam first submits—telling Odessa her husband Norman is a good man, but culturally limited. (We know Norman loves his family, having seen him name the streets in a new town subdivision after his wife and daughters, and happily taking home movies of his children.) The conversation between the two women, Miriam and Odessa, is of central importance. "What's scaring you? Who you are, or who Mr. Thompson wants you to be?" Odessa asks Miriam. It is an example of the recourse to good sense and truth that African-Americans are sometimes (yes, that presentation of earthy wisdom is also a cliché, though here insight redeems it). In the conversation the women have moved beyond their roles as employer and employee, and are simply trying to express what they perceive and think, what is true. It is the first, but not the last, very significant encounter. Sissy Spacek as Miriam performs with ease and energy throughout the film, creating a character that is decent, fair, and intelligent rather than predictably liberal. Spacek makes a strong southern accent tolerable by investing her speech with awareness and sincerity. "What involved me was the way John Cork's screenplay did not simply paint the two women as emblems of a cause, but saw them as particular individuals who defined themselves largely through their roles as wives and mothers," wrote film critic Roger Ebert in his March 22, 1991 Chicago Sun-Times commentary (however, Ebert identifies the narrator as Miriam's teenage daughter, rather than being the memory of the youngest, Mary Catherine: the little girl who imitates Odessa's ironing and loves her dolls and still believes in Santa). It is interesting to wonder, here and elsewhere, how the individual spirit is compromised by social roles, whether those roles are considered benign or malignant. Who are Miriam and Odessa apart from their roles as wives and mothers? Miriam rebels, and her bond with Odessa grows into friendship but there is a break between Miriam and her husband, with the film ending with an image of interracial connection despite the threat of communal white male violence. The interracial friendship defies the strategies established to diminish African-American agency and accomplishment: strategies that require or encourage the maintenance of ignorance, the limited economic opportunity, the lack of social support, the marginalization, and the harsh judgments; the whole system of values and money and power and imagery promoting whiteness and denigrating blackness. The human bond of friendship, confirmed and deepened by political participation, is a victory.
The human presence—the body, mind, and spirit—is what is born, nurtured, and protected, and what is threatened, in society; and it is human value that perpetually must be fought for. The arts—film and literature and music and paintings—express what is at stake in that struggle, and how that struggle is often won or loss; and critics, intellectuals, and scholars—working for knowledge, love, pleasure, power, pride, money, and fame—study the arts, understanding their form and content, evaluating, describing, preserving, and explaining their beauty, emotion, technique, and meaning. It is sad to think that the humanity of African-Americans as individuals or a group could be in doubt at this late date, but some prejudice remains, as personal experience attests and contemplation of the cinema record confirms. In the anthology Contemporary Black American Cinema: Race, Gender and Sexuality at the Movies, edited by Mia Mask and published by Routledge in 2012, are the articles "Paul Robeson and the End of his 'Movie' Career" by Charles Musser; "The Burden of the Beautiful Beast: Visualization and the Black Male Body" by Keith M. Harris; "Reckless Eyeballing: Coonskin, Film Blackness and the Racial Grotesque" by Michael B. Gillespie; "The Measure of Men: Legacies of Poitier's A Piece of the Action" by Ian Gregory Strachan; "Bamboozled: In the Mirror of Abjection" by Ed Guerrero; "Between Documentary and the Avant-Garde: Exploring the Visual Poetics of Ruins in Christopher Harris's still/here" by Terri Francis; "Who's behind that Fat Suit? Momma, Madea, Rasputia and the Politics of Cross-Dressing" by Mia Mask; "Disney's Improvisation: New Orleans' Second Line, Racial Masquerade and the Reproduction of Whiteness in The Princess and the Frog" by Sarita McCoy Gregory; "Shadowboxing: Lee Daniels's Nonrepresentational Cinema" by Alessandra Raengo; "'I'm a Militant Queen': Queering Blaxploitation Films" by Angelique Harris; and "Street Girls with No Future? Black Women Coming of Age in the City" by Paula J. Massood. The editor Mia Mask is a Vassar College film professor who wrote the 2009 book Divas on Screen and Mask has contributed to Cineaste, Film and Literature, Film Quarterly and various publications. The other contributors are professors of film and African-American studies, political science, sociology, media and cultural studies, American studies, and English literature, with differentiating commitments to artistic styles, international films, female and male performers, and even health issues. The book Contemporary Black American Cinema: Race, Gender and Sexuality at the Movies is two-hundred and seventy-six pages of essays and studies on films featuring and/or directed and produced by African-Americans, with a list of figures or illustrations, an acknowledgements page, a succinct introduction, short biographies of contributors, and an index to significant topics and references. The central texts vary in terms of difficulty and import, but they are all interesting reading to one extent or another; and the articles on the work of Paul Robeson and Sidney Poitier, and Spike Lee's Bamboozled and Leslie Harris's Just Another Girl on the IRT were particularly rewarding, insightful texts on accessible films that present identifiable relationships, and ideas and situations of both conflict and value, and the possibility of art and criticism as avenues for cultural intervention.
In a world that knows more about itself than ever, Mia Mask's Contemporary Black American Cinema: Race, Gender and Sexuality at the Movies, a survey of "the current state of African American Cinema Studies and the issues impacting black filmmaking" (page 1), assumes the international nature of art, the availability of once obscure cultures, the prevalence and use of recording technology, the internet as a communication and distribution system, and the interaction of academic disciplines. Mia Mask notes that in recent decades "film scholars became even more aware of, and familiar with, national cinemas of the developing world" (page 3), and that fact, for one thing, has nurtured greater interest in the neglected film cultures in the United States among its own scholars and critics and film viewers, though it remains difficult for blacks to make films within or welcomed by the mainstream cinema industry. The anthology demonstrates and explores the significance of the work that has been made.
In Contemporary Black American Cinema: Race, Gender and Sexuality at the Movies, Charles Musser's essay on the actor, athlete, scholar and activist Paul Robeson, the writer Musser asserts that reception of Paul Robeson's cinema work has been focused on its adherence to, or defiance of, stereotype, and that more emphasis could be placed on the actor's participation in film form and strategy, on theater as a source for film, on Robeson as a film documentarian, and on an understanding of the artistic process and its difficulties. "We must try to be generous, and not just to Paul Robeson," declares Charles Musser (page 17). Musser, who considers the Oscar Micheaux film Body and Soul (1925) that featured Paul Robeson as a critique of three plays Robeson had appeared in, points to the creation and reception of Robeson's work in the motion picture Tales of Manhattan, a film in six different segments with themes of class, love, infidelity, morality, work, and crime, as an example of Musser's concern with how Robeson's work is seen. In the episodic 1942 film Tales of Manhattan, which presents American situations of wealth and poverty, north and south, Paul Robeson and Ethel Waters play a southern couple, Luke and Esther, who find money in a field, a gain that inspires moral discussion. What will be done with the money? Will Luke buy one or more tractors? Will the money be donated to the battered church, which has a greedy minister? What is good, or evil? Yet, the roles of Robeson and Waters were received by African- Americans and political liberals in the critical press as too simple, although the film attempted to use Luke and Esther to critique more sophisticated milieus and practices. The film Tales of Manhattan, which featured Charles Boyer, Rita Hayworth, Henry Fonda, Charles Laughton and other top performers interpreting the writing of Alan Campbell, Ben Hecht, and Donald Ogden Stewart, produced by Sam Spiegel and Boris Morros and directed by Julien Duvivier, was intended to embody a communal progressive ethos; and may be one more example of how good intentions can create controversy when it comes to politics. Perception defeated purpose. Even Robeson began to apologize for the film, assuming its reception negated the ideas of its purpose and construction. "Duvivier created an elegant, international style for Tales of Manhattan," asserts Musser (page 22). If the honest but poor black people are accepted as the standard of morality in the film, as intended by the filmmakers, the other characters in the film look different. Is that perspective possible, even among liberals?
Keith M. Harris's consideration of the black male body, and power, surveillance, and subjection, as they occur in the films Glory, Pulp Fiction, Traffic, Clockers, Beloved, Looking for Langston and various visual art works—including photographs and videos—is a bit sensational, with its academic language seeming a license for perverse speculation regarding desire and brutality in relation to the black male body, particularly regarding the submission and anal penetration of the black male body, whereas the discussion by Michael B. Gillespie of Ralph Bakshi's animated (and live action) film Coonskin (1975) is an analysis of the predictable scandal surrounding the provocative depiction of black figures, involving criminals, and the migration from south to north, with sexual titillation involving miscegenation—and the film is seen as an imaginative, satirical "exercise of the racial grotesque" (page 68).
One can expect usually more dignity and illumination when the subject is Sidney Poitier, a figure of excellence. Sidney Poitier, an intelligent and sensitive man, a good actor in No Way Out, Edge of the City, The Defiant Ones, Lilies of the Field, and In the Heat of the Night among other motion pictures from the 1950s through the 1970s, and a likable model, has been celebrated and denigrated, in fact denigrated for the celebration that attended his work. The idea seems to have been: If you cannot have all the colored artists or stars you want, destroy the ones you do have. One intuits that some people—thinking that the truth must be ugly—always prefer trash to treasure and thus reject artists and thinkers of virtue. How does one manage a significant career if a large part of the audience does not understand the imaginative freedom of art or the relationship of inspiring ideals to discouraging reality? "The isolation that menaces all American artists is multiplied a thousand times, and becomes absolutely crucial and dangerous, for all black artists," wrote James Baldwin in his sympathetic "Sidney Poitier" for Look magazine in July 1968 (The Cross of Redemption, Pantheon, 2010; page 182). The conscientious Poitier hero found competition in new film figures in the early 1970s—in Sweet Sweetback, Shaft, and Super Fly, motion pictures with characters described by scholar Ian Gregory Strachan as "macho black heroes who were unrepentantly promiscuous; profane; violent; independent; were familiar with street life and the underworld (even if not a part of it, as in Shaft's case); and, above all, kicked whitey's ass instead of kissing it" (Contemporary Black American Cinema; page 91). Within the paragraphs of Ian Gregory Strachan's attentive discussion of Sidney Poitier's work in "The Measure of Men," Strachan shows how Poitier, an actor, director, and producer, recognized the criticism of Poitier's work as too politely heroic and incorporated Poitier's response in his own artistic productions, whether in drama or comedy: For Love of Ivy, Buck and the Preacher, A Warm December, Uptown Saturday Night, Let's Do it Again, and A Piece of the Action. In A Piece of the Action (1977), Poitier presented a figure who is transgressive and a father figure, someone who is both bad and good if not complex: Manny Durrell (Poitier) is a person who steals from organized crime men but respects education and teaches useable survival principles—rationality, competence, manners, practicality, and sensitivity—to angry, needy young students. It is the kind of complicated figure that Morgan Freeman (Lean on Me) and Samuel Jackson (Coach Carter) would play, that even Denzel Washington (Antwone Fisher), Laurence Fishburne (Higher Learning), Ving Rhames (Baby Boy), and other actors would play. In A Piece of the Action, Poitier presented a man of genuine good within the appearance of bad. (Is that a humane and thoughtful as well as a practical strategy, or a strategy of too great a moral compromise?) The real world experience—rather than abstract ideals—of Manny Durrell (Poitier) helps him to communicate with and help frustrated and disrespectful students who do not feel as if they are being prepared for a life of meaning or success. Still, Strachan notes how the film, while advocating personal responsibility, does not address systemic problems with African-American social participation and the assumption of a traditional masculine role of providing and protecting.
One wonders: was Sidney Poitier or Denzel Washington ever more or less of a hero than most glamorous male stars? Are not heroes usually embodiments of virtue? Heroes have abilities and opportunities—and responsibilities—denied to most people. Are African-American films only to be portraits of enraging and torturous struggle; or is personal victory, big and bold triumph, also allowed? Some of the most pleasing films have little or nothing to do with history, a political situation, or any kind of tragic pain for its lead African-American characters: Devil in a Blue Dress, Love Jones, A Rage in Harlem, The Secret Life of Bees, and Undercover Brother. Do films in other traditions carry the same narrow expectations as those for blacks? Would it be useful to see more comparisons of how African-American films relate to the dominant American films (featuring Americans of European descent)? What is the relation of African-American films to the films of Europe or Africa and other locations?
It is liberating to think of the diversity of classic, independent, and international films that have been enjoyed, and can be enjoyed: An American in Paris, Angels and Insects, Babette's Feast, The Basileus Quartet, Beau Travail, Before Night Falls, Boesman and Lena, Chinese Box, The Discreet Charm of the Bourgeoisie, The Diving Bell and the Butterfly, Dogville, East of Eden, Entre Nous, Far from Heaven, Farewell My Concubine, The Fast Runner, From Here to Eternity, Law of Desire, The Leopard, Liberal Arts, Moolaade, The Motorcycle Diaries, My Dinner with Andre, My Favorite Season, Nostalghia, Orlando, Oscar and Lucinda, Pather Panchali, The Perks of Being a Wallflower, The Pillow Book, Pixote, Rendezvous in Paris, Rosa Luxemburg, Secrets and Lies, Sexy Beast, Sugar Cane Alley, Thirty-two Short Films about Glenn Gould, A Time for Drunken Horses, Time Regained, Strawberry and Chocolate, Taboo, Temptress Moon, The Tragedy of a Ridiculous Man, Xica da Silva, Walking and Talking, The Wedding Banquet, Wild Strawberries, and The Wind Will Carry Us and Wings of Desire and The Words. Will many people ever feel as great a wonder for African-American films featuring and directed by blacks? The common expectations for African-American film have been much less.
Ed Guerrero's thorough and possibly classical commentary on Spike Lee's furiously thoughtful motion picture Bamboozled (2000), in the book Contemporary Black American Cinema, is about the mocking image of blacks in media, interrogated in a Lee film informed by performance and political history and shaped by a brutally honest satirical thrust; and the film Bamboozled is dramatic and documentary, telling the story of an African-American television writer who revives the minstrel tradition for a show that becomes popular. Spike Lee argues that blacks, like whites, have begun to sell a variety of negative images of Negroes to gain social approval and financial reward. "White Americans tend to work out the narratives and scenes of their cinematic lives through a general process of affirmation, whereas black Americans struggle with the mysteries and tangles of their big screen issues and images through a generalized process of negation," declares Ed Guerrero in "Bamboozled: In the Mirror of Abjection" (pages 109-110). The province of blacks is pathology; and while the image of blacks is often one of abjection, that of whites is frequently one of affirmation. Even in comedy, sometimes especially in comedy, black complexity and humanity can be denied: is there anything more lethal than refusing to take someone seriously? Citations are made, on the negative side, of the minstrel tradition and of Bert Williams, and Jar Jar Binks in Star Wars, and the magical Negro in The Legend of Bagger Vance and the family mess—obesity, incest, violence, disease—in Precious; and, on the positive side, are Hollywood Shuffle, White Man's Burden, and Bulworth. Gangster films and hip-hop and violent forms of black nationalism can contribute—and have contributed—to the perception of pathology. The reader is apprehensive about Guerrero's consistent binary oppositions, even as he/she can recognize the accuracy of Guerrero's observations.
In Spike Lee's Bamboozled (2000), the television writer, Damon Wayans as Pierre Delacroix, learns that it is not possible for the images of blacks to be too foolish, too inhumane, or too negative to be believed. Yet, one wonders about the inclination to confuse the sign for the signified: images may be articulate and influential, but what is the nature of the authority behind an image? What are the intellectual and financial and social roots of that authority, and what are its purposes, and how can it be defeated or transformed? Which ideas, and what spirit, and which practices can be transformative? In Bamboozled, it is violence that is presented as response, as retribution, in several instances—something that can be seen as intellectually and spiritually immature, though it is very American in its romantic and vicious practicality. Of course, any corporate officers killed in Bamboozled, or in society, will be replaced—immediately, simply—by the system that produces and appoints them.
In other essays, Terri Francis parses the connections among experimental film, Hollywood film, history, and ordinary black life in Christopher Harris's still/here, a sixty-minute documentary film construction centered on ruined buildings in St. Louis; and Mia Mask takes a closer view of the popular inclination of black men—Martin Lawrence, Tyler Perry, and Eddie Murphy—to appear in female drag in cinema, and at the possibilities for empathy, burlesque, and homoeroticism that impersonation offers; and Sarita McCoy Gregory examines the contradictory aspects of Disney's first black princess, Tiana, a free and pretty New Orleans girl who is kissed and transformed by a frog prince, and whom for much of the film—The Princess and the Frog—is a frog rather than a girl, and whose centrality in the film's narrative is subverted by a blonde girl.
Do films present exact reflections, or more ambiguous traces—or realities only imagined and yet to be created? Different films do different things. How Lee Daniels evades some of the typical and static representations of race is the point of Alessandra Raengo's essay on Shadowboxing and Precious (Bell Hooks takes a very different view—discussing Precious as degrading—in her own Routledge book Writing Beyond Race). "Whereas the paradigm of the mirror focuses on the authenticity and truth-value of racial representations—that is, on the extent to which they adequately (or not) portray black people—the paradigm of the shadow emphasizes that race is not a characteristic of certain people, but is rather a (visual) way of understanding and expressing a set of relationships among people," asserts Alessandra Raengo (page 201). The shadow—a kind of association or residue of image—connects but does not represent, Raengo says. For Raengo, Lee Daniels in Precious (2009) gives his dark, large title character an inner life with a recourse to fantasy, an offset to the incestuous abuse she suffers, and Daniels uses editing to provide answers to questions the girl has trouble addressing. There is a creation of consciousness beyond the facts of body, circumstance, matter, and time. The African-American actor Cuba Gooding Jr. is a loving man whose business is violence and whose body is an ideal within built and natural environments of beauty, mystery, and danger in Lee Daniels's film Shadowboxing (2005). In the film, about family, love, sex, responsibility, and violence, "the erotic and the deadly are never neatly separated" (page 210). Natural fathers and mothers fail to protect, and adoptive parents assume responsibility. In an affair with his older and white and dying stepmother (Helen Mirren as Rose), a professional killer like him, Gooding as Mikey is a bringer of pleasure and of death: out of sympathy, Mikey kills the ill Rose while they are having sex. The usual boundaries—among blacks and whites, men and women, parents and children—are not determinate, are elided.
Angelique Harris identifies the use of gay characters as cinema scoundrels and jesters in her piece "'I'm a Militant Queen'," her study of twenty urban action crime dramas circa the early 1970s, some of the better known black exploitation—Blaxploitation—films: Harris finds hard black women, exploitive and violent, as sadistic lesbians in Coffy and Women in Cages—conceptions an artistic era removed from the more recent, acclaimed and complex Pariah; and she finds effeminate black homosexual figures—queens, forever in exile—used for their humor and pride, and for the contrast—sometimes affirmative, sometimes satirical—that they present to masculine leads, in Sweet Sweetback, Friday Foster, and Shaft. "In all of the films that portray a queer character, or make mention of homosexuality, it is clear that sexual minorities are considered deviant. Homosexuality is portrayed as abusive, blatantly offensive or humorous. The one notable exception to this pattern is the character Rollie, the openly gay Caucasian bartender in Shaft," Angelique Harris concludes (page 220). The point seems rather obvious and predictable for those old films. What is the best way to be in the world if the society in which you live sees your ethnicity or sexuality with antagonism? What are your chances for sanity, stability, and success? I suppose, if one is not going to speak about great figures such as essayist James Baldwin and political strategist Bayard Rustin, there is something to be said about and against some black gay men—the giggling, gossipy silliness and lack of intellectual range, the obsession with material things and sex, the envy and malice, and the pathetically desperate attempt to use racial animus against whites as a membership card with low-minded heterosexual blacks—but, in relation to the cinema, it might have been more fascinating to see analyses of black men who operate or attempt to operate in society on the same level as the other characters, rather than below them or at the margins of their lives: Will Smith as the class-defying and deceptive seducer of men in Six Degrees of Separation; or Denzel Washington in another 1990s film, Jonathan Demme's drama Philadelphia, as a homophobic married lawyer who goes through a changed consciousness when he takes on a white gay and dying client; or the two men, both prisoners, one black and one white, in a platonic love story, a friendship with the depth and loyalty of love, but without sex—Red (Morgan Freeman) and Andy (Tim Robbins), in Frank Darabont's interpretation of a Stephen King story, The Shawshank Redemption (1994); or Dwight Ewell as the confident cosmopolitan lover of a married man with a lovely wife in Hal Hartley's Flirt (1995); or the successful New York black gay writer, Patrick played by Rockmond Dunbar, who returns to his small-town southern home, after being told that a youthful dalliance with a girl has given him a son in Maurice Jamal's comedy Dirty Laundry (2006). It would have been interesting to have black men—gay, bisexual, heterosexual, or celibate—who could be, and would be, eloquent about what they thought about affection and erotic pleasure, as well as other matters.
The last essay is probably the best in Contemporary Black American Cinema: Race, Gender and Sexuality at the Movies: Paula J. Massood's thoughtful, warm analysis and appreciation of two independent films featuring African-American and Hispanic girls, Leslie Harris's Just Another Girl on the IRT and Jim McKay's Our Song, in the article "Street Girls with No Future? Black Women Coming of Age in the City," which shows how vital, and delightful, unique perspectives, forms, and stories can be to viewers used to conventional work. Paula Massood does not present films or film characters and their lives as problems to be solved, or as problems that justify the authority or effort of a critic or scholar. (The films are solutions; and she recognizes them as solutions.) While being as factual and as thoughtful as possible, and without denying difficulties, Massood presents creative work worthy of celebration, films featuring exuberant colored girls at liberty in the city: Just Another Girl on the IRT and Our Song. Chantel is the attractive and aware, irreverent working class main character in Leslie Harris's Just Another Girl on the IRT (1992), a high school junior, a good student, who wants to go to medical school, and has decent, smart boyfriends, first Gerald then Tyrone, but wants to evade the usual entanglements of urban life, and yet finds herself pregnant. The film creates an intimacy with the Brooklyn girl through observation, her narration, and direct address to the camera: authority is given to the gaze and voice of a black girl. Three young women are featured equally in Jim McKay's Our Song (2000), with their diverse concerns—friendship, education, music, work, health, and pregnancy. The Brooklyn girls in Jim McKay's film have not given themselves the same extensive permission to be themselves as in Leslie Harris's film, but both films show the inability of the young to anticipate all the experiences and decisions that they are likely to face; and "McKay forgoes direct address and voice-over (more easily recognizable documentary conventions), instead opting for long takes and close-ups" (page 242). The respect of the filmmakers Leslie Harris and Jim McKay for their characters in those realistic narratives, and the respect of Paula Massood for the films in her explication, comes through most vividly: that respect is a fundamental necessity in significant portraiture, and it heals the conflicted mind and the wounded spirit.
Individual freedom is protected by the laws of a democracy, but conformist customs, capitalist enticements, and criminality compete with, and subvert, those protections. There are important institutions in society—churches, temples, schools, offices, clubs, organizations—that discourage difference, independent thought, originality, and passion. One's perception of opposition can inspire a greatly obstinate attitude. It is rare for film, or any institution in the larger society, to present an ambitious, intelligent and furious person of color as admirable, as a complex figure who is interpreted as an embodiment of virtue, a difficult person but a person of value, someone who is worthy not only of acceptance but of love; and that is what Leslie Harris's Just Another Girl on the IRT does. Chantel lives in conflict with areas of her environment; and the conflict lives within her. Paula Massood observes of Chantel: "Her ambition, her academic excellence and her looks are, in Chantel's opinion, real markers of her difference (even though the film's title ironically plays with this notion). It is, however, Chantel's solipsistic confidence in being an exception that works against her best interests. Her most emotional—and poorly articulated—behavior is in reaction to criticism about her personality" (page 238). Chantel answers her monoculture history teacher in a way that is heard as particularly rude, and when she is sent to the principal's office, the principal points to Chantel's language—Chantel curses sometimes—as proof that Chantel is not the kind of person who would do well in college. Chantel does not fit the positive profile in the principal's mind, although her grades are good. That attitude and its negative consequence are recognizable—Chantel and her situation seem real. Chantel, who has to learn both official knowledge and radical views for her own survival, is expected to sit still for a history lesson that does not recognize the existence or contributions of Africans or African-Americans, though she knows better; and she is not expected to defend herself or her ideas. "Harris gives Chantel control of the situation (and the scene) by literally shutting out Mr. Moore's lecture via a direct address sequence that privileges the teen's voice and thoughts over the teacher's," notes Massood (page 238).
Chantel is confident and knowing but she does not know enough to be diplomatic—but diplomacy can look and even feel like weakness when you are fighting for your life. That kind of conundrum does not make its way into many films, though it is felt by many people of color every day—and it is in Just Another Girl on the IRT. How are you to prosper without the kind of instruction and support that the privileged get as a matter of course? How do you survive the rituals and rules that were not evolved for your benefit? How can you be both free and safe? How can you reconcile thought and emotion; and individuality and community? Chantel, attracted to a young man with money, betrays herself by not insisting on the use of a condom when the two have sex, and she is alone with her dilemma—burdened by choices and what they mean—when she finds herself pregnant. Burdened by choices, as most of us are.
(Essay submitted March 26, 2013)