A Portrait of an Artist as a Handsome, Smart, Tough Black Dude: Laurence Fishburne in School Daze, Bad Company, Othello, The Matrix, Armored and other films
It is the wholeness of African-American men that is most feared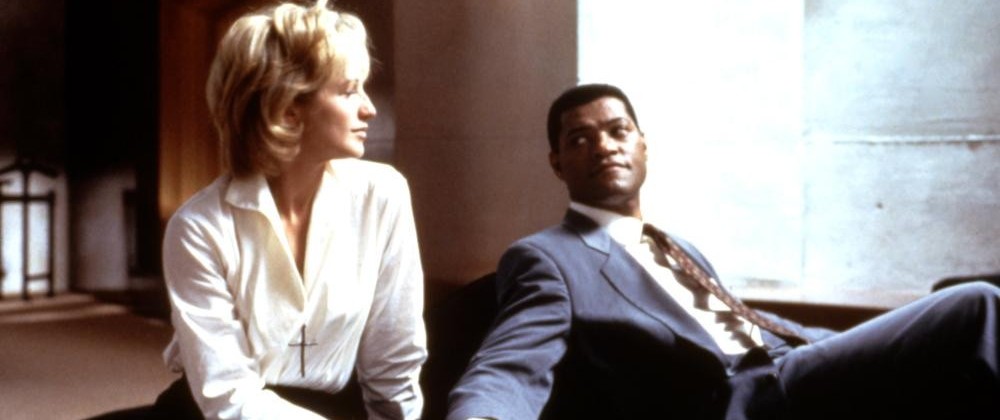 "My parts, my title and my perfect soul/ shall manifest me rightly," asserts the noble Othello, the moor, the skilled soldier and new husband of the beautiful Desdemona (William Shakespeare, Othello, The Moor of Venice in The Complete Works of Shakespeare, Pearson, 2009; page 1159). Othello's confidence will be shaken, and his reputation damaged, in this play by the most protean writer of all, Othello, The Moor of Venice by Shakespeare, a play of ambition, love, jealousy, rage, and vengeance, a play in which the relentless energies of human nature undoes all accomplishment. The great warrior Othello is resented by a man he has taken as a comrade and a friend, Iago, who resents Othello's promotion of Cassio to lieutenant instead of Iago. Iago's contrivances encourage Othello to doubt the fidelity of his young wife Desdemona. Once Othello doubts Desdemona, Othello curses her, calling her an impudent strumpet, a cunning whore of Venice (page 1189). It is a desecration of the virtue he saw in her, before and after his own seduction of her. Othello's jealousy is violent, murderous. Desdemona's attendant and friend Emilia, Iago's wife, is surprised by the machinations of her own husband Iago: neither she nor Desdemona knew their husbands well enough. Emilia, seeing how Othello has been tricked, seeing how he has misinterpreted Desdemona, calls Othello as ignorant as dirt (page 1197)—her denunciations are truly stinging. Othello has fulfilled the worst expectations of him, a dark stranger come to prominence. Othello, near his end, capitulates: "I am not valiant neither, / But every puny whisper gets my sword: / But why should honour outlive honesty? / Let it go all" (1198). It is a tragedy of love, jealousy, and rage, a tragedy of vengeance; and the part of Othello has been performed by legendary actors, including Richard Burbage and Edmund Kean on stage, and by Laurence Olivier and Orson Welles on both stage and film. The African-American actors who have played the role on stage, to both appreciation and controversy, are Ira Aldridge, Paul Robeson, and James Earl Jones. Laurence Fishburne played the role in a film adaptation directed by Oliver Parker; and it is hard not to think that Laurence Fishburne must have been the most compelling of men in the role, for all the qualities of form and force he brought to it.
Laurence Fishburne is Othello, stern and sensual, muscular with a shaved head and tattoos, and Kenneth Branagh is Iago, in Oliver Parker's 1995 film Othello. I saw filmed productions of Lawrence Olivier as Othello and Anthony Hopkins as Othello, and, without question, I prefer Fishburne: he is man enough, eloquent enough, warrior enough, sexy enough, to make me believe that he could seduce an aristocrat's daughter, Desdemona (Irene Jacob), inspiring her to leave all she has known for a stranger. Fishburne's complicated appeal—that of a man of intellect, force, and sexuality—has never been more required, than in this interpretation of Shakespeare's great play of love and jealousy and rage. The director cast Fishburne for his talent and charisma, for his vitality. Kenneth Branagh described Fishburne as having an aura of danger. In a mid-1990s interview with Jim Shelley (The Guardian), Fishburne irreverently described Othello as a booty-stealing pirate, though going on to say that Othello had elements of honesty and nobility too, a man who is sympathetic because he thinks he has lost love and feels great pain. (Fishburne found racism in previous portrayals of Othello, including those of Olivier and Orson Welles, but praised Raul Julia's performance as Othello.)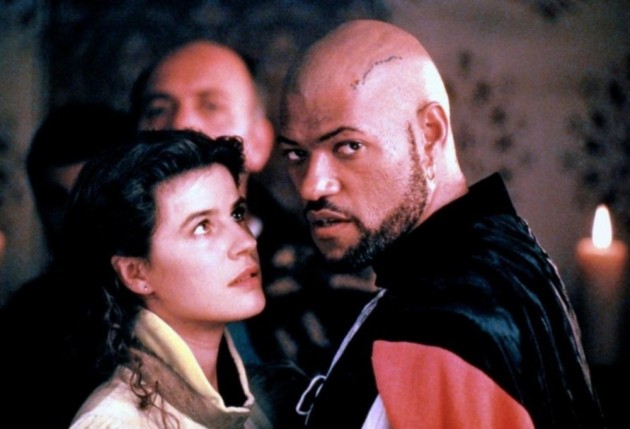 Othello
Laurence Fishburne, an actor in cinema, theater, and on television, is a unique figure in American film, an African-American who brings ferocity of body, mind, and spirit to his work. There seems no power he cannot suggest—erotic, intellectual, spiritual, or political. It is surprising that he began acting when he was very young, a child, but has not had his rough edges sanded down by experience, place, or time. Some people know him for King of New York (1990), others for his performance as Ike Turner in What's Love Got to Do with It (1993) and still others for his appearance on television in CSI: Crime Scene Investigation (2008) and Hannibal (2013). Of course, there is also his role as Morpheus in The Matrix (1999). Laurence Fishburne, whose first part was in a Charles Fuller play, won a Tony award for appearing in the great August Wilson's play Two Trains Running in 1992, the same year Fishburne was in the film Deep Cover. Fishburne wrote and directed a play, Riff Raff, about a failed heroin robbery in the mid-1990s that was performed on stage and then became his film Once in the Life (2000). The 1990s were a great time to be Laurence Fishburne, although it is arguable that every year it is a great time to be Laurence Fishburne.
Laurence Fishburne, the Georgia born son of a math teacher mother and corrections officer father, grew up in Brooklyn, and made his film debut in a story of police misconduct, Joseph Manduke's 1975's Cornbread, Earl and Me, with a screenplay by Leonard Lamensdorf based on the novel Hog Butcher by Ronald Fair, in which an ambitious young black man, a basketball player, is killed by a policeman, but justice is delayed when the boy's reputation is savaged to protect the policeman's career. A more significant work for filmgoers may be Fishburne's appearance as gunner's mate Tyrone "Mr. Clean" Miller in Francis Ford Coppola's troubled production Apocalypse Now (1979), though it is hard to recall anyone but Martin Sheen as Captain Willard, Robert Duvall as the napalm-loving Commander Kilgore, and Marlon Brando as Colonel Kurtz from that film, which used Joseph Conrad's Heart of Darkness to interpret the maddening war in Vietnam. (Fishburne has said that he began to develop a wild streak while making the film, a streak that deepened with King of New York, but which he checked for his own survival.) Francis Coppola would hire Laurence Fishburne again for both Rumble Fish (1983) and The Cotton Club (1984): Fishburne is Midget, a messenger of bad tidings, in Rumble Fish, a biker boy story involving an absent mother and masculine violence and yearning, based on a S.E. Hinton novel, and noted for its film noir attributes, and a cast that included Mickey Rourke and Matt Dillon; and Fishburne is a gangster in the second, an attempt, controversial and frustrating, to focus on the legendary nightclub that featured black performers and catered to white audiences in Harlem, a film that starred Richard Gere as a musician and Diana Lane as a girlfriend, both featured very prominently, though Gregory Hines and his brother Maurice as tap dancers and Lonette McKee as a chorus girl light enough to pass for white are also featured. The Cotton Club is a beautiful film, but the most significant story is the one involving African-Americans and that is too much at the margins. Yet, Roger Ebert in his Chicago Sun-Times review declared, "Francis Ford Coppola's The Cotton Club is, quite simply, a wonderful movie" (January 1, 1984). The film, written by Coppola and William Kennedy, and filmed by Stephen Goldbatt, had a very large cast, and is partly the story of organized crime; and Fishburne appeared within it as Bumpy Rhodes, a gangster who tries to help the club's performers (Andy Warhol alum Joe Dallesandro appeared as Lucky Luciano).
Laurence Fishburne had a very prominent, very memorable, part in Spike Lee's School Daze. In his work Spike Lee presented African-Americans as the center of consciousness, action, and meaning, in comedies, dramas, musicals, and documentaries; and in 1988's musical satire School Daze, which Spike Lee wrote, directed, and produced, in which Morehouse becomes Mission College, Lee gave Fishburne the part of Vaughn Dunlap, nicknamed Dap, a progressive campus activist, committed to the anti-apartheid movement in South Africa, with Giancarlo Esposito, another great actor, this one of African-American and Italian descent, cast as Vaughn's opposite Julian Eaves, a fraternity brother and a more self-centered man. The film is great at suggesting the different kinds of conflicts that exist within African-American communities, conflicts based on class, color, gender, sexuality, and political philosophy. It is possible that Spike Lee took on too much, though for many of his viewers he delivered a picture that dealt with the many issues they knew to exist but rarely heard or saw featured in a public forum. Yet, the reviews were far from kind. In the February 12, 1988 Washington Post, Desson Howe described the film as confusing, as both broad and thin, with questionable staging. The same day, in the same paper, Rita Kempley called it a sexist mess. (Women characters were sexually exploited and men were called homophobic names in the motion picture—but those are among the film's themes.) Were the characters attitudes believable? Roger Ebert, astutely noted that the black characters seemed to be relating to each other rather than to a white audience (the same kind of comment Toni Morrison has made as being the goal of her literature): "We feel as if we're getting a glimpse of other people's lives—but most movies about blacks have lacked that quality," said Ebert in his February 12, 1988 Chicago Sun-Times review, which went on to note the same variety in tone and affect as other critics, but Ebert called the film "one of the most honest and revealing movies I've ever seen about modern middle-class black life in America."
It was an interesting time in America. Henry Louis Gates Jr has suggested that the late 1980s were the beginning of an African-American renaissance. In the Autumn 1997 issue of Critical Inquiry, the scholar Henry Louis Gates argued that a fourth African-American renaissance was occurring, beginning about 1987: after the work of W.E.B. Du Bois, Booker Washington, Anna Julia Cooper, Pauline Hopkins, and Paul Laurence Dunbar at the beginning of the twentieth century; the Harlem Renaissance of the 1920s; and the Black Arts Movement of the 1960s. Gates cited artists such as Toni Morrison, August Wilson, Cassandra Wilson, Martin Puryear, John Singleton, and Spike Lee as proof ("Harlem on Our Minds," The Henry Louis Gates Jr. Reader, Basic Civitas Books; 2012).
Spike Lee's School Daze brought Laurence Fishburne more attention, as would other work. In the film Deep Cover, "Laurence Fishburne plays dedicated beat cop Russell Stevens Jr, who is recruited by Federal Drug Enforcement agent Jerry Carver (Charles Norton Smith) to assume a new identity and do undercover to expose as many drug kings as possible," summarizes Daniel Shaw in Film and Philosophy: Taking Movies Seriously. Stevens (Fishburne) compromises his personal ethics—using drugs, committing murder—and finds his supervisors only want him to go so far with his investigation, stopping before he gets to the true sources (Wallflower Press, 2008; page 87 and 88). The philosopher Shaw thinks that there is philosophical depth to be mined in Deep Cover, written by Michael Tolkin and Henry Bean, for the film's presentation of the human dimension and the existential dilemma of complex identity, choice, and effect. It was another African-American film director, Bill Duke, who gave Laurence Fishburne the great part of the narcotics police detective Stevens in Deep Cover. "What sets Deep Cover apart is its sense of good and evil, the way it has the Fishburne character agonize over the moral decisions he has to make. Most drug movies are so casual about their shootings and killings that you'd hardly think it even hurt to get shot. Fishburne, faced with a situation where he might have to kill somebody, is deeply torn, and he suffers agonizingly through the aftermath. He engages in bitter arguments with Smith over the morality of the actions the government wants him to take. And as the child of an alcoholic who was shot while drunk, he doesn't drink or use drugs, until a crucial turning point in the movie," wrote Roger Ebert in the Chicago Sun-Times (August 15, 1992).
Is it amusing or predictable to note that in her April 15, 1992 New York Times review, Janet Maslin found the white characters rather broad, shallow? At the time, after he saw the film, the Chicago Reader's Jonathan Rosenbaum surmised: "Larry Fishburne plays a cop who poses as a Hollywood drug dealer to infiltrate and destroy a cocaine cartel, but gradually discovers that the U.S. State Department has another agenda. Amply fulfilling the promise shown in A Rage in Harlem, director Bill Duke does a terrific job in spelling out the grim implications of this exceptionally violent 1992 picture, scripted by Henry Bean and Michael Tolkin (The Rapture). What emerges is a powerhouse thriller full of surprises, original touches, and rare political lucidity, including an impressive performance by Jeff Goldblum as a Jewish yuppie gangster." In an August 1999 review of the film "In Too Deep," Mick LaSalle in the San Francisco Chronicle would refer to Deep Cover as "Bill Duke's great film with Laurence Fishburne."
However, the cultural critic Wahneema Lubiano in a 1992 essay, "Don't Talk with Your Eyes Closed," available from the internet site Black Cultural Studies, wrote a rather complicated response to the film, pointing to its different facets—dealing with patriarchy and black nationalism and individual depth and audience reception, among other issues. Lubiano stated, "While Deep Cover is ostensibly about the drug trade and is even critical about white political complicity in that trade, it is framed on both ends by family narratives. The film's beginning, and structurally essential, point is the father/son scene (a late-twentieth-century 'blackened' version of the primal scene) with a conventional enough U.S. black movie scenario of a black junky robbing a convenience store. The film's ending—structurally anticipated—is the constitution of a new, improved, and multicultural family for the little Latino boy whose 'bad' mother, a drug addict named Belinda Chacon, dies." Wahneema Lubiano sees a recuperation of patriarchy, as well as other questionable concerns in play; and also points to questions about the true identity of its lead character, acted by Fishburne, and his allegiances as both a black man and a policeman.
One of my favorite of Fishburne's films is Bad Company, a film focused on intellect, sex, and betrayal. Laurence Fishburne is Nelson Crowe, Ellen Barkin is Margaret Wells, and Frank Langella is Vic Grimes, with Michael Beach as Tod Stapp. Bad Company is a film about corporate intrigue and crime, and the way intelligence shifts between people, and with it allegiance. What is known, what is desired, what is to be gained and lost? Blackmail leads to blackmail. Corruption can be assumed, but what happens when genuine affection occurs? Crowe (Fishburne) and Wells (Barkin) develop a relationship that changes her allegiance to Grimes (Langella), and when Stapp (Beach), who is described as gay, decides he wants part of the action, and visits Crowe, for a moment the viewer is not sure if what Stapp wants is inclusion in money, power, or sex. The aura of the film is provocative and that is part of its pleasure. Of Bad Company, Roger Ebert commended the dialogue, the production design, and the photography, and declared, "The movie succeeds in fascinating us simply with its manner and decor, before much of the plot has been revealed—and, believe me, there is a lot of plot to reveal. The movie was directed by Damian Harris from the first original screenplay written by Ross Thomas, the superb crime novelist, and it is a movie that feels written: The dialogue has a sleek cruelty, and the supporting characters have a quirkiness that you don't find in movies that were knitted in screenwriting class" (Chicago Sun-Times, January 20, 1995). With Bad Company, Higher Learning, and Othello, 1995 was a great year for Laurence Fishburne.
The great African-American actor Ira Aldridge played Othello in London in 1826, and Paul Robeson played Othello in London in 1930 and in New York in 1943. Those performances were discussed for years. Othello remains a part for the most ambitious and gifted of actors. Chiwetel Ejiofor played the role to great acclaim, opposite Ewan McGregor as Iago, in 2007 in London. Yet Laurence Fishburne's film portrait is one that we can easily return to, and with gratitude. "Laurence Fishburne is superb as the noble Moor of Oliver Parker's sleek, refreshingly unpretentious Othello. Fishburne has everything it takes to make Shakespeare's tragic hero work: talent, intellect, depth, imposing physical presence, innate dignity, handsomeness, sex appeal and a resonant voice," began Kevin Thomas's review in the Los Angeles Times ( December 14, 1995). Thomas liked the film's plainspoken eloquence, and the production's elegant simplicity, and its erotic force. "The key to Fishburne's admirable portrayal is that he has managed to bring meaning to his every word of dialogue, thus setting a standard for clarity essential for comprehending Shakespearean usage, so much of which has vanished from English discourse," said Kevin Thomas.
The reception of the Parker film starring Laurence Fishburne entered a cultural conversation that began long ago: "Othello is the earliest sympathetic black character in English literature, and the play's emphasis on prejudice must have had particular impact in Shakespeare's London, which was a distinctive prejudiced society. Though Africans were present in London in some numbers beginning around 1550—especially once the English slave trade grew in the 1560s— little distinction was drawn between North African and sub-Saharan blacks," wrote Maria Faedo in a study of the Othello films by Orson Welles and Oliver Parker. In the paper, "Two Film Versions of Othello: A Twentieth-century Approach to Shakespeare's Play," by María José Álvarez Faedo of the Universidad de Oviedo, for Sederi X (1999), the writer Faedo found the 1952 Othello film of Orson Welles an attempt to reconcile theatricality with realism, with a peculiar (fragmented) photography, and a focus on hatred; and she thought the Parker film conventional but well-made, with attention paid to the color-conscious aspects of Shakespeare's language, and an admirable performance by Laurence Fishburne: "Orson Welles turned him into a merciless punishing judge and executor, but Laurence Fishburne, always closer to Shakespeare's mind and to his character's heart, shows a man whose heart has been broken, a man who, deep in love, feels betrayed, but, at the same time, cannot stop loving the traitor." Faedo found Branagh's two-faced performance as Iago equally compelling and convincing. Yet in the same year as Maria Faedo's report, 1999, Edward Pechter published a book Othello and Interpretive Traditions, from the University of Iowa Press, that examined the play, its performances, and reception, finding that there is—in interpretation—a struggle for responsibility for the play's tragic actions between Othello and Iago, with Iago being both actor and interpreter, the man who shares his plans with the audiences.
Yet Roger Ebert, at the time of the film's release, had reservations: He found Branagh's Iago impressive but oddly impersonal and sexually ambiguous, and thought "Othello, as played by Fishburne, never seems the truly happy husband and triumphant general the play initially requires, but seems even in early scenes to be somehow aware of his destiny. Later in the film, his character consumed by jealousy, Fishburne makes interesting physical choices, as when his head is so filled with images of adultery that it cannot remain still, and twists restlessly" (Chicago Sun-Times, December 29, 1995). Ebert found the film to have drifted too far from Shakespeare's language and intentions. Yet, I recall that from the play's beginning, despite his personal confidence, Othello begins to be told things about the opposition of others to him: his is a successful stranger in a strange land but a stranger he is. That might discomfort any man.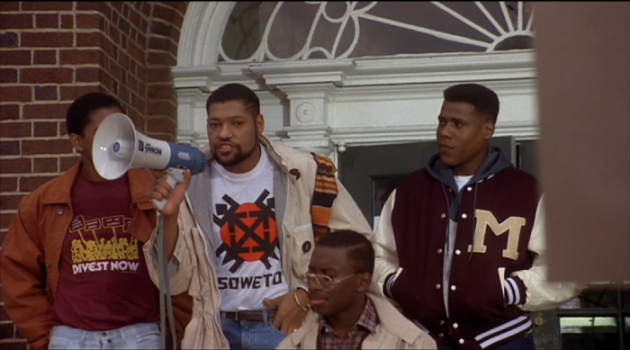 School Daze
Shakespeare is often the high point of any actor's career. Fishburne certainly had much to be proud of: Cornbread, Earl and Me (1975), Apocalypse Now (1979), Rumble Fish (1983), The Cotton Club (1984), The Color Purple (1985), School Daze (1988), King of New York (1990), Boyz n the Hood (1991), Deep Cover (1992), What's Love Got to Do with It (1993), Higher Learning (1995), Bad Company (1995), and Othello (1995), which would be followed by Hoodlum (1997), The Matrix (1999), Matrix Reloaded (2003), Matrix Revolutions (2003), Akeelah and the Bee (2006), Bobby (2006), Armored (2009), Contagion (2011) and Man of Steel (2013). Fishburne has made films about friendship, love, sex, war, entertainment, female powerment, college, organized crime, fatherhood, police work, social change, illness—and more. His films engage the historical facts of American life—from urban and cultural life in the early twentieth century to the civil rights struggle and Vietnam to social integration and the anti-apartheid movement and the liberties of bourgeois success. Laurence Fishburne, born in 1961, a husband and a father as well as an artist, can be seen as an exemplar of his generation's potential, an artist, brash and original and passionate, able to take on and illuminate different roles without regard for a censorious social approval. One is tempted to read Fishburne's swaggering effrontery as the id to the ego of Denzel Washington and the superego of Sidney Poitier, in Freudian terms: but all three men are more complicated than that. I do not think that it is Negro anger or sexuality that is most frightening to people, but Negro wholeness: there is nothing more unsettling than a black man who has everything together (he is unsettling to everyone). Confident, healthy, complete—whole, not to be despised or pitied but respected: how very frightening.
Matrix
Of The Matrix by the Wachowski siblings, a film in which computers dominate the future, in the May 10, 1999 New Yorker the film reviewer David Denby bluntly noted, "The movie is nonsense, but it does achieve a brazenly chic high style—black-on-black, airborne, spasmodic. With Laurence Fishburne, who intones his lines rather than speaking them, as the leader of the free men and women." Upon the film's release Chicago Reader critic Jonathan Rosenbaum said, "This is simpleminded fun for roughly the first hour, until the movie becomes overwhelmed by its many sources— Blade Runner (rainy and trash-laden streets), Men in Black (men in dark suits with shades), Star Wars for mythology, Die Hard for skyscrapers, Alien for secondary characters and decor, Superman and True Lies for stunts, and Videodrome for paranoia. There's not much humor to keep it all life-size, and by the final stretch it's become bloated, mechanical, and tiresome." One wonders if either man ever ate his own words. Variety thought the Wachowskis' film cool, a must-see for science fiction film admirers, and, after describing some of the film's indulgent exposition, with its gestures in multiple directions to philosophy and antecedent plots, the publication's staff writer went on to say, "Fishburne commandingly delivers his intellectual tidbits and pronouncements, although to somewhat diminishing effect in the later going, while the other thesps seem cast mostly for their physical profiles. Gloria Foster has a nice scene, the warmest in the picture, as the oracle who informs Neo whether he's The One" (March 28, 1999). Of course, The Matrix became a most popular franchise, a contemporary mythology involving illusion and reality, oppression and freedom, the present and the future: with Keanu Reeves as Neo, the gifted apprentice and the awaited savior, and Laurence Fishburne as the warrior-messenger and dream-master Morpheus, and with Carrie-Anne Moss as the faithful Trinity, and Hugo Weaving as Agent Smith, Gloria Foster as the cookie-baking Oracle, and Joe Pantoliano as the steak-loving Cypher, and Marcus Chong as Tank, the film provided new avatars of action.
In Emilio Estevez's film about the assassination of presidential candidate Bobby Kennedy, Bobby (2006), showing how ordinary people were affected by the man's character, life, presidential campaign, and death, Laurence Fishburne plays a hotel chef of humor, pragmatism, and generosity. The film's cast is large, and full of famous actors; among them Harry Belafonte, Anthony Hopkins, Helen Hunt, William H. Macy, Demi Moore, Sharon Stone, and Elijah Wood. I found the film moving, of course. Yet, Anthony Scott in the New York Times (November 17, 2006) noted that "the ambition behind Bobby is large and serious," but found the motion picture disappointing, with some of its performances too obviously theatrical. Laurence Fishburne's character in Armored is very different from that in Bobby: in Armored, a 2009 film directed by Nimrod Antal, Fishburne is Baines, a boozing, desperate, manipulative, rather mad low-level hood in a film about armored guards who plan a robbery—and his slyness and brutality are frightening. The film is fast, slick, and has a compelling performance by Columbus Short as a young man, Hackett, a new employee, trying to keep a roof over his head and that of his younger brother; Hackett, a new employee who becomes embroiled in the robbery plot but unable to shake his moral reservations. Matt Dillon, who appeared in Rumble Fish with Fishburne, plays the old friend who got Hackett the job, Cochrone, someone whom time has not been kind with. It is not an important film and yet it is one of my favorites. In Time Out New York (December 9, 2009), Keith Uhlich wrote, "What distinguishes this robbery-gone-wrong flick is the authentically blue-collar vibe, as well as its stellar ensemble cast and terrific direction from Vacancy's Nimrod Antal." In The Daily News (December 4, 2009), its film review Joe Neumaier wrote that "director Nimrod Antal's grungy gang-of-thieves pic is tough and, for this genre, surprisingly ethical). I cannot forget how deep into his character Fishburne was, how salacious, how mean, how bent on having his way. He is a man of so many parts. In Steven Soderbergh's Contagion (2011), Laurence Fishburne would be a hero during a time of plague, a man of science, thinking of others, willing to make the ultimate sacrifice.
(Article submitted February 21, 2014)