The Progress (and Problem) of an American Girl: Jennifer Lopez in Selena, Out of Sight, The Cell, Maid in Manhattan, and El Cantante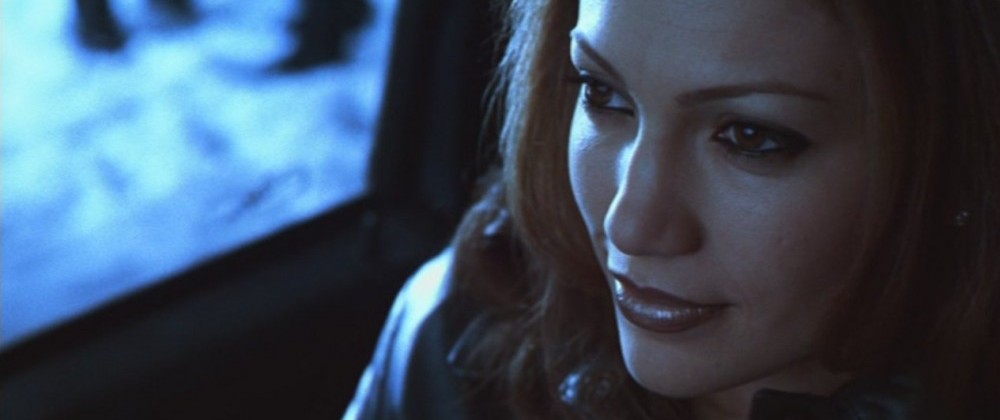 Integrity—character, health, purpose, truth, wholeness: integrity is ideal and inspiration—and it comes in diverse forms. Several years ago, in the autumn of year 2009, the actress and singer Jennifer Lopez hosted at her home on Long Island a dinner for Sonia Sotomayor, a United States of America Supreme Court judge, the first Latina woman to serve on the nation's highest court. Sonia Sotomayor, like Jennifer Lopez, is a New Yorker of Puerto Rican descent who has gone further in her career than most people would have anticipated, proof of character, talent, intelligence, and will, as well as of the unique opportunities available in America. Yet, opportunity is not the same thing as probability. In one of her own films, Jennifer Lopez had played a New Yorker whose position is at the low end of the social scale: Marisa Ventura, in the film Maid in Manhattan, directed by Wayne Wang. Lopez as the maid Marisa lives in the Bronx—the Bronx in which Lopez and Sotomayor lived as girls—and Marisa works in Manhattan and, when Marisa tries on clothing belonging to another woman, is mistaken for a rich lady by a suave Republican politician, Christopher Marshall (Ralph Fiennes), with whom Marisa develops an infatuation. Obviously, the film raises questions about identity, position, and destiny, as well as the prospects for fulfillment and love—but it would be even more interesting if the rarity of meeting an intellectual or spiritual match of any caste or class were the focus. What really separates us, appearances or class or actual inner life? What allows most for social progress, initiative or opportunity? Yet, all things considered, it is a wonder that Jennifer Lopez has continued to find films that suggest something of the contradictions and possibilities she has observed in life.
There is no doubt that in her own career Jennifer Lopez has displayed ambition and initiative. Jennifer Lopez has become a figure of beauty and drive, of intelligence and grit, of discipline and indulgence: an inspiration and a standard—and also a mystery and a question. She is a figure of speculation. How did she begin? Jennifer Lopez's parents, computer technician David Lopez and homemaker Guadalupe Rodriguez, sent Jennifer to Catholic school, but she had a taste for secular entertainment. Jennifer Lopez found identification with the Puerto Rican performer Rita Moreno in West Side Story (1961), directed by Robert Wise and Jerome Robbins. The young Jennifer Lopez had a small role in Connie Kaiserman's film My Little Girl (1985), although her parents were skeptical about Jennifer making entertainment a career—and she moved out of the family home. She appeared in musical theatre, and as a sexy dancer on the ground-shifting comedy show In Living Color (1991), featuring the Wayans family. Lopez's film oeuvre includes Gregory Nava's film My Family (1995), and Selena (1997), Out of Sight (1998), The Cell (2000), The Wedding Planner (2001), Angel Eyes (2001), Maid in Manhattan (2002), Gigli (2003), Monster-in-Law (2005), An Unfinished Life (2005), Bordertown (2006), El Cantante (2006), The Back-up Plan (2010), Parker (2013), and Lila & Eve (2015).
Jennifer Lopez's breakthrough film role was as Selena Quintanilla-Pérez, the Texas singer of Mexican descent whose voice and energy drew audiences, but who was shot to death by an admiring but zealous, manipulative fanatic. "Selena's struggle for independence within the context of a close family and community, her triumph in the face of prejudice on both sides of the border, and her achievement as a woman who made it to the top of a male-dominated regional musical form called 'Tejano' (derived from rock, R &;B, pop, and traditional Latin influences) made her an exceptional figure," wrote M.S. Mason in The Christian Science Monitor (April 4, 1997), as part of an interview with Gregory Nava, the director of Selena, who felt compelled to present Selena's innocence—a young woman's whose sweetness and trust was betrayed by a woman she employed. Edward James Olmos played Selena's demanding but supportive father Abraham Quintanilla, who was aware of how they as Hispanics must juggle two cultures—American and Mexican; and Jon Seda played Selena's colleague and lover Chris Perez. The film Selena was notable for its technique too, for its intimacy and its majesty, its romance and it realistic portrait of ethnic prejudice—and its multifaceted presentation of both Lopez and the real Selena. "Selena succeeds, through Lopez's performance, in evoking the magic of a sweet and talented young woman," declared Roger Ebert in the Chicago Sun-Times (March 21, 1997).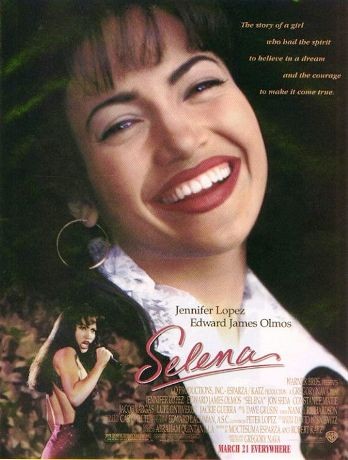 Jennifer Lopez followed Selena with a charming but tough performance as George Clooney's antagonist and object of fascination in the Soderbergh-Leonard romantic comedy about criminality, Out of Sight, a film that moves back and forth through time in its telling: in the motion picture, based on an Elmore Leonard story and directed by Steven Soderbergh, Clooney is a suave criminal, Jack Foley, and Lopez is a Marshall, Karen Sisco, determined to capture Jack Foley, especially after Foley easily defeats (and charms) Karen Sisco the first time they meet. "Lopez makes you feel the complexities of Karen, and her little twitch to run with the wolves. She has the beautiful woman's trick of hearing only what she wants to hear, and as much as she loves being beautiful, she also loves stepping from behind that beauty and dealing with reality with the professional police agent's untrammeled use of force," observed Stephen Hunter in The Washington Post (June 26, 1998). It might have seemed strange that Jennifer Lopez subsequently would take on a project as challenging, and as peculiar, as The Cell, directed by Tarsem Singh: in The Cell, a motion picture focused on imagination, and exploring mental illness, Lopez played Catherine Deane, a child psychologist who uses a virtual reality device to connect with the damaged boy inside a serial killer's psyche. "Catherine has an extraordinary empathy with her patients, and Ms. Lopez uses her little-girl voice—it has an inviting tremolo— in a new way here. Instead of speaking in her usual tough inflections, she offers a soft, intimate whisper; you can hear the hurt in each syllable, but there is also an undercurrent of determination," commented reviewer Elvis Mitchell in The New York Times (August 18, 2000), finding that Lopez "gives a provocative and nuanced performance." The Cell is a beautiful, eccentric film, full of invented imagery and perverse torment (the violent acts depicted are bizarre and disturbing)—and I think of the film as being oddly transcendent. When I saw it, I thought of both fine art paintings and campy Greenwich Village Halloween parades. Jennifer Lopez refused to make only one kind of film, or be seen in only one kind of role—she refused expectations of marginality, of a minority position.
As a singer of dance songs and ballads and rap, Jennifer Lopez's recordings are On the 6 (1999), J. Lo (2001), This Is Me…Then (2002), Rebirth (2005), Como Ama una Mujer (2007), Brave (2007), Love? (2011), and A.K.A. (2014). "The happy surprise of On the 6 is that she knows what she's doing. Instead of strained vocal pyrotechnics, Lopez sticks to the understated R&B murmur of a round-the-way superstar who doesn't need to belt because she knows you're already paying attention," wrote reviewer Rob Sheffield in Rolling Stone magazine (July 8, 1999). Yet Lopez's voice was never more beautiful or expressive than on her Spanish-language album Como Ama una Mujer. Jennifer Lopez could be heard on the radio and seen on television performing impressive choreography. Jennifer Lopez became a popular entertainer, and one of the most famous women of her time—a figure of admiration and curiosity, a creature of glamour. The effect of glamour can be mystifying: it can expand the personal presence of a woman (or man), while diminishing her (or his) cultural significance. Glamour suggests possibilities beyond the ordinary but eliminates connections to the real life that most people live—it can increase esteem and envy and fantasy while destroying authority. Jennifer Lopez's relationships became fodder for the gossip columns—and even mockery. Lopez dated Sean Combs and Ben Affleck. She has been married to Ojani Noa, an actor, a model, and a waiter; Cris Judd, a dancer; and Marc Anthony, a marvelous singer and unique actor, with whom she made the film El Cantante. One of her strongest performances is in El Cantante, a biographical work about the celebrated singer Hector Lavoe, whose life was ended by drug use and illness.
Hector Lavoe (1946–1993) was a Puerto Rican boy who began to love and study music, before moving to New York, where he performed with the musicians Roberto Garcia and Johnny Pacheco and Willie Colon. Sadness and sensuality seemed to lead Hector Lavoe astray, but Lavoe had a loyal companion, Puchi—she fought for and with him, sharing the highs and the lows of a salsa musician's life. "We were meant for each other for better or worse. We both knew that," says El Cantante's Puchi, Hector Lavoe's wife Nilda Georgina Roman (Jennifer Lopez). El Cantante, starring Marc Anthony as Hector Lavoe and directed by Leon Ichaso from a script by Ichaso with David Darmstaedter, and Todd Antony Bello, was a chance for two Latino artists, Lopez and Anthony, to pay tribute to the kind of life and talent that are usually neglected in mainstream cinema and the majority of public discourse. Hector Lavoe's wife Puchi (Lopez) recounts life with Hector (Anthony) for an interviewer, in a film that can be flashy and fragmented in its telling. The film critic Armond White wrote about the film in New York Press (August 8, 2007), finding that the film surpassed what is frequently produced and promoted but that the work's imagery did not equal the facts or the depth the lead performers brought to their roles: "In El Cantante, Puchi and Lavoe's marriage reveals two young people coming to understand themselves. This personal story overwhelms the sensationalism of Lavoe's hectic show business career. Lavoe's renown during the salsa explosion of the 1970s, helps Lopez, Anthony and Ichaso focus on the development of modern Latino self-expression-the way in which private personalities connect to a large audience and, with Lavoe's art joined to a musical tradition, contributed to defining the goals and feelings of the Afro-Caribbean community. Through Puchi's impertinence, El Cantante immediately avoids the typical bio-pic slump into tragedy—you know, drugs, infidelity, bankruptcy. Puchi makes no apologies; she claims the excitement of ghetto-rough high-life as simply hers and Lavoe's pattern. 'Don't tell me how to live my life! I'll tell you what happened!' she reprimands her interviewer in the film's B&W bracketing scenes."
The film had been a genuine collaboration by its makers, and Lopez, the film's lead actress and producer, told Gina McIntyre of the Hollywood Reporter (March 15, 2007) that she had worked with the director for about five years on the project. It was not intended to be just another movie. Some film critics thought that El Cantante lacked structural coherence and thematic freshness, and several wished that it gave a more vivid delineation of the Latin culture, but many praised the film's music and actors, especially Jennifer Lopez. In the New York Times (August 3, 2007), the newspaper's lead reviewer A.O. Scott wrote that "Ms. Lopez brings a lot of fight to her performance, a hard, skeptical edge that makes Puchi a more interesting and plausible character than her husband. It falls to her to explain him, since neither Mr. Anthony nor Mr. Ichaso seem able or willing to do so. She tells us that Hector had a great sense of humor, that he was 'corny' and that 'the more he grew as an artist, the deeper he sank as a person.'" That last assertion remains a fascinating one. Does it mean that he gave all to being an artist and that it exhausted him? Or that his public acclaim as an artist dwarfed his humanity, that he became lost in the things that fame and fortune give the recognized artist? "Indeed, there seem to be two films here: A musical, with Anthony doing a terrific job of covering Lavoe's music, and a drugalogue. The soundtrack album would be worth having. But there is nothing special about Lavoe's progress toward the grave: Just the same old same old," commented Roger Ebert in the Chicago Sun-Times (August 2, 2007).
Stephanie Zacharek, writing for the online magazine Salon (August 3, 2007) declared, "Lopez gives a fine performance here: She's always been an incredibly likable on-screen presence, but this role gives her more to dig into. Lavoe was a charmer all right, but the movie also tells us he got two women pregnant at the same time (one of them Puchi), and his destructive junk habit didn't make him easy to live with. Lopez doesn't just play the archetype of the weary, devoted partner; she makes Puchi seem human and vulnerable beneath the tough veneer."
Here is what Puchi (Lopez) says about Hector (Anthony) and his public: "The more he grew as an artist, the deeper he sank as a person, as a human being…but they loved him. All his faults and trouble….only made him more like one of them…" Without question, El Cantante, gave Jennifer Lopez one of her strongest and most resonant roles. There have been many films about drunken, drug-taking musicians. Once shocking, now such portraits can be a bit of a bore (and some of the film's reviews found it so—and thought Lopez's portrayal too emphatic). It is difficult to think of anything more selfish, more silly, more sleazy, and more stupid than addiction—a symptom of intellectual paralysis and spiritual exhaustion, and the most pointless of indulgences. Artists—people with the gifts of language, image, metaphor, and sound required to fully convey emotion, idea, and meaning (the ability to say exactly who they are and what they want)—who choose to indulge instinct without control or regard for consequence, given to moral decadence, and inevitably self-destructive, are dispiriting to observe. Yet, it seems obvious that what both art and addiction share are a focus on one's own belief and convictions, and the temptation to accept one's own emotion and thought for the whole truth. It can be difficult to know where revelation ends and self-deception begins.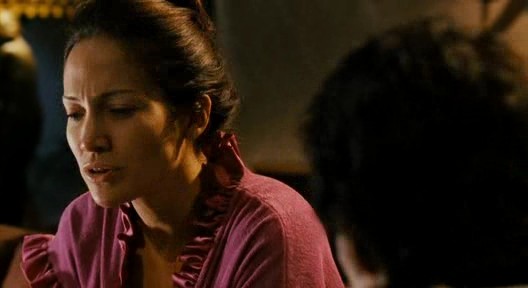 El Cantante
Despite its purpose and whatever pleasures it gave, the film El Cantante did not get the kind of general response its makers hoped for. Despite the film's limitations, I loved it: I loved the focus on Latino culture; and I loved Jennifer Lopez and Marc Anthony, even while I despaired of one more drugs and destruction biography—but there were not very many people with whom I could discuss the film as few had seen it. It must be frustrating for Lopez to complete a project she feels close to and not have people respond as she hopes. In her career, Jennifer Lopez had seemed determined to do work that would garner attention and gain respect, as well as enlarge popularity. Lopez had starred with both new and established film figures. In Monster-in-Law (2005), she played opposite Jane Fonda; and in An Unfinished Life (2005), she was opposite Robert Redford. How often has a performer of color been given that kind of platform, that respect? Those two films with Hollywood icons affirmed Jennifer Lopez's status as a performer who had long arrived but they did not bring to Lopez's career the public enthusiasm generated by her early work in Selena or Out of Sight. However pleasing comic films such as The Wedding Planner (2001) or The Back-up Plan (2010) might be—and they are pleasing, though predictable—they did not seem to brighten or deepen Lopez's status as a cinema artist or film star. It is almost perplexing. Is the work simply not good enough? Is it simply that Jennifer Lopez remains more interesting than her films?
It is possible that the American public still does not know how to make sense of a Puerto Rican girl who has fulfilled the American dream? What, after all, does most of the country know about Puerto Rico, that little island of the Antilles with the Atlantic Ocean to its north and the Caribbean to its south; that island that is not quite a state but remains a territory, claimed by the United States? Puerto Rico became a territory of the United States after the Spanish-American war in 1898, when the Unites States supported Cuba in its revolt against Spain. Puerto Rico is a place where some people go for vacations, for its warm sun and beaches; and it is a land of beaches, forests, mountains, plains, and towns, with a warm climate cooled by summer rains; and it grows chicory, indigo, and vanilla plants, and palm, cedar and mahogany trees. Its history is vague to many. The people—who can be seen to embody pleasure and sex and strength and warmth—have complex roots: indigenous Borinqueno (Indian) and Spanish and African heritage. The natives were enslaved and decimated by the conquering Spanish, beginning in the early sixteenth century. It was in the eighteenth century that the Africans were brought to the island (there were several nineteenth century rebellions by the enslaved people). Puerto Rico is a territory with industry and literacy, but not enough opportunity—and many of its people leave. Puerto Ricans have migrated to New York, Chicago, and Philadelphia—and they remain, for many, an urban phenomenon. (Maybe they are, like African-Americans, familiar and strange.) I can recall the annual Puerto Rican Day Parade in Manhattan, appreciating the confidence, color, music, and earthy sensuality of the people. What were the roots of pride? Endurance. Adaptability. Passion.
The Puerto Ricans who have achieved public recognition add to that pride: actors and actresses such as Rosario Dawson, Benicio del Toro, Jose Ferrer, Raul Julia, Melonie Diaz, Rita Moreno, Rosie Perez, Zoe Saldana, Roselyn Sanchez, and Jimmy Smits; musicians such as Chayanne, Jose Feliciano, Ricky Martin, and Gabriel Rios; painters and visual artists such as Tom Batista, Jose Campeche, Eduardo Cintron, Oscar Delgado, Ramon Frade, Miriam Hernandez, Francisco Oller, Miguel Pou, Maria Rodriguez, Rafael Tufino, and Mateo Zlatar; and writers such as Miguel Algarin, Rane Arroyo, Sandra Maria Esteves, Victor Hernandex Cruz, Pedro Pietri, Esmeraldo Santiago, Ruben Santiago-Hudson, Piri Thomas, and Edwin Torres. There are Puerto Rican architects and scientists as well—but, as with the artists, the people who are likely to know their names best are other Puerto Ricans.
Maybe the strangeness—or, more precisely, the general American ignorance—of the Puerto Rican heritage is why the ethnicity of Jennifer Lopez has been obscured in some of her films: Lopez played Italian in both Out of Sight (Karen Sisco) and The Wedding Planner (Mary Fiore). When Maid in Manhattan was in theaters and selling many tickets, the Los Angeles Times (December 22, 2002) ran an examination of the ambiguity of Jennifer Lopez's self-presentation and acting choices by Baz Dreisinger called "J Lo's ethnic sleight of hand," an article which compared Lopez with her character Marisa Ventura and included this comment: "Maid in Manhattan seems intensely aware of its ethnic commentary. Lopez is told that a good maid remains invisible, a word echoed like a mantra throughout the film—just as it is in Ralph Ellison's Invisible Man, a novel about the way people of color are at once hyper-visible and hyper-invisible. The outfit Lopez wears upon meeting Fiennes, the one responsible for passing her off as a high-class guest, as a white guest, is itself white—so starkly white that passersby comment on it, and Lopez fears sullying it." Is white purity, and all else impure? Is ethnicity a facet or a flaw? When considering the written commentary, it is hard to know if it represents liberal progress or conservative reaction: often the left and right have the same ideas but different attitudes—identical presumptions regarding people of color that are articulated with either sympathy or disdain. The article discusses how different characters in Maid in Manhattan interpret Marisa: as Mediterranean, as a wealthy Long Islander, as a poor worker; and how Lopez herself sometimes seems approachable and other times elevated, sometimes light-skinned and sometimes dark. The speculations may be intended as provocative or even profound but they can read as petty. One wonders: Why should our difficulty coming to terms with possibility and prejudice be Jennifer Lopez's problem? Jennifer Lopez has been able to play with ethnicity, to use it for its allure, to suggest its confinement, and to elude some of its limitations—but not all of them.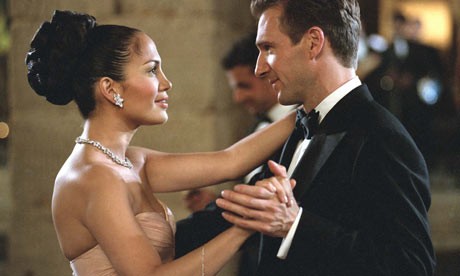 Maid in Heaven
In early 2015 (January 22, 2015), the online publication The Huffington Post reported Jennifer Lopez's comments on the casting of films, and the roles she is not considered for: "Everybody knows I don't get considered for every fantastic part that's out there just because it's like 'Oh, that's not the right type,'….It's usually an anglo actress or an English actress and those are some of the best parts out there, and sometimes I think, 'I could've done that role.'" Should Jennifer Lopez be confined to ethnic roles? Should she be able to do whatever talent and temperament allow? One of her colleagues, actor Edward James Olmos (Selena), asserted in a 2014 interview with Telemundo, quoted by The Huffington Post (May 1, 2014): "She's done a lot of things but she hasn't dedicated herself to her culture, and that's very important to me." It is a shocking accusation when one considers this comment comes not before but after Lopez did films such as Bordertown and El Cantante, both of which very much have to do with Hispanic culture—Gregory Nava's Bordertown (2006), an admirable but imperfect film (I liked it!), is about a successful journalist's trip to Juarez in Mexico to investigate the murder of women factory workers, featuring Lopez as the Chicago journalist, a woman of Mexican descent, and Antonio Banderas as a brave Mexican editor. Where was the audience for this film? Is Jennifer Lopez expected to make ambitious, politically correct films that no one sees? (In 2012, Lopez partnered with the nuvoTV cable network to create Latin culture programming, The Huffington Post notes.) Is Jennifer Lopez expected to embody only one thing, and not the whole of human experience?
Large business companies create the aura of competence and efficiency, of practicality and principle, but, frequently, we find that they are driven by the same instincts and ideas as other parts of the society. (When hackers broke into the computers of Sony Pictures, revealed were the racist comments of some film company executives and the fact that female actors are paid less money than male actors.) Yet, it is hard to feel sorry for a beautiful, famous millionaire—which Jennifer Lopez is. Yet, Jennifer Lopez's life and career have a significance beyond herself. Her success—and its limitations—say something about America, and something about us, the audience for cinema. I had not expected to see her in Taylor Hackford film starring Jason Statham as a very successful confidence man and thief, Parker (2013)—with Lopez being so charming in the part of a real estate agent who becomes his accomplice. The film turned out to be a delight—and then I thought I understood why Jennifer Lopez did it. It was the kind of film that could bring to mind Out of Sight for its mix of characters and moods, for its craft and fulfillment.