Iran 2000: Part 2
Iranian films at the major Montreal film festivals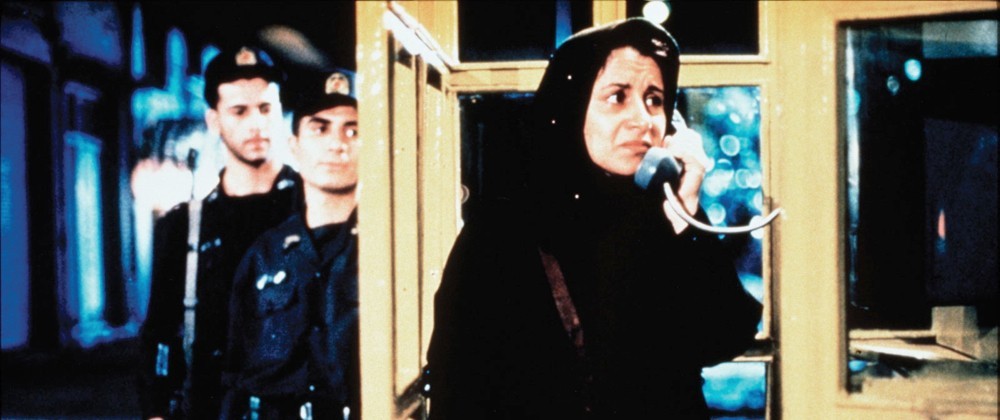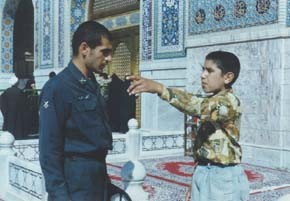 The Child and the Soldier
Perhaps inspired by Kiarostami's presence, the organizers of the 24th World Film Festival screened no fewer than nine new Iranian films (including eight features), of which two were included in the Official Competition. Koudak va sarbaz (The Child and the Soldier), director Seyyed Reza Mir-Karimi's first feature, struck most of us as being "much of the same." Based loosely on Italian Gianni Amelio's Stolen Children, it tells the story of a boy who is suspected of stealing a necklace in Sarakhs (Khorasan province) having to be taken to the children's court in Teheran by an unwilling escort, a soldier, played by Mehdi Lotfi (who appeared in Kiarostami's Through the Olive Trees). The soldier finds a way to celebrate the Iranian New Year, by bringing his charge to his family's house, en route. There is tension on whether or not to handcuff the boy, and when the soldier's sister notices the necklace, he pretends that he bought it for her as a gift. The boy "steals" it yet again, only to give it up again before they leave the family house. At the end the boy is delivered into custody in Teheran, leaving the question of his fate open ended. For most of the film, he had claimed that he bought the necklace for his missing mother, but, eventually admits to having stolen it. Slow moving, like many Iranian "children's" films, The Child and the Soldier is never dull in either its narrative or characterizations, although it lacks the visual beauty of other films in the "genre." It didn't win a prize.1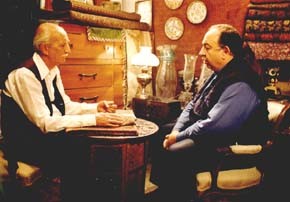 Smell of Camphor, Fragrance of Jasmine
The other film in competition, Booye kafoor, atre yas (Smell of Camphor, Fragrance of Jasmine) was much more interesting, and won the Special Jury Prize in the Official Competition. For its director, Bahman Farmanara, it was the first feature he had been able to complete in over twenty years. I remembered that I had seen the last 30 minutes of his previous film, Saihaiem bolan de bad (Tall Shadows of the Wind) at the World Film Festival in September 1979. It was the first time I had ever seen anything of a film from Iran (and would be the last opportunity for another ten years). At the press conference for Smell of Camphor, I asked Mr. Farmanara about the surprising strong presence of the colour red in that earlier film in contrast with very subdued colour palettes in post-revolutionary Iranian films, including his own, and he explained that it was just a particular instance related to the burning of scarecrows. He very frankly answered difficult questions on contemporary filmmaking in his country, and talked about his own experiences over the period when he wasn't making films. He discussed his ten years of working as an "art film" distributor and exhibitor in Canada and the U.S and explained that he returned to Iran to help his brother with the family textile business. He has also spent much of the interim period trying to get a script approved in the Islamic Republic. Smell of Camphor was the eleventh one he had submitted, and the first one to be approved by the censor board, he amusingly speculated, because it was about his own death. Even so, he thought that it couldn't have been made as recently as three years ago. Farmanara acts the part of "a fifty five year-old film director [also named Bahman] who has not made a film for the past twenty years"-according to the press release. Clearly it is a markedly auto-biographical work. We notice books on David Lean and Henri Langlois in the director's study and we see him talking to aging actors who are not allowed to practice their craft in films anymore. In desperation, he decides to make a film about his own funeral and almost dies during a heart attack, which is accompanied by a hallucinatory, uncharacteristically visceral sequence of the natural world. Apparently, he imagines he has reached paradise. In many ways, Smell of Camphor is very original for an Iranian film: it contains a highly subjective (rather than objective) narrative structure, even including dream sequences; it focuses on middle class (rather than working class) characters, living in an urban (rather than rural) milieu. But in its reflexivity and measured pacing, Farmanara's film certainly fits the norms of New Iranian Cinema, and in its monochromatic colour palette, and languid, long-take with panning camera style it recalls the work of the late pioneer, Sohrab Saless, whose passing Farmanara clearly laments.
Of the remaining new Iranian films, no less than five were concerned with oppressed people: women and marginalised ethnic minorities. Djomeh, directed by Hassan Yektapanah (1999), had shared the Camera d'Or prize for Best First Feature at Cannes with another Iranian film (directed by a Kurd, Bahman Ghobadi-see below). Set in the remote countryside, Jalil Nazani plays the title character, a young Afghani man who falls in love with a local girl working in the village store. He enlists Habib, a fellow Afghan, who looks after him, and his boss, Mr. Mahmoud, to try and persuade the girl's father that he is a worthy suitor. Djomeh is graced with a good story-on racism in rural Iran-and strong acting performances, but, visually, it is very derivative. Yektapanah was an assistant to Kiarostami and Jafar Pahani and it shows. There are some good observational scenes of quotidian detail, such as the pouring and weighing of milk and some handsome landscapes, but the long take, long shot style rarely contains the compositional force or narrative complexity of his mentors.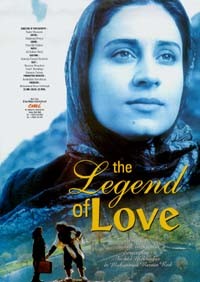 Afsaneh-e eshgh (The Legend of Love, 2000) is a more ambitious work. In it, director Farhad Mehranfar tried to "depict the tragedy of the Kurdish people along with the beauties of their culture." In this interview segment reproduced in the WFF catalogue, the director continues to state, "… that imperialistic manipulation has caused traditional Kurdistan to be divided among four countries-Iraq, Syria, Turkey and Iran. And this has caused instability, war and fratricide in the region." Khazar (Maryam Mogadam) is a female doctor who is visiting Kurdistan, searching for Horam, the man she loves. He had been running a clinic in Boonan during a war, and she carries with her a tape recording of his voice. When she plays it, he appears in front of her. Throughout the film, other stories and poems, called "cherikehs," are visualised, including the Kurdish "legend of love" recounted to Khazar by a young girl in the mountainous village of Palangan. They walk to another village, and eventually the doctor arrives at the visually spectacular town of Horaman (meaning "high and unreachable rocks") where dervishes try to cure a crippled woman. Here, dynamic cutting and slow-motion cinematography correlate with the trance-like ceremony. A wounded groom-to-be tells Khazar that Horaman also means "a special place where one finds equilibrium and harmony," and the film ends on a song/poem recounting the senselessness of continual fighting. Perhaps The Legend of Love strains a little hard for effect, but it presents a remarkably rich portrait of Kurdish history and culture set in spectacular landscapes. It also seems to be saying that men are too ready to fight and, hence, women continue to suffer. Above all it confronts the Iranian public with the problem of Kurdish isolation and marginalisation and is, perhaps, the very first post-revolutionary film to show dancing, explicitly.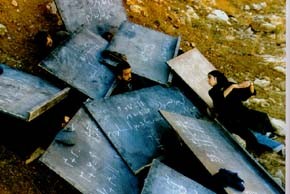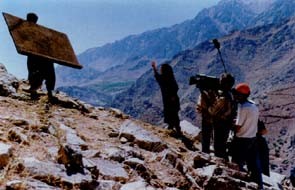 On the set of Blackboard
In its screenings at the WFF, The Legend of Love was preceded by a short film, Charsho (2000) directed by a woman, Mahvash Sheikholeslami. It is visually striking, but otherwise not an especially memorable film. However, two of the finest new films to show at this year's festival were directed by Iranian women: Takhté siah (Blackboards), Samira Makhmalbaf's second feature and Dakhtaran – e khorshid (Daughters of the Sun), the first feature directed by Mariam Shahriar. Ms Makhmalbaf had, of course, won the Special Jury Prize at the Cannes International Film Festival earlier in the year, while Ms Shahriar deservedly won the WFF Prix de Montréal as the most "promising first time feature director," beating out no less than 47 competitors. Samira co-wrote the script of Blackboards with her father, Mohsen, and, without his support, such a young woman-she turned 21 on February 15-could never have achieved so much, already. And yet, she has clearly demonstrated a startlingly original and poetic, "naive" directing talent with Blackboards, and her first feature, The Apple (1997).2 In having two young teenage sisters re-enact their joy of discovering the world for the camera-they had been virtually imprisoned by their father all their lives-The Apple contained a strong documentary quality. In contrast, by having actors playing teachers who carry their chalkboards into the mountains, the new film's immediate effect is symbolic-the effort required to perform such an arduous task clearly transmits the notion of "work" to the audience. Not only is Blackboards didactic, but it also teaches us about the importance of teaching/learning, itself. In this way, the two films are similar, as they are in their visual style: each shot providing a simple (but not simplistic) yet elegant tableau. It is hard to know at this stage who is most responsible for the power and beauty of the action and images in these two films (father or daughter). After all, Mohsen Makhmalbaf's most recent films exhibit a similar style. And yet, on the basis of her interviews, and her eloquent speech at Cannes, Samira Makhmalbaf emerges as a highly intelligent, mature and sensitive filmmaker. She may well overtake her father in creativity and significance in years to come.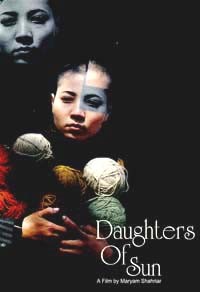 Daughters of the Sun was the real surprise of the entire World Film Festival. It tells the story of Amangol (played by Altinay Ghelich Taghani), whose father shaves her head, dresses her as a boy, and sends her far away to apprentice in a carpet workshop in order to support his poor family. Her employer beats his weavers indiscriminately and Amangol (now "Aman") suffers in many other ways. But her female co-workers (thinking her to be male) look up to her, and one young woman, Belgheis, falls in love with her, hoping for a marriage proposal! In rebellion at the end, Amangol burns down the workshop and walks towards the horizon of a barren landscape, dressed again as a woman. The first miracle of Daughters of the Sun is that it was made at all. Maryam Shahriar has spent a lot of her life outside Iran. She studied filmmaking in California during the 1980s and then graduated in Italian Culture and History from the American University of Rome. She remained in Italy and directed her fifth short film there in 1997 (after making her first shorts earlier in Los Angeles). Presumably, her leading actress was able to act throughout most of the film with her head uncovered because she was playing the part of a young man (perhaps the director even argued that she was a man?). Ms. Shahriar was in attendance in Montréal and told me that she cut fifteen minutes of dialogue in the film and replaced this material with some long shots as a way of circumventing the censors and injecting ambiguity. In any event, the resulting minimalism adds to the film's power and heightens allusions to the enigmatic work of Andrei Tarkovsky. Surprisingly, the sophisticated and intelligent director persisted in praising Liv Ullman's Trolösa (Faithless, Sweden, 1999) to such an extent that she denigrated her own work each time she introduced Daughters of the Sun to a Montréal audience. She has no reason at all to be so humble…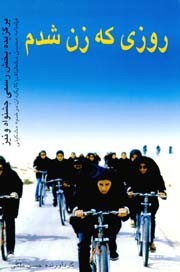 The Day I Became a Woman
The final showcase for new Iranian cinema in Montreal 2000 was the Festival international du nouveau Cinéma et des nouveaux Médias de Montréal (FCMM) from October 12 to 22. No fewer than three of the twenty-five films selected for the international features section were from Iran and two of these have since been released in Quebec.3 The one that hasn't is yet another product of the family Makhmalbaf, Roozi keh zan shodam (The Day I Became a Woman), directed by Mohsen's wife, Marziyeh Meshkini. It is her first feature, and consists of three independent short stories, arranged, anthology style, in order of the protagonist's age. The first episode shows a nine year old girl, Havva (Eve) who, according to her grandmother, should not go out to play with her dark-skinned neighbouring boy because she has just now "become a woman." She defies the dictates of her elder, but at the end her mother puts a chador (scarf) on her head and takes her back home. In the second episode, a teenaged girl Ahoo (Farsi for "deer") is riding a bicycle alongside the ocean in defiance of her male relatives, chasing her on horseback. Initially she is accompanied by other female cyclists all dressed in black (including their chadors). This, the most affective of the film's three parts, is dynamised by the constantly tracking or travelling camera, a metaphor for Ahoo's struggle for freedom. The third episode is the most enigmatic, and "magic-realist," and features an old woman, with the help of local boys, buying furniture and other household articles, and setting them up on a beach, as if it is her "home." Interestingly, the entire film is set next to the ocean (presumably in the south of Iran), where a gorgeous blue of clear sky and water provides a striking contrast with white sands and the black garments worn by all the female characters. I was less impressed by The Day I Became a Woman than other observers, but its visual style is remarkable and adds another facet to the work of "Makhmalbaf Film House."4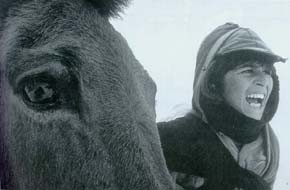 A Time for Drunken Horses
Bahman Ghobadi, the other Iranian co-winner of the Camera d'or at the Cannes International Film Festival for directing Zamani barayé masti asbha (Un temps pour l'ivresse des chevaux, or, A Time for Drunken Horses) is Kurdish.5 In Iranian Kurdistan, a twelve year-old boy has become the head of his family after his father dies (apparently in a border skirmish). He looks after his younger sister (who narrates the film, in Farsi) and his younger brother, Madi, a "little man." Madi is only given a couple of months to live if he doesn't have an operation, and older half-sister, Rohine, allows herself to be married off by her uncle on the understanding that Madi can have his operation. Mostly, the film follows a perilous, snow bound journey of pack mules (not horses) over mountains, where the physically challenged Madi is carried in a sack!! In the film's key scene, Madi is rejected by Rohine's future in-laws, in the snow, and the uncle and two brothers are forced to return to their home, sans operation, with only a mule to show for their troubles as a dowry. The strength of A Time for Drunken Horses is in its documentary-like quality, depicting an incredible struggle with the elements. One wonders if the "horses" were actually plied with alcohol (as the script indicates) to enable their survival, and the pained expressions on the face of the "little man" playing the part of Madi look to be real much of the time.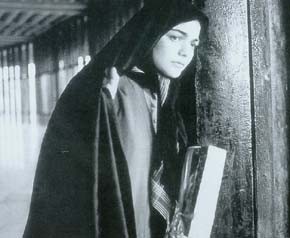 The Circle
The third Iranian film at the 2000 FCMM, Dayereh (The Circle) is nothing less than one of the first two great films of the new millennium (the other being Wong Kar-wai's In the Mood for Love, the top prize-winning film at the FCMM). Director Jafar Panahi's first feature was The White Balloon (1995), written by Kiarostami, and he then made The Mirror (1997), starring the same little girl (Mina Mohammed Khani), whose journey this time challenged the boundary between documentary and fiction when she suddenly declares at the camera that she doesn't want to act any more. His third feature represents a huge step up: it is both a truly feminist work and an organic masterpiece, where style fuses perfectly with subject matter. The "circle" of the film's title is both the vicious circle of life to which women are condemned in Iran and the trajectory of the camera. In the beginning, a woman gives birth to a child and three women are given temporary release from prison. At the end we find all of them, together with other women we meet during the course of the film, in the same jail cell, linked by a panning camera movement through a full circle, 360! Brilliantly, Panahi maps the lives of the women through Bahram Badakhsani's restless camera, shifting from one to another as each seeks freedom, only to find entrapment. For example, an eighteen year-old is trying to get on a bus to "paradise" west of Azherbaijan. Her friend has stolen money for her ticket but she needs a student ID and a travelling companion in order to secure it, and she flees the bus station when she notices soldiers checking passengers bags. She runs to see her friend who is being locked in her own house by her brothers, who are preparing to send her back to prison. When the friend escapes her familial entrapment, the camera shifts to follow her flight-to a hospital, in an unsuccessful bid for an abortion, and, so on…
The message of The Circle is devastating: life for Iranian women is one of continual imprisonment. Some Iranians to whom I spoke after the FCMM screening found its position on the plight of women in their country to be too extreme, but most-men and women alike-found the experience of watching Panahi's film to be an extremely powerful and emotionally moving one. The year 2000 was an extraordinary one for Iranian cinema with so many fine films completed and shown which openly depict the oppression of women and minorities. Let us hope that, with the re-election of a relatively moderate political head-of-state, Iran can continue to move ahead socially and continue to produce beautiful and enlightening films.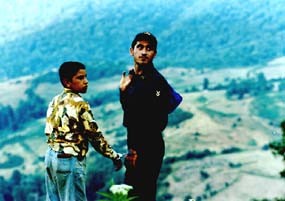 The Child and the Soldier
To Read Part 1 of this article, click here.
Endnotes:
1. The film was very well received in France, however: Jean-Sébastien Chauvin wrote very favourably on Le Garçon et le Soldat as being "une bonne surprise de la sélection" of the Festival des Trois Continents de Nantes in Cahiers du Cinéma, No. 553 (Janvier, 2001), p. 28, for example.
2. Both scripts (written by her father) have already been published in Farsi and English, and Samira Makhmalbaf is so highly regarded that a dossier of photographs (production stills and Cannes snaps) with reviews in Japanese and French as well as Farsi and English have been included with the script of her second film (entitled The Blackboard, here), compiled by Mehrdad Zonnour.
3. The FCMM has developed a great reputation for securing local releases for the films they select, and most of them get shown at the Ex-Centris complex. As of this writing only four of the twenty five features have yet to be released in Quebec.
4. Mohsen Makhmalbaf discusses their operations, including a film school in yet another book (published in Iran), together with the script of The Day I Became a Woman in both Farsi and English.
5. The film also won the FIPRESCI prize (out of competition) and the Prix des cinémas art et essais (CICAE) at Cannes in 2000.