27th International Istanbul Film Festival
Insights into the Depths of the Human Soul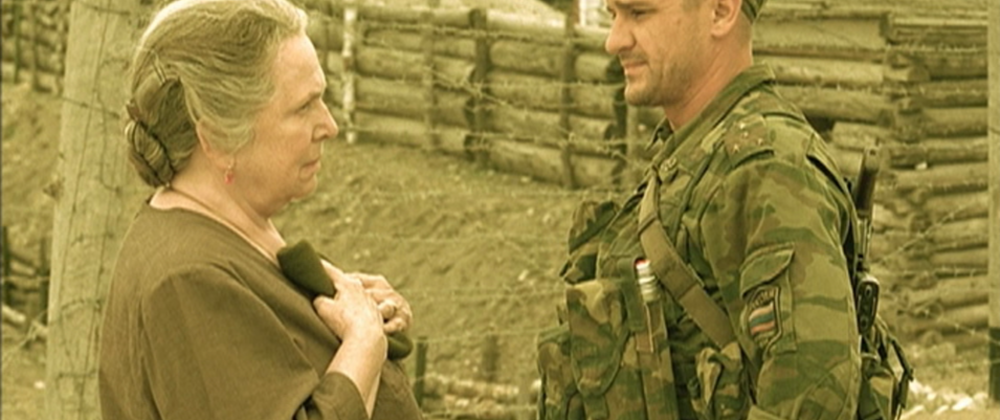 The 27th International Istanbul Film Festival, held between April 5th and 20th 2008, ended by striking a balance between intense psychological films and fictional and documentary features based on social matters. The Golden Tulip went to a Turkish Film, Egg, this year. At the closing ceremony of the festival, it has been announced that, the jury, presided over by Michael Ballhaus and composed of Joan Dupont, Selim Eyüboğlu, Bent Hamer, Pawel Pawlikowski, and Kirsi Tykkilainen decided to give the award to Semih Kaplanoğlu's film "for its poetic and subtle portrayal of a man adrift in a modern world, who, forced by circumstances, returns to his native village to find meaning and the possibility of love." The film, similar to Seyfi Teoman's the Summer Book (selected as the best film at the national competition in the festival), included references to Nuri Bilge Ceylan's cinema, who won the Grand Prix and Best Actor Prizes at Cannes in 2003 with his film Uzak. With thanks presented to Ceylan at the closing of the film, the success of Egg seems to herald the establishment of a vein of cinema in Turkey in some ways influenced and inspired by landmark figures from remote points of Eastern cinema who have created distinct styles of their own such as Yasujiro Ozu from Japan and Abbas Kiarostami from Iran. Egg, the first installment of the "Yusuf trilogy", the other two of which are on the way, was earlier selected as the best film and took the Golden Orange at the Antalya Film Festival. Yusuf, a poet living in the big city, returns to his small hometown as his mother dies. As the real journey is always back home, here he finds himself trapped between a long-forgotten identity and what he brings as his new self from the big city as an artist and an intellectual. On one side is the fear of getting stuck in this small town forever and on the other, an urge to stay there more and more in order to make peace with a long-forgotten self; one of the most difficult encounters for Yusuf is when he runs across his ex-love, a literature teacher, who broke his heart once upon a time. It occurs like a shock to Yusuf, when she reminds him of a time when he said "he would never live anywhere else than his hometown". The person who said that seems such a stranger to him now that he does not recognize him at all.

Egg
On the gap
This feeling of being stuck between a provincial background and a cosmopolitan life in the hip city of Istanbul is stunningly expressed by Umit Unal in Ara, which took the jury's special prize in the national competition. Umit Unal, a well-known scriptwriter for outstanding films such as Teyzem, Berlin in Berlin and many others, made his debut as a director with Dokuz (aka, 9) in 2001, which received the best film award at the International Istanbul Film Festival in 2002. A tough psychological film centered on a questioning at a police station, the film was particularly successful in creating striking psychological portraits of men in a homophobic and misogynist male world. After his work as a co-director in Istanbul Tales, which received the Best Turkish Film Award at the International Istanbul Film Festival in 2005, in Ara, Unal sets forward from a realm similar to that in Dokuz. Set completely inside a flat in an old apartment building, which seems to be a crossover between an architectural attraction and a claustrophobic haunted house from a Poe short-story, this flat is being rented out every now and then to advertising agencies for professional shoots of adverts, films etc. The cutaways to the footage shot in the flat render a rich visuality into the film, which develops an intense meditation on how form creates meaning in art.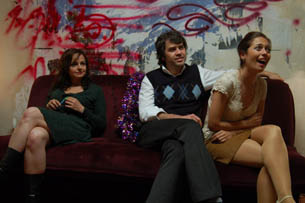 Ara
Director Unal explains the inspirations and techniques of the distinct and impressive visual language of the film thus: "We tried to use natural lights as much as possible. We shot the film on HD video. It gave us the chance to use very little light and the freedom to turn the camera around in as wide an arc as possible. We used a colour correction machine, after which we finished the film and changed the colour codes a bit. We desaturated all vivid colours and tried to have a sepia tone, and used handheld cameras almost all through the film."
The film is an in-depth exploration into the lives of two couples, Ender and Gül, and Veli and Selda. Told in a non-chronological narrative style, each episode opens with the year it takes place in stated on-screen, and this formal gesture is instrumental for the director in that it shows how much damage and change time brings to relationships. The film starts with a night when Ender and Gül come to her place after a party – we later understand that Ender owns an advertising agency where Gül has recently started to work as a photographer. Ender is the first "ugly and fat" man that she chooses to sleep with, and she does not hesitate to tell him this, yet surprisingly enough at the end of the night they both find themselves completely under the spell of the other. The next episode, years after that first night, presents the couple in a violent, jealous fight. Once they have exhausted their anger, Ender tells Gül, who is now in his arms, about a dream he saw. In his dream, she is gone, but eventually he understands that she is not actually gone but he has killed her, and hid her pieces inside the flat. From this point on, with flash-backs and -forwards, the audience is taken on a journey into the lives of the two couples, whose wounds make it not so easy for each of them to carry the weight of loving and being loved. At the end of this journey, Ender's dream functions as an acrid metaphor of the couple's ultimate end.
Although Gül and Ender live in a beautiful flat with a view, which the audience never actually sees, they spend a lot of time in the studio apartment that belongs to Gül (this is the flat mentioned above), and Veli and Selda join them here as their guests. The erotic tension stimulated by long nights of getting stoned together eventually leads to the "friendly sex" affair between Selda and Ender. She admired him as a child when they were neighbors in their hometown, and we learn that he helped her make a life in Istanbul. On the other hand, on another drunken night, Gül and Veli – son of an army officer and Ender's best friend – find themselves in a moment of intimacy, though one that is ultimately not consummated when Veli reveals that he is actually gay and has a boyfriend.
It is easy to think that the film is about some bobos in Istanbul. But Unal, does not see it as clear cut as that: "My characters are not exactly 'bobo's. They come from very poor backgrounds. They are, as the title of the film suggests in Turkish, stuck between two different worlds. They can't be bohemian or bourgeois, but they can't get back to their modest pasts." Speaking about Gül, Unal underlines that: "Maybe one character can be excluded in the quartet: Gul, a half-French, half-Turkish woman who comes from a dysfunctional but well-off family, who was born and raised in affluent areas of Istanbul. She is stuck between two cultures. She desperately tries to start a family that she never had with her lover and friends. But she can not manage. She is never one of them."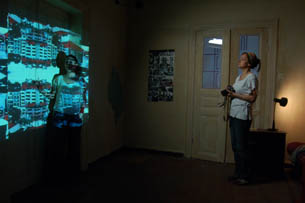 Ara
Ara explores western themes such as alienation in a highly capitalist lifestyle, the consumption of sex, an excess of resources which leads to a feeling of nothingness and emptiness; yet there is a feeling about it that makes the characters Turkish. Obviously, the selection of music is one determinant in giving the film its Turkish aura. Unal has stated that he did not try hard to make his characters Turkish just writing down his own experiences and those of the people he observed around him. He adds that probably, the 'reality' of the characters makes it more believable and more local. Asked whether he would call his characters European or insist on their Turkishness, Unal says: "It depends where you draw the borders of Europe. Geographically they live in Europe, on the European side of Istanbul. They live in Beyoglu which was the opening gate to Europe even in the times of the Ottomans. They have feelings, fears, hopes, a little mischief and bad behavior that can be seen anywhere on earth. But what makes them local is the way they talk about it, the way they express themselves, I think."
In the film, the decadent world of the characters is infused with a lack of expectations in life as well as bourgeois loneliness – a combination that makes the film seem like a picture straight out of Paris. Yet the characters come from provincial backgrounds. Ara means "a gap", "a break", "the space between", "distance", or "search." There is life in Istanbul that is ultra-urban, cosmopolitan, and very liberated, and the characters of the film dwell in that Istanbul, in contrast to the rest of Turkey; is this the gap they are struck in, a gap between the Orient and the West? According to Ünal, "The people in Turkey live in a terrible cultural clash. One might say, after spending some time here, that there are numerous countries and cultures within the borders of this same country. In central Istanbul, let's say in Taksim, you feel like you are in any city of Western Europe. Faces, clothes, music, films, Starbucks, Levi's, all other brands garnish the streets. But just take a 10-minute walk down the hill and go to, let's say Dolapdere and you are in Bangladesh, or the slums of Cairo or Sao Paulo. Apart from cultural clashes, the divide between the rich and poor is so obvious, so bitter, it is almost hurtful. My characters are light years away from this world. The glue-sniffing street kid who passes their street regularly only enters their life as a far far cry."
The film is a very personal, intimate exploration into the depths of the inner worlds of the characters. The questions that it deals with correspond to a European cinema that the West is not always ready to expect from Turkey. They seem, rather, to welcome films dealing with human rights issues, political problems, etc. Uzak probably caused the first important impact in breaking these prejudicial expectations of the West from Turkish cinema. Ünal says, "The film is about how we live, how I and people around me live. We might be a small minority but 'we are people, too'. Turkish cinema was not able to understand the so called 'intellectuals', because most of the directors were never sincere enough when they tried to look at their own lives, they always failed to create appropriate portraits. The clichés of intellectual circles in some films are quite dreadful. I tried to create a more 'realistic' picture, although the film is not exactly a 'realistic' one. The reaction from Turkish and foreign audiences was great. Most people understood exactly what I meant, which is quite a luxury for an artist."
Starting with a quotation from Harold Pinter's play Betrayal – "It doesn't matter. It's all gone" – the film asks the following question but leaves the answer open-ended: Was it only Ender's narcissism that prevented him from loving Gül fully, or was his affair a misshapen revenge on Gul for her privileged background? When questioned, Ünal also refuses to answer: "I believe most of the actions we take in love affairs are quite based on chance. Deep personal undercurrents effect every movement in our lives; most of the choices we make seem inexplicable, irrational. But keep in mind that love works in three worlds; one is the physical world, that is sex. The other is the mental world, when we are alone with our lover. The third is the social world when we are with other people. Sex is at the core of it all, and it is the most irrational, most animalistic side of love. We sometimes just desire someone else other than our 'legal', 'proper' spouse. But we have obligations and responsibilities that we ourselves have created in the mental and social worlds. And social barriers try to control all of this and we try to obey the social limits all the time. You sometimes see a rich, educated man falling in love with a poor, ignorant girl, or vice versa, and things seem very intricate and irrational. That is the core of love talking there."
When asked about his inspirations, Unal gives the names of directors such as Bergman, Antonioni, Alfonso Cuaron and Michel Gondry, as well as early works of Fellini; together with writers such as Harold Pinter, especially his play Betrayal, Nabokov, Kafka, Marquez, Perec, Gombrowicz, Borges as well as Sait Faik, Orhan Pamuk and many other writers from Turkish literature.
As a matter of fact, this year's festival had a screening of the film adaptation of a novel that has become a cult classic of Turkish literature in the Best of 40 years by SİYAD section of the festival. The film, Motherland Hotel, was adopted from the novel of the same title by Yusuf Atılgan, a landmark in Turkish literature for the way that it reflects the existential anxiety and nihilism within the life of a small provincial town in Turkey. Out of the character of a neurotic hotel owner, one of the most unforgettable anti-heroes of modern Turkish literature is created. Winning multiple awards both nationally and internationally, the screening of this film from 1986 unintentionally underscored the offering of a good deal of densely sophisticated psychological films at this year's festival. Ingmar Bergman's unforgettable Hour of the Wolf, a film that dates back to 1968, was shown in memoriam of the Swedish director. Just as Motherland Hotel acted as a gateway for Ara at the festival, Bergman's film created an opening for the profound twin features Children and Parents from Iceland.
An outstanding achievement of film noir from Iceland: Children–Parents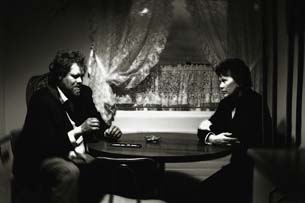 Children
Children, created as a result of the director Ragnar Bragason's collaboration with the theatre group Vesturport, was the first of the twin features screened. The film explores the lives of Karitas (a single mother), her bullied son Gudmund, his only friend Marino (a schizophrenic in his forties), and the underworld enforcer Gardar who is Gudmund's father. Shot in black and white and instilled with the tough melancholy of its post rock soundtrack, this drama is an outstanding success in portraying edgy yet vulnerable characters all floating in a cold and high modern loneliness, desperate to find a human warmth and feeling through lost family ties.
In the follow up Parents, we dive into the lives of the dentist Oscar, who finds himself at a crossroads when it comes out that his wife has actually been hiding from him her inability to conceive; Einar who of late lives in a hotel room and finds divorce papers in front of him while waiting hopefully for his wife to reconcile with him; Katrin, who comes back home to live with her son after living in Sweden for years and is desperate to stop her psychotic ex-boyfriend from stalking her. Director Bragason, inspired by the working methods of Leigh, Godard and Cassavetes, got the actors of the theatre group Vesturport to present a character they know from their own lives or one loosely based on a real person. The shootings were made without any written dialogue in order for the actors to be in the film rather than simply act.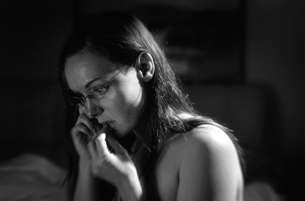 Parents
The success of the double-features was primarily in reflecting the emotional alienation of modern life, a state of being like individuals hanging from a ceiling with no ties to one another, everyone left on their own to struggle with the Gordian knot of their distorted family ties. There are mothers, fathers, husbands, wives, ex-lovers, daughters and sons here, but each of them is so isolated within their inner worlds that no communication whatsoever is possible. Although the names of the features imply that the first one focuses on the lives of children, whereas the second one deals with parents, both of them actually focus on the abyss between children and parents, as well as between partners. The touchy visual language of the films is expressive of the lack of colorfulness in the characters' lives, one which turns into a modern-day existentialist tragedy.
Another excellent example of drastic psychological cinema in this year's festival was Ex Drummer from Belgium, directed by Koen Mortier, which like Children and Parents, was screened in the Mined Zone section of the festival. This section comprises "unusual, extraordinary, groundbreaking and 'challenging' films outside the mainstream in their style, form, approach, technique or narrative." Ex Drummer opens with lines by the writer Dries that sound almost like an existentialist manifesto, explaining how all he is looking for in life is some sort of playthings to ease his maddening boredom. Following Dries, in his venture with three losers who come together to form a rock band, the film draws an extreme and dark yet ironic picture of the lives of those who dwell on the slippery ground between the world of willing unemployment and homelessness. No matter how dangerous it seems at the beginning for such a well-off writer to spend time with these psychopaths with nothing to lose, it turns out that he can actually be more unyielding than others and control them not only with his brains but also with his hidden philosophical anger. As the time for a rock competition slowly approaches, lives at the bottom of the bottom are revealed with a harshness that revels in an avant-garde sense of reality towards the extremes of defamiliarization through the use of graphic violence. Presenting Dries's life as the world in the other part of the mirror, director Mortier is particularly successful in showing that, if the inner worlds of individuals are destroyed psychologically, it doesn't matter which class they belong to, they will all dwell in a common level of psychosis. Ex Drummer can be seen as a reference to a Shakespeare tragedy such as "Titus Andronicus," as the dose of cruelty and violence turn into grotesque. Using a good deal of punk-rock in the score, this film, not surprisingly, was selected as the best debut feature at the Raindance Film Festival in London in 2007. It completed a thematic unity at this year's Istanbul Film festival, as Ex Drummer, Ara, Children and Parents, are all based on a dark, rough psychological realism that is completed with an idiosyncratic visual language. The idiosyncrasy in the aesthetic representation of Ex Drummer is two-fold: the use of reverse-angles merged with a loud, rather dated punk-rock creates a hallucinogenic garage bar sensibility. This language is instrumental in expressing the meaning of the content and all four films are filled with a severe sense of alienation in high modern Western societies.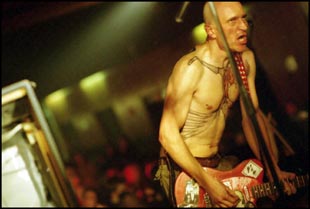 Ex Drummer
Alexander Sokurov and his sepia-colored world:
The festival committee this year was excited to give Alexander Sokurov an honorary award. Evidently another psychological film at this year's festival, utilizing a wholly different cinematic language from these films, the director's latest film Alexandra made its Turkish premiere at the festival. The film is about an elderly lady called Alexandra, coming to see her grandson who works as an officer in a Russian military unit in Chechnya. After some time she makes friends with Malika, a local stall owner. Alexandra is stunningly performed by the famous, 80-year-old opera singer Galina Vishnevskaya. This beautiful tale of humane warmth reveals the human dimension of war, which is perhaps the most difficult part of it to explain. In the question and answer session after the screening of the film, Sokurov said that he wanted to explore how people related with each other after the war. Bitterly stating that "it is very difficult to look into each other's eyes" in such circumstances, he added that there are many examples of this in the world. Sokurov said that his aim was to bring people together, as Russians and Chechens are in fact very similar, and they know each other well. Answering a question on the use of sepia in his film, Sokurov said that it was the colour of that life of war, that it could even be black. He also underscored how it is difficult to reflect all sorts of problems in a film: murders, crimes and all these things. He said that his cast and crew reflected a small part of it and held it forth with sincerity.
Another arresting moment of the festival for the Turkish and international audience finding a chance to get a deeper insight into life in modern day Russia as well as the Chechen problem was the documentary, Rebellion: The Litvinenko Case. This documentary is about the former FSB officer Alexander Litvinenko, who was killed in London in November 2006 by radioactive poisoning. Through his interviews with Litvinenko himself as well as his alleged killers, his widow, and his friends, documentary filmmaker Andrei Nekrasov attempted to reflect in his film what Litvinenko risked his life for: truth, his struggle against corruption in Russia, and his love for his homeland.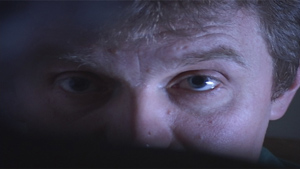 Rebellion: The Litvinenko Case
A Sufi look at homosexual love
Among the excellent documentaries at the festival, and probably one of the most controversial ones, was Parvez Sharma's A Jihad for Love, a documentary following the lives of various gays and lesbians in different Muslim countries. All the figures in the film are people who believe in Islam and believe that their religion does not discriminate against them. Spanning a wide range of lives, some of which are as dramatic as being whipped for being gay in an Arab country, and some of which are much easier such as a Turkish lesbian couple living in Istanbul, the film is based on the Sufi approach to Islam. This is the most accepting branch, based on Rumi's philosophy to "come whatever you are." As hinted at in its name, the film takes the idea of jihad in Islam as a jihad within to find one's true self. Parvez Sharma, who was present after the screening of his documentary film for a question and answer session, said that his film opens ground for many different layers of discussion about Islam. Particularly underlining that his film is pro-Islam, Sharma said that, in fact, it defends Islam, and does not attack Islam. Sharma added in a quite humorous fashion that he did not have "a fatwa on his head." Stating that, just as in his film the Sufi dimension of Islam is a very important theme, his collaboration with people from Turkey was very important and useful for him.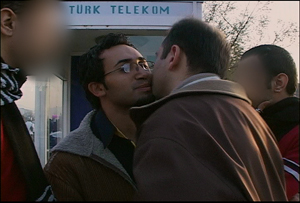 A Jihad for Love
In addition to the screenings of around 200 films, the festival was rich with side events such as master-classes, parties, exhibitions, panel discussions, etc. On 20 April, the last day of the festival, there was gloom on Istiklal Street, where all except one venue of the festival were lined up in pleasant tiredness which will soon evolve into the excited expectation for welcoming the festival for the 28th time next spring.