The Man Who Could Cheat Death
Lesser Known Hammer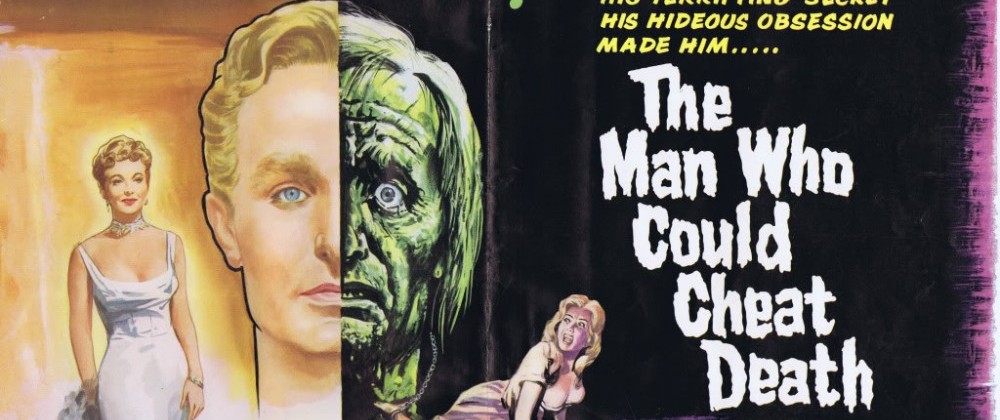 Most of the important and better known Hammer films have already been released on DVD for quite some time now, but there are still a few of the more obscure titles owned by some of the major distributors in America which have not yet seen the light of day. The Man Who Could Cheat Death is one of these titles. Paramount own this particular title and by a giant stroke of luck, Legend Film, an independent company, has seen fit to obtain the licensing agreement from them for a limited time.
Legend Films have been involved with releasing old classic films, such as Frank Capra's It's a Wonderful Life, in dubious colorized versions (more about this later), and other titles as well. The company certainly seems to have been busy lately seeking to expand their small catalogue with a host of different films from various genres ranging from family entertainment to comedies, dramas, and horror films. The film/DVD that concerns us here, The Man Who Could Cheat Death, is a neglected Hammer film from one of the production house's most respected directors, Terence Fisher, dating from 1959. The film was produced in between Fishers' The Hound of the Baskervilles and The Mummy, and represents a phase at Hammer where they tried to diversify their more mainstream horror output with what they considered to be more respectable, theatrically based stories. The film was adapted from a play by Barré Lyndon titled The Man in Half-Moon Street by Hammer's best screenwriter, Jimmy Sangster, who had scripted most of their early gothic horror films, such as The Horror of Dracula and The Curse of Frankenstein.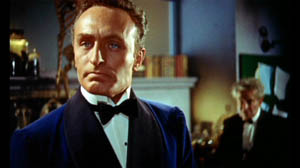 Anton Diffring
The story revolves around a doctor Bonnet's (Anton Diffring) quest for eternal life via a glandular transplantation which must occur every ten years in order to keep him at a healthy age. There is only one man alive that can perform this operation, Dr. Weiss (Arnold Marle), and a successor must be found in order to replace him so that Bonnet can live another ten years. The only man Bonnet and Weiss consider capable of doing the operation and keeping silent is a surgeon by the name of Pierre Gerrard (Christopher Lee) who happens to love the same woman as Bonnet. Gerrard, troubled by the whole affair, reluctantly accepts once Weiss guarantees him that he will help him perform the operation. Something goes wrong and Weiss disappears, leaving Gerrard to back out of the whole affair. Bonnet holds their common love, Janine (Hazel Court) hostage, and confronts Gerrard with the facts as to what he and Weiss have worked on over the years. Once Gerrard realizes he has no choice but to help Janine, he performs operation on Bonnet.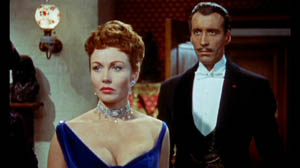 Lee and Court
The film is not one of Hammer's most well known entries, yet it was made during their most creative period at Bray Studios just outside London near the river Thames. For those of you familiar with Hammer's roster of talent the following names will be familiar: Jack Asher (photography), Bernard Robinson (Production Designer), and James Needs (editor). The film looks amazing in this transfer from Legend Films; there is quite a bit of digital artifacting in some early dark scenes, but as soon as the story moves to interiors, the transfer looks near flawless. The print used is the generally available North American/British print which omits a topless shot of Hazel Court posing for Dr. Bonnet (who ironically moonlights as a sculptor in the story). The print does exhibit quite a bit of wear and tear, but the color scheme is stable throughout and nicely highlights Asher's artistry (let us not forget that he was nominated for an Academy Award for his work on The Horror of Dracula). You will recognize a lot of sets re-used and re-dressed from other more familiar Hammer films (a technique that worked well for them in the early days, but was abused in the mid-60's productions). The film provides Christopher Lee with a great role, and his performance is so well controlled and unlike anything he had done up to that point that it's a shame this film often gets a quick cursory mention in most books on Hammer. As for Hazel Court (who looks stunningly beautiful in this film), director Fisher and director of photography Asher enhance her glowing cheeks and facial features rather than her cleavage, which is unusual for Hammer, given that they were the studio credited for introducing blood and sexuality to the horror genre. Watching Anton Diffring as Bonnet, one could almost imagine Udo Keir –another fairly famous German actor well enough known to mainstream movie-goers– learning his craft from watching this particular performance (for evidence, watch Flesh for Frankenstein back to back with this film).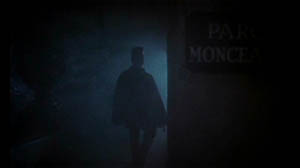 This is a must buy title for any Hammer/Fisher/Lee aficionado, unfortunately Legend Films have struck a limited distribution deal with selected Best Buy stores in America, so punters without an American Zip code will be out of luck in acquiring this title (at least for the present). This brings us back to Legend Films; they have recently released some very hard to find films such as Freddie Francis's masterpiece The Skull in a stunning transfer that is available here in Canada (reviewed in this issue). The earlier remark about the colorization work on Capra's It's a Wonderful Life neglects to mention that when they digitally restore a colorized version they also include the black & white original, which means that they are –thankfully– a company well aware of the feelings of the film purist; and I should add that the technique used to digitally paint in color is the best I've yet seen so that it enhances rather than detracts from the experience, which makes it fun to watch for the young kids in the family.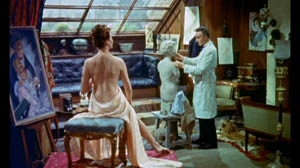 You can peruse and purchase certain titles directly from their website; they accept Paypal transactions and delivery postal time in the US ranges from 7 to 10 days. In conclusion, I can only cross my fingers that these titles will sell well amongst collectors, and that the interest shown will provide Legend Films with some momentum and impetus to purchase further neglected gems from various studio archives.
The Man Who Could Cheat Death
1959, Hammer Films Prod.
Dir.: Terence Fisher
Script: Jimmy Sangster based on "The Man in Half-Moon Street" by Barré Lyndon
Prod.: Anthony Nelson-Keys
Cast: Anton Diffring (Georges Bonnet), Hazel Court (Janine), Christopher Lee (Pierre Gerrard)