The Incredible Film Fest, Part 1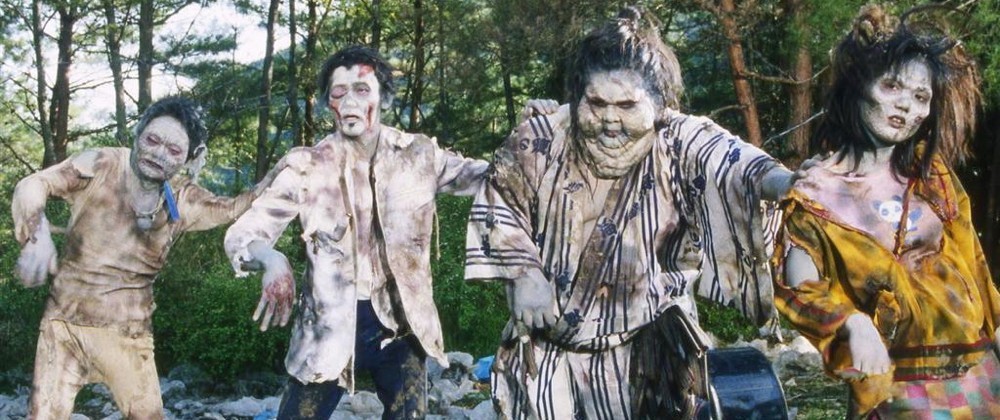 HAPPINESS OF THE KATAKURIS—Japan 2002 Opening Night Thurs. April 11, Civic Theatre Genre: comedy, dance, zombie, surreal, musical, date, kitsch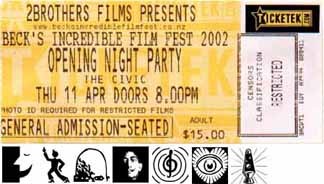 I am walking down Queen Street, Auckland's clogged central artery, wearing a dinner jacket, a bowtie, and the high-top sheepskin slippers New Zealanders affectionately know as ug boots. I pass a woman dressed as Xena as I enter The Civic, the most ostentatious theater in the South Pacific.
For many years, ad wizards have tried to trick New Zealanders into thinking Halloween actually means something in this country. The fact remains that despite the absurd quantity of skimpy leather armor floating around the country's costume shops, only two situations are likely to provoke Kiwis into dressing up like Xena: 1) Being on Xena, 2) The Incredible Film Festival. New Zealand's attachment to Victorian repression is particularly what makes the Incredible Film Festival possible/necessary as a cathartic outlet for everything offensive and unorthodox. The unbearable pressure of mandatory conformity has had similar results in both NZ and Japan, and so it's no coincidence that the opening film of 2002 is Japanese director Takashi Miike's genre bender, Happiness of the Katakuris. The Katakuris are the typical American movie family—devoted mom, hardworking dad, romantically deluded daughter (with young daughter as result of deluded marriage), rebellious son and cantankerous grandfather. Except that they're Japanese.
This loveable gang of subverted stereotypes have fixed up a guest house in the mountains so that Papa Katakuri can feel rejuvenated in his middle age, and so the angsty son can rebel against him, then make up in a heartwarming moment. Even more upset by the move to the hinterlands is the daughter. Divorced and with a five-year-old child herself, she mournfully flits around like a teenager in love until a not particularly handsome man in some sort of naval uniform sings and dances for her on an impressive staircase. In addition to not being any variety of military officer, he is also not the nephew of Queen Elizabeth, but a heart in love does not always pick up clues —such as a Japanese voice, face and body- that might be a tip-off.
The main plot revolves around a simple principle of the hospitality industry: dead guests are bad business. Everyone who comes to stay with the Katakuris keels over on their first night for inexplicable reasons. Except the sumo wrestler's girlfriend. She has an explicable reason—suffocation under his massive corpse. Papa Katakuri will not let these matters ruin his dream, so the family takes to burying the bodies out back. While the deaths and cover-ups grow tiresome before they start, they have a nice habit of giving way to clumsy musical numbers from beyond the grave, culminating in the final family song and dance that pays simultaneous tribute to The Wizard of Oz, The Sound of Music, and Godzilla. In glorious stop motion Claymation, the mountain erupts, and the stream of lava buries the bodies and whisks the guesthouse gently away to a golden meadow you would swear was in the Austrian highlands. The closing number is an amazing summation of the psychological impact of volcanic threat, and the effect of the atomic bomb fifty years on.
Director Takashi Miike seems to dedicate himself to subverting stereotypes in the least creative ways possible: shock tactics that while amusing to some and offensive to others, feel past their use-by date. Some amount of time has gone into creating his flights of fancy, but the cast doesn't seem to be in on the joke. The actors look like they were given the script and their costumes with their cup of coffee on the first morning of shooting. The choreography was probably dreamed up while resetting lights.
I walk out of the Civic with the feeling of righteousness one acquires by sitting through an ultimately boring movie that is noble in its subversiveness and absurdity. Also scheduled at the festival was Miike's apparently more shocking necrophiliac family comedy, Visitor Q, which the NZ censor deems indecent. Security has been clamping down even Down Under since September 11. There must have been secret terrorist instructions in the film. Soon, I hear they will start cracking down on people wearing ug boots and Xena costumes on Queen Street.
RURAL AMERICANA—USA 1994/2000 Sun. April 14, Civic Theatre Genre: inbred, shockumentary, noodling, petrol sniffing, mountain dancing, musical, comedy, animal attacks
The Rural Americana program comes in two hairy-backed, broken-toothed, inbred segments. The first is the story of Jessco White, who splits his time between three different personalities —a talented tap dancer in the West Virginian mountain tradition, a violent psychopath who held a meat cleaver to his wife's throat for not cooking eggs to his satisfaction, and the king of rock and roll. Dancing Outlaw was made in 1994 for West Virginia Public TV's "Different Drummer" series. Clearly made on a limited budget, director Jacob Young seems to have started making a film about a talented local mountain dancer, and struck documentary gold with a subject so rich, he couldn't have scripted a better one.
Like American Movie, Dancing Outlaw takes a tiny local story and makes it a metaphor for the state of the nation. You think you're watching a film about a talented man whose rough life is made rougher when his father, dancing mentor, and idol, is gunned down by the neighbors in a feud. All this is true, but on another level, it's a film about the American dream and the American reality and how they stack up.
While an infinite pleasure, Dancing Outlaw is a guilty one. Mainstream films stay miles away from anyone with teeth like Jessco's, and so congratulations to Jacob Young for telling the story of marginalized people with little public voice. Limited congratulations, though, because it's done with all the dignity of Oprah. No amount of theorizing can take away the fact that the entertainment comes from the film's freakshow quality.
Oklahoma documentarian Bradley Beesley has also struck gold subject matter with Okie Noodling, the story of men who catch sixty-pound catfish using their arms as bait. What began as food-gathering among Native Americans is now a ritual expression of manhood among a select group of working-class Oklahomans who have been brought up with it. Noodling works like this: Find catfish hideout—hole in lake bottom, shore overhang, or the most fruitful, under edge of sunken highway. Insert hand and wait for bite. Upon feeling bite, reach down the fish's throat and hook fingers out gill. Assure wife hand still attached.
Unlike Young, Beesley treats his subjects with much more sympathy, and doesn't keep his distance. He even organizes the first known noodling competition. While much of the amusement in Okie Noodling, as in Dancing Outlaw, comes from the freakshow reaction, the filmmaker positions himself (and the audience with him) on the side of the freaks, by taking up noodling himself.
If there are any moral dilemmas in the film, they revolve around the responsibilities for the competition. The clamping jaws of the catfish are the least of a noodler's worries. Those sunken highways have a tendency to collapse at just the wrong time. One bait shop owner explains that he doesn't noodle anymore since his uncle went looking for catfish and had his arm flayed by a beaver. One contestant competes wearing a large bandage on his fingers after a water moccasin bit him a week before.
The pleasures of Rural Americana are the same pleasures that draw people to Incredible Film Festival itself. Freaks come to see other freaks and be reminded that despite the efforts of network television, Rupert Murdoch and the fashion industry, there are still a few human beings left on the planet, and the dentist next to you is trying to think if he can try noodling in New Zealand.
MAU MAU SEX SEX—USA 2001 Tues. April 16, Civic Theatre Genre: cannibal, comedy, shockumentary, sleazy, stock footage, scenery chewing, nudity, ape love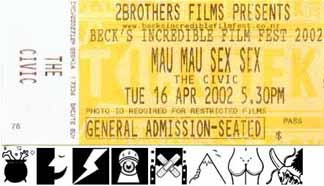 Forgive me for stating the obvious if I point out that the Incredible Film Fest is like Levi's for women but the opposite, made by men, for men. Porn and violence are the festival's bread and butter. What sets the festival apart from cineplexes and cineplexxxes, are its quirky, foreign takes on violence, and intelligent, critical view of porn. In other words, the festival is something you could justify by saying it was a school project, like going to the Sex Museum in Amsterdam, rather than the peep show on Karangahape Rd.
Mau Mau Sex Sex steals its name from an exploitation film distributed by producers Dan Sonney and David F. Friedman. Originally entitled Mau Mau, the film was an anthropological piece from Africa. When the director brought the film back to the States and couldn't find anyone to distribute it, he met Dan and Dave. They hired African-American actors and a back lot to make a skirmish scene into a battle, added some spicy love, and tagged Sex Sex onto the end of the title. The film did not win any Oscars, but it earned them plenty of Benjamins.
Obviously, these two men are inexcusable. So inexcusable, that their films are now being held in historical archives, and their work studied by college professors. So inexcusable that director Ted Bonnitt had to make a documentary about them and their work. Dan is eighty-five and Dave seventy-seven when the film is made. Half of the comedy comes from hearing two old-school porn peddlers going on about their gall bladders. For all the "scandalous" and "indecent" work put out by these sunshine boys of smut, I would not be surprised to find them voting Republican.
Mau Mau Sex Sex takes an insightful look into the contradictions of America. While publicly scorned for corrupting the morals of the nation, Dan and Dave are poster-boys for the capitalist wet dream, and therefore necessary to the same system that publicly shuns them. They scoff at the same Puritan morality which represses sexual desire and keeps the punters pouring into the theaters, and gives Dan and Dave the cheapest publicity in the world any time there's an outcry against their work.
Not surprisingly, the old boys have quite negative attitudes towards hard core porn, the business that eventually put them out of business. In all the exploitation films they made, they were never allowed to show graphic sex. They started out filming at nudist camps, but quickly moved on, as they had to bring their own models to substitute for the beer guts and sacks of cauliflower that most campers carried around. Perhaps more than sex, Mau Mau Sex Sex is an intelligent, funny and insightful look at prudishness. In one story, Dave is called into the censor's office questioning the use of this phrase on a poster: "Nubile starlets sucked into a vortex of passion!" The censor says, "You can't use that word, I know what that means." Dave insists he doesn't know, and the censor finally tells him that "nubile" must be stricken.
This must be the same censor who moved to NZ to take moral guardianship here. Also banned from the Incredible Fest is the French sex and guns female revenge film, Baise Moi, which in the spirit of American contradiction, was named as one of Time Magazine's top 10 European films of 2000. The censor was afraid NZ would begin morally degrading activities like smoking clove cigarettes and letting dogs shit all over the sidewalk. www.maumausexsex.com
SPIKE AND MIKE'S FESTIVAL OF SICK AND TWISTED ANIMATION—USA 2001 Weds. April 17, Civic Theatre Genre: anti-Disney, anarchy, gross, comedy, sleazy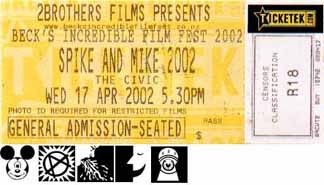 Spike and Mike's Festival of Sick and Twisted Animation is becoming something of an institution. Therein lies its downfall. In years past, this collection has prided itself in exhibiting the most transgressive and offensive animations available. When I first saw the festival three years ago, I thought it was a compendium of all the cartoon sex and scatological animation in the world. I think my reaction was typical: that's disgusting, show me more.
But Spike and Mike's is the fest that gave first starts to South Park, Beavis and Butthead, Rugrats and Wallace and Grommit. This year's program begins with a short documentary revealing that either Spike or Mike, I can't remember which, has died. Either Spike or Mike (the one left), bitterly mourns the fact that even at the best of times they had no money, and had to sell the house in which so much great animation was made. One would think all this would translate into a more commercial collection for this (2001) edition, which to the credit of Spike or Mike, is not true. The quota of inane content, however, has been significantly raised. While boring, the antics of Nature Boy, No Neck Joe, and Harry Pothead are not likely to be on MTV soon either. Perhaps to fill the gap in lack of material, the festival also recycles old content from previous festivals (Ah, L'amour; Love that Pussy) and classic animations (Betty Boop and Fly Motel). Did I mention they had to sell the house?
As compensation for the recycled and not worth recycling, Spike and Mike's does offer viewing that the global psyche has been silently dying for, Behind the Music that Sucks, three-minute pop bio-autopsies of Britney Spears and Eminem. Animation has the advantage of being the cheapest form of filmmaking, and as hundreds of internet sites show, is a realistic venue for getting work show even if it doesn't have Julia Roberts. An even better rage against the commercial machine comes from Don Hertzfeld as we track his descent into stick figure madness after being commissioned to do a series for commercials for The Learning Channel. They objected to everything he made, but took particular exception to the bleeding anus segment.
Other intelligent (Eat by Bill Plympton), funny (Fuck Her Gently by Tenacious D) and resourceful (When Chickens Attack) films that are never going to get shown on television also compensate for the banality fest of No Neck Joe. While Spike and Mike's has lost its edge, it's still the only game in town for getting short animation seen. www.spikeandmike.com
Part Two: Incredible Film Fest