21st Hong Kong International Film Festival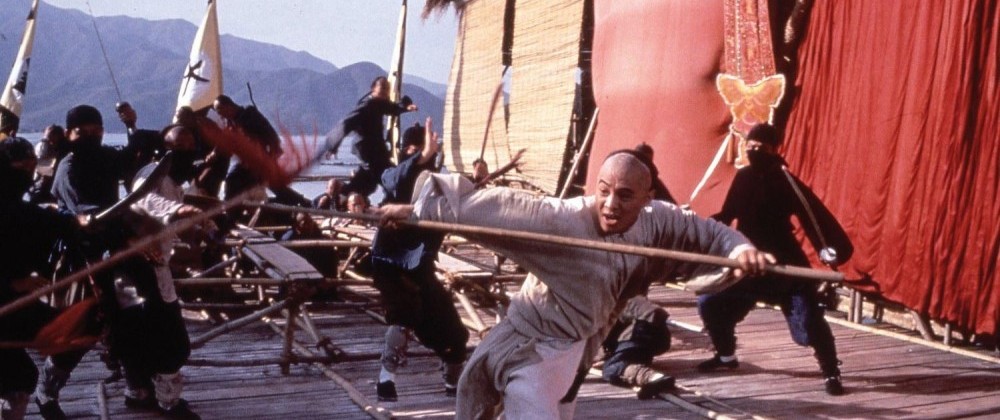 After wishing to visit the city since childhood, I finally got the opportunity in 1997 to attend what is probably the best of the Asian film festivals and perhaps the finest non-competitive film festival anywhere in the world, the Hong Kong International Film Festival (HKIFF). To my surprise and delight, I found that the festival organizers, the Urban Council of Hong Kong, chose this year, the last under British rule, to celebrate the history of Hong Kong cinema in a 45 film retrospective, "Fifty Years of Electric Shadows." Known for their annual retrospectives, which are memorialized in precious, special edition catalogues, the HKIFF outdid themselves this year. The new, young programmer of Asian Cinema, Jacob Wong, in association with the Hong Kong Film Archive, put together representative films from previous retrospectives with some newly discovered titles, including a few new, restored prints. Of especial interest to me were the films featuring the "sing-song girls," the female stars of the 1940s, '50s and '60s who dominated their male counterparts in the Hong Kong Mandarin cinema. Unfortunately, none of the screenings of pre-1960 titles were graced with sub-titles, making it difficult for this viewer to follow the intricacies of the surprisingly melodramatic plot lines. (I'm not used to tragic or noiresque musicals.) In any event, the earliest work in the retrospective, Song of A Songstress (1948) was disappointingly mannered and stiffly directed (by Fang Peilin). Included for the striking correspondence between the script and the star's own tragic life and sordid background, even Zhou Xuan's songs in the film paled by comparison with the beautiful plaintive sounds I'd heard from her on record. In contrast, the singing of the younger Ge Lan (also known as Grace Chang) was enhanced in the two films I saw, June Bride and The Wild Wild Rose (both from 1960). The brilliant comedy of the former (according to the delighted audience) was lost to me almost entirely, but electronic subtitling enabled me to enjoy Rose immensely. Crisp, key-lit cinematography (by Huang Ming) and efficient direction (by Wang Tianlin) highlight Ge Lan's incredible performance: surely the finest screen incarnation of Carmen, ever. Rose also hits all of the right emotional notes, for me, where Ge Lan's character boldly chooses a virile young pianist (Zhang Yang) as a sexual partner while giving her hard-earned money to her older, former accompanist for his wife's health care. An Unfaithful Woman (1949),the fourth film in the series to star a Shanghai-born "sing-song girl," Bai Guang, was much better directed than any other work of its period. Yue Feng managed to partially hide the inadequacies of the simple sets with judicious camera placement and editing and by moving the camera across and through them, while generating emotion at the same time: tracking to follow Bai's movements behind (fake) trees in one scene, and panning to the sky from her position in the courtyard of a jail, prefiguring her freedom, in another.
On the action front, it was a thrill to see the very first film in the world's longest running series, "Wong Fei-hung" (or Huang Feihong)—Tsui Hark's Once Upon A Time in China V (1994) was the 99th!. The star of The True Story of Wong Fei-hung, Part 1: Whiplash Snuffs the Candle Flame (1949), Kwak Tak-hing, went on to appear in the title role in 76 more films! To be truthful, nearly fifty years later, Kwak's martial arts skills seem laboured and forced, but True Story introduced moves and gestures to establish the genre, and in a scene of pole fighting, Wong is encircled by rivals, a pattern which survives to this day. On the evidence of the two Grace Chan films (above) and The Enchanting Shadow, the seminal Ghost Story film produced by the Shaw Brothers, 1960 would appear to be a breakthrough year for Hong Kong production values. Beautiful costumes, authentic sets and strong acting characterize Shadow, exquisitely directed by the recently deceased Li Hanxiang, who is best known for the historical epics, Reign Behind the Curtain and Burning of the Imperial Palace (both 1983). Shadow skillfully exploits effects from earlier Hollywood horror films—an ethereal slow tracking camera combined with actress, Le Di's ghostly gliding movements, and editing to create surprise appearances. Li imparts a delicacy and subtlety only found in the best Val Lewton efforts, and introduces a rich colour palette, which combined with a strikingly evocative musical score, provides the horror genre with a new level of sophistication. Le Di's great performance as the abandoned, alienated young ghost, abused by her grotesque mistress, is just one of the many "attractions" marking Shadow's version of the attraction/repulsion dichotomy as the most seductive to this point in world film history. Another key year for Hong Kong cinema was 1966, when King Hu's Come Drink With Me appeared on the scene to bring dynamic, breathtaking beauty to Wu Xia Pian. Unfortunately, this extremely important work was not included in the retrospective (I've only seen it on video). Instead, the organizers chose to pay tribute to the late, great director by showing the much less well-known The Valiant Ones (1975), as the closing film (which, annoyingly, I had to miss: waiting for my return flight at the airport). The Jade Bow was the festival's selection from 1966 and its action scenes pale by comparison with King Hu's, surprisingly so given that the action choreographers were Lau Kar-leong and Tong Kai, who went on to become key figures in Hong Kong martial arts films. Clearly, Jade Bow's heroine, Chen Sisi was no Chen Pei Pei (the female star of Come Drink With Me), but she did have great screen charisma and her comic jibes undercutting the machismo of the male lead, Wang Baozhen are memorably proto-feminist. Indeed, the most remarkable feature of 1950s and '60s Hong Kong cinema was the dominance of female characters over their male counterparts, and the martial arts heroine continued to be a feature of early '70s films. One of the highlights of the entire 1997 festival was the screening of Wu Ma's The Deaf and Mute Heroine (1971) despite the deplorable quality of the print—colour completely faded to red and intermittent sub-titling. But, the glory of the film's widescreen compositions and action choreography, combined with dynamic cinematic technique remains. With hair in bangs partially obscuring her determinedly downward glancing face, Ma Hailun's (Helen Ma) frame filling stance is absolutely riveting—one arm outstretched right with sword, the other arching up behind her back with sheaf. Remarkably, Wu Ma himself plays a relatively cowardly woodsman nursing the heroine back to health, and she is the film's sole survivor, after defeating her main rival, another woman, the poisoned dagger-throwing Miss Liu. After a period of male dominance in 1970's martial arts films when Hong Kong conquered the world—with Wang Yu, Bruce Lee, Zhang Che, Sammo Hung, Liu Chia Liang, Fu Sheng and others—women returned to prominence in the action films of Tsui Hark. The Butterfly Murders (1979), showcased by the 21st HKIFF, would seem to be a key work of new Wu Xia Pian with its supernatural effects: of killer butterflies and the ability of human characters to create explosions and leap into impossible positions. A woman in green, who is a kind of puppet mistress, attempting to fight rivals with long strings emitting from her fingers, is clearly a precursor to (Brigitte) Lin Ching-Chia's "Invincible Asia" character in Ching Siu-Tung's Swordsman series (produced by Tsui Hark's Film Workshop in the 1990s). It was great to see excellent condition widescreen prints of Jackie Chan's Project A (1982) and the Hui brothers' Security Unlimited (1981) both of which remind us of the silent era when Hollywood used to make scintillating action comedy. They provide further evidence that the Hong Kong industry as a whole had now become the premier entertainment factory. For me, the most striking evidence of this fact in the festival was Patrick Tam's Final Victory (1987). Brilliantly co-written by Tam, Winnie Yu and a young Wong Kar-wai and sporting some amazingly lurid sets, of sleazy Mongkok apartments and nightspots, also by Tam, Final Victory generated the best audience participation of the festival. The mostly foreign audience broke into spontaneous applause when the cowardly Eric Tsang character rescues Mimi, the younger of his older brother's two girlfriends, from a gang, only to face death himself when Bo (played with frightening, comic menace by Tsui Hark) is released from jail. On the evidence of this film, Patrick Tam is due a major retrospective of his own.
Mostly, Hong Kong auteur cinema was far less impressive through its representation in "50 Years of Electric Shadows" than its genre cinema. My favourite Wong Kar-wai film, Ashes of Time (1994) was on view, which I had seen before both on-screen and on laser disk. I only planned to watch the beginning because I had been told that there were two versions of the opening and closing: maybe I hadn't seen this one. But, regardless, I was hooked again by this mesmerizing work, and stayed until the end. The work of Hong Kong's first woman filmmaker, Tang Shuxan, was more interesting to think about than to experience and Stanley Kwan's Love Unto Waste (1986) was very disappointing, especially after its opening sequence: intercutting various empty, well-appointed rooms, suggesting an emptiness in their occupants' lives. Allen Fong's celebrated Ah Ying (1983) was shown without subtitles—quite a handicap for this dialogue-laden film—and his most recent work, A Little Life Opera (1997), which was the festival's "surprise film," also disappointed. It continues Fong's work on live theatre, by interestingly combining a kind of anthropological text on Fujian (fishing village) culture and opera, while enacting a drama on the life of a troupe; but the mixture doesn't always work. Yim Ho's latest film, Kitchen (1997), which took pride of place as the festival's opening film, with director and cast in attendance, was even less successful. Promisingly based on contemporary Japanese writer, Banana Yashimoto's novel, Kitchen, the film is painfully slow at times, although it always looks good. The patience of this viewer was most taxed by an extremely repetitive, minimalist, but cute piano score, a strategy which unfortunately seems to be somewhat pervasive in Asian films these days (especially Japanese ones). The best of the new Hong Kong auteur work was, for me, a film made in exile, Clara Law's Floating Life (Australia, 1996). Law is one of the world's most original visual stylists working today and her latest film constructs its thesis through colour, shot composition and lighting. She manages to completely undermine a touristic impression of bright, sunny Australia, where the largest part of her story's family have emigrated, by overexposing the filmstock and decorating the new house in light, dull greyish tones. Nothing could be more alienating for the viewer.
The most pleasant surprise of the 21st HKIFF was the strength of the Hong Kong Panorama 96–97. I had come to believe that with the Chinese takeover looming, and with so many film people working outside of the Crown Colony, there would be very little creative energy left. But two of the four films in this section, are extremely imaginative, and one of them, Once Upon a Time in Triad Society 2 is a highly original work, directed by Cha Chuen Yee (who definitely should be watched in the future). The narrative intertwines the antics of three groups: punk, "triad kids" led by Dinosaur (Ray Cheung), a couple of cops who seek to stop a gang war, and, most remarkably a collection of gangster "wannabees" led by a pimp named Dagger (Francis Ng). Triad Society 2 presents an extremely expressive view of Hong Kong at night with canted frames, optically printed sepia stock, super-impositions and rapid cutting, mixing these hip Wong Kar-wai stylistics with comedy and action, while undercutting the machismo of the gangster genre. Not quite as exciting, but equally reflexive, Viva Erotica provides a charming spoof of Category III filmmaking in Hong Kong, with excellent acting throughout. It continues the promising progress of director Derek Yee. Viva Erotica is also graced with striking cinematography by Jingle Ma who shot the most popular film in the Panorama during the festival, Comrades, Almost A Love Story. Not surprisingly, this emotionally riveting film featuring two mainland Chinese lovers torn apart in both Hong Kong and New York, swept the 16th Hong Kong Film Awards, following the festival, including Best Film, Director (Peter Chan), Actress (Maggie Cheung), Jingle Ma's cinematography, Eric Tsang (well deserved for Best Supporting Actor) and four others. Far too sentimental for my taste, Comrades seemed to be very popular with local critics as well as audiences, partly for Leon Lai's strong performance opposite Cheung, and mostly for its gentle handling of Hong Kong/China relations on the eve of July 1st, 1997.
Of the new films screened from other Asian countries, a number showed the influence of Hou Hsiao-hsien, and collectively, the Japanese selections also reflected a return to the spirit of Yasujiro Ozu. Goodbye South, Goodbye, Hou's latest, was presented as a Gala and, although I had seen it last year at the Toronto International Film Festival, I was pleased to see it again with a predominantly Chinese speaking audience. Whereas the Toronto screening had prompted continual walk-outs and a general air of disquiet, the HKIFF crowd generally seemed delighted, laughing often, and staying with the film till the end. I still find the narrative spatial co-ordinates difficult to decipher, but I found myself this time following the characters and their situations much more closely and appreciating Hou's double-edged approach to his contemporary petty criminals: warm, humorous sympathy for their plight, while implicitly criticizing their lack of purpose. Tsai Ming-liang's Berlin Jury Prize winner, The River was also well received and continues the director's play with narrative, where the audience only gradually understands that the three principal characters are father, mother and son. It ends with a shocking potential for incest. The River features Tsai's perennial young (non)actor Lee Kang Sheng as Xiao Kang, the son, and contains a wonderful scene near the beginning with Ann Hui playing a director trying to film a scene in a river with a dummy as a drowning man: she persuades Xiao to play the role.
The Korean and Japanese films were hard to see with many of the screenings being officially sold out. Of the South Korean films, I was turned away from The Day a Pig Fell into the Well (dir., Hong Sang-Soo), but I had seen Farewell My Darling (dir., Park Chul-Soo) in 1996 in Montreal and I managed to see Three Friends in Hong Kong. Both of these are unusually aggressive for Korean films, but Farewell, while it is very critical of Korean funeral ceremonies, ends conservatively, re-affirming traditional values. Conversely, Three Friends, which is directed by a woman, Yim Soon-Rye, never backs away from its bleak portrait of three young men rejected by post-secondary educational institutions, who struggle to avoid induction by their country's armed forces. The ugly picture of many aspects of contemporary life portrayed by Yim must be very controversial in South Korea. Among the new Japanese films were two medium length 16mm films by young directors on the same bill. Utatame (Hidenori Miki), which means "nap," unfortunately caused me to do just this, while Fake Lovers (Takayoshi Yamaguchi) is a very conventional, TV-like male fantasy on a young woman, who collects men. 2 Duo directed by Suwa Nobuhiro suffers from a similar problem of perspective: here an abusive young male character is sympathetically drawn. But, visually, 2 Duo is very impressive in its alienating, Antonioni-ennui (informed, as suggested earlier by Ozu and Hou). The cinematography is particularly impressive by Tamura Masaki, who also shot the best Japanese film I saw in Hong Kong, Suzaku. This debut feature by a young female director, Naomi Kawase (she is only 27) provides a near-documentary, yet very poetic view of the region where she grew up, in Nishiyoshino-mura, through a fictional representation of a family who feel abandoned when a promised railway link is never built. Suzaku is close in spirit to a Japanese film that showed in the HKIFF last year, Okaeri (dir. Makoto Shinozaki, 1995) and two other new Japanese films, Village of Dreams (dir. Yoichi Higashi, 1995) and the finest film to have been shown in competition at Montreal's World Film Festival in a long time, Kohei Oguri's Sleeping Man (1996). All four films mark the coming of a Japanese new wave of serene, reflective, painterly and distanced, yet deeply emotional work, at an opposite pole to the equally interesting viscerality of "Beat" Takeshi and Shinya Tsukamoto.
With In Expectation being pulled out of the festival, the only entry left from the Peoples Republic of China was Signal Left, Turn Right, a co-production with Hong Kong. Once again, director Huang Jianxin demonstrates his flair for comedy, and it is hard to believe that the mainland authorities would have allowed for such biting criticism of bureaucracy—a driver's training school run by the army—to be on-view in Hong Kong, had it not been a co-production. With more accredited delegates being in town from Finland than China, things do not auger well for future festivals under mainland control. Tony Rayns may well be correct in asserting that the powers that be will probably seek to build up their Shanghai film festival at Hong Kong's expense. But, maybe this wonderful festival will survive close to the shape that it is in now, as a reflection of the most dynamic and economically progressive city culture in the world. Perhaps the screening cites could be closer together. Dashing from one to another was hectic, to say the least. But my experience of travelling by bus each day to and from the festival, and so frequently using ferries and the MTR (Mass Transit Railway) allowed me to experience Hong Kong in motion, much the way residents do. When I expressed my surprise at how "change" was the most overwhelming impression I was getting of Hong Kong—the number of construction projects, buses, ferries, cell phones, pagers, etc., I saw was staggering—in a culture, China, which I had always assumed to be so rooted in tradition, I was told that, "well, South China is different." Let's hope that Hong Kong's, Southern Chinese dynamic flux will be more influential on the future of the region than bureaucratically-driven repression. Who knows, after July 1st, there might even be an explosion of subversive creative activity in the Hong Kong film industry?