Once More, with Feeling: Denzel Washington's film The Great Debaters and Robert Rosenstone's book History on Film/Film on History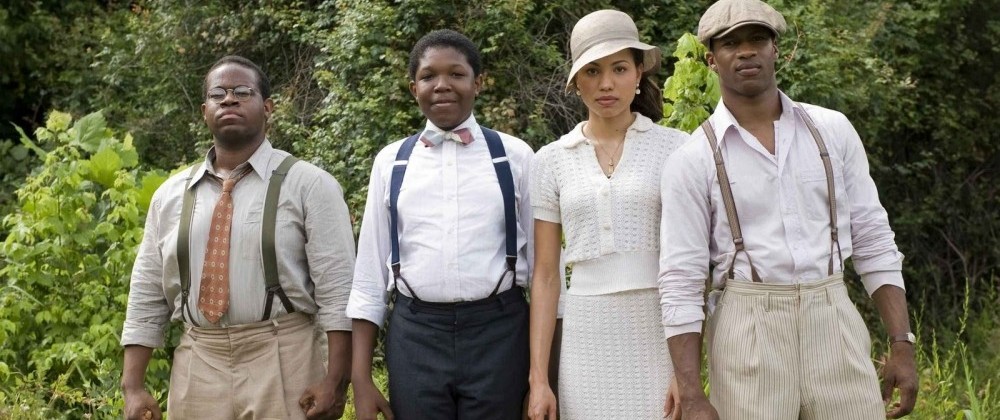 The Great Debaters
Directed by Denzel Washington
MGM, the Weinstein Co., Harpo Films, 2007
Producers: Todd Black, Kate Forte, Oprah Winfrey, Joe Roth
Executive Producer: David Crockett
Screenplay by Robert Eisele
Story by Robert Eisele and Jeffrey Porro
Cinematographer: Philippe Rousselot
Production Design: David Bomba
Editing: Hughes Winborne, John Breinholt
Costuming: Sharen Davis
Starring: Denzel Washington, Forest Whitaker, Kimberly Elise, Jurnee Smollett, Nate Parker, and Denzel Whitaker
History on Film/Film on History
By Robert A. Rosenstone
Pearson-Longman
London, 2006
ISBN 0-582-50584-4
182 pages
"…It helps me to understand what I learned in the history books. It's not just text anymore. I could say that part of me kind of lived it."
—actor Denzel Whitaker, on playing James Farmer Jr. in Denzel Washington's The Great Debaters
"Film may lack the ability to provide deep psychological insight, or extensive descriptions of particular intellectual or political milieus, but it can suggest with a terrifying immediacy how the past looked, and how people moved, felt, spoke and acted—in time."
—Robert Rosenstone, History on Film/Film on History
I love Denzel Washington: he is the matinee idol of my generation; and his films, from Carbon Copy to The Great Debaters, and including A Soldier's Story, Cry Freedom, For Queen & Country, Glory, Mississippi Masala, Ricochet, Philadelphia, Devil in a Blue Dress, The Siege, The Hurricane, Training Day, John Q, and Inside Man, among others, have given me some of my most enjoyable moments in the cinema: moments of comedy and drama, of amusement and romance and anger and intelligence, moments of beauty and of thought. Denzel Washington had two films coming out around the same time, American Gangster and The Great Debaters, and I knew people who were excited about seeing American Gangster, which I had no intention of seeing, repelled by the offering of one more story of violence, but I looked forward to The Great Debaters, an all too rare opportunity to see some very intelligent African-Americans on the large screen, with Denzel Washington as a brave man—intellectually, physically, and politically brave—in an age when courage could be rewarded with death; a role invested with dignity and intelligence and also anger, mockery, and pride. Inspired by a true story and a genuine hero, it is classic Denzel. The Great Debaters, only the second film Washington has directed after Antwone Fisher, tells the story of professor, poet, and activist Melvin B. Tolson's work with Wiley College students, preparing them for debates with some of the best (and often more pale) colleges in the country; and, Tolson also organized laborers. Just as Denzel Washington can make a film that appeals to obvious mass audience tastes, such as American Gangster, and a film that offers more rare and subtle concerns, such as Debaters, the activist and poet Tolson was involved with both matter and mind. "In a role 180 degrees removed from that of American Gangster's Frank Lucas, Washington plays Melvin B. Tolson, real-life poet, professor and stealth activist (and Lincoln University graduate, Class of 1924). Tolson pursued all three vocations in the Jim Crow South, when African Americans were called coloreds," wrote Carrie Rickey in the Philadelphia Inquirer, December 24, 2007; and Rickey wrote that Washington directed the film "as if it were an action movie. Not only must the debaters go up against the competition, but they must also run an obstacle race just to get to the debating podium."
The actor Nate Parker, who plays one of the debaters in the film, Henry Lowe, has talked about the history behind the film: "I remember we had all this research they'd given us like pictures of lynchings and I lined them up across my mirror to remind me every day when I walked into that trailer, what my job was. I think, as an actor, sometimes you're tempted to surface certain things. You've done your research, you walk on set and you do a scene, but I think that those pictures reminded me of the veracity of that time period. That these were people that, without any kind of trial, were killed and there were no reports and it was expected that no one would care. So, I tried to remember that. I tried to carry that in my heart, carry that in my step, everywhere I walked when I was on set and I was in scenes, that was the chip on my shoulder." The film offers a scene in which the students and their teacher are driving to one of the debates at night and come across a lynching and are themselves threatened. It leads to an act of self-indulgence on the part of Nate Parker's character, something Parker was aware of, how various facts impact on a person. "It wasn't just 'I want to be a rebel,' it was 'I'm drinking to suppress those demons, that constant reminder that I was inferior.' 'I' meaning, of course, the character. So with all our research it was a responsibility for us all to tell the truth of these people so that, when you looked on that screen, you saw truth, you saw what they went through, not actors acting," said Parker (as reported by Sheila Roberts, Movies Online, at the time of the film's late 2007 release).
The Great Debaters offers many memorable moments, moments of ambition and accomplishment and disappointment and resilience, moments of anguish and delight, moments of conflict and community: in one instance, one of the young debaters, Nate Parker's Henry Lowe, fights over a woman with her jealous husband; Denzel Washington's Tolson wears enviably elegant summer clothes sitting in a small boat on the water as his students recite on shore to him; Jurnee Smollett's character, debater Samantha Booke, addresses a hostile audience, growing in strength as she hears her own arguments and realizes she believes them and that this is the audience that needs to hear them; and the students traveling to and studying in a sumptuous room, and receiving respectful recognition from one of the colored servers, a scene of shared recognition; and the looks of astonishment on the faces of the students' white debate opponents when they realize the talent they are confronted with. In the film, Denzel Whitaker (neither a relation to Denzel Washington or Forest Whitaker) plays James Farmer Jr., a precocious student who would become a civil rights activist; and it was Denzel Whitaker who said, as reported to Movies Online, that the film "helps me to understand what I learned in the history books. It's not just text anymore. I could say that part of me kind of lived it." It is the gift of imagination, of experience; of art.
"Like the shape of Africa,/ the raison d'etre of Art is a question mark," poet Melvin B. Tolson wrote in the poem "Delta," Harlem Gallery (Collier Books, 1969; 28). It may be impossible to reduce any art worth contemplating to a simple idea or explanation, but part of the value of The Great Debaters is its giving form and spirit to questions that have haunted too many of us concerning the place of African-Americans in the world. Are we to be discouraged by circumstances and expectations, or inspired to excel and exceed them? Are we to be whole or forever condemned to self-division—"a half-breed,/ a bastard of Barbarus and Cultura," as Melvin Tolson described a character in "Upsilon," Harlem Gallery (105). The principal characters in The Great Debaters choose excellence and are exhilarating and touching because of it (and their challenges and doubts are merely some of the dragons that every hero has to slay, but heroes they are); and the film pays tribute to them, and offers encouragement as well as pleasure to its viewers, something the actress Jurnee Smollett realized when she said to Movies Online: "it's giving voice to the voiceless, putting lips to something, and that's one thing that makes you so proud to be part of a film like this, because you're giving a salute to everyone who has come before you."
"Oprah Winfrey produced it. Denzel Washington directed it. Forest Whitaker acts in it. Oh, and it happens to be pretty good," wrote film critic Wesley Morris in his December 25, 2007 Boston Globe review, noting Washington's old-fashion and uplifting star appeal and the cultural chic of the film's subject, with its references to the Harlem Renaissance of Langston Hughes and other celebrated figures. Morris named precisely the appeal of the film's central characters: "They know a lot and hunger to learn more." Roger Ebert called The Great Debaters "one of the year's best films" (Chicago Sun-Times, December 24, 2007). Writing in the film industry publication The Hollywood Reporter (December 19, 2007), Kirk Honeycutt wrote, "Screenwriter Robert Eisele has handed the director a juicy, all-but-forgotten story about the debate team of Wiley College, a black liberal arts institution in the Jim Crow South that won most of its debates against black and white schools in the 1930s. Coaching a team that helped propel several future civil rights leaders into the limelight was the famous black poet and professor Melvin B. Tolson." However, Richard Schickel (December 26, 2007) in Time magazine took issue with some of what he perceived as the fiction in this history film, noting his reservations regarding a lynch mob scene, and the very cinematic make-up of the Wiley debating team, featuring an attractive young woman that two young men can compete for, one of whom she becomes infatuated with. (Lynchings were a fact of black life then, for one thing. For the other, Denzel Washington has said that Jurnee Smollett's character is partly inspired by Henrietta Wells, a Wiley debater.)
Others critics have mentioned the film's making the big triumph of Wiley College a debate with Harvard. (Obviously Harvard is used as a standard representative of the best.) The Wiley debate team did, in fact, debate and defeat the national champions in April 1935, the team of the University of Southern California (USC), according to the book Melvin B. Tolson, 1898-1966: Plain Talk and Poetic Prophecy (University of Missouri Press, 1984; 50). Denzel Washington, in the Movies Online report, addressed some of the filmmaking choices, including that one: "It's a movie so there are big dramatic strokes in it that didn't necessarily happen in two hours of their life—maybe it happened over the course of 20 or 30 years or 5 or 10 years. But the fact of the matter was that when they got up on that stage and when they went against anyone, they were not intimidated by anyone. And as our film, we changed it. I said I wanted it to be Harvard. In actual fact, the national champions were USC. But there was no question that everybody they went against they beat. So it didn't matter who it was—Oxford, Harvard, USC, Cambridge. It didn't matter." Does such a discrepancy compromise or endanger the history the film gives us? (That is the kind of question that Robert A. Rosenstone asks in his book History on Film/Film on History.) I would prefer accuracy, but I understand the changes the film made. It is more interesting for me to know that Tolson debated with potential debate team members for a year before considering them for the team, and that the more success the team had, the more Tolson thought truth-telling was more significant than winning, facts the book on Tolson brings to my attention. It is more important, as well, that the film helps me to see young people of color, and discipline, and achievement; and it is moving achievement. (My eyes filled with tears at various moments. The 2007 Hector Lavoe film, El Cantante directed by Leon Ichaso, and starring Marc Anthony and Jennifer Lopez, had a similar effect on me: the film received criticism for focusing more on private trouble than the artistry of salsa singer Lavoe but I could feel the love and pride in the film for the man and his culture; and I thought the storytelling vivid.) How does one weigh history against emotion in the attempts to tell true stories through film?
"Words aren't fully up to the task of comprehending film experience," writes Robert A. Rosenstone on the first page of his book History on Film/Film on History, and one hardly could ask for more modesty from a writer, but that does not mean that he will abdicate all argument or assertion in the pages to follow; on the contrary, this is a book of sense, and even sensuality, that explores the relationship of film to history as it is known, understood, and written about by credentialed historians and the participants of history. Film history, like written history, consists of facts and fiction, if by fiction one understands the narrative created through particular emphases made by the selection of certain facts and not others. Today, both the past and how its stories are told are of concern, and offer opportunity for film writers and directors: "We want our deep interest in and caring for the past to be expressed in forms congenial to both a contemporary sensibility and to intellectual systems consonant with our own era" (3). That may make the work that results more honest; and it may, in time, be the thing that dates the work, I suspect. Of course, history and its treatment are rarely without controversy, if the history being told is worth anything at all; and changing "the medium of history is to change the message" (6) and "a film will never be able to do precisely what a book can do, and vice versa" (7). Rosenstone asserts that in film we find a new form of historical thinking.
History on Film/Film on History, a small book, contains chapters devoted to history on film; seeing the past; mainstream drama; innovative drama; documentaries; narrating lives; the film director as historian; engaging the discourse of history by examining the twentieth-century Jewish holocaust; and film on history and what we might want from it. The book has a preface to the "history: concepts, theories, practices" series it is part of written by historian Alun Munslow (the book is also dedicated to Alun Munslow); and the book features Robert Rosenstone's authorial acknowledgements, the publisher's acknowledgements, and, following the main chapters, a guide to key reading, and a seven-page bibliography and a four-page index.
When films treat historical subjects, do they count as history, adding or detracting from our knowledge of the past?, asks Robert Rosenstone, going on to claim that David Wark Griffith's 1915 film Birth of a Nation reflected many then-current historical views in its depictions, and so, despite the criticisms that have been subsequently made, it is no worse than the work of established book-centered historians (13). (That for me is a weak argument, especially as I know that there were people such as African-American intellectual W.E.B. DuBois who offered a very different take on American slavery, its end, and Reconstruction. There were also American abolitionists and social reformers who offered views different from that advanced in the film. To suggest that if a film represents a majority opinion, even a majority opinion of its own time, that that makes it intellectually respectable is very questionable—and not in line with what I would think are the ideal rigorous examinations of the scholar. Also, if Birth of a Nation reflected majority opinion, why was it controversial; and why did Griffith feel the need to make Intolerance as an antidote to the broad perception that he had endorsed racism?)
Rosenstone, I am glad, does not dwell too long on Birth of a Nation, but moves on to Eisenstein and Battleship Potemkin (1925) and October (1928), and Eisenstein's concern with history and foundation myths (13), as a prelude to discussing three kinds of serious history films: the mainstream drama; the oppositional or innovative history film; and the compilation documentary (14). "Film does more than want to teach the lesson that history hurts; it wants you, the viewer, to experience the hurt (and pleasures) of the past," declares Rosenstone (16); and it does this through what it shows us, the forms and motion and stillness, the faces and bodies and landscapes and buildings that we see. Film's focus on individuals and small groups differentiates it from much of academic history writing; and with the increase in critiques of traditional histories, subsequently popular culture and film became more important as possible matrices of experience, knowledge, and value.
Films could try out different strategies. Oppositional or innovative films are concerned with presenting history as complex, and often under dispute. Documentary films use reference to documents and objects of the past, articulating a discernible logic and offering a moral. Robert Rosenstone recalls D.J. Wenden's using Eisenstein's Battleship Potemkin (1925) as evidence that symbolic history could be a uniquely cinematic way of conveying history (22); and notes that historian Mark Ferro saw the possibility of directors creating unique visions of history; and mentions Hayden White's creation of a word—historiophoty—for historical representation and commentary in film-related discourse. Natalie Davis (Slaves on the Screen), who discussed the genesis and summaries and quality of selected films in her own work, perceived films as thought experiments related to representing history. These citations are part of Rosenstone's laying the ground work for his sustained argument regarding some of the particular ways in which films tell history, seeing the need to derive theory from practice.
How films are seen as representing history well or badly has depended, often, on who is doing the viewing and judging. Standards have varied. Robert Rosenstone demonstrates that by discussing Gerda Lerner's essay on three Joan of Arc movies; and Rosenstone notes that there has been confusion in the expectation that a film's strengths would be identical to that of book's in how it conveys history, in how it makes the past meaningful, when, in fact, films operate in a separate realm, as they add drama to the past (37-38). Compression and condensation of time, event, and characters are part of the strategy, part of the invention of films, asserts Rosenstone: not to be scoffed at, but to be understood for the tools they are (tools used in support of a greater purpose: the intensification of experience, the articulation of meaning). Rosenstone's argument here can seem rather simple, but it addresses directly a complaint that is often heard—and one realizes that, in contrasting books and films, we have been comparing apples and oranges, or ice cream and sherbet. Rosenstone points out that even with the example of well-regarded films, whether Eisenstein's October or the more recent film Glory (1989), directed by Ed Zwick and starring Matthew Broderick and Denzel Washington, there are inventions, in which specific details are made to stand in for larger matters, in which events are reconfigured to make true points (rather than strictly factual ones). For instance, the offer, refusal, and acceptance of a troop of black men by the military leader Shaw (Broderick) does not happen at a Boston party, as the film depicts, but rather by mail with Shaw at an army camp; and placing Shaw in society shows something about his well-placed background and various concerns and influences. (Denzel Washington played one of Shaw's soldiers.)
In traditional historical films, such as Glory, the past is presented as part of a progressive vision, featuring admirable individuals, part of a complete, dynamic and vivid narrative. Rosenstone states, "The history film speaks in a language that is metaphorical and symbolic, a language that creates a series of proximate or possible realities rather than a reality that is literally true—though it also does intersect with the literal" (48).
In experimental or oppositional films, there is likely to be more argument and interpretation, with the resources of film—image, symbol, other aspects of film and fiction form—used to convey a view. Sometimes the staging of these films has been controversial (such as Eisenstein's making the taking of the Winter Palace in October into a large battle rather than showing the small resistance that was encountered by the revolutionaries). Has truth been sacrificed? Or merely fact? Robert Rosenstone admits that films invent facts, but that historians and journalists do the same as well, offering John Reed's ten-day dramatic history of the Russian revolution within a revolution as an example. (The "we're all guilty" line of argument is rarely the best, even when it is accurate.) Rosenstone discusses various historians and how they presented the October 1917 revolution in Russia (which followed a February 1917 revolution): one historian suggested the event had old, long intellectual roots; and another focused on the diversity of participants, on the people. Was it a from the top-down or from the bottom-up event? (Opinions vary.) But, as books take hundreds of pages to offer a vision and films take only two hours, strategies must be different; and October, like other films, is a work of imagination as much as history, and must be received as that: and October, in many ways, such as in its presentation of the criminality and stupidity of the government leading to a spontaneous uprising, is in line with what many historians think. "To accept October as history is to accept emotion as part of reading history. Accept, too, the idea that the metaphoric is better than the literal as a way of judging the work of the historian" (69).
"What does the documentary document? That is the question," states Robert Rosenstone, History on Film/Film on History: "It shows us what once was there, in front of the camera, and in theory, what would have been there anyway were no camera present" (70); and "like the work of written history, the documentary 'constitutes' facts by selecting traces of the past and enfolding them into a narrative" (70), using current locations to stand in for past locations, dramatizing scenes, telling stories. (Rosenstone recalls the staged reality of Nanook of the North, with its outmoded hunting practices and special igloo.) There are different types of documentaries, and Rosenstone recounts Representing Reality author Bill Nichols's categories: expository, observational, interactive, reflexive, poetic, and performative (72), with many films—using old footage and voice narration—following the expository model, although camera development (lightweight cameras and recording equipment) allowed for more observational and interactive work to be done (73), such as Max Ophuls's 1970 film The Sorrow and the Pity and Claude Lanzmann's 1985 Shoah.
Documentaries become part of how we understand history. Many experimental documentary films are self-reflexive: they are constructed in such a way as to make the viewer aware of how the subject is itself created and also how the film is put together, such as Jill Godmilow's 1984 Far from Poland, and Michael Rubbo's 1974 Waiting for Fidel (73). Poetic documentary films are rare, Rosenstone claims, mentioning Peter Forgacs's work, El Perro Negro. Documentaries can insert themselves into historical discourse, asserts Rosenstone, who discusses how different films treated the Spanish civil war, which began July 1936 and lasted for three years (Francisco Franco and three other generals rebelled against a progressive coalition government, which included liberals, socialists, communists, and anarchists). It was more than a civil war, with 45,000 foreigners venturing to Spain and fighting against the fascist generals and their men, who received the support of Hitler and Mussolini. Rosenstone explores how the 1963 film Mourir a Madrid by Frederic Rossif presents war as a romantic drama; and how 1982's The Good Fight, directed by Noel Buckner, Mary Dore, and Sam Sills, three directors, focused on American participation, but obscures the communist organization of the international brigades against the fascists (although Rosenstone was a consultant and writer for the film); and Peter Forgacs's El Perro Negro, a film of fragments, a film which utilizes private history (home movies involving the son of an industrialist, and, secondly, a Madrid student) in its evocation of the war, a time when wearing a necktie or spectacles could get someone shot as bourgeois.
The history that many people come to know arrives in the form of famous people and their life stories, in biographical films; and many Hollywood biographies turn lives into myths, and in a lot of old Hollywood films "the greatness of the individual figure becomes that set of qualities that made a producer great or powerful in Hollywood rather than those traits that characterized the famous person in his or her own lifetime" claims George Custen (Bio/Pics), quoted by Robert Rosenstone (89). There have been hundreds and hundreds of biographical films made, in Hollywood and elsewhere. "To do biography is to make the case that individuals are either at the centre of the historical process—or are worth studying as exemplars of lives, actions, and individual value systems we either admire or dislike," writes Rosenstone, who again notes how history, in the form of biography, contains formed and fictive elements, taking what is known of a life and making it into a story (90). The more serious biographical works, of course, do suggest something true and important about their subjects; and those films—such as Margarethe von Trotta's Rosa Luxemburg, Andrzej Wajda's Korczak, and Julie Taylor's Frida—may be critiqued for emphases but they usually are not critiqued on the grounds of veracity. The questions to ask are, What does the film want to tell us and why? What is the value of its story? Alex Cox's film Walker, about an American who invaded Nicaragua and was briefly its president, stars Ed Harris, and the film is anachronistic, featuring computers, a Mercedes, and Time magazine, none of which existed at the time (the 1850s); and the film shows idealistic talk matched with monstrous action, a combination that speaks simultaneously of Walker's time and ours. More than one perspective is given of musician Glenn Gould in Francois Girard's 32 Short Films About Glenn Gould, with its mix of interviews and acted moments, revealing the man's character, life, and work.
Very interestingly, because of his personal involvement in the subject, Rosenstone discusses John Reed and Reed's reporting of the Russian revolution and how man and war both were depicted in the films Reed-Insurgent Mexico (Paul Leduc, 1973); and the two-part Red Bells (Sergei Bondarchuk,1982); and Reds (Warren Beatty, 1981). Rosenstone, who wrote a book on Reed and the revolution and advised Warren Beatty for the film Reds, explores Insurgent Mexico's taking what was implicit in Reed's own work and making it explicit, showing Reed's journalism and political engagement as his coming of age, his maturation. The film Red Bells is about John Reed's glamorous life with Mabel Dodge and his choosing journalism and politics over art and leisure, and provides a large view of Mexico; and Red Bells II (Sergei Bondarchuk,1983) is about what Reed made of his choice, and of his time in Petrograd. Five years of the latter part of Reed's life are covered in Reds, and it is a film about love, politics, and journalism, with the use of real life witnesses in the film adding complexity, drama, grandeur, and wit. ("Reds becomes a kind of experimental film," claims Rosenstone; History on Film/Film on History, 106.) Through its contradictory witnesses Reds demonstrates that there is no one historical truth.
"Film may lack the ability to provide deep psychological insight, or extensive descriptions of particular intellectual or political milieus, but it can suggest with a terrifying immediacy how the past looked, and how people moved, felt, spoke and acted—in time," asserts Rosenstone (108); and he describes how Reds uses actual events and perceptions—John Reed's recognizing the difference between political theory and practice; Reed's withdrawing his resignation from a political group—which are compressed in the film; and Rosenstone affirms that each of the films on John Reed conveys something genuine about Reed's personal struggles and the political times in which he lived and worked.
Oliver Stone, the filmmaker who has made Vietnam and its era the focus of much of his work (Platoon, Born on the Fourth of July, Heaven and Earth), is the principal focus of the chapter on the filmmaker as historian. Some commentators—historians Walter LaFeber and Jack E. Davis (finding historical details and accurate debate)—have appreciated Stone's work; and others have called that work into question. But in exploring how directors—Stone, David Wark Griffith, Roberto Rossellini, others—engage history, Rosenstone emphasizes the concern not only with personality, acts, events, but with how the past embodies ideas and facts that still concern us, that there is an examination that is vital for the present and future and for our understanding and choices. The directors "make the past meaningful in at least three different ways—they create works that vision, contest, and revision history" (118). Oliver Stone treats history so that we see its conflicts; and he uses visceral methods—and his films, while referring to known events, can become metaphorical experiences, a metaphorical history (124). (It must be admitted that it is Oliver Stone's tone, as much as anything, that provokes some people: the passion in his work; and the impossibility of seeing his work and feeling indifferent.) Oliver Stone presents a flawed American government; and we find corroboration for that in the reports of others, and in our own experiences.
Robert Rosenstone's work History on Film/Film on History can seem to equal a plea: let's accept films as part of historical discourse as they are more like how we consider ideas and issues in life anyway, as part of our context, as part of our other considerations, with attitude and feeling—from a particular perspective. It is an argument that can seem very natural; and that is part of its appeal and part of the problem. One can understand why people once thought the earth was flat; and one can understand why some people think marriage can be only between a man and a woman, in light of procreation, rather than between two people of a single gender—and what seems natural often conforms to our limited knowledge or experience; and is often in line with our deepest prejudices. It is easy to anticipate that the most effective historical films could be those that gratify prejudices, or, simply, manipulate emotion whether or not that manipulation is rooted to fact, truth, or even logical thought. When Rosenstone asks, "what might we learn from viewing a number of films devoted to a single incident or a major subject?" (134), the answer can be much or little or nothing. Rosenstone discusses that question in relation to films on the holocaust of the twentieth century's second world war, the Jewish holocaust, an event in which past and present, technology and cruelty and prejudice, seem to combine, an event that seems "central to modern history, at least in the West" (134). It was argued decades ago that the event was unimaginable, but how can what has happened, and what is known, be unimaginable? That goes to "the core problem of history. Can we really represent the past, factually or fictionally, as it was, or do we always present only some version of the way it possibly was or may have been?" (135); and Rosenstone's answer is "we always violate the past, even as we attempt to preserve its memory in whatever medium we use" (135).
Acknowledging the actual enormity of holocaust filmography (with more than seven hundred very diverse theatrical and television films produced internationally), Rosenstone focuses on films from the 1990s, such as The Nasty Girl, about someone who undertakes to learn (and tell) history. Michael Verhoeven's 1990 film The Nasty Girl, a film that mixes techniques (fiction and documentary, and spoken and surreal visual narrative), is inspired by a true story about a young German woman who assumes the best behavior of her hometown during the second world war, only to face repression of historical evidence before discovering and making public some of the town residents' complicity in Jewish persecution; and she herself gets abuse for her honesty (139). Agnieska Holland's Europa, Europa (1991), Andrjez Wajda's Korczak (1992), Spielberg's Schindler's List (1993), Eli Cohen's Under the Domim Tree (1994), Scott Hicks' Shine (1996), Joseph Vilsmaier's The Harmonists (1997), and Istvan Szabo's Sunshine (1999) are among the other films discussed. In Europa, Europa, an orphaned Jewish boy pretends to be German, even becoming a member of the Hitler Youth, his circumcised penis forever threatening to be evidence against him; a film which asks questions about the determinants of identity. The black-and-white film Korczak focuses on a man who tries to protect Jewish children in a ghetto, in Warsaw, subject to hunger and violence during the war. (It contains a scene of transcendent freedom at the end, followed by words announcing that the man and the children died in the gas chambers.) Spielberg's film on a war profiteer turned rescuer, with its mix of elegance and frightening brutality, is on a rare occurrence—some of the people who helped and were helped, but with twenty-one sequences focused on brutality, the viewer is forced to have some sense of the experience of terror (144-145). Under the Domim Tree is about survivors, their confusion and pain; and Shine is about a troubled musician whose parents were survivors and became very strict with him, punishing, smothering. About a music group inspired by American jazz before and during the rise of the Nazis, The Harmonists suggests the great disruption of politics for artists, several of whom are Jewish in the film. The history of Hungary, including its occupation by Germany, is given in Sunshine, a film which focuses on a Jewish family, before and after the Nazis. Those dramatic films—from Europa, Europa to Sunshine—offer experience of different peoples, places, and times; and through them the possibility of historical understanding.
"Rather than criticizing historical films for doing or not doing this or that, why not try to figure out what we would want the ideal historical film to be?" (159) asks Rosenstone, for whom the nature of historical understanding as it operates in film became something Rosenstone thought much about after working on Reds, considering the differences between the research he shared with its filmmakers and the final film; finding that "film gives us a new sort of history, what we might call history as vision" (160), and again repeating his insistence on the value of the difference—the creation of a world, the engagement with experience—that film provides. (For a slim book, one that is in many ways very elegantly written, the number of repetitions are notable—and increased is the sense that repetition is not the same thing as a developed argument and can obscure, at least slightly, the different dimensions of a genuine argument.) Rosenstone, who sees an increase in historical films during periods of national stress, accepts that there is sometimes more historical sense than actual history in some films (161-162); and yet he asks of films, and begins to answer in History on Film/Film on History, What uses are to be made of film, for the sake of history?
Essay submitted July 2008