Genghis Blues
Music as the great cultural leveler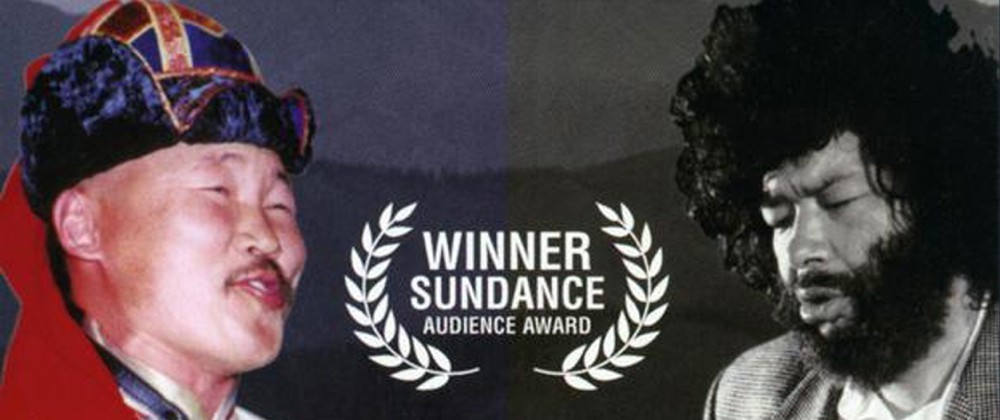 Genghis Blues touches the very core of the human soul – as great music does – and demonstrates with poetic simplicity how music can be the great cultural leveler. How else can you explain the immediate, symbiotic link that is established between a burly, blind, near-forgotten San Franciscan bluesman and the people of a remote Central Asian nation, Tuva? Tuva you say? Nestled in the extreme southern part of Siberia on the Mongolian border, Tuva was an independent nation during the inter-war period and ruled by Mongolia before then and Russia since. As a character says in the film, any place with a capital called Kyzyl must be interesting!

Tuvan folk-blues throatsinging is the musical form that unites the East and the West in Genghis Blues. Unlike any other form of Western singing, throatsinging gives the appearance of multiple voices emanating from a single voice. These enchanting sounds captivated traditional bluesman Robert Pena (of Cape Verdean descent), when he accidentally heard them while tuned in to Moscow Radio short wave. Pena instinctively fell in love with the unique musical form and devoted the better part of nine years mastering its style and learning the rudiments of Tuvan language and culture in the process. Pena's claim to fame seems to be writing the song "Jet Airliner", which became a hit single for Steve Miller (another case of a white boy doing good on a black man's song, but I won't go into that here!). Once a regular on the blues circuit, having played with legends T-Bone Walker, B.B. King, John Lee Hooker, and Bonnie Rait, Pena now seems down on his luck (the documentary makes no mention of what Pena has been doing of late, or how he makes ends meet).
The film begins in Pena's San Francisco apartment, and introduces us to the oddball assortment of characters that take the initiative to organize Pena's trip to Tuva to perform in the Throatsinging Symposium and Music Festival. They include an old, hipster DJ Mario Casetta, Ralph Leighton, a co-founder of the San Francisco-based Friends of Tuva, the jack-of-all-trades Lemon de George, and, of course, the Chicago-based documentary filmmakers who will record the event, Roko and Adrian Belic.
The all-important human link between Pena and the Tuvan legacy is first made when the Friends of Tuva arrange to bring over from Tuva the throatsinging legend, Kingar-ol Ondar, whose status in Tuva is described as a cross between John F. Kennedy, Elvis Presley, and Michael Jordan. Pena, sensing this as a rare, once-in-a-lifetime chance, approaches the affable Ondar holding court in the theatre lobby and begins to spontaneously display his throatsinging. Ondar is so impressed by the blind stranger that he nicknames him "Earthquake", because his deep, guttural voice makes the earth move (there are five types of Tuvan throatsinging, and Pena sings in the lowest, deepest sounding style, kargyraa.).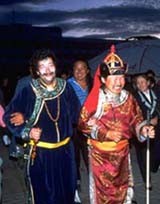 Pena (left) with Tuvan throatsinging legend Kingar-ol Ondar
What makes this documentary especially poignant is the sharp contrast between Pena's status in his native country and how he is accepted in Tuva. When filmed in his home in San Francisco, Pena comes across as a sad and lonely man (though always remaining perceptive and funny). The film often comes back to a black and white shot of Pena walking gingerly with cane along a sidewalk near his home, the reverse backside angle emphasizing his isolated, awkward bulk. This sense of isolation comes across in another repeated shot: a ground level close-up tracking shot of his walking cane as it skips along the pavement. In the San Francisco footage Pena sports a beard, and his dark curly hair is long and unkempt. In contrast, he is clean-shaven and with short hair in the Tuvan footage. Strangely enough, when sporting the long hair and beard Pena looks strikingly like an Australian aboriginal; which I mention if only because the kargyraa style of throatsinging sounds remarkably like the Australian didgeridoo (a fact that does not go unnoticed in the film, since the didgeridoo is one of the instruments Pena and his entourage bring to Tuva to demonstrate).
Pena tells us that the only place he can go to on his own is the convenience store on the corner of his street. He then adds how he once went to cash a check there, and on the way back home a man stopped to ask him directions, and then robbed him of $400.00! Only in America, can we imagine the sad irony of a thug who asks a blind man for directions and then "robs him blind." Pena evolves from a helpless victim in his hometown to a hero in Tuva, where he is lovingly accepted for his humble nature and pious devotion to Tuvan music and culture. In fact, the clean-shaven Pena, if not for his bulk, fits in with the Tuvan people like a chameleon; with Tuvans constantly surrounding him, he at times appears like a Buddha figure (Tuvan culture is a mix of Shamanism and Buddhism). While the film is principally about this magical musical form and the meeting of two primal musical cultures, African-American blues and East Asian throatsinging, it also demonstrates with telling irony this stark contrast in Pena's status. As he says during his stay in Tuva, "I feel unwanted and alienated in America." Hence the film can only leave us with a bittersweet feel. We feel happy for the realization of Pena's dream of visiting Tuva; sad for him having to leave his paradise to return to a place where he feels "unwanted and alienated."
Though happy in Tuva, Pena himself acknowledges a certain irony in the situation: a blind man being led across the beautiful Tuvan landscape on a 'sightseeing' tour. But the Belic brothers are wise enough to imply that music can also bridge this gulf. In one of their last scenes together, Ondar takes Pena to his home village and sits him down in front of a splendid river. With Pena's hand placed on Ondar's knee, Ondar sings a traditional Tuvan song with the hope that the vibrating notes will resonate and transmit the surrounding beauty of the landscape to Pena.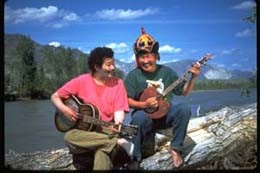 Pena (left) jamming with Ondar in his hometown
In documentary history there is a tradition known as direct cinema, where the filmmaker opts for a fly-on-the-wall approach and waits for the 'truth' to emerge. In most cases this 'truth' comes in the form of a dramatic moment that forms the backbone of the film. In contrast to direct cinema is cinema vérité, where the filmmaker makes his/her presence known and sometimes propels the action. Though Genghis Blues is closer to the latter form, it does lead us unsuspectingly to a dramatic moment; although, unlike traditional direct cinema, it does not rely exclusively on this moment to hold the film together dramatically. The 'moment' is not Pena's musical performance at the Festival, where he wins over the Tuvan audience like a Prodigal Son, but rather several scenes later when the voice-over tells us that, "from this point on, things took a turn for the worse." Ondar breaks his hand in a scuffle with a local drunk. Mario Casseta suffers a life-threatening heart attack And, perhaps most shockingly, we learn that Pena is clinically depressed, and with his medication almost run out, has sunk into a deep depression. His depression is no doubt partly triggered by the prospect of the trip coming to its end. What follows is a scene that clearly demonstrates what sets artists apart from other people in the world. While most of us in a deep funk would do well to get the laundry done, Pena composes a heartbreaking acoustic blues song entitled "Leaving Central Asia" (?). Which goes to show that in some cases the best inspiration for the blues is, well….the blues.
They are at a loss to explain the turn of bad luck. Ondar suggests that the bad luck may be caused by a drum that they purchased from a shaman that perhaps is not meant to leave Tuva, and consequently has a 'tail' (a bad spirit). They take it to a shaman who clears it of any bad spirit. Good luck soon returns, as Mario recovers and they are able to renew Pena's medication.
Along with music and the strong bond it can engender, Genghis Blues is about discovery. Pena's chance encounter with Tuvan music on short wave radio; Ondar's discovery of Pena in the theatre lobby; the Tuvan's discovery of a foreigner's deep appreciation and understanding of their culture; the Tuvan's discovery of traditional American blues; the Tuvan's discovery of the didgeridoo (a wonderful scene where a group of Tuvan musicians stand in gaped amazement at a simple instrument that sounds uncannily like their own throatsinging); and the audience's discovery of the simple human joys found in Genghis Blues.
Credits: Genghis Blues, 1999, US; Produced and Shot by: Roko and Adrian Belic; Written, Directed, Edited by: Roko Belic. Sound Recorded by:Lemon DeGeorge; Technical Director/Online Editor: Ian M. Williamson; Original Concept for "GENGHIS BLUES" & Associate Producer Ralph Leighton; 3rd camera (Tuva):Shamiel Seden-ol; Audio Post Production/Restoration: Jason Terrel

The photos that appear come courtesy of the Genghis Blues website