Interview with Fatemeh Motamed Aria on her acting in Nabat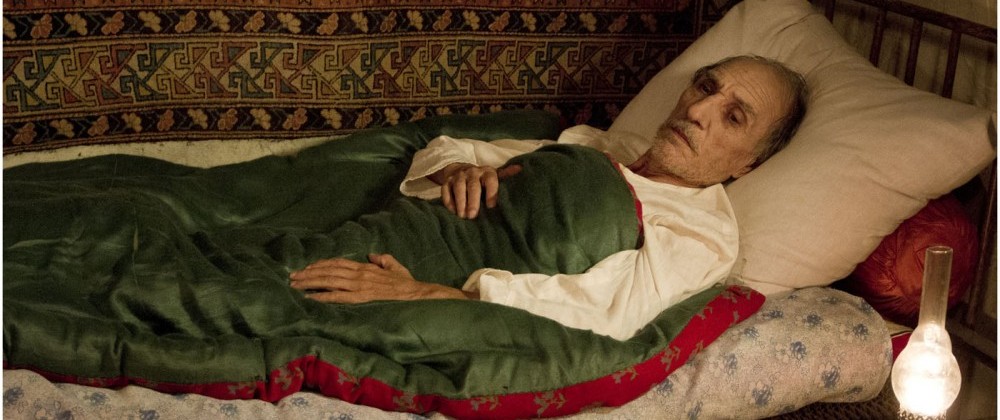 The globalization of media and international cinema has also entangled Iranian cinema in an ever intensifying encounter. In recent decades, directors such as Abbas Kiarostami and Asghar Farhadi have stepped beyond national boundaries and made films outside of Iran. Similarly, Iranian actors have sometimes taken roles in foreign movies, the most recent of which was the Azerbaijani film Nabat. This drama directed by Elchin Musaoglu was selected as the Azerbaijani entry for the Best Foreign Language film submission for this year's Oscars but ultimately was not nominated among the top nine movies contending for the award.
The leading role in Nabat, a tragic antiwar film, is played by well-known Iranian actress Fatemeh Motamed Aria who for couple of years was banned from acting in cinema. Nabat has already been screened at numerous festivals as Morocco, Venice, Milan, Tokyo, Sao Paolo, and Chicago and been praised at each of them. Like two other films Today and A Few Cubic Meters of Love, Nabat is to be screened in at the Palm Springs Festival, which is a another great success for Dream Lab, which has three nominations for this year's Oscars.
Metaphorically, Aria is acting in Antigone's place extrapolated to recent times and encountering a myriad of challenges imposed on her by others. In most scenes, she single-handedly faces the rough mountain landscape and attempts to fight against the evil human forces surrounding her, which affirms her "being," to use Heidegger's term. Aria's stellar acting is tragic, provoking, thrilling, and simultaneously utopian. What follows is an interview with this talented actress.
Amir Ganjavie, Hooman Razavi: I had not heard much about your activities in Iranian cinema until recently when I watched your performance in The Tales at the Toronto International Film Festival. How did you get to know the Azerbaijani director Elchin Musaoglu?
Fatemeh Motamed Aria: I did not know him from before but he saw my performances and sent me the script for Nabat and after reading it and considering my imposed absence from the scenes, I finally saw it as an opportunity and accepted it.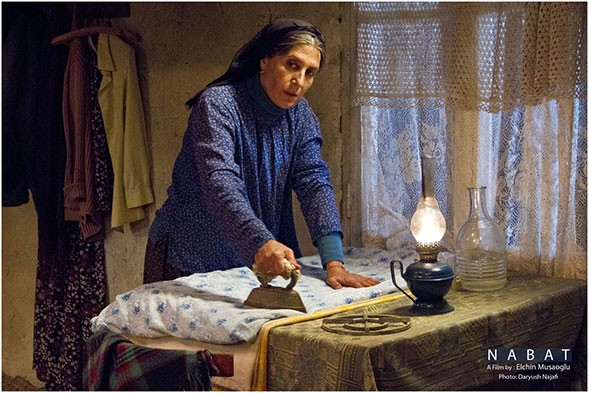 Fatemeh Motamed Aria in Nabat
Offscreen: This is the first time you've performed in a non-Iranian film. What challenges did you face in playing in foreign films? Did you feel that the cultural difference affected your acting compared to Iranian movies in which you had previously appeared?
Fatemeh Motamed Aria: Frankly, after acting in over fifty-five movies, it did not matter much. Also, this was not my first acting outside Iran. I had worked in an art video made by Sophie Call before, which was very rewarding. Having said that, it was my first time doing a feature film and certainly there were cultural and logistical differences, though I felt very comfortable acting in Nabat compared to films I had done back in Iran.
Offscreen: I asked you the previous question since your voice brings a lot of memories to the mind of an Iranian viewer and perhaps it may not be carried over as much in an Azerbaijani film.
Fatemeh Motamed Aria: I think that what appeals to Iranian audience about my voice is the feelings it expresses. However, it does not matter what language I speak, what matters is the feeling being conveyed. I believe that even Persian-speaking viewers do not mind the language I use since they like the Azeri language and can understand and feel it to some extent without knowing it fluently.
Offscreen: As far as the themes of Nabat go, I know that the director paid special tribute to all mothers so I am left wondering how much this affected your performance. Did it influence the way you conceptualized the character? How did you try to authentically portray motherhood in the character's role?
Fatemeh Motamed Aria: To be honest, what mattered to me the most after reading the script was its antiwar message. Since I am member of various peace organizations in different places, I tried to convey this resentment effectively in Nabat. What appealed to me first was how it tacitly conveyed its antiwar message and secondly, in a more metaphorical sense, how the film conveys the issue of motherhood intended by the director. I think this mother character must be seen as a universal caregiver – not just one person or specific region but rather someone who intends to protect all of our beings.
Offscreen: Talking about the forms, in most scenes, your character is in the foreground and although the camera has zoomed in on your face, it is difficult to read your emotions through your facial expressions and more is conveyed through the natural landscape and special mise-en-scene. I noticed this relationship between the character and her surroundings before in Antonioni's films but here there is more emphasis on your role. Can you elaborate on how you prepared for this and whether you found acting in these settings to be challenging?
Fatemeh Motamed Aria: Well, I have to say that I moved into acting in cinema from theatre acting and in theatre performance is very inclusive of the totality of a character. I feel that I never needed a substitute since in all of my actions, including facial, hand, and even foot movements, I excelled in conveying meaning to the audience. For instance, in long shots, I would do my best to convey the feelings as much as possible and this to be rewarding rather than challenging. In Nabat, many scenes were shot from the back of my head and I look like a small object in the vastness of nature but even with that I tried to express emotions through the movement of my hands and feet during long shots.
Offscreen: Your character in Nabat reminded me of another character in Bani Etemad's film Gilaneh and as far as I remember, you also played the role of an older woman during wartime. How do you compare and evaluate these two films in relation to one another and did acting in Gilaneh influence you at all in Nabat?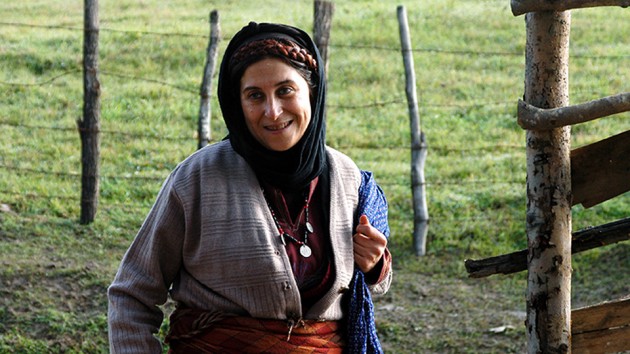 Fatemeh Motamed Aria in Gilaneh
Fatemeh Motamed Aria: Frankly, the director demanded from the beginning that I not bring anything to the role from Gilaneh. Personally, I had already intended to keep them separate and kept the promise. I think despite the fact that both films have antiwar messages, the subtext is different and possibly what leads audiences to see both in the same vein is more about their common superficial aspects such as the mountainous location and the character of a mother who has lost her child. In Gilaneh the title character sacrifices herself for the sake of her son and is overwhelmed by the war and its aftermath but in Nabat the protagonist single-handedly attempts to save her country and let it flourish unselfishly.
Offscreen: This year, Nabat was Azerbaijan's official submission to the Oscars. Can you explain more about the filmmaking process in Azerbaijan, and especially how it is different from Iran?
Fatemeh Motamed Aria: Obviously, the production level is much lower that Iran; we make over seventy movies each year whereas they produce around seven to ten films. This lower production number limits their choices but I have to say that I found the bureaucratic structure to be much more complex in Azerbaijan.
Offscreen: How did the audience at the festival react after watching Nabat?
Fatemeh Motamed Aria: It was quite incredible. First, I watched the film in Venice and in every movie theatre in which it was screened, people reacted unbelievably. As you noticed, the film's rhythm is slow at the beginning and it eventually starts to engage the audience. At the few festivals that I attended, I found that moviegoers – especially women and audience who know cinema – liked the film and it resonated with them. It even happened that I started to cry with the audience and they did not let me to leave the theatre. I assume that the movie left such a strong impression for its peaceful and humanistic message.
Offscreen: You have been a judge at some recent festivals such as in Dubai, Estonia, Rotterdam, India, and China. How did you evaluate this experience of acting as a judge at different festivals and has it changed your perspective on cinema in general?
Fatemeh Motamed Aria: Just a correction, I was in Korea rather than China. As for your question, I think rapid advances in technology and accessibility of the internet have helped cinema to broaden its global outreach. As a result, I do not feel very alienated from Iranian cinema while I am abroad and I am proud to share with others from different parts of the world my passion and understanding of Iranian cinema. One of the advantages of being a judge at these international festivals is to meet and interact with cinema personalities from different countries, which keeps me up to date with the new perspectives and trends in international cinema, especially new filmmakers who come with fresh ideas.
Offscreen: You are among the few Iranian actors with experience performing in theatre, cinema, and television. How has this affected your acting style?
Fatemeh Motamed Aria: I have been fortunate to be trained for acting since childhood. Although I admit that acting in each medium follows its own rules and requires special expertise, but given my early experiences and training in theatre, I never felt that I should act differently in different settings and that's why I really enjoy every moment and cherish the opportunity while playing any role.
Offscreen: How do you see the current status of Iranian cinema? I heard that you seem very optimistic about the future of Iranian cinema and notice significant changes compared to past years. Are you also satisfied with the recent changes and dynamics?
Fatemeh Motamed Aria: Since getting permission to act again, I have only worked with new directors who had each only made one or two movies. In the last three films on which I worked, the director's ages were all around the mid-thirties. I feel optimistic and hopeful for our cinema because I found them to be quite knowledgeable about new trends in national and international cinemas and saw that they have a new outlook and vision in mind.
Offscreen: As we know Mr.Ayari's last film, Parental House did not get the authorization to be screened in Iran. Are you following the situation? How do you feel about the way this film has been treated?
Fatemeh Motamed Aria: Yes indeed, I followed it closely and was even interviewed on the topic I think the most acute problem is that decision makers in the top echelon of Iranian cinema see everything from a purely political perspective. I firmly believe that it is a serious mistake to do this and to keep our horizons so limited; Iranian cinema is very rich and well known internationally and cannot be viewed so narrowly.
I think it is impossible to censor and limit the current trends, especially since the number of films could they ever censor is limited by the production and innovations that are always ongoing. I think this reductionist approach does not work since our national cinema has proven that it grows and resists despite all obstacles. We should help to protect and cherish it since it has been the most progressive art reflecting people's struggles and hopes since the revolution.
Offscreen: Two films in which you acted, Parinaz and Hundred Years, have not yet been allowed to be screened. Do you have any update on them and any hope that they will be screened in the near future?
Fatemeh Motamed Aria: It is hard to say since the people with decision-making power do not act consistently. It is really odd since sometimes very controversial movies are screened and conversely the movies you just named, which are not as provocative, are censored. Ultimately, it matters which factions within the film establishment in Iran are wielding power and what their priorities are.
Offscreen: In terms of Iranian cinema expressing its identity, do you find any obstacles or challenges in this regard?
Fatemeh Motamed Aria: I think that Iranian cinema has gone through a special period. Everyone who has somehow been a part of this cinema and contributed to it since the revolution has shown all of their capabilities and nothing is kept secret from the public eye. That is why to deny this trajectory is almost impossible. I think the new generation of Iranian filmmakers are very open minded and their creative power is unstoppable, something that is almost exhausted for my generation.