Dariush Mehrjui: A Partial Annotated Filmography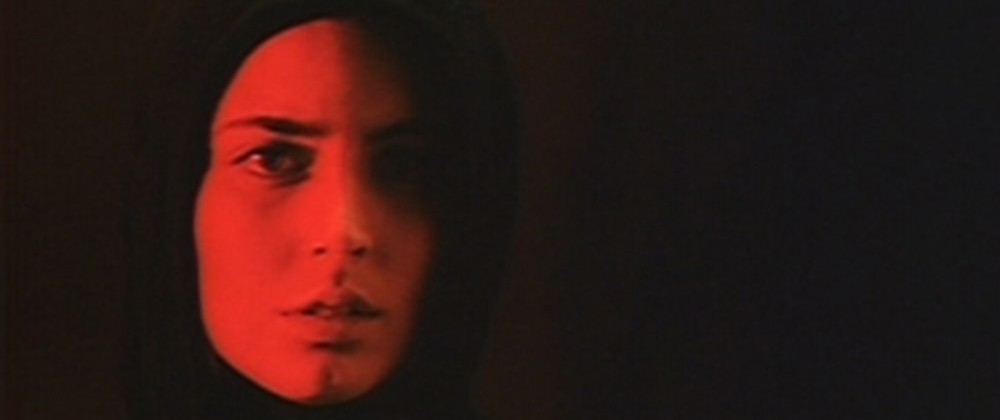 Banoo, Tale of Trust
Banoo (1991)
Screenplay & Director: Dariush Mehrjui
Cinematography: Touraj Mansoori
Sound: Asghar Shahroodi, Sasan Nakhei, Jahangir Mir Shekari
Set design: Faryar Javaheriyan, Zhila Mehrjui
Photography: Aziz Sa'ati
Montage: Hassan Hassandoust
Music: Naser Cheshm Azar
Actors: Bita Farehi, Ezat-ollah entezami, Khosro Shakibayee, Mahmood Kalari, Gohar Kheir Andish, Ferdows Kavyani, Hamideh Kehir Abadi, Seema Tir andaaz, Fathali Oveisi, Mir Slah Hosseini
Production: Majid Modarresi, Mohammad Mehdi Daadgoo
Production company: Cadre Film
The marital problems of "Banoo" (Maryam Banoo, Bita Farehi) and her Businessman husband (Mahmood, Khosro Shakeebai) come to a head. After her husband leaves, Banoo delves further into her books and writing until a random act of kindness turns into zeal for helping the poor family of the gardener next door. Soon, she finds herself surrounded with odd characters foreign to her own socioeconomic class. What starts for her as a rejuvenating escape from her dull aristocratic lonely life turns into a nightmare as she finds the houseguests robbing her house: first of material wealth and next of mental health. Crushed under her disillusions about human dignity, she locks herself in a room, refusing food and light, until Mahmood returns. Mahmood, who has also fallen victim to fraudulent intentions of his mistress, returns and begins to renovate and rebuild the broken home.
Mehrjui develops the character of Maryam Banoo, the central figure of the film, in juxtaposition to other equally well developed characters who bring the story of Banoo's self struggle to the surface. One is Mahmood, her husband whom she catches cheating on her. Mahmoud, who is tired of Banoo's cold and self-centered absorption in books and prayer, admits to a love affair with a lively and warm woman. He announces to Banoo that he will be leaving for abroad with his lover, further crumbling Banoo's already fragile life. Away from the man she loves, Banoo takes further refuge in writing, reading mystical books and spiritual poems. Her seclusion breaks when she starts helping the family of the neighbor's gardener who are to become homeless—as construction begins to turn the garden into an apartment complex. The gardener (Mahmood Kalari) is a hard-working man with a servant zeal; together with his pregnant wife Hajar (Gohar Kheirandish) they fight to keep their home and come to Banoo only when in dire medical distress. Hajar is a realistic woman who, well aware of her abject poverty, asks the doctor for the favor of an abortion—which she is refused. Hajar is also a proud individual, considering herself a lady—ordering Banoo's house keeper (Hamideh Kheirabadi) around, and adamantly objecting to the notion that her father, Ghorban-salar (Ezat-ollah Entezami), has been stealing from the mansion. Ghorban Salar is a hideous-looking man who comes to stay with her son-in-law after being discharged from hospital—only to find them homeless. Salar, who has been a cook in aristocratic households, makes himself useful by treating his family and Banoo to scrumptious tables. There is Ghorban-Salar's daughter-in-law, Shirin (Seema Tirandaz) whose husband (a writer) is jailed. Empty handed and homeless, Shirin and her two young children seek refuge with Hajar—only to find them resident in Banoo's house. She also tries to be a gracious guest by serving as a maiden to Banoo, showing her sisterly affection—of which she had been deprived in a boarding school abroad. Mehrjui chooses these characters from different sectors of the society, assigning Ghorban Salar a thick Azeri accent and to his daughter Hajar a Shirazi accent (accents that cannot be any more dissimilar). Mehrjui claims that he has developed characters that transcend categorization into social classes; who have a similar capacity for happiness and a common pain (p. 6). At the beginning of the film, all these characters reach a unity, become a family and Banoo changes from her dark attire into a white dress—inspired by Shirin's gift of gratitude: a white veil. However, when an external vile person, the drunken partner of Ghorban Salar (Fathali Oveisi), infiltrates this home and forces Ghorban Salar to steal, this unity dissolves and each character is thrust into his or her stereotypical social place: Banoo turns into an aristocrat; Hajar into an antagonistic peasant; Ghorban Salar into a criminal; and Shirin and Karamali into shapeless and voiceless characters caught between loyalty and need.
It is probably because of this later depiction of the poor as opportunistic and ungrateful that, to the shocking surprise of Mehrjui—who had struggled to prepare the film in time for the Fajr Film Festival– the censorship considered it offensive to the intellect and dignity of of the lower socioeconomic class and banned it from screen. Of course, Mehrjui refutes this: "I wrote to the committee that this film, from beginning to end, is worshiping humanity." However the philosophical argumentations of Mehrjui did not succeed, and the film was only screened in 1999—after the Iranian artistic community got a break under presidency of the reformist Mohammad Khatami.
Mehrjui resents using the term "philosophical" in description of his films; however despite social conclusions drawn from Banoo, his intentions seem to have been more philosophical and psychological than social. Mehrjui describes Banoo as an evolution of the same theme as Hamoun —a female Hamoun (pages 11-15) which evolved independently from Mehrjui's own experiences. Interestingly, Ata-ollah Mohajerani, Khatami's minister of Islamic Culture and Guidance (which hosts the censorship body) called Banoo "one of the most religious Iranian films" (p. 19). In fact, the amount of time that the film dedicates to Banoo's search for her "spiritual self"—when she writes, reads poems, walks like a ghost in her house, prays, detaches herself from life, and even her final rebellion and departure—make it clear that the other characters of the film are set to highlight Banoo's reaction to and interaction with the world outside. Mehrjui contrasts her care for Hajar's bodily ailment with her disgust and shock when confronted with Ghorban Salar's scarred eye; contrasts her sisterly relation with Shirin against her superior attitude towards her housekeeper; juxtaposes her spiritual detachment from wealth to her violent reaction to violation of her home and trust.
Sara, Tale of Confidence
Sara (1992)
Screenplay & Director: Daryush Mehrjui
Cinematography: Mahmood Kalari
Sound: Asghar Shahroodi, Sasan Nakhei, Masood Shahroodi, Hasan Hassandoust
Mix: Jahangir Mirshekari
Set design: Faryar Javaheriyan, Zhila Mehrjui, Azar Tavakoli
Photography: Reza Mohajer
Montage: Hassan Hassandoust
Music: Philippe Glass, Kamkar Band
Actors: Niki Karimi, Amin Tarokh, Khosro Shakibayee, Yasaman Malek-Naseer
Producers: Hashem Seifi, Dariush Mehrjui
Production company: none
Sara is the story of a 'small' woman's struggle in a man's world. Sara's husband Hessam (Amin Tarokh) is diagnosed with a rare disease, curable only in Germany or Switzerland. Somehow, Goshtasb (Khosro Shakebayee) and Sara (Niki Karimi) are the only ones who are informed of the gravity of Hessaam's illness and need for immediate treatment. Goshtasb, a colleague of Hesaam with dubious financial track record offers to help Sara. Faced with her husband's fatal illness and her father's death, pregnant Sara (Niki Karimi) is left no choice but to borrow a large amount of money from Goshtasb. Knowing Hesaam's strict aversion to a life built on loans and mortgages, Sara decides to keep the loan a secret from her husband. She forges her father's signature on loan certificates she gives Goshtasb, and undertakes three years of underground (literally) sewing and embroidering of wedding gowns to repay the loan with interest. Towards the end of her loan payments the return of Seema (Yasaman Malek-Nasr)—a potential candidate to replace Goshtasb's position in the Bank under Hessam's management—triggers Goshtasb to blackmail Sarah into influencing her husband's decision, or to face the consequences of revealing her secret. Pressured under the weight of her signature forgery and fear of Hesaam's rage, she tries to change her husband's decision to take disciplinary action against Goshtasb, but does not succeed. Goshtasb extends his extortion to corner Hesaam with implications of Sara's forged loan certificates, jeopardizing Hesaam's upcoming promotion at the bank. Lashing out at Sara, Hesaam exposes his misogynist views of his wife. He declares that he will let her stay in the house to keep up the appearance for the sake of his career, but will not let an unfit woman like her raise their daughter. However, Seema—an ex-girlfriend of Goshtasb who had left him for a richer man in order to afford taking care of her poor family—rekindles their romance and convinces Goshtasb to leave Hesaam and Sara alone. Relieved by safety of his career, Hesaam wants to go back to happiness he had before with Sara. Awakened to the selfish nature of her disrespectful husband, Sara decides to leave him and the little woman, to learn to stand on her feet.
In an interview with Majaleh Film, Mehrjoui insists that Sara is a family drama about one individual: a rebel woman (similar to the woman of Hamoun and Banoo) in a particular traditional setting (pages 27-35). Unmistakeably, this film is void of grand philosophical and social questions that Hamoun and Banoo beg. Mehrjui admits that with the banning of Banoo, and the cold reception of his non-commercial sketches by producers, he chose a topic "that was more suitable for the atmosphere of the time, and could be realized within existing constraints." This is perhaps why in this film the individuals are not caught in the dichotomy of tradition and modernity, materialism and spiritualism. Instead, the protagonists in Sara are defined in their relation to money: hard cash. Sara's husband is a Bank director; Goshtasb is a corrupt Bank employee who uses money to cling on; Sara's secret is about a loan she needed to pay the costs of saving her husband; Seema has betrayed her lover for money and is now taking his job because she needs money again. In sum, this film is about materialism; about objects. Despite its simplicity of story, the film is not a cliché narrative and many stylistic and formal elements distinguish it as a highly aesthetized film.
Close-up shots are an example of the interaction of formal and stylistic systems with the narrative. Because this film is about the material realities of an ordinary family, Mehrjui gives a central role to "things". Props such as food, dishes, pearls and gowns, fabrics, cash, shoes, children (Goshtasb's, Sara's and Seema's young sisters) and elderly (Aunti and Seema's old mother) who need to be fed are as central to the story as are the costly illnesses (those of Hesam's and Seema's mother) and health (Sara's eyesight) and happiness (Seema leaving Goshtasb, Sara keeping a secret) that inflict costs. Mehrjui constructs his film in traditional settings where Sara struggles. Mehrjui takes the narrative through Tehran's bazaar; sets Gostasb's aggression against colorful carpets; and depicts Sara's agony as she wanders in front of glaring jewelry stores under rows and rows of white wedding gowns through the corridors of Tehran's traditional economy. Mehrjui explains that the choice of close-ups was not only aesthetic but also formal, intended to emphasize objects as characters. He mentions the influence of Foucault's Les Most et Les Choses (Published in English as the Order of Things): "During the day, one handles many objects. These objects have their own characteristics which influence the actions and behaviors of our characters" (p. 29). Therefore, closeups on frying food, choosing vegetables in a store, pushing a hand into a shirtsleeve, sewing pearls and stones on white satin, translate into an aesthetic quality that also defines the traditionally feminine yet strong character of Sara.
In addition to close ups, the editing and cinematography of the film gives this simple family drama its aesthetic rhythm. Like objects, time serves both a narrative and a formal function in Mehrjuis' films. Using long takes and long shots, many sequences of the film are dedicated to Sara rushing in long passages, through bazaar, hospital corridors, bank corridors, the alley leading to her house, Tehran traffic, house yard and basement stairs. If a dissolve is introduced in the movement, it is to give the film a rhythmic structure that juxtaposes Sara's delicate femininity in the stresses of time and the city. Mehrjui and his editor Hassandoust have paid particular attention to a "mathematical" montage interweaving movement and stillness, both in relation to camera movement, and the movement of actors.
Sound and lighting are other aspects of mise en scène stylization. The sound of hands touching fabric, chopping food, washing; the sound of character footsteps and rubbing clothes, the ticking of the clock, the sizzle of chicken frying and simmering stew, and especially the breathing of Sara as she runs endlessly between house chores and the city landscape function in lieu of a mood score—which is entirely absent from the film. Like many other Mehrjui films, Sara is shot with low-key lighting. The lighting on Sara's face, while it brings out Niki Karimi's pronounced features of classical beauty, isolates her in a deeply dark background that pronounces her loneliness and her troubles. Here again, Mehrjui exploits the red and black fadeouts—which admittedly are adopted from Bergman's Cries and Whispers—and intend to communicate the mood and feelings of the character.
Sara is intended as a simple story about a woman who breaks from the isolation of her traditional male-dominated society, and gains self-esteem in the process. The film is constructed linearly and with the formula of a classical film. It is the stylistic mastery of Mehrjui that gives it its avant-garde edge. In 1993, Sara won the Crystal Simorgh for best screenplay in the 11th International Fajr Film Festival; the Golden Seashell of the San Sebastian International Film Festival in Spain, the Audience award of the 15th Nantes Three Continents Festival in France. Niki Karimi received Silver Seashell of Seashell of the 41st San Sebastian International Film Festival in Spain for acting in role of Sara. The screenplay is based on Ibsen's A Doll's House.
Pari, Tale of Doubt
Pari (1994)
Screenplay & Director: Daryush Mehrjui
Cinematography: Alireza Zarin-dast
Sound: Asghar Shahroodi, Masood Shahroodi, Hasan Hassandoust
Mix: Jahangir Mirshekari
Set design: Faryar Javaheriyan, Azar Tavakoli
Make up: Abdollah Eskandari
Photography: Majid Momeni; Mohammad Reza Sharifi-Nia
Montage: Hassan Hassandoust
Music: Keyvan Jahanshahi
Actors: Niki Karimi, Khosro Shakibayee, Ali Mosaffa, Farhad Jam, Jaale Olov, Mohammad-Reza Sharifi-Nia, Janet Avansian, Parsa Piroozfar
Producers: Hashem Sabuki, Dariush Mehrjui
Production company: none
Pari is the youngest sister of three highly educated and intellectual brothers. She is a Literature student fed up with pompous academic intellectualism. She is engaged to marry her cousin, Mansoor. Pari finds herself intolerant of her fiancée whom she sees as another academic chauvinist with a stale understanding of creativity, which she finds unbearable. Pari seeks her creativity in mysticism triggered by a small book titled "Saalek," written by an unknown village boy. Experimenting with her mysticism, Pari moves back and forth between hallucination and reality as she imagines a mystic speaking to her guiding her on the path of god. Philosophically, Pari is influenced by her eldest brother Asad (Khosro Shakibayee), who had committed suicide by setting himself ablaze. Mystically, she is antagonistic with the youngest of her brothers Dadashi (Ali Mosaffa), who has achieved mystical powers but is trying to help her sister out of her delusional state.
Pari is an adaptation of J. D. Salinger's Franny and Zooey (1961) that brought Salinger much publicity and for Mehrjui much grief when the former launched a copy-right law suit that banned Pari from being screened across the world. Mehrjui, who was introduced to Salinger's work at the age of 19, admits that he has been subconsciously under Salinger's influence for a long time, and had always wanted to adapt one of his works. 1 However, according to Mehrjui, the adaptation of this particular story was much less about the influence of Salinger, but the possibility of addressing one of the oldest (since two thousand years ) topics of Persian culture: the search for Truth through a mystical Journey. It is this particular cultural and spiritual background that gives Pari its originality, despite the close adaptation of the narrative elements of Franny and Zooey. Whereas "The Way of Pilgrim" was the title of the Russian book that had captured the imagination of Manhattan's Franny; Pari was captured by a single-word title, "Saalek" which is already loaded with mystical connotations known to Persians through centuries of literature and philosophy originating in their own land.
At the time of its release, philosophical, religious and mystical subtexts of Pari preoccupied most of critics who devoted much attention to interpreting the film. Mehrjui does not deny that he intended to make a philosophical film, but not one that attempted to express or form an opinion on this old topic. Ironically, some critics noted that with this film, Mehrjui had sought to tease those who took their spirituality too seriously. Mehrjui denies that he has intended any mockery, but he also admits that he has made sure the viewers would not take the film and its "spiritual" message too seriously. The character of Pari, despite all the depth she seeks and projects, often appears as a hallucinating self-righteous brat who torments her family and loved ones by wasting herself to the illusion of "visions" she experiences—perhaps due to physical and mental turbulences she forces herself into. Asad, the one who spearheaded the "madness in the family," and who had set his house ablaze when his young bride was in the shower, had a history of clinical mental illness (about which his young wife and his mother-in-law gossiped). Pari hated Dadashi, the actor brother, although he seemed to have obtained a degree of super-natural power. Her hatred was because Dadashi refused to take her neuroticism as serious spirituality. It was at the end, that Dadashi made Pari see that her "solook" was an act; and encouraged her to continue her act in a different role, the role of living. In fact, to ensure his viewers do not take the mystical intentions of the film too seriously, Mehrjui inserted distanciation elements that break the serious surrealist structure of the film and bring it to the level of comedy. For instance, the scene of taxi passengers sobbing together with Safa, when he privately remembers his brother's tragic passing, or Dadashi's pretense to meditational routines in order to avoid his mother's naggings, disrupt the otherwise lyrical structure of the film.
Besides its mystical allure, and despite its close and controversial adaptation of Salinger's novel, Pari deserves attention for being one of Mehrjui's finest cinematic crafts. Unlike with his previous films, Mehrjui here employs the Epic form (page 72) that, unlike classical form, lacks a core plot. In this form, each sequence is a story on its own; and it is the chain of these unfolding stand-alone stories that reveals the large picture. The elliptical narration and surreal mise-en-scène make the film slightly inaccessible to the ordinary cinemagoer more accustomed to a classical narrative cinema than an impressionist one with stylistic flavours of Antonioni and Bergman. In addition to the hermeneutic and narrative complexities, acting, cinematography and set and sound design are novel and outstanding—considering the technical limitations of Iranian cinema. For Mehrjui, "A work needs to have visual unity. Therefore, location is just as important as the actor; meaning that his or her presence on screen has to be tied to a location, be coupled with the meaning of the film, be specific; because anything can be a location, why chose one particular location over another? Therefore, picture architecture and the set elements, colors, motifs and actors have passed through an analytical and critical filter to have been included in the film". 2
Pari was awarded The Crystal Simorgh for Best Director in Tehran's 13th Fajr Film Festival. Had this film not been banned from screening abroad, it is plausible that it would have won international awards as well.
Leila, Tale of Love
Leila (1995)
Screenplay & Director: Daryush Mehrjui
Cinematography: MAhmud Kalari
Sound: Asghar Shahroodi, Masood Shahroodi, Mohammad Katirai
Mix: Jahangir Mirshekari
Set design and costumes: Faryar Javaheriyan and Jila Mehrjui
Make up: Mahboobeh Eskandari
Photography: Mohammad Reza Sharifi-Nia
Montage: Mostafa Kherghe-Push
Music: Keyvan Jahanshahi; Fereydun Shahbaziyan
Actors: Ali Mosaffa, Leila Hatami, Jamileh Sheikhi, Mohammad-Reza Sharifi-Nia, Shaghayegh Farahani, Touran Mehrzad, Amir Payvar, Parisa Zarei, Faraj Bal-Afkan, Vahideh Mohammadi, Maryam Majd, Leila Ghotbi, Pegah Asna-Ashari, Mahboubeh Eskandari, Zhila Mohamadzadeh
Producers: Faramarz Farazmand, Dariush Mehrjui
Production company: none
Leila (Leila Hatami) and Reza (a friend of Leila's brother, played by Ali Mosafa) meet at a family function and fall in love. After one year of happy marriage, Leila who yearns for motherhood, learns that she can never have a child. Devastated by the guilt of depriving her husband of parenthood, and under pressure from her manipulative and authoritarian mother-in-law (Jamileh Sheikhi), she convinces her husband to take a second wife. The turbulent adventures of match-making for Reza come to an end when he finds a beautiful and poor widow, whom he agrees to marry—granted Leila's approval of the new bride. Leila, who has hidden this from her artistically inclined family does her best to clean and prepare the house to share with the new bride; even giving up her place in the master bedroom and taking residence in the guest room. On the wedding night, however, when the door closes behind the newly wed, she breaks down and runs away to her family; refusing to speak to Reza for several years, until one day Reza and his little daughter walk through the door, marking new beginnings.
Mehrjui gives the credit for Leila's idea to a story. Mehrjui writes: "Leila began from a story I heard from one of my friends, Mahnaz Ansarian; the story of a woman incapable of having children, and forced to find a new wife for her husband. Although this story could be turned into a tearful melodrama, but in essence it provided the opportunity to dive into the mind and soul of a woman. I asked her [Ansarian] to investigate about that woman in detail […] after a while I realized that the woman of the story was not real, but creation of Mahnaz' own imagination". 3 Indeed, with Leila, Mehrjui has turned a cliché story of the irony of an oppressed oriental woman, who is victimized by the matriarchic tyranny of a traditional family structure, into a picture of the complexity of a woman's power and resilience. While rich with many of the cinematic characteristics of Mehrjui's oeuvre, two features of Leila distinguish it from his previous work.
First, this film is about "a woman". This "woman" is not representative of a type, of her gender, nor is she a metaphor for the feminine-condition, which would preoccupy the feminist opponents and proponents of this film. This woman, Leila, is an amalgam of old and new, simultaneously modern and traditional, highly impressionable and yet stubbornly strong. This woman does not sacrifice her love; she commands her love. She is not a victim of a paternalistic matriarchy that her mother-in-law subjects her to; she is in charge of her own destiny, her choices. In fact, amongst various female characters that occupy the film, she is the one who is most powerful. The mother-in-law is at her mercy and is subject of her family's scorn. The sister in-laws are hypocrites, speaking to Leila of her "rights," yet enjoying the wedding when they invade Leila's kitchen when they bring the new bride home. Leila's mother is in oblivion. The new bride is financially distressed and in need of a husband to take care of her—she subjects herself not to her future husband's love, but her future female partner in marriage (wife-in-law!). Leila, on the other hand has all options; and she chooses to test her own principle against her own resolve. Unlike Banoo, Sara and Pari, Leila's character cannot be generalized or interpreted as any social or philosophical type. Indeed, Mehrjui has explicitly reiterated this point in several interviews that this film is about the complexity of the intellect and the emotions of "a woman", the woman of Mahnaz Ansarian's story. Mehrjui also emphasizes that the significance and emotional load of the story stems from the particular environment that surrounds this woman. That this woman comes from an artist family; marries into a wealthy bourgeoisie, and then suffers the consequences of her mother-in-law who insists on seeing her only son's offspring is what invokes empathy with her painful choice. "Had this story happened in a rural village," says Mehrjui, "this story would have been a common and logical practice". 4 Therefore, considering the specificities of the character and the plot, the brevity and the intensity with which Mehrjui elevates Leila from a simple melodrama becomes more obvious.
The second distinction of this film is unmistakable earthliness of the love that happens on and off screen. Unlike Hamoun, Leila's love for Reza is not an intellectually philosophical one. Their conversations, interactions and life habits are those of ordinary bourgeois. Unlike Banoo, Leila's love is not a cure for her loneliness—she is surrounded by a loving family. Unlike Sara, Leila's love is not motivated by wish for growing up and independence. Unlike Pari, Leila's love is not mystical; she is searching for truth, nor is she interested in spiritual transcendence. Leila's love is a natural one. By the natural force of her infertility, Leila is forced to turn her sensuality into stoic pragmatism. Mehrjui's plot, props and motifs are chosen decidedly to convey the materiality of their relationship. Mehrjui leaves no opportunity for Reza to hide the physical reality of his love behind pompous notions of esoteric love—even though Reza tries. Mehrju's scenario catches Reza's insincerity when he "falls" for the stunning widow (Shaghayegh Farahani), and exposes his desire for this woman despite the show of denial he performs in front of Leila. Although Reza doesn't consumate the marriage on the wedding night, he does so soon enough to have a child by one year. Mehrjui also catches Leila, who despite all her stoic discipline and pragmatic resolve, breaks down viscerally when the door of the bridal room closes on her husband and her new wife. As most of Mehrjui's films, food, touch and colour are the sensuality motifs. In Leila, colors are always passionate and warm unless in the house of Reza's parents, where love seems to have long subsided to calculation. The cold colours are also repeated in the scene when Reza's mother comes to Leila to buy her consent with a string of pearls; or when Leila is setting up her husband and his bride's bedroom. Leila's hands, when she walks by and sensually touches shrubs, when she lovingly caresses a pillow she holds on her belly under her dress in dream of pregnancy, when she grudgingly flattens the sheets on the bridal bed; or when she passionately scrubs her house from top to bottom, all of these speak volumes about her thoughts and emotions.
Perhaps another distinction of Leila compared to Mehrjui's previous works is that the story of Leila is not left open-ended. Unlike Hamoun who disappears in the sea, Banoo and Sara who leave their husbands, and Pari whose faith remains unknown beyond the fact of her reconciliation with food, Leila returns to life with a child. This is perhaps because Leila, compared to previous characters is a product of a woman's choice which was guided more by her love for motherhood and the natural restrictions of her infertility than by a society that called her to "feminist activism" (as Reza's sisters thought she should do) or "feminine submissiveness" (as Reza's mother thought she should do.) It is worth recalling that in making this choice, Leila was not alone; and that Reza's second wife also made a "natural bargain": a child in exchange for financial security. Perhaps because Leila clashes with the traditional school of feminism, or because it does not satisfy the philosophical and sociopolitical thirst of those who pose a stereotypical expectation on Iranian cinema, Leila is one of the most underrated masterpieces of, not only Mehrjui's oeuvre, but also Iranian cinema.
Bemani, Tale of Resistance
Bemani (2002)
Screenplay: Daryush Mehrjui & Vahideh Mohammadifar
Director: Daryush Mehrjui
Cinematography: Bahram Badakhshani
Sound: Asghar Shahroodi
Mix: Resaneh Puya
Set design and costumes: Dariush Mahrjui
Make up: Mahin Navidi
Photography: Shahrokh Sakhayee
Montage: Dariush Mehrjui
Music: Mohammad Reza Darvishi
Producers: Tahmineh Milani; Mohammad Nikbin
Actors: Masoomeh Bakhshi, Shadi Heydari; Neda Aghay, Mohammad Habibian; Touran Yaghuti; Ghader Heydari; Mohsen Khayati, Ali-Asghar Abbasi-Aram; Morad Ali Panah; nosrat Mousavi
Bemani is a story of tragic struggles of three women of Eelam's Arab tribes. First is the story is Derlaram, a young divorcee of a drug addict who lives with her grandmother and works in a carpetweaving shop. A soldier who meets her in the shop falls in love with her, and plans to send his mother to ask for her hand after his service duty is over. But, Delaram's brothers suspect they have an affair and behead Delaram to guard their honor. Second is the story of Nasim Pouyan, a brilliant student who is accepted into medical school but hides it from her father; because he considers hospitals a place of corruption due to mingling of men and women professionals. When he learns that she is not studying in a pathology lab but in a hospital, he drags her out of school and locks her up in the basement. After one year, Nasim protests by setting herself ablaze. The third and the central story is that of Bemani, a highschool student from a large and poor family. Bemani is in love with a shepherd boy and together they dream of growing up and going to the city for success. However, Bemani's brutal father decides to marry her to Khaloo, their 70 year old landlord, in exchange for three months of overdue rent. Despite Bemani's resistance and unsuccessful escape the marriage takes place and Bemani becomes the slave of the Khaloo's house. Fed up with Khaloo's brutality, Bemani hits him unconscious, runs away and sets herself ablaze in her father's house. After Khaloo divorces her, she runs away to the graveyard where she meets a young undertaker, and they become each other's companion.
Bemani is the least "delicious" of Mehrjui's films. The film is devoid of Mehrjui's rich and bourgeois mise–en-scène and a return to his pioneering neorealist style of The Cow, The Circle and the never released Alamoot. Because of its shocking diversion from Mehrjui's formal tradition, this film left many of his fans dissatisfied. Judging its documentary-style hand-held camera shooting, rural landscape, and absence of professional actors, the younger viewers accused him of 'imitating' the Iranian New Wave to capture the attention of the foreign festivals that seemed mesmerized by that style. The Iranian audience in the foreign film festivals blamed him for showing an exaggerated and traumatic side of Iran that made them look barbaric to the international viewers. Although his film was screened in several international festivals, Mehrjui did not make this film for a popular success, nor based on his usual philosophical musings. Decidedly, Mehrjui's film was a practice in social activism. The idea of Bemani, like many of Mehrjui's other films, was triggered by a report 5 on the epidemic phenomenon of self-immolation amongst the young women of Eelam, a province with 400 km border with Iraq, half a million population and highest national rate of suicide amongst women. This report intrigued Mehrjui and Vahideh Mohammadi-far to research the matter. Their initiative was encouraged and welcomed by the local officials (department of health and welfare, security and police force, university community) who have been trying to attract the attention of higher authorities and seek a solution to this devastating problem. The choice of documentary-style, as indicated by Mehrjui himself, was to minimize the harrowing realities that his film portrayed: abject poverty and philistine traditions and prejudices and the catastrophic consequences of their reaction to (or interaction with) modernity (e.g medical school, or the big city) happening outside of or in the periphery of these isolated communities. 6 In addition, Mehrjui is sensitive to the destructive effects of war on mental and material condition of several characters reminiscing their sufferage under Iraqi siege. "I am always tempted to play with form," said Mehrjui in response to the question of why he didn't choose the more effective form of melodrama for this particular dramatic reality, "but in this film, the slightest dramatic excess would have turned it into a Bollywood melodrama, and I detest sentimentalism. That's why I thought his form was more suitable to this topic. And this form didn't just happen; it was formed gradually during our research with Miss Vahideh Mohammadi-far." Of course, the on-screen characters of Delaram, Nasim and Bemani are fictitious, and relations and players are all created by Mehrjui; however these characters and relations were deduced from a large body of research material. Documentary elements such as interviewing characters, or speaking to the camera (none of which are novel in Mehrjui's oeuvre) are intended for not only Brechtian distanciation, but also for character development. Despite all documentarism, however, Bemani is still a stylized narrative. Where the mise en scène and professional actors and mechanized camera movements are absent, editing (which is credited to Mehrjui) functions to remind the viewers that a cinematic pen is authoring the film. Experimental-like intercuts disrupt the continuity of the film, further confusing Mehrjui's narrative-film fans who are likely to consider these cuts as laboratory errors.
The biggest deviation, however, is that unlike other women of Mehrjui's films: Banoo, Sara, Pari, Leila, even Mim (in the Pear Tree) and all the women of Mum's Guest, Bemani and her friend's "choice" in liberation leaves them as victims, dead or scarred for life. Bemani is a captivating, albeit painful narrative, which has traveled to several major festivals including Cannes, in 2002; the 26th edition of Montreal International Film Festival, the 44th Karlovy International Film Festival and the 53rd Melbourbe International Film Festival.
Mehman-e Maman, Tale of Generosity
Mum's Guest (2003)
Screenplay: Daryush Mehrjui & Vahideh Mohammadifar based on a story by Houshang Moradi-Kermani)
Director & producer: Daryush Mehrjui
Cinematography: Touraj Mansouri
Sound: Jahangir Mirshekari
Mix: Jahangir Mirshekari
Set design and costumes: Mohsen Shah-Ebrahimi
Make up: Mahin Navidi
Photography: Shahrokh Sakhayee
Montage: Mehdi Hosseinivand
Music: Emaad Bonakdar
Actors: Golab Adineh, Amin Hayayee, Parsa Pir-Firooz, Hasan Pour-Shirazi, FArideh Sepah-Mansoor, Roya Alemi, Amir Hoseini, Melika Sharifi Nia, Alireza Jafari, appearance by Jeleh Olow
Producers:
Production company: none
Mum's Guest charts the adventures of a woman with short pockets and deep pride who wishes to impress her newly wed nephew and his wife with a kingly dinner. Mum has two children and a "cinematic" husband who works as a projectionist in a bankrupt cinema. The husband is childish and inconsiderate of his wife's financial limitation and he invites her nephew and his wife to dinner. Learning that Mum's cupboard is empty, the neighbors, a cast of eccentric characters (Mash-Zeynab, a gypsy who keeps chickens as pets; Yusef, a drug addict and his pregnant wife, Sedighe; a chemistry student who thinks he is a genius, Mr Dr.), come to her rescue. Everyone tries to be discrete and to hide the reality of Mum's poverty from the guests. Neighbors are equally poor, but they realize the uncompromising importance of "aberoo" (keeping up appearances). As a result, they envision creative ways –chasing neighbors chicken around the yard, emptying the fridge of the addict man's rich parents, sneaking into a meat store to 'borrow' fish and chicken, and pooling together everything anyone could find in their house– to make a colorful dinner. In spite of the odds, the dinner turns into a feast for the entire neighborhood.
In an interview with the Iranian Film Monthly, Mehrjui said that he wanted to make a film about communities and represent the daily concerns of the Iranian mothers who have to juggle the material realities within complex cultural and social codes. 7 Mum's Guest poses as a social comedy, a satirical examination of social relationships in Iran, centered on the cultural notion of "aberoo," or "keeping up appearances" which is most directly linked to the practices of food offering in Iran. Mehrjui admitted to worrying that depiction of a below-poverty community might not have been successful at the box office at a time that the colorful neo-bourgeois films dominated the atmosphere of the current Iranian cinema. However, the film was met with both critical and popular success.
Food is a prominent motif and prop in Mehrjuis films. Ghorban-ali dominates Banoo's house with scrumptious cooking. Sara takes refuge in food preparation for her husband to take refuge from the guilt of keeping a secret from him; Pari refuses food to transcend earth; Leila substitutes the forbidden scenes of physical love with flavorful moments of lovers cooking and sharing a meal. 8 However, in Mum's Guest food is the central motif that portrays daily routines and highlights folkloric rituals and cultural habits. With "Sufra" (where people gather to have a meal together) Mehrjui creates an Iranian microsociety. The chaos and the excitement of preparing the dinner creates multiple layers of meaning that cover a range of topics such as gender roles, societal contracts, cultural dysfunction, love and respect, cooperation and altruism, poverty and desperation, even spirituality. What is noteworthy is how the visceral reaction to images of tasty food are paradoxically countered with an intellectual repulsion from constant awareness of the depth of the material poverty of the characters of the film. In other words, the joyous festival of making and eating the food is a stoic practice commanded by honor and duty, and not intended to please one's body. For example, one of the first solutions to Mum's dinner dilemma is to ask her gypsy neighbor (Mash-Zeinab) to give up one of her chickens. Mash-Zeinab, who has lost all of her children in war, is convinced to realize that "aberoo" is more important than her love for her chickens. After an arduous process of selection, she decides to give up her "mean" rooster, however before the blade reaches the rooster's throat, Mash-zeinab breaks into hysteria and spares it. Although comical on the surface, this sequence creates a viscerally uncomfortable reaction that questions the relation of man to nature and to other species. In another sequence, the butcher who beats up his son for stealing food from his shop, when he realizes that his son's theft was aimed at helping his friend (whose mother had unexpected guests), packs several bags of meat to personally deliver to Mum's house. Another example is Yusef, the poor drug junkie with an expecting wife, who empties the freezer in his rich parent's mansion to help Mum's Aberoo, but refuses his father's financial help to himself and his expected child. Yusef informs his parents that he earns his living from shelling walnuts, 9 making money with his own hands and that he needs the freezer content to feed the neighbor's guests. Yusef uses food altruistically but also politically when he rejects his favorite sandwich to show defiance to his mother's meddling in and disapproval of his marriage. Yusef makes a political statement by taking food for strangers who are in need of satisfying a social obligation, but by denying his parents the pleasure of satisfying his corporeal pleasure. Yusef's act symbolizes a stoicism that is uncharacteristic of a drug addict, and furthers the paradoxical anti-pleasure subtext of the film.
Mum's Guest was made as a festive film—perhaps as an antidote to the bitterness Bemani left Mehrjui's fans with. However, despite all the boiling and broiling of delicious ingredients the subtext of poverty prevents a pleasurable response typical of a food film. The fact that Mum's children have never seen shrimp, that fish is a rarity in that neighborhood and that Mum will not have anything to feed her guests another day creates anti-pleasure. Despite the bleak subtext, however the film does not leave the viewers unhappy. First, it depicts women (of all generations) in position of power—the ideal scenario of feminism-loving intellectuals. Secondly, the film provides prescription for overcoming oddities with a spirit of cooperation and unity. At the end, cooperation triumphs and the film feeds the whole neighborhood—even the construction workers of the adjacent building. Third, the film juxtaposes the warmth in the poor apartment complex to the chill of the wealthy mansion of the upper town. Therefore, it prescribes a spiritual formula for happiness that is independent of insatiable material needs. Mum's Guests uses the motif of food to unsettle its viewer's visceral relation to food to inspire them politically and philosophically.
Mum's Guest has been one of Mehrjui's most commercially successful films. It won the best award of the 22nd international Fajr Film Festival, and was screened in a few film festivals in North America and Japan.
Article was submitted on January, 2012.
All quotes from the above essay were taken from the Iranian book (title translated from Persian by author) Dariush Mehrjui, Critique of oeuvre from Banu to Mum's Guest. Edited by: Alireza Ghare-Sheykhlu and Mehdi Vafayee. Hermes Book Publication, 2006. ISBN: 964-363-279-2. The book includes close to 100 interviews or articles from various Iranian film journals, on Mehrjui's work between Banu & Mum's Guest.
Endnotes
Notes