British Film Festival X2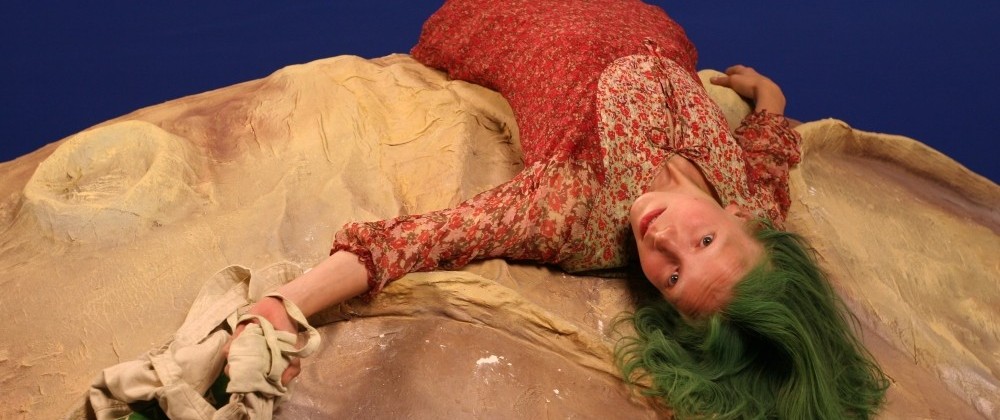 English Riviera International Comedy Film Festival, September 2008
22nd Leeds International Film Festival, November 2008
It takes courage to launch a new film festival, so the English Riviera Tourist Board and Torbay Council are to be congratulated in bringing a new cultural landmark to South Devon in these straitened economic times. It provides a fitting celebration for an area whose heritage includes one of the country's oldest purpose-built cinemas, the Paignton Picture House (boarded up for a decade) and several early film studios, together with one touted in the 1940s at England's answer to Hollywood (it is now a council store, but the soundproofing survives as a clue to its previous use). With these locations out of commission the venues for the festival were eclectic, including a cave (an appropriate setting for Carry on Screaming), the Groovy Movie Cinema (a solar-powered cinema in a tent), a Norman barn, a newly-renovated Victorian theatre and the Blue Walnut café which has its own mini cinema. Each venue has its charms, but the whole-hearted supported of the two local cinemas would be welcome.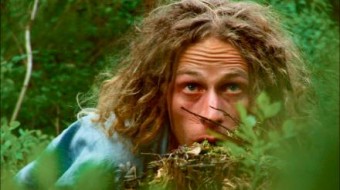 Three Miles North of Molkom
Three Miles North of Molkom (Robert Cameron and Corinna McFarlane, GB, 2007) takes us to rural Sweden, where a New Age festival is being held. All the participants are on a spiritual quest, though they seem uncertain what they hope to gain from the experience. The film concentrates on Nick, an Australian rugby coach who is wary of tree hugging and more interested in finding a Scandinavian blonde. Such is the magic of the place that even he is won over by the second week. This modest if overlong documentary makes interesting points about how individual perspectives shift as the group coalesces. It has light-hearted moments, though it is no laugh-out-loud offering. No such reservation applies to the Jacques Tati season at the Blue Walnut, though on seeing M. Hulot's Holiday after Three Miles North of Molkom, I was struck by how Tati's film is about the community as much as M. Hulot.
The public was invited to vote for the best comedy films on the festival website with their top choices being screened. This produced no surprises, the winner being Monty Python's A Life a Brian. Torbay was one of the towns which banned the film on its first release, so this was a belated premiere. It is an appropriate choice for a town where a local hotelier inspired John Cleese of Monty Python fame to create the character of Basil Fawlty in Fawlty Towers.
The festival coincided with the Manhattan Short Film Festival. The Blue Walnut hosted one of the two British screenings of the twelve finalists. As so often with short films there was a division between those which were plot based and those based on character. My favourite and the overall winner was Steph Green's New Boy (Ireland, 2007), a character-based story of a Negro pupil coming to an Irish primary school. This is a work which combines humour with social comment. The acting of the children, notably Sinead Maguire, makes it a delight.
The directors Peter Richardson and Paul Andrew Anderson attended screenings of their work. Anderson's The Cottage (GB, 2008) is a blend of crime caper and horror. It is a light-hearted work, which shows a director refusing to be constrained by genre or expectations after the critical success of London to Brighton. His next feature, set in London and focusing on older people, looks set to continue this maverick trend.
Birds Eye View promotes women in film. They brought three programmes of silent films to the festival each with a live accompaniment. I saw two. My Best Girl (Sam Taylor, US, 1927) was accompanied by Jane Gardner. This is the tried and trusted story of love triumphing across the class divide when a rich young man works incognito in his father's store and falls for a feisty girl from the storeroom. Mary Pickford was thirty-five and too old for the part of the girl, but the film provided her with a star vehicle and was a financial success. Pickford is now known largely by repute, so this was a rare opportunity to glimpse her work on the large screen. The programme of shorts directed by or starring women was accompanied by Nikki Yeo and Serafina Steer. It included the work of the French director Alice Guy, the American comedienne Florence Turner who directed and starred in Daisy Doodad's Dial (GB, 1914) and the child actress Baby Peggy in The Kid Reporter (Alfred J. Goulding, US, 1923). Baby Peggy (b. 1918) was less winsome that some of her child successors and is still alive. Has anybody recorded her reminiscences? Given that most comedy shorts from this period are lost, such screenings may prompt a renewed interest in what survives. Preserving our celluloid heritage may not be glamorous or newsworthy, but time is running out for these films. It is encouraging to find a new generation of musicians taking up the challenge of accompanying them.
The definition of a comedy film is clear: it makes people laugh. If the term has been used loosely, this is not to denigrate the efforts of the festival organisers. Some fine tuning is needed. This means seeking out new comedy films on the festival circuit and inviting submissions (the website appeared too late), while more publicity is needed to attract a local audience. Despite these reservations this is a welcome innovation in an area where arts provision is limited and fills a niche in the festival circuit.
The Leeds festival is well established. After giving it a miss last year I was unsure what to expect. Some things stay the same. Every screening at the Hyde Park Picture House still starts late and the familiar thematic strands are there, albeit with some new names: the Official Selection (mainly features), Cinema Versa (documentaries), Kinetika! (experimental film), Short Film City. Fanomenon (horror, sci-fi and anime) and Thought Bubble (comic book heroes). Among the changes the printed guide is much improved and audience numbers are up. On the down side the website needs more work and using a smaller auditorium at the Vue complex means that people are turned away. My main grouse is that an air of anonymity has settled over proceedings: there were no opportunities for discussion, few directors and actors attended the screenings and only three of the films which I saw were introduced by the film festival team, who were conspicuous by their absence the rest of the time. The last point was particularly frustrating given the meagre press facilities. And if the final day was intended for repeats of the most popular films, why was the programme settled in the first few days? Zero Bridge, the winner of the Golden Owl Competition, Time to Die, the film receiving most votes from the audience, and the sell-out Finnish thriller Black Ice were not repeated, so I missed seeing them.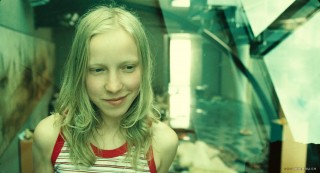 Mermaid
My festival highlight deserving of its extra screening was Mermaid (Anna Melikian, Russia, 2007), which has already won prizes at the Berlin and San Francisco film festivals. This magical journey follows Alisa from her childhood in a rundown seaside town, where she waits for the father who never comes, to being a teenager in Moscow in love with a drunken entrepreneur selling land on the moon to rich Russians. Melikian offers an affectionate portrait of adolescence, keeping whimsy at bay with sharp humour, while Masha Shalaeva as Alisa never loses her sense of wonder and optimism in a country torn between down-at-heel provincialism and ruthless capitalism. With a catchy score and the imaginative use of colour helping to characterise the film's varying moods, Mermaid could not be made in any other medium. Perhaps the ending is clichéd, but by that time I was won over even after a second viewing.
57000km Between Us (Delphine Kreuter, France, 2008) aspires to a similar playful mood. Nat spends her time on line. In this virtual world she meets sick teenager Adrien and a man who likes to play at being a baby. Her real life verges on fantasy: her mother stars in a video blog and her estranged father is a transsexual. The trouble is that Melikian's sharpness and humour are missing. Only the storyline of Nat and Adrien engaged me, their meeting in the hospital where Adrien is being treated having genuine tenderness. The restless camerawork is annoying rather than liberating and adds to the general air of confusion.
Girl Sparks (Yûya Ishii, Japan, 2007) is the third of this trio about girls growing up. It appears in the Fanomenon strand, which seems to be used as a catchall category for anything Japanese. This is another film not constrained by realism and is reminiscent of This World of Ours (Nakajima Ryo, Japan, 2007), screened at the 2008 Bradford Film Festival. The sight of two rockets colliding has significance for Sacko (Ayuko Ikawa), as she imagines the bolts and screws her father makes being used in them. Sacko is a high school pupil and angrier than Alisa or Nat, an anger she vents on those around her, notably her friends and her father. Like Alisa she is brought up by one parent. Her father tries to be a surrogate mother to the extent of putting on makeup and donning women's clothes. When his factory fails, Sacko leaves school to help. While this cannot stave off bankruptcy, it brings daughter and father closer. Though the narrative drive sometimes flags this is a fresh and appealing work.
Boys deal with their angst in more direct and violent ways. Weltstadt (Christian Klandt, Germany, 2008) has won awards at Berlin and Montreal. Basing his film on a true story, Klandt presents a bleak picture of small-town life in the former East Germany where neither young nor old have any optimism. Till drops out of college and hangs around with Karsten, who is already in trouble with the law. As a local café closes for the last time, the older men look back with nostalgia on the certainties of the Communist era. Meanwhile the youngsters encounter a tramp. Casual violence turns into murder as they beat him up, douse him in petrol and set fire to him. The leisurely pace in the bleak early scenes may deter some, but the film builds to a powerful climax.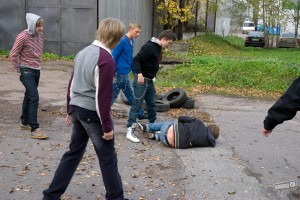 The Class
The Class (Ilmar Raag, Estonia, 2007) builds tension from the beginning and for this reason I preferred it. High school pupil Kaspar stands up for the class victim Joosep and becomes a traitor in the eyes of his fellows. Mental bullying spirals into physical violence, till Kaspar and Joosep are provoked into taking up guns for a final act of revenge. This is a thought-provoking and compelling film which offers one explanation for school massacres, a subject already visited in Gus Van Sant's Elephant. The ending might be seen as melodramatic and the ineffectiveness of the school staff seems overstressed, but how much do those in authority really know about what is going on in any institution?
Two films examine the psychiatric problems of young adults. Welcome to the Quiet Room (Suzuki Matsuo, Japan, 2007) follows the travails of Asuka (Yuki Uchida), a journalist who awakens to find herself strapped down in the 'quiet room' of a psychiatric hospital. Here is the black humour of One Flew Over the Cuckoo's Nest with the sense of an alien environment found in Girl Interrupted and the surreal edge of this year's I'm a Cyborg, but that's OK from Park Chan-Wook. A leavening of humour carries us through the film's grimmer sequences. The emphasis is less on Asuka's illness than her relationships with other patients, the staff and her partner. There is a good range of eccentrics and not only among the patients. We even have a Nurse Ratched character to hate, or is Asuka's judgment of her jaundiced? This film may lack profundity, but it held my attention and proved an unexpected pleasure.
Dream (Ki-duk Kim, South Korea, 2008) had its UK premiere at the festival, which has championed the director over recent years. A young man discovers after a car crash that whatever he dreams is enacted by a young woman during her sleepwalking episodes. A mystic tells them that falling in love will effect a cure, but the couple resist, trying to stop themselves from falling asleep at the same time and resorting to self-torture to achieve their ends. This is an intriguing dramatic premise, but the characters never take on a life of their own and the audience is kept at arm's length. I wanted less art and more of Matsuo's warmth and humour. A disappointment.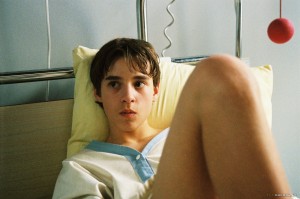 Parting Shot
Psychological disturbance is a starting point for Jeanne Waltz's Parting Shot (France/Switzerland, 2007), but the drama lies in the moral dilemmas which it triggers. 'Not Sweet' is the literal translation of the original French title, which hints at the film's ambiguities. Fred is a nurse who has a reputation for being unaffected by death and suffering. Her colleagues are unaware that she is preparing to kill herself. She goes to the woods, but at the last moment turns her rifle on an obnoxious member of a school party. The boy is injured and it falls to Fred to nurse him. A relationship builds up between the two prickly people, which is shattered when her crime is revealed. Isilid Le Besco's performance as Fred lingers in the mind. She might not be a likeable character, but you strive to understand her and you come to sympathise.
Three films explore the problems of being a single parent. In Versailles (Pierre Schöller, France, 2008) Guillaume Depardieu plays Damien, a dropout who lives in the woods near Versailles. After a one-night stand he is left with the woman's 5-year-old son Enzo while she goes in search of work. Damien struggles to cope, but has to enlist the help of his own family. This work promised much, but I found it uninvolving. The acting is fine, but the writing and direction fail to generate sufficient tension to hold the attention. The abrupt ending ties up the plot neatly, but seems contrived. An additional problem which affected several films is that the Vue cinema's enormous screen is merciless in exposing images which are not needle sharp. A venue with a smaller screen might suit digital video material better.
Genova (Michael Winterbottom, GB, 2008) suffers from no such technical deficiencies. It looks superb and is expertly crafted, as you might expect from an experienced director. A widowed lecturer (Colin Firth) goes to work in Genova taking his two daughters. The elder one becomes involved with local boys, while her sister has visions of their mother who died in a car accident. Both cause him problems. This is a drama of family relationships. It is notable less for incident than for its mood of coming to terms with death, making it reminiscent of Don't Look Now as the girls hurry though alleys heavy with menace. Genova is another film with an abrupt ending which failed to leave me with a sense of the characters' lives continuing.
The third film of this trio of one-parent families is Moscow, Belgium (Christoph Van Rompaey, Belgium, 2008), which takes us to a more mundane world. Matty works in a Post Office to support her three children. An accident in a supermarket car park brings her into contact with Johnny, a truck driver and recovering alcoholic who is separated from his wife and who invites Matty on a date. Meanwhile her art teacher husband wants her back. This is a well-acted, unassuming drama with too many loose ends: what happened to Johnny after he threw a barrel through the window of the car belonging to his wife's boyfriend? This is symptomatic: the consequences of actions are not explored, blunting the work's impact. Several women disagreed when I ventured this opinion. Perhaps Matty's predicament strikes more of a chord with women.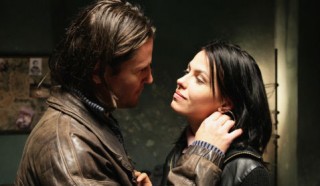 The Rest of the Night
Two films show petty criminals who are absentee fathers. In The Rest of the Night (Francesco Munzi, Italy, 2008) Maria is a Romanian servant working in Italy who is dismissed for stealing. She returns to her former fiancé Victor who has just been released from prison. With Marco, a cocaine addict estranged from his son, he robs the villa where she worked, but things go wrong. This is an unflattering portrait of Turin, where the immigrant population live on the margins of society. The problem is that the film has too many targets. It seeks to be a social critique of immigration, a crime drama, a domestic drama as the well-heeled family in the villa disintegrates and a heart-tugging story of Marco's failing relationship with his son. The crime takes an age to set up and we lose sympathy for the characters. Concentrating on one issue would have produced a more satisfying work.
Chiko (Özgür Yildirim, Germany/Turkey, 2008) focuses on Chiko and Tibet, Turkish friends involved with drug dealing in Hamburg. Chiko has occasional contact with his daughter, but his adopted family is Tibet and Tibet's mother. Chiko aspires to become a major drug dealer and is willing to jettison Tibet, but his loyalties become divided with fatal consequences. The film works better than The Rest of the Night by concentrating on the crime. The close-knit Turkish community and the strength of family bonds are integral to the story, but they are never allowed to swamp it. This is another case where the melodramatic ending is a blemish on an interesting work.
I tried to see as many features as possible, but three documentaries caught my eye. The best was Reverse Shot – Rebellion of the Filmmakers (Dominik Wessely and Laurens Straub, Germany, 2008). Employing film clips, documentary footage and interviews, this is an account of how thirteen German filmmakers formed a collective for producing and distributing films in 1971. The movement accorded with the spirit of the times, but its implosion was predictable given the diverse personalities involved and still causes rancour. What emerges is a lack of business expertise, but equally damaging was how the more successful filmmakers, Herzog, Fassbinder and Wenders, used the collective as a stepping-stone in their careers, so that prestige and money drained away. When lawyer manqué Hark Bohm joined, the business became better organised, but several members felt that the ethos changed and that they were eased out in the cause of efficiency. This is an involving story worthy of a Herzog film of aspirations coming up against reality. The film is a worthy memorial to Straub, who died last year. It provides an opportunity to revisit a high point in German cinema and to reconsider the work of neglected members of the collective such as Alexander Kluge, but why weren't their films screened rather than single examples of the work of the big three?
Philosophers rarely get the opportunity to appear in film, so it was an intriguing idea to allow them to talk to a camera while wandering through cityscapes. An Examined Life (Astra Taylor, Canada, 2008) works best when the speaker makes use of the setting, as when Slavoj Zizek visits a refuse disposal facility to discuss how society deals with waste, or Peter Singer considers the ethics of consumption while strolling among the boutiques of New York's Fifth Avenue. In the case of Avital Ronell the background proves a distraction. Least successful is Judith Butler's contribution on disability. This is a two-hander with a disabled woman, which would work better if Butler were not intent on pushing her own agenda. Polemic makes bad philosophy.
According to the programme note for Meeting Andrei Tarkovsky (Dimitry Trakovsky, US/Sweden/Russia, 2008), 'This documentary skilfully explores the philosophies, inspirations and character behind such classics as Solaris and Stalker.' I was left wondering whether to expect a documentary about Tarkovsky or his films. The director's avowed aim made clear in the first few frames is to explore Tarkovsky's declaration that death doesn't exist, which left me none the wiser. Trakovsky interviews people who knew the filmmaker or were influenced by him; I preferred those interviewees who keep their feet on the ground, while the director's delight in locations make the film resemble an upmarket travelogue. I emerged from the screening knowing little more about Tarkovsky than when I went in, while my companion who was new to his work would have been better served by seeing Stalker, which was also included in the festival. A pity that the opportunity to screen a Tarkovsky retrospective was missed. It is timely to collect reminiscences of Tarkovsky before memories fade, but they need to be presented in a clearer context.
The English Riviera festival has yet to find its core audience. It might have been intended to attract tourists, but looking to a local audience is more realistic. Many Leeds residents are still unaware of their local film festival, so after twenty-two years even here a potential audience remains untapped. The challenge of attracting them is daunting, but the rewards are considerable. An audience has been found, largely I suspect from the city's universities (the questionnaire handed out at screenings fails to tease this out), but at some cost to the character of the festival. It used to be a place to discover features which would not otherwise be seen in this country. A third of the films this year are documentaries, the best of which will appear on television, while the proportion of features has dwindled. This may be a market-driven change, but it should at least be acknowledged. Leeds is worth visiting for its Victorian buildings and its food. The prize of attracting visitors to the city for its film culture is in danger of slipping away as the festival loses its distinctiveness.