A Double Life: Bette Davis' Twin Roles, Part 2: Dead Ringers, or Whatever Happened to Bette Davis?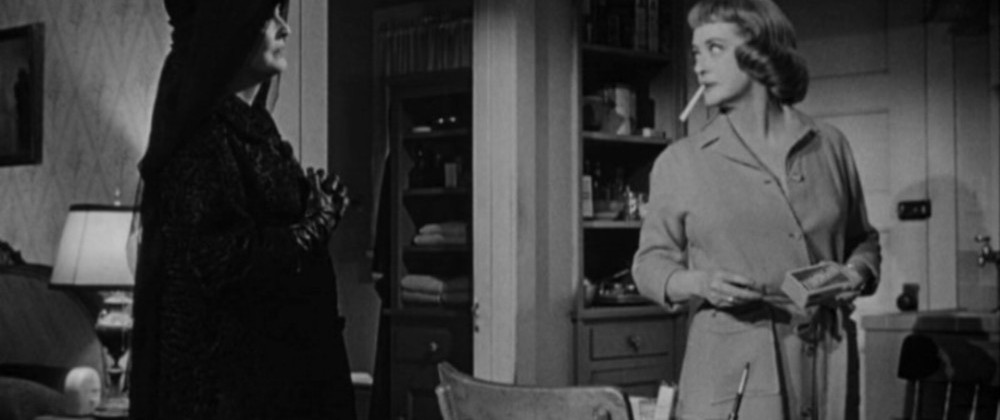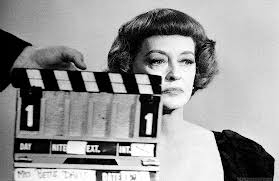 Charles Jencks uses the term 'double coding' to describe both the use of the modern and the irony with which a postmodern work revisits the past: we are constantly quoting what we know to demonstrate what is true (as opposed to real, perhaps). Postmodernism positions the viewer/reader as critic in the artwork. Simply put, it is a way of thinking about the postmodern age and that old saw, the meaning of life. (All in quotation marks.) Scepticism is endemic to this position and the playfulness of the surface meanings might indicate a collapse of meaning altogether. By putting together two differing styles from different periods, Jencks argued, parody, ambiguity, contradiction and paradox are produced. If we apply this theory to film, the result might be Dead Ringer (Powell,1998: 77-90, 122-130). It was a project that had been a Warner Bros. property since 1944 and was developed from a story known as Dead Pigeon by Rian James and written with Albert Beich and Oscar Millard. It was looked at again in 1963 and put into active development, although Jack Warner hated the title and it was duly changed.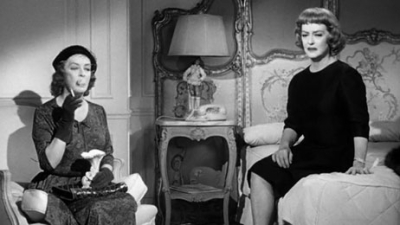 In 1964 Davis was 56 years old and by today's standards, and in common with many actors of the time, looked a lot older. It was 18 years since she had made A Stolen Life and, re-united with her romantic co-star, Paul Henreid directing her in another identical twin role, would commence on what could be read as a fraternal twin film, Dead Ringer. Henreid said of his experience as his former co-star's director, "I understood her temperament and her peculiar gifts…I knew what she thought was effective for her." He continued: "Bette had to go through extensive makeup. There was a lot of face lifting and that sort of thing. But she was a pro. She was always ready. Of all the actors I've ever worked with, Bette was the most professional. I'm talking about acting ability, being on time, cooperating, her attitude, the whole nine yards. Totally professional" (Spada, 1993: 524).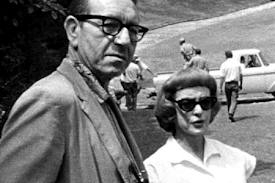 After being nominated for the Academy Award, Davis had endured the regular situation of ignominy the threat of this trophy mysteriously bestows and entered a new trough with just two properly significant roles in the next decade –The Star and her second visit to Tudor territory as Elizabeth I after The Private Lives of Elizabeth and Essex (1939, Curtiz) in The Virgin Queen (1955, Koster). It didn't help that she no longer worked at Warners. Most of those years were spent doing television productions, until fate arrived yet again with Robert Aldrich's offer of another self-analytical actress role in Whatever Happened to Baby Jane? ?? The project had existed as a package proposed to agent Lew Wasserman by William Frye starring Davis with her old Warners co-star Olivia De Havilland. When Wasserman rejected it, Robert Aldrich heard about the property and optioned it. Joan Crawford had been petitioning to work again with him after ??Autumn Leaves (1956) and was desperate to co-star with Davis. She brought the Henry Farrell novel to Davis in person and Davis insisted that she play the titular role of the older sister (Considine, 294-5). As Hannah McGill has it, the film "has a rare radar for the underhand manipulations and suppressed violence of female intimacy" (McGill, 2013: 48). Davis had no idea how successful the film would be and in the 21 September 1962 issue of trade paper Variety placed an ad looking for work, stating she was "mobile still and more affable than rumour would have it.." (Chandler: 238).
If Baby Jane? kept modernity at arm's length through the gates of the movie star mansion, then the iridescent vision of Sixties Los Angeles with its smooth chromatic modernist apartment buildings, tower blocks, curling highways, rippling swimming pools and curving avenues were grist to the modern Gothic mill and embraced head-on by Dead Ringer. The sense of danger that always attached to a Davis performance is exemplified in the way the seamless scenes juxtapose the one twin with the other: we are never in doubt which twin we are watching in a pair of performances highly attuned to each character's particularity. Davis' films are distinguished by doubling in terms of both space and character. However, annexed to the narrative is the flim-flam distraction of appearances by Connie Cezon, a real-life Davis double (which technically makes three Bettes), who is nonetheless easily found out in some brightly lit scenes. Henreid was making a determinedly modern, neon film, with none of the noir affectations that symbolised the heart of darkness operating in A Stolen Life. Sometimes the lights exposed the sham. Other than the theme, the only Gothic signifier outside the narrative is the score by André Previn, a combination of harpsichord and honky-tonk.
When Davis made Dead Ringer, her career was seemingly reinvented, yet again, with another wry satirical comment on the perils of stardom. The juxtaposition of the twins' lifestyles here could not be more starkly recognisable in this exegetic diagnosis of the lies lived by women: the enclosed life of Margaret DeLorca in her mansion (she is not a movie star, but lives a rich woman's life, which we imagine is the same thing, chauffeured from prayer meetings to sexual assignations); versus the rambunctious cocktail lounge run by Edith Phillips in downtown LA. She's been there for 10 years and Margaret has been oblivious. They are only meeting again because Margaret's husband Frank has died and Edith arrives at his funeral to pay her respects. It seems he was originally Edith's beau and Margaret wed him by the expedient of faking a pregnancy 18 years earlier (ie when Davis was playing at being both Bosworth twins), a fact Edith uncovers via some stealthy questioning of the family chauffeur about the child she believed existed all along.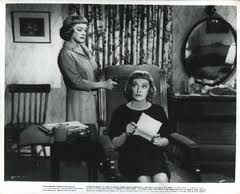 The split that has occurred in their lives is a fissure created by the oldest trick in the female armoury and it has led to Edith leading a life verging on penury, with repossession just a month away. As her bartender regales her beau, Sergeant Jim Hobbson (Karl Malden), "Edie's a soft touch. And a soft touch is a bad risk." She threatens to blackmail Margaret and plants a suicide note, shooting her sister in the temple, immediately assuming her identity, leaving Margaret-as-Edith dressed down in her apartment above the bar, departing with the chauffeur who led her to uncover the secrets of Margaret's double life in the first place. She enters the life of riches stolen from her by a woman whose life is based on a lie. Now she must live one herself. Appearance is everything and Margaret must be Edith –Margaret would never go bare-legged and certainly not die in those awful shoes. Edith-as-Margaret is visited by the police in order to identify her own body in the morgue. She has to adjust to a life of wealth –with a regular gathering of morbid friends reminiscent of Gloria Swanson's deathly coven in ??Sunset Blvd. ?? (1950, Wilder) who meet for religion and board games; she must befriend the Great Dane, Duke (who takes to her immediately, having hated his late mistress); she has to figure out the combination to the bedroom safe; and Margaret's signature being beyond her entirely, she injures her signing hand with a hot poker rather than give herself away to the family lawyer. Then she discovers that Frank left her (Edith) $50,000. When Hobbson visits her with a framed dollar bill commemorating the opening of Edie's Bar on Figueroa in 1957 she declares, "My sister was very fortunate in having a man who so loved her," and hands it back to him. She knows now what she has lost.
Like Kate Bosworth, once Edith assumes her sister's place in the realm of fashion and glamour, she finds the unforeseen and unwelcome encumbrance of a man, this time a gigolo, Tony Collins (Peter Lawford), who soon figures out the truth and holds her secret to ransom in exchange for not giving her up. "You're not yourself!" he declares. And, once again Davis, ostensibly the good twin (if now a murderess) is undone by the family dog (who savages the rotten Tony to death) and the dogged intentions of Hobbson, the near-retiree who pursues his beloved to the gas chamber via the mechanism of investigation, evidence and animal instinct – because Margaret and Tony poisoned Frank with arsenic. Despite Edith's loud protestations of innocence, her performance as Margaret is all too convincing and he rubbishes her claims that she is her identical twin, although the butler knew all along. Morally, of course, she is right and the sick irony of her action is all too clear to her. After the judge pronounces sentence Jim asks her if what she said was true but he doesn't believe her and at the end, she takes her punishment like a man. In the film's nod to Psycho (1960, Hitchcock), her final line to Jim is "I'm Margaret. You're right, Edie wouldn't have hurt a fly." Frank's portrait on the stairwell – the other Gothic trope in the narrative – has had a devastating effect.
To interrogate Bette Davis' twin roles –and as we have seen, there were many of them, although in fact she only made two films in which she played actual twins– is to emphasise the sense of metatextuality about her entire career. She played actresses, real and imaginary; rewarded for incarnating Jeanne Eagels and then, career-wise, she re-vamped herself as Margo Channing in an imitation of Tallulah Bankhead, whose stage role of Southern Gothic monster Regina she had already re-imagined in The Little Foxes. She played mother and aunt to the same girl in The Old Maid. She pretended to be mother to a disturbed child after herself recovering from a mental illness caused by her own mother to a little girl whose mother is also mentally ill in Now, Voyager. She played a gloss on Joan Crawford in The Star in a script that was really a mirror of her own life and then found herself paired with her sexual nemesis (they had Franchot Tone in common) in yet another brilliant phase of her career in Baby Jane? She retrieved control of her career only to be constantly given roles unworthy of her talent by Jack Warner whilst simultaneously having her debts against the studio forgiven by a marker he never collected and her salary kept at unfeasibly low levels compared with male stars whose grosses she easily outstripped. Her career could be said to have been of two halves, demarcated by the classic All About Eve, a film which paradoxically consigned her rapidly outmoded acting style to the tip of camp whilst appearing to deny the desire for independence her characters had declared in virtually every other role she had played in her career to date. Her body of work boasts an array of roles confected in double lives and the re-invention of banal existences. A Stolen Life was a remake of an existing film itself, a novelistic adaptation and a dramatic masque of Bette Davis' selves at that time – her sexual antics unleashed after a virginal first marriage previously hidden by a sometimes straitlaced and temperamental alter ego which she attributed to her Puritan upbringing; her fight to play more complex roles sometimes deadened by Warner Bros' marketing strategies; her decision to go on unpaid suspension rather than take roles that were beneath her abilities; her public image a strategic combination of fact and fiction, a mélange of her onscreen roles and her colourful private life.
Dead Ringer seemed to emphatically reinforce her own contemporary financial situation following divorce and family traumas – the one twin happy, duplicitous and wealthy, the other man-dependent and somewhat impoverished (if rich in her talent for finding the right man – who unfortunately has her sent to her death because he is righteous and lawful: justice is sadly not the equal of the law, as in movies, so in life.) It followed Baby Jane? in its reflection of the older Hollywood actress' experience of a mordant existence lived out behind closed automatic gates with gigolos in attendance in a dayglo Los Angeles Gothic. These were aspects of the Davis experience: she had a habit of drawing young gay men to her and convinced herself that she could turn them through marriage. It often took friends and family to persuade her otherwise. Dead Ringer could, then, be read as a reflection upon that characteristic ambivalence towards her own life and career: what might have been and what might yet come to pass (if only one had the right amount of money and the perfect man, provided he didn't ask too many questions and saw one in just the right amount of shadow.) Her later films basically embellished the idea of sadomasochism that had threaded through the oeuvre since she began being off cast –if she never quite fitted the grade of cast-off. In the examination of any body of work by an artist, there is an echo-chamber of resonance, of art resembling life resembling performance, of a series of writers taking cues from previous writers' work and, undoubtedly influenced by the actor's idiosyncrasies and marshalled by their successful onscreen types, creating more and more of the same types, bigger, more emotional, infinitely crazed and overly dramatic, enhanced by audience polling, advertising and marketing strategies, the one feeding necrophiliac-fashion off the other, yet sympathetic to the last. Davis' career was an accordion of role-playing and confusion, an expression of insatiable appetite and canny choices, an array of diverse and dazzling technique and puzzling ambiguity, her disarming honesty coupled with cast-iron wit. In life her performance could always eclipse her reality, creating a counterfeit self to detract attention from the real thing. The original was always so much better than the copies. That's what remains so magical about Bette Davis: she was always acting. You could never tell her apart.
Bibliography
Books
Balio, Tino (ed.) (1985). THE AMERICAN FILM INDUSTRY (Revised Edition). Madison: University of Wisconsin Press.
Basinger, Jeanine (1994). A WOMAN'S VIEW: How Hollywood Spoke to Women 1930-1960. London: Chatto & Windus.
________ (2009). THE STAR MACHINE. New York: Vintage Books.
Byars, Jackie (1991). ALL THAT HOLLYWOOD ALLOWS: Re-Reading Gender in 1950s Melodrama. London: Routledge.
Casper, Drew (2008). POSTWAR HOLLYWOOD 1946-1962. Oxford: Blackwell Publishing.
Chandler, Charlotte (2007). THE GIRL WHO WALKED HOME ALONE. New York: Pocket Books.
Considine, Shaun (1998). BETTE AND JOAN: The Divine Feud. New York: Sphere.
Corber, Robert J. (2011). COLD WAR FEMME: Lesbianism, National Identity, and Hollywood Cinema. Durham and London: Duke University Press.
Dyer, Richard (1998). STARS. London: BFI.
Friedrich, Otto (1986). CITY OF NETS: A Portrait of Hollywood in the 1940s. Berkeley and Los Angeles: University of California Press.
Glancy, Mark, James Chapman and Sue Harper (eds.) (2007). THE NEW FILM HISTORY: Sources, Methods, Approaches. London: Palgrave MacMillan.
Hanson, Helen (2007). HOLLYWOOD HEROINES: Women in Film Noir and the Female Gothic Film. London/New York: I.B. Tauris.
Langford, Barry (2005). FILM GENRE: Hollywood and Beyond. Edinburgh: Edinburgh University Press.
Lloyd, Ann and David Robinson (eds.) (1984). MOVIES OF THE FORTIES. London: Orbis.
Powell, Jim (1998). POSTMODERNISM FOR BEGINNERS. London, Writers and Readers.
Robertson, Pamela (1996). GUILTY PLEASURES: Feminist Camp from Mae West to Madonna. Durham and London: Duke University Press.
Spada, James (1993). BETTE DAVIS: More Than a Woman. New York: Time Warner.
Stempel, Tom (1991). FRAMEWORK: A History of Screenwriting in American Film. New York: Continuum.
Thomson, David (1994). A BIOGRAPHICAL DICTIONARY OF FILM. London: Andre Deutsch.
Journals & articles & essays
Klaprat, Kathy (1985). 'The Star as Market Strategy: Bette Davis in Another Light,' in Balio, op.cit.: 351-376.
McGill, Hannah (2012) 'There Will Be Blood,' Sight & Sound, Vol. 23, Issue 1, January 2013: 46-49.
Shingler, Martin (2007). 'Now, Voyager (1942): Melodrama Then and Now,' in Chapman, Glancy and Harper (eds.) (2008) op.cit.: 152-165.
Viera, Mark (2004). 'Horror Queens: Divas from Hollywood's Golden Age Rampage Through the Sixties,' Bright Lights Film Journal, Issue 46, November 2004. Retrieved 10 December 2012.
Filmography
All About Eve (1950) Dir. Joe Mankiewicz
Beyond the Forest (1948) Dir. King Vidor
Bordertown (1935) Dir. Archie Mayo
Dangerous (1931) Dir. Alfred E. Green
Dark Victory (1939) Dir. Edmund Goulding
Dead Ringer (1964) Dir. Paul Henreid
Deception (1947) Dir. Curtis Bernhardt
Front Page Woman (1935) Dir. Michael Curtiz
The Great Lie (1941) Dir. Edmund Goulding
Hush… Hush, Sweet Charlotte (1964) Dir. Robert Aldrich
In This Our Life (1942) Dir. John Huston
It's Love I'm After (1937) Dir. Archie L. Mayo
Jezebel (1938) Dir. William Wyler
June Bride (1948) Dir. Bretaigne Windust
The Letter (1940) Dir. William Wyler
The Little Foxes (1941) Dir. William Wyler
The Man Who Came to Dinner (1942) Dir. William Keighley
Now, Voyager (1942) Dir. Irving Rapper
Old Acquaintance (1943) Dir. Edmund Goulding
The Old Maid (1939) Dir. Edmund Goulding
The Private Lives of Elizabeth and Essex (1939) Dir. Michael Curtiz
The Star (1952) Dir. Stuart Heisler
A Stolen Life (1946) Dir. Curtis Bernhardt
The Virgin Queen (1955) Dir. Henry Koster
??What Ever Happened to Baby Jane? ?? (1962) Dir. Robert Aldrich
Copyright
Images property of Warner Bros.