Sane Substance: Mark Reid's book Black Lenses, Black Voices
Cultural Choices, Not Biology, Inform Films

Killer of Sheep
A film written, directed, and produced by Charles Burnett
Debut 1977; Re-release 2007 by Milestone Films
Black Lenses, Black Voices: African American Film Now
A book by Mark A. Reid
136 pages
Rowman and Littlefield Publishers, 2005
ISBN 0-7425-2642-9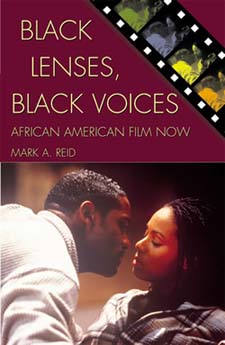 What happens when you make a film about obscure and ordinary lives with intelligence and integrity, without catering to the desire for easy pleasure or pride, without catering to fantasy and foolishness? Will the moments of beauty and insight be seen and understood? Will the delicate aspects of meaning and purpose be respected? If your name is Charles Burnett, and you are an African-American artist, and your film is Killer of Sheep, your work will be respected and neglected, an exciting rumor for decades. Killer of Sheep, which was begun in 1976 and completed and debuted in 1977, is a study of a poor man, an African-American, and his family and his work: starring Henry Gayle Sanders as Stan, and Kaycee Moore as his wife, in Watts, in California, the film captures moments of conflict, exhaustion, and sadness. Stan works in a meat plant, which gathers sheep and kills them, for sale as food, and the work is bloody, monotonous, and necessary; and the work does not fulfill any intellectual or spiritual interest nor does it promise or provide significant financial reward or security. The film in which Stan appears, undertaken as part of Burnett's practice-driven film studies at the University of California-Los Angeles (UCLA), and originally shot with a 16 millimeter camera, achieves its effects in increments, in glances and gestures, through observation and perception; and in assuming its characters and its viewers have inner lives, the film is a work of trust, and it facilitates a melancholy understanding. ("At UCLA…you thought about World Cinema—whether it was films from Poland, or Czechoslovakia, or Japan. It was like your backyard; you were as aware of Kurosawa, Truffaut making films as you were of some local person. You were waiting for the next film by these people. That doesn't exist any more, for a whole bunch of reasons. At that time at UCLA you looked at film as an art form, as a means of expression. Not so much for entertainment, it was to do and say something," Burnett told Alex Cox and Tod Davies, a conversation published in Film Comment, March-April 2007.) Many independent films have gone without audiences; and independent films by and about African-Americans have an even harder time than most in finding audiences and enlightened critical champions—and beyond the difficulties of finding funding, distribution, and media resources in support of challenging work, Killer of Sheep's music soundtrack promised to be an expense in licensing fees, something that proved prohibitive to the film's public showing. (The film had been made for about ten-thousand dollars. "The cost and trouble of clearing the music rights for theatrical distribution was one of the reasons the film had such a tough time getting release: It took six years and cost $150,000 to do the job. But without those haunting sounds floating over its inexpressibly lyrical images, Killer of Sheep would not be the classic it remains," wrote Kenneth Turan, The Los Angeles Times, April 6, 2007.) Three decades after Killer of Sheep was made, those halting matters have been addressed: and Killer of Sheep, now on 35 millimeter film, is being shown to critics and general audiences. Charles Burnett "edited the black-and-white images into a visual poem and added the ballads, the jazz and the moody blues that seep into your head like smoke," wrote Manohla Dargis of the New York Times (March 30, 2007); and Dargis declared, "The result is an American masterpiece, independent to the bone." Dargis also noted, "The intimacy and respectful tone that characterize the scenes of the family's two children, Stan Jr. and Angela, a girl of about 5 (played by Jack Drummond and Mr. Burnett's niece, Angela), who travel alone and in the company of other children, are especially striking." Dargis's commentary, like Turan's, is now among many assertions of the film's value. A lyrical, tragic vision, Peter Rainer called Killer of Sheep in the Christian Science Monitor, and the Chicago Reader's Jonathan Rosenbaum said the film should not be missed, and Armond White wrote that "Burnett's classic film is very much a distillation of the social and spiritual effects of American poverty (and racism)" in an issue of New York Press (March 28, 2007). The film Killer of Sheep was made with rigor and sensitivity, and it reveals lives that are often denied respect: and, how likely is it that a film made about people who live on the margins of society, and made by someone whose own social profile is not glamorous, will be heralded as important work? Appreciation for the film has more than one root: art, truth. "Now that Killer of Sheep has finally made its way into theaters in a restored, enlarged 35mm print, it is, without qualification or equivocation, essential viewing for anyone who cares about the cinema as an art form," wrote Chris Wisniewski, a writer for the independent film magazine IndieWire, March 29, 2007 (Wisniewski is also an educator at the Museum of the Moving Image in New York). It will be interesting to see if the film becomes a broadly accepted, known, and valued work.
Films need not be lost to history: and will not be lost if we pay attention to works such as Mark A. Reid's Black Lenses, Black Voices. Mark A. Reid's Black Lenses, Black Voices is one of the most intelligent books I have ever read on African-American film—not the one of the most academic, or the most theoretical, but simply one of the most intelligent: it is informed, perceptive, sane, thorough, about much that has been subjected to hysteria, ideology, and pretension. Mark A. Reid is a University of Florida-Gainesville professor of film and English, with a focus on African disaporic studies; and I have enjoyed his work in various publications for years. The book Black Lenses, Black Voices includes textual notes, a bibliography and a filmography, and an index of subjects. In Mark Reid's first paragraph, he makes a distinction between African-American film and black-oriented film, with the first written or directed by African-Americans and the second about but not by blacks; and Reid accepts all as worthy of consideration. Mark Reid discusses the controversy surrounding race, "an ever-changing socialcultural construction" (page 1), a construction to which various discourses—film, music, sociology, and politics, among them—have contributed. Reid summarizes different periods of African-American film, reminding us of African-Americans who were shown playing diverse kinds of roles, especially in the work of the early twentieth-century, black-owned (George Perry Johnson, Noble Johnson) and black-run Lincoln Motion Picture Company, which regularly featured in its films a virtuous hard-working black male (pages 7-8), work that produces one of the few instances, for its positive representation, when an African-American man today might think he has been born too late. It was interesting and rewarding to find African-American themes in genre films then (as it is, sometimes, now). Reid, assessing the practices and values of African-American filmmakers, defines being an African-American filmmaker as, ideally, involving entertainment, education, profit, and the ability to make more films (page 9). In terms of the kinds of films made, the 1960s and 1970s were distinguished by social documentaries, detailing social issues and political concerns; and also fiction films. Independent and experimental films came to the fore in the 1970s, and handled class, gender, and international concerns (10-11), with a focus on "urban poverty, police brutality, and the life experiences of black and other third world women" (12). Many of the films of the contemporary moment, from the last twenty years or so until now, often, involve directors who have or have had acting careers (Spike Lee, Kasi Lemmons, Vondie Curtis-Hall, Bill Duke, among them), and directors who were cinematographers, producers, writers (13), with their Hollywood success having some impact on the independent film realm (draining talent, and obscuring its existence; and, also I imagine, inspiring others). (The acting careers of directors may not be unlike the foundation that music has given black performers, from Lena Horne and Diahann Carroll and Diana Ross to Will Smith, Beyonce, and James Todd Smith, also known as LL Cool J/Ladies Love Cool James.) The films of the directors Reid specifies are marked by political concerns, use of black urban music, and visual style (14). Mark Reid is committed to an interpretation of film that respects gender and the requirements of equality. Reid reminds us of the obvious: "Film criticism employs subjective criteria that some film critics agree with and others disagree with" (14), before noting that mayhem and violence is part of the memory that too many films leave viewers with (15).
As a film viewer, I have celebrated the works of Charles Burnett (Killer of Sheep, To Sleep with Anger, Nightjohn) and Julie Dash (Daughters of the Dust) and Kasi Lemmons (Eve's Bayou, Caveman's Valentine) and Wendell Harris (Chameleon Street) and Charles Lane (Sidewalk Stories), stories of art and feeling and thought and imagination; and that is the standard to which I would like to become accustomed regarding African-American films. The films that many followers of African-American culture(s) have wanted include art films, family films, and entertainment films, as well as documentaries. Family films may be the most sought after, as many of us long for films we can share with a wide range of acquaintances, of different ages and tastes; and family films very often embody the values, and represent the lives, of working class and middle class folk. In writing about films that focus on the black family, Reid mentions a film acclaimed as a classic, Charles Burnett's Killer of Sheep, describing the interior scenes in the film and the inner lives of Burnett's characters, with the effect of difficult times on the film's father and mother, before moving onward to other films concerned with class mobility, family unity, and cultural celebration despite trouble. "Burnett's interior scenes reveal the inner lives of the souls of black folk whom he films. Theirs are the emptied private moments in which the black couple has nothing to say to each other. A single tear wells up in the eye of the mother, the father is speechless and full of hurt, their preadolescent daughter witnesses not spousal abuse, but something that is just as bad" (20). Matty Rich's The Inkwell (1994) features an idealistic family with a social worker father, who was once a political activist, a Black Panther, and the family experiences class differences with the wife's family, male competition (between father and brother-in-law), sibling rivalry (between the wife and her sister), and (the son's) youthful guilt (23). Young people are profiled in two dramatic films of differing quality, Kasi Lemmon's Eve's Bayou (1997) and George Tillman Jr.'s Soul Food (1997), and family issues such as adultery and criminal transgression (values, trust, and consequences) are factors that are explored in the dramas. In the narrative of Eve's Bayou, a young girl's perspective, and the view she has of her father, mother, and sister are central, and create a memorable consequence (30-31). Samuel Jackson is the doctor father, Lynn Whitfield the beautiful socialite wife, and Debbi Morgan the doctor's sensitive and spiritual sister, with Meagan Good as the older sister Cisely and Jurnee Smollett as the younger sister Eve. Whitfield and Morgan are exquisite; and the entire cast is strong. "The Batistes are an aristocratic black family" of the 1960s south, in Louisiana, and the womanizing doctor husband and restrained mother are perplexing to the youngest daughter Eve, who is yet critical, and willful: "Eve rejects and condemns her mother's passivity and bribes her father into doing her bidding. She becomes more aware of the sham of her father's social prominence and increasingly faults him for mistreating her mother, and, later, her sister. Eve's initial reaction to condemn and hold her father in moral contempt results from Cisely and Eve's rivalry for their father's affections" (30). That—in light of its nuances—is no simple story; and that is wonderful. Soul Food begins with a wedding and is largely about the expectations of husbands and wives regarding work and fidelity. The singer-actress Vanessa Williams (Eraser, Hoodlum, Dance with Me) plays a diligent, proper woman whose money and morals have kept her family together and also caused resentment; and she has a scene when, thanks to her husband's behavior, her self-restraint is shattered. Eve's Bayou and Soul Food are not films for which an audience can be assumed, not because the films are not interesting or good, but because they attempt to render African-American life with a degree of uncommon seriousness; and film reception is more troubled when the originating visionary or subject is a woman. Reid declares, "The black woman writer director must consistently argue for stories that faithfully represent black female experiences that seem unimportant to Hollywood studios' conception of mainstream audience tastes" (34-35).
If only the artist could be entirely free to pursue her vision, what would art and culture look like? Individual creativity is inevitably influenced not only by the unique sensibility and vision of an individual artist, and her or his coworkers, but also by communal concerns, industry priorities, and critical standards. Communal concerns, industry priorities, and critical standards can be enlightened, generous—or not. The dominant discourse in a community can be fueled by insecurity and pride, anger and pain, by economic need and political rhetoric and strategy, just as industry priorities can include the desire to make work in established and easily understandable styles for the largest possible profit, and critical standards may be shaped by contemporary or traditional aesthetic principles and pleasures, by the desire for novelty and esoterica, by the will to gather works that complement personal vanity and inspire explorations that will extend a critic's career. The work and career of an artist can be influenced by factors that should be irrelevant. What all that means for an artistic tradition is, often, danger. Some of African-American cultural traditions are emotion and discipline meeting circumstance and need and resulting in genius, and that is especially true of African-American music(s); and some African-American traditions are acts of imagination, thought, and will, despite every disadvantage and discouragement, and that is especially true of African-American literature. The tradition of African-American film is made up of works of circumstance and also of will, works of art and works of commerce, works that will last and works that will disappear and works that probably should not have been made. If only the artist could be entirely free to pursue her vision, what would art and culture look like?
What is remarkable is that dramatic films that focus on African-American life are not seen as part of a cinematic continuum that we all share. Too often, the audience is assumed to be small; and that can be a self-fulfilling prophecy. I recall discussing Theodore Witcher's Love Jones, an African-American film that focuses on smart young lovers, with a group of Americans of European descent: and I suddenly realized that the things that appealed to me—the professional ambitions and careers of the lead characters, their personal glamour, their leisure activities, etc.—might seem mundane to the listeners. I was excited by the new freedoms African-Americans could be seen to both explore and take for granted (I might not be able to take them for granted, but the characters in the film could). I began to hesitate as I spoke; and I recall seeing doubt on the face of someone I was speaking with. In the same way, a film such as Spike Lee's Crooklyn, about a black Brooklyn family—with its memories of family pleasure and conflict—can mystify some and gratify others. (The film Crooklyn did not have to be about political or public issues to lay claim to significance: focusing on personal concerns, on the most human concerns, was enough.) One's perspective on a film, and the value one sees in it, depends on where one is sitting—and from where one has arrived to take one's seat, I guess. Mark Reid asserts what black family films share with many family films: "Intergenerational and class conflicts are present in most family films that explore the social and psychological challenges of first-generation immigrant communities. Consequently, black family film share narrative elements with other types of family films that dramatize issues concerning class mobility, social integration, and the effects of abandoning ethnic traditions and beliefs" (35). Further, some of these films show the "unpleasant social reality of contemporary life in urban America" (36).
Many people do not go to films for memories or mirrors, but for fantasy, for escape; and find that in action films. Black action films and crime pictures, in which anarchic urges might be gratified, are not new. There were such all-black cast films made between 1912 and the 1940s. That was a time when, despite a multitude of prejudices, possibly because of the many prejudices, what it meant to be black was open for discussion, at least in cultural works, such as those of Harlem Renaissance writers (Wallace Thurman, Langston Hughes, Zora Neale Hurston), but many scholars have "avoided writing about the representation of race in genre film" (38). The outlaw fantasies found in many of those old films, and even some new films, display both approval and disapproval of illegal activity. Reid reminds his reader: racial experience does not determine film practice (39). The creative and industrial aspects of film production must be discussed (40), before revisiting some of the old films. Many black action films were produced by independent film companies and shown in skin-segregated theaters. Scar of Shame, a 1927 film, posited European standards against black primitivism; and it was written by David Starkman, directed by Frank Peregini, and produced by the Colored Players Film Corporation (40). Oscar Micheaux's Harlem after Midnight (1934), another film, showed the criminal (and social) underworld; and was influenced by von Sternberg's Underworld from a decade before: each is a gangster film about a mob dynasty, featuring a young man's growing power (41-42). Ralph Cooper's work, as actor and director, exemplified limited power, though he was involved with several production companies; and for the Cooper-Randol Production Company, Ralph Cooper did a 1937 northern gangster story, Dark Manhattan (42-43). Cooper began another production company, one with white partners, Million Dollar Productions, which made several films (Bargain with Bullets, Gang Smashers, Gang War), but Cooper's ideas were not always pursued and he was reported to have become frustrated with gangster roles (42-43). Cooper appeared in Murder on Lenox Avenue, a story of family, love, crime, produced by Goldberg Productions in 1941 (44-46). (Ralph Cooper was born in 1908 and died in 1992, and I knew of him as a figure associated with Harlem's Apollo Theater, as a presenter of live talent, rather than as a film actor or director; and he is not the only distinguished person whose accomplishments were not appropriately communicated to subsequent generations.)
Social forces produce criminality is the thesis of Powell Lindsay's Souls of Sin, a 1948 film (page 47): it featured a middle age writer whose stories have been rejected and who hopes for success, with the other characters a blues player from the south and a gambler. Powell Lindsay was the writer-director of Souls of Sin (49). Lindsay had social consciousness and his film offered different black male types/personalities, moralities, and social analyses.
Mark Reid thinks that audiences agree on what is criminal but have different senses of the motivation and context for crime (50); and that audiences may identify with the "individual fortitude and aggrandizing greed" of characters (51), but with the film's end, and the punishment of crime, allowance of the return of conscious (shared, public) morality was possible. Reid suggests a support and tolerance for black crime films that would give a political activist pause: "The American film industry welcomed black gangster films just as the American music industry would later welcome black gangsta rappers because both forms of entertainment seemed to channel raw black anger and frustration into a marketable enterprise that attracted paying customers regardless of race" (51). Reid takes up a topic—essentialism (belief in the fundamental biological and cultural differences of blacks; belief in races of people)—that has been discussed much, but I'm not sure that fact or logic has been very effective in dislodging belief in blacks and whites as essentially different: "Unfortunately, many films simulate essentialist racial notions about black styles and white styles" (53); and these films posit a "bad nigger" type as a true black man, rejecting civility, education, morality. Reid talks in his text about films such as Juice and Boyz N the Hood that evoke and resist the syndrome of criminality. African-Americans do not make guns or import drugs, but are a small part of larger criminal commerce as a result of poverty and limits on social advancement; and resisting criminality involves individual and social resources of opportunity, morality, and will. Reid notes the social complexity—the larger economic and social system—that many films evade: "Dirty cops, drug cartels, and the effects of incarcerating excessive numbers of young black and Latino men are rarely dramatized. Scenes that portray white drug addicts entering black and Latino communities are left on the cutting-room floor" (56).
Choices. Some people have them, and many people do not—and when you do not have significant choices, when you cannot pursue the education or work or lifestyle you prefer, you can disguise or lie about that fact. You can deny that you ever wanted anything more. You can rebel: you can deny all imperatives, all goals, and all values but your own. You can become an isolate, without comrade or friend. You can become involved in business, in the church, in politics. You can become involved in crime. You can become involved in crime; and crime has many faces, many names. You can pursue a pauper's freedom. You can escape into fantasy, fantasies of pleasure, fantasies of horror—exaggerations of true experiences; and fantasy is a way something difficult and painful might be articulated, a way defeat might be justified, a way of escape. Horror can be turned into entertainment.
African-Americans have appeared in horror films, written and directed by blacks and by others, and sometimes cultural difference has been a factor in a film's thematic exploration: and "it is important to indicate when difference demonizes characters and creates or resists static notions of good and evil" (61). In Richard Kahn's Son of Ingagi, a pre-second world war film, we might have the first African-American horror film, a film written by its star Spencer Williams, an African-American, a film about a black woman scientist who creates a creature who rebels against her. Oscar Micheaux's Temptation (1935), a "sensual and fleshy" film, with carnality depicted as corrupting, was more realist than the "fantastic, gothic religious imagery" in Williams's film (62).
In the contemporary film Def by Temptation (1990) directed by James Bond III, with cinematography by Ernest Dickerson, there is a demonization of black female sexuality, in its depiction of an attractive vampire-woman named Temptation who goes to bed with various men, without any significant criticism of the men drawn to her (64-67). The Ernest Dickerson film Bones, filmed in year 2000 and shown to the public in 2001, focuses on a drug dealer, Jimmy Bones, who kept the drug crack out of his black community until he is murdered by "friends" and foes, each using the same knife to stab him (which Reid sees as an act that is homosocial, and potentially homosexual): and later, when Bones returns from the dead and gets revenge, "Jimmy's avenging knife severs the throats of these men, who earlier had used a similar phallus-like object to penetrate his body" (70). (I have not seen Bones, but such a reading sounds like precisely the kind of thing that has earned academia its place as a source of amusement for the rest of us. What Bones does remind me of are the late night commercials I would see as a child for the Arthur Marks film J.D.'s Revenge, which starred Glynn Turman as a 1970s law student possessed by the vengeful spirit of a 1940s murdered criminal.) In the film Bones, social issues also have a place, and the power structure of society (police and politicians) is implicated in black degradation and criminality, although "Temptation and Jimmy are abject characters, the walking dead as avenging angels" (74). Often, and unfortunately, those who have been injured in American society, and in the world, are the only ones with any consistent sense of justice: and a character such as Temptation can be a retributive force that stands in opposition to the exploited, vulnerable women who have little ability to fight male abuse, while a figure such as Jimmy can be a stand-in for men who have been professionally, politically, and personally betrayed, and brought to spiritual death. However, the "unfixed polyphony of amorality that reigns in Jimmy and Temptation threatens the moral and peaceful well-being of the world in Bones and Def," though the morality and peace of the world are far from perfect (74-75). Ernest Dickerson's horror film work is seen by Reid in the context of Italian horror films, particularly that of Mario Bava (75), with surreal aspects and image reversals (talking decapitated heads, the moral impulses of transgressive figures); and, consequently, in sharing traits with international horror films, both Def and Bones "transcend any singular national or ethnoracial film identity" (77).
American films with black women as lead characters are not common, and thus such films engage Mark Reid's attention, and may be said to be a fulfillment of his concerns with womanist or black feminist ideas and interpretations. Mark Reid focuses on Whoopi Goldberg and Halle Berry, whose choices in roles have sometimes been controversial. Reid begins by noting, "As it is an actor's duty to perform her role as best she can, it is not my purpose to equate a role with an actor's moral constitution" (79). Reid notes facts that shape film story and film interpretation: such as, some films efface sociocultural identity and minimize the meaning of interracial union—that is, ethnicity is not made much of. Contemporary films have shown more inclination to present black women as intelligent and financially equal to their peers than films in the past (but there are still examples of unequal relationships, in terms of money and social power). Whoopi Goldberg's and Halle Berry's careers are used as examples of these facts and ideas. Whoopi Goldberg has been presented in nearly sexless interracial pairings in certain films, with her characters shown as nurturers, appealing to the "sentimental hearts and dull minds of a mainstream audience" (84). The Long Walk Home (1990), directed by Richard Pearce, and The Associate (1996), directed by Donald Petrie, however, are seen as affirmative of black feminist concerns (85). (As are Angela Bassett's roles in films such as Waiting to Exhale and Strange Days. Just Another Girl on the IRT also goes beyond stereotype to suggest the complexity of young black women's existence; 86-88.) Whoopi and Halle are the "two most significant black actresses of the 1990s" (90), an assertion that may be a fact (I admire both women for different reasons, but if that is a fact it is a chastening fact). "There is no unified African American audience, nor should there be one," writes Reid, as partial preface to stating, "Reading Whoopi through a postNegritude lens darkly, one becomes aware of the unsafe and profane elements of Whoopi Goldberg's film performances that challenge monolithic forms of blackness and womanhood" (92). The Associate, in which Whoopi Goldberg appears, is a remake of a French film (92); a film in which Goldberg's character Laurel uses a white male as the public face for her own good work, it is a film about the inability to recognize black female initiative and success, something that mirrors, in some ways, reception of Whoopi's mostly successful career, in which her personal life as much as her professional life has drawn criticism: "The politics of mainstream mediocrity would silence Whoopi's unorthodox style of dress and choice of interracial intimacies. Her dress, private affairs, and entrepreneurial wit are markers of her individual, inventive creative agency" (95). Halle Berry is distinguished by her beauty, her potential, and her having won a film industry Academy Award, an Oscar (Goldberg has won an Oscar too). One thing that is interesting to me is that some of Halle Berry's pre-Oscar win films are more interesting than her post-Oscar win films, with the early films being Boomerang, Losing Isaiah, and Bulworth, and with the film Monster's Ball, which brought Berry the Oscar, presenting "perhaps the most depressing and mismatched interracial couple that Hollywood has ever brought to the screen" (99). (Halle Berry's young African-American character has an affair with the older white racist prison guard who helped execute her black former husband.) The biracial Halle Berry's characters in several films help to restore the male characters' self-esteem, which may not be that unusual for American film in terms of women's roles, but it becomes part of a charged, even questionable situation, when it involves an African-American woman (is she simply providing selfless service of another kind?); and several of Berry's characters are on unequal footing, in terms of power and resources, with other characters in the films in which they appear (100-101). How does one evaluate the success of African-American actors, when that success occurs in work that is not without contradictions (of a political kind, of social resonance)? "Black actors, who receive international recognition for their remarkable dramatic performances, rightly deserve the awards, regardless of the moral nature of the representative image," writes Reid (101-102). That is a position that seems intelligent and yet it may be controversial for going against the common—religious and political—discourse that surrounds culture in many African-American communities (the word community itself is rather ideal: one could substitute loosely organized, or institutional, discussion groups). Images of African-Americans have a political dimension, have power and effect, and thus the kinds of images that are produced and circulated, the kinds of films that are made, are worth the consideration of writers, directors, actors, and producers, of audiences and critics. If artists have freedom to pursue their visions, those visions can be interpreted, and fairly, with equal freedom.
I thought Whoopi Goldberg looked handsome and was very engaging in a television film called Kiss Shot (directed by Jerry London; 1989), about a mother who, in desperation, makes money playing pool, and I liked her in the theatrical films Jumpin' Jack Flash (1986), Soapdish (1991), The Player (1992), and Boys on the Side (1995), among her many performances, though, annoyingly, she was not well-lit in Boys on the Side. Halle Berry made a strong impression on many people in the television films Introducing Dorothy Dandridge (1999) and Their Eyes Were Watching God (2005), and in the theatrical film Monster's Ball (2001), but it is Halle Berry's early films that impressed me most, especially 1995's Losing Isaiah (directed by Stephen Gyllenhaal, father of Maggie and Jake), in which Berry plays a drug addict whose baby is adopted by a white woman (Jessica Lange), and, upon the addict's recovery the two women struggle over child custody; and I always enjoy looking at Halle Berry (I liked her in 2001's Swordfish and 2004's Catwoman). I imagine there are aspects of their careers that the two women, Whoopi Goldberg and Halle Berry, are proud of, and aspects that they see as no more than learning experiences or even shallow pleasures. What does a woman want for herself as a human being, as an individual? What does she want to be and to do? What does she want to signify? What does she want for herself in relation to others—as a daughter, as a friend, as a colleague, as a lover, as a sister or mother or wife? What does she want her legacy to be as a citizen and a worker? What is the vision of a woman as artist? That last question is one that must be asked anew of each woman artist. I admire too many women, too many people, to create a small, short canon for all time: each name noted would stand for several more, or even many more—but, certainly, any catalog of valor sketched by me would include Toni Morrison's novels Sula and Beloved, Lorraine Hansberry's plays A Raisin in the Sun and The Sign in Sidney Brustein's Window, the essays of Audre Lorde, June Jordan, Alice Walker, and Bell Hooks, Abbey Lincoln's music albums Abbey Is Blue and The World Is Falling Down, Nina Simone's After Hours and Baltimore, Aretha Franklin's Amazing Grace and Young, Gifted and Black, and film director Kathleen Collins's Losing Ground and Martinique's Euzhan Palcy's Sugar Cane Alley, and Diana Ross in the film Lady Sings the Blues and Diahann Carroll in Claudine and Angela Bassett in Malcolm X and Boesman and Lena and African-Brit actress Thandie Newton in Italian director Bertolucci's Besieged, and the sculpture of Edmonia Lewis and Meta Fuller and the drawings of Elizabeth Catlett, and the intelligent television programs of Oprah Winfrey. Those are works that offer insight and metaphor, works that broaden the range of feeling and vision in shared culture, works made by exceptional women. Those women made work that has the charm, feeling, and will of personality, the depth of thought, of lasting wisdom, and the beauty, invention, and resources of craft, of resplendent art.
According to the author of Black Lenses, Black Voices, Mark Reid, the resources of "womanist postNegritude understanding of social phenomena rejects analysis that is determined by a singular or hierarchically constructed identity politics because such identity constructions maintain racial fantasies that deny the fluidity of a transracial understanding" (106). Our understanding is influenced by, but not limited to, our social or political identities: humanity is greater than that. That declaration is a prelude to discussion of black male film director Haile Gerima's work, which Reid sees as womanist, or black feminist. Haile Gerima, a longtime resident in the United States, is an Ethiopian emigrant. In Haile Gerima's early 1990s film Sankofa, a return to the past for healthful—spiritual, political—reasons takes place (107), and is a continuation of Gerima's focus on the spiritual, political, and practical situations of black women, and black women as exemplars of family and community (107). (Do black women as exemplars, as models of behavior, reduce black women to a kind of use; and how is that feminist? Isn't self-awareness and self-realization the goal?) In Gerima's Bush Mama (1976), a black mother kills a rapist cop attacking her daughter (108), a change in black films, which did not in the past consistently or fully deal with political consciousness or politically charged acts of rebellion or aggression. (The protection of a girl by a mother definitely rates as humane, and feminist, and right by any other word in my book.) In Sankofa (1993), a film of time travel, a modern fashion model is returned to the African and African-American past, returned to slavery, branded, and raped, forced into historical consciousness. (That seems a rather brutal educational process to me, although the film is one I have admired. The film presents the woman as moving from a kind of superficiality in her role as a model to a kind of depth in terms of her solidarity with black peoples past and present, but I think that part of what freedom means is the ability to be shallow as well as deep.) The return to history and then to the present/future are metaphor. The film was not welcomed by film festivals or film distributors. The marketing of Sankofa by Gerima in theaters, churches, community spaces, alternative viewing sites, made it possible for the film to be a success. However, its troubling reception, along with the difficulty of Charles Burnett and Julie Dash and others to work at the level at which their talents deserve, is still an example of the marginalization of black independent directors (116). What can culture, or even democracy, mean when so many and so much is slighted? The state—and fate—of African-American independent film directors is of signal importance for American film culture and society.
However, I see hope: hope in the career of Evan Ross, acclaimed for his performances in the theatrical films ATL and Pride and the television film Life Support (Evan is the son of Diana Ross), and I see hope in the work of Don Cheadle (Devil in a Blue Dress, Rosewood, Hotel Rwanda), of Terrence Howard (The Best Man, Hart's War, Ray), Kerry Washington (Our Song, Lift, Ray, The Last King of Scotland), Kimberly Elise (Beloved, John Q, Woman Thou Art Loosed), and Sanaa Lathan (Love & Basketball, Out of Time, Something New). These are new generations. These are actors whose impressions are strong, whose work has spoken to a significant public and is likely to inspire new projects, new possibilities. We can look for what they, and others, will offer—or we can refuse to see.