After Dogme 95: the British experience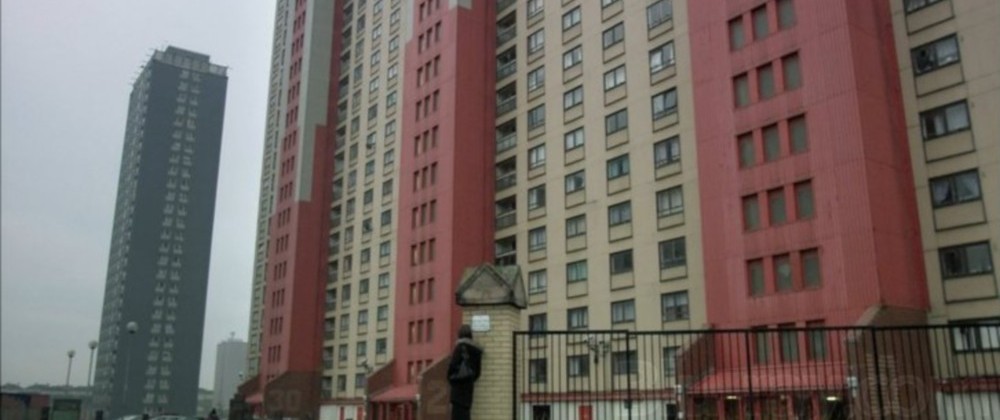 Launched in 1995 by Danish film-makers Lars von Trier and Thomas Vinterberg (2000), Dogme might be characterised as hair shirt film-making, distaining technical trickery in favour of location shooting, natural lighting, hand-held camerawork and the avoidance of superficial action. There was a tongue-in-cheek quality about a manifesto which ended with the stipulation that the director should not be credited, but at least it focused attention on the fundamentals of film-making which could be overlooked among the action heroes, franchises and special effects of commercial cinema. As with other artistic movements, Dogme served as a rallying point for like-minded people rather than offering a prescriptive set of rules. Over the ensuing decade Dogme languished as directors tired of its restrictions, or like Susanne Bier went on to more expensive projects. My purpose here is to examine two British responses to Dogme.
The Advance Party arose from discussions between Sigma Films and von Trier's Zentropa. The principle was to provide a set of seven characters with back stories for three films set in Scotland. The same actors would work on all three films, though the stories were not interconnected. The films would be produced concurrently, with help of development funding from the Glasgow Film Office (Glasgow Film Office n.d.a: 1; Glasgow Film Office n.d.b). In practice the production of Donkeys was beset with difficulties including a change of scriptwriter (Graham 2010), while Mikkel Nørgaard's contribution fell by the wayside. The consequence was that Andrea Arnold's Red Road (UK/Denmark, 2006) was the first of the trilogy to appear.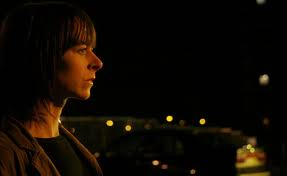 Jackie (Kate Dickie) watches the Red Road flats
Jackie (Kate Dickie) is a CCTV operator. While watching the screens she glimpses a man she recognises and an increasing amount of her time is spent tracking his movements. The man is ex-prisoner Clyde Henderson (Tony Curran). Jackie discovers his address and uses a party in his flat as an excuse to visit him. They begin a relationship, but she fabricates a complaint of rape against him. When he is arrested, his friend and former cellmate Stevie (Martin Compston) breaks into her house to threaten her. She explains that Clyde killed her daughter and lets him see her photograph, which shocks him into leaving. Using the CCTV tapes she replays the moment of Clyde's arrest and watches as his estranged daughter Bronwyn (Jessica Angus) tries to visit him at home. This realisation of his humanity prompts her to withdraw her complaint. Instead she confronts Clyde, who killed her husband John and their daughter in a motoring accident. This meeting and a visit to John's parents exhaust her anger.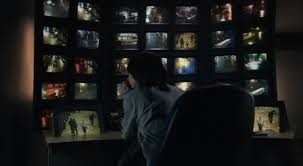 Jackie (Kate Dickie) at work in Red Road
Coppola's The Conversation (1974) comes to mind in this study of surveillance. Is the victim Clyde, who is trying to live a law-abiding life, albeit with some dubious friends, or Jackie, who is using her work for her own questionable purposes? Where Red Road differs from The Conversation is firstly in its impoverished milieu of wasteland, run-down shops and high-rise flats furnished from skips (the infamous Red Road flats are currently being demolished). The other difference is that this is a revenge tale and therein lies a potential problem. The reason for Jackie's actions is kept from the viewer until late in the film. For Hannah McGill (2006) this is a strategic decision: 'Like the Dardennes, Arnold declines to probe her protagonist's subjective experience or to anticipate her next move. The film's viewers are in the same position as a CCTV camera operative: they can only follow the action, making sense of it as they go.' The dramatic conceit of denying us Jackie's motivation creates suspense, the danger being that solving the mystery takes precedence over character. As long as we are denied an emotional understanding of her plight, she risks becoming two-dimensional. We know nothing of her life outside work aside from a desultory affair with the married Avery (Paul Higgins). She is a self-contained figure who stands apart even from her family. The exception is when she attends her sister-in-law's wedding to the surprise of the bride. Even then she slips away early after an awkward encounter with her father-in-law, Alfred (Andrew Armour). We discover why Jackie is troubled, but given that she plans her revenge after building up a hatred of Clyde over a period of years, it seems unconvincing that she would abruptly change her mind on discovering that he is estranged from his daughter. The Advance Party rules required an upbeat ending, but this sudden focus on the value of the family and a lightening of the mood seems perfunctory. Michael Stewart (2012: 553) takes a more benign view: 'If her CCTV world constituted a melodramatic fantasy of sorts — a world close enough but far away, of mini-dramas, death and disappointment, but above all humanity and connectedness — then _Red Road_'s ending indicates that she has left this safeguard behind and is ready again for the real world.' A pertinent issue is whether the real world might include some awkward questions from the police about her change of heart.
For Mette Hjorte (2010: 57) the film shows us the psychology of voyeurism and the one-way empathic relationship which Jackie develops with the people she observes. Hjorte notes how she greets a man walking his dog as an old acquaintance, but because she has only followed him on CCTV screens, there is no shared basis for this familiarity. What Hjorte does not mention is the rarity of a female voyeur, which adds to the conundrum of why Jackie is so interested in Clyde. Male voyeurs generally have a sexual motive as the complementary Hallam Foe (David Mackenzie, UK, 2007) illustrates. McGill (2006) detects a developing sexual interest by Jackie leading to erotic fulfilment, though the cold-blooded preparations to make the rape believable militate against this.
Donkeys (Morag McKinnon, UK/Denmark, 2010) is equally bleak, though leavened by black humour. Market trader Alfred (James Cosmo) is shaken by a health scare and wants to make amends for the mistakes in his life — or wants somebody to look after him. His only friend is the long-suffering Brian (Brian Pettifer), who helps him in this enterprise. Alfred makes contact with his estranged daughter Jackie (Kate Dickie) by sending a birthday card, even if he does choose a 'with sympathy' card. Ten years earlier, when he was drunk, he asked her husband John to drive him home. John was killed on the way back and Jackie blames her father. Her own daughter Bronwyn (Natasha Watson) proves more sympathetic and tries to bring about a reconciliation. A second plot strand involves her neighbour's son Stevie (Martin Compston), newly released from prison, who returns to visit his dying mother Margaret. In a moment of anger Stevie says that he wants to kill his unknown father. This alarms Alfred, who fears that Margaret will reveal their secret. Brian's youth was clouded by alcohol, so Alfred can deceive him into believing that he fathered Stevie. Bronwyn succeeds in pairing off Jackie and Stevie. When Alfred discovers this, he is forced to reveal that he is Stevie's father.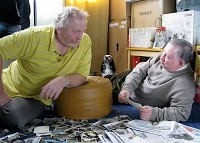 Alfred (James Cosmo) and Brian (Brian Pettifer) in Donkeys
While Red Road is a nominally a thriller and Donkeys a black comedy, both films are set in working-class Glasgow, which gives them a similar feel and texture. In this world of unemployment and hard drinking, men are old at sixty. All they can cling to is their self-respect. This is evident when Alfred first goes to hospital: it is hard to retain dignity in a hospital gown. Similarly, when Brian meets his supposed son Stevie, he gives his own explanation as to why Margaret kept the knowledge to herself: 'I think she didn't want to hamper me with the responsibilities. She knew it would have scuppered my chances in life. She didn't want to waste my future.' Those chances amounted to little, for Brian admits to not settling to anything and being unemployed for twenty years.
Red Road received critical praise on its release, eclipsing Donkeys which moved from film festival to DVD. Cosmo's granite-like presence gives the latter film its tragic heart. Alfred might be a chancer, but we will him to succeed in his reconciliation with Jackie. When he puts on his suit to receive his cancer diagnosis, Cosmo invests the role with dignity. The film's promotion as a comedy may not have improved its chances: the publicity material (Sigma Films n.d.) describes it as hilarious, but it is hard to raise a laugh as Alfred involves Peter in his assisted suicide. Wilbur Wants to Kill Himself (Lone Scherfig, Denmark/UK/Sweden/France, 2002), another Scottish-Danish collaboration from a Dogme graduate, had already taken us in this direction. Rather than the action of Donkeys developing from its characters, there is a reliance on plot contrivances. If Margaret tells the truth about Stevie's father, Alfred's lie to Brian will be exposed; if she keeps silent, then the father will remain unknown. Naming Brian as the father serves no logical or dramatic purpose and complicates the story unnecessarily. When Brian discovers that he has been hoodwinked, his friendship with Alfred is severed. For the purposes of the film's resolution it has to be patched up summarily so that Brian can assist in Alfred's suicide. Alfred as devised by Scherfig and Anders Thomas Jensen is a liar, but this is out of character for the Alfred of the film, which illustrates how far the script drifted from its remit. Once again the required upbeat ending seems perfunctory and imposed: a tape of Demis Roussos singing 'Una Paloma Blanca' is played at Alfred's funeral and continues as Jackie and Stevie visit the hospital to see Margaret, while Brian gives Bronwyn a driving lesson. It would be intriguing to know how the 'different perspectives' of producers and director compromised the film. As McKinnon put it, 'Some things that some people might have enjoyed had to go … Sometimes directors don't get the final say.' (Graham 2010).
Advance Party is an intriguing idea. It provides a ready-made repertory company with actors who are used to working together. Fledgling directors are more likely to accept the restrictions this imposes if it offers a route to making a film. In this case the directors of both films are women; combined with the central role of Kate Dickie, there is no room for Clydesideism which Sarah Neely sees as glorifying the strength of the working-class male (2011: 52). The men in both films are flawed and vulnerable, but this applies to many Scottish films.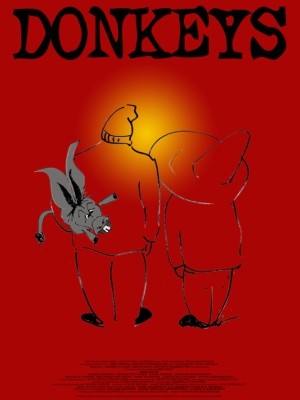 While Advance Party provided a framework for getting films produced, the concept was flawed. One reason for Donkeys_' lack of critical and commercial success might have been that audiences were disconcerted by changes in the characters known from _Red Road. In Donkeys it is Jackie's father rather than Clyde who is responsible for her husband's death, while she is the one with a named Bronwyn. In Alan Ayckbourn's trilogy The Norman Conquests, the same characters appear in all three plays. We come to know them and their relationships and they are consistent. The Advance Party strategy is an unhappy compromise. McKinnon was aware of the danger, pointing out that in Kieslowski's Three Colours trilogy, 'People ended up not liking White because of how it compared to the other two, and that's what may happen here.' (Kaufman 2007) As an added handicap, the sort of delays which are common in film production mean that actors may take other work or fall ill. James Cosmo replaced the ailing Andrew Armour, breaking the rule that the same actors should appear in both films (Graham 2010). Donkeys might have been more of an ensemble piece had Armour played the role. Despite these setbacks, Advance Party 2 from 2009 was more ambitious (Scottish Screen 2009; Irish Film Board n.d.). With additional backing from the Irish Film Board and the UK Film Council, eight films were to be made by first-time feature directors using an amended set of rules. The UK Film Council and Scottish Screen have since been subsumed into other organisations, so the project seems destined to remain unfulfilled.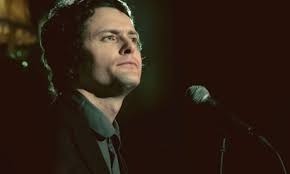 Ed (Edward Hogg) as a stand-up comedian in The Comedian
Tom Shkolnik has not explicitly linked The Comedian (UK/France/Russia, 2012) to Dogme, but he imposed similar strictures on the production (Davidson 2013). Dialogue was improvised after a long rehearsal period. Different outcomes were shot during rehearsals, with subsequent scenes being developed from Shkolnik's choice among the rushes. Actors used their own names for their characters. Only one take was allowed for the final shoot, which took place on location and with ambient lighting. Businesses could not be stopped from operating while shooting took place. If these strictures give a roughness to the finished product, Shkolnik would not regard this as a defect, but as a contribution to the feeling of immediacy.
Ed (Edward Hogg) is 32 and works in a call centre selling cancer insurance to women. The job bores him and he is falling behind in his sales targets. What gives meaning to his life is being a stand-up comedian. He lives with aspiring singer/songwriter Elisa (Elisa Lasowski). An encounter with artist Nathan (Nathan Stewart-Jarrett) after a gig leads to an affair. Nathan joins Ed's social circle. When Elisa discovers the nature of the men's relationship, she is upset and asks Ed to leave her flat. Meanwhile he gives up his job after a row with the supervisor. A visit to his family home in Sheffield does nothing to bring certainty to his life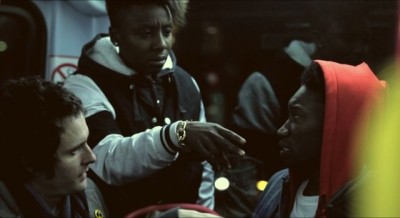 Ed (Edward Hogg) and Nathan (Nathan Stewart-Jarrett) argue with a homophobic passenger (Azara Meghie) on a bus in
The Comedian
Shkolnik's way of working precludes a narrative arc. There is a randomness about Ed's encounters, which might be the point: Shkolnik wants the action to flow like jazz (Davidson 2013). Ed's stand-up routine was devised by Hogg and performed in front of a real audience who were unenthusiastic. The film might have developed differently had their response been different, but Shkolnik's principle of using one take means that Ed's discomfort appears in the film. Similarly, Elisa's songs are her own songs performed before a real audience. It takes a brave actor to embrace this approach. An exception to Shkolnik's resolute lack of planning is the scene in which Ed and Nathan are taunted on a bus and the epithet 'gay' is hurled at them. The incident was planned in outline though the actors were unaware of this, suggesting that however collaborative the filming process, the director was first among equals.
Sexuality could have been central to the film given the crosscurrents between Ed, Nathan and Elisa. Instead, Shkolnik focuses on the ennui, excitement and danger of big city life and in particular on the moment when the realisation dawns that unfulfilled ambitions may remain unfulfilled. More than many films with higher budgets, The Comedian is embedded in London life, a process which is aided by being shot from chest height, so that we are among the crowd in the pub and the customers in the fish and chip shop. As Shkolnik puts it (Davidson 2013), "I thought it would be interesting to make something in that space between gritty estate dramas and Notting Hill (1999). [Those films] miss a whole gamut of experiences." One factor in the film's success is the quality of the dialogue. Though improvisation gives it the stamp of authenticity, it never descends into banality, or the archness which can afflict Mike Leigh's films. Notable is the extended exchange between Ed and a minicab driver (Nyasha Hatendi) which concludes the film. Along with Ed we only glimpse the driver's face in the rear view mirror. Any notion of a cab driver being a stock character is dispelled as we learn his life story. Born in America of Zimbabwean parents, he settled in Britain after gaining a visa by means of a marriage of convenience. Now he feels that he is living a lie. Ed's experiences help him to understand this. The driver advises him, "I'm sure you always think that the choices you're going to make will be bad … You just have to follow your gut — that's the only choice you can make. Follow your gut." Ed reveals more about his own feelings: "I can't be this person any more. I'm fed up with it… Doing my head in." Yet by the end of their journey, something has changed. A seemingly irrelevant character has helped him to look anew at his own situation. Finally the driver can say, "You know you're going to be all right?" "Yep," is Ed's response. Though in practical terms nothing has changed, the sense of a resolution is more convincing than in the two Scottish films.
All first-time directors have to accept the limitations which a miniscule budget imposes. What distinguishes the three films under consideration is that the limitations were made public, which allows us to understand some of the decisions made by directors. The Advance Party project was ambitious and provided opportunities for new directors, but it came up against problems which exposed its idealistic nature. Both Advance Party films rely on plot devices which require a suspension of disbelief on the part of the viewer. Once the puzzle at the heart of Red Road is revealed, the film cannot be viewed in the same way again, but the characters can be appreciated anew. It took me three viewings of Donkeys to unpick the intricacies of the relationships and arrive at the point where I could enjoy the humour. Shkolnik eschews a conventional narrative, which may disconcert some viewers. Ed makes some silly decisions, but we can empathise. What is more important, we want to empathise. All three films repay close examination and any flaws are more than made up for by the quality of the acting.
References
Davidson, A. (2013), 'Funny boy: Tom Shkolnik on The Comedian', BFI, updated 20 December, Accessed 4 January 2014.
Glasgow Film Office (n.d.a), The Advance Party: a timeline, Accessed 4 January 2014.
Glasgow Film Office (n.d.b), Advance Party, Accessed 4 January 2014.
Graham, J. (2010), 'Disasters to Donkeys — how a cursed film shoot came good', Guardian, 18 November, Accessed 4 January 2014.
Hjorte, M. (2010), "Affinitive and milieu-building transnationalism: the Advance Party initiative," in D. Iordanova, D. Martin-Jones and B. Vidal (eds), Cinema at the Periphery, Detroit: Wayne University Press, 46-66.
Kaufman, A. (2007), 'When the party's over: Red Road launches Advance Party, but other films stalled', Indiewire, 11 April, Accessed 4 January 2014.
McGill, H. (2006), 'Mean Streets', Sight & Sound, November, Accessed 4 January 2014.
Neely, S (2008), 'Contemporary Scottish cinema', in Neil Blain and David Hutchison (eds), The Media in Scotland, Edinburgh: Edinburgh University Press, 151-65.
Sigma Films (n.d.), Donkeys synopsis, Accessed 4 January 2014.
Stewart, M. (2012), 'Falling, looking, caring: Red Road as melodrama', Journal of British Cinema and Television, 9 (4), 548-68.
Trier, L. von and Vinterberg, T. (2000), 'The Dogme 95 Manifesto and Vow of Chastity', P.O.V, (10), Accessed 4 January 2014.