A Different Kind of Man: Mark Ruffalo in Infinitely Polar Bear and Spotlight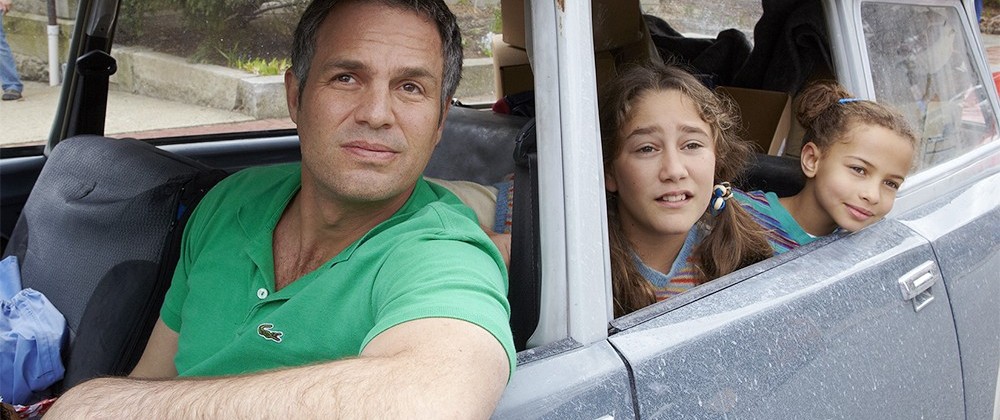 Infinitely Polar Bear is a small film: at its center is one family, a father, mother, and their two daughters, a biracial family, smart and funny and loving; and the family's distinction is rather unpredictable—the father is diagnosed as manic-depressive, as bipolar, and that is a significant factor in all their lives. The film Infinitely Polar Bear takes place in the late 1970s, 1978 to be precise, but begins with a flashback to the late 1960s, when the parents met in Cambridge, Massachusetts, before returning to its current day, during which the father is fired from a job and proceeds to take his daughters for a joyous trek through park and woods. He is an eccentric and nurturing man—but, of course, he is not only that. In a change of scene, outside the family home the father is having a wildly manic episode: the mother packs to leave, and piles the children into a small car, huddling with them, while the father, in nothing but red bikini briefs on a cold day, is exuberant and ranting. The mother explains that Daddy is a good person, but sick. The film, with its good humor and musical accompaniment of spirituals, blues, rhythm-and-blues, and rock, suggests that some happy families are happy in a quite unique way.
Infinitely Polar Bear, a film of scenes and seasons, of love and laughter, of mania and depression, was written and directed by Maya Forbes, inspired by her own life; and it was produced by her husband Wally Wolodarsky. Mark Ruffalo plays the father, Cameron Stuart, and Zoe Saldana plays the mother, Maggie Stuart, and the oldest daughter, Amelia, is played by Imogene Wolodarsky, the daughter of the director, and the youngest daughter, Faith, is played by Ashley Aufderheide (the children are wonderfully cast—they do not seem at all like actors: they are naturally appealing, with emotion and sense—enthusiasm, embarrassment, frustration—bursting out of them as the situations inspire). The authorities come for the raving father, and the mother leaves the father and gets a new job and apartment with her daughters, while the father is in a halfway house. The mother is intent on her daughters getting a good education, as she and her husband had, and puts them in a better school in another district—a choice that evades legal requirements. "In many ways, Maggie is the most interesting character in the movie, partly because of her ambition, partly because of how she navigates race. But she's also underwritten, and the grit that she initially exhibits fades amid the laughter and mothering," observed a skeptical Manohla Dargis, reviewing the film in The New York Times (online June 18, 2015; in print June 19).
When Amelia (Imogene Wolodarsky) visits her father Cameron (Mark Ruffalo) in the halfway house, Cam relishes her comparison to a visit with Mr. Tumnus in the Narnia stories. When Cam is with Maggie (Zoe Saldana) and the children, and cooks a delicious meal the children are delighted by, and Cam is proud of, Maggie says, "I need a husband, not a wife." Yet, after Maggie gets into a graduate program in business, with a scholarship to Columbia University, she decides that the children, Amelia and Faith, should live with Cam in her apartment. Cam hesitates at the responsibility but likes the idea of taking on such purpose and routine as indication of healthy progress. Cam's parents—particularly his mother—are not sure that he can handle the responsibility; but Maggie is determined to get the family out of poverty. Although Cam comes from a well-established family that helps pay the rent, he, apparently, has no income of his own.
Cam (Ruffalo) shows his daughters the Beacon Hill house where his grandmother Gaga grew up—and he tries to take them on a tour of it, although the family no longer has any current association with it, and the new owner refuses. The children are mortified. The acting of the children—Imogene Wolodarsky as Amelia, Ashley Aufderheide as Faith—is remarkably astute, almost to a shocking degree. They love their father but are embarrassed by him too. He is adventurous and tries to teach them practical and enjoyable things. "Don't be helpless," he tells them. His personality spills over everywhere, into everything. Cam tells them he got kicked out of several schools, Exeter and Harvard, for different reasons. He is a hoarder too—so the apartment becomes crowded with possessions and projects. Cam also feels confined by space—and responsibility, and he leaves the children alone for an experience of freedom. He dances in a bar to an Ike and Tina Turner song. (The film's musical progression—from spirituals to rhythm-and-blues to rock—forms its own timeline.)
Ruffalo in Infinitely Polar Bear
The film has the fragmented form and the happy-sad details of life. Wes Anderson, the director of The Grand Budapest Hotel and Darjeeling, recommended the premise of Infinitely Polar Bear to its director Maya Forbes. Speaking with Richard Lawson of Vanity Fair, Maya Forbes said, "Wes Anderson has been a friend of mine for a long time and I was talking about some idea I had for a movie. It was two girls looking for Sylvia Plath's lost journal. And Wes said, 'You know what? What you've got to write about is your dad raising you two girls.' And I thought, Who's going to be interested in that? You know, sometimes you think your own life isn't interesting?" (online June 19, 2015). The suggestion corresponded with Forbes's own inclination to contemplate and write about her father, as well as with the resonate age of her own children: "I guess it wasn't until I had my own daughters and they turned the age that I was when my father had a big manic break, his big breakdown, and it caused me to reflect on what were the lessons."
"Maggie strains credibility; Cam playfully demolishes it. He's part Daffy Duck, part magical madman, and about the cuddliest, most adorable mentally ill character imaginable. That's in keeping with the rest of this movie, which—from its cute title to a jangly musical score that's sweetened with clapping and childish voices—remains insistently upbeat, so much so that it, too, can feel as if it were in the grip of a manic episode," wrote the New York Times Manohla Dargis (June 18, 2015). (Does Dargis ever exhaust her catalog of jeers? Do people still buy that cynicism is a sign of sophistication?) In The Los Angeles Times, film reviewer Sheri Linden wrote, "Saldana's understated turn as his wife, Maggie, is persuasively vulnerable beneath the take-charge resolve," though Linden did note that "Forbes pushes the positivity a bit insistently, yet one of the most appealing aspects of her film is its depiction of kids thriving in an unorthodox household" (online June 18, 2015). Variety's film reviewer Justin Chang, who had seen the film months earlier at the Sundance film festival, wrote that "while there's no shortage of hilarity in Forbes' episodic script, it always seems to well up from a place of authentic, deep-rooted feeling, even as it remains firmly grounded in the mundane rhythms of the Stuarts' impoverished everyday existence" (January 18, 2014). Justin Chang thought that "as embodied by Ruffalo with a bracing combination of belligerence, restraint, outright silliness and a peculiar sort of grace, Cam is a satisfyingly complex creation who comes off as far more than the sum of his erratic behaviors" and "Saldana capably conveys Maggie's strength, selflessness and initiative, as well as her bittersweet sense of loss when she realizes her plan has worked better than she had perhaps anticipated." One of the things I always have found interesting about Zoe Saldana, and it is true here too, is that she expresses love with sympathy—I was startled when I first observed it, as that is unusual for a young person (and I suspect I will find it chilling if and when she stops doing that).
When Maggie returns to Massachusetts for one of her regular visits from New York, Cam (Ruffalo) has the apartment cleaned—Maggie is surprised and pleased. Maggie (Saldana) and Amelia (Wolodarsky) talk; and Amelia asks if Maggie regrets marrying Cam, and Maggie says no. After Maggie leaves, the apartment becomes messier and messier—and there are tensions between the father and his daughters over different duties, from hair care to cleaning dishes. When the mother returns and sees the mess she is crestfallen. The film tracks several seasons in the family's life; and, soon, in winter the father purchases another old car with a good engine and, dressed in suit and bowtie, takes the girls to see their great grandmother Gaga in her mansion. Gaga offers Cam her Bentley but he suggests private schooling for the girls—but Gaga does not think that is a good idea. Cam, later, tries to explain to his daughters why the family could not keep or sell the car—and the idiosyncratic rules regarding money and gifts among the rich.
Winter goes and spring and summer come, with various incidents—a new dog, a family fight, a bout of parental depression, and fun with neighborhood. When Maggie returns in the fall, Cam and Maggie talks about how the oldest child says she does not think that she, Amelia, looks black and how when Amelia tells children that she is black they think she is deluded. (Maggie and Cam agree that as Maggie, her mother, is black, Amelia is black.) Maggie has a job interview in Boston, meeting with a couple of officers in a financial firm—but the responsibility of her having children, and skin color, seem to close the door to opportunities. "They want people like you," Maggie tells Cam. Maggie decides to take a job in New York, taking the girls with her, leaving their father behind—but then Maggie considers another option.
Cam allows Mark Ruffalo one of his most charming performances—and Ruffalo has been featured in so many films that take place in Boston, such as What Doesn't Kill You and Spotlight, I thought Boston might have been the place he grew up in—that it was one of the reasons he was hired. Boston was not. "I did grow up in Kenosha, Wisconsin, around a lot of my mom's family. I had a lot of cousins and aunts and uncles around me, and my sisters and my brother. Probably the most formative part of it was that we grew up on the edge of a forest. It wasn't a big forest, but it was enough. When you're a kid, it feels gigantic. I spent a lot of my time in the forest, playing. You know, back then a kid could leave the house in the morning and not come back until three or four in the afternoon and nobody batted an eye. We'd get on our bikes and ride around. It was a pretty free childhood," Mark Ruffalo told Julia Roberts, his co-star in The Normal Heart (2014), who interviewed him for Interview magazine (May 21, 2014). Ruffalo played the journalist Ned and Roberts the doctor Emma in the Ryan Murphy's cable motion picture production of Larry Kramer's play The Normal Heart, about the reaction to the early days of the great health plague triggered by the acquired immune deficiency syndrome. Mark Ruffalo told Julia Roberts about being shy as a boy and young man but wanting to reveal what he discovered inside himself. Ruffalo struggled as an actor in Los Angeles. Ruffalo told Brian Hiatt of Rolling Stone magazine, "I didn't really fit in. I was anachronistic within my age group. Cause I was studying with Stella Adler, and I was working on Inge and Ibsen and Chekhov, and they were doing Who's The Boss episodes. My funny joke was, I finally came to New York, to do This is Our Youth, and I walked into the city, and I went, holy shit I'm a swan! What the fuck was I doing in L.A.? Of course I didn't work [there]. 'Cause I was the ugly duckling in L.A!" (June 19, 2015).
It is hard to believe that Ruffalo walked away from an acting career several times. Mark Ruffalo's screen presence is unique—earthy, sensitive, sensual; honest, intelligent, lazy, passionate, self-deceiving, funny, hurt, petty, sweet; and his filmography contains works of differing qualities of artistry and success: Ride with the Devil (1999) and You Can Count on Me (2000_), Windtalkers (2002), In the Cut (2003), Eternal Sunshine of the Spotless Mind (2004), Collateral (2004), We Don't Live Here Anymore (2004), Zodiac (2007), Reservation Road (2007_), Blindness_ (2008), What Doesn't Kill You (2008_), Shutter Island_ (2010), The Kids Are All Right (2010), Sympathy for Delicious (2011), Now You See Me (2013), Foxcatcher (2014), and Infinitely Polar Bear (2015), and Spotlight (2015). Some artists express what human beings are inclined to be in a particular place and time—and some express what is possible by fully fulfilling possibility; and in You Can Count on Me, Ruffalo's character, a drifting young man, is the first—and in Shutter Island he, as a caring authority, is the second.
Many of us became aware of Mark Ruffalo, Wisconsin boy and a student of the Stella Adler Institute, with Kenneth Lonergan's film You Can Count on Me, a film of intimate exploration, comic and sad, of possibilities followed and forfeited, of life and death, responsibility and irresponsibility, maturity and immaturity, money and poverty, marriage and adultery, and expression and repression; a film that focuses on the reunion of two very different and long-orphaned siblings, Samantha and Terry Prescott (Laura Linney and Mark Ruffalo). Samantha, with a young son, is responsible and her brother is not. "You Can Count on Me is an exquisitely observed slice of upstate New York life that reminds us there are still plenty of American communities where the pace is more human than computer-driven. The movie dares to portray small-town middle-class life in America as somewhat drab and predictable," observed New York Times writer Stephen Holden of You Can Count on Me (November 10, 2000), before saluting the performances of Ruffalo and Linney: "In their beautifully harmonized performances, Ms. Linney and Mr. Ruffalo evoke this sibling bond with an astounding depth and subtlety. Ms. Linney's Samantha may be a responsible mother and churchgoing Catholic, but we learn that she was a wild teenager who has had to choke back her rebellious instincts in order to bring up her son" and "Mr. Ruffalo's Terry is a classic overgrown adolescent. A good-hearted drifter with a perversely self-destructive streak, he has recently spent time in prison after a bar brawl and has also impregnated a suicidally inclined girlfriend in Worcester, Mass. The main reason for his visit to Scottsville is to borrow money from his sister to deal with the situation." Stephen Holden remarks on the complex—boyish, vulnerable, angry, obstinate—tones in Ruffalo's portrayal, elements he would return to in other films.
Filmmaker John Woo had made Bullet in the Head (1990) and Face/Off (1997), some vivid and violent photoplays, and his Windtalkers was a film with an intriguing premise—Native Americans (the Navaho), a fundamental but neglected part of American history and culture, were recruited as Marines to use their language, a resource largely unknown to foreigners, specifically the Japanese, as a code during the twentieth century's second world war; and the film featured Saulteaux actor Adam Beach with Martin Henderson, Nicolas Cage, and Mark Ruffalo. "Windtalkers is the best of Woo's American movies, and the one with the sturdiest and most direct links to his earlier pictures," judged the online magazine Salon's film critic Stephanie Zacharek (June 14, 2002), although Zacharek faulted the photoplay's structure and pacing as well as is insistence on violence. Other critics found the film marked by clichés of image and rhetoric, and a lack of realism, as well as an excess of violence. The performance of Ruffalo as Corporal Pappas seems to have inspired little commentary, but I think Ruffalo is too be commended, at least, for participating in such an interesting (and, arguably, necessary) project. He is usually in distinctive films. Ruffalo was with Meg Ryan in In the Cut (20023), a film focused on a teacher, and a policeman investigating a murder, a film in which sex in twinned with violence, somewhat reminiscent of Hitchcock and Brian De Palma; and in the comic, surreal Eternal Sunshine of the Spotless Mind, a more enthusiastically welcomed film, one about a couple who meet, love, and seek to forget each other, in which Ruffalo plays a memory-erasing technician in a story of love, pain, and the desire to leave the past forever.
Blindness was a magical realist fiction with a critical social perspective, in which a country's cosmopolitan citizens suffers sudden blindness, a thorough whiteness of vision, inspiring public fear and fury and requiring quarantine, and creating a struggle for survival, with some of the worst aspects of human behavior emerging, a novel written by Jose Saramago, and filmed by Fernando Meirelles, starring Mark Ruffalo and Julianne Moore. The film's critical response was quite mixed, but film reviewer Mike Scott of The Times-Picayune in New Orleans found it beautiful and moving (October 3, 2008). "Ms. Moore's pale, fine-boned face is too precise and delicate an instrument to obey the rather simplistic directives of the story, and the rest of the cast shares her inability to sacrifice physical or psychological nuance in the service of vague ideas," A.O. Scott had written in the New York Times (October 2, 2008), noting the film's impressive visual resources and its blend of cruelty and sympathy, horror and comedy. Ruffalo's performance is very strong, and touching, in What Doesn't Kill You (2008), in which Ruffalo played a man who is a criminal and a father and friend (Ethan Hawke is his co-star in a true life story, the film directed by Brian Goodman and Rand Ravich).
Mark Ruffalo was heroic in Shutter Island (2010), playing a man of courage and empathy, a man of more than one kind of reality, in a Scorsese film starring Leonardo DiCaprio. (What is real? What is tormented imagination?) It was a different kind of character for Ruffalo, who was also in a film that presented a lesbian couple as its core, The Kids Are All Right: "Paul, a bearded restaurateur, turns out to be randy but unthreatening, warm to the touch but cool about stuff, with a dash of smugness in his easy smile, all of which is a way of saying that he is played by Mark Ruffalo," wryly remarked film critic Anthony Lane in the New Yorker (July 12, 2010), of Lisa Cholodenko's The Kids Are All Right, the film about lesbian parents and the man who was their sperm donor, featuring Annette Bening and Julianne Moore with Ruffalo; a clash of parents and children, of woman and man, and of values and choices. The children find the stranger father and he has a startling effect on the family. Anthony Lane thought the bourgeois hip characters, so intent on political correctness and yet foolishly prejudiced, a bit much. Yet Joe Morgenstern of the Wall Street Journal described the film "thrillingly funny and casually profound" (July 9, 2010).
Mark Ruffalo made his feature film directing debut with Sympathy for Delicious (2011), which takes on several subjects: spiritual belief, personal catastrophe, homelessness, and the rock scene, while focusing on a musician who becomes paralyzed and seeks a miracle, healing through faith, and finds that—although he, Delicious (Christopher Thornton), is not the immediate beneficiary, as he has the ability to heal others of their illnesses but not himself; and Delicious is befriended and exploited by a local priest, Father Joe (Ruffalo), before becoming involved with a decadent but ambitious rock band led by someone called The Stain (Orlando Bloom). It is a grungy yet well-lit film, full of compelling dramatic scenes and some characters who are compelling but hard to like. The film, though contemporary, is a kind of fable of the importance of self-transcendence, a singular kind of miracle. Sympathy for Delicious was written by Ruffalo's friend Christopher Thornton after Thornton had an accident while climbing and was paralyzed. (Thornton had considered quitting acting, but his friends, including Ruffalo, insisted he continue. Ruffalo thought, too, that the paralysis, a challenge, had given Thornton greater depth and range as a human being.) "Morality play, relationship drama, capitalist fable and entertainment industry satire— Sympathy for Delicious boldly and indescribably dances between genres," wrote Scott Macaulay in Filmmaker magazine (April 17, 2011). Speaking with Scott Macaulay, Ruffalo said, "I like to think of the movie as a modern fable, but I still wanted it to resonate with honesty in people. I think what a fable does is capture a universality, some aspect of being a human being. Hopefully you learn something from it. There's a teaching to the story."
Before the public could see Mark Ruffalo with Channing Tatum as the brothers and wrestlers who enter the orbit of a disturbed millionaire, in the film Foxcatcher (made in 2014 and released in January 2015), people could watch at home The Normal Heart (2014), a Home Box Office production, in which Ruffalo gave a passionate performance as a journalist who refused to watch his beleaguered, despised community die without a fight. Passion would mark Ruffalo's performance in Infinitely Polar Bear and Spotlight as well, films that brought attention and awards.
Of Infinitely Polar Bear, with its story of a biracial family's love and struggle, Mark Ruffalo told Vanity Fair's Richard Lawson, "I got a script that really jumped out at me. I read it and felt that it had so much humor and pathos and honesty. And the fact that Maya had written it, and it was her father, and it had such equanimity, that she was so fearlessly looking at him and herself as a kid. I loved it, I thought it was funny, I was really moved by it. And I also thought it would be a great part to play" (June 19, 2015). Ruffalo collaborated with director Maya Forbes for about three years on the project. He said that he did not know Boston and its blueblood class. Ruffalo spoke directly of the film's subject when he said, "'What is normal?' really becomes the question. What is normal, and how are we fooled into thinking it's something other than what we're doing at any given time. Every family has either a drug addict or an alcoholic or some sort of dysfunction that the family is dealing with. And I think the grace of this family is that they actually could be that far out there but also be forgiving, and be really human, and be human in front of each other without much shame. '_Tell_ them your father is bipolar,' that line in the movie. What we're saying in the movie is, we live beside it. And we continue to live, we don't give up anything, we don't hide it. There's no shame in it."
Spotlight, written by Tom McCarthy and Josh Singer, and directed by Tom McCarthy, is a film that recreates an investigation of the misconduct of Catholic Church priests by The Boston Globe, a local paper with national reach, an investigation of the charge that priests abused children, and that the church's hierarchy protected priests from the justice system. In the feature film, the actors represent real life persons: Michael Keaton is a newspaper's Spotlight investigation department head and Mark Ruffalo, Rachel McAdams and Brian d'Arcy James are his journalists, with Liev Schreiber as the paper's new lead editor, and Stanley Tucci is a lawyer for aggrieved clients, and Billy Crudup is another lawyer, one who represents the aggrieved but has been part of settlements with the church. (Most of the acting in the film is self-effacing, although expressive: the actors are that deep in their characters.) Brendan Vaughan recorded a conversation with Mark Ruffalo for the men's magazine Gentlemen's Quarterly (online November 9, 2015), featuring the journalist whom Ruffalo plays in Spotlight, Michael Rezendes; and Ruffalo, who grew up Catholic, as did Mike Rezendes, said, "What he and I took away from being Catholic—we really liked the social justice teachings of Christ, about justice and helping the poor and doing the right thing. That was an interesting aspect: to go to war with the Church to fight for the very thing that the Church was meant to give to people."
Spotlight moves through Boston neighborhoods, and is infused with personality and inflected by local customs and idiomatic speech. It captures how much the personal blurs with the institutional in this particular city. The church intervenes at a police precinct in a mother's complaint about a priest's molestation of her children—protecting the priest, as Spotlight begins. The police discuss the lack of attention the complaint will get—no arraignment, no press; and in a local press office, that of the Boston Globe, journalists says goodbye to a retiring colleague, and look forward to the arrival of a new editor, who comes and turns their attention to a story in their own paper about a church of a priest's sexual abuse of eighty children. The new editor, Marty Baron (Liev Schreiber), wants an in-depth investigation by the paper's Spotlight team, a small department that commits months of research to a project. A lawyer, Eric Macleish (Billy Crudup), explains that sex abuse cases are difficult—there is a statute of limitations of three years, and only small financial settlements (of no more $20,000). That lawyer participates in mediation cases between the church and its victims. The local Catholic community is led by a patronizing cardinal, Cardinal Law (Len Cariou), a man of good and ill (Law has been involved in the African-American civil rights movement, suffering ostracism; and he rigorously and vigorously protects abusive priests). There is something going on in the community that is known by some people, but only rarely discussed or prosecuted. "It's priests using the collar to rape kids, boys and girls," says Phil Saviano (Neal Huff), an activist.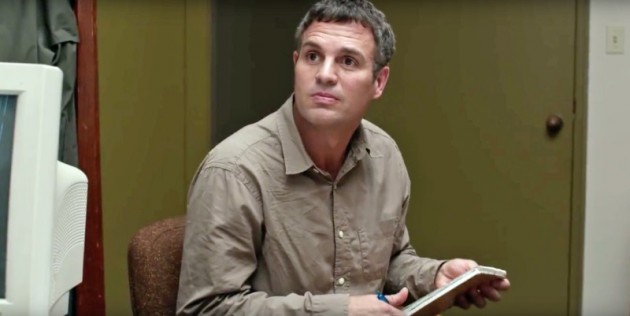 Ruffalo in Spotlight
Families and friends frequently introduce priests to troubled families, to children who are vulnerable, hoping for the delivery of comfort and solace, but the vulnerabilities of the families are exploited. The abuse is key to alcohol and drug abuse of victims. In the film, a researcher who has studied abusive priests for more than thirty years tells the journalists that child molestations by priests is a psychiatric phenomenon; and that he finds that six percent of all priests—and that means six percent of priests in any town, such as Boston, are engaged in the abuse of children (at the time that meant ninety priests in Boston; and the investigating journalists soon identify eighty-seven priests). The researcher says that only fifty percent of priests are celibate, and that, consequently, there is a climate of silence and hypocrisy that makes abuse possible. The journalists, like the lawyers, have their own code of conduct, their own duty to truth, their own goals. The interaction of journalists and lawyers exposes both compatible and competing intelligences and needs, part of the bristling energies of cities. An Armenian lawyer, Mitchell Garabedian (Stanley Tucci), working on behalf of aggrieved families, says that his being an outsider helps his work—as does the outsider status of the new Jewish editor, Marty Baron (Schreiber), and the Portuguese reporter, Mike Rezendes (Ruffalo), helps them do their work: allowing independence. Baron wants to go beyond the investigation of individual priests or even the cardinal to investigate the religious institution, the system itself, an institution so powerful it can have documents sealed and then removed from a courthouse, an institution so powerful that the investigation is thwarted by neighboring authorities—thwarted but not defeated. The truth is learned, confirmed, revealed.
Spotlight is about a particular community—and it presents a story of power and pain that occurs in other communities. Its modesty is part of its power, as is the genuine passion of some of the characters. The film critic of the Washington Post, Ann Hornaday, wrote a very laudatory commentary on the film: "With Spotlight, director Tom McCarthy has fulfilled his first duty, which is to create a world that is utterly, convincingly immersive, down to the last granular detail. After a brief prologue set in the 1970s, the film opens in 2001 with a 'caking,' an all-too-familiar newsroom ritual whereby departing staffers are celebrated with a heavily frosted sheet cake and some colorful war stories. Having nailed that scene—and its attendant whiff of economic insecurity—with anthropological care, McCarthy proceeds to get everything else uncannily right, from the overstarched shirts and pleated khakis worn by the Globe's male reporters to the drudgery of looking up old clips and cranking microfilm. It's not a stretch to suggest that Spotlight is the finest newspaper movie of its era, joining Citizen Kane and All the President's Men in the pantheon of classics of the genre" (November 12, 2015).
In Infinitely Polar Bear Mark Ruffalo is bohemian, loose, scattered, and in Spotlight he is tightly focused and wound. In Spotlight Mark Ruffalo as Rezendes, with "his full-body inhabitation—clipped speech, oddly clipped bangs, and controlled ferocity—of the reporter Michael Rezendes," as Gentlemen's Quarterly's writer Brendan Vaughan said, has a moment of sustained outrage, of frustration, impatience, anger, and rebuke, when Rezendes wants the paper to publish what the investigative team has found, although the full story has yet to be detailed. It is among the many moments of emotion and energy Ruffalo has given us through the years; moments relished, moments remembered—in You Can Count on Me, Eternal Sunshine of the Spotless Mind, What Doesn't Kill You, Shutter Island, Infinitely Polar Bear and more.
[Submitted May 2016]