32nd Leeds International Film Festival, November 2018
The 2018 Leeds International Film Festival followed on the heels of the London Film Festival, where many of the films were premiered. If Leeds lost out in this respect, it screened some 140 full-length films and an equal number of shorts, the latter including a qualifying programme for the BAFTAS and the Oscars. The festival has settled into a regular format of the Official Selection (new features), Cinema Versa (documentaries), Fanomenon (fantasy and cult cinema), Time Frames (a retrospective programme, this year based on films covering events that take place within twenty-four hours) and the Leeds Short Film Awards. I tried to see as many of the Official Selection films as possible. The format needs to be kept under review. The late lamented Bradford Film Festival had an 'Uncharted States of America' strand for low-budget film, which provided a showcase for maverick figures such as James Benning. Such national cinemas do not fit easily into the current Leeds programme.
As in previous years there were grumbles about the cavernous acoustic of the town hall, where English language films were given a bass boost, meaning that stretches of dialogue became inaudible. Another concern was the cancellation of Polanski's_Knife in the Water_. The festival director acknowledged that there were 'issues', though he declined to elaborate. This leaves too many questions unanswered, notably who wanted the film pulled. Thankfully Antonioni's La Notte made it to the screen. This portrait of a marriage under strain is a model of objectivity and unhurried pacing that later directors might emulate. One who does is Lee Chang-dong, whose 2018 work Burning (South Korea) took eight years to arrive, but was my highlight of the festival.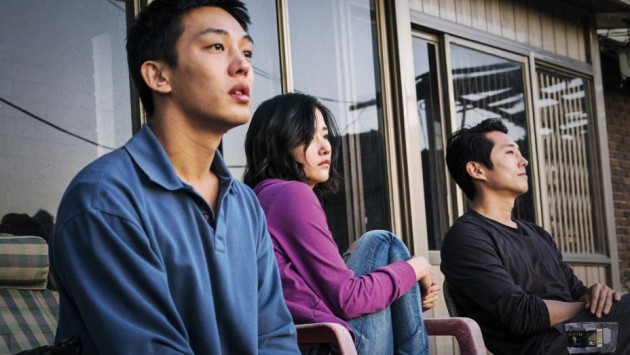 Burning. Courtesy of Thunderbird Releasing.
Aspiring writer Jongsu (Yoo Ah-in) works as a delivery man and looks after the family smallholding. He encounters an old school friend the bubbly Haemi (Yun Jong-seo) and agrees to look after her cat while she goes to Africa. She returns with rich playboy Ben (Steven Yeun), who admits to setting old greenhouses on fire for fun and warns that he will burn one near Jongsu's smallholding. Haemi disappears and it seems that the cat never existed, while her story of how Jongsu rescued her from a well as a child turns out to be a confabulation. Ben announces that he has already carried out the burning, though there is no sign of it. A bemused Jongsu believes that Ben is involved in Haemi's disappearance and takes to following him. This is the world of Antonioni's Blow-Up, Hitchcock's Vertigo and Lou Ye's Suzhou River, where nothing is what it seems. It was the only film of the festival that kept me awake at night, puzzling over its ambiguities.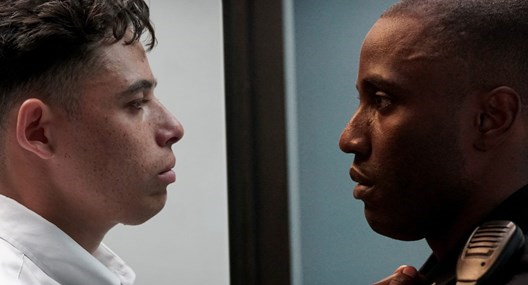 Monsters and Men. Courtesy of Altitude Films.
Three other films stood out. The debut feature Monsters and Men (Reinaldo Marcus Green, US, 2018) comprises three linked stories. It opens with a black man in a car being stopped by a NYPD officer. Dennis (John David Washington) does not mention that he is a policeman. It is not the first time this has happened. When an unarmed black man is shot dead, Dennis's loyalties are tested. This also applies to Manny (Anthony Ramos), who films the incident on his phone and is urged by the police not to do a disservice by publishing the clip. He is beginning a new job and despite his reservations he is wary of jeopardising his prospects by going against this advice. Teenager Zyric (Kelvin Harrison Jr) is a promising baseball player who risks his future career by joining a demonstration against the killing, ignoring the advice of his father who accepts societal inequality as a fact of life. A weakness of the film is that despite the evident structural disparity, the problem on the police side is presented as attributable to a rogue officer rather than institutional racism. The investigating officer who questions Dennis is female and black, reinforcing the rogue officer interpretation: if she can make it, there can be nothing wrong with the system.
O what a tangled web we weave when first we practise to deceive. This might be the motto of The Reports on Sarah and Saleem (Muayad Alayan, Netherlands/Palestine/Germany/Mexico, 2018), which received its UK premiere at Leeds. Sarah and Saleem embark on an affair. The problem is that Sarah (Sivan Kerchner) is Israeli from West Jerusalem and married to an army officer, while Saleem (Adeeb Safadi) is an Arab from East Jerusalem. When the affair is discovered by Palestinian intelligence, Saleem's legal advisor concocts the story that Saleem is trying to obtain information from Sarah. This is accepted and the incident is seemingly closed, but the documents on the case are among those confiscated by Israeli military during a raid on the Palestinian office. The information gets back to Sarah's husband, who devises another story to exonerate his wife. There are no villains, though Saleem's pregnant wife Bisan (Maisa Abd Alhadi) is the innocent victim. The film is even-handed politically, the encouraging aspect being that Israeli actors took part in a Palestinian film, though no funding came from Israel.
My third runner-up is School's Out (Sébastian Marnier, France, 2018). As the pupils of the elite class work, their teacher jumps from the classroom window and is killed. There are echoes of Unman, Wittering and Zigo (1971) in the opening as Pierre Hoffman (Laurent Lafitte) takes over the class, whose members hold a secret. So long as the pupils achieve high grades, the headmaster is not interested, so Hoffman spies on their dangerous games, which include inflicting violence on one another. The film is well crafted and maintains tension, even if has no message except that the young worry more about the future of the planet than their elders.
Euthanizer. Courtesy of WIDE Management
In the Fanomenon strand, the belated UK premiere of Euthanizer (Teemu Nikki, Finland, 2017) held my attention. Veijo (Matti Onnismaa) is a mechanic who disposes of unwanted pets as a sideline. Initially he seems an unappealing character, but when the local villain Petri (Jari Viman) wants him to dispose of a healthy dog, Veijo's principles assert themselves, which sets him on a collision course with Petri's right-wing gang. Veijo believes in justice and applies it in a horrifying way. This is an uncomfortable but thoughtful story.
Among other works of note, In the Aisles (Thomas Stuber, Germany, 2018) charts the lives of three lonely supermarket workers. If this seems unpromising material, the characters have depth and the development of their relationship within the confines of the supermarket routines proves absorbing and ultimately moving. Sofia (Meryem Benm'Barek-Aloisi, Belgium/France/Quatar, 2018) had its UK premiere at Leeds and is a critique of conservative values in Morocco. Sofia (Maha Alemi) is 20 and lives with her upper-class and seemingly cosmopolitan parents in Casablanca. She conceals her pregnancy from them. Her cousin Lena (Sarah Perles), a medical student, takes her to hospital for the birth, but it is illegal to have a baby out of wedlock and Sofia is turned away. Lena uses her professional contacts and the baby is born in secret at another hospital. To avoid being imprisoned, Sofia names the lower-class Omar as the father. A marriage is arranged, but Sofia has lied about the father. The plot is revealing about a society balanced between modernity and tradition, though the sullen Sofia sacrifices some of the audience's sympathy. Loveling (Gustavo Pizzi, Germany/Brazil/Uruguay, 2018) is a Brazilian domestic drama starring Karine Teles as Irene, who was previously encountered in The Second Mother. This is a later stage of her life with an easy-going husband and four children. In a nod to the earlier film she invites her former employer to her high school graduation. When her son Fernando is offered the opportunity to study in Germany and her husband's bookshop runs into trouble, Irene's life looks set to change. This is a good-natured film, though the soft focus photography sequences could be cut. Part of the funding came from the Brazilian government, though such support looks destined to be withdrawn with the coming of a right-wing government. Can You Ever Forgive Me? (Marielle Heller, US, 2018) follows the downward spiral of Lee Israel (Melissa McCarthy), a biographer who turns to forgery when she is unable to get published. Heller offers a fictionalised version of the real-life Israel's story, which remains unengaging until she teams up with the extrovert chancer Hock (Richard E. Grant), who injects some much-needed humour into the story. Pause (Tania Mishiali, Cyprus/Greece, 2018) is a debut work that had its UK premiere at the festival. Elpida (Stella Fyrogeni) is entering the menopause. Her husband displays little sympathy or concern, which makes her determined to embark on a new life. This is an unusual subject in which fantasy and reality become intertwined, though Elpida can be annoying in her caution.
The LUX film prize was established in 2007 by the European Parliament to improve the distribution of European films and to stimulate debate on societal issues in film. The winner is chosen by the European Parliament. Who could believe that its members are cinephiles? Audiences can vote for the people's choice from among the three finalists. Leeds has belatedly become involved in the project, though only two of the finalists were screened in the festival. Styx (Wolfgang Fischer, Germany/Austria, 2018) follows Rike (Susanne Wolff), a doctor who takes a solo voyage to Ascension Island from Gibraltar. After battling a storm she comes upon a sinking trawler crowded with migrants near the Cape Verde Islands. She is instructed by the coastguard not to obstruct the rescue by trying to help, but when the authorities do nothing, Rike is faced with a dilemma. This is a tense film, though sometimes it feels tailored to fit the remit of the prize. The second competing film The Other Side of Everything (Mila Turajlic, France/Serbia/Quatar, 2017) had its UK premiere at Leeds. This documentary from Serbia (not an EU member) focuses on the filmmaker's mother Srbijanka, an academic who opposed President Milošević. She served in the democratic government that came to power in 2000, but a nationalist government was returned in 2016. The politics are combined with a less successful story of how part of Srbijanka's flat was given to another family in communist days and the connecting doors are finally opened.
The aftermath of communism appears in two other films. In the documentary Rodeo (Kiur Aarma and Raimo Jốerand, Estonia/ Finland, 2018) participants in Estonia's first post-communist government talk to camera. What emerges is their lack of political or administrative experience, which is something also apparent in Serbia's democratic government. The Estonian revolution has proved a more lasting success. In Putin's Witnesses (Vitaliy Manskiy, Latvia/Switzerland/Czech Republic/Germany, 2018), the self-exiled Manskiy who headed the documentary department of the state TV network in Russia uses his own footage to give an intimate portrait of Yeltsin's hopes for Putin and the latter's success in his first election. Most of his election team were in opposition within a year. A thought-provoking work.
Some films proved disappointing. Among these were The Kindergarten Teacher (Sara Colengelo, US, 2018). The opening is promising. Lisa (Maggie Gyllenhaal) has a happy marriage and two teenage children, but she is unfulfilled. Her five-year-old pupil Jimmy Roy (Parker Sevak) composes poetry that eclipses her own efforts, which is why she reads Jimmy's work at her poetry class, passing it off as her own. She becomes increasingly obsessed with promoting her protégé to the extent of taking him to a poetry reading against his father's wishes. After this, the film loses credibility. Dogtooth showed us a strand of deadpan Greek humour. Pity (Babis Makridis, Greece/Poland, 2018), which had its UK premiere at Leeds, has the same co-writer in Efthymis Filippou, but proved less successful. The wife of an unnamed lawyer (Giannis Drakopoulos) is in a coma and he becomes reliant on the pity of others to the extent of wanting it to continue when she recovers. It is a promising idea, but the humour is missing and the lawyer comes across as self-obsessed. Widows (Steve McQueen, UK/US, 2018) is already on general release. McQueen has made some well-regarded films, though I find his work calculating and lacking in warmth. Here the widows of three villains carry out their own heist, but this is routine film-making that can be viewed on television every evening — easily forgettable and offering superficial excitement. I Feel Good (Benoît Delépine and Gustave Kervern, France, 2018) is a comedy in which loser Jacques (Jean Dujardin) is forever devising business schemes that will make his fortune. His attempt to combine cut-price cosmetic surgery with tourism in Bulgaria does not go according to plan. There are not enough laughs and the humour is strained. Sauvage (Camille Vidal-Naquet, France, 2018) is a debut feature. Leo (Félix Maritaud) is a gay male hustler, who changes partners and gets beaten up with equal frequency. When the opportunity arises to abandon his life on the streets, he does not take it. Freedom holds more attraction. In the programme notes the director calls Leo lonely and longing for love; he comes across as tiresome and unsympathetic. Die Tomorrow (Nawapol Thamrongrattanarit, Thailand, 2018) is a series of vignettes about people who, knowingly or unknowingly, are near death. The brochure calls this work playful and philosophical; I discerned little play and the purpose of the exercise eluded me. The same can be said for Touch Me Not (Adina Pintilie, Romania/Germany/Czech Republic/France/Bulgaria, 2018), which won the Golden Bear at the Berlin Film Festival. This proved to be my greatest disappointment. Christian, who suffers from muscular atrophy, and Laura (Laura Benson) independently explore intimacy through touch. In real life Christian is a victim of the disease, so should this be regarded as a documentary? The director insists in the programme note that it is not. It resembles a self-indulgent drama student exercise in improvisation and drifts into pseuds' corner when Laura visits a therapist. The absurdity of human behaviour is treated too solemnly, which makes for a numbing two hours.
A film festival offers an opportunity for those living outside of big cities to sample the treasure trove of foreign language films and offbeat works which never reach the multiplex. This year's offerings had a political edge, which is a sign of the times as much as the number of co-productions. There were more works from female directors and with women as central characters. Another conclusion is less positive: taking the dual roles of director and screenwriter can be risky, particularly for young filmmakers. It offers greater control, but the creative tension of having two people to shape the film is absent (Gillett 2008: 152). Die Tomorrow, Touch Me Not and Sauvage are among the cases where another perspective might have led to some reshaping.
Two issues deserve comment. The first is the place of the documentary. In the early days of the festival, documentaries were never screened; today they have their own section. There is a place for them, but how can a documentary and a feature film be compared for the Lux film prize? The documentary is visual journalism, attempting to impart factual information from a singular viewpoint. Outside of festivals it is likely to find an audience on television. By contrast, the feature film offers the gift of imagination. A drama is fashioned, a psyche explored. Director's theatre has been with us for a generation, devaluing the playwright in favour of the director's treatment. The rise of the documentary means that the screenwriter risks suffering the same fate. There is a particular problem with semi-documentaries such as Die Tomorrow and Touch Me Not. How much is imagination and how much is fact? We can easily be misled, which devalues the documentary element. And what of a biopic such as Colette (Wash Westmorland, UK/US, 2018), which was screened at the festival? How much should we believe? The trouble is that an author sits at a desk writing, which is not inherently interesting. Fortunately for the filmmakers, Colette (Keira Knightley) led a colourful life and much is made of how she lived under the shadow of her ebullient husband Willy (Dominic West). What I found missing was the passion of this relationship or that of Colette and Missy de Morny (Denise Gough). Passion for a person has to be portrayed imaginatively and with empathy; passion for a cause as seen in a documentary is different.
I am currently completing a book on film and the historian, while the centenary of the Armistice means that we are saturated with thoughts of the First World War. These two factors coloured my attitude to U – July 22 (Erik Poppe, Norway, 2018), a fictionalisation of the murder of sixty-nine young people in Norway by Anders Behring Breivik's. The film follows the efforts of the fictional Kaja (Andrea Bertzen) and her colleagues to escape the gunman. The story is well told, but does such an incident need to be fictionalised? Inevitably there are distortions to give the story a dramatic arc. And how soon after the event should such a film be made? Other people have felt the same unease (Jones 2018). Peterloo (Mike Leigh, UK, 2018) opened the festival, but this recreation of the 1819 Peterloo massacre introduces audiences to an event that has slipped from the collective memory. The same cannot be said of the First World War, which seems to be fair game for artists in every medium. One argument is that there can be little equivocation when the participants are dead, but incidents from the Second World War were being recreated on the screen in the 1950s and proved popular with audiences. Despite this precedent, I felt uneasy about watching Poppe's film, which depicts events occurring seven years ago. Festival audiences are encouraged to rate films: this was one I could not rate.
The Reports on Sarah and Saleem is also contemporary, but it is a fictionalised story set against the Arab-Israeli conflict rather than being about the conflict. Girls of the Sun (Eva Husson, France/ Belgium/Georgia/Switzerland, 2018) is based loosely on fact and follows a group of female Kurdish soldiers attempting to liberate their town from ISIS. Though the film has visceral power, it might be any war drama, except that the participants are female. Only the photojournalist Mathilde (Emmanuelle Bercot) and the leader of the battalion Bahar (Golshifteh Farahani) are characterised as individuals, while the events depicted are not specific.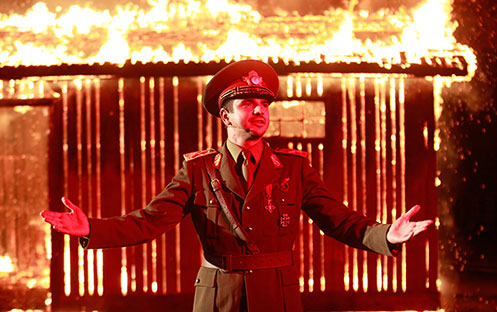 I Do Not Care if We Go Down in History as Barbarians. Courtesy of Bita Cinema.
Another film that raises issues of authenticity is I Do Not Care if We Go Down in History as Barbarians (Radu Jude, Romania/Czech Republic/France/Bulgaria/Germany, 2018). In the town square director Mariani Marin (Ioana Jacob) is staging a theatrical event about Romania's involvement in the Holocaust. The overlong discussions during rehearsals resemble an academic seminar, the film coming to life when the performance takes place. The Soviet army provokes boos from the audience. There are cheers for the Romanian soldiers and a more muted but positive response for the Nazi army. The recreation culminates in Jews being corralled in a wooden building, which is set on fire. Mariani is concerned that this elicits cheers from the audience. What is not clear is whether this was an authentic or a scripted response (Tizzard 2018). It is only at film festivals that most audiences are likely to see such works — and have the opportunity of discussing them with like-minded people.
Bibliography
Gillett, Philip (2008), Movie Greats: a critical study of classic cinema (Oxford, Berg).
Jones, Emma (2018), 'U-July 22: is it too soon to make a film about a tragedy?', BBC (accessed 13 November 2011).
Tizard, Will (2018), 'Berlin winner Radu Jude on Holocaust denial film Barbarians', Variety (accessed 13 November 2018).