Notes on the 32nd Telluride Film Festival, September 1-5, 2005
Sighting Helena Bonham Carter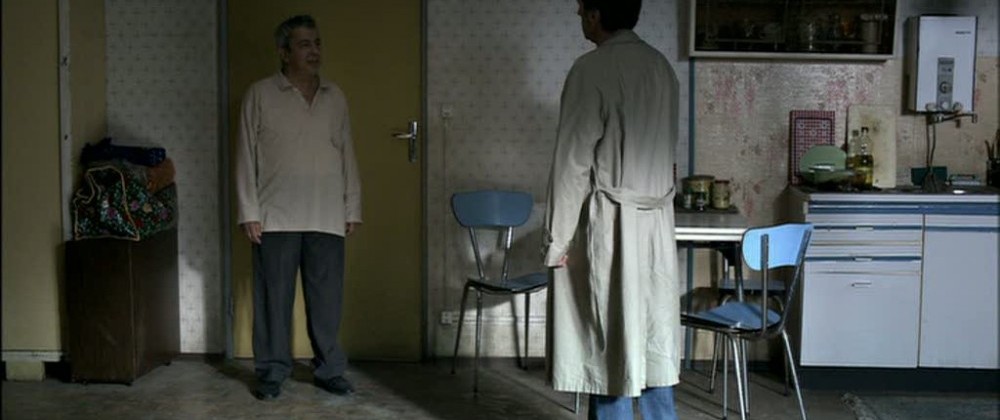 As I deplaned in Montreal after returning from the 32nd annual Telluride film festival, I felt nauseous —not the usual disease of three ups and downs, totaling twelve hours of travel time in coach class. This was nausea signaling the end of some wondrous and whimsical parade of films, their makers and fans which, until now, personally existed only within realms of theoretical imagination, passed down from initiates through oral and written traditions. For five days each September, the quiet, liberal enclave of Telluride, Colorado transmogrifies into the Holy Wafer of International film festivals. It is certainly not the easiest festival to gain access: Elevation is 10,000 feet, there are no special press privileges, limited accommodations, and standard passes run diehard cineastes 650$ U.S. Thankfully, I somehow squeaked in under the guise of academia, as a student symposium attendee.
Upon arrival in town, the group of 50 International college and university students gathered to receive the schedule, which would be strictly adhered to for the duration of events. We were advised to arm ourselves with healthy snacks and water, keep alcohol intake to a minimum, be early. Entry into many of the screenings was not ensured by virtue of holding a pass, student or otherwise, and many of the makeshift theatres where small in capacity —converts of school gymnasiums, freemasonic temples. A young woman who had been volunteering at the festival for a number of years told me the lineup of films was to be much darker in tone than in previous seasons.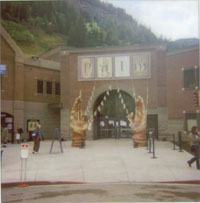 Palm Theatre
Among the North American premieres we were to partake: The Dardenne brothers' L'Enfant, Michael Haneke's Caché, the triumphant Paradise Now, directed by Hany Abu-Assad, and Iron Island, written and realized by Mohammed Rasoulof. Other films of significant note include Neil Jordan's po-mo transgender epic Breakfast on Pluto, the Korean historical action/drama The President's Last Bang, Hou Hsiao-hsein's hypnotic Three Times, and Les Ponts des Arts, the crowning jewel in a retrospective of works by outlandish and eccentric auteur Eugène Green.
Preceding the much-anticipated unveiling of L'Enfant, and the presentation of the Telluride Silver Medallion, the tribute to the Dardenne's significant body of work began with a 20 minute clip reel from La Promesse (1996), Rosetta (1999), and Le Fils (2002). Rooted in the stylistics and semantics of documentary, the Dardenne's fluid, usually hand-held camera penetrates subjects and environments with seemingly effortless realism. And they prefer to stick to Belgium —particularly Seraing— for locations; claiming, and confirming an intimate knowledge of the metropolis and its inhabitants.
L'Enfant marks the brothers' second Palme d'Or victory in Cannes (their first was 1999's Rosetta), and further distinguishes them from the oft-criticized bourgeois drift of Cannes-winning filmmakers and their corresponding cinematic treatments. The film centres on Bruno, a young street hustler who sells his infant son Jimmy on the black market, under the nose of his girlfriend Sonia. Bruno's consequences come as a relative surprise to him, and he faces constant pursuit by ruthless debt-collectors, estrangement from Sonia, and the relentless authorities. The meticulous detail with which this story is brought to screen, along with tireless performances by Jérémie Renier, Déborah François (and 23 credited infants), truly make the piece a stand-out of the festival.
As student participants, we enjoyed the privilege of attending workshops led by the Dardennes, and esteemed artists including author and festival guest director Don DeLillo; theatre, opera and film director Peter Sellars; writer/director/comedian Tom Shadyac; and documentarist Kim Longinotto, among others. The Dardennes revealed the intimacy between the co-directors and their cinematographer, explaining the painstaking effort in capturing the 'plans-sequence' which dominate their newest feature. They would often push actors through numerous takes, in uncomfortable surroundings, to make them 'forget what they were doing,' and deliver the performance's resulting authenticity. They choose to work on real locations, embracing the 4th wall —adding obstacles rather than avoiding them. The consequential film represents an inversion of generic narrative structure as an imposition upon the chaotic world it intends to represent, opting rather to essentially document the outcome of delicately rehearsed vignettes. The accelerated pace of the characters' lives is reflected in the perpetually mobile camera which, unlike Le Fils (2002), takes an omniscient view, but stays close to the intimacy, the grit of the Dardenne's documentary aesthetic.
The other major winner at Cannes to grace the screen of Telluride's Sheridan Opera House (at 9 A.M.) was Michael Haneke's Caché, the disturbing portrait of an upper-middle class family who receive mysterious surveillance tapes of their quotidian routine, and are in turn confronted by the re-emergence of past indiscretions. In contrast to the Dardenne's emotive camera technique, Haneke's long takes are static, framed portraits, treating often uncomfortable imagery and content with an analogous austere sterility. I must admit that I was initially reminded, premise-wise, of David Lynch's Lost Highway (1997); however, Lynch is Lynch, Haneke is Haneke, and a good idea can never be over-explored.
In discussions with Haneke, he revealed a similar desire to treat the narrative realistically, accounting for his choices in exposure and length of takes as striving for representation of action in 'real'-time/image. Caché lures the audience into an imperfectly-resolved narrative that explores issues of post-colonialism, national responsibility, and personal/collective guilt. It is also an acute commentary on society's immersion within various media —newscasts and video transmissions are often prominent in the frame— and our tendency toward secular cures to spiritual tribulations. Haneke was handsomely rewarded with the Best Director prize at Cannes for this stunning work, which builds atop his already substantial and equally provocative body of cinema including Funny Games (1997) and La Pianiste (2001).
The unannounced Saturday night screening was finally revealed to be Paradise Now, the furiously controversial, stylistically superb portrait of two would-be suicide bombers fighting against Israeli occupation of the Gaza territory. The crowds gathered quickly under rainy skies, and I ended up donating my first single seat. (Fortunately for me, it was to Monique Luddy, wife of festival co-director Tom Luddy, and I was showered with gracious offers for private passes I could not possibly accept). The crescendo of intensity on-screen mimicked the atmosphere in the theatre as the narrative slowly shifts from expositive to ideological, all the while maintaining an unprecedented humanist approach to obviously sensitive subject matter.
Peter Sellars delivered an inspiring introduction to the film, and seemed periodically on the verge of tears. The gravity of his words echoed after the screening —the crowds dispersing in a unanimous shock-and-awe-induced stupor. When a fellow symposium student grilled Abu-Assad the following day of his intended audience for the film, he responded in jest, yet without hesitation: "George W. Bush." I can only imagine the cockpit address: Mr. President, Welcome aboard Air Force One. Our in-flight presentation will be "Paradise Now." In preparation for take-off, please ensure the uprightness of your conscience…
U.S. foreign policy again came under attack in the theatre, at the inability of Iranian director Mohammed Rosoulof to attend the scheduled Q&A session following the presentation of Iron Island. Likely due to the inherent uncertainty of festival programming, his travel visa was not applied for within the minimum 90-day processing period, and was subsequently denied by the Department of Homeland Security. Cinematically, the camera's approach to the subject is poetic realism throughout, in this inquiry of a patriarchal, devoted group of outcasts from contemporary Iranian society. Unlike Paradise Now, Rosoulof shies away from blatant political posturing, choosing an allegorical narrative strategy to present an alternative to crumbling cultural inertia. Beautifully filmed almost solely on a dilapidated barge, Iron Island brilliantly meets the implicitly insular with themes of forbidden romance, castigation and revelation.
Your Civil Liberties
Shifting now to gender-related tensions, Neil Jordan was on-hand to present and discuss his second teaming with writer Patrick McCabe for Breakfast on Pluto, a reflexive extension of a demystifying exercise initiated with The Crying Game (1992). Cillian Murphy brings Patrick 'Kitten' Brady to life with marked flair (aided by costume designer Eimer Ni Mhaoldomhnaigh), and Liam Neeson supports the solidity of veteran Susie Figgis' casting choices as 'Father' Bernard. The severity of the narrative, which chronicles the coming-of-age of a young transvestite in 1970's Ireland amid staunch Catholicism, social upheaval, and cultural stereotypes, is balanced with light-hearted and playful inserts —birds quoting Oscar Wilde, wicked double-entendre, and a stellar cameo by Gavin Friday as glam-rock god Billie Hatchet.
Also in attendance and available for comment was rock'n'roll Korean director Im Sang-soo. His latest The President's Last Bang details the events surrounding the dissolution of the dictatorship under Park Chung-hee in the late 1970's. In discussion, Sang-soo revealed his influences from Martin Scorsese and Francis Ford Coppola both in cinematography and narrative construction, and likened the corrupt Chung-hee government to the gangsters expertly rendered in the aforementioned directors' films. Once more, a subversive political statement was being offered, as Last Bang takes comedic stabs toward the incompetence of government structures and officials. The audience went uproarious as Sang-soo, along with so many others, dedicated his film in part to the U.S. commander-in-chief.
Equally worthy of praise, though diametrically opposed in tone and pace is Three Times, the work of Taiwanese cinematic master Hou Hsiao-hsien. The film was introduced by Roger Ebert as a festival gem-in-the-reeds (apparently "… like Miranda July's Me & You & Everyone We Know at Sundance" for those blessed by luxurious fortune); Peter Sellars once more offered his heartfelt insights into this trilogy of desire, the premise of reincarnation and the all-around importance of recognized coincidence. Pin Bing Lee's calligraphic cinematography paints three stories of love, in three vastly different eras, each separated by the social/political/technological devices of the respective contemporary culture. The three separate couples are played by the same actors, Shu Qi and Chang Chen, and the visual and aurally minimal landscape triumphs over performance-driven redundancy in this serene, solitary neo-narrative.
Of each scheduled film, perhaps the most surprising was Les Ponts des Arts by Big Apple-born, Paris transplant Eugène Green (veuillez noter l'accent grave). One was not certain immediately following the screening whether Green meant for satire, reverence, or fragile equilibrium. The lofty production values were broken at times with the entry of boom mikes into frames, and the exacting critique of trite 1970's Parisian academia. However, the narrative again flirts with the prevalent concept of love on differing trajectories, and the fleeting encounters that are often ignored in the course of daily existence. The chilling performances of Monteverdi's Baroque Lamento della ninfa aptly accompany scenes of emotive force, traversing desperation, suicide and an ecstatic though impossible union.
At the post-screening Q&A session, Green appeared courteous but disheveled, which seemed to augment his alienation from typical representations of American filmmakers, and align his stature with those of Europe. Though the nationality of the artist is seldom of importance, it does add interesting back-story to the equally quirky man behind the movie camera. The film had many fellow symposium students proclaiming: "I knew nothing about Eugène Green —I must now know everything about Eugène Green."
The structure of the festival is such that one cannot attend every film; hence my exclusion of discussions on Edmond, Everything is Illuminated, Fateless, Capote, The Lost City or Brokeback Mountain. Presumably, the symposium coordinators entrusted we should see them in wide (if not narrow) theatrical release. And in similar form, I failed to mention the Alloy Orchestra's outstanding live performance, the tribute to Charlotte Rampling, and my brief, panic-inducing sighting of Helena Bonham Carter; something must be left to the imagination. But the experience of attending Telluride from the unique vantage point of the student symposium allowed each participant the opportunity to truly reflect on cinema concurrently, as that cinema reflects upon the viewer. In the course of five days, I had the genuine privilege of viewing 18 astounding new films —many of them either premieres, or not to be seen otherwise— in the company of informed students with equivalent passion for the medium of motion pictures. As was recited like a mantra before each film "The Cinema is a sacred space," and Telluride stands as an essential house of worship. I laughed, I cried, and would do it all over in a heartbeat.