The 29th Hong Kong International Film Festival
Festival Report, March-April 2005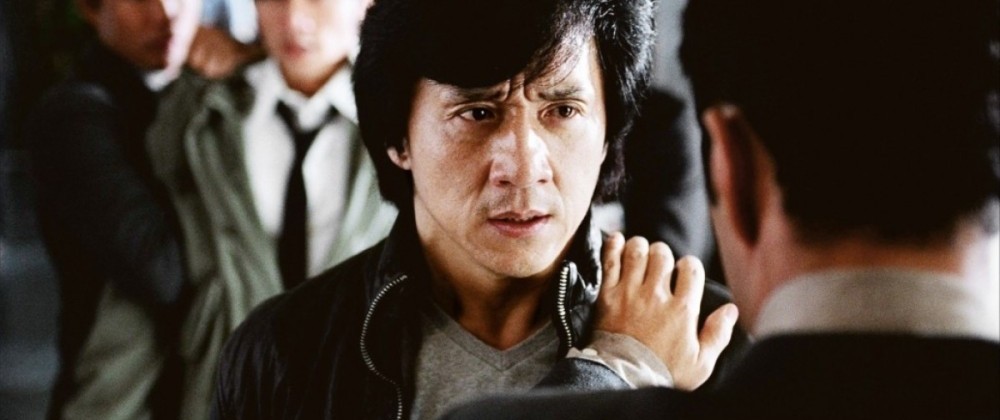 Although it has been overtaken in prestige by the Pusan International Film Festival (PIFF), and, even though it is no longer on the cutting edge of Asian film events, the HKIFF remains my favourite film festival, in the world. I find that I can catch up on films I have missed over the previous year (both from Asia and Europe) and the retrospective sections always hold my attention. As usual, during the 10 days I was staying in Hong Kong I attended three or four screening sessions each day while still managing to spend a lot of time with friends and acquaintances. As with all East Asian film festivals that I have ever attended, the support staff, most of them volunteers, are always courteous and extremely helpful. I can't imagine there being a more delightful commute from one screening site to another than the Star Ferry, and if only the Hong Kong weather in March/April were more co-operative, the time spent there would be absolutely perfect.
Despite the pessimistic outlook of the catalogue entry, "Living for the Moment —Hong Kong Films Frozen in the Present," by Tong Ching-Siu, which argues that the shattering of Hongkongers' hope for a democratic election is moodily reflected in a number of recent films, I was pleasantly surprised at the high quality of the Hong Kong Panorama this year. I remember wondering why the Hong Kong Film Critics would award an animated film, McDull, Prince de la Bun, directed by Toe Yuen, as the best local film of 2004, but after seeing it at the HKIFF, I would have to concur. I confess, I don't understand all of the cultural references in the film, but the laughter of the Hong Kong audience with whom I shared the experience was very infectious, and I'm glad that I didn't first watch it on DVD, at home, alone. A step up on the original, My Life as McDull (2001), Prince de la Bun contains spectacularly imaginative effects in its combination of low tech, traditional cell and computer animation formats, and even, live action footage of real people (with cartoon heads) at work in the 1950s. McDull is a very human character with a pig's head, who, in adulthood becomes a chef. He can't stop eating, but is, himself food —at one point he is rendered as a hamburger! Extremely hard to describe, never mind interpret, Prince de la Bun is a complex, yet hilarious text on a "Port City's (i.e., Hong Kong's) past, present and future. In the film's first part where the little prince is in kindergarten, and where he has to recite everything the headmaster says, no matter how nonsensical it is, buildings fall down all around and are replaced immediately by skyscrapers rising like pixillated plants, miraculously growing before our eyes. The film brilliantly renders the rapidly changing modern, urban landscape of Hong Kong while ridiculing the (residual British colonial) school system.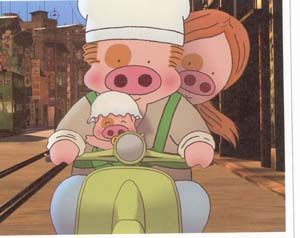 McDull
I was very pleasantly surprised by Jackie Chan's New Police Story (directed by Benny Chan), which is, arguably, his best film for over 10 years. It begins with Chan playing an aging drunkard and flashes back to the time when rich kids (including one played by teen heartthrob, Daniel Wu) trick him and kill off all of his police cohorts in a warehouse, which has been rigged like a video game. On the one hand, the film is extremely anti-youth culture, and on the other it is somewhat anti-capitalist. For example, Chan's cop character is shown to feel a lot of sympathy for men who have to steal out of necessity. But, any Jackie Chan film always has to work primarily as an action film, and New Police Story delivers with a reworking of the bus chase sequence from the original Police Story, and amazing sequences where Chan literally runs down buildings suspended on a wire, which culminate in a spectacular climax on the HK Convention Centre roof.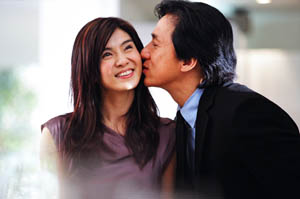 New Police Story
Owing to my work commitments I had to miss the first five days of the festival (and the last one). Regretably, this meant that I didn't get to see Wong Kar Wai's 2046, although, finally, it was released in Montreal this year, and I have now seen it. (I had a couple of different DVDs of it on hand for quite some time, but I felt I needed to see it on the "big screen" first.) Indeed, it is great to see how Wong employed the widescreen, cinemascope frame to make us even more aware of how cramped the spaces are most of the time, and I find the dialogue scenes to extremely interesting, where characters seem to communicate even though they speak different languages to one another —Cantonese, Mandarin and Japanese. I do want to watch it again, though, before I make my final judgement. I deliberately missed Stephen Chou's Kung Fu Hustle, the big winner at the concurrent Hong Kong Film Awards, knowing it was going to be released in North America. I am pleased that this film has enabled Chou's international breakthrough, but with so much reliance on digital effects, it lacks the charm and comic originality of his earlier films.
An Anthony Wong vehicle, A-1, directed by Gordon Chan and Chung Kai-cheung and Derek Yee's One Night in Mongkok didn't live up to expectations but four other films in the Panorama are praiseworthy and warrant some discussion here. I had seen Johnnie To's Throw Down at last year's New Cinema Festival in Montreal and found it to be somewhat disarming and perhaps not the best choice for a "midnight screening." Unevenly injecting comedy into an action tribute to Akira Kurosawa's very serious treatment of a judokan, Sanshiro Sugata (1943) it does represent an experimental departure for To, although I find his more conventional, yet complex actioner, Breaking News (also from last year, but not included in the HKIFF) to be ultimately a more successful film, on its own terms. Beyond Our Ken, which has nothing to do with 1960s BBC comedies starring Kenneth Williams, provides more evidence that (Edmond) Pang Ho Cheung is a young director to watch. He broke onto the Hong Kong scene with an independent film, You Shoot, I Shoot (2001) and followed with Men Suddenly in Black (2003), and here shifts gears from very male-oriented material to a story of two women, played by Gillian Cheung —one half of the "Twins"— and Tao Hong who conspire to pay back their two-timing boyfriend (played by Daniel Wu). I had no expectations for Love Battlefield since I had not seen any of Cheang Puo-Soi's previous directorial efforts, which include some celebrated horror films (Horror Hotline, 2001, and New Blood, 2002). Love Battlefield ultimately presents a kind of reductio ad absurdum treatise on how far love will go in trying to bring a couple back together again, complete with allusions to Titanic in the end. A young couple, played by Niki Chou and Eason Chen are about to go on holiday together when their car is stolen. They have a fight in the parking garage as the woman decides to forget about the car and go on the trip but the man elects to go to the police. Catching up with his car he is kidnapped by a mainland Chinese crime ring. She tries to find him and the insane chase to the rescue begins. Both New Police Story and Love Battlefield show that Hong Kong filmmakers have not forgotten how to make their own brand of thrilling entertainment better than anyone else.
Perhaps the biggest surprise I experienced in watching films in the Hong Kong Panorama this year came with the brilliantly conceived and executed, Three Extremes: Dumplings, the feature length version of Fruit Chan's contribution to the portmanteau film. I have always admired Chan's work, even if I never warmed up to it as much as others did. Increasingly, after the realism and poignancy of Little Cheung (1999), Chan has courted surrealism, and, with the vital collaboration of Chris Doyle as cinematographer, he has succeeded in delivering a creepily sick analysis of a bourgeois woman who will go to any lengths to stay young and beautiful. A mainland Chinese woman (played by Bail Ling) who is much older than her youthful looks suggests, arrives in Hong Kong carrying cans, presumably full of food. She makes dumplings which contain a secret, life-affirming ingredient —aborted human fetuses. One of her customers (Miriam Yeung) is losing the affections of her husband (Tony Leung Kar-Fai) to his young "secretary," and as the power of the dumpling ingredients becomes more potent she initially regains her youth, and, seduces her husband, momentarily trapped in his bedroom with a broken leg. The sickliness of the subject matter is matched by a gaudy pastel colour scheme (not unlike Doyle's colour work on Gus Van Sant's Psycho remake), which is gradually pared down to just red and white (the colours of blood corpuscles?) in this scene of a bourgeois woman's triumph. From here-on the action becomes more bizarre and deadly, and the colour red, not surprisingly becomes dominant, although the film ends ambiguously on black and white footage of the Miriam Yeung character's wedding, perhaps a flashback, perhaps a fantasy sequence of a second marriage, perhaps, this, in reality? Throughout the film, the mise-en-scene is masterfully controlled and developed, and although the subject matter borders on misogyny, the treatment is no less sympathetic to women than to men. It is arguably Fruit Chan's best film.
Hong Kong cinema was also represented at the 29th HKIFF by an eleven film tribute to Andy Lau, as an "actor in focus," a series accompanied by a booklet, and a retrospective concurrent with an exhibition at the Hong Kong Film Archive entitled: "Pearl River Delta: Movie • Culture • Life." This series was programmed to commemorate 100 Years of Chinese Cinema by celebrating Cantonese culture and showing films made in both Hong Kong and Guangzhou, even though most of the latter were in Putongua (standardized Chinese, the "people's language), which has been the mandatory language of films under communism. With so many films to see at the festival, and with the added difficulty that when one decides to visit the archive in Sai Wan Ho, at the east of Hong Kong island, one is far from the festival headquarters, I only attended four of the "Pearl River" screenings: a programme of shorts, "Early Sights of Guangdong & Hong Kong," The Story of Wong Fei-hung, Part 1 (1949), The Kid with 10-yr old Bruce Lee (1950), and an example of a film made by the Guangzhou, Pearl River Studio, Sunshine and Flowers (1987, directed by Zhang Zeming). It was really interesting to see old Hong Kong, circa 1898 through Edison single shot views, 1915, through film shot by another American, Benjamin Brodsky, and glimpses of the city in 1930, but the "home movie" footage shot by the British, circa 1940, just before the Japanese invasion was far less riveting, and showed little of how the Chinese people lived. On my very first trip to the HKIFF in 1997, I had seen the first Wong Fei-hung film, aka, "When Whiplash Snuffed the Candle Flame," but with this second screening, I had the advantage of being able to read English sub-titles. Although I was better able to appreciate the plot this time around, I was no more impressed this time by Kwan Tak-hing's martial arts, something which clearly improved over his 77 film, 32 year career playing Wong Fei-hung, culminating with Yuen Wo-ping's Dreadnought in 1981. The Kid, directed by Fung Fung, was very stagebound and not very interesting as a film, except for Bruce Lee's expressive and endearing performance as an orphan who gets involved with a criminal type (played by the director) and who is therefore under suspicion himself for stealing. Obviously, the kid is redeemed at the end. The revelation of the series for me was Sunshine and Flowers in its understated suggestion of lesbian love. Set in the new economic zone, and showing the protagonist's apartment to be perhaps a little too lavish, the film undercuts its pro-bourgeois emphasis by depicting failed relationships. The female protagonist is a librarian whose best friend is a younger, very aggressive woman. She has a regular boyfriend who is an advertising artist, while a much younger man is pursuing her. None of the relationships work out, partly because she is so shy and retiring. At the very end of the film, we see her walking on the sidewalk, viewed from a distance, disappearing into the background, Antonioni-style.
Unlike other recent editions of the HKIFF, during which very few new mainland films were shown, in 2005, with the "100 Years of Chinese Film" celebrations going on, the festival programmed a ten-film section entitled "Chinese Renaissance." In addition two "gala" slots were allotted to mainland films, Gu Changwei's Peacock and Jia Zhangke's The World, three Chinese works were included in the Asian DV competition and another in the "Humanitarian Awards for Documentaries" section. I had seen The World and three of the "Renaissance" selections —Lou Ye's Purple Butterfly, Liu Fendou's Green Hat, and Yang Chao's underrated road movie/landscape film, Passages— before, and all have their merits. I regret not being able to see veteran 5th Generation cinematographer, Gu's, first feature as a director Peacock, which almost everyone raved about but, "6th generation" director Wang Chau's 2nd feature was a strange combination of realism with stylised acting and sets. I would like to have asked Wang if some of his compositions were meant to look like communist poster art, but, without being sure of this, I assume that he was playing with the conventions of official film style and the spare beauty of the Yellow River landscape so popular with 5th Gen filmmakers. One of the truly great Chinese directors to emerge after the Cultural Revolution, Tian Zhuangzhuang has made a real comeback with an extraordinary landscape documentary film, on the tea-horse trail Delamu. A Tibetan word for "peace" as well as the name given to a mule (in the film), Delamu begins in Yunnan province and ends in Tibet with a shot where mist almost covers the entire frame. The film intersperses enigmatic extreme-long shot views of mountain passes, where the horse train/caravan is sometimes so small it is almost imperceptible, and interviews with old, very old (one woman is 104), and young people of various ethnicities and religions. All of these subjects seem like interesting characters, and they are all interviewed in beautifully lit and framed interior set-ups. (Remarkably for a work of such controlled visual beauty, it was shot digitally, using only two lights, according to the director who introduced the work). The first of these is with the matriarch of a family of packers and the last is with a young, shy, female teacher who laughs through her despair and desperately wants to get away. Throughout, like life itself, Delamu is full of contradictions, but we are left with a sense of incredible, melancholic beauty.
Yan Mo (Before the Flood), directed by Yan Yu and Li Yifan, can be securely placed in the new Chinese mode of digital, observational documentary, through being shot over a long period of time (2 years), and through its showing large scale societal changes without recourse to voice-over narration, or, even, interviews. It is also a long work: 150 minutes. The people of Fengjie, a so-called "town of poetry" are being forced to move to avoid flooding by the Three Gorges Damn project. As in Wang Bin's magisterial Tie Xi: West of the Tracks (2003) some residents elect to stay in their houses even after water and electricity have been cut off. As Li Yifan stated in his catalogue notes, they found very little "poetry" in the destruction of people's homes. Yan Mo won the first prize for documentaries.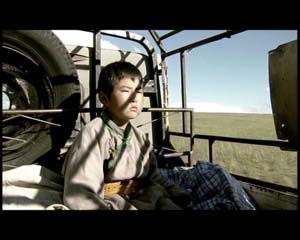 Mongolian Ping Pong
The most exciting section of the 29th HKIFF, though, was the Asian DV competition. Some observers were extremely impressed with one or both of the Malaysian entries, Amir Muhammad's Tokyo Magic Hour and Ho Yuhang's Sanctuary, but I was more taken with a highly original approach to the comic horrors of the Korean Christian school system found in Shin Sung-Il Is Lost, a first time feature directed by Jane Shin. I also liked Lu Cao Di (Mongolian Ping Pong) a second feature by Ning Hao, especially for its deep focus videography of Mongolian grasslands. But I was less impressed by its comic ethnography, which can be compared to the systemically racist South African hit, The Gods Must Be Crazy (where the indigenous people discover the "coke" bottle), in having Mongolian children discover that the precious Chinese "national ball" is a "ping-pong," table tennis ball. Following her discovery at the Berlin International Film Festival, Liu Jiayin, who is still a student at the Beijing Film Academy, was in town to show her first film, Niupi (Oxhide). She is arguably the most interesting new Chinese director to emerge since Jia Zhangke. Liu mostly uses the single shot per scene, long take approach employed by many Taiwanese and mainland Chinese film directors, but with crucial differences. The camera is not placed at a far distance from the subject, but is extremely close to the characters and their enclosed, interior environment. More remarkably, Liu adopts a widescreen frame throughout, which, instead of opening up the spaces, makes us aware of how confined they are. Oxhide opens with a slight high angle view of a photograph and part of a printer on a desk. Offscreen, we hear the voices of Liu, herself, talking to her father, who is a leather craftsman. She is explaining how printed advertisements would help his business, and at the end of the shot and the scene, we observe a number of red inked ads being printed. There are only three characters in the piece, the other being Liu's mother, and gradually we learn about their domestic and business-related activities, all of which take place in the home, and all of which are only glimpsed occasionally by the camera. Liu's restricted view of key narrative action is not dissimilar to the style of the late, great French film director, Robert Bresson, although there is a somewhat "Chineseness" to the perpendicularity of her gaze, while allusions to the equally great (and late) Yasujiro Ozu abound. But, in her quotidian, autobiographical approach and her contrapuntal visual style (simultaneously wide and close) we surely find a singular and profound originality in Liu Jiayin's work.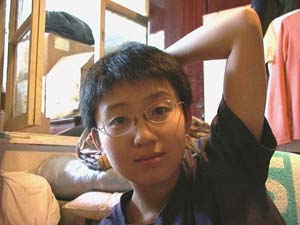 Director Liu Jiayin
The two directors' retrospectives, of Sun Yu (China) and Keisuke Kinoshita (Japan) jointly mounted by the festival and the film archive this year were not quite up to the standards set in the previous two years, with Shimizu 101 (2004) and Ozu 100 (2003). Those two series were accompanied by bilingual monographs (in Chinese and English), but no books appeared this time. Most of the 19 Kinoshita films were due to be screened at three venues after the film festival concluded, and I was only able to see three of the five films which were showing while I was staying in Hong Kong. Nijushi no Hitomi (Twenty-Four Eyes, 1954), perhaps the director's best-loved film —it finished #1 on Kinema Jumpo's list, ahead of Kurosawa's Seven Samurai —is an elegant, antiwar melodrama, and Onna (Woman, 1948) is a strange experimental film, more performance piece than narrative, full of close-ups and extreme close-ups, and with more oblique-angled shots than The Third Man. For me, the most interesting of the three was Kinoshita's version of Narayama Bushiko (The Ballad of Narayama, 1958) which was made in colour and cinemascope. Unfortunately, the print shown had faded to red, so that we missed some of the apparent colour effects, e.g., a shift to grey tones near the wintry end where the mother (magnificently played by Kinuyo Tanaka) is left to die, before the deliberate artificiality of theatrical staging segues into black and white documentary footage. As for the Sun Yu retrospective, aptly named, "Poet of Cinema," I had seen most of his extant Lianhua films from the 1930s on previous occasions, but I was very pleased to see the oldest of these, Ye Meigui (Wild Rose, 1932) again, and to note that in the colour film Brave the Wind and Waves (1958), we can sense from the very first shot, tracking from a boat on a river, that it is a Sun Yu-directed film. As in so many of his 1930s films, vivacious, energetic young women dominate proceedings. Here, three women are trainee navigators in the Chinese Navy, and although a "couple" is formed in the end, between one of them and a trainee engineer, she navigates a very difficult passage for him. Absolutely charming!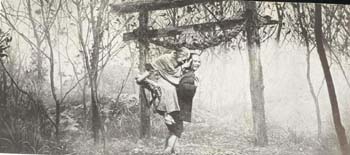 The Ballad of Narayama