15th San Sebastian Horror and Fantasy Film Festival
Freaks Gathering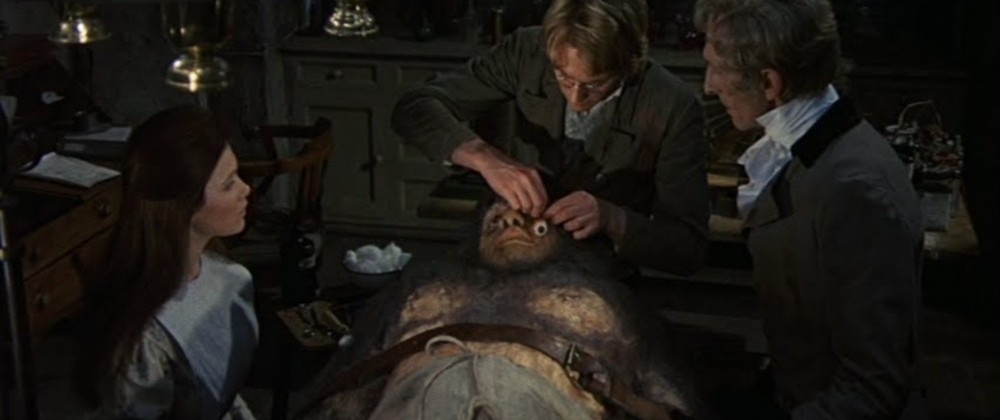 November 6, 2004. The occurrence: closing night at the 15th San Sebastian Horror and Fantasy Film Festival ["Semana de Cine Fantastico y de Terror"]. The place: the marvelous, futuristic Kursaal auditorium, filled to the limit with over 2000 screaming fanatics. The event: about fifty minutes into the closing feature film, Alien vs. Predator. The audience erupts in a ecstatic applause, accompanied with the sound of 4,000 feet enthusiastically beating on the floor, when Raul Bova utters the now legendary words "The enemy of my enemy is my friend". In that precise moment, one realizes that Paul W.S. Anderson's popcorn flick has mutated into something else: the catalyzing factor for a collective celebration that goes far beyond mere vision. This is not an unusual event at the "Semana". Actually, it's the rule. A sort of pagan rite in which the interaction between audience (the so-called freaks, who come from every angle of Spain to attend the Festival) and the film is essential, and becomes a show within the show.
Now, for the statistics. The 15th edition offered a slightly reduced selection, lasting one day less than previous editions, while the main retrospective was dedicated to Hammer Films, with 16 titles ranging from The Quatermass Xperiment to Frankenstein and the Monster from Hell. The audience award went to James Wan's Saw, whereas the short feature film award went to Phil Mulloy's The Final Solution, ex aequo with Peter Cornwell's Ward 13. Overall, it was a fairly good festival, even though the premieres were not the best: I found the opening feature, Atomik Circus-Le retour de James Bataille, simply insufferable. There are probably folks out there who consider Thierry and Didier Poiraud nothing short of geniuses – including the brothers themselves, which is part of the problem. Those who saw the dynamic duo's previous shorts (Aliens with 2000 Assholes, Metal Spike, Ideal) knew what to expect. Or rather, they thought they knew. If I had to describe Atomik Circus in polite terms, I'd call it a mixture between Tavernier's Coup de Torchon, Peter Jackson's Bad Taste, Greydon Clark's Without Warning (with Jack Palance, Martin Landau and the flying alien omelettes) …and a Vanessa Paradis video. Which, if you are stoned out of your mind, could be an appetizing prospect. I just couldn't buy it, or maybe there wasn't enough peyote in my coffee. The madness inherent in the script, with its mixture of flesh-eating aliens, musical numbers and demented gags is equalled only by the cast: lovely-looking Paradis, joined by Jason Flemyng as the titular hero, veteran French actor Jean-Pierre Marielle (Four Flies on Grey Velvet, Tous les matins du monde, Le parfum d'Yvonne), Italian b-movie cult icon Venantino Venantini, and Mr. Man Bites Dog himself Benoît Poelvoorde, as a rogue manager by the name of Chiasse (which is the pretext for countless verbal wordplays which I'm going to spare the non-French readers).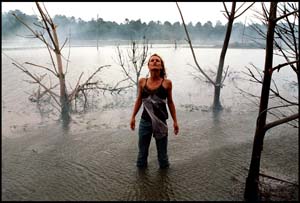 Sometimes the Goliardic atmosphere can be misleading. To put it in other words, some films are not tailored to this festival. That was the case with the South Korean Spider Forest, by Song Il-gon, an arty, sloooow-paced supernatural drama about death, memory and the Eternal Feminine which would have been better suited to the San Sebastian International Film Festival (where it was originally included) or Udine's Far East Film Festival. However, don't think that people here just want flesh and blood. Freaks have a warm heart, and they prove it by sitting in religious silence as, on screen, an old ham rolls his eyes and overacts like mad for almost two hours. The film is David Grieco's unbearably pretentious Italian-Russian co-produced Evilenko, starring none other than Malcolm McDowell. "He's my best friend, that's why he accepted to do my film instead of the ten he usually does every year," says Grieco. Bad choice, Malcolm. Based on the true story of Andrei Chikatilo, the infamous Rostov Ripper, Evilenko is not, however, a 'horror movie'. Grieco tells the audience that all the violence has been kept off-screen because "this is a political film"; which may explain the pregnant metaphors on the fall of Communism that are thrown into the viewer's face every three minutes, but not the Freud-by-numbers dialogue or the cataleptic pace. However, since Evilenko has been declared "a film of national cultural interest" and partly financed by the State, Grieco must be right after all.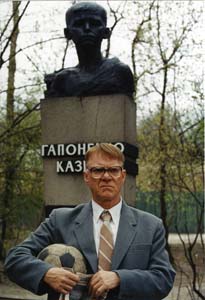 The other Italian film in competition was Sergio Stivaletti's heartfelt homage to old-fashioned omnibus horror movies, I tre volti del terrore, made on a budget so tight that to use the word "shoestring" would imply an excessive luxury on the producer's behalf. Unfortunately, that's the state of Italian horror-fantastic cinema at the moment: if even Dario Argento can't find backers, while Soavi has made up his mind to become a tv director for hire, it's no wonder I tre volti del terrore looks like a homemade movie, shot among friends and packed full of in-jokes: Claudio Simonetti has a cameo as a werewolf victim in the first episode, while Lamberto Bava and Stivaletti appear as themselves in the second (and worst) episode, on the set of the fictitious Demons X (Bava scolds poor Stivaletti because of a lousy f/x), Stivaletti's son is a boy floating in the sky in the mind-numbing epilogue, which is perhaps Stivaletti's answer to 2001's ending. The overall result, though, is rather poor, since the script simply puts together a number of references, from such Amicus features as Torture Garden and Dr. Terror's House of Horrors (from which it borrows the framing device, with John Phillip Law playing the part of a mysterious mesmerist named Peter Price who meets three young passengers on a train), to Bava's Twitch of the Death Nerve, to The 7th Voyage of Sinbad, to the aforementioned 2001, while cinematography, acting and music are amateurish at best.
Andreas Marschall's Tears of Kali is another omnibus horror movie shot on video with an extremely low budget, which has undergone similar production vicissitudes as Stivaletti's film: originally a short, it was shown by Marschall at film markets in order to obtain financing. Backers were so impressed with it that Marschall added two more episodes and turned it into a feature film. Tears of Kali tells the story of three former members of the mysterious Taylor-Erikkson sect, a fictitious mystical congregation whose manipulation of Indian mythology and religion resulted in unexpected and terrifying results. In this writer's humble opinion, Tears of Kali is one of the best – and, believe me, scariest, and I mean it horror movies in years. Forget up-to-date, fashionable remakes of '70s cult flicks. Forget frustrated serial killers with a penchant for overcomplicated murder schemes. Forget all those long-haired, pale-faced, spastic walking Japanese ghosts popping out of tv sets. This is the real thing. Being a bit biased towards German horror films, and expecting something in the vein of an Olaf Ittenbach flick, I was blown away by Marschall's mature and stylish direction, his surprising use of b&w and colour, digital video and Super-8, silent inserts and mock-documentary sequences that pay homage to Ruggero Deodato's Cannibal Holocaust. But it's the script that makes the difference. Tears of Kali enormously benefits from Marschall's detailed, refined screenplay, which mixes extreme gore and evocative horror and makes the best use of a few claustrophobic sets (an asylum, a psychiatrist's study, a basement that reminds one of Fulci's The Beyond). Even the cast (which features Mathieu Carrére and spaghetti western veteran Peter Martell) is astonishingly good.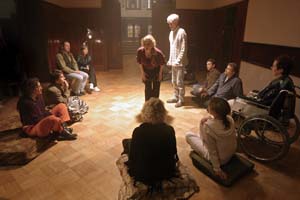 Another tough contender for the palm of the Fest's more uncompromising flick was the francophone Calvaire, a type a southern-comfort-gone-wrong tale (that is, anything from Deliverance to Hills Have Eyes) in a typically French scenario. The "ordeal" of the title is that of a young traveling singer (Laurent Lucas) whose van breaks down in a deserted mountain region, on Christmas Eve, near a hostel run by an affable yet creepy Mr. Bartel (Jackie Berroyer). It does not take long to find out that the innkeeper is totally out of his mind, and director Fabrice Du Welz is much more explicit in depicting the sexual implications of Bartel's obsession. Compared to the fate that awaits the unfortunate protagonist, that of poor Ned Beatty in Deliverance is kids' stuff. The main problem with Calvaire is the passive, unsympathetic nature of its main character, which keeps the viewer from really caring for him; but Du Welz has a keen eye for composition, and the way he injects weird elements into the story –such as a creepy sequence in a bar where a group of mountaineers start dancing at the sound of a romantic tune– makes Calvaire a promising debut. Euro-horror fans take note: our beloved Brigitte Lahaie has a small but important role as a nurse in a home for seniors.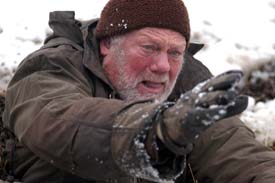 More good stuff: Bill Plympton's latest feature length animation film, Hair High, is a ghost story à-la Carrie spiced with the typical imagery of 1950s juvenile delinquency flicks (impossible hairdos, James Dean leather jackets, rock'n'roll), with Plympton's unique graphic style and offensive-yet-irresistible humour. Plympton's 3 minute short Guard Dog was equally delicious. And, of course, no true horror and fantasy festival can do without a Miike Takashi movie. This year, the world's busiest director brought two films: One Missed Call (2003), a stylish but ultimately lukewarm Ring rip-off, with a couple of great sequences (my favourite being the tv show death countdown), but ultimately uninspired writing; and Zebraman, a demented, exhilarating homage to old Japanese superhero flicks. It is 100% Miike and literally sparkling with the director's usual lunacy and wit. Who needs Daredevil when you've got this? However, as you read these words Miike will have probably shot three or four more films. And I couldn't be happier!