Montreal, 2004, the Film Year in Review
On Montreal Screens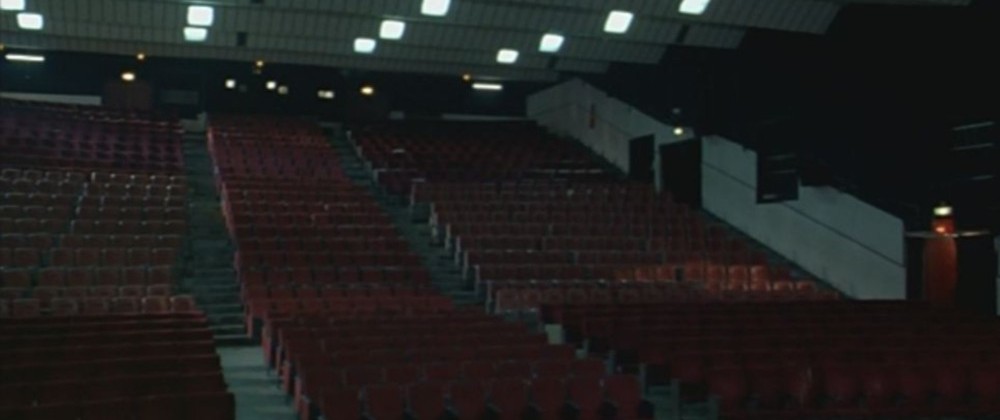 In many ways, 2004 was a very good year for cinema, globally, but Montreal was not one of the very best vantage points for viewing these films. Part of the problem is the chaos we are experiencing in the film festival sector, with the World Film Festival (WFF) being investigated and then dumped by both federal (Telefilm) and regional (SODEC) funding bodies. Ironically, it wasn't such a bad year for the WFF with a good representation of films from Latin America and Asia, but the trend of the Toronto International Film Festival drawing most of the prize-winning "art" films continues. (Every filmmaker wants his/her work to premiere there, it seems.) Hence we have to wait until October for the Festival of New Cinema (FNC) and hope they will pick up the most prominent titles showing in the Toronto event. Thankfully, the FNC upgraded itself this year by inviting some "hip" younger programmers, including Julien Fonfrède of Fantasia to present new series of edgier fare, including some Asian selections. But, as usual, although the FNC was strong on North American and European work, it didn't show enough outstanding new work from the rest of the world. Part of the problem is that the FNC works closely with local, independent film distributors, in showing their upcoming releases, and, whereas Les Films Séville used to pick up challenging Asian films for local release—e.g., Jia Zhangke's Platform and Unknown Pleasures and Abbas Kiarostami's Ten—they seem to have abandoned Asia, altogether. We will keep our fingers crossed for 2005, although, I think SODEC and Telefilm Canada have made a big mistake in supporting the Spectra Group's proposal for a new festival. Unless Spectra does what the WFF and FNC haven't done, which is to hire some sophisticated, knowledgeable film programmers to travel the world and aggressively solicit the best new work, nothing will really change.
This year, the Ex-centris and the Cinémathèque Québécoise (CQ) continued to be the best places to see films, and, unfortunately, the latter continues to struggle financially. The AMC Forum is by far the best of the multiplexes as they consistently showcase more than 17 different titles in their 22 theatres, many of them in languages other than English. Indeed, the fact that they do this has made the Cinéma du Parc far less of a valuable alternative, since they are often showing the same films. They have a mandate to show films that have no local distributor, and yet, these days, the only films like this to get a limited release tend to be "cult" items; Takashi Miike films, for example. We must thank Mitch Davis for continuing to do edgy "midnight" programming, but, I wonder about the rest of the programme. Some films even seem to be "dumped" without any promotion. A case in point is the Iranian film by Jafar Panahi, Crimson Gold (2003) which didn't even appear in the "premiere" section of the programme when it did get released at the Parc in September, and which I missed because of this. (I later caught it on home video, and found it to be one of the very best Iranian films ever made; but to be fair, Cinema du Parc's recent February-March schedule seems outstanding, led by Jia Zhangke's The World and Bahman Ghobadi's Turtles Can Fly.) Obviously, film theatres, like all other businesses, have to make a profit in order to operate. And we can't blame the owners, totally, for not risking their businesses by consistently showing films which have such a limited appeal. Part of the blame in Montreal must be laid at the doors of the newspaper offices who continue to hire people to write film "reviews" who know absolutely nothing about film. The problem is much greater in the English sector than in the French, and I should put a plug in here for the French-language weekly, Ici, especially their lead film critic Denis Coté, who always do their best to support the art of global cinema.
Continuing my polemic, I've decided to discuss recent films which have yet to show in Montreal, followed by the presentation of two 2004, 10-Best lists: films which showed for the first time in Montreal last year and films which were released in the province of Quebec. (I have placed the items of my "global" 2004 10-best list in large cap.)
A useful approach is to look at a few countries whose films have been under-represented in Montreal. First of all, I must mention Argentina. At least three films that I saw for the first time in 2004, all of which are directed by young, "new" Argentine filmmakers are worthy of inclusion on a ten-best list: Celina Murga's first feature, Ana y los otros (Anna and the Others, 2003), Lucretia Martel's second feature, LA NIÑA SANTA (The Holy Girl)—her first, La ciénaga (The Swamp, 2001) has yet to show here, either—and Pablo Trapero's third feature, La familia rodante (The Rolling Family). I could also mention Lisandro Alonso's second feature, Los muertos, and another first feature, Whisky Romeo Zulu by Enrique Piñeyro as well as the fourth film by the slightly older Carlos Sorin, BOMBóN – El perro. What is remarkable here, is that Latin American films have always been well supported in Montreal, with at least two annual film festivals being dedicated to them, apart from all of the regular international film festivals in town. Perhaps the absence of all this great new work I'm mentioning here has to do with it mostly tending to be experimental in style and subject matter. I doubt if too many of these films would be hugely popular with any kind of audience. But, if I was running the new Montreal film festival (whatever it will be called) I would mount a series representing this "new, new Argentine cinema."
The other country which badly needs some retrospective attention is Thailand. To be sure, Fantasia, consistently the best Montreal film festival in recent years, does what it can, and last year showed a group of (not particular good) genre films along with Pen-ek Ratanaruang's Last Life in the Universe (2003). Also, The FNC showed two films by the totally original Apichatpong Weerasethakul, the Cannes-winning, Tropical Malady and The Adventure of Iron Pussy (2003). I confess, that, after seeing all four of his feature films, I really don't understand them (except for Iron Pussy, which is terminally silly), but the others deserve some exposure. Also, Ratanaruang's best film, Monrak Transistor 92002) has never shown here, and, neither has the breakthrough Thai masterpiece, Tears of the Black Tiger directed by Wisit Sasanatieng (2001) which is one of the many Asian films tied up by Miramax.
The very best new film I saw in 2004 was Taiwanese director Hou Hsiao-hsien's CAFÉ LUMIÈRE made in Japan by Shochiku to mark the centenary of Ozu's birth. (This placed #1 in the Village Voice "Best Undistributed Film" poll, receiving mentions by as many as 26 of the less than 100 critics who responded—probably all of those who saw it.) Japanese films made on the "wild" side get excellent exposure in Montreal because of Fantasia, but low key works like Hou's and Kawase Naomi's Shara (2003), which I saw in Hong Kong, often fall through the festival cracks. The event of 2004 for me was the retrospective of Shimizu Hiroshi's films which had been presented in Berlin and then travelled to Hong Kong. I realize that Shimizu is not a completely unknown director—I had seen one of his films before in Montreal, Ornamental Hairpin (1941) when it was shown during a Kinuyo Tanaka retrospective in 1990—but, I was amazed at how Shimizu's work of the 1930s and 1940s was as original, perhaps even as magisterial as that of Ozu and Mizoguchi. (CQ please take note.) I should also note that one of the best new films I saw in 2004 was GOODBYE DRAGON INN, by another Taiwanese director, Tsai Ming-liang, and this film, which has never been screened in Montreal, was released in the U.S last year and placed #5 in the Village Voice poll, with 31 mentions!!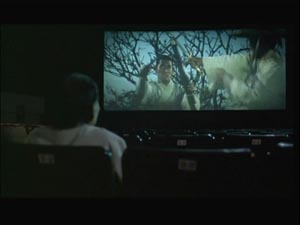 The best of new mainland Chinese film production is also underrepresented on Montreal screens. Jia Zhangke's latest, The World and the highly regarded South of the Clouds both showed in Toronto but were not picked up by the FNC. Two excellent films from 2002 which were released in the U.S. last year have yet to show at all here, Blind Shaft and Tian Zhuangzhuang's Springtime in a Small Town. As is the case with many other films—for example, from Brazil (2003), the digital documentary, Bus 174 and Hector Babenco's Carandiru—we can view them on DVD but we have never had the chance to see them as "films," on a Montreal screen. Traditionally, Hong Kong films have been well represented at Fantasia, and it is very easy to watch any Hong Kong release on DVD or VCD, but certain films still need to be seen on the "big screen," especially those made by the "Milky Way" outfit and directed by Johnnie To. I regret that I've never had the opportunity to see his widescreen, cinemascope PTU (2003) as it should be seen. I've only been able to watch it on DVD. But, I was fortunate enough to be able to see one of his latest films, BREAKING NEWS at the TIFF, and, I feel sorry for Montrealers not having the chance to see this, one of the finest examples of contemporary genre, action filmmaking, as I did. There is still no substitute for seeing films in cinemas, as long as there is a (human) projectionist on hand to maintain sharp focus. On the average, I go to the cinema over five times a week, and I'm happy to be in a city, Montreal which gives me the opportunity to see a good range of cinema-going experiences. But, I do still have to travel to see the best of world cinema…
Best films shown for the first time in Montreal in 2004 (and not released): #1: WEST OF THE TRACKS, Wang Bing (China) at FNC— epic, 9 hour, digital doc.
and ten others shown at three festivals
at Fantasia:
Angel's Egg, Mamoru Oshii (Japan, 1985)
Fantasia, Wai Ka-fai (Hong Kong)
at the WFF:
Trilogy: The Weeping Meadow, Theo Angelopoulos (Greece)
MAAREK HOB (In the Battlefields), Danielle Arbid (Lebanon/France/Belg.)
Lu Cheng (Passages), Yang Chao (China)
Memoria del saqueo—A Social Genocide, Fernando E. Solanas (Argentina)
Parapalos (Pin Boy), Ana Poliak (Argentina)
also at the FNC:
ANATOMIE DE L'ENFER, Catherine Breillat (France)
Whisky, Juan Pablo Rebella & Pablo Stoll (Uruguay/Argentina/Germany)
Tropical Malady, Apichatpong Weerasethakul (Thailand)
Best films released in Montreal in 2004
Top five (six) in no particular order:
DOGVILLE, Lars von Trier (Denmark)—shows us what "middle America" is really like
Since Otar Left, Julie Bertucelli (France)
Crimson Gold, Jafar Panarhi (Iran)
Oasis, Lee Chang-dong (Korea)
VERA DRAKE, Mike Leigh (UK)—with a mention to the UK horror-comedy Shaun of the Dead
Next five (nine) in no particular order:
Hero / House of Flying Daggers, Zhang Yimou (China)—also, "director of the year"
The Saddest Music in the World, Guy Maddin (Canada)
Before Sunset, Richard Linklater (U.S.)—an alternative pick is the decidedly"un-romantic" Closer by Mike Nichols
Infernal Affairs /Stephen Chow's Shaolin Soccer (Hong Kong)—blockbusters, finally released by Miramax (see also, Hero, above)
Festival Express (Canada)/ The Agronomist (U.S./Haiti), Jonathan Demme— two of the best documentaries around in an overrated field
Note: Although I saw well over 300 new and retrospective films for the first time in 2004, I still missed titles I should have seen, for example Godard and Claire Denis' latest films and Ousmane Sembene's Moolaadé.