A Harrowing Exploration of War and the Meaning of Human Existence: The Ascent (Voskhozhdeniye, Larisa Shepitko, 1977)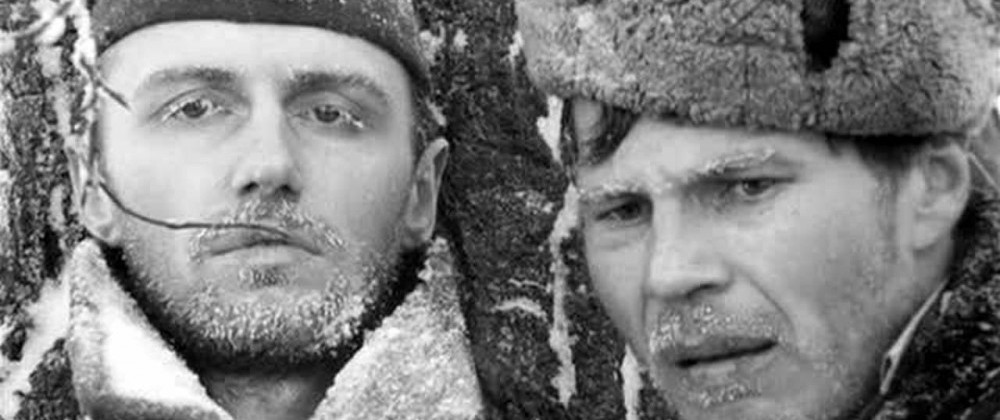 Introduction
The Ascent (Voskhozhdeniye, Larisa Shepitko, 1977) is a Second World War drama set in an unidentified area of German-occupied Belarus during the bitterly cold winter of 1942. Not a film for the faint hearted, The Ascent is a harrowing, gut-wrenching portrayal of the suffering experienced by two members of a Soviet partisan group: a stolid, grizzled, battle-hardened veteran, Rybak (Viadmir Gostyukhin), and a former schoolteacher turned soldier, the pale, slight and sickly Sotnikov (Boris Plotnikov, making his film debut). After the starving partisan group is attacked by a German detachment on a freezing snow-covered hillside, Rybak and Sotnikov are dispatched to a nearby farm to fetch much-needed food supplies. When Sotnikov is shot and wounded in the leg after a confrontation with the Germans, both men take refuge in the cabin of a peasant woman, Demchika (Lyudmila Polyakova), who is also the mother of three young children. Rybak and Sotnikov hide in the loft of the cabin, but are discovered by the Germans and taken prisoner.
Both Rybak and Sotnikov will be pushed to the limits of human endurance when they are faced with an impossibly agonizing decision: whether or not to collaborate with the Germans. To collaborate means their lives could be spared. To refuse will result in certain death. Rybak and Sotnikov will be interrogated by a fellow Russian, turned collaborator, Portnov (Anatoliy Solonitsyn), who is doing the German's dirty work. 1 Brutally tortured, Sotnikov will defiantly refuse to collaborate. Consequently, the Germans execute Sotnikov, a death by public hanging on a makeshift gallows. Desperate to save his life, Rybak will choose to collaborate. His life will be spared, but Rybak will be forced to work for the German police.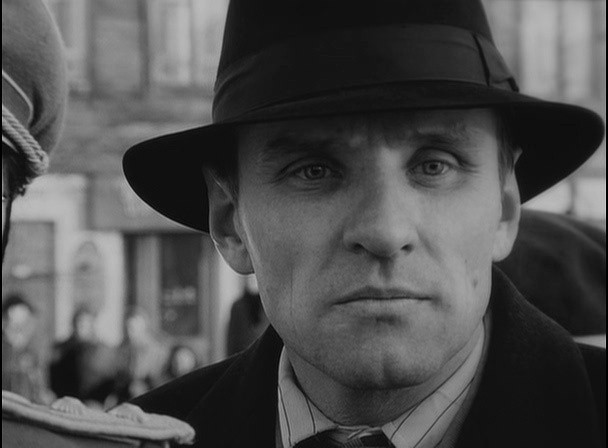 Anatoliy Solonitsyn
At first, The Ascent appears to be a straightforward story about two Russian partisans who are captured by the invading Germans during the Second World War. However, as it progresses, The Ascent becomes a multi-layered exploration of complex existential issues regarding the meaning of human existence. These issues include survival, collaboration, sacrifice, resistance, betrayal, morality, mortality, immortality, martyrdom and spiritual transcendence.
A Tragic Loss
When The Ascent was released in 1977, it garnered Ukrainian-born director Larisa Shepitko much-deserved international recognition, winning the prestigious Golden Bear Award at the 27th Berlin International Film Festival that year. Indeed, Shepitko was to return to the festival again in 1978, this time as a jury member, with a career retrospective given in her honour. 2
Tragically, just as her star was beginning to rise internationally, Shepitko died in a car accident, aged 41, on 2 June 1979, along with her cinematographer, Volodya Chukhnov, production designer Yura Fomenko, and three other members of her film crew. When the tragedy occurred, Shepitko and her colleagues were on the Leningradsky Highway in Russia, location scouting for a new film she had just begun shooting, a follow-up to The Ascent, based on the 1976 novella, Farewell to Matyora, by Russian writer Valentin Rasputin. 3 Farewell to Matyora is the poignant story of the last days of a group of villagers on Matyora, an island community on the Angara River in southeast central Russia. The villagers are to be re-located, with their homeland flooded to make way for a new hydroelectric dam. 4 The film, entitled Farewell (Proshchanie), was eventually completed by Larisa Shepitko's husband, Soviet director Elem Klimov, and released in 1983 (see more on Elem Klimov below).
Growing up in the Soviet Union
Larisa Efimovna Shepitko was born in Armtervosk, a town in the Donetsk region in Eastern Ukraine on 6 January 1938 (the majority of sources cited list Shepitko's birth year as 1938, although it's sometimes given as 1939). Her first name is also occasionally spelt "Larissa." Her early life was tough. One of three children, she was raised by her mother, a schoolteacher. Her father, a Persian military officer, divorced Sheptiko's mother and abandoned his family when Larisa was very young. The Second World War was to also have a profound affect on the young Larisa Sheptiko. As she recalled, "My father fought all through the war. To me, the war was one of the most powerful early impressions. I remember the feeling of life upset, the family separated. I remember hunger and how our mother and us, the three children, were evacuated. The impression of a global calamity certainly left an indelible mark in my child's mind." 5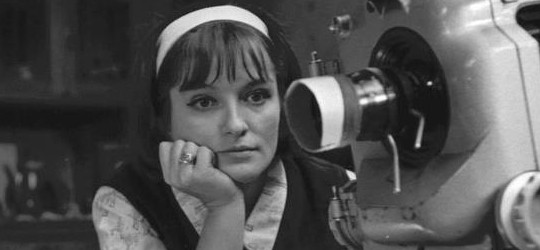 Larisa Shepitko
Developing an interest in cinema from an early age, Larisa Shepitko applied to the prestigious All-Union State Institute of Cinematography (now known as the All-Russian State University of Cinematography, as well as the Gerasimov Institute of Cinematography: VGIK) at age 16, in 1955. Founded in 1919, VGIK is the oldest film school in the world. 6 The enrolment committee at VGIK initially told the young Larisa Shepitko that directing was "too masculine a profession for a woman," and that she might try applying to the acting department instead. 7
Luckily for Shepitko, the celebrated director, screenwriter and producer, Alexander Dovzhenko, was recruiting cinema students for his workshop at VGIK. 8 Impressed by Shepitko's ambition, Dovzhenko admitted her to his course. 9 Larisa Shepitko was to spend only 18 months under the tutorship of Alexander Dovzhenko, as he died in 1956, aged 62, well before Shepitko graduated from VGIK in 1963. However, Dovzhenko's attitude towards life and art was to have a profound and lasting influence on the young aspiring director. Shepitko referred to Dovzhenko as "my mentor." She also took to heart Dovzhenko's motto: "You have to approach each film as if it were your last." 10
While at VGIK, Larisa Shepitko met another student, Elem Klimov, who was to become her future husband (they married in 1965). Although Elem Klimov made only five features before his death in 2003, aged 70, he is acknowledged as one of the most important Soviet directors in the last 50 years. Klimov's last feature, Come and See (Idi I smotri, 1985), is considered to be one of the greatest films about war ever made. A stark, relentless and horrific portrayal of the German occupation of Belarus during the Second World War, Come and See is told from the perspective of a 16-year-old Russian partisan, Florya (Alexei Kravchenko).
In 1980, after Shepitko's death, Klimov also made a short 20-minute documentary about his wife, entitled Larisa. A loving and moving tribute, Larisa includes excerpts from Shepitko's films, as well as behind-the-scenes footage and snapshots. In addition, it features voice recordings of Shepitko talking about her life and career. In Larisa, Klimov shares his thoughts on his wife:
Larisa was born just before the Second World War. With her family, she had gone through all the hardships of the time. Air raids, hunger, work unfit for a child. Those impressions can never be forgotten; they're burning you, and remain with you forever. I think it was then that an invisible bud sprouted, the bud of the future work that came many years later, the ultimate achievement of the director Larisa Shepitko, her film The Ascent. 11
Crucially, Shepitko and Klimov, as well as other important filmmakers such as Andrei Tarkovsky (who began studying at VGIK in 1954, just a few years before Shepitko and Klimov), rose to prominence during a political and cultural period in the Soviet Union when a window of artistic opportunity was opening up. After hard-line Soviet communist leader Joseph Stalin's death in 1953, Nikita Khrushchev ascended to the leadership as General Secretary of the Communist Party in 1953, adding the title of Chairman of the Council of Ministers in 1958. Khrushchev subsequently denounced Stalin's political crimes, signifying the end to an era of strict ideological and creative oppression. This period of liberalization, fragmentation of Stalinism, and the relaxation of controls on personal expression became known as "the thaw." Significantly, there were benefits for Soviet filmmakers, who now had more freedom to explore personal themes, as well as in-depth portrayals of complicated subjects. 12 Unfortunately, Khrushchev's thaw was not to last. After Leonid Brezhnev was appointed General Secretary of the Communist Party in 1964, a less intellectually open period in the Soviet Union began to re-emerge. 13
Larisa Shepitko: Early Career
Shepitko only completed four features, one segment of a two-part omnibus, Beginning of an Unknown Era (Nachalo nevedomogo veka, 1967: see below), a television movie, 13 P.M. (V trinadsatom chasu nochi, 1969), and a couple of short films as a student at VGIK, in a tragically short career. However, she was able to progressively develop a remarkably consistent body of work with a distinctive thematic and visual aesthetic. 12
Shepitko's first feature was Heat (Znoj, 1963), which was her graduation film from VGIK. An impressive debut, Heat won the 1964 Symposium Grand Prix ex aequo at the Karlovy Vary International Film Festival (KVIFF) in the Czech Republic. 15 Most importantly, Heat was to establish, from the outset of her career, Shepitko's concern with both physical adversity and moral dilemmas that test the absolute limits of human endurance (Shepitko's mentor at VGIK, Alexander Dovzhenko, and his emphasis on the importance of the natural world and its affect on human nature was a powerful influence throughout her career). 16 The necessity for individuals to endure suffering that is both physical (due to the harshness of the natural world in which they live) and psychological (because of complex moral decisions they are forced to make) was to become a motif in all of Larisa Shepitko's films, culminating with The Ascent. 16
Set in the 1950s, Heat takes place on a small collective farm on the windswept Central Asian steppes of Kyrgyzstan, a vast region of open grassland in northern Kazakhstan and adjacent portions of Russia. Heat addresses both the rural hardships associated with living and working on these barren steppes, as well as political and generational conflict. 18 The film focuses on two males, an older, Stalinist farmer, Abakir (Nurmukhan Zhanturin), and an idealistic 17-year-old high school graduate, Kemel (Bolotbek Shamshiyev), who quarrel over the introduction of new modern agricultural practices. 19 Kemel's proposal to modernize farming methods clashes with the worldly-wise Abakir, who sees the arrival of the young man as a threat to his seniority and established way of life. 20
Significantly, Heat was also an early indication of the lengths to which Larisa Shepitiko would go in order to strive for authenticity. The film was made under extremely arduous climatic conditions. Indeed, things were so bad that Shepitko fell dangerously ill with jaundice early in the shoot and had to be stretchered off the set. But such was Shepitko's , that she completed the film, even directing from the stretcher when necessary. 21 During her illness, Shepitko also asked fellow VGIK student Elem Klimov to help her complete the project. 22 It marked the beginning of an enduring relationship.
Larisa Shepitko's next feature was Wings (Krylia, 1966). Her first professional feature since graduating from VGIK, Wings focuses on Nadezhda Petrukhina (Maya Bulgakova), a famous Soviet Second World War bomber pilot and loyal Stalinist. Now twenty years after the end of the war, Nadezhda is a middle-aged headmistress of a technical school in a provincial town in Russia. Although still lauded as a war hero, Nadezhda is struggling to reconcile her past life with the present. Nadezhda has an unsatisfactory personal life. She is unmarried, estranged from her adopted daughter, and openly mocked by her students. Unhappy and lonely, Nadezhda attempts to escape reality into memories of the past. As Elem Klimov, in his documentary Larisa, poignantly observes: "_Wings_ is a film about people scorched by the war, about the never-to-be healed wounds of memory, about the insufferableness of wingless existence." 11
Wings could also be considered as the film in Larisa Shepitko's catalogue that most resembles The Ascent. Although it is set in the Soviet Union of the mid-1960s, Wings, like The Ascent, focuses on events that take place during the Second World War (the film also includes newsreel footage of air raids during the war). In addition, Wings is reminiscent of _The Ascent_'s focus on a detailed character study, as well as inserting layers of meaning and moral complexity.
After Wings, Shepitko deviated from feature filmmaking in 1967 by contributing an episode to the ill-fated omnibus Beginning of an Unknown Era, which consisted of two 38-minute films commissioned to commemorate the 50th anniversary of the Soviet October Revolution in 1917. Shepitko's episode, The Homeland of Electricity (Rodina Electrichestva), is based on a story by Soviet author Andrei Platonov about the introduction of electricity to a desolate, old-world Russian village after the Revolution. The other episode, Angel, is by Soviet director and actor Andrei Smirnov, who recently appeared in the 2011 Russian film Elena (Andrei Zvyagintsev). Set in 1920, Angel is based on a short story by Soviet novelist Yuri Olesha. It focuses on the train journey of a group of refugees fleeing the disruptions caused by the Russian Civil War, which immediately followed the Revolution. However, on completion, Beginning of an Unknown Era was not shown and immediately shelved.
By 1967, Nikita Khrushchev's thaw was over. Leonid Brezhnev's arrival in 1964 heralded a return to conservative values and tighter censorship. 12 Brezhnev's censors possibly found the presentation of the two stories insufficiently optimistic. 25 An unsentimental depiction of the early days of communism in the Soviet Union, Beginning of an Unknown Era was hardly the banner-waving propaganda that the Communist Party under Brezhnev had envisaged. It wasn't until 1987 (several years after Shepitko's tragic death), during the more relaxed political climate created by Glasnost, that Soviet leader Mikhail Gorbachev finally allowed Beginning of an Unknown Era to be screened. 22
Shepitko's next feature, You and I (Ty i ya, 1971), was her first and only colour film. It was also the first feature in which Shepitko received writing credits (she co-wrote the screenplay with writer and actor Gennady Shpalikov, a fellow graduate from VGIK). You and I differs from all of Shepitko's other films, in that it takes place entirely in the contemporary Soviet Union of the early 1970s. You and I centres on a former neurosurgeon, Pyotr (Leonid Dyachkov), who has come to the realization that he has compromised his earlier ideals. Instead of fulfilling his scientific potential as a neurosurgeon and saving many lives, he has taken an unsatisfying job as a physician in the Soviet embassy in Stockholm. 12 Pyotr decides to leave his job and return to Moscow, where he re-connects with his old friend Sasha (Yuriy Vizbor), also a former neurosurgeon. Complicating matters, Sasha has formed an attraction to Pyotr's ex-wife, Katya (Alla Demidova), and struggles with his feelings for her. Leaving his life behind, Pyotr decides to go on a soul-searching odyssey, eventually finding himself in the harsh, barren landscape of Siberia.
You and I could also be considered Shepitko's most experimental film, with Pyotr's story told in a series of complex, rearranged time fragments, which involve his relationships with Sasha and Katya. 21 Moreover, You and I can be viewed as a companion piece to Wings, with the central character, Pyotr (like Nadezhda), reaching a point in his life where he is questioning his role within the broader Soviet society. 29 In addition, both You and I and Wings explore existential themes involving characters that are faced with moral conflicts related to whether or not they should have compromised their original ideals. In Larisa, Klimov discusses the significance of You and I to Shepitko's career: "In that film, Larisa came close to the central theme of her creative work, the theme of merciless judgment of yourself, the high responsibility each of us has for everything we've done in life." 30
Although Shepitko's first three features Heat, Wings and You & I have diverse narratives that take place at different times in Soviet history, there are clearly identifiable visual and thematic similarities between them. In these films, Shepitko has created a distinctive visual aesthetic, with harsh and stark imagery evoking the turbulent internal conflicts the various characters are experiencing. Heat, Wings and You & I are all situated in disparate physical extremes, such as snow-covered landscapes, arid deserts and rugged wastelands. Moreover, in all three films, the harsh natural worlds depicted present a very real threat to the survival of the characters. There are also thematic links between Heat, Wings and You & I, with all three films featuring characters faced with personal conflicts against the backdrop of societal change. Heat explores political and generational conflict within the changing Soviet society of the 1950s. By the time Shepitko made Wings and You & I (which are set in the mid-1960s and early 1970s respectively), Shepitko's filmmaking had evolved to encompass complex existential themes concerning various moral and ethical concerns confronting the main characters. It is this combination of a distinctive visual aesthetic and a desire to explore complex existential themes concerning the nature of human existence that was to reach its zenith with Larisa Shepitko's next feature The Ascent.
Significantly, before making The Ascent, Shepitko was to endure a life-changing experience. Aged thirty-five, and now married to Elem Kilmov, Shepitko was pregnant with their first child (son Anton). However, she was also at extreme risk of dying. As Shepitko explained in a later interview, "I saw death very closely. I had a serious spine injury, and at the time I was expecting a child. I could have died, because I decided to keep the child. At that time, I was facing death for the first time, and like anyone in such a situation, I was looking for my own formula of immortality." 22 This life or death experience may have made Larisa Shepitko identify even more closely with the existential themes of mortality and immortality that are intrinsic to The Ascent.
Making The Ascent
The Ascent is based on Sotnikov, a novella published in 1970 by the Belarusian writer Vasil Bykov, generally acknowledged as the greatest Soviet writer on war themes. 32 Bykov was a Second World War veteran who published a number of stories and novellas in the early 1970s which focused on philosophical and psychological issues relating to complex ethical dilemmas faced by individuals during wartime. 33 Originally published in the progressive Russian journal Novyi mir, Sotnikov addressed issues regarding war that were profoundly important to Shepitko, including mortality and spiritual immortality, the choice between saving one's life and living with one's conscience, as well as notions of heroism and betrayal. 34
The recent In The Fog (2012), a film by Ukrainian director Sergei Loznitsa, was also adapted from Vasil Bykov's 1972 novel The Ordeal. 35 _In The Fog focuses on a Russian railway worker who is wrongly accused of collaborating with the Germans. Like The Ascent, In The Fog is set in German-occupied Belarus in 1942. The two films are also similar in that they explore moral decisions that individuals are forced to make in immoral circumstances.
Interviewed in 1977, when The Ascent was released, Larisa Shepitko elaborated on the reasons why she was attracted to Bykov's novella:
It pinpoints the crucial importance of the spiritual fortitude of the Soviet man in the face of the Nazi military machine. I thought it very important the idea that the Soviet people won the war not only by the force of arms, but also by their strength of spirit. By their superior moral makeup. Like Bykov's story, our film is an attempt to trace the sources of that spiritual fortitude and glorify the exploits of the human spirit. 36
Shepitko co-wrote the screenplay for The Ascent with Russian screenwriter and actor Yuri Klepikov. In adapting Sotnikov for the screen, Shepitko and Klepikov retained much of Bykov's original story. But the striking visual and aural elements, so integral to the overall cinematic aesthetic of The Ascent, are very much Shepitko's own concepts. 34 The title of Bykov's novella suggests that Sotnikov is the story's hero. However, the novella is told in alternating first persons, with a chapter in Sotnikov's voice followed by a chapter in Rybak's voice. Overall, the reader's sense of identification and empathy is evenly distributed between Rybak and Sotnikov. It may even be slanted towards Rybak in the early stages of the story, where he is the capable and patient leader who is encumbered with a sick and frail companion. 38 The exploration of the human psyche during war in Sotnikov and the importance of adapting this theme to the screen were paramount to Shepitko. As she emphasized, "This film is a study of man in an extreme, inhuman situation. He is in a position when he can only draw strength from within himself to stand up to the cruel circumstances. He is guided by such lofty motives as love for humanity and for his country. He remains human in inhuman circumstances." 39
When making The Ascent, authenticity was crucially important to Shepitko:
I pieced it The Ascent together from many components. We spent a long time preparing for the film and studying source material about the war in Byelorussia. We watched miles upon miles of wartime newsreels. We listened to tape recordings of stories about the war by eyewitnesses, mostly women. Their accounts set the tone for our film. The annals of the war made us realize that our most horrible ideas of what it was like, paled before the inhuman realities. With the years, our memory spares our nerves and blunts our pain. We have tried not only to understand the pain, but to relive it. 40
The Ascent was filmed just outside Murom, an ancient city about 300 kilometres East of Moscow. However, for Shepitko, the actors and the crew, this location became "Belarus in the winter of 1942." 41 Shot in January, during the freezing Russian winter, conditions were arduous. It was often as much as forty degrees below freezing. 38 As Shepitko recalls:
We worked a long time and in very tough conditions, in severe frost. We deliberately tried to approximate these conditions to the ones, which our characters had to endure. The actors and other members of the crew often had to be exposed to extreme hardship. I think we all drew strength from the feeling that we were dealing with a theme that is held sacred to our people." 43
Belarus in The Winter of 1942
From its opening shot, The Ascent has the overpowering look of authenticity. Even before the credits begin, the viewer is plunged headlong into the harsh Belarusian winter of 1942, during the darkest days of the Second World War. A freezing, barren, snow-covered landscape and the sound of howling winds immediately create a palpable sense of foreboding. The sound of crackling gunfire abruptly pierces the icy air. What seem to be German voices can also be discerned in the first few moments of the film. Vladimir Chukhnov's stark black and white cinematography brilliantly captures this extreme, brutal landscape, almost entirely shrouded in white. Barely visible in a blizzard of white snow are what appears to be a church in the distance, a barren countryside with trees on the horizon, and a row of precariously leaning telegraph poles. A group of Russian partisans suddenly appear in the frozen, snow-covered landscape. As the camera moves closer, men, women and small children can be seen stumbling through the deeply packed snow as the opening credits continue to roll. The sound of voices grows louder as a truck full of German officers nears the partisan group, who immediately seek refuge in the nearby woods.
The extraordinary opening shots in The Ascent have a searing visceral quality that is unforgettable. The use of a hand-held camera places the viewer in the centre of the action as the German detachment opens fire on the partisan group. As they retreat to the woods, bedraggled, exhausted and hungry, the viewer is not spared the horror of their ordeal. Moreover, the brutal, extreme landscape mirrors the suffering of the group, with close-ups of anguished, frostbitten faces capturing the desperation and hopelessness of their miserable plight.
An integral element of these opening images of The Ascent, and continuing throughout the film, is the distinctive symphonic score by prolific Russian film composer Alfred Schnittke, who also created the soundtracks for Shepitko's earlier You and I and Kilmov's Come and See. Using an atmospheric, unsettling and eerie instrumental buzz, Schnittke brilliantly varies the score from understated, but powerful, to mournful and wistful, increasing the intensity of the sound at the conclusion of the film to a cacophony which signifies overwhelming emotional despair. Schnittke's score perfectly complements Chukhnov's starkly bleak, but stunning, visual compositions. Both the score and cinematography create an overwhelmingly harsh and unsettling atmosphere, augmenting the film's harrowing, gut-wrenching exploration of war, impending death, and the meaning of human existence.
Rybak and Sotnikov
Superimposed against this unrelentingly bleak snow-covered landscape is the unfolding psychological dynamic between the two Russian partisans, Rybak and Sotnikov. It is Rybak who the viewer sees first, lying on his stomach and firing at the Germans as they jump from the truck with their machine guns blazing. Trained as a regular soldier, Rybak asks for more ammunition as the Germans attack. It is also Rybak who is initially chosen to set out for the farmhouse in an attempt to find food for the starving group. Sotnikov is selected to go with Rybak almost as an afterthought, with the other partisans either unable or unwilling to make the journey.
As the two men trudge through the snow looking for the farmhouse, it is clear that Rybak is physically stronger than the sickly, pale Sotnikov. As Rybak charges ahead through the snow, Sotnikov trails behind, constantly coughing, and he appears to be suffering from pneumonia. Rybak is assertive, open and talkative. Sotnikov is quiet and introspective. However, despite his frail exterior, it becomes increasingly apparent as the film progresses that Sotnikov possesses an underlying steely determination and inner strength. An early indication of Sotnikov's internal resilience occurs when the two partisans find the remnants of the farmhouse that they have been searching for burned to the ground by the Germans, with all the inhabitants presumably dead. Rybak suggests that he go on alone for a couple of kilometers to keep searching for food, while the frail, sickly Sotnikov turns back. But Sotnikov, although visibly weak, is clearly determined to keep going.
Continuing their search for food, Rybak and Sotnikov stumble through the door of the farmhouse of the village elder (Sergei Yakovlev) and his wife (Maria Vinogradova). Finding them still alive while all the other villages appear to be dead, Rybak and Sotnikov immediately suspect (correctly) that they are collaborating with the Germans. It transpires that they also have a son fighting with the Russian army who does not know they are collaborators. Another aspect to Sotnikov's inner persona is revealed when he fixes the village elder with a piercing stare and asks him disdainfully, "So you work for the Germans. Do they pay much?" Rybak also adds, "You're a disgrace to your son. You sold out." This statement by Rybak will prove to be supremely ironic, given that he will make the decision later in the film to collaborate with the Germans in order to save his life. As the two men leave the farmhouse, Sotnikov's inner strength and determination will again be displayed when the elder's wife offers him some dry raspberries. Even though the sickly Sotnikov is desperately hungry, he adamantly refuses the offer. He will not accept food from a collaborator.
Rybak and Sotnikov resume their arduous trek through the snow, with the sturdy Rybak in front, carrying a dead calf across his shoulders given to him by the village elder, which he will later have to abandon. Spectacular cinematography, with extreme long shots of Rybak and Sotnikov dwarfed by the vastness of the relentlessly bleak snow-covered landscape, emphasizes how insignificant, alone and vulnerable they are. Suddenly, the sound of German voices are heard nearby. Several Germans in a sleigh open fire on Rybak and Sotnikov with machine guns. Sotnikov, who is trailing behind Rybak, manages to shoot one of the German soldiers. But Sotnikov is wounded in the leg as the physically stronger Rybak takes refuge in the surrounding woods.
The following scenes occur at a pivotal stage in The Ascent; they represent a transitional shift in the development of Sotnikov's character. Bleeding from the injury to his leg, Sotnikov lies down on his back in the snow, kicks off his boot, puts the rifle to his head, and prepares to pull the trigger with his foot. He mutters, "There. Now you won't take me." It's dusk and Sotnikov gazes up at a large moon (is he possibly seeking some kind of divine guidance?). As Alfred Schnittke's unsettling symphonic score begins to rise ominously, Sotnikov appears to have an epiphany while lying in the snow: a revelatory moment of insight; a realization that he is not afraid to die. Indeed, he is prepared to die rather than being taken prisoner by the Germans.
From this point in The Ascent, Shepitko begins to introduce elements of religious symbolism. Sotnikov will progressively take on an otherworldly "Christ-like" aura, with his facial features, often shot in close-up, bathed in what appears to be a divine light. Although he will endure brutal interrogation and torture by the Russian traitor Portnov later in the film, Sotnikov will remain defiant, determined to retain a resolute sense of morality against overwhelming odds. As the film continues, it can also be interpreted as a religious allegory, with Sotnikov as a "Christ-like" figure who refuses to compromise his moral beliefs by collaborating with the Germans. A martyr, Sotnikov will be executed by the Germans. Moreover, the "Christ-like" figure of Sotnikov can be contrasted with Rybak, who plays the biblical role of Judas. Desperate to save his life, Rybak will betray Sotnikov by choosing to collaborate with the Germans.
Paradoxically, in the following scene it will be Rybak who will courageously rescue Sotnikov and save his life, helping him to escape from the Germans. In this scene, one of the most remarkable and grueling scenes that viewers are ever likely to see on the screen, Rybak and Sotnikov crawl on their hands and knees in the bitter cold, almost totally covered in snow and ice. The use of close-up, hand-held camera brilliantly captures the tortured pain and agony they experience.
Having escaped the Germans, Rybak props the injured Sotnikov up against a thick tree truck. Rybak then briefly leaves Sotnikov, looking for shelter. As a frostbitten Sotnikov sits alone against the tree trunk, there are several point-of-view shots from his perspective as he gazes through the ice-covered tree branches at the moon, with Schnittke's score again audible. Sotnikov now appears to be enveloped in an otherworldly aura as he stares straight ahead unblinkingly. When Rybak returns, he informs Sotnikov that there is a cabin nearby, belonging to the peasant woman Demchika, which looks empty. They can take shelter there. As he tries to keep Sotnikov warm, Rybak realizes that he needs to return to the partisan group. Rybak tells Sotnikov, "I need to go. The boys are waiting." However, Rybak re-assures Sotnikov that he will not leave him to die: "It's alright, brother. I'll come back for you". Rybak's supportive and encouraging words are juxtaposed with Sotnikov's response: "I was only afraid to die out in the open field. In the night, alone like a dog. In the woods, it's not frightening. The main thing is to get used to the thought: is this to be the end?"
The psychological dynamic between Rybak and Sotnikov will again be highlighted after the Germans discover that they are hiding in the loft of Demchika's cabin. It is Sotnikov who initially gives their hiding place away when he sneezes loudly. But it is Rybak, desperate to save his life when confronted with the barrel of a machine gun, who will ensure their capture when he screams "Don't shoot," as Sotnikov puts his hands over his ears and prepares to die.
The disparities between the characters of Rybak and Sotnikov will become even more apparent as they are being transported by sleigh with Demchika to a German prison camp. As the jovial German officers sing patriotic songs, a worried Rybak gazes at the snow-covered landscape. What follows is a brilliantly conceived and executed sequence where Rybak imagines himself escaping from the Germans, running away from the sleigh through deeply packed snow. As Rybak tries to scale a snow-covered hillside, one of the German officers jumps from the sleigh with a machine gun and shoots Rybak multiple times in the back and chest. As the shots ring out, the sequence abruptly returns to reality, with a close-up of Rybak's anguished face, back on the sleigh, en route to the German prison camp. Rybak's hallucination highlights how much he wants to escape from the Germans. But overriding Rybak's desire to escape is his fear of death. More than anything, he desperately wants to live.
The sequence with Rybak is juxtaposed with the following scene, a close-up of Sotnikov's face hanging over the side of the sleigh, shrouded in both light and shadow. As Schnittke's score switches to a mournful and wistful refrain, the camera pans upwards, so that only the top half of Sotnikov's face is visible in the bottom section of the frame, with the snow-covered landscape discernable in the background. Sotnikov's otherworldly face seems to be floating in the atmosphere, relaxed and serene, his head disembodied. The camera then momentarily (and deliberately) goes out of focus, giving Sotnikov's face an otherworldly, transcendent glow.
Interrogation
Although the relationship between Rybak and Sotnikov is central to The Ascent, there is also a third significant character in the film, Portnov, the German-speaking Russian collaborator turned interrogator. After arriving at the German camp, Sotnikov is half carried, half dragged along the freezing snow-covered ground. He is then dumped face down on the cold wooden floor of Portnov's office. Standing over Sotnikov, Portnov glares at him with dark, malevolent eyes.
It is Portnov's abhorrent job to psychologically manipulate Sotnikov, so that he will reveal information about his squadron (partisan group) and where they are located. Realizing that Sotnikov is frail and sick, Portnov initially shows some consideration, asking for his hands to be untied, and for a chair to be brought for him to sit on. Leaning against a desk and facing Sotnikov, Portnov says, "Lets get acquainted. My name's Portnov. Police investigator." This is a "softening up" process. He wants to make Sotnikov more malleable psychologically, so that he will be compliant. However, with Sotnikov, Portnov has encountered more than he bargained for. From the beginning of the interrogation, Sotnikov is defiant. Portnov begins by asking Sotnikov what squadron he is from. The camera shifts from behind Sotnikov to a close-up of his face. Sotnikov has a look of disgust as he stares at Portnov. His insolent reply: "Don't start with that. I'm not saying anything." Sotnikov is adamant that he will not provide Portnov with any information.
Realizing that Sotnikov is willing to die rather than reveal any information, Portnov tries another psychological tack. Portnov reveals that he knows Sotnikov and Rybak visited the village elder. Portnov also states that he knows when and where Sotnikov was wounded. In addition, Portnov asserts that he can't guarantee the safety of Demchika's three young children if Sotnikov doesn't provide him with answers. Portnov tells Sotnikov: "It's impossible to prove their mother is innocent. You were found in her house with weapons. And there's a war going on." Portnov continues to turn the psychological thumbscrews, using the lives of Demchika and her three young children as a bargaining tool in an attempt to get information from Sotnikov. Portnov interrogates Sotnikov: "Where's your squadron, your comrades? Their positions? You want to save the woman without giving up anything. That won't work." Portnov adds: "You'll have to trouble your conscience. One way or the other, you'll have to. There's no way out. None." However, Sotnikov's resolute response catches Portnov off guard: "I won't betray anyone. Not anymore. There are things more important than one's own hide."
The camera switches to a close-up of Portnov's face. He looks perplexed. Portnov can't understand or relate to Sotnikov's response. How can there be something more important than wanting to live? That to sacrifice one's life as a morally preferable alternative to living a hell on earth is beyond Portnov's comprehension. Taken aback by Sotnikov's resolute response, Portnov laughs uneasily. Here is a man that Portnov cannot psychologically manipulate, and that scares him. Portnov is reduced to shouting at Sotnikov: "What is it? What's it made of? That's nonsense. We're mortal. With death, everything ends for us – all of life. The entire world. It's not worth it. For what? As an example for future generations? But you won't have a heroic death either. You won't just die. You'll croak like a traitor. And if you won't tell, someone else will. And we'll write it off to you. Understand?" Sotnikov's response: "Scum. Human scum." Fixing Portnov with a piercing stare, Sotnikov also asks him: "Listen. What did you do before the war?" But Portnov looks away and doesn't answer.
It transpires later in the film that, before the war, Portnov was a teacher who was well known in the area. Indeed, he worked for the Vitelsk Institute where Sotnikov also studied to be a teacher. They may even have been classmates. Portnov also worked as a club administrator and choir conductor who taught children revolutionary hymns and nineteenth-century Russian songs. Portnov is a disturbing case study on how war can so corrupt some individuals that they are willing to carry out the most despicable acts in order to save their lives. The former teacher now collaborates with the Germans, employed as an interrogator and torturer of his own people.
For his defiance and non-compliance, Sotnikov will be brutally tortured. A white-hot branding iron in the shape of a star will be burnt into his chest. Portnov will not do the physical torturing himself. He will get other sadistic Germans to do the hands-on work for him. As Sotnikov endures the horrific pain, he will open his mouth, but no sound will be heard. Sotnikov will not give Portnov the satisfaction of hearing him scream.
The physically stronger, but morally weaker Rybak will not suffer the same fate as Sotnikov. When Rybak is brought into Portnov's office, it is clear that he is desperate to save his life. Sotnikov has stood up to brutal psychological and physical torture, refusing to reveal any information about his partisan group. However, fearing death and wanting to live, the pragmatic Rybak will reveal everything he knows. Portnov begins by asking Rybak: "You want to stay alive?" To which Rybak replies, "Of course. Who doesn't want to live?" Portnov realizes that he has a possible collaborator. Reassuring Rybak, Portnov tells him: "I think we'll save your life. If you don't lie, you'll join the police. You'll serve Greater Germany." Faced with this agonizing decision, Rybak doesn't immediately comply. He hesitates before replying to Portnov, "I don't know. No." Nevertheless, Rybak's indecision indicates to Portnov that he is psychologically vulnerable. Later in the film when faced with the prospect of dying on the gallows, Rybak will agree to collaborate and join the German police.
Survival, Collaboration, Sacrifice and Martyrdom
After their interrogation by Portnov, Sotnikov and Rybak are thrown into a dank, rat-infested basement at the prison camp that serves as a holding cell. Rybak sees Sotnikov lying face down with rats crawling across his back and turns him over. Concerned, Rybak asks Sotnikov, "What did they do you?" Sotnikov assumes that Rybak has also been tortured. He says to Rybak, "Did you scream? It doesn't matter. Did you stand up to it?" Desperate to escape, Rybak is becoming increasingly anxious (in contrast, Sotnikov, although pale and sickly, is relaxed and serene). Rybak pleads with Sotnikov: "Listen, we need to think up something. It's easy to croak. We need to find a way out!" Rybak also admits: "They already offered to take me into the police force." Sotnikov doesn't react angrily to Rybak's revelation. In a low, but firm voice, he gently chastises Rybak: "How can you? We're soldiers. Don't crawl in shit. You'll never wash it off." An agitated Rybak retorts, "So then, to the grave – to feed the worms right?" To which Sotnikov responds, "That's not the worst that can happen. No. That's not what we're talking about. Now I understand. I understand the important thing is to be true to yourself."
What Rybak is unable to comprehend is that Sotnikov has come to the realization that there are more important issues than his own individual survival. For Sotnikov, his identity as a human being is fundamentally associated with the motherland, the Soviet Union. Choosing to collaborate with the Germans is the ultimate betrayal of his morals as a Soviet citizen. Not only is it not an option. It is worse than death.
In stark contrast to Sotnikov, Rybak is a pragmatic man who lives in the present. He is not given to self-reflection or self-analysis. However, Rybak is neither a coward nor a natural-born traitor. His reaction to Sotnikov's comments is not unreasonable: "Fool. You're a fool, Sotnikov. You graduated from the institute for nothing. I want to live! To live! To kill those bastards! Understand? I'm a soldier. And you're a corpse. All you've got left is your stubbornness – your principles!" Sotnikov replies, "Then go on living – without a conscience. It can be done." Rybak is faced with an agonizing choice. If he chooses to collaborate with the Germans, his life will probably be saved. But he will have to live with his conscience. Sotnikov has already faced the same choice and has made his decision. Rybak's plight is also compounded by a responsibility he feels to care for the pale and sickly Sotnikov. A particularly heart-wrenching scene follows as an ailing Sotnikov coughs up blood, which sprays onto Rybak's face and into his eyes. Distraught and anguished, Rybak puts his arms around Sotnikov.
Rybak and Sotnikov are joined in the basement cell by the village elder, as well as Demchika (her three young children have presumably been abandoned by the Germans and left to starve to death). Also with them is a young girl, Basya (Viktoriya Goldentul), a shoemaker's daughter. Discovered by the Germans, she has refused to tell them who hid her and now faces death. Interrogated by Portnov and presumably tortured, Basya has what look like large bruises all over her arm, chest, neck and forehead. She also appears to be in a state of shock. In a tragic irony, Basya later reveals that Portnov was her choir director before the war.
Rybak and Sotnikov learn the reason why the Germans have captured Demchika and the village elder. Demchika will inform them that the German soldier Sotnikov shot is dead. Because the village elder and Demchika both had contact with Rybak and Sotnikov, they must also die. Therefore, it is Sotnikov's fatal shot that will result in the death of Demchika and the village elder.
Faced with the prospect of certain death in the morning, the village elder begs for forgiveness. He pleads, "Dear God, forgive me. Dear God, have mercy on me." It is at this point in The Ascent that Sotnikov takes on the persona of a martyr. The sickly Sotnikov calls Rybak over to his side and tells him, "Don't let me die before morning. Don't let me die. I'll take all the blame." Comforted by the inner strength and conviction of Sotnikov, the village elder remarks, "I'll die like a human being now, not like a dog." As Schnittke's symphonic soundtrack begins to build, the camera pushes in to a close-up of Sotnikov's face, bathed in an intense bright light, which gives him an otherworldly, spiritual glow. It is as if at this moment, Sotnikov has transcended the hellishness of the real world around him and has now embraced a state of spiritual existence. Then, suddenly, it is back to reality. The doors of the basement are flung open and the cold hard light of the morning streams in. A German officer announces matter-of-factly: "Everybody out. Liquidation."
Once outside the basement cell, Sotnikov calls for Portnov. Willing to take the sole blame for shooting and killing the German officer, Sotnikov confronts Portnov: "Free these people. They have nothing to do with this. I'm the partisan! It was me who was carrying out the squadron's orders! It was me who killed your German man. They're all here by accident! Shoot me alone." As Portnov walks over, Sotnikov looks him directly in the eye and asserts: "My name's Sotnikov. Commander, Red Army. Born in 1917 [the year of the Bolshevik Revolution in Russia]. Bolshevik Party member since 1935. Teacher by profession. At the start of the war, I commanded a battery. It's a shame I didn't kill more of you bastards. My name is Sotnikov – Boris Andreevich. I have a father, a mother and a motherland." About to face the gallows, Sotnikov is making a powerful statement. In spite of having been interrogated by Portnov and enduring brutal torture, Sotnikov has retained his sense of identity, morality and human dignity. For Sotnikov, his love for the motherland is more important than his individual survival. In stark contrast, Portnov, stooped and dressed in dark clothing, pulls his black hat over his eyes. The ultimate coward, Portnov turns away, unable to look Sotnikov in the eye. By choosing to collaborate with the Germans and do their dirty work, Portnov has renounced both his identity and his humanity.
With death on the gallows now imminent, Rybak begs for his life. He pleads with Portnov: "Mr. Investigator, sir! Just a minute!" You said yesterday – And I agree! I agree! I've nothing to do with this, for God's sake!" Turning to Sotnikov, Rybak also adds: "He'll tell you so!" Portnov replies, "You agree to join the police? Rybak's desperate response: "I Agree." After being untied, Rybak will suffer the ultimate indignity. Portnov will get Rybak to help Sotnikov to the gallows. Rybak, the once brave, strong and courageous partisan saved Sotnikov's life on a bleak and freezing snow-covered hillside. But now Rybak will help Sotnikov to his death on the gallows. It is a terrible price for Rybak to pay for staying alive.
Seeing that Rybak's life has been spared, Demchika also attempts to save her life by offering to reveal the name of the person who was hiding Basya. She screams, "I've got babies! Dear God, what'll they do?" Demchika provides a name, but Portnov does not believe her. Without any semblance of compassion, Portnov turns his back and walks away, leaving Demchika to die on the gallows.
The "Ascent"
With The Ascent now nearing its harrowing conclusion, the film's title can be interpreted both literally, referring to the physical climb up a steep snow-covered pathway and the ascent to the gallows, as well as metaphorically, the "Christ-like" ascent for Sotnikov, his spiritual transcendence.
With the sound of dogs barking in the background, the bedraggled group, flanked by German soldiers, stumbles towards the prison gates and onwards towards the gallows. It is a slow death march. A German officer is constantly barking orders, haranguing the local villagers to leave their houses and witness the execution. As Schnittke's score begins to build, the camera focuses on a close-up of Rybak as he mutters, "I'll escape." However, there will be no escape for Rybak. The only escape from the Germans is death on the gallows. Rybak has agreed to collaborate with the Germans. He has saved his life, but at what cost?
Underlying Schnittke's score is the constant sound of footsteps on the packed snow, emphasizing the relentless march towards the gallows. The score becomes a louder and more intense symphonic buzz, and then brilliantly segues into the sound of a German brass band which seems to be pre-recorded, and coming from speakers set up in the town square. As the condemned group reaches the town square, five nooses are dangling from the makeshift gallows. German officers marshal the reluctant villagers, forcing them to witness this macabre spectacle.
What follows is a close-up of German commanders huddled in a circle. Talking and joking, they are about to witness another execution. On the outside of this circle is Portnov, hovering awkwardly and stumbling on the packed snow. A pathetic individual, Portnov will always be an outsider. He will never to be part of the inner circle. A traitor and collaborator, no one is interested in Portnov. No one cares about him. He is only being kept alive to work for the Germans. One German officer whispers in Portnov's ear: "The chief's not happy. Not enough people."
As they prepare to die, a distraught Demchika falls to her her knees and begs, "Have mercy. I have small children! Have mercy on a poor old woman! Have mercy! Bastards." Demchika then looks up at Sotnikov. A close-up of Sotnikov's face fills the screen. He looks otherworldly, "Christ-like." Sotnikov says quietly to Demchika, "Please forgive me." The close-up of Sotnikov's serene face is then juxtaposed with a close-up of Portnov's face. Surrounded by smiling German officers, the camera lingers on Portnov's features for a few moments. There is a hint of unease in his facial expression, suggesting that he is uncomfortable with this gruesome spectacle. Maybe for a brief instant, Portnov is thinking about his life before the war. Could it be that, underneath the pathetic exterior of a traitor and a collaborator, there may still be a slight trace of the respected Russian teacher and choir director he was before the horrors of war?
A medium shot follows, with Demchika gazing up and looking into Sotnikov's eyes. It appears that Demchika has forgiven him. She also seems to be comforted by Sotnikov's serene, spiritual presence. Rybak then steps forward and offers to support Sotnikov. In the ultimate indignity for Rybak, Sotnikov shrugs him off, saying, "I'll do it myself." Sotnikov then limps towards the gallows. He has to step up on to a large log, so that the noose can fit around his neck. In a terrible irony, the hapless Rybak is now assisting Sotnikov to die by holding the log in place. Wobbling on top of the log, Sotnikov says to Rybak, "Hold it steady." In this scene, the juxtaposition between Sotnikov and Rybak is symbolic. The once strong and courageous Rybak is now a beaten, downtrodden shell of a man. Rybak is on his knees, while Sotnikov steps on the log above him. It will be Sotnikov who will find spiritual transcendence through death. After refusing to collaborate with the Germans, he will die a martyr's death. His conscience will be clear. Although, by collaborating, Rybak's life has been spared, he will now sink further into the abyss. Forced to work for the Germans, his life will be worse than that of a dog.
The next scene is also symbolic. It is a wide shot of Sotnikov, Demchika, the village elder and Sasya lined up on the gallows on this freezing cold winter's day. They are all about to die. There are five nooses, one for Rybak, but only four will be used. An anguished Rybak is crouching on the ground, steadying the log for Sotnikov, so that the noose can be slipped around his neck. Demchika and the village elder are standing on a wooden bench, each with a noose around their necks. However, young Sasya is too short. An extra wooden box has to be added, so that her neck will reach the noose. The fifth noose will be left dangling in the breeze.
As Schnittke's score increases in volume, there are close-ups of the village elder gripping the noose around his neck, Demchika with tears streaming down her cheeks, and Sasya staring blankly, possibly too young to fully comprehend the enormity of the gruesome process that is about to take place. Finally, there is an extreme close-up of Sotnikov's face, again swathed in an otherworldly, "Christ-like" aura, serene and dignified. What follows are various point-of-view shots from Sotnikov's perspective as he looks out beyond the village to the snow-covered landscape in the distance.
The camera then pans slowly as Sotnikov gazes at the villagers assembled to watch the execution. Sotnikov's eyes come to rest on a young boy standing by himself. The camera zooms into the sad face of the young boy, then back to a close-up of Sotnikov's "Christ-like" angelic face. As Schnittke's score reaches a crescendo, the noose begins to tighten around Sotnikov's neck. In the last moments before his death, Sotnikov looks down. He sees the wooden box and the bench being kicked away, with Basya's feet swinging in the air. The camera then cuts back and forth between Sotnikov and the boy. Sotnikov keeps his eyes fixed on the boy, who seems to be mesmerized. There is another cut as Sotnikov looks down and sees Rybak crouching at his feet, tugging on his coat, a look of misery and despair etched on his face. The camera then cuts back to a close-up of Sotnikov's face. A slight smile is now visible on his lips. There is another cut to Portnov standing awkwardly in front of smiling German officials. Portnov turns away uneasily, not wanting to watch the execution.
The sequence now focuses on Sotnikov and the young boy, alternating between them. There is another close-up of the young boy, who is crying, a tear rolling down his cheek. A close-up of Sotnikov's "Christ-like" face follows, his smile now more prominent. Then the moment of death as Sotnikov's body relaxes as he swings forward. He seems to be floating in the air. This scene could be interpreted as representing that moment of transcendence for Sotnikov, his ascent into heaven.
Most importantly, in the moments before Sotnikov's death as a martyr on the gallows, what appears to be a spiritual connection that he has formed with the young boy can be interpreted as symbolic. The boy represents the next generation. Therefore, by making the moral choice and refusing to collaborate with the Germans, Sotnikov has sacrificed his individual life on the gallows, but has become a martyr for the continuing suffering of the motherland, as well as an inspiration for future generations. The notion that the young boy represents the next generation of martyrs is further emphasized just after Sotnikov's death, with the camera lingering on the emotional face of the young boy for several moments as he wipes a tear from his cheek. It appears that there has been a deep emotional (and possibly spiritual) connection between Sotnikov and the young boy. Moreover, this connection refutes Portnov's claim during the interrogation that Sotnikov's death will not serve as "an example for future generations."
This sequence ends with a cut back to Portnov, who looks back towards the gallows. The camera lingers on Portnov's face for a few moments. Portnov's expression is contemplative. He appears to have a "knowing" look on his face. Maybe only now is Portnov able to comprehend the significance of Sotnikov's death. Unlike Portnov (and Rybak), Sotnikov has not compromised his morals by choosing to collaborate with the Germans in order to stay alive, but has chosen to die with a clear conscience. Although Sotnikov no longer exists physically on earth, his death as a martyr and "Christ-like" aura strongly suggest that he has achieved a spiritual transcendence.
A "Hell on Earth"
Significantly, Shepitko doesn't end The Ascent with Sotnikov's profoundly moving moment of spiritual transcendence on the gallows. On the contrary, the film returns to the reality of Rybak's ongoing ordeal. With the execution over, the following sequence depicts Rybak, in a crumpled heap, lying on his back in the snow, with Sotnikov's legs visible in front of him swinging from the gallows. Rybak looks up and sees the noose that was meant for him. But it's too late for Rybak to die with dignity. Nor will he die with a clear conscience. For Rybak, there will be no spiritual transcendence. As a German collaborator, Rybak is destined to live "a hell on earth." The sequence with Rybak is then juxtaposed with a brief scene depicting Portnov standing by himself, totally ignored by the German officers around him.
In yet another indignity for Rybak, one of the German officers says to him, "You did a good job. Quite an able fellow." Confronted with the stark reality of his actions Rybak mumbles, "Who? Me?" Another German officer walks past with a sign that reads, "We're partisans who shot German soldiers," a pathetic attempt to justify the horrific execution that has just taken place.
An anguished Rybak now contemplates suicide. He asks one of the German officers, "How about giving my belt back." The German officer reinforces Rybak's feelings of guilt at his betrayal of Sotnikov by replying, "You did that well. Hung him like a rabbit." Notions of The Ascent as a religious allegory, and the biblical role of Rybak as Judas the betrayer are again emphasized when he stumbles past the villagers who are leaving the execution. An elderly woman passes Rybak and hisses "Judas." Rybak also sees the young boy, who appears to have developed a spiritual connection with Sotnikov, staring at him with cold, determined eyes. As a representative of the next generation of martyrs willing to die for the motherland, the boy despises Rybak for collaborating with the Germans.
Rybak then looks towards an opening in the wall of the town square. Suddenly, he has a hallucination. Rybak imagines himself breaking away from the German officers and trying to escape, only to be shot repeatedly in the back by machine gun bullets. This incident mirrors the earlier sequence in the film, en route to the prison camp, when Rybak also envisions himself escaping, but is mowed down by German bullets. This hallucinatory scene again re-enforces Rybak's desperation to escape from his German captors. However, in contrast to Sotnikov, a fear of death and a desire to live will ultimately override any other thoughts Rybak has, including feelings of shame, guilt, betrayal, and even love for the motherland. These feelings are understandable. Who doesn't want to live, even in these hellish conditions? But the tragedy for Rybak is that, paradoxically, his fear of death and desire to live will condemn him to "a hell on earth."
Back at the camp, Rybak and Portnov face each other. In a medium long shot, the camera lingers on both of these forlorn and lonely figures for a few moments. The inference is that both Rybak and Portnov are destined to live out the remainder of their lives as morally compromised individuals because of the decisions they have made. Portnov says to Rybak, "Come see me later." To which Rybak replies, "Yes sir." However, Portnov corrects him: "Not 'Yes sir', but Jawohl [a German word that is an affirmative response to an order]. Get used to it." Crucially, Shepitko doesn't judge the actions of Rybak and Portnov. But neither does she exonerate them. Rather, she is concerned with the moral implications of the decisions that they have made. Rybak's life has been spared, but at what cost? He is a man who has gone from a resilient, courageous and loyal companion to a non-entity, utterly broken by his decision to collaborate with the Germans.
Left alone momentarily in the courtyard of the camp, Rybak looks around and sees the dark entrance to the dank basement cell from which he has recently emerged. This disturbing sight seems to intensify Rybak's feelings of guilt and despair, with his face twisted by an anguished grimace. Seeing an old wooden outhouse, Rybak enters, locks the door and attempts, unsuccessfully, to commit suicide using his leather belt. Juxtaposed with the sound of jovial German officers talking and singing outside, one long take inside the confines of the outhouse involves hand-held close-ups of Rybak's tormented face as he tries to loop the belt over the wooden beam on the roof and then slip it over his head. However, the belt won't grip and slips off the low beam. Rybak becomes more frantic as a German officer outside yells, "Where is that jerk?" "In the outhouse." Rybak tries a second time. He ties the belt more securely, but is not able to force the loop over his head. Ultimately, it appears that Rybak is not capable of summoning the courage to commit suicide by hanging himself. As the wooden door of the outhouse creaks open, Rybak stands, hunched over; a shadow of his former self, disheveled and pathetic.
It is bitterly cold and snow is beginning to fall. Rybak turns and stares at an open gate in the courtyard of the camp. What follows is a series of shots that alternate between close-ups of Rybak's face, a distorted combination of pain, regret and horror, and the snow-covered Belarusian landscape he sees outside the open gate. With these shots, Shepitko seems to be emphasizing that Rybak, by making the decision to collaborate with the Germans, has, like Portnov, relinquished his connection with the motherland and therefore his sense of identity as a Soviet citizen. As the camera continues to press forward towards the open gate, an elaborate sound design begins to build. It involves a complex cacophony of various sounds, including German officers singing and fragments of dialogue, overlaid with Schnittke's distinctive and dynamic score. Another close-up of Rybak's face reveals a tear running down his cheek. It is a face of utter despair. The music rises to an overpowering crescendo as Rybak falls to his knees and covers his face with his hands, sobbing uncontrollably.
In the final few frames of The Ascent, there is visual symmetry, with the film ending as it began, with scenes of the snow-covered Belarusian landscape. The inclusion of these scenes by Shepitko at the beginning and end of the film seem to re-enforce the importance of the motherland to the Soviet sense of identity. These scenes include the deserted pathway to the gallows, as well as the same snow-covered images shown at the beginning of the film; the area where the partisan group fought the German detachment, with the trees again visible on the horizon; the identical row of leaning telegraph poles; and a matching shot of the church in the distance, which has now become imbued with an added religious symbolism. Like the very first frame of The Ascent, the sound of the howling wind is again heard in the film's final moments, as the "End" title appears on the screen.
Conclusion
By any measure, The Ascent is an extraordinary achievement. Larisa Shepitko was a director of enormous intelligence, ability, and unflinching vision who possessed an acute insight into the most profound aspects of the human condition, which makes her loss even more tragic. With The Ascent, Shepitko has created an overpowering aesthetic, which involves stark, black and white cinematography, a unique and unsettling soundtrack, and compelling and heart-wrenching performances. Most importantly, the greatness of The Ascent also lies in Shepitko's masterful ability to juggle extremely complex existential issues concerning the meaning of human existence while simultaneously maintaining a focus on the emotional core of the film, the story of two Russian partisans captured by the Germans during the Second World War who are forced to make an impossibly agonizing decision, whether or not to collaborate. The Ascent is absolutely essential viewing for anyone with an interest in what truly great cinema can achieve.
It seems fitting that the concluding words should be left to Larisa Shepitko herself:
They're things that are sacred to all of us. They're well-defined notions of good and evil, of our morals. They're such everlasting qualities as love for your homeland. What is this? What are we born into this world for? What will we contribute to this world? How can we make life better? In the final analysis, my possibilities as a person. Your possibilities. 44
Bibliography
Costlow, Jane. "Icons, Landscape, and the Boundaries of Good and Evil: Larisa Shepitko's The Ascent," in Border Visions: Identity and Diaspora in Film, Kazecki, Jakub, Ritzenhoff, Karen A., Miller, Cynthia J. eds., Scarecrow Press, United Kingdom, 2013.
Courage, Ariel. "Larisa Shepitko," Double Exposure, Issue 02, Volume 01.
Davis, Glyn, Dickinson, Kay, Patti, Lisa and Villarejo, Amy. Film Studies: A Global Introduction, Routledge, New York, 2015.
"Director Larisa Shepitko and her New Film The Ascent," in Soviet Film (Moscow), No. 4, 1977.
Edelman, Rob. "Shepitko, Larisa," in The International Dictionary of Films and Filmmakers. Vol. 2, Fourth Edition, Pendergast, Tom and Pendergast, Sara, eds., St James Press, New York, 2000.
Gillespie, David. Russian Cinema, Routledge, New York, USA, 2003.
Ivan-Zadeh, Larushka. "The Lady Vanishes," The Guardian online, Monday, 10 January 2005.
Keough, William. "Modern Novel of Mother Russia; Farewell to Matyora, by Valentin Rasputin," The Christian Science Monitor, online, January 14, 1980.
Koresky, Michael. "Eclipse Series 11: Larisa Sheptiko," The Criterion Collection.
Quart, Barbara. "Between Materialism and Mysticism: The Films of Larissa Shepitko," Cineaste, Vol. 16, No. 3 (1988).
Škapová, Zdena. "Synopsis of Heat," 50th Karlovy Vary International Film Festival. Online.
Smith, Kathie. "Review of In The Fog," Joyless Creatures: The Twin Cities' First Magazine Devoted to Movies, 14/6/2013. Online.
"The Films of Larisa Shepitko," Arsenal Cinema, January 2013. Online.
Wolpert, Danny. "Lost in Transition: Memory, Trauma and the Image in Larisa Shepitko's Wings [1966]," ‪GRIN, Verlag, 2010.
Larisa (Elem Klimov, 1980), Viewed on Vimeo.
PS: The Ascent is available on DVD: Eclipse Series 11: Larisa Shepitko (Wings /The Ascent), The Criterion Collection, New York, 2008.
Notes