Vancouver International Film Festival, 2016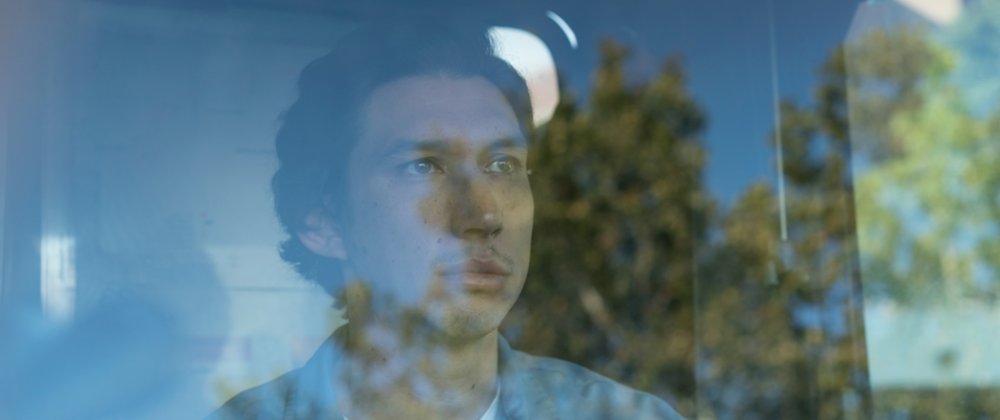 For ten days at the beginning of October I made many a rain-drenched hike back and forth across downtown Vancouver watching movies at the Vancouver International Film Festival. Long considered one of the most cinephile-friendly festivals in the world, VIFF brings together the best in the international festival circuit, a vast array of Canadian cinema and arguably the best program of East Asian cinema available in the West. 2016 has seen a major restructuring of the festival, with its various programs rebranded as "Streams" which will continue year-round, integrating the festival with the day-to-day movie life of the city. So, for example, its acclaimed Dragons & Tigers series of Asian films will no longer be a one-off festival feature, but rather a year-long program at their Vancity Theatre. Concurrent with this rebranding is a new program focusing on the leading edge of Canadian cinema, emphasizing low-budget, low-profile, high-quality works that have had difficulty reaching the VIFF audience in recent years. There are also streams for films about the arts, weird genre cinema, mainstream Canadian cinema, political films and so on. Almost all of the thirty-one features and seventeen shorts I saw in my time at the festival fell into one of three streams: Gateway, the rebranded Dragons & Tigers series; Future//Present, the program of new Canadian cinema; and Panorama, the selection of international festival hits. Taken all together, it's probably the strongest collection of films VIFF has assembled since 2012.
The Dragons & Tigers series has long been one of VIFF's most attractive programs, with a more than 20 year history of discovering significant new talents. Hong Sangsoo, Kore-eda Hirokazu, Jia Zhangke, Lee Changdong, Wisit Sasanatieng and Liu Jiayin all won awards at the festival early in their careers before going on to become art house and festival circuit favorites. Times have grown harder for the program however: the competition for best new director was discontinued after the 2013 VIFF, and this year's program was significantly smaller in scope than that of years past. But programmers Shelly Kraicer (who handles Chinese cinema) and Tony Rayns (who covers pretty much everything else) and their associates assembled a strong lineup nonetheless. The best discovery of the festival was Yang Chao's Crosscurrent, which picked up a cinematography award in Berlin for DP Mark Lee Ping-bin. A dreamlike melding of documentary and fiction, in the manner of last year's VIFF highlight Kaili Blues, Crosscurrent follows a boat on its journey up the Yangtze River from its mouth in Shanghai to its source on the Tibetan plateau. As the journey begins, the ship's captain sees a beautiful woman working among the ships at the harbor, but he fails to meet up with her. The next night, the boat's engine stops working and the captain finds, hidden in the machinery, an old and dusty book, filled with poems chronicling another man's journey on the river (dated 1989), a different poem for every stop on the way along the third longest river in the world. At each stop, the captain sees the woman again, always looking for him on the shore. They meet, fall in love, have sex, make food, steal vegetables, but always he goes back to his boat and always she reappears at the next stop down the line. The book frames the various encounters, with on-screen titles giving the location of the stop and how many days into the journey we are, along with the text of one of the poems. And then, at the Three Gorges Dam, a monstrosity of technology which has irrevocably transformed the landscape of the river, the man and woman are separated. She continues to follow the boat on its journey, but they can't ever been reunited.
Less ephemeral is Yellowing, a documentary of the Umbrella movement protests that shook Hong Kong in the fall of 2014. Shot by director Chan Tze-woon day-after-day in the midst of the young people who occupied key areas of Hong Kong for 67 days demanding the right to vote for their leaders rather than be forced to choose among candidates selected in advance by the Mainland Chinese government, the film focuses on a handful of people speaking directly to the camera about what they're doing, both in ideological terms and in the mundane details of running an occupation: where to find a mattress to sleep on, handing out bottled water and umbrellas, teaching impromptu classes in English and political science. The kids are idealistic but pragmatic: they know very well their protests probably won't change anything, but that doesn't make their actions any less meaningful.
Japanese director Shiota Akihiko had two films at the festival, a short and a feature playing together. The short, The Promise, is about a day a divorced father spends with his daughter. It's sweet and more melancholic than it should be given its slightness. The feature, Lifeline, is also more moving than its indie-quirk premise promises. A used car salesman finds a strange young woman hanging out in one of his cars, taking a nap after angrily dumping an unknown man. Eventually he drives her back into town, but the next day she's back, sleeping in his car. The two strike up an oddball friendship. She keeps popping in and out of his life, but their relationship never develops into the expected romance. Rather they're two people united by grief and barely managing to get over it. It's a subtle, funny and tender look at what it's like to survive a tsunami.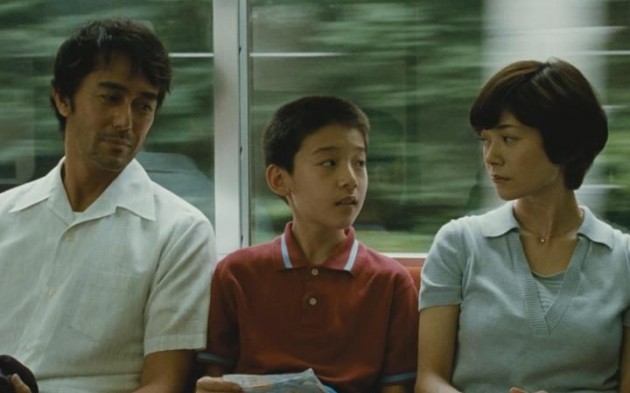 After the Storm
The biggest name I caught in the Gateway program (tragically I had to leave town just as the Hong Sangsoo film was to play), was Kore-eda Hirokazu's latest, After the Storm. Like his Still Walking and Our Little Sister, it's a quiet, light-handed domestic drama, drawing not entirely inappropriate comparisons to the work of Yasujiro Ozu. Long-faced and stubbly, Hiroshi Abe plays a novelist who, thanks to writer's block has failed to follow-up his acclaimed first book and is now working as a private detective. He's a shady mooch, scamming his clients to feed his gambling addiction. He's also recently divorced and spends much of his time stalking his ex-wife and trying to win over their son. His mother, played by Kirin Kiki, who was exceptional as the matriarch in Still Walking, is recently widowed and prowls about her overstuffed apartment filled with exasperation and love for her son and daughter, who's just as much a moocher, but otherwise has her life slightly more together. The departed father hangs over them all: an emotionally distant compulsive gambler; an unliterary man who nonetheless took great pride in his penmanship. The various family threads weave together in the mother's apartment during the eponymous typhoon. After the storm, things aren't resolved, as they can't ever be in movies like this, where the recognition of irresolvability is always the conclusion, but the air is a little cleaner.
The best short film of the festival played as part of the Beautiful 2016 program, Jia Zhangke's The Hedonists. Sure to infuriate anyone who dislikes Jia's more recent plunges into the absurd in favor of his earlier, less funny films, the film follows a trio of coal miners as they attempt to make a living after getting laid off. They try-out to be bodyguards for a local gangster (played by Jia himself in a hilarious parody of a film director, like a Triad John Ford) and ultimately find extra-work in a period film production, which they proceed to dismantle with a degree of amiable anarchy that recalls the best moments of Buster Keaton's MGM period. Fully breaking from the clichés of Asian minimalist static camera long-shot/long-take filmmaking, Jia gloriously allows one of his typical shots to fly into the air, no longer tied to the grounded reality of social realism, the drone-mounted camera soaring over the actors and the city. With this and its companion piece, last year's Mountains May Depart, Jia is proving himself unbound by conventions, redefining what it means to be a politically committed filmmaker in the 21st century.

The Hedonists
The Future//Present program presented a handful of films from young, mostly unknown Canadian directors. The best of the group was a program of three shorts and a feature by director Sofia Bohdanowicz. The shorts were inspired by her paternal grandmother and are each prefaced by a poem written by her great-grandmother. They were made individually, but play best as presented here, collected as The Last Poems Trilogy. The first film, A Prayer, documents the grandmother during a visit as she does various chores around her house and eats a meal. The second, An Evening, takes place a short time later, after the grandmother has died. Bohdanowicz films the various spaces of the house before the woman's things are packed away, scored with only a record playing on a hi-fi with a broken needle. We explore every inch of the house, the detritus of a lifetime, from late afternoon until the space disappears into the darkness of night. The third short, Another Prayer, replays the first one, superimposed over the now-empty spaces of the home. It's as close as I've ever seen anyone come to capturing the spirit of Chantal Akerman's films of the 1970s.
Bohdanowicz's feature is terrific as well. Never Eat Alone follows her maternal grandmother as she tells her granddaughter about a romance she'd had years before while making a show for Canadian television. The granddaughter (played by Deragh Campbell) tries to track down the man, who lives alone on the other side of the country. The film mostly cuts between the three main characters, all living and eating alone, along with clips from the old TV show. A weird mix of documentary and fiction: the TV show is real as is the grandmother, Joan Benac plays herself, but the old man is an actor, in fact, he's Bohdanowicz's producer's grandfather, and the romance is fictional as are many of the interactions between Benac and Campbell. It's a kind of inversion of Liu Jiayin's Oxhide films, which used a highly-structured script and compositional style to document her family's life, their work and everyday routines. Bohdanowicz in contrast films with an off-hand directness, emotionally straightforward compositions chronicling wholly improvised interactions. It's a found-footage film, using bits and pieces of the past to build a collage of a fictionalized history, an alternate reality version of her family.
Also standing out in the series was The Intestine, an enigmatic film about a young woman who, after a one-night stand, finds herself alone in a magnificent house on the outskirts of the city. Loathe to go back to her old life: dingy apartment, terrible waitressing job, questionable friends; she decides to stay in the house and reinvent herself, going so far as to befriend the wealthy young woman next door (played by Daragh Campbell, in a performance wholly different from her work in Never Eat Alone). Things become complicated when the sister of the man who owns the house turns up, wondering who she is and what happened to her brother, though she may be more interested in taking over the house herself. Melanie Scheiner stars, she's a grungier, more desperate Greta Gerwig, and Lev Lewis directs with a sure hand, balancing the tension and humor just enough to avoid the ponderous self-seriousness of too many indie features.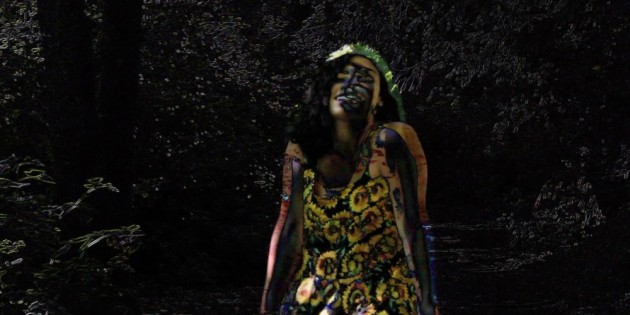 Pop Song
There were two very fine short films included in the Future//Present program. Mathew Taylor Blais's Pop Song is a three minute experiment wherein multiple shots of the same image are layered such that they cancel each other out, creating blank spaces, but then offset by a frame, creating temporal and spatial discontinuities that allow flashes of digital hypercolor to break through the blankness. A catalogue of mundane objects, a street sign, a park, a friend, the process of hiding and revealing finds new beauties in the quotidian. Two, by Christopher Spencer-Lowe, is a collage of Super 8 home movie footage (everyday stuff, family gatherings, a birthday party) that uses the rapid handheld movements and bright smudgy colors of that format to capture the perspective of a two-year old child. It's a harrowing journey. Among other terrific Canadian short films outside the Future//Present program were Zachary KerrHolden's The Movieland Movie, a goofy and very fun tribute to an arcade in downtown Vancouver and Sophy Romvari's Nine Behind, an elegant and precise film about a young woman attempting to connect with the grandfather she's never met on a phone call to his home in Hungary.
The Panorama programming stream presented the highest-profile films of the festival, movies that had premiered at other festivals throughout the year, from Berlin to Cannes to Toronto and were beginning their push into the fall award season. Headlining the group was Toni Erdmann, Maren Ade's film which was the all the rage at Cannes, though it failed to win the top prize (the Palme D'Or went instead to Ken Loach's I, Daniel Blake, which also played at VIFF and is exactly what you expect a Ken Loach film about an old man who can't navigate the internet or the social insurance bureaucracy to be like. It's funny and earnest and not anything special. It's fine.) Toni Erdmann is a nearly three-hour screwball comedy about a father, a daughter, and international capitalism, and it's the best film made about parenthood since Yasujiro Ozu died, and surely the funniest German film ever made. Structured around a series of escalatingly outrageous set-pieces, it had the massive VIFF audience in hysterics throughout, and is anchored by a very strong performance by Sandra Hüller, playing a high-powered, very serious consultant working in Bucharest who has to juggle her free-spirit, practical-joking father as he tries to get her to admit that she's not happy in her executive life. It's about the hopes and disappointments of being a parent and the embarrassments of having a parent.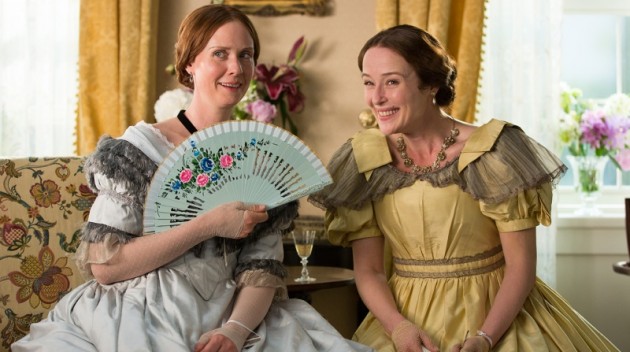 A Quiet Passion
There were three films about poets at VIFF. Two of them are outstanding: Jim Jarmusch's Paterson and Terence Davies's A Quiet Passion. The third was Neruda by Pablo Larraín, which is a tangle of not-quite sensible ideas about storytelling that appear to bear no relation whatsoever to the life of its central poet or the times he lived in. Paterson stars Adam Driver as a bus driver who writes poetry in his free time, is named Paterson and lives in the city of Paterson, New Jersey, which was the home of poet William Carlos Williams, who wrote a famous long poem about the city called "Paterson". With Jarmusch's gentle rhythms, we follow Paterson's routines every day for a week or so, filling his spaces with poems he writes in a notebook while eating breakfast, or before work, or during lunch (as with Frank O'Hara's "Lunch Poems"). He talks with his wife, a more open and expressive artist, who spends her days making black and white designs out of everything she sees. While lacking the scruffy boredom of Stranger than Paradise or the angry befuddlement of Dead Man, it's probably Jarmusch's most perfect film, a warm and very funny portrait of a relationship and a life enlivened by the process of making art. A Quiet Passion is a biopic about Emily Dickinson, but one that avoids all the pitfalls of that disreputable genre by also being a Terence Davies film. Cynthia Nixon plays the reclusive poet as the smartest person in the room, with an acerbic and cutting wit which she flashes on anyone and everything that fails to meet her idealistic standards of grace and human kindness, which of course, includes herself most of all. Davies's facility with interiors and tortured family dynamics is to be expected of course, as is the morbid, shut-in anguish of the Belle of Amherst, but what is unexpected is the sparkling sharpness of the comic dialogue, in scenes that wouldn't be out of place in Whit Stillman's brilliant Jane Austen adaptation Love & Friendship.
Marvelous as Nixon and Hüller are in their films, there's no doubt that the best actress of this year's VIFF was Isabelle Huppert, who gave a pair of astonishing performances in Paul Veerhoeven's Elle and Mia Hansen-Løve's Things To Come. In both films she plays a middle-aged woman struggling for freedom. The former is a darker-than-dark comedy in which Huppert survives a rape and steadfastly refuses to allow it or anyone else have any kind of power over her. As a comedy it is deeply uncomfortable, but as an assertion of identity and individuality it is unmatched, anchored by Huppert's complex characterization. Less of a high-wire act but perhaps even more nuanced is her work in Things To Come, wherein she plays a philosophy teacher who slowly sees her life unravel: her work as a textbook writer, her relationship with her husband, her grown up children all move on and leave her alone. A sojourn to a mountain writers' commune, where young men and women actively seek for and theorize freedom proves unsatisfactory. She takes it all in stride, with grace and humor, but ultimately she's left alone with the possibly unanswerable question: what's left of us after we strip away all our social roles?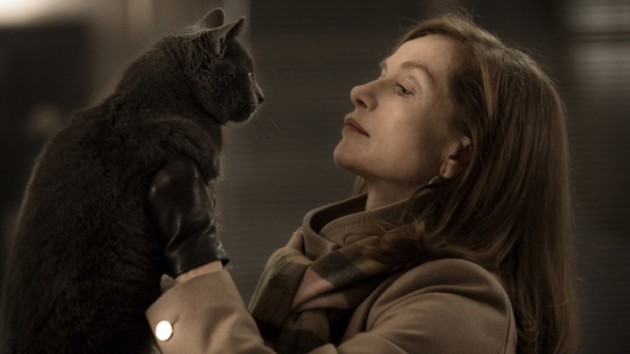 Elle
On the more experimental side of international cinema, there was Argentinian director Gastón Solnick's Kékszakállú, a gorgeously geometric reinterpretation of Béla Bartók's opera Bluebeard's Castle, set among the aimless, wealthy and pretty youth of South America. Ted Fendt's Short Stay is a hilarious and oddball deadpan comedy about a dogged young man who is almost entirely lacking in social skills that was also the only film at the festival to be shown on 35mm film, its rough analogue textures a perfect match for the misfit at its center. Argentina's Eduardo Williams directed the most challenging film of the festival, The Human Surge, a semi-documentary look at the very poor of Buenos Aires, Mozambique and The Philippines, connected by webs of pop culture, the internet and international capitalism. With long, voyeuristic sequences of young people hanging around, the camera following just far enough behind to not get what's going on, or simply sitting still while the arcane rituals of modern life occur with no beginning or end, it's a film that's harder to watch than it is to remember.