The Festival of New Cinema (FNC) 2016: Canada and Beyond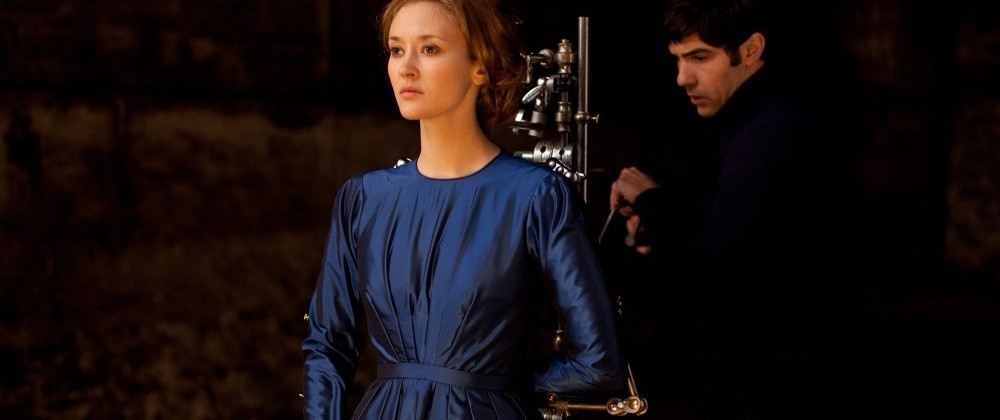 The 45th edition of the Festival of New Cinema (FNC) played in Montreal from October 5-16, 2016. Celebrating its 45th year makes the festival the oldest of its kind in Montreal, and maybe in all of North America. With about 380 films (138 features and 170 shorts) and related music, performance and live events spanning the 12 days it is difficult to come close to exhausting the selection. As a festival FNC has always distinguished itself on rejuvenation and maintaining a forward looking perspective on the moving image and, equally, sound and music. For example, this year there was an added focus on music, with special film theme related concerts (often in conjunction with a screening) every night at the festival head quarter, the Agora Hydro-Quebec du Coeur des sciences de L'UQAM. The 'new media' aspect of FNC continues to be one of the ways the festival keeps ahead of its competitors, which can be seen in the increase outdoor screenings, workshops, and Immersive & Interactive and Virtual Reality film in a new section entitled FNC Explore. Young Indigenous filmmakers are showcased in the Wapikoni Mobile's short film series. Television and Web Series' are featured in the FNC Séries. The old showcase for experimental and avant-garde work, FNC Lab, is now given a rebranding as "Les Nouveaux Alchimistes" (perhaps as a homage to a German troupe from many years back who provided one of the first great multi-media performances under the name –if I remember correctly—of the Alchemists where they burned film stock as it made its way through the projector gate). Back again is one of my always favorite sections, Temps O, curated by former Fantasia programmer Julien Fonfrède. Here is a sampling of titles that left a mark on me, with a special focus on Canadian film.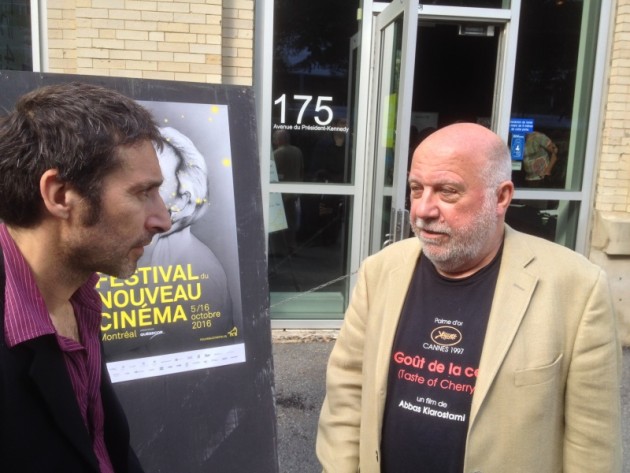 Julien Fonfrède and Peter Rist outside the FNC headquarters
Kurosawa in France
A couple of titles stood out in the "Les Incontournables" section (which breaks down to established names of contemporary film). Kiyoshi Kurosawa made two films in 2016. His fascinating serial killer film Creepy, which played (July 26) at Fantasia, and Daguerrotype which played at the FNC. Daguerrotype marks Kurosawa's first feature in a foreign language, French in this case, and a return to his slow burn horror. The film also signals a return (from Creepy, which was a character study of an odd serial killer) to Kurosawa's favorite theme of the supernatural within technology, which was present in Seance (sound), Pulse (internet), Doppelganger (scientific technology), and now Daguerrotype (photography). Daguerrotype (2016, France, Kiyoshi Kurosawa) is a unique take on the ghost story which plays the supernatural for ambiguity and melancholia rather than fright. The film deals with a professional photographer, Stéphane (Olivier Gourmet), who renounces the easy money of fashion work to produce time intensive 19th century styled daguerreotype photos, with his daughter Marie (Constance Rousseau) as his principal model. Stéphane takes on a young assistant, Jean ( Tahar Rahim), who soon falls in love with Marie. Marie is a precious, captive daughter, forced by the father's strong will to live a contemplative life tending to her passion, botany. A chance at a prestigious post at a National garden is thwarted by her father's will, which casts a shadow over her own identity. Parts of this father-daughter dynamic reminded me of the Twice Told Tales story Rappaccini's Daughter, about a woman who is slowly poisoned by her father so she cannot leave his garden of poisonous plants.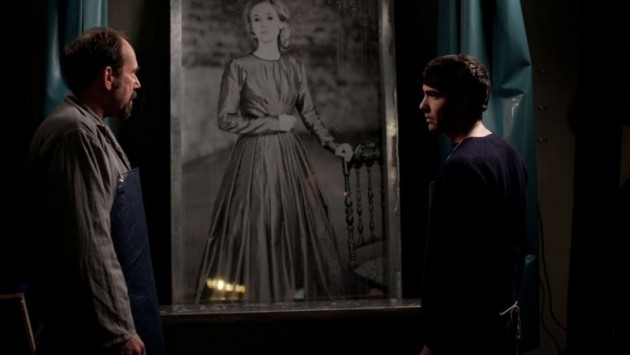 Stéphane and Jean in front of photo of Marie
Kurosawa painstakingly reproduces the ancient photographic technology that Stéphane clings to. Working as her father's model has its price, as it did on his former model, Marie's mother Denise, as the nature of the time-based exposure onto a silver plate requires that the model remain still for upwards of an hour. The model is 'aided' by a steel armature which functions to keep her stilled like a mannequin, a gesture which no doubt symbolizes her confinement. The faint element of the supernatural is centered around Stéphane's memory of his wife, who 'haunts' the old estate home through the daguerreotype photos of Marie and the creaking sounds of the old mansion. The creepiest scene in the film involves the most direct supernatural moment –though it can be read psychologically— when Stéphane 'sees' his wife, who committed suicide years ago, possibly from the strain of being his photographic model, stiffly approach him in a gesture that recalls the climax of "The Drop of Water" episode from Mario Bava's Three Faces of Fear.
Kurosawa seems comfortable enough directing actors in a new language and replays one of this most powerful shots from Tokyo Sonata: when the younger son, angered by his father's implacable resistance to the son's desire to play piano, goes up to his upper floor bedroom, and the father runs up after him. The camera does not cut to the space above, but stays below on the empty frame of the lower staircase, until we hear the boy come rumbling down the stairs, felled (we assume) in an off-screen tussle with his father. In Daguerrotype it plays differently with the camera facing the stairs, not in profile; the daughter goes up the basement stairs, and the camera again does not cut but dollies in slowly toward the stairs, and then we see the daughter Marie falling down the stairs, with the father soon running down after her. In this case the difference is that the presence of the father is a surprise, and we do not know if the daughter was pushed, stumbled or threw herself down (her mother having committed suicide weighs on the audience). This moment is a key act in the film. The father deems her daughter dead from the fall, but Jean thinks she is still alive and takes her to the hospital. On route to the hospital the car takes a spin and comes to a halt. Jean turns to look in the back seat to see if Marie is unhurt, but the back seat is empty. He leaves the car in search of Marie along a desolate patch of road and forest, calling out her name. Marie magically appears to him, coming out of the black night, like Laura Dern in Blue Velvet. Jean does not appear surprised or confused. This sets up the possibility that Marie is dead and appears as a figure constructed through Jean's desire, a desire that is fraught with psychological disturbances.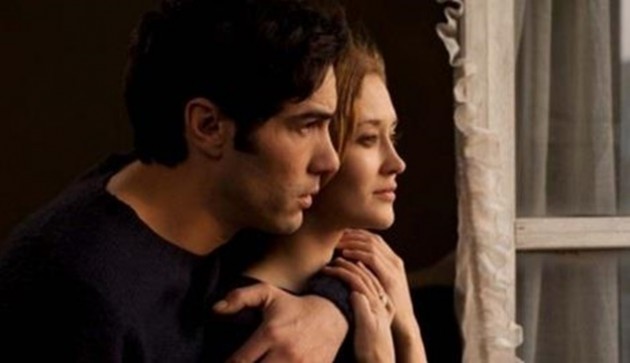 Jean and Marie
The film ends with Jean taking Marie away from her prison house to start a new life. They stop in a town hoping to marry in a church but the local priest tells them the church is closed. They are back in the car only now Jean is in the car driving off, but alone, talking to an empty seat. This final scene of Jean driving off alone in his car made me think of how many films (most really good) end with this image of a character(s) driving off in their car (or in some cases motorcycle). Most recently we have seen this in Ringu (1998), Lost Highway (1997), and Drive (2011), but it goes back to 1945 with Detour, Easy Rider (1969, on a bike), Vanishing Point (1971), (where it ends in a fatal suicidal crash), Electra Glide in Blue (on a motorcycle) (1973), Gone in 60 Seconds (1974), Grease (1978) (car flies off into the sky), Innerspace (1987), Brazil (1984) (some versions), Terminator (1984), Thelma and Louise (1991, also off a cliff to a certain death), and Fast and Furious 7 (2015). There is something inherently cinematic about the wide open road and cars that transport characters beyond the imagined spaces of the narrative world.
American Honey (and Mexico)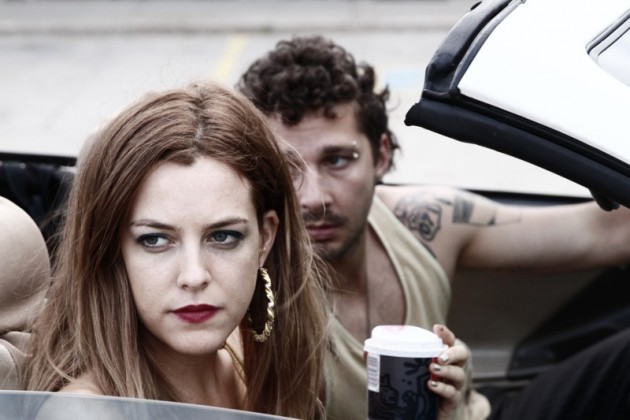 American Honey: Crystal and Jake
British director Andrea Arnold's first foray into North America, American Honey (2016, Andrea Arnold), sees her continuing her interest in young people (Fish Tank, Wuthering Heights). American Honey is a 21st century version of the Maysles Brothers 1968 verite classic Salesman, only with a motley dirty dozen (or so) teenagers and twenty-somethings selling magazine subscriptions replacing the Bible selling middle age white male. Arnold continues Maysles' use of camera intimacy with a boxy 1.37:1 aspect ratio that is constantly moving and close up to the characters. A good description of this blend is Harmony Korine meets John Cassavetes, with a touch of Terrence Malick thrown in for Arnold's penchant for wondrous shots of Nature inserted into the daily grind. The wall to wall thematically placed music (heavy on rap and hip hop) sets the tone and mood of the piece, and holds together the episodic structure which alternates between engrossing and tense and languid and laconic. In the tradition of the aforementioned directors, Arnold makes great use of non professional actors, including Sasha Lane as the quixotic 18 year-old Star and model turned actress Riley Keough, granddaughter of Elvis Presley, as the taskmaster/owner of the magazine enterprise, Crystal (who looks remarkably like Sherie Moon of Rob Zombie fame). Arnold seamlessly weaves a litany of engrossing themes –race, sexual identity, class, work– into her journey across the mid-west, without stridently calling attention to any single one. The episodic structure makes the epic length (163 minutes) feel short as the scenes vary in tone and length. A comic scene is followed by a tense scene, like the one where Star tries to sell some subscriptions on her own and joins three rich Texans for a BBQ back at one of their homes. She seems to be handling them quite well, but with an uneasy display of youthful eroticism, until Jake (Shia LaBeouf) shows up to "rescue" her, guns blazing. The film does not so much as end as stop, with Star moving away from a group celebration to take a moon lit dip in a nearby lake. One senses that Arnold had Jack Kerouac's On the Road and Studs Turkel's Working stuffed in her back pocket during the filming. American Honey is a bold, refreshing take on the American Road Movie.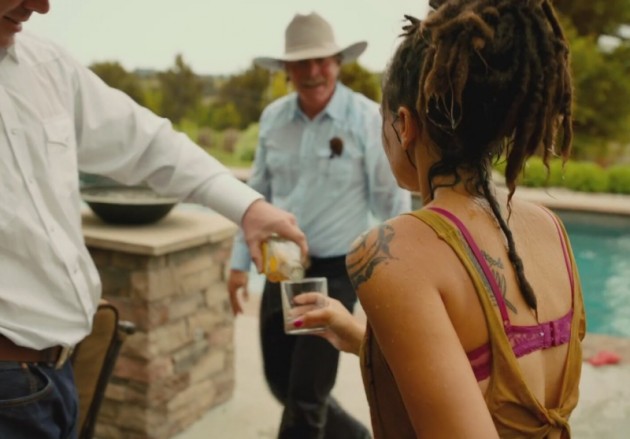 Star Messing with Cowboys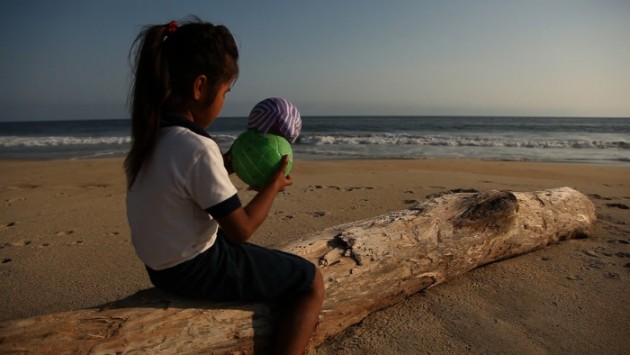 Pacifico
Pacifico (2016, Fernanda Romandía) is a gentle slice of life film that mixes its visual style from static long takes to moving shots, from extreme long shots to close shots of a tranquil environment. The film begins and ends on a eight year old Coral (played by Coral Flores) walking on the beach near her port home in Puerto Escondido, Mexico, and ends there. In between we see Coral move about her community, from home to school to a construction site where her godfather Diego (Diego Flores) works on a large home designed for Mexican artist Bosco Sodi by the famous Japanese architect Tadao Ando. Pacifico is a film about how space, community, nature, family, and friendship inter-relate. It never announces itself as being either fiction or non-fiction, or whether the people are just playing themselves or acting. In the end it is the former, which makes it feel in the tradition of Neo-realism and a reflection of Cesar Zavattini's dictum that an ideal Neo-realist film would be, "90 minutes in the life of a man when nothing happens." The film also recalls Iranian cinema, with its slippage between fiction/non-fiction. Pacifico is a welcome break during a busy film festival, as it will make you yearn for the beach, for vacation time meandering and finding solace under the warm sun and hot sands of your favorite beach.
Canadian Cinema Strong and Bold
Canadian cinema made a strong and varied showing at this year's FNC. One of the most striking Canadian films at FNC, for its content rather than style, was Below Her Mouth by April Mullen. The film is a lesbian romance but with a major sexual edge to it that includes explicit sex scenes between the two leads. If ever the adage "opposite attracts" were right, this would be an example. Trendy fashion model Jasmine (Natalie Krill) is a dark-haired beauty in a seemingly ideal relationship with her fiancée Rile (Sebastian Pigott), that is until she meets lithe, tough manual laborer Dallas (Erika Linder), who happens to be working on a roof that overlooks Jasmine's condo bedroom. After a few testy 'casual' meetings Jasmine lets down her guard and succumbs to the obvious sexual attraction and the two women engage in steamy spontaneous sex. Once bitten by the lesbian bug, Jasmine's neatly arranged world begins to crumble, including her planned marriage to Rile. The film demonstrates how quick neatly arranged plans can go astray. Perhaps in a cliché gesture, Dallas is the masculine half of the relationship, in her actions, work and sexual preferences. And Jasmine plays the feminine role. Whereas Dallas is comfortable in work overhauls and tool belt, Jasmine wears high heels and the latest fashionable attire. The film is notable for having an all-female cast and crew, which may account for the bold, intimate and explicit sex scenes. A scene where Jasmine catches a glimpse of Dallas, in her mannish work clothes hammering studs into a nearby roof, recalls a similar scene from Straw Dogs. Jasmine is turned on by the sight of Dallas working and begins to fantasize and masturbates in her bathtub under running faucet water. Mullin cross cuts between Jasmine masturbating and Dallas hammering nails into the roof, in a sexual montage so obvious it nears parody.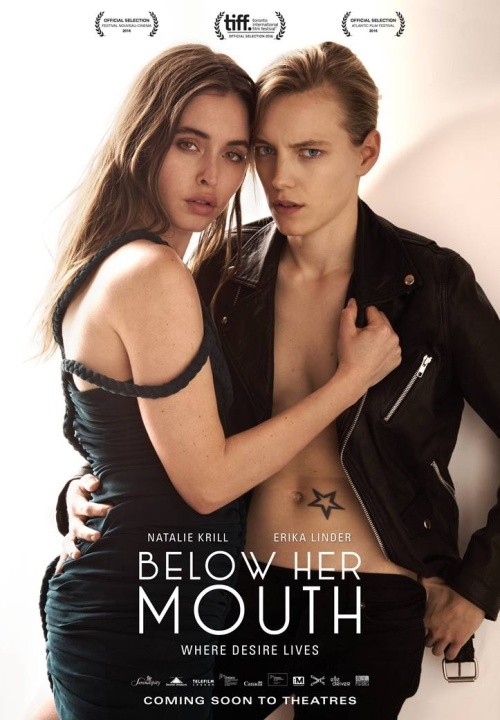 Now I am no expert in porn but what I found interesting in the film's gender or sexual politics is how it seemed to follow straight representation of sex in the depiction of genitalia. In non-porn films when sex encounters are represented it is par for the course that female genitalia is more likely to be exposed than male genitalia. The taboo on male genitalia, while beginning to be challenged, still holds sway in the mainstream. In Below Her Mouth this same dynamic takes place because Dallas' vagina is hidden from view by the strap-on she normally wears during sex, while Jasmine, in the more passive position, is more likely to fully exposed, hence following a pattern of straight sex in mainstream film.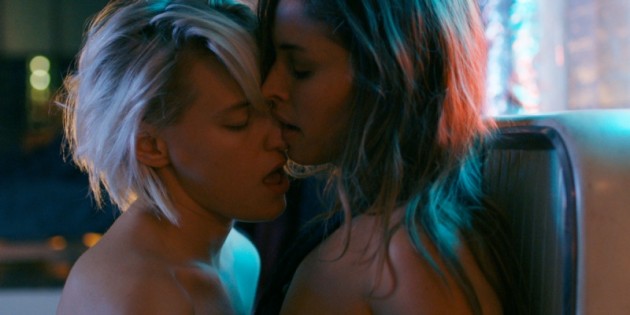 Steamy sex in Below Her Mouth
I must confess that the film's narrative tension is the type of conventional love triangle found in many romances. In classic Hollywood romance or screwball comedy the woman must choose between a wealthy suitor and a man she loves, or between a conservative partner and a like-minded free spirit. In Below Her Mouth the choice Jasmine must make is whether to move beyond her comfort zone —a straight marriage—into a passionate lesbian relationship. But what drives the film and makes it exciting to watch beyond the conventional romance angle is the absolutely electric chemistry between the two leads. Sparks fly when the two women are on screen, and that is most of the time. At the end Jasmine seems to have chosen the path of least resistance, returning to Kile, but the film leaves open the possibility that Jasmine may yet regret her decision and indeed change her mind.
Interview with director Mullin and actors Erika Linder and Natalie Krill.
Kim Nguyen's Cannes featured film Two Lovers and a Bear (2016, Canada) is a slow burn drama about a couple who for different reasons have 'escaped' their past by settling into life in a remote small Northern community of Nunavut. Lucy (Tatiana Maslany), who is from the area, drives a cab and Roman (Dane DeHaan), an outsider, works in transporting corpses. Lucy is dealing with the trauma of years of life with a sexually abusive father. Her trauma manifests itself in vivid hallucinations of her father, now dead, stalking her. Roman's trauma is also familial, dealing with a physically abusive drunken father, and he too suffers from hallucinations (or is it?): carrying on a conversation on two separate occasions with a polar bear. When Lucy learns she is accepted at University to finish her biology degree, she tells Roman that she will be leaving the North. Roman does not take the news well and grows distant from Lucy, binge drinking so as to alienate Lucy and make the departure easier. But Lucy's daring (or stupid?) act of using her savings to travel to see Roman recovering at a nearby hospital convinces Roman that he should leave with Lucy. With no money left, they plan to drive their skidoos straight across the frozen North to the South. They don't stop to wonder if this is even possible. A blizzard traps them. They take refuge in an abandoned military outpost, where the intense isolation gnaws away at their sanity. Lucy is stalked once again by her father. Roman decides that the only way to 'cure' Lucy of her father trauma is to blow up the outpost with her father "inside". With the outpost destroyed they take refuge in an underground snow bunker, they speak about a hopeful future with work and kids, many kids. But with the blunt edge of a single edit, the scene shifts to a poetic image of the two dead lovers huddled together under ice in a frozen embrace, with rescue workers chipping out their corpses from the deep freeze. The image of them huddled together under the ice recalls the many images of people immortalized under volcanic ashes of Pompeii. After a long struggle with both their own personal demons and the good old Canadian nemesis, Mother Nature, the two young lovers Lucy, and Roman, succumb to their own reckless innocence. Or was it a form of suicide? The feted Two Lovers and a Bear, strangely, ends as another greatly feted film begins, La Dolce Vita. After the two corpses are chiseled out of the frozen embankment their bodies are air lifted away by helicopter, recalling the opening statue of Christ that is being carried airborne by a helicopter in the Fellini film.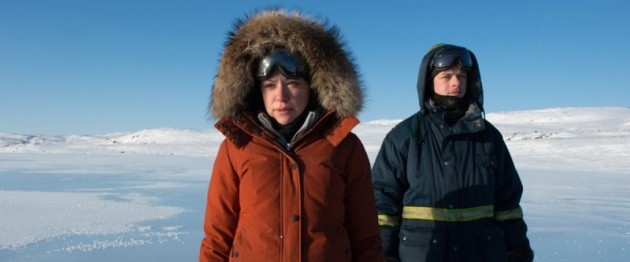 Two Lovers and a Bear
Two films by Quebec based directors gave snapshots of meandering life at different ages. In Prank (2016, Vincent Biron, Canada) Biron casts a vérite-like eye on a group of bored youngsters from a Quebec suburb who spend time together although they don't seem to like each other much. Stefi (Étienne Galloy) is the awkward outsider who is allowed into the group, more as a scapegoat than an equal partner, by serial pranksters Martin (Alexandre Lavigne), Lea (Constance Massicotte) and Jean-Se (Simon Pigeon). The film is episodic, a structure that neatly reflects the aimlessness of the characters. Their Jackass styled pranks are sometimes funny but usually painful to watch, stupid, or pointless (in one gag they place Stefi on a leash and parade him around a supermarket as if he were a dog). Their single joy in life seems to stem from getting other mainly working class people VERY upset, and then posting the prank on social media to make them even more upset! The funniest gag may be when these slackers sit down to watch, of all films, Bela Tarr's The Turin Horse! The film makes an interesting companion piece to American Honey, as both films depict contemporary youth with an unabashed value-free and free-form vision.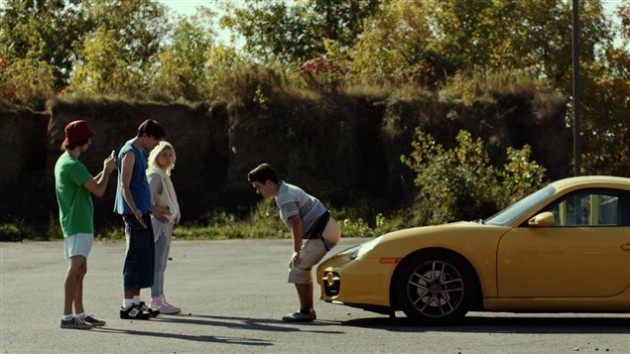 Prank
Veering Toward the Experimental
Maudite Poutine (2016, Karl Lemieux) turns its eye toward an older social group, thirty-something suburbanites, equally disenfranchised and on the outskirts of conformity. Vincent (Jean-Simon Leduc) is a drummer in heavy metal band who takes a wrong turn when he tries to cheat gangsters out of some drugs to help fund his band. Instead the bad decision turns his life in a downward spiral, causing a friend to be beaten to a bloody pulp and sucking his estranged older brother Michel (Martin Dubreuil) back into the world of crime as the older sibling attempts to intervene on his brother's behalf. Michel, a former gang member, tries to smooth over the tension between the gangsters and his brother, but fails to resolve the situation. From afar, Vincent witnesses Michel's trailer home, once owned by their father, burn to the ground with Michel trapped inside. In an intense reciprocal scene of symbolic destruction, Vincent methodically destroys all the material possessions in his apartment, a sign of his ultimate despair with his crumbling life. Vincent assumes, as we do, that Michel's death was a calling card from the gangsters, and rather than wait for them to come calling, or run away, he confronts them at their garage, with a suicidal plea for compassion. Vincent's passive-aggressive act –placing a loaded gun to his head, Russian Roulette style— remarkably diffuses the situation, and the gangster reacts more like an older brother than a tough guy by taking Vincent inside and calming him down. Only now does the film flashback to the fire to reveal that it was Michel who set the trailer home on fire, a suicide which almost inadvertently led to another suicide.
Symbolic Destruction
Lemieux shoots his first feature film in 35mm black and white, making it the only (I think) film to be presented on celluloid at the festival. The grain of 35mm helps capture a semblance of beauty out of the industrial landscape of factories, scrap yards and concrete parks which form the film's locations. Rather than characters driven by success they are driven by survival, after all this is a Canadian movie. Lemieux makes the leap into narrative feature territory but does not renounce his experimental past as part of a local film collective Double Negative, making this an interesting blend of narrative genre and experimental. Once the main plot threads are set in motion, the film abandons narrative convention to let the sound design (music, noise, sounds) take over and express character state of mind, mood and action. Lemieux gives the viewer the notion of going in one direction but thwarts most of the usual genre turns. Vincent meets a woman at an outside gathering and we assume a budding romance, but when Vincent meets the woman at another social gathering she ignores him. When his brother Michel dies we expect payback from Vincent, but he's no hero, and when we expect a gangster to be ruthless he shows compassion. We expect a violent payoff instead we get acceptance and Nature —the film ends with an image of birds filling an overcast sky— and maybe even hope.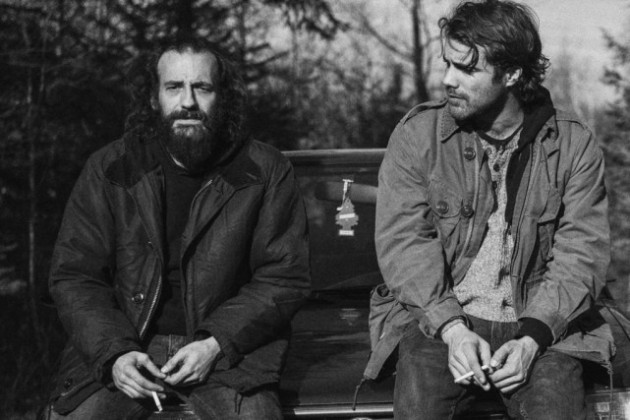 Brothers Michel and Vincent
Grace and Marc
On the farther end of the experimental spectrum is the Canadian film Désert (Desert Cry, 2016, Charles-André Coderre, Yann-Manuel Hernandez), which eschews narrative entirely for a mood piece about pure texture of desert landscape and human body. The film is book ended with a shot of a young woman in slow motion running away from the camera in a desert landscape, playing with her head scarf, smiling, and glancing back as she runs forward. In between these two shots there is a semblance of a narrative, or events. A thirty something man named Marc (Hubert Proulx), with an attractive blond girlfriend, spends time at a bar in Montreal drinking with friends, chatting about life and training at a boxing school. Snippets of dialogue between the man, Marc, and the woman, Clara (Elizabeth Locas), suggest an escape to the desert. Clara threatens to follow him out to the desert. A semblance of a road trip depicts Marc in transit, and he is next in Death Valley (the film was shot in Death Valley and Las Vegas, as well as Montreal). Like Jack Nicholson's roving character in The Passenger, he finds a female partner, an enigmatic, strikingly beautiful Grace (Victoria Diamond), who tags along with him for the excursion. Désert's use of the desert as a space for the youth and counter culture generation to explore and experiment (sexually and philosophically) recalls Barbet Schroeder's More (1969), set in Ibiza, with Mimsy Farmer and Klaus Grünberg as the couple, The Road to Salina (1970, Georges Lautner, also starring Mimsy Farmer, and Robert Walker Jr., and Antonioni's Zabriske Point (1970). Action and movement replaces dialogue, which is as sparse as the desert. The directors do a wonderful job of diversifying the look of Death Valley, by shooting in 16mm film (and I am guessing here but perhaps also digital), at night, day, afternoon, and magic hour. During a sex scene the image begins to break-up and spark into colored life, as if a strip of celluloid were being born into existence. Equal credit should go to the film's ambient score by composer Radwan Ghazi Moumneh (of "Jerusalem in my Heart"). The score blends ambient electronic sounds with Tangerine Dream style synthesizer music and manages to wrap itself around the characters and the landscape. In fact, there is a lot of dancing in the film, with Grace and Marc alone or together, and the gesture is telling since the film can be seen as a dance between human, desert, music and sound. Montreal as an abundant city space turns over to the sparse desert space. Matching aerial drone shots hover over Las Vegas and then Death Valley, with the latter appearing far more magical, a place where one can go to reignite a spent soul, which is what Marc and Grace have in common. When the opening shot of Grace moving back in slow motion returns at the end it is intercut with a shot of Marc, so we now realize who she is looking at. Grace stops running and turns to look directly at the camera/Marc. Her pleasant demeanor gives way to a look of concern, if not fear. The effect is to couch the middle part of the film as perhaps this woman's recollection, fantasy, or memory, making it a dream space, but also giving claim to the idea that the images we see in between these shots is not the man's perspective —which we have always assumed— but the woman's. Prior to leaving for the desert Clara and Marc recite one of their favorite poets, Oscar Wilde: "Each man kills the thing he loves." Could the concerned look on Grace's face as she looks at Marc suggest he is about to enact Wilde's poem?
Désert Trailer:
The Return of the Phantasm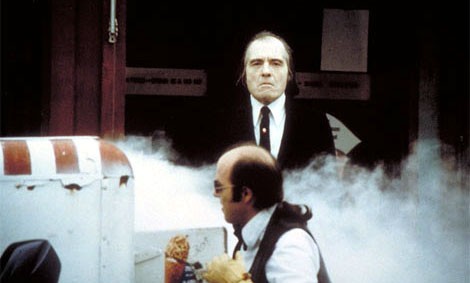 The Tall Man
It was nice to finish the festival with a screening of a high definitions restoration of Don Coscarelli's cult classic Phantasm (1979). I could not remember when I last saw Coscarelli's unique nightmare horror film but it holds up remarkably well as a film which leaves its mark largely for its inventiveness rather than execution. The film is an odd mix of the old and the new, harking back to the 1950s paranoia cinema, where a child's imagination is challenged by incredulous adults (Invaders from Mars, 1953, being the classic example) and looking forward to the mind altering cinema of the 1980s and 1990s, like Nightmare on Elm Street, Dellamorte Dellamore (even foreshadowing the Elm Street finale of a character being pulled back through a door's opening). A young boy named Mike (Mike Baldwin) is dealt a double tragedy with the death of his parents, and fears the loss of his older brother Jodie. He spies a Tall Man undertaker stealing corpses after a funeral and his investigation takes him along a treacherous coming-of-age journey where Mike must defeat his fears of, essentially, the darkness (represented by the black box he puts his hand into at the fortune tellers and then its all-white double in the portal room). Mike's journey sees him trapped in a mausoleum that houses a portal into another dimension. The hallways of the mausoleum are a highway for silver globes that fly around like in a Warner Bros cartoon. The silver spheres ram into foreheads and draw out human blood like a faucet. Like the young boy Joey in Shane, much of the action is seen from Mike's point of view. He sees The Tall Man from afar through binocular POV shots. He spies through curtains on his brother at a bar with a woman and then follows them to the cemetery where they make love. The twin poles of the horror film for the pubescent boy: violence and sex. He spies on a man from the inside a coffin at the mausoleum. Even the locations are symbolic, a funeral home and a cemetery. Even if the film is largely an expression of Mike's viewpoint, Mike enlists the help of his older brother Jodie (Bill Thornbury) and his friend Reggie (Reggie Bannister) to help him unravel the mystery of the shape-shifting Tall Man, played to arch perfection by Angus Scrimm. But ultimately it is Mike's battle to win or lose. The film plays best as a series of episodes that are structured around a horrific play with contrast: Mike is threatened by a slender Tall Man who is the archetypical boogeyman of every child, but who can shape shift into a seductive blond woman. The Tall Man is helped by minion monk-hooded dwarves less than half his size, physical manifestations of the stolen souls. The mausoleum walls are a blend of white marble with streaks of black. The narrative timeline gives way from the bright daylight of the early scenes to the pitch black of night for the later scenes. Even Reggie's ice-cream man costume is all white with a black vest. The pinnacle of this horrific contrast comes in the wonderful art designed portal room, with the camera tracking forward past the wall high stack of black drums (that house the evil little alien souls) to the shining white space of the silver pole portal, which opens out into an all red alien dimension. The safe sanctity of dream/reality and the world within and without the mausoleum is ruptured in the twist ending, where the Tall Man appears in the real world to suck Mike back into the nether world. It is a surprise ending that recalls Deliverance and Carrie, while of course looking ahead to films such as Nightmare on Elm Street and Friday the 13th, but somehow feels more organic and satisfying in Phantasm, a little film which has spawned four sequels and has garnered a loyal following of fans (or as they like to call themselves, "phans").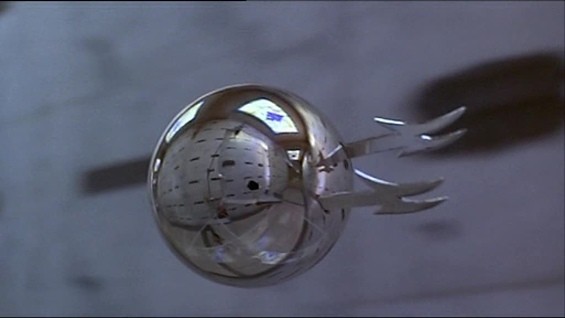 The Sphere
Feature image from Daguerrotype