The Skin I Live In: Sexual Identity and Captivity in a Film by Pedro Almodóvar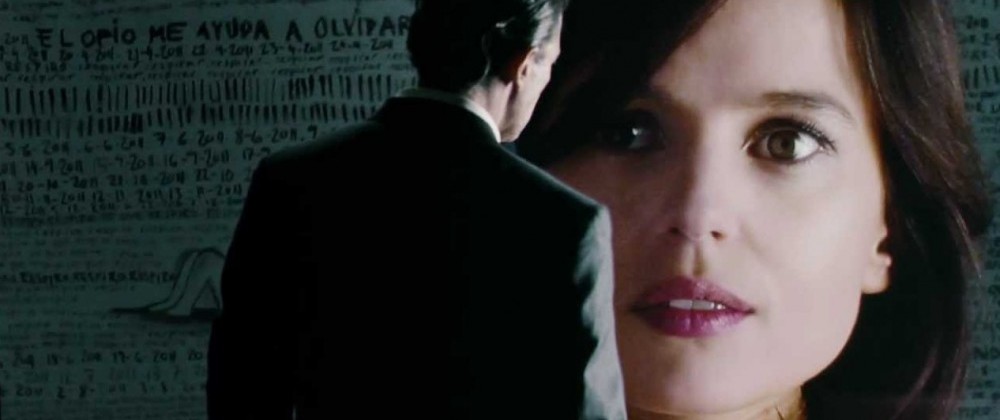 1. Captivity in the cinema of Pedro Almodóvar: An Introduction
Captivity appears in a recurrent way in several films by Spanish director Pedro Almodóvar. It is explicit in Tie Me Up! Tie Me Down!( Átame ) (1990), Kika(1993), Bad Education (La mala educación) (2004) and, above all, in The Skin I Live In (La piel que habito) (2011). It also appears in a more metaphorical way through characters that come from the personal world of Almodóvar, constructed around passions, enthusiasm and ecstasy. In Almodóvar's films there are often men and women who are prisoners of an unfortunate relationship, as in Women on the Verge of a Nervous Breakdown (Mujeres al borde de un ataque de nervios) (1988) and The Flower of My Secret (La flor de mi secreto) (1995), or are in thrall to the laws of an uncontrollable desire, as in Matador (1986) and Labyrinth of Passion (Laberinto de pasiones) (1982), or are trapped in a physical condition that prevents them from carrying on their daily lives as they expected, as in Live Flesh (Carne Trémula) (1997) and Talk to Her (Hable con ella) (2002). There are others who are burdened by a deep pain, as in All About My Mother (Todo sobre mi madre) (1999), or even lock themselves up, either with others, like the nuns of Dark Habits (Entre tinieblas) (1983), or alone, like the mother in Volver (2006).
2. Gender Issues in Almodóvar's cinema
Throughout his career, Pedro Almodóvar has proposed a whole range of gender possibilities and combinations that goes beyond the binomial masculine-feminine archetype and offers a wide spectrum of identities around which one's desire gravitates. Among the reasons for this is that it responds to the idea of multiculturalism, sexual freedom and gender opening that germinated after the death of Francisco Franco in 1975 and blossomed in the 1980s through different cultural expressions, including music, photography, literature and cinema. It also connects with the recent queer and transgender theories that break up the traditional male-female gender binarism: As Jordy Jones writes, gender "is not a binary, but rather a spectrum." 1
In this respect, Almodóvar has been one of the most influential figures in altering perceptions of sexual identity categories:
Almodóvar's films treat questions of sex and gender within the context of a postmodern decentering of traditional notions of social-sexual identity. Indeed, one of the constants of his cinema is the emphasis on sex and gender role reversals, whether masculine or feminine. Emblematic of this concern is the presence and sometimes proliferation of homosexual, transvestite, and/or transsexual characters. 2
As gays and lesbians have been represented in his films since the beginning, we can say that it is indeed a constant element in his work. Transsexuals, while appearing less often, are nevertheless prominently portrayed in several of Almodóvar's films, beginning with his most provocative film. Law of Desire (La ley del deseo) (1987). This film was released at a particular time in his career, a moment of professional emancipation. While it was his sixth film, it was the first produced by the newly created El Deseo S.A., a company founded in 1986 by Pedro and his brother Agustín. Since then, the figure of the transsexual reappears in a reiterated way, progressively gaining more space in his work. It is also part of what Viviane Namaste considers an "explosion of images related to transsexuals and transvestites that in recent years encouraged everyone to talk about gender." 3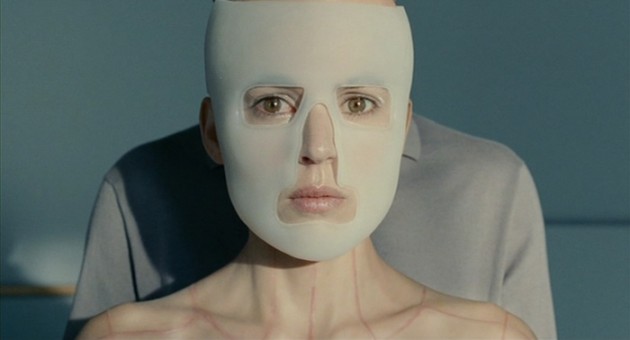 Transsexual characters have prominent roles in Almodóvar's Bad Education and The Skin I Live In. However, he deals with transexuality in a new way in The Skin I Live In. As Almodóvar has noted on several occasions, it was the first time he treated transexuality as a punishment. This is in direct opposition to the theory established by sexologist Harry Benjamin, who coined the term "transsexual" in 1953, when he wrote that "true transsexuals feel that they belong to the other sex, they want to be and function as members of the opposite sex, not only to appear as such." 4 In addition, Robert Stoller distinguished two essential characteristics in the transsexual: the subjective feeling of being part of the opposite sex and the wish to change sex. 5 Yet neither of these theories apply here. Vera, the character around which The Skin I Live In revolves, has to be considered an "atypical transsexual."
The transsexual characters that, up to The Skin I Live In, appear in Almodóvar's work, respond to a common feeling that offers a very clear idea of the way in which they are conceived of by the writer. It is important to note that all of them are trans-women, which is to say, male-to-female transsexuals. They are portrayed as souls that were prisoners of a body they did not consider theirs, but are now free. A good example of this is the character of "La Agrado" in All About My Mother, who is called this because, as she says, she always tried to "make people's lives agreeable (agradar in Spanish)." She is a joyful, satisfied and positive person, and the quintessence of transexuality as seen by Almodóvar. She feels herself to be a woman, despite the fact she still has a penis, and she goes into detail to an auditorium audience of all the plastic surgery she underwent and how much it cost, justifying it with the statement that "you are more authentic the more you resemble what you've dreamed of being." Similar to "La Agrado," Almodóvar explores the past of Tina in Law of Desire and Zahara in Bad Education, pointing out the motivations that led them to change their sex, but he does not tell us anything about the immediate consequences of that change.
It is no surprise that transsexuals face many difficulties in their attempts to reinsert themselves in the job market or family context. Statistics also tell us how they are amongst the most marginalized communities and run high risks of suffering psychological problems and challenges. Almodóvar does not go explore these subjects in any depth, as he considers them already explored. For example, he shows Tina living with her brother and performing the tasks of a stand-in mother of a little girl who has been abandoned by her biological one. Also, "La Agrado" is shown as being related to many of her co-workers, among whom she causes fascination, but never rejection. The fact that transsexuals and their environment are accepted without discrimination places responsibility on the audience for any prejudice that arises. In Almodóvar's films, transsexual bodies occupy and share the same space as those that are not. And the most interesting thing is that his transsexual characters are not just women who abandoned their previous lives as men, but that they also know how to live without them. There is no doubt that the feminine world is the place where these characters find their shelter, comfort and sureness. As Anna Pasqualina Forgione argues, Almodóvar's transsexual is a "transsexual freed from the guilty and castrative look of a heterosexualized culture." 6
3. Transexuality and captivity
Psychologists and sociologists have often noted a connection between transexuality and body imprisonment. In this sense, this term should not be confused with "transgender" or "cross-dresser." While transgender can refer to a person who identifies with or expresses a gender identity that differs from the assigned birth sex, transsexuals show their identities through a physical change of embodiment. A cross-dresser could self-identify with their birth sex but sometimes dress or behave in a non-stereotypical way. Essentially, the umbrella term transgender can include cross-dressing or transexuality but is not limited to them. Currently, a majority of gender scholars would agree with Fermin Mayoral Cleries' assertion that "the transsexual . . . feels like he/she is trapped in a body that he/she refuses and doesn't consider as his/her own." 7 It is clear that it is not a pathology since, as Antonio Becerra-Fernández writes, they "are women who feel trapped in a man's body, and men who feel trapped in a woman's body, without serious psychological upsets that distort the perception of reality, who need to be socially and legally accepted in the gender that they chose." 8 Louis J.G. Gooren adds that "Transsexuals constantly live with the feeling that their physical body denies who they are. Transsexuals feel trapped in their own bodies: 'I felt that my body was a prison. There was no window. I couldn't breathe; I couldn't go out, I didn't have the key.'" 9 This is precisely what happens to the pivotal character in The Skin I Live In, with the important difference that the body change was not voluntary, but imposed.
4. The Skin I Live In
The Skin I Live In is one of the few scripts that Almodóvar has adapted somebody else's story. 10 It is inspired by the 1983 French novel Mygale, by Thierry Jonquet. The novel was translated into English and published in 2003 under the title Tarantula. The Anglo-Saxon world received the book with surprise and discomfort, with one critic writing it "embraces sexual horror with relish; it feels at times like being pulled on a leash through a Bosch painting with the Marquis de Sade leering from the wings." 11 This mixture of attraction and repulsion permeated other reviews as well: " Mygale is a story that invites both respect and repulsion: As a reader, you're happy to have read it . . . and just as happy, ultimately, to close the covers on its weird world." 12 The Skin I Live In follows the novel by being, above all, a daring film, full of grief and pain, but also poetry.
Almodóvar worked on the script for several years. After several months of shooting, the film premiered in September, 2011. It had a budget of 10,000,000 Euros and marked the director's reunion with actor Antonio Banderas, with whom he had not worked since Tie Me Up, Tie Me Down! in 1990. Although originally considering Penelope Cruz for Vera, the role finally went to Elena Anaya. The film won four awards at the 26th Spanish Goya Awards (Spanish Academy Awards), as well as the BAFTA, Golden Globe and Oscar for Best Foreign Language film.
Pedro Almodóvar loosely adapted The Skin I Live In from Jonquet's story, expanding the ideas that he considered interesting, and blending them with his own. At points, the film references George Franju's Eyes Without a Face (1960), 13 where Dr. Génessier does everything he can to restore the ruined beauty of his daughter by kidnapping young girls to remove their faces and transplant them onto his daughter. In addition, characters, scenes and ideas in the film connect with some of his previous works. The motion picture is structured in two halves that cover twelve years. The first half places the audience in the middle of an ongoing narrative, and is intended to disorient the audience, as it is not clearly explained what is happening. The story eventually ties together through a flashback in the middle which goes back to the beginning, before returning to the second half, where the narrative reaches its conclusion.
6. Theoretical framework for the analysis of the film
6.1. Chronicle of vengeance
The Skin I Live In opens with a panorama that locates it two and a half miles outside of the city of Toledo, Spain. It is the year 2012. Another shot displays the cigarral 14 where much of the story develops. Immediately after, the fences surrounding the mansion appear, suggesting a permanent state of captivity. The owner is Robert Ledgard (Antonio Banderas), a well-known plastic surgeon specializing in facial transplants who spent years doing research in the private laboratory that he built inside his mansion. He has been experimenting for six years on a young woman named Vera (Elena Anaya). After numerous skin transplants, he explored the possibilities of transgenesis, which consists of the insertion of genes into a living organism that would not normally contain it. Vera spends her time on a locked room equipped with cameras that run twenty four hours a day and transmit images not just to a big screen located in Robert's room, but also to the kitchen, a space where we find Marilia (Marisa Paredes), the housekeeper. Marilia returned to the house after being away for four years. She is the only person who knows about the existence and captivity of Vera. Even if she is not a central character, she remains an important one, whose coldness and mistrust echoes Mrs. Danvers from Alfred Hitchcock's Rebecca (1940). Vera fills her time practicing yoga or making sculptures from fabric remnants. How and why she ended up a prisoner in that house is a mystery that will be revealed in time.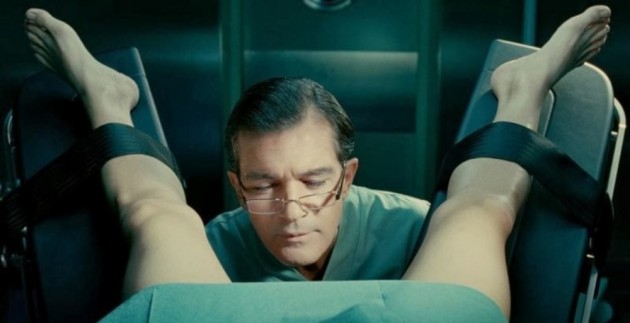 Twelve years earlier, Robert's wife Gal had a relationship with Zeca (Roberto Alamo), Marilia's son. The two lovers had a car accident when they were trying to get away. Zeca was able to escape, but Gal was trapped in the flames. With the help and care of her husband, Gal survived, but her body and face were so disfigured by the burns that one day, after seeing her reflection in a glass, she decided to dive into the void through the window of her room. This tragedy left Norma (Blanca Suárez), Ledgard's daughter, so traumatized that the girl had a nervous breakdown. Time goes by and, after Norma shows signs of improvement, Robert decides to go with Norma to the wedding of a friend. The young woman notice Vicente (Jan Cornet), who noticed her as well. Vicente, under the effects of alcohol and other recreational drugs, took Norma out to the garden, looking for a quieter place to have sex. However, Norma panics and Vicente, unable to calm her down as she starts to scream, hits her and runs away. At the same time, Robert had been looking for his daughter. He sees Vicente driving away on his motorbike and then finds Norma lying unconscious in the garden. When she wakes up, she does not recognize her father and, because of the trauma, identifies him as her attacker. These events cause a further deterioration in Norma's mental health and, like her mother, she commits suicide. Robert decides to get revenge on the person who he believes raped his daughter and caused her death. To this end, he kidnaps Vicente.
Time passes and, despite the pleas of his mother, the local authorities quit looking for Vicente, who has been imprisoned in Robert's house. When he finds out the reason why he has been kidnapped, Vicente tries to explain that he did not rape Norma and that it was a misunderstanding. It was, however, too late, as Robert decides not just to use him as a guinea pig in his transgenic experiments, but also to perform a vaginoplasty and turn him into a woman. Thus, Vicente became Vera. Disconformity with her anatomy brings Vera to refuse everything related with her new sexual condition. Dresses or make-up are totems of a femininity that refuses to accept. Vera wears a tight black jumpsuit that molds her skin while she is healing. After several attempts of suicide, Robert decides to remove all sharp objects and occasionally smokes opium with her. In one of these brief visits, Vera becomes aware that she has acquired power over her creator. Sensing the attraction he feels for her, she tries to seduce him.
One afternoon, when Robert is away, a mysterious man arrives dressed as a tiger. He is Marilia's son Zeca, a criminal from Madrid. He is in Toledo for the carnival and to hide out where his mother works. Marilia asks him to leave, but Zeca sees Vera on the security camera monitor. He gags his mother and ties her to a chair, recalling a similar scene from Almodóvar's earlier film Kika. 15 Zeca is raping Vera when Robert appears and shoots him dead. While Robert disposes of the corpse, Marilia tells Vera the story of Robert and his family. She also reveals that her new face is Gal's face and that Robert is also Marilia's son, which means that Robert just unknowingly killed his brother. She tells Vera: "Both were born insane. It is my fault. I've got madness in my entrails," an echo of Barthes' famous quote that "Every lover is mad." 16
Marilia does not trust Vera, and warns Robert about the possible consequences of setting her free. However, Robert decides to have faith in Vera and frees her from confinement. She tells Robert: "You promised me that there won't be any more locked doors, that I could watch all the television channels, that I was free. And I promised you that I won't ever leave you . . . This is all I've got Robert, your promise and mine." The morning after they sleep together, Vera decides to wear a dress. Robert gives her permission to go to the city and buy more clothes, but under the constant surveillance of Marilia.
Meanwhile, Fulgencio decides to visit Robert and tries to convince him to reopen the clinic. When Robert refuses, Fulgencio tries to blackmail Robert. He shows him a newspaper which has a photo of Vicente that lists him as a missing person. Fulgencio says he remembers him and that the surgery was done without the boy's consent. Robert takes out his gun and points it Fulgencio, but Vera enters and declares it was his choice to change his sex, saying: "My name is not Vicente, but Vera, Vera Cruz. And I was always a woman!"
That night, as Vera and Robert go to bed, under the pretext that she forgot a bottle of lubricant she bought earlier, Vera goes down to Robert's studio and takes the gun. She hen returns, closes the door, and shoots him. Marilia hears the noise and goes to Robert's bedroom with her gun. But Vera is waiting and shoots her as well. Marilia falls to the ground and, just before dying, mutters "I knew it."
Vera then leaves the house and goes to the clothes store owned by her mother. She meets Cristina, the assistant who worked with Vicente before he was kidnapped. After talking to Vera, Cristina soon recognizes her as Vicente. She starts to cry and, when the mother comes out and asks what is happening, Vera replies: "I am Vicente."
6.2 A devoted surveillance: representation of the space
The space where Vera moves throughout the film is fundamental to understanding her reclusive situation. It is clear that it is a space limited by both physical and geographical barriers. We know she is in a locked room, that the room is inside of a house, and that the house is isolated and protected by a wall and a large fence. It is not a cell, but it operates like one. The only contact Vera has with the world outside her room is through an electrical device that she uses to communicate with Marilia, who provides her with food, books and other objects via a dumbwaiter. In this way, Marilia avoids personal contact with the girl. Vera also has a television, but it does not show news. It only broadcasts documentaries and exercise shows. But what above all indicates that Vera is a captive is the constant surveillance to which she is subjected. The fact of her imprisonment is important in understanding the plot, as research has shown that "surveillance also affects the personal and emotional lives of prisoners." 17
This surveillance creates two kinds of images and two kinds of audiences. Some of the cameras relay black and white images to two televisions that are in the kitchen. These fixed shots of the room allow Marilia to observe Vera's movements. The absence of colour reinforces the sense of domination, akin to the closed surveillance systems of prisons or high security areas. This type of viewing, bound to control and surveillance, is countered by the images issued by the other camera installed in Vera's bedroom, which responds to Robert's voyeuristic pleasure. This way, he can contemplate his creation from the adjacent chamber and through a large colour screen.
Through the use of an optical zoom, Robert is able to move the image closer or further away and study Vera's face carefully. She, in turn, is not only conscious of the presence of the cameras, but also that she is being observed. As Almodóvar told an interviewer: "When Antonio magnifies the image to him with a zoom and the face of Elena is as big as the three-quarter parts of Antonio, I want to say that even if he is the owner of the keys, Elena is the one who is controlling the relationship." 18 In this regard, Almodóvar places paintings on the walls of the house that not only show an obvious worship of the female body that embraces the film's main narrative, but also connect with the idea of finding a certain pleasure in the fact of being seen. This idea is transmitted by the two reproductions of of Titian: The Venus of Urbino and Venus and Music's. Like the Venuses, Vera is also a creation made-to-measure by her master and, similarly, engages the spectator with her body while she lies on a bed, investing him or her as subject.
6.3 The Tiger Man and the awakening of femininity
One of the most revealing, and Almodóvarian, moments in the film is the irruption of the Tiger Man into the lives of Marilia, Vera and Robert. The combination of sexual liberation and deflowering becomes a prerequisite to the recognition and acceptance of Vera as a woman, not just by the others, but also by herself. The Tiger represents the presence of the irrational, of the masculine figure. This is how Almodóvar saw this animal when he made Dark Habits. Francisco Zurián notes that this is another of the films where the director refers to the feline, not just in some of its scenes, but also in the magnificent poster designed by Iván Zulueta. In The Skin I Live In, the idea of the beast already emerges before the appearance of Zeca in one of the documentaries that Vera watches where, as a foreshadowing, a cheetah attacks a gazelle.
In our film, the tiger, rather than being just a costume, represents the real face of Zeca. He is a character conceived by Almodóvar as a virile being, hot-headed, wild and without scruples. It is precisely this animal side that betrays him. Just as in nature, when the tiger mates, it loses control of its environment because of its high level of excitement, and this is fatal as it leaves him vulnerable to attack by another male intent on capturing the female. This is exactly what happens in the film.
6.4 The immutable identity
Another question that Almodóvar explores in the film concerns the true identity of Vicente/Vera. It seems that the director is trying to tell us that, regardless of the evident and sharp physical transformation to which Vicente is subjected, his personality is immutable. Even if Vicente changed his skin, he did not lose his identity. This is made clear in one of the most beautiful scenes in the film. Shortly after her surgery, Vera uses her hands and teeth to rip the dresses they gave her in order to dress her like a woman, transforming them into remnants that later on she disposes of through the central vacuuming system. It is clear that in that moment Vera considers the dresses unconnected to her, while the objects she gathers in her reduced and limited space are a reflection of her personality.
Almodóvar had done something similar when he represented Kika through the objects she had on an altar full of, among other things, Barbie dolls and images of the Virgin Mary, all pieces carefully selected by Almodóvar to represent her femininity. However, despite the immutability of her identity, there is an important evolution in Vera's character. It takes place gradually, as Vera finds the means to survive in the new reality in which she is trapped. Thanks to art, yoga and meditation, she learns to be patient and wait, as spiders do, before their prey gets trapped in their web. This is the only way that she has to be free. This is "the uninterrupted pacing of a tiger behind the bars of its cage so that it won't miss the single fleeting instant of its salvation" that Elias Canetti referred to in the notes of the posthumous Libro de los muertos, 19
which Almodóvar points to as a source of inspiration.
As a proof of the therapeutic properties Vera finds in art is the quote she writes on one of the walls of the room that is connected to the philosophy of the sculpture by Louise Josephine Bourgeois: "Art is a guarantee of sanity." 20 As Vera writes on the wall with eyeliner, she adds signs, sentences, and single words in order to create a large wall drawing that, as a diary, reflects the six years she has been confined. As Almodóvar says:
When Dr. Robert comes into the kitchen and sees her, through the screens, frantically writing dates on the wall, he doesn't understand what she's doing. Vera doesn't want to lose a single one of the days she has lived, even though many of them were spent in sub- human conditions. Recovering past time is to recover memory. The wall becomes her diary, although at times the days are represented by a single vertical stroke. 21
In this relief she finds through art, and still according to Bourgeois' theories, Vera also creates figures and covers objects with pieces of fabric that she patiently assembles, giving them a new meaning. This is how she transforms her emotions into a personal language that reflects the new feminine identity she has to get used to. Her maturity as a woman is shown when Vera comes to understand that there is no longer a place for killing herself. The acceptance of the body implies the inner strength of her character.
But now, just as Vicente/Vera becomes stronger in order to be free, we have the opposite effect in Robert, who becomes progressively more human because of his own creation. As was the case in Ovid's Metamorphoses or its cinematic derivations, from All about Eve (Joseph L. Mankiewicz, 1950) to Vertigo (Alfred Hitchcock, 1958) and on to Pretty Woman (Garry Marshal, 1990), the creator finishes by falling in love with his own creation. What is worse, his creation becomes aware of this. If, at first, Robert controlled the situation, power shifts to Vera in the second half. Vera is Robert's obscure object of desire, and she realizes this when she understands that Robert has given her his dead wife's face. This power that she acquires over him is in the end her means of escape, but not before shooting Robert, with all the phallic connotations that act suggests. It should also be noted that, as in other Almodóvar productions, Vera is embodied not by a man, but by a woman. As Daniela Aronica argues:
Almodóvar mixes the cards and, as in a backhand game, he trusts the transsexual characters as actors who are not "ambiguous" at all in real life, but extraordinarily mimetic in cinema . . . To Bibí Andersen, openly transsexual, the director trusts instead feminine parts (the mother in Law of Desire, the lover killed by the writer in Kika, the lesbian in High Heels). 22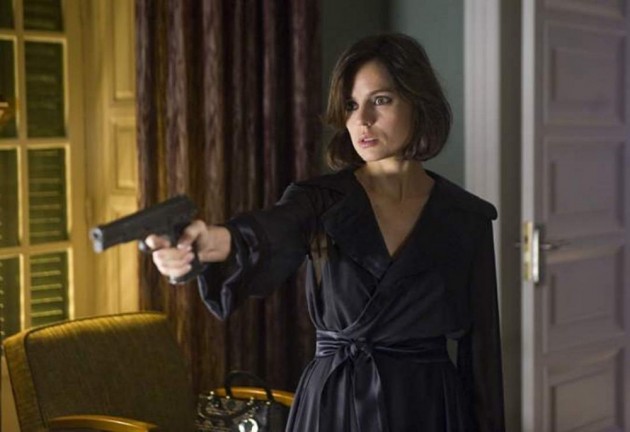 Vera takes control
The end Almodóvar conceives for Vera is ambivalent. If on one hand it closes the link that connected the girl with her life at the cigarral, on the other it leaves open other possible ways for the character to develop. Instead of escaping and starting a new life according to her new gender, she decides to return to her mother and explain what happened. Her reaction becomes easily comprehensible if we keep in mind that the existence of an appropriated social network and family support becomes crucial for a person going through gender change and adopting a successful new sexual role. 23 We should not forget that the family is, however unusual it may be, a consistent pivotal factor in Almodóvar films. It is almost always an integral part of the lives of a large number of his characters, generating in them feelings as diverse as frustration, hope, pain, joy and happiness.
7. Conclusions: Beyond Captivity
Pedro Almodóvar remains the most recognized Spanish film-maker since Luis Buñuel and, as did Buñuel, he has created a distinct style. Also like Buñuel, Almodóvar constantly returns to his obsessions in his films. The Skin I Live In is in this sense his most obsessive narrative. It is his eighteenth film, a mixture of horror cinema and mystery marinated in melodrama and salted with unexpected flashes of comedy. The rhythm is fast, and even if the opening shots map out the main subject of the film in a very clear way, he refuses to provide a linear development of the story. As he told an interviewer: "I need a spectator who is alive, awake, without prejudice and ready to be surprised with satisfaction in the light of unforeseen events." 24
All of this revolves around the themes of domination and captivity. Almodóvar is fascinated with the idea of captivity. And in The Skin I Live In, all the narrative tension of the film springs from this fascination. It is, in this case, a double captivity, a box inside of a box: a man trapped in a woman's body, who is at the same time a prisoner in a closed space. Captivity forces Vera to find new ways of expressing herself, and constructs a new sense of self, according to her new form of embodiment. At this point, the viewer will inevitably have questions about the film, but maybe the most interesting one in our regard would be: "Is she still a man?" After analyzing the film, we realize that. in the end, gender is not the problem, identity is. Vera is not a transsexual, as she is not what she wants to be. When Robert mutilates Vicente, he is confining him in a body that he denies. And when Robert confines that body inside of a closed space, he takes for granted that with governance, discipline and time, Vera's identity will be remodeled the same way as her skin. Robert is proved dramatically wrong. He did was not convert Vicente into a woman, but only blended genders. In this sense, Almodóvar breaks with the conjecture that body equals sex, that this necessarily reflects gender, and that gender is equivalent to identity. He agrees with Judith Halberstam, who writes: "Identity is skin deep." 25
Works cited
Almodóvar, Pedro. Interview by Harguindey, Ángel. "El abismo Almodóvar." El País Semanal 21 Aug. 2011: 30-35. Print.
—-. Comments on The Skin I Live In. Pressbook. Madrid, 2011. Print.
Aronica, Daniela, "Il bildungsroman di Pedro Almodóvar." Pedro Almodóvar. Enrico Vincenti et al. Torino: Paravia scriptorium, 2000. 21-32. Print.
Barthes, Roland. A Lover's Discourse: Fragments. New York: Hill and Wang, 1978. Print.
Becerra-Fernández, Antonio. "Tratamiento hormonal de los trastornos de identidad de género: efectos beneficiosos y efectos adversos." Transexualidad: La Búsqueda de una Identidad. Ed. Antonio Becerra-Fernández. Madrid: Ediciones Díaz de Santos, 2003. 65- 78. Print.
Benjamin, Harry. The Transsexual Phenomenon. New York: Julian, 1966. Print.
Canetti, Elias. Libro de los muertos. Apuntes 1942-1988. Barcelona: Galaxia Gutenberg / Círculo de Lectores, 2010. Print.
Corrigan, Maureen. "Book World." Washington Post 19 Jan. 2003. Print
Forgione, Anna Pasqualina. Spiando Pedro Almodóvar. Il regista della distorsione. Napoli: Giammimi Editore, 2003. Print.
Fuentes,Victor, "Almodóvar's Postmodern Cinema: A Work in Progress…" Post-Franco, Postmodern, The Films of Pedro Almodóvar. Eds. Kathleen M. Vernon; Barbara Morris. London: Greenwood Press, 1995. 155-170. Print.
Gooren, Louis J. G. "El transexualismo, una historia de intersexo." Transexualidad: La Búsqueda de una Identidad. Ed. Antonio Becerra-Fernández. Madrid: Ediciones Díaz de Santos, 2003. 43-63. Print.
Goulding, Dot. Recapturing Freedom: Issues Relating to the Release of Long-Term Prisoners Into the Community. Sydney: Hawkins Press, 2007. Print.
Halberstam, Judith. "Skinflick: Posthuman Gender in Jonathan Demme's The Silence of the Lambs." Camera Obscura. 27 (Sept. 1991): 36-53. Print.
Jakubowski, Maxim. "Tarantula." The Guardian. 26 Nov. 2005. Print.
Jones Jordy, "Gender Without Genitals, Hedwig's Six Inches," The Transgender Studies Reader. Eds. Susan Stryker; Stephen Whittle. New York: Routledge, 2006. 449-467. Print.
Mayoral Cleries, Fermín. "Transexualismo": Sexualidad, psiquiatría y cultura. Ed. Ángel Luis Montejo González. Barcelona: Editorial Glosa, 2005. 33-46. Print.
Namaste, Viviane, Sex Change, Social Change. Reflections on Identity, Institutions and Imperialism. Women's Press: Toronto, 2005. Print
Ross, Michael W; J.A. Need. "Effects of Adequacy of Gender Reassignment Surgery on Psychology and Adjustment: A Follow-up of Fourteen Male to Female Patients." Archives of Sexual Behavior (Apr. 1989): 145-53. Print.
Stoller, Robert. Sex and Gender. New York: Science House, 1968. Print.
Stryker, Susan. "My Words To Victor Frankenstein Above the Village of Chamounix. Performing Transgender Rage," The Transgender Studies Reader. Eds. Susan Stryker; Stephen Whittle. New York: Routledge, 2006. 244-255. Print.
Zurián, Francisco. "La piel que habito: A Story of Imposed Gender and the Struggle for Identity." Eds. Marvin D'Lugo; Kathleen M. Vernon. A Companion to Pedro Almodóvar. Oxford: John Wiley & Sons, 2013. 262-278. Print.
Notes