The Many are One: The Wholeness of Native Americans in Te Ata (Frankowski, 2016)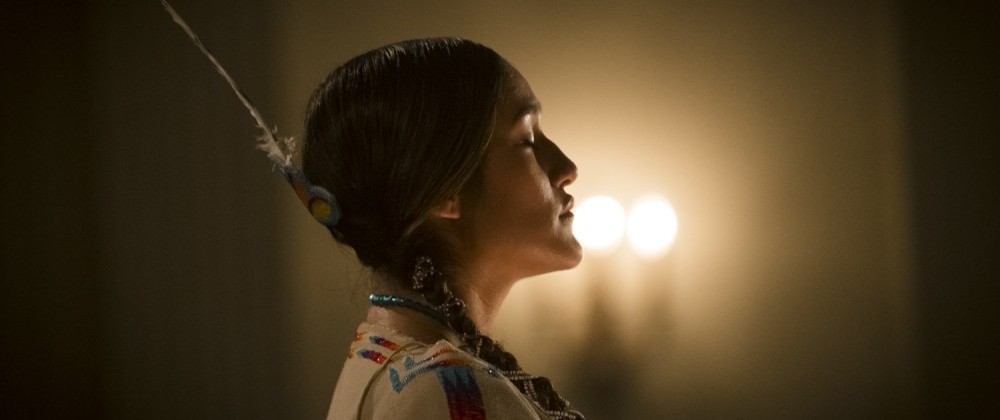 Te Ata
A film on the Native American storyteller and performer
starring Q'orianka Kilcher and directed by Nathan Frankowski
Produced by Chickasaw Nation Productions
"The English, still unable to feed themselves in The New World, raided the Indians to steal corn when they could not purchase it."
—Jace Weaver, "Lady Rebeca Rolfe" in The Red Atlantic: American Indigenes and the Making of the Modern World, 1000 – 1927
"We can choose to press forward with a better model of cooperation and integration. Or we can retreat into a world sharply divided, and ultimately in conflict, along age-old lines of nation and tribe and race and religion."
—Barack Obama, "We Must Go Forward,"
September 2016 United Nations General Assembly speech
We Are the Change We Seek
The storyteller known as Te Ata (1895 – 1995) introduces herself as a girl, Mary Frances, which is to say that she, born in Emet near Tishomingo in what is now Oklahoma, introduces her people's history, her family, her life, her education and talent, beginning with a story Mary Frances's protective and thoughtful Chickasaw father told her about how many horses are one horse, and that many birds, though different, are one bird, as with so many other beings and things—the general and the particular, the group and the individual—that exemplify an aspect of a great mystery. Here, in the film Te Ata (2016), written by Jeannie Barbour and Esther Luttrell, and directed by Nathan Frankowski and produced by Paul Sirmons, is a vision healthy and holistic, and one can weep at its answering of long-neglected need, for the treatment of Native Americans by immigrant Americans of European descent has been brutal, even genocidal, a clash of cultures that has become myth, embodied in the American western film and its description of American settlements moving from east to west, conquering the frontier. Yet, one wonders: where are Native Americans today? What are they making of their significant cultures, their terrible history? The film Hostiles (2017) recreates a late nineteenth-century encounter between dominating American soldiers and two Native American groups, the marauding Comanche and the often peaceful, usually principled Cheyenne, acknowledging violent conflict about principles and properties, and the rare possibility of reconciliation when an angry captain—a man made bitter and tough by the loss of friends during battles with the indigenous—is asked to bring a dying Cheyenne chief to the old warrior's Montana home. The Activist (2014) captures one of the late, possibly too late, yet formidable attempts of Natives to contest white American power on behalf of self-determination, civil rights, and good governance at the Pine Ridge reservation in South Dakota. Winter in the Blood (2013) focuses on a modern yet rural Native American community in Montana, particularly on a young man haunted by his drunken yet nurturing father and the accidental death of his brother and his wife's abandonment. Certain Women (2016) features a contemporary Native woman, a Montana ranch worker, whose curiosity and isolation are engaged by a young teacher the rancher then attempts to form a significant bond with, one of several stories on the frustrations of intelligent women. The Native woman is living an old-fashioned kind of life, yet glimpses the possibility of modern freedom. Motion pictures featuring Native Americans are like fragments of a story of a shape and substance we cannot grasp wholly; and yet we need, whether or not we know it, these works of craft and creativity, of fact and fiction, of ideas and impulses, illuminating yesterday, today, and tomorrow.
One discerns contemplation and conscience—or their lack—in the stories we tell each other. The fables and parables of Native Americans are nuggets of wisdom, but can such wisdom fully infuse a motion picture? Some aboriginal beliefs and rituals are presented at the beginning of the film Te Ata, suggesting the circle of life—a creation story involving a crayfish and his mud chimney; and a fire circle dance with chanting—giving texture to what it means to be Chickasaw, part of the appeal of a film that is delicate, intelligent, and true, beautiful and moving. (The story was photographed in Oklahoma by cinematographer Ben Huddleston.) One is surprised and pleased to be introduced to a Native American community that seems to be doing well, one with property and prospects: and three-hundred and twenty acres for every family, according to the Chickasaw leader and governor, Douglas Johnston, known to Mary Frances Thompson as Uncle Doug (actor Graham Greene)—who asks Mary Frances's father Thomas Benjamin Thompson to be treasurer, work that seems welcomed, as some people have been paying storeowner Thomas (Gil Birmingham) with a supply of eggs, and the family is considering renting its land to others. Thomas is stern, loving, and hard-working, efficient, and Mary Frances's mother Bertie is of European (German) descent, concerned but supportive, and played by Brigid Brannagh. Q'orianka Kilcher is Mary Frances Thompson as a high school and college student and adult performer, with Boriana Williams portraying Mary Frances as a little girl. Director Nathan Frankowski, who made No Saints for Sinners (2011) and To Write Love on Her Arms (2012) said that he considered three talented actresses for the lead part, among them Q'orianka Kilcher, before choosing Kilcher.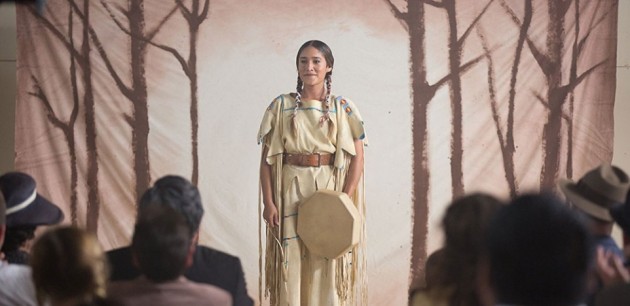 All is not well, as there are contentions between the Chickasaw and the larger United States government: Douglas Johnston (Graham Greene), the Chickasaw governor, wants the Native American funds that are held in trust to be used for investment in Native life, whereas federal government representatives want the indigenous to assimilate into the surrounding culture. Separation or assimilation? Self-management, or limited and limiting patronage? An American official recommends hard work to the Chickasaw governor (Greene), who rebuffs the condescension—and later the governor tells Thomas, his treasurer, that the officials would prefer the "Indians" not to exist. The Native American government, then, is circumscribed for the establishment of Oklahoma, and Indian cultural practices are prohibited: and, although some of us are aware of the exploitation and theft of Native properties for the pleasure and profit of the whites, the narrowing of aboriginal movement and opportunities, and the erasure of culture and history, the film might have been more pointed and specific about those politics, for the procedures of divestment were complicated and continuous. (It is the old story of colonialism—recall that explorer Chris Columbus was looking for India, misnaming the inhabitants Indians, finding them attractive, generous, and sexually free; and that parts of the country were claimed by Britain, France, and Spain. The disenfranchisement of Native Americans were a model of oppression for the world. It can be seen in the banishment of Africans to bantustans in South Africa, and in banlieues, cagoteries, ghettos, hamlets, and slums in other parts of the globe—and in Palestine becoming Israel.)
Meanwhile, Mary Frances (Q'orianka Kilcher) is growing older and developing her own interests, which put her ambition in conflict with her father's hopes for her, although his storytelling is part of what has nourished and inspired her. Mary Frances, who has attended Bloomfield Academy and the Tishomingo high school, likes drama and theatrical recitation and looks forward to college; but her father Thomas (Gil Birmingham) wants her to stay home, and possibly work in the local area, where he can protect her. When she takes food to a neighboring poor white family, a small white boy in the family plays "Cowboys and Indians" and, with his fingers forming the shape of a gun, prepares to shoot Mary Frances; and, a little later, Mary Frances sees on her way home the real murder of a Native American man, who had argued with a white man over property rights. (Child's play is rehearsal for adult homicide.) The murder further worries Mary Frances's father Thomas about her safety and his ability to protect her, especially when she is not near, but she goes away to Oklahoma College.
Q'orianka Kilcher as Mary Frances, who will become known as Te Ata, is wonderfully expressive—sweet and tough, girlish and wise, changing, vivid. The Chickasaw Mary Frances, attractive and intelligent, at Oklahoma College seems to be greeted with surprise and nervous welcome but she, bright-eyed and wearing conservative dresses similar to her classmates, is welcomed, though not warmly befriended; and Mary Frances (Kilcher) tells her parents she is having a better time than she, actually, is having. Yet, Mary Frances, is observed by a drama teacher, Frances Densmore Davis, who encourages Mary Frances to join and participate in Miss Davis's drama class. Miss Davis (Cindy Pickett) tells the class that only a few make a living through performing before going on to discuss the few that have—an admonition at once honest and inspiring (most of us recognize famous artists, not those sacrificing, starving, and suffering in obscurity; but all artistic effort ratifies the significance of art). Such a detail gives the film texture, intellectual and social texture. It is the kind of detail that is ignored or dismissed by someone who does not know its true meaning or weight. How many artists, intellectuals, and writers would have benefitted from such acknowledgments, so many of us only paying attention to those who have been rewarded with fame, money, and power, or posthumous acclaim? Frances Densmore Davis, who respects indigenous culture, is interested in the possibility of inspiration and invention, of originality. Miss Davis asks her students, "What do you have to say? What stories do you have to tell?"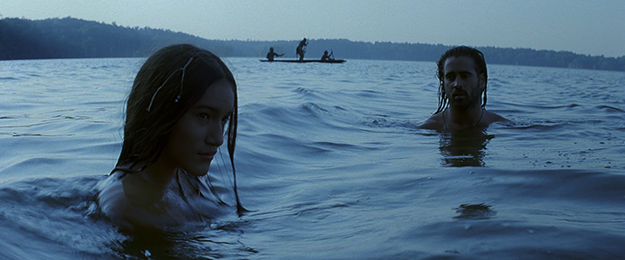 Q'orianka Kilcher with Colin Farrell in The New World
Mary Frances Thompson was Chickasaw, and the Chickasaw people once owned land in Alabama, Kentucky, Mississippi, and Tennessee (they had more than six million acres in Alabama and Mississippi alone), much of which was lost through treaties and theft before the Chickasaw arrived in the Oklahoma territory, where their neighbors were the Choctaw, and the Chickasaw were apprehensive about the hostilities of the Kiowa, Comanche, and Pawnee. Yet, whatever their principles and pride, many of the Chickasaw, often mixed-blood Chickasaws, farmers and horse-breeders, were holders of enslaved Africans and joined the southern confederacy for the American civil war. (Did the Chickasaw not see themselves in the blacks; or was the delight and ease of free labor too enchanting to the red men? Did the Chickasaw ever recognize the similarities between the African belief in spirits to be found in nature and their own?) However, after the civil war's end, the federal government forced the Chickasaw to give up slavery and to respect the rights of freedmen. The Chickasaw would adopt a democratic form of republican self-government, with executive, legislative, and judicial branches, although the independence of their ways of living had been compromised by land loss, limited sovereignty, and social problems. The Chickasaw invested in the preservation of their own culture, which was good as political institutions, and changes in forms of government, often require the guidance of culture—etiquette and ethics, ideas and imagination, rituals and routines—to ameliorate or augment political demands and effects (revolutions have failed for the paucity of a supportive culture). Mary Frances Thompson, a modern young lady, became a figure of tradition: Te Ata's appreciation of heritage was restorative.
Q'orianka Kilcher, the daughter of a Peruvian father and a Swiss-Alaskan mother, was in How the Grinch Stole Christmas (2000) and the cable television series The Alienist (2018), and she has said, "I was born in Germany, raised in Hawaii, and my father is from Peru. I'm Quechua-Huachipaeri from the jungles and highlands of South America, and Swiss, Alaskan and French," disclosing to Time that her immigrant Swiss great-grandfather helped to write the constitution of Alaska ("American Voices," in Time magazine, November 6, 2017). Q'orianka Kilcher first came to the significant attention of lovers of film art as the early seventeenth-century Powhatan princess Matoaka, better known as Pocahontas, in Terrence Malick's The New World (2005), a young woman who became the bridge between two very different cultures, one living within nature and the other determined to conquer it, although the newcomers desperately needed the knowledge and generosity of the aboriginal people to survive the new land and their first winters. Members of the Powhatan confederacy welcomed the Jamestown settlers, giving them corn and meat, notes Jace Weaver, following Paula Gunn Allen's biography of Pocahontas, in his book The Red Atlantic (University of North Carolina Press, 2014; pages 144-152). The Powhatans performed an initiation for John Smith, expecting Smith and his fellows to become good neighbors, but many were distracted by a quest for gold; and Smith, disillusioned and ill, returned to England. The English Jamestownians captured some Natives and stole the corn of others, even kidnapping Pocahontas, who was given instruction in English belief and culture by tutor John Rolfe, whom she would marry, taking the name Rebecca. To Q'orianka Kilcher's Matoaka, her Rebecca, actor Colin Farrell was John Smith, and Christian Bale was John Rolfe in The New World. Terrence Malick's The New World (2005), lovely and long, poetic and ponderous, was the recreation of a founding myth: the gratitude for the help provided by the Natives to the newcomers has survived as a sentimental tale, not as real history or as a guide to public policy. Yet, how can we understand fully films such as Te Ata and Hostiles, The Activist, Winter in the Blood, and Certain Women without knowing that history?
Writer-director Scott Cooper's Hostiles (2017), originating in a script by Donald E. Stewart, a western both bleak and colorful, thoughtful and violent, presents a world in which the conflicts between Native Americans and Americans of immigrant European descent are volatile and vicious, despite the story being set in the late nineteenth century, the 1890s. (Western films are locus or loci of memory: remembrance of the fundamental wars with the country's original inhabitants. Most westerns are set between 1865 and 1890, and show the white people who have claimed the land and been claimed by it, born Americans, before the age of mass communication, mass industries, and mass transportation.) Much of the west remains wild. The motion picture Hostiles begins with painted Comanche men, on horseback and armed with arrows and guns, swooping down on a lone homestead to steal horses—they scalp the gun-shooting father and shoot down the running-away children, leaving the escaping mother, cradling her dying baby, to grieve. The bereaved wife and mother Rosalee Quaid (Rosamund Pike) is found by soldiers on a separate mission, under orders from the nation's president and in the command of Captain Joseph Blocker (Christian Bale), taking a dying Cheyenne chief, the old warrior Yellow Hawk (Wes Studi), from the New Mexico territory back to Yellow Hawk's home in Montana. Yellow Hawk (Studi) is someone Joseph Blocker (Bale) considers an enemy, and Blocker has accepted the assignment upon threat of losing his pension. Captain Blocker wants to kill the Cheyenne leader—Blocker's past killing had been sanctioned by the army—and Blocker considers his task, honoring the wish of the dying man, an appalling insult. As Blocker, Christian Bale's hardened facade reveals what Bale wants us to see: the self-control, the tensions, the pain and rage. The soldiers, led by Captain Blocker, take Rosalee (Pike) with them, expecting to leave her in town, before continuing the trek with Yellow Hawk. Yellow Hawk's family includes figures played by Adam Beach (Black Hawk) and Q'orianka Kilcher (Elk woman)—Kilcher's character Elk Woman will be kind to Rosalee, sharing a clean dress and braiding her hair. Their journey together is arduous, through rocky wilderness, threatened by Comanche and amoral white men. Their journey is geographic and spiritual: can the understanding between enemies lead to respect, and respect to acceptance and trust, and all four—understanding, respect, acceptance, trust—to reconciliation? The mountains and hills and rocks, the valleys and woods, are great, grand, and gorgeous, timeless (lushly photographed by Masanobu Takayanagi)—who would not want to possess that, and who could? The land belongs to itself, but most Americans do not know that. Wisdom is elsewhere.
In Te Ata, as directed by Nathan Frankowski, whose film No Saints for Sinners (2011), about the dissolute life of an Irish Republican Army member, was followed by another film about a wayward person involved with drug addiction and recovery in To Write Love on Her Arms (2012), there is an idealistic subject in Mary Frances Thompson—a thoughtful young woman at one with nature. Mary Frances (Q'orianka Kilcher) recites from a favorite Charles Frohman play and another college student, Margaret, hears her and offers music to accompany Mary Frances's recitation. (The film's score includes classical music of the European tradition and Native American music; and its composer is Bryan E. Miller.) Margaret is curious about Native American culture and Mary Frances tells Margaret an engaging story. Miss Davis (Cindy Pickett), later, interrupts Mary Frances practicing a monologue from Shakespeare's Midsummer Night's Dream, and suggests that Mary Frances offer something that others cannot—and Mary Frances creates a theatrical Native presentation, in costume, with a painted background, encompassing history and culture, a drama spoken and danced; and Mary Frances performs the despairing, prophetic piece to applause. Mary Frances, moving deeper into her own culture, sees a spirit animal, a white dog, a tribal guide. Miss Davis, one of those teachers who seem to love art much more than any convention or taboo, has an interest in, and respect for, Native American culture, and she recommends Mary Frances to the Carnegie Institute of Technology in Pittsburgh for further study, and to an entrepreneur friend who can offer Mary Frances experience, through a summer Chautauqua tour with his troupe. Mary Frances's father Thomas (Gil Birmingham) does not want her to go, but her mother Bertie (Brigid Brannagh) is encouraging of travel and study; and Mary Frances, adopting the childhood nickname Te Ata, meaning bearer of the morning, goes on tour with the traveling troupe, accompanied on piano by her college friend Margaret. Other Natives begin to share their stories with Mary Frances, wanting her to share those stories with her audiences—the film is full of arresting faces. When Mary Frances is not accepted by the Carnegie Institute, it is surprising—but she is determined, and goes to the school insisting on an audition, which impresses those who see it, and gains her a place in the school.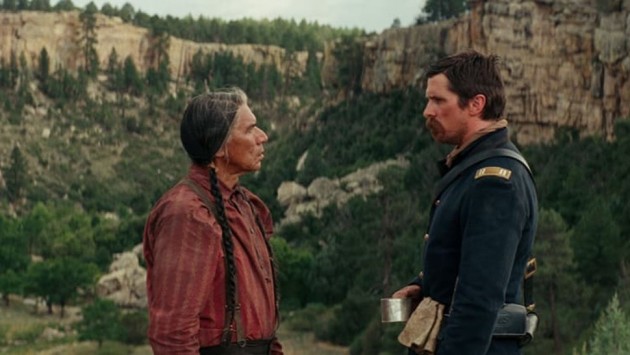 The Hostiles
Mary Frances (Kilcher), after the Carnegie Institute, stays in a women artists' residence in New York, and does private performances devoted to Native culture, performing now as Te Ata, and she auditions for Broadway work (a male casting director asks her to wear a skimpy costume, and she says "You first"). Te Ata meets an enthusiastic scholar, a sweet, smart man charmed by her and recognizing the importance of her work, naturalist and astronomer Clyde Fisher—and Te Ata meets Eleanor Roosevelt. Te Ata gets a supporting role in a Broadway play, The Red Poppy. Te Ata celebrates the assignment with the polite and studious Clyde Fisher (Mackenzie Astin), part of their growing friendship: she has attended a lecture by Clyde, had dinner with him, and they both are offended in a movie theater by a stereotypical cartoon depicting Indians—the kind of ordinary insult that minorities endure, then and now, here and there. (Appearances, gestures, and purposes are torn from history and culture for the contemptuous delectation of others—far, one supposes, from the kind of appreciation of gesture, the savoring of accidental grace or the opportunity for well-intentioned satire, that philosopher Roland Barthes advocated in "Diderot, Brecht, Eisenstein" in Image, Music, Text, 1977). Clyde Fisher (Astin), trying to distract and soothe, and to offer Te Ata a chance for personal agency and public education, invites Te Ata to go with him to Bear Mountain, where Fisher is involved with a children's camp: an opportunity to share her culture with the young (she would make performing at summer camps a regular part of her work). There at Bear Mountain, Clyde Fisher proposes marriage, but she, Mary Frances, Te Ata, says they must ask her father Thomas for permission to marry. Her father, who has become ill after the changes in the status of Native Americans, including government possession of Indian artifacts at his community store, is resistant, as Thomas is skeptical about her performance of Native culture, thinking now that it will cause trouble in light of prohibitions. Yet, both Clyde Fisher (Astin) and Mary Frances's father Thomas (Birmingham) recognize—with grave respect and some amusement—her independent spirit, her determination: they love and respect her and assume Te Ata will pursue her mission (her accomplishment, eventually, would be documented and discussed in a 2002 University of Oklahoma Press book Te Ata: Chickasaw Storyteller, American Treasure by Richard Green). Te Ata tells her fiancé and future husband Clyde Fisher, who would work at both the American Museum of Natural History and the Hayden Planetarium, about the white dog, the spirit animal, that has guided her people—and which she believes she has seen too, guiding her. Her father, despite his trepidation, attends Te Ata's local performance, accepting her work, supporting it; and Te Ata, subsequently, is welcomed in the White House of Franklin and Eleanor Roosevelt—and would perform for English and European royalty and statesmen.
"Te Ata brought the beauty and wisdom of Native American culture to the world in a way that helped develop greater appreciation for core values such as basic human kindness and respect for the natural world," said Chickasaw governor Bill Anoatubby, governor of more than 60,000 Chickasaw citizens, to the online Indian Country Today (May 2, 2016), in support of the woman and the film Te Ata, which premiered in May 4, 2016 at the Bentonville Film Festival, a festival founded by Geena Davis and Trevor Drinkwater, celebrating women and diverse visions and voices. Te Ata, starring Q'orianka Kilcher, Gil Birmingham, Graham Greene, and Mackenzie Astin and directed by Nathan Frankowski, the product of a twenty-five day shoot with more than seventy locations, began a theatrical run the next year, on September 27, 2017, in Oklahoma, with twelve or more states added to the run two days later, September 29, culminating with October 2017 releases in Los Angeles and New York, and a DVD available for distribution for Native American history month in November 2017. "The film sprawls from the Oklahoma plains to old New York, murkily conveying the passage of time and her rising social status. But the movie's driving force is its mythic performance scenes, which are choreographed, sung and acted with clear, balletic conviction by the film's star Q'orianka Kilcher, who collaborated with Chickasaw researchers and advisers" wrote film reviewer Teo Bugbee in the New York Times (October 12, 2017). The film "looks like a $50 million Hollywood feature," exulted Anita Busch of Deadline Hollywood (October 13, 2017), commending Q'orianka Kilcher's performance, and the direction of Nathan Frankowski; and reporting that the Chickasaw Nation, which had financed a film about the first licensed female pilot, Pearl Carter Scott, Pearl (2010) starring Elijah DeJesus, and Te Ata, was working on several other films—(currently entitled) The Chickasaw Ranger and The Battle of Ackia.
Films call to us, but we have to have the eyes and ears, mind, and spirit, and the imagination, to see and hear, and to answer. "Q'orianka Kilcher delivers a determined, earnest performance as Te Ata, nee Mary Frances Thompson. She carries the film, and Te Ata's many tales, with a warm, measured mien," wrote Tatiana Craine online for the Village Voice (October 11, 2017). Yet, Tatiana Craine, like some other reviewers, found the film a little too wholesome, predictable, and blunt: "There's no grit or subtlety here; at one point, a white politician tells the Chickasaw governor: 'Let your people pull themselves up by their bootstraps.' Instead, Te Ata delivers a healthy dose of girl power and Chickasaw pride in the face of racism." Well, the bootstraps metaphor has been used by a variety of leaders, including the African-American Booker T. Washington—and it is still in common usage today. Often people, whether conservative or liberal, discuss minorities using clichés, petrified language. People in New York and Los Angeles may have a "seen it, been there, read the deconstructive book" attitude about all sorts of things but many people, whether or not they know it, need the photoplay's wisdom. The marginalization of minorities, and the corruption of popular culture (its amnesia, its crassness, its violence and vulgarity), as well as the malice of political leaders, establish the need. To evade facts—biography and history, national and ethnic politics, traditional and modern culture—on behalf of novelty, here, would be stupid. The funny thing is that Te Ata, while it present themes, such as injustice, misery, and spite, that the widely accepted films about Native Americans have contained, this motion picture contains things that most of those films lack: someone living a life of ambition and achievement, cosmopolitan and conscientious, loved and loving, shy and sure, someone who in the year of the American bicentennial received the Oklahoma Governor's Award and was Woman of the Year for Ladies Home Journal, a satisfying life by any fair and objective standard: yet somehow a portrait of a person of color who exemplifies excellence is perceived as boring. The Voice's Craine admitted, "This near-mythic portrayal of a young woman embracing her heritage and stamping out ignorance isn't for already-jaded hearts." Although some film reviewers saw the film Te Ata, and heard its message but rejected its call, I recommend a more open, thoughtful attitude and response.
How much of ourselves do we bring to art? How much work must the art do? (Many years ago, in January 1932, Bertolt Brecht said, "Artistically valuable films are commercially damaging because they ruin the public's taste by improving it," a comment published in Brecht on Film and Radio, Bloomsbury Methuen Drama, 2016; page 203.) Must art do our feeling for us? Do we require extremity of circumstance or sensation before we can feel for others? Does the failure to connect to a work indicate a technical evaluation, or a tribal antipathy? Gary Goldstein, writing in the Los Angeles Times (October 12, 2017), offered this summation of Te Ata: "Between director Nathan Frankowski's overly measured hand, Esther Luttrell's often on-the-nose script (story by Luttrell and Jeannie Barbour) and dutiful turn by a lovely Q'orianka Kilcher (The New World) in the title role (Boriana Williams plays Te Ata as a youngster), the film rarely soars with the kind of authentic spirit and passion needed to fully sell this decidedly old-fashioned material." If this film does not touch the viewer, which films or television programs featuring Native Americans do? Billy Jack? The Searchers? Broken Arrow, Buck and the Preacher, Bury My Heart at Wounded Knee, The Business of Fancydancing, The Cherokee Word for Water, Cimarron, Dance Me Outside, Dances with Wolves, Dead Man, Devil's Doorway, Follow Me Home, Geronimo: An American Legend, Grand Avenue, The Last of the Mohicans, Northern Exposure, The Only Good Indian, Powwow Highway, The Professionals, The Revenant, She Wore a Yellow Ribbon, Skins, Smoke Signals, Songs My Brothers Taught Me, Squanto: A Warrior's Tale, Tell Them Willie Boy is Here, Thunderheart, Ulzana's Raid, Wind River, or Windtalkers? Is the lack to be found in the film or in us? Are we engaged, ever, by the arts and letters of other Native Americans, by ballerinas Rosella Hightower and Maria Tallchief; visual artists Gerald Clarke, Mike Dart, Helen Hardin, Votan Henriquez, Frank Buffalo Hyde, Merritt Johnson, James Luna, Virgil Ortiz, Wendy Red Star, Duane Slick, and Matika Wilbur; musicians Buffy Sainte-Marie and Robbie Robertson and Timothy Archambault, Spencer Battiest, Litefoot, Kevin Locke, Martha Redbone, and Mary Youngblood; poets Sherman Alexie and Elizabeth Cook-Lynn, Natalie Diaz, Joy Harjo, Linda Hogan, Jim Northrup, James Thomas Stevens, and Ray Young Bear; novelists Gerald Vizenor and Louise Erdrich, Leslie Marmon Silko, David Treuer, and Tommy Orange; and scholars such as Jace Weaver? Do we consider books like Benjamin Madley's An American Genocide and Nicholas Guyatt's Bind Us Apart, John G. Neihardt's Black Elk Speaks, Barbara Krauthamer's Black Slaves, Indian Masters, Amy Lonetree's Decolonizing Museums: Representing Native America in National and Tribal Museums, Tom Pich and Barry Bergey's Folk Masters, Andres Resendez's The Other Slavery and Margaret Bruchac's Savage Kin: Indigenous Informants and American Anthropologists?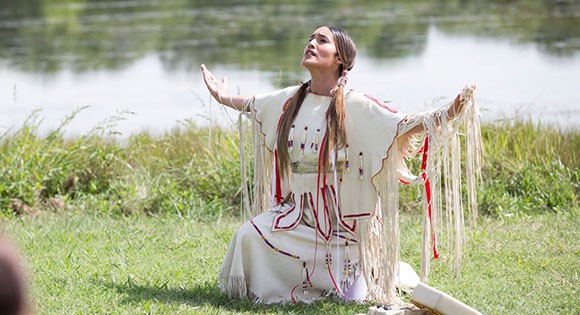 Do we transform or transcend our world? Or, are we changed by it, diminished by it? Te Ata, despite her significance as a storyteller and performer, despite her public acceptance and personal fame, was an exception to the rule: the rule was conquest, marginality, obscurity and power loss. Young Native Americans recognized their immense loss, and the destruction it caused, and were inspired by the civil rights movements of the 1960s and they rebelled. The Activist (2014), a political thriller directed by Cyril Morin, is an interpretation of that rebellion, but even there one can see that some in the Native community are compelled toward repudiation and others to reconciliation. The photoplay dramatizes the American Indian Movement's confrontation with the Federal Bureau of Investigation of the Nixon era on the Pine Ridge reservation: the conflagration, with the firing of bullets from both sides, began with a tribal leader charged with corruption, and the attempt to impeach him; with activists taking over the town of Wounded Knee on the Pine Ridge reservation in South Dakota for seventy-one days in 1973. Participating rebels, an angry Native and his long-haired white brother-in-law are held in jail, their legitimate complaints and protests seen as mere trouble-making and law-breaking. Will the complaints of the arrested men be heard, judged fairly? Will the police force prove itself anything more than legal, organized violence? Will the arrested men survive their encounter with the law? The official intelligence operatives are as deceptive, and the local police force as amoral, as anything they imagine of the Natives, murderously so.
Difficult to know the motives of others, their moral character. Difficult to assess one's own. Where has one lived, been educated, and worked; and whom has one loved and hated, helped and harmed? Can one sketch one's own intellectual and spiritual changes? What is one's moral record? Civilization is identified not only with aesthetics and ethics, but with power and wealth; and the logic of the belief in the superiority of white people—the meaning and method of white supremacy, the way that bigotry and racism work—is that no matter what white people do, no matter how dumb or useless, no matter how cruel or violent, no matter how destructive or mad, they are part of civilization as long as they have power and wealth. Their errors are either not errors, or they are justified. Tell the truth and shame the devil. How do we examine the myths and rationales, the habits and routines, the attitudes and manners that disguise privilege? Can the fantasy of personal innocence be dismantled? Privilege becomes public policy; and law and regulations ensure privilege. Which resources does one have, and who is forbidden those? Whose concerns are the center of attention; and whose wants and needs have been ignored or frustrated? Have we invented slanders and slurs to disqualify the claims and complaints of citizens? How much pride does one take in one's privileges? Now run and tell that! Moral character is revealed by what we see and hear, think and feel, say and do: what have we created or destroyed, sabotaged or sustained; and whom have we helped or hurt? Have we ignored the suffering of others? One must recover genuine history, real truth.
The Blackfoot and the Crow, the Assiniboine, Cheyenne, Chippewa, Cree, Gros Ventre, Kootenai, and Salish lived in Montana; and, following the embattled white American western expansion, the Indian wars did not end in Montana until 1877: the territory of Montana, a territory of mountains and plains, once claimed by France, was part of the 1803 Louisiana purchase, and became a state in 1889; and, bordered by the Dakotas, North and South, and Idaho, Wyoming, and Canada, Montana is the destination of Captain Blocker and his traveling companions in Hostiles (2017), and the location for the action of the modern stories told in Winter in the Blood and Certain Women. Winter in the Blood (2013), directed by the brothers Alex and Andrew Smith based on a 1974 novel by (Blackfeet and A'aninin) writer James Welch, a Smith family friend, is one of the better depictions of Native life, as it is complex and rich, so personal: Virgil, its lead character, jokes with his father, herds and hunts with brother, and then feels their absence; and he has little adventures, and visits with a wise family friend in the woods, sits with his grandmother, and drinks himself into oblivion. Virgil's disorganization of the senses makes for revelatory dreams—and are part of his impracticality. His wife—who felt constrained by their life together—has left him, taking his rifle and razor, presumably to sell, and taking a lover too. One can see the repercussions of history in poverty, confusion, and drinking, in troubled relationships; and yet one sees, as well, the love within families, the eccentricity and ingenuity of individuals, the depth of cultural belief. Virgil (Chaske Spencer), a Blackfoot Indian, adrift but well-intentioned, grieving without awareness, has a brief but intense sexual encounter with a young Native woman, played by an actress, Lily Gladstone, who appears in Certain Women: Winter in the Blood, photographed by Paula Huidobro and edited by Michael Hofacre, has moments of rationality and irrationality; and, despite sexual congress offering pleasure and both friendship and the possibility of love, Virgil becomes violent toward the young woman, an impulsive gesture, shocking to her and to us—equally surprising is her inclination to forgive it (he is not the kind of man who hits a woman, except he is, as he has). Winter in the Blood deserves thought. Often films offer sensation and suggestion, rather than substance, ratifying attitude and invoking emotion rather than expanding knowledge. Can we understand this man, Virgil (Chaske Spencer), without understanding the history of colonialism and conquest that begins with the stories told in The New World and Hostiles? Can we understand Virgil without taking into account how he and his people have been circumscribed in their own choices, but, possibly worse, were allowed little agency in shaping the fate of the United States of America? Can we understand him without remembering the loss of his father and brother? Trauma is not an excuse: it does not absolve a person of responsibility; but it is a fact, an explanation. The lack of power and purpose and the solace taken in drink are part of Virgil's history, part of his mind and spirit. Yet, he grows—becomes more responsible and reconciled. Winter of the Blood is impressive and intriguing, a film that gives both pain and joy.
In Kelly Reichardt's contemporary film Certain Women (2016), an episodic social drama of observation and dialogue based on Maile Meloy stories, there are four women with differing levels of frustration: a woman lawyer named Laura (actress Laura Dern) tries to advise a disgruntled and volatile employee that his case is weak, but he cannot recognize the validity of what Laura is saying until that is repeated by a male lawyer. Another woman, Gina (Michelle Williams), with her husband, tries to acquire old sandstone from a dying neighbor, Gina's own desires making her indifferent to the feelings of others—she has neglected the concerns of her husband and child as she is neglecting that of the sick man, something Gina will realize has a price (her dominance invites resentment and disloyalty). A new teacher, the lawyer Beth (Kristen Stewart), traveling from a long distance, faces a small class requiring practical knowledge, a class that a truck-driving woman ranch worker, Jamie (Lily Gladstone), stumbles into and relishes for providing a new experience. Who are Jamie's people—why is she so alone? Lily Gladstone, the Blackfoot actress, as Jamie conveys longing—and hope. Director Kelly Reichardt, for the rigor of her work, is discussed often as if Reichardt were some kind of avant-garde filmmaker, but the best of her work has the clarity, emotion, and truth of very good humanist filmmaking, the kind of aesthetic and ethic pursued by the best artists of color: the lives and works of ordinary yet particular people are presented with respect and sympathy.
Kelly Reichardt is a storyteller. Mary Frances Thompson Fisher performing as Te Ata was a beacon and a bridge, an enthusiast, an educator, and an entertainer who appeared in the 1970s film God's Drum before being impersonated by Q'orianka Kilcher, and Te Ata was a wonderful storyteller; and we still need stories, ever more stories, about Native Americans, fragments of an epic tale of centuries, cultures and contestations that we are trying to understand: parts of the great and terrible tale that can be seen in Certain Women, Winter in the Blood, The Activist, Hostiles, and The New World. In its appropriate regard for a Native American woman and her creativity and integrity, as well as her decency and dignity, the film Te Ata is a healing experience, object, and text. Let us understand these and other works. Let us respect and reward the works of artists. Let us celebrate art as it celebrates life in all its complexity and difficulty. (DG, June 2018)
"The cultural mechanics of becoming American are clearly understood. A citizen of Italy or Russia immigrates to the United States. She keeps much or some of the language and concerns of her home country. But if she wishes to be American—to be known as such and to actually belong—she must become a thing unimaginable in her home country: she must become white. It may be comfortable for her or uncomfortable, but it lasts and has advantages as well as certain freedoms."
—Toni Morrison, on "The Color Fetish" in The Origin of Others
"Worlds are discrete and singular, yet they also clearly overlap with one another, more or less extensively, as if to form extended families. And certain numbers of them share the same contents (people, places, objects, representations), which may be integral parts of more than one world. The existence of multiple worlds (actual, and not merely logically 'possible') entails that they are bounded or framed, that is, that there are physical or psychical borders that divide one from others. The worlds of films are bounded by the physical border of the screen, the filmstrip (in celluloid filmmaking), and the camera's viewfinder, the experiential boundaries of cinemas, or movie theaters (in traditional film viewing); and also the psychological boundaries of relevant, common belief and attitudes of viewers, such as, for example, that the two-dimensional action of the film is not physically contiguous with the three-dimensional space occupied by the viewer's body."
—Daniel Yacavone on "Some General Features of Worlds" in Film Worlds
This essay was submitted on June, 2018, and previewed as a stand alone article in August 2021 before appearing in this issue.