"We Knew They Would Come for Us": Danis Goulet's Night Raiders (2021)
From 1831 to 1996, under the pretense of a "well-intentioned" education – a pretense held to this day by Canadian politicians such as Lynn Beyak (from whom I get the quote "well-intentioned") and Erin O'Toole (Carleton; Boutilier) – in collusion with the Catholic Church, the Government of Canada stole Indigenous children from their families and sent them to so-called residential schools. During this era, the nuns and priests that ran the schools forced children to assimilate into the dominant white, Christian culture and society, facing threats and practices of abuse and neglect if they refused to comply (Truth and Reconciliation Commission v-vi). Indeed, the conditions of the schools were nothing short of dystopian:
For children, life in these schools was lonely and alien. Buildings were poorly located, poorly built, and poorly maintained. The staff was limited in numbers, often poorly trained, and not adequately supervised. Many schools were poorly heated and poorly ventilated, and the diet was meagre and of poor quality. Discipline was harsh, and daily life was highly regimented. Aboriginal languages and cultures were denigrated and suppressed. The educational goals of the schools were limited and confused, and usually reflected a low regard for the intellectual capabilities of Aboriginal people. (Truth and Reconciliation Commission 3-4)
It is not surprising then that science fiction (sf) literature and film have addressed the residential school narrative and its lasting implications for Indigenous Peoples. In the dystopian cityscape of File Under Miscellaneous (Jeff Barnaby, 2008), a Mi'kmaq man (Glen Gould) reflects in voiceover about racism and undergoes a skin transplant to achieve whiteness. In the superhero film The New Mutants (Josh Boone, 2020), the Essex Corporation abducts Cheyenne mutant Danielle Moonstar (Blu Hunt), a.k.a. Mirage, and confines her in a medical facility/school. The Corporation instructs the facility's doctor, Dr. Reyes, to steal a sample of Dani's DNA and then kill the superpowered teen.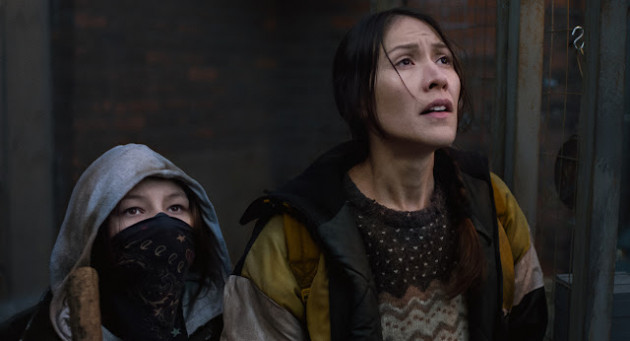 Another sf instalment working within this historical frame is Danis Goulet's Night Raiders, a Canadian-New Zealand co-production released to critical acclaim in 2021. The film imagines residential school history repeating itself in 2043 in a unified North America (the suggestion is that the "great southern nation" annexed Canada). "One country, one language, one flag," chant the abducted and indoctrinated children of the "Academy." (The slogan haunts the province of Quebec in 2022: Indigenous groups have decried the recent adoption of discriminatory French language rules in Bill 96 [Bell]).
In the opening of Night Raiders, an elderly Cree woman provides a voiceover in her Indigenous language: "We knew they would come for us. Like they always had before." She prophesizes an attack of giant mosquitos and then a guardian from the north who will come to the rescue. After this prologue, the film introduces a middle-aged Cree woman named Niska Halcrow (Elle-Máijá Tailfeathers) and her 11-year-old daughter Waseese (Brooklyn Letexier-Hart). The latter believes she can speak to birds, an idle fancy foreshadowing what will later become Waseese's gift. Then the inciting incident arrives in the form of Waseese accidentally stepping into an old bear trap.
In this first sequence, the "giant mosquitos" also make their appearance. The "mosquitos" are mechanical drones that seek out children for recruitment into the Academy. Niska and Waseese, then, are on the run and have been for years. When the pair arrive in what was once a city (shot in Toronto), now transformed into a dystopian wasteland, it is clear to Niska and her old friend Roberta (Amanda Plummer) that Waseese requires medical attention for her leg injury. Unfortunately, the Academy is the only remaining institution that can provide adequate care. Since minors are a possession, and possessing one is a jailable offense, Niska snitches on the whereabouts of a child to local authorities and collapses in tears. Soldiers capture Waseese and presumably send her to the Academy.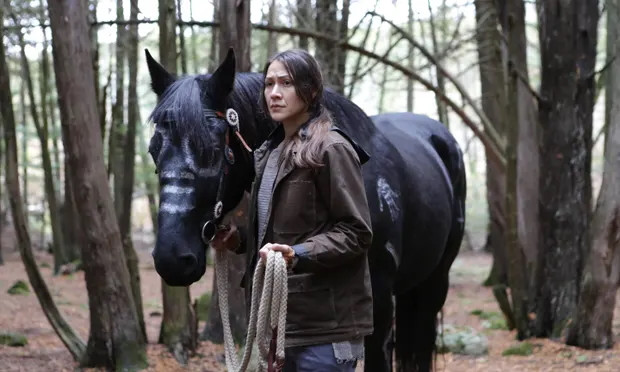 The film skips ahead ten months. Niska has found a male companion (whom she is ambivalent about) and Waseese's Academy training facility. Outside its walls, the mother meets a band of Cree revolutionaries who are, at that moment, breaking captives out of the Academy. They forge a new team and some days later, with the help of a young Maori man named Leo (Alex Tarrant), they stage Waseese's breakout.
Before the escape, the film cuts back and forth between Niska at the Cree encampment and Waseese at the Academy. There, Waseese must change her name to Elizabeth, don a grey uniform, and undergo military training so that she may one day fight in an ongoing undefined war. The sterility of the Academy, its administration by a middle-aged white woman, the indoctrination of children into Academy ideas, Waseese's solo failed escape attempt, her depression, and her acceptance of her new lot as one without Cree language, culture, and family, entrench Night Raiders as a residential school allegory and a warning that the past returns in new forms. The latter point is especially pressing as recent research observes the prevalence of intergenerational trauma in Indigenous populations. If an individual has family members who attended residential schools, this history is a strong predictor of younger generations' negative physical and mental health (Hackett et al. 1096-1105). Empirical research has also shown connections between present-day children in care systems and family members who had attended residential school (Ghoussoub). Thus, it is not merely the truism of history repeating itself in Night Raiders: a traumatic history is inside generations of Indigenous Peoples.
Once rescued and returned to the Cree camp, Waseese and Niska's struggles are not over. A small army swarming with drones encircles the encampment. Salvation seems impossible. Yet in the climactic moment, Waseese's gift manifests: she has the power to control the drones, so turns them threateningly against the soldiers until they flee. The film ends with a rising drone shot. The Academy's drones float above the Night Raiders, firmly within Waseese's control.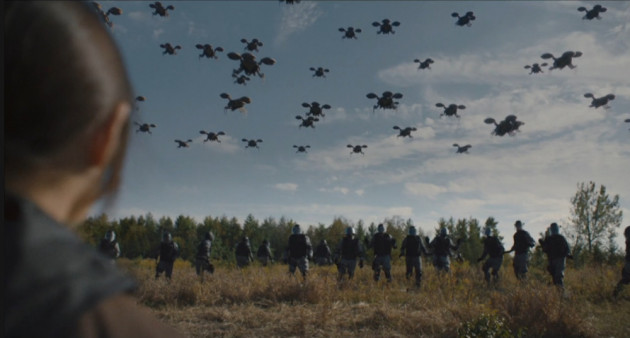 The drone 'mosquitos'
While the film suggests great concern over historical injustices and their manifestations in the present and imagined futures, Night Raiders may struggle to locate its genre. According to Goulet, Children of Men (Alfonso Cuaron, 2006) inspired her, but Peter Sobczynski opines that Night Raiders is closer to The Hunger Games (2012-15) and Divergent (2014-16) series. With Night Raider's emphases on a vague war, training child soldiers, and by the end, a superpowered pre-teen, one could agree with Sobczynski. When compared to the earlier fare, the critic suggests Night Raiders is a "weak YA thriller." Simon Abrams is equally critical of Night Raiders. He asserts that the film is unsure about its narrative frame. Neither Waseese's nor Niska's characters are fleshed out nor are the melodramatic moments an emotional rollercoaster ride (Waseese shows great upset at her mother for abandoning her but they quickly reconcile). Additionally, the film opts to provide few details about a circulating virus that wipes out Niska's neighbours (Goulet shot the film pre-pandemic), the Academy's motivations, and the world beyond Waseese's Academy, the dystopian city, and the band of revolutionaries.
But these possible shortcomings aside, it may be a disservice to Night Raiders to situate it within Hollywood's conventional dystopian YA genre. Rather than pigeonhole Night Raiders and make an inappropriate comparison to blockbuster films, we would do better to assess it more generally on the level of popular fantasy and sf. For superhero comics scholar Ramzi Fawaz, the genre of popular fantasy is about the re-evaluation of real-world social and cultural problems. The genre connects "current social and political realities with impossible happenings to produce figures that describe and legitimate nascent cultural desires and modes of social belonging that appear impossible, or simply out of reach within the terms of dominant political imaginaries" (Fawaz 27). Thus, Night Raider's concern over history repeating itself is secondary to its primary aim of establishing a new social and political order whereby Indigenous Peoples have, to some degree, the ability to access and change political imaginaries. As a young person, Waseese is the way forward – she is the guardian who will reshape and reform the present order. Importantly, she does this with and alongside technology. The new generation will not only revive lost Indigenous traditions for the sake of reviving them but assess which traditions are still practiced and determine how they will continue to grow and change within existing contexts (Sneider 72, 74). In Night Raiders, the guardian does not eradicate technology to restore a past that may be unfamiliar and even strange to younger generations (especially those raised in the Academy); instead, she may foster a reciprocal relationship between technology and Cree culture and life. The conclusion also points not to a naïve solution to real-world problems, as in many blockbuster dystopian films (Bordun 76-79), but to an ongoing process: the Cree revolutionaries win one small battle and this minor victory is the catalyst for what will be either a prolonged war or, in the spirit of utopianism, productive peace talks.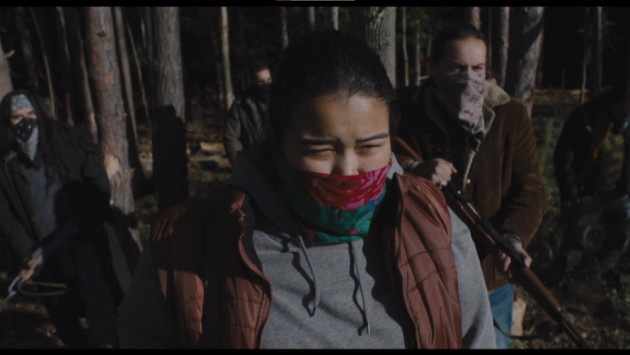 Evoking Obomsawin's 1993 classic Kanehsatake: 270 Years of Resistance.
The film's warning as well as its generative conclusion highlight the global reach of the depicted issues. Alongside Tailfeathers's The Body Remembers When the World Broke Open (2019), a co-production between Canadian and Norwegian producers starring Tailfeathers as a Blackfoot and Sami woman, and Amanda Kernell's Norwegian, Danish, and Swedish co-production Sami Blood (2016), I situate the Canada-New Zealand co-production Night Raiders within the growing slate of transnational cinemas that bring Indigenous relations into the global political arena. 1 These films suggest intertwined and similar histories among Indigenous Peoples across the continents. Rather than attempt to break the box office or reach the Top Ten on a streaming service, the films and filmmakers in this transnational movement aspire toward international solidarity as well as reconciliation between Indigenous Peoples and settlers.
As of this writing, Night Raiders is available on Crave streaming service.
 
Works Cited
Abrams, Simon. "Night Raiders." RogerEbert.com 12 Nov. 2021. https://www.rogerebert.com/reviews/night-raiders-movie-review-2021 . Accessed 31 May 2021.
Bell, Susan. "Indigenous calls for exemptions to Quebec Bill 96 get louder." CBC, 25 May 2022, Accessed 1 Jun. 2022.
Bordun, Troy. "What becomes of endings on film? Mad Max: Fury Road, Elysium, Snowpiercer." Science Fiction Film and Television, vol. 9, no. 1, 2016, pp. 76-79. doi: 10.3828/sfftv.2016.4.
Boutilier, Alex. "Erin O'Toole walks back controversial comments about residential schools, but stops short of apologizing." The Star, 16 Dec. 2020, https://www.thestar.com/politics/federal/2020/12/16/erin-otoole-walks-back-controversial-comments-about-residential-schools.html. Accessed 1 Jun. 2022.
Carleton, Sean. "'I don't need any more education': Senator Lynn Beyak, residential school denialism, and attacks on truth and reconciliation in Canada." Settler Colonial Studies, 6 Jun. 2021. doi: 10.1080/2201473X.2021.1935574.
Fawaz, Ramzi. The New Mutants: Superheroes and the Radical Imagination of American Comics. NYU P, 2016.
Ghoussoub, Michelle. "Study shows 'empirical' link between residential schools and Indigenous youth in care: researcher." CBC, 4 Jul. 2019, https://www.cbc.ca/news/canada/british-columbia/study-links-trauma-from-residential-schools-to-overrepresentation-of-indigenous-youth-in-care-1.5199421. Accessed 1 Jun. 2022.
Hackett, Christina et al. "Canada's residential school system: measuring the intergenerational impact of familial attendance on health and mental health outcomes." J Epidemiol Community Health, vol. 70, no. 11, 2016, pp. 1096-1105. doi: 10.1136/jech-2016-207380.
Sneider, Leah. "Complementary Relationships: A Review of Indigenous Gender Studies." Indigenous Men and Masculinities: Legacies, Identities, Regeneration, edited by Robert Alexander Innes and Kim Anderson, U of Manitoba P, 2015, pp. 62-79.
Sobczynski, Peter. "Berlinale 2021: 'Night Raiders' warps Native issues into a weak YA thriller." The Spool, 5 Mar. 2021, https://thespool.net/festivals/berlinale-2021-night-raiders-review/. Accessed 31 May 2022.
Truth and Reconciliation Commission of Canada. Honouring the Truth, Reconciling for the Future: The Final Report of the Truth and Reconciliation Commission of Canada. Truth and Reconciliation Commission of Canada, 2015.
 
Notes
New Zealand filmmaker Taika Waititi, a supporter of Indigenous filmmaking in both countries, added his name to the executive producer credits. ↩