The Life and Times of Jean-Pierre Mocky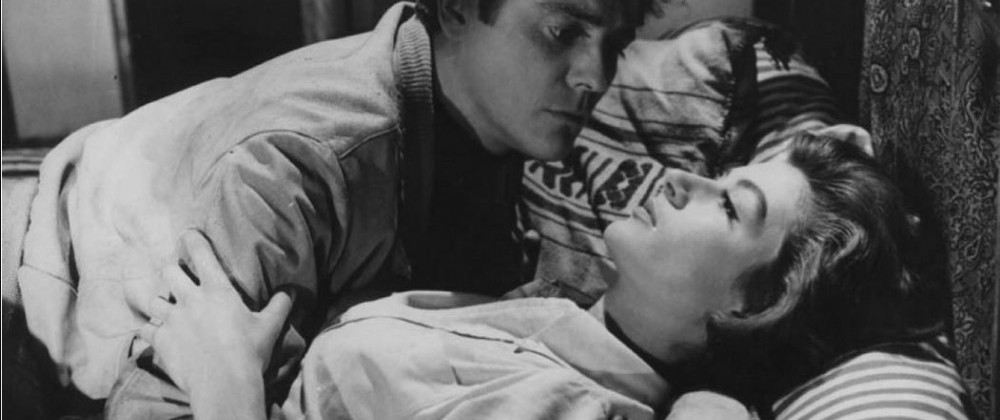 1. He Stands Alone
Jean-Pierre Mocky—director, actor, scriptwriter, producer, editor, cinema owner, and much more—was a one-of-a-kind figure in the history of French cinema. He made his way in the national film industry with stubbornness and boldness, and he made movies unlike anyone else. Good or bad, they were absolutely like him—unique and inimitable. One of his favorite actors, Michel Serrault, once said: "In every Mocky film there are always at least ten minutes which are absolutely sensational. Some unprecedented, unbelievable ideas grab you, surprise you, move you to tears." 1
In France, Mocky was an institution. He worked with the best and most popular thespians, and surrounded himself with top-notch collaborators such as Raymond Queneau, Eugen Schüfftan, Maurice Jarre, Marguerite Renoir, among others. After his death, Le Monde dedicated a whole page to him, with a lengthy piece (which suitably labeled him a "cineaste fantasque," whimsical filmmaker) penned by one of the nation's most prominent critics, Jean-François Rauger. Yet, to the foreign public, Mocky is a virtually unknown name. Few of his films were released to an English-speaking audience, and there are no English language books on him. It must be added that Mocky's body of work is not everyone's cup of tea, as he often dealt with provocative themes, and had a taste for the bizarre and the unpleasant. His filmography is vast and chaotic, with over 70 titles (plus the about 40 episodes of the series Myster Mocky Présente …, aired from 2007 to 2009, Mocky's self-styled answer to Alfred Hitchcock Presents.) The titles range from comedy to polar (the French cop/thriller genre, 2 a term born from the fusion of the words policier and noir) from farce to fantastique, and they are often unruly and impatient to good manners and good taste. Add to all this a handful of memoirs, a couple of novels and various appearances in his own films as well as in other directors'. One of the most memorable is at the beginning of Jean Luc Godard's Prénom Carmen (1983): Mocky is the lunatic who goes around shouting, "Y a-t-il un Français dans la salle?" (Is there a Frenchman in the house?) which is also the title of a movie he made in 1982, which Godard liked a lot.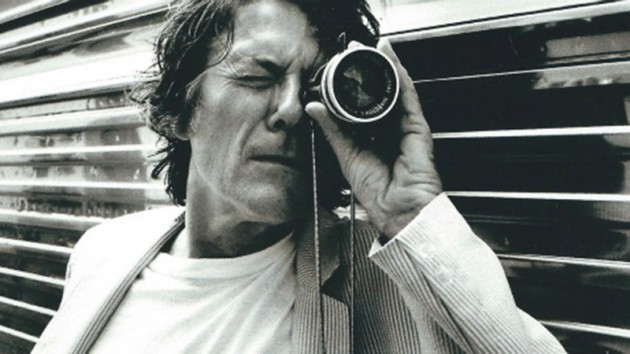 Jean-Pierre Mocky
Mocky's public image is just as untamed as his films. A shameless provocateur and a self-centered storyteller who was also inclined to the, let's say, creative rewriting of his own past and career, he was a recurrent presence in French talk shows, where his habit to call a spade a spade did not improve upon his reputation. One of his memoirs is significantly titled Je vais encore me faire des amis! (I'm Still Off to Make Friends!)) and the cover shows the octogenarian author bare-chested and with his fists raised in the air, ready to punch readers in the face or below the belt, as he was used to do for decades with moviegoers.
In short, Jean-Pierre Mocky was a loner, but not an elitist filmmaker. On the contrary, he was the quintessence of popular cinema, as Serge Daney wrote, "not because he has audiences of millions, but because he takes inspiration from the French popular culture—or what is left of it." 3
2. Tales of Love, Sex, and Madness
A typical career retrospective is supposed to provide the reader with bits of biographical information. Well, with Mocky things aren't quite so simple. He was born Jean-Paul Adam Mokiejewski in Marseille, on July 6th, 1929, the son of the Polish immigrates, Adam Mokiejewski and Janine Zylinska.
… But, wait! Mocky himself, in his memoir M le Mocky, indicates his date of birth as July 6th, 1933 4 : after the Nazi invasion of France, one of his father's friends forged his civic status in Nice in order to save Jean-Pierre from concentration camps. Which is the correct one, then? Let's save this little mystery for the end, for it says a lot about Mocky the man and the filmmaker.
After the end of the war, Mocky moved to Paris. Following an array of jobs, he was finally bitten by the acting bug and took his first steps in show business at a very young age. He made his film debut as an actor in 1946, in Vive la liberté (Jeff Musso), playing the role of a soldier. The young Jean-Pierre started treading the boards under Pierre Fresnay's wing and there he took his pseudonym, allegedly inspired by a trench drill invented by his father, "The Mocky."
Jean-Pierre got married very young, had become a father and was in dire need of money. Luckily, his handsome features and brazen attitude soon granted him exposure and bigger roles both on stage and in movies as well. He made an impression on the public in Le paradis des pilotes perdus (1948, Georges Lampin), and more important appearances followed. He had small roles in Jean Cocteau's Orphée (1950) and Jean Delannoy Dieu a besoin des hommes (1950), was in three episodes of Sheldon Reynolds' TV series Foreign Intrigue (1952), and turned up in Robert Vernay's Le comte de Monte-Cristo (1954), an ambitious adaptation of Dumas' novel starring Jean Marais.
In the early 1950s Mocky found notoriety in Italy thanks to Michelangelo Antonioni, who cast him in an episode of his early masterpiece I vinti (1953), Graziella (1955, Giorgio Bianchi) and Gli sbandati (1955, Francesco Maselli) followed, and in both films Mocky played the lead, in the latter alongside Lucia Bosé and Isa Miranda. During those years Mocky stayed in Italy: according to his memoirs, he became friends with Marco Ferreri and was the trainee assistant on Fellini's La strada (1954) and Visconti's Senso (1954), where he claimed he even played a bit role. 5
But Jean-Pierre's dream was to move behind the camera. He was struck deeply by a Hervé Bazin novel on the theme of madness and adapted it for the screen, but no producer would trust him. He had to look around for a director: after Alain Resnais' rejection, he managed to persuade the 47-year-old Georges Franju, the co-founder of the Cinémathèque Française and the helmer of several documentary short films (including the extraordinary Le sang des bêtes) to make his feature film debut. Thus was born La tête contre les murs (a.k.a. Head Against the Wall, 1959).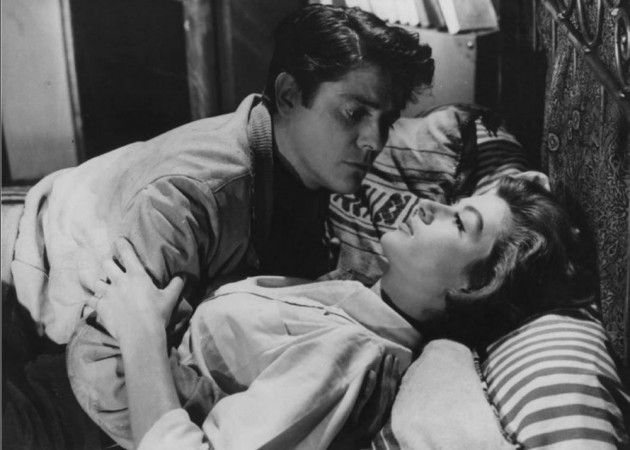 In addition to scripting, Mocky played the lead as a rebellious youth locked in a psychiatric hospital by his own father, a role which somehow predates symbolically the course of his future film career, a constant revolt against the dictates of the industry. A loose adaptation of Bazin's book, graced by an unforgettable baroque atmosphere "halfway between realism and fantasy," to quote Éric Le Roy, 6 and by extraordinary photography from the great Eugen Schüfftan, La tête contre les murs was a critical hit, but not a commercial success. Mocky and Franju argued about the result, and the actor barely endured the poetic dimension Franju had given to the story compared to his original idea, harder and more violent. 7 He felt it was time to try again and make his own debut as director, but without any compromise.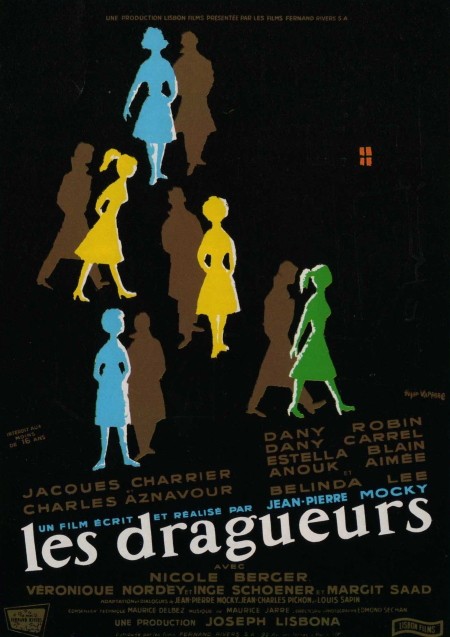 Mocky's 4-page outline for Les Dragueurs (a.k.a. The Chasers) thrilled Jean-Charles Pichon who turned it into a 500-page script. 8 Shot, edited and distributed between January and April 1959, it is the story of two young Parisians who meet by chance one Saturday evening and drive around Paris all night, looking for girls to pick up. Freddy (Jacques Charrier) is debonair and aggressive, Joseph (Charles Aznavour, who had played alongside Mocky in La tête contre les murs) is clumsy and shy. One is looking for a one-night stand, the other nurtures romantic illusions and hopes to find the woman of his dreams. Freddy's pick-up line is always the same. "Engaged? In love? Free?" he repeats undaunted to every girl he comes across. Mocky follows the two main characters' night wanderings from the Gare des Invalides station to Place de la Contrescarpe, from the Champs-Elysées to Montmartre, through a series of brief encounters: Denise (Dany Robin), a married woman who prostitutes herself in her husband's absence; two young girls, the smart Dadou (Dany Carrel) and the melancholic Sylviane (Estella Blain), who look like Freddy and Joseph's female counterparts; a pair of Swedish tourists (Ingeborg Schöner and Margit Saad) out for kicks in "gay Paris"; a lonely young woman, Jeanne (Anouk Aimée), who takes care of her little brother and who seems to be the only one able to scratch Freddy's cynical armor, only for him to back out after he discovers she is an invalid with a lame foot.
Eventually the two men end up in a luxurious house where a "surprise party" is taking place and about to degenerate into an orgy. Freddy hooks up with the young lady of the house, the ravishing Ghislaine (Belinda Lee), while Joseph becomes the laughingstock of the other partygoers. At dawn, they split: Joseph has found his soul mate, whereas Freddy goes home alone and unsatisfied. Perhaps he has realized that, as Mocky told Jean-Luc Godard, who interviewed him during filming, "by turning into an automaton of seduction, he is condemning himself to a frightening moral solitude." 9
Les Dragueurs (literally, "The Dredgers" a term which became common use in France after the film's release to indicate people like Freddy) is surprisingly frank in its depiction of the rites and habits of a generation who channels its libertarian yearnings into sexual drive. The narrative is smooth and engrossing, but Mocky doesn't back down from unpleasantness, especially in the party scene which exudes a certain anti-bourgeois acrimony, one of the trademarks of his future works. Despite the somehow prudish ending 10 there emerges a sincere existential melancholy. Moreover, the attention to minor characters predates the director's tendency to fill his movies with a myriad of secondary figures, and he proves very good at squeezing out the best from his actors: Aznavour is extraordinary as the likeable and sad Joseph, who has more dreams than loose change in his pockets. Last but not least, the relationship between the two main characters, driving around the Ville Lumière in Freddy's convertible, predates the one between Vittorio Gassman and Jean-Louis Trintignant in Dino Risi's Il sorpasso (1962).
At the time of its release, critics compared the film unfavorably with Marcel Carné's Les Tricheurs (a.k.a. The Cheaters / Youthful Sinners, 1959), Claude Chabrol's Les cousins (1960) and Louis Malle's Les Amants (a.k.a. The Lovers, 1958). Godard himself did not hide his disappointment, and, reviewing the film in Arts, he blamed the director's indecision between report and style. Fact is, Les Dragueurs is an unclassifiable, atypical film. Even though it came out between two pillars of the Nouvelle Vague—Truffaut's Les 400 coups debuted in Cannes one week after its release, Godard's A bout de souffle would come out about a year later—it doesn't look at all like the films made by the "Young Turks." Not by chance, its crew consisted of veteran technicians who granted it a formal polish more akin to the 'cinéma de papa' (Daddy's cinema) which its author always claimed to like. In turn, Mocky would never consider himself as part of the French New Wave and preferred to remain a maverick.
The theme of sexuality returned in the director's sophomore work, which dealt with taboo themes with a refreshing candor. Un couple (1960), co-written by Mocky's friend, the great novelist and poet Raymond Queneau, explored the effects of marriage on the sexual urge through the tale of a married couple who find out they have lost the desire for one another and decide to indulge in extramarital escapades, only to realize that something has broken for good between them. Judging from the basic plot it would seem some kind of Antonioni-type drama, were it not for the fact that Mocky and Queneau walk the thin line between introspection and mockery, dramatic moments and biting sketches, pathos and absurdist lines of dialogue centered on wordplay. In doing so, they stitch together fragments of everyday life with admirable lucidity and taste for paradox. This is evident also in the choice of the leads. The wife is played by Juliette Mayniel, one of the most representative faces of the new French cinema; the husband is a non-professional actor, Jean Kosta, a puppeteer and abstract painter. Un couple caused a fuss and earned itself an "adults only" rating and accusations of bad taste. At the time, Jean Cocteau wrote Mocky and Queneau a letter in which he noted, "people are horrified to watch themselves in a mirror. Vulgarity wards them off because it's their own vulgarity that they see." 11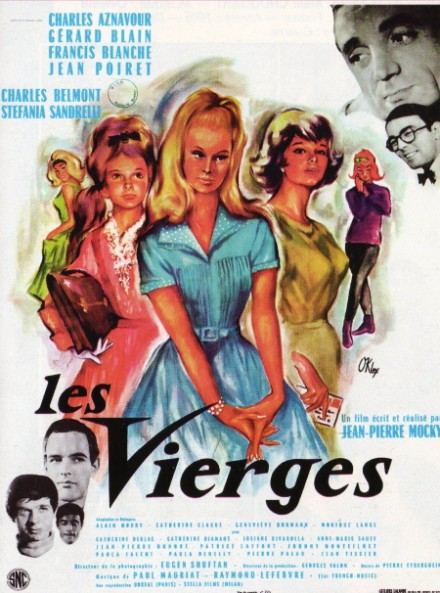 Les Vierges (1963), an Italian/French coproduction featuring among others Stefania Sandrelli in one of her first roles, proved no less controversial. Conceived from a contest organized by the weekly Ici Paris, which elicited female readers to write to the magazine and recount how they lost their virginity, the film is divided into five episodes about the myth of purity in bourgeois society. The story of Geneviève (Catherine Diamant), who came to marriage a virgin, and is upset and disgusted after her wedding night, has the same lucid bitterness of Un couple. The best episode benefits from the uncredited contribution of the great playwright Jean Anouilh, who had suggested to Mocky the idea for the contest. It centers on Nora (Catherine Derlac), who believes that her virginity is an obstacle to the love of an older and married man and therefore gives herself to a stranger, only to find out that her beloved doesn't want her anymore because she is no longer pure.
Henri Gault (the founder of the gastronomic Gault-Millau guide) penned an outraged review of Les Vierges in which he accused the director of being "a cinematic rapist" and claimed he would deserve a twenty-year sentence. 12 A more coherent comment came from François Truffaut, who called Mocky "a man who is both obsessed sexually and a puritan, two hardly incompatible conditions." 13
Speaking of which, Mocky's autobiographical drama L'ombre d'une chance, released in February 1974, is the first mainstream French film to include non-simulated sex, as the director added a very brief, almost subliminal hardcore insert during a lovemaking scene: "It lasts half a second, 13 frames, the time of retinal impression. I hesitated a while before filming it. But Marcel Weiss's photography gives the scene a beautiful unreality." 14
After the French president Valéry Giscard D'Estaing passed a law authorizing the distribution of pornographic films (which by the end of 1974 represented 47% of total box-office grosses), Mocky tried his hand at porn, or so he claimed. There are several and contradictory versions on the birth of his only alleged hardcore film, Les couilles en or, and the director himself would muddy the waters, sometimes calling it "an act of reaction to the suffocating liberalization of porn under Giscard," but admitting elsewhere that "the Germans paid 400,000 francs for a porn film." 15 According to Mocky, he did the casting with a mask on his face and a Batman t-shirt, hence the pseudonym he used to sign it, "Serge Bateman." Other versions of the story have Mocky directing the whole film wearing a Batman mask. The cast consisted of non-professionals or actors who were extraneous to the porn business, including a member of the prestigious Renaud-Barrault company. All this, however, is based solely on the director's own recollections, for there is no trace whatsoever of this legendary film anywhere. 16 Mocky once related that the jealous husband of one of the actresses had destroyed the negative, but the most plausible hypothesis is that Les couilles en or existed only in the director's galloping imagination. As they say, print the legend…
3. A Taste for Mock(er)y
Whereas his first two films, Les Dragueurs and Un couple, were idiosyncratic combinations of comedy, drama and social insight, with his third directorial effort Mocky changed course and perfected the openly grotesque tone that would mark most of his future body of work. In May 1961 he started shooting Snobs!, the story of a no-holds-barred competition for succession in a co-operative dairy enterprise after the death of its president, drowned in a milk tank while trying to recover his umbrella. The four vice presidents leave no stone unturned in their attempt to sign a major deal with the schools in the area, which will earn the winner the chairmanship. Some lean on political or religious connections, others manipulate the press, and in the end the most cunning and ruthless one wins, while the most pious of the foursome, who spends his time reciting the rosary, ends up in hell, playing the organ amid the devils, in a scene worthy of Hellzapoppin'.
The opening is a perfect example of Mocky's caustic humor, with the president's bizarre demise and its aftermath: the various vice presidents have gathered around the body and welcome the widow with polite words, only for all of them to be overwhelmed by unstopping bouts of hilarity. The ensuing saraband of encounters, machinations, social events, in which each of the four men tries to play his game, partly recalls Italian comedies of the period, but is even more biting. The director's blatant anticlericalism climaxes in an irreverent sight gag which he had to censor partially. In a horizontal split screen, we witness a phone call between the municipal treasurer (Francis Blanche) and the bishop, each in his own bed. Both look distracted and often put their hand under the covers. The lower half of the screen, in which the bishop appears, is partially obscured by a large black patch, so we cannot actually see what he is doing. At the end of the phone call, a kitten pops up from beneath the treasurer's sheets, but the graphic censorship doesn't allow us to see what is going on near the holy man's lower parts. In the uncensored version, a pet dog turns up from beneath the sheet. "That tickles!" the bishop says—a line trimmed from the film. Snobs! was halted for months by distributors and released only in September 1962, and according to Mocky the spectators coming out of the premiere attempted to discourage those in line to buy the ticket from going to see "that crap," even tearing down the posters,
Snobs! is populated with a collection of grotesque types. For instance, the treasurer played by Francis Blanche is partially disfigured by a glaucoma and sometimes he grunts instead of talking. Mocky's following films would feature an array of character actors with eccentric features—Dominique Zardi, Marcel Pérès, René-Jean Chauffard, Jacques Dufilho, Jean-Claude Rémoleux, to name a few—or players turned into freaks and monsters by way of make-up. Some examples: the minister whose face is dotted with moles in Le roi des bricoleurs (1977); the unsightly birthmark on Papu's (Jean Poiret) cheek in Le Miraculé (1987); and, most memorably, the parade of famous names made partly unrecognizable by make-up in Ville à vendre (1992), with Michel Serrault standing out as the mouse-faced mayor. On the other hand, the "all against all" pattern of the narrative would return in Le Miraculé, Les Saisons du plaisir (1988) —almost a camouflaged remake of Snobs! set in the perfumery business and with a nasty apocalyptic coda— and Une nuit à l'assemblée nationale (1988).
An irrevent farce about religion as business which borrowed its plot from a short story by George Langelaan, Le Miraculé was to the 1980s what Snobs! was to the 1960s. In the film, a lowlife named Papu, who pretends to be paraplegic after an accident to fraud an insurance company, takes a train to the town of Lourdes, one of the world's most important sites of pilgrimage and religious tourism. There, he plans to stage a fake miracle and start walking again. But Papu is shadowed by a mute insurance agent (an extraordinary Michel Serrault, in a role the director had initially devised for Benny Hill) who is determined to expose him. Mocky (who shot the film on location in Lourdes despite the local authorities' prohibition) pushed the pedal on trivial humor, aiming at any target he could think of and causing some fuss upon the film's release. Only, this time the controversy made it a surprise box-office hit in France. Albeit perhaps not among the director's best works, Le Miraculé is lively and mordant, and the ending comes with an amusing twist in pure Mocky style, which indeed features a miracle (actually, more than just one…), although not the one those involved are expecting.
Divine intervention is the focus of another key film in Mocky's career, Un drôle de paroissien (1963), released in the U.S. as Thank Heaven for Small Favors. Based on the novel Deo Gratias by Michel Servin, it marked the director's encounter with Bourvil (born André Robert Raimbourg), one of France's greatest comedians. Mocky's first choice for the leading role was another popular French funnyman, the buck-toothed Fernandel, who turned it down: he and Mocky would eventually team for the rather disappointing La bourse et la vie (1966), an uncredited remake of the old German comedy Der brave Sünder (1931, Fritz Korner).
Un drôle de paroissien tells the story of Georges Lachaunaye (Bourvil), the head of a noble Parisian dynasty whose members have never worked for generations and now live in poverty, having drained the family wealth. The pious Lachaunaye, who goes to church every day, asks God for a sign. When the idea comes to him to steal the money from collection plates in church, he sincerely believes he has been entrusted with a divine mission. This leads to an exhilarating crescendo, as Lachaunaye perfects more and more sophisticated methods with the help of a dentist accomplice, Raoul (Jean Poiret), and soon accumulates a fortune. The awkward inspector Cucherat (Francis Blanche) is on his trail and makes all kinds of attempts to arrest him, but Lachayune always manages to cheat the policeman. But a premonitory dream alerts Lachayune that his career as a thief must end…
When Mocky requested permission to film on location inside the city churches, he received a neat refusal. He then announced that, since he couldn't make Un drôle de paroissien, he would shoot another film based on the true story of Guy Desnoyers, the curate of the village of Uruffe, who in 1956 had killed his 8 months pregnant lover, extracted her unborn child, baptized and killed the baby. The clergy capitulated, and Mocky could shoot on location in several Parisian churches.
In the four films they made together between 1963 and 1969— Un drôle de paroissien, La Grande frousse, La Grande lessive (!) and L'Étalon—, Mocky allowed Bourvil to play different types than those he was accustomed to. In fact, as the director would point out, he employed the great comedian as a heckler who brings chaos to consumerist society, rather than the hero of that same society. In La Grande lessive (!) (1968) 17 Bourvil plays a Parisian schoolteacher who, exasperated by the detrimental effects of television on his students, starts sabotaging TV antennas with the help of a pair of unlikely accomplices. In L'Étalon (1969) he is a philanthropic veterinarian who sets up a non-profit service of male sex workers to the benefit of the neglected wives on vacation in a seaside site. From time to time, Bourvil becomes Mocky's tool to mock Catholic religion, the mass dumbing down caused by television, and the male-centered bourgeois morals.
These comedies follow roughly the same pattern: a single grain of sand crushes an entire system of values, showing its limits and contradictions and its basic hypocrisy. The antagonists are usually inept representatives of the established order and their ridiculousness highlights the director's targets. Such a conflict gives way to more and more elaborate situations which draw in equal parts from satire and feuilleton, pochade and vaudeville, silent movie farces and Marx Brothers classics, the latter a key influence in the work of an anarchist such as Mocky. The most exhilarating example is the breakneck crescendo of ambushes, disguises, traps and escapes in the second half of Un drôle de paroissien: the black-and-white film even includes a color dream sequence (which the director reportedly added to pad the running time) conceived like a musical of sorts and filled with religious symbols.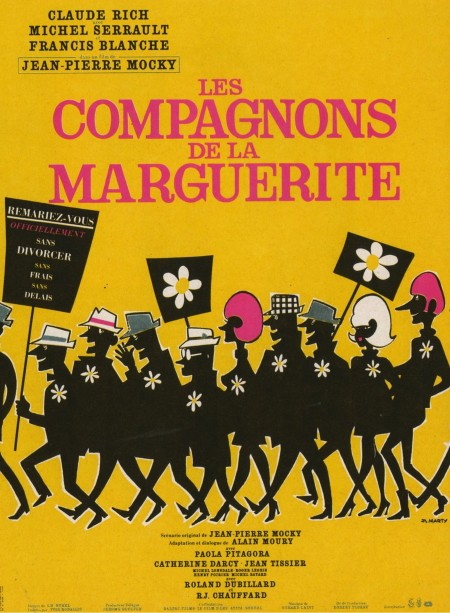 Mocky's best comedy of the 1960s is probably Les Compagnons de la marguerite (a.k.a. Order of the Daisy, 1967), which takes a utopian turn and conveys a surprising affinity with Jacques Prévert's work. A shy office clerk named Matouzec (Claude Rich) specializes in restoring antique documents and can imitate every type of handwriting. His skill suggests to him a way to get out of his unhappy marriage with a couch potato who prepares him canned food for dinner and sleeps in a separate bed, without going through an expensive divorce. Matouzec places an ad in newspapers looking for another badly paired married couple with the same issues and suggests they swap partners. Then he will simply forge the municipality papers, so that each new couple will appear to be officially married.
The basic concept brings to mind Mocky's own adventurous biography and the alleged forgery of his own date of birth. The story for Les Compagnons de la marguerite was actually born from a difficult period which climaxed in the director's divorce from actress Véronique Nordey, and its surreal core is pushed to paradoxical heights. In fact, Matouzec becomes convinced that he can actually improve other people's lives through forgery and creates a sect (the "Order of the Daisy") devoted to rewriting official papers so as to create an ideal society where unhappiness no longer exists. Matouzec turns unhappily married individuals into singles, divorced, widows or widowers, thus allowing them the freedom of a second chance. He can even turn the living into dead and cancel every trace of somebody's existence. This leads to a Pirandello-inspired crescendo which is also an amusing paraphrase of the Gospel, with Matouzec as a new messiah whose "miracles" sabotage the status quo and the rules of bureaucracy. This crusade against windmills predates the missions of the saboteurs (whose head is named Saint-Just, like the French revolutionary…) in the Parisian tenements in La Grande lessive (!). Here, the non-stop camouflages and hideaways, entrances and exits, worthy of a typical comedy of errors, end up mirroring the confrontational climate of May 1968, whose events were setting the streets on fire during filming. Hence, the recurring gag of the malfunctioning central heating which raises to unsustainable levels the temperature inside a crowded tenement becomes a metaphor of a whole society approaching boiling point.
4. (Bi)Polar
Mocky's forays into the polar genre follow the same pattern as his comedies, only tinted in black. A lonely man stands out against the System. The System wins. The End. Such an individualistic, hostile vision is the combination in equal parts of nihilistic cynicism and a self-satisfied romantic vision of the loser/antihero type. This is made explicit in the title of his first film noir, Solo (1970; literally, "Alone"), where Mocky himself returned in front of the camera after a sabbatical decade to play the lead, as he would do in many of his following films.
The opening of Solo is jaw-dropping. A bunch of terrorist students make their entrance, guns in hand, into a country villa where an orgy between rich elderly men and young girls is taking place. A machine-gun massacre ensues. Tilted camera angles, aggressive editing, sex and graphic violence: a punch in the gut which vaguely recalls the beginning of Fernando di Leo's Il boss (1973). The plot can be summarized in a couple of lines: a jewel thief (Mocky) finds out that his younger brother is a member of the student commando and is planning another massacre; he tries to stop him but finds himself hunted by the police, who believe he is an accomplice of the terrorists.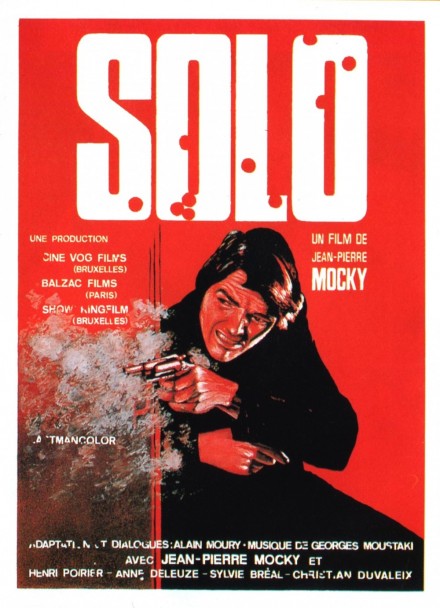 On the one hand the leftist revolutionaries on the warpath, on the other a saggy and vampire-like bourgeoisie, ravenous for sex and young flesh. The farcical challenge of La Grande lessive (!) has turned into tragedy. Mocky once described Solo as his reaction to May 1968. At the time of its release, the film was accused of being schematic and crudely simplistic, but it predated the terrorist drift of the years to come, in his homeland and abroad, with the rise of Italy's Brigate Rosse and the French Action Directe. Ten years later, Le piège à cons (1979) came as a late addendum on the same themes, with a disillusioned hero involved in a cause he does not believe, a fatalistic view of class struggle, and the depiction of an implacable and well-oiled repressive system.
Shot on a shoestring, self-produced under difficult circumstances (the director obtained financing from a noted champagne brand in Reims, which is featured prominently in the film), Solo stayed on the shelf for over a year (and Mocky accepted to make L'Étalon in order to have it released). The Cannes Film Festival rejected it, causing the director's irate reaction. However, it proved a box-office hit, and Georges Moustaki's main theme stuck in the collective memory. Critics were outraged, though. An Italian newspaper wrote: "The film's success likely comes from the fact that Grand-Guignol is not in decline. Solo conveys the same gratuitous, bloody vehemence of Fantômas stories." 18 Such a contemptuous panning is nonetheless significant, for it inadvertently underlines the peculiarity of Mocky's take on the polar, characterized by a build-up of events, hurdles and twists in a thinly sketched plot that moves with the frantic pacing of a modern-day feuilleton. But the satirical verve never falters. The climax takes place in a restaurant where a pair of terrorists pose as customers. An orgy is taking place in an adjacent private room and the terrorists spy upon the debauchery through an aquarium which divides the two areas. Meanwhile, annoyed waiters with sore feet serve pasta dishes, big steaks and foie gras to the guests.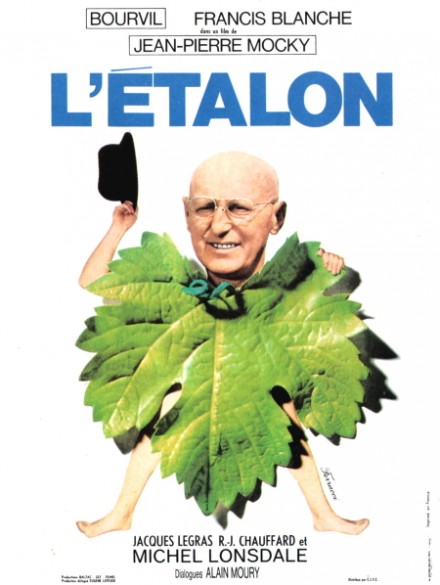 Mocky used to label Solo, and many of his following works during the decade, as "cinema of the faits divers," 19 centered on stories based on news items which stood out in the banality of daily life and cracked its apparently quiet surface. To him, these would become the pretext for a corrosive portrait of French society and its pillars—authorities, armed forces, press, and family. With its harsh and violent tones, the polar was the ideal instrument for a thought-provoking and (anti-)political discourse, and the style was well attuned in that respect, with long takes filmed with hand-held camera, deforming wide-angle shots, tilted angles, edgy editing. The result is often unpolished and hasty, and it doesn't go for cinephile nods or calligraphic shots, but it takes inspiration from comics, photonovels and popular literature, blending them all together in an explosive cocktail which, like it or not, follows its own path, be they original stories or literary adaptations.
Among the former, L'Albatros (1971) stands out. Mocky is Stef Tassel, a political prisoner (he accidentally killed a policeman during a protest rally) who escapes from jail and takes a young woman, Paula (Marion Game) as hostage. But Paula is the daughter of a powerful politician, Ernest Cavalier (Paul Muller) who is running for the elections. A manhunt ensues, and both Cavalier and his political adversary attempt to exploit Paula's kidnapping to their own advantage. Meanwhile, during their mad run through the country, the two fugitives fall in love, amid enough twists and turns to fill three films. L'Albatros is imbued with desperate romanticism and does not fear the ridicule, as proven by its amazing climax. Trapped by the police atop a prison tower and without any way out, Stef and Paula take off their clothes and make love in front of the angry crowd that surrounds the prison, before being mowed down by machine guns. It is one of the peaks of amour fou in the movies, as the protagonists' desperate lovemaking turns into surreal shadow play under the police lights and to the sound of Léo Ferré's poignant score.
An avid reader of the Série noire mystery paperbacks, in 1973 Mocky attempted to bring to the screen Richard Matheson's 1953 novel Someone Is Bleeding, but he eventually sold the rights to Alain Delon. The film, Les seins de glace, was directed by Georges Lautner and co-starred Mireille Darc. Another project he dropped was an adaptation of Jean-Patrick Manchette's acclaimed novel Ô dingos, ô châteaux!, which made it to the big screen in 1975 as Folle à tuer, directed by Yves Boisset and starring Marlène Jobert and Tomas Milian. Mocky then opted for Horace McCoy's 1937 novel No Pockets in a Shroud, whose discourse on the freedom of the press mirrored his own need for independence. The director transposed the story to contemporary France and kept rather close to the book, except for the third act. Once again, he also played the lead, the narcissistic reporter Michel Dolannes, and cast some of the best names in French cinema: Jean-Pierre Marielle, Michel Galabru, Jean Carmet, Michel Serrault, Michael Lonsdale, Daniel Gelin, Michel Constantin, Sylvia Kristel…
The result, Un linceul n'a pas de poches (1974), summarizes the peculiar qualities of Mocky's oeuvre, most notably his anarchist vision (the film explicitly attacks all the four major French parties) and his sympathy for stray dogs and losers. Dolannes is a Don Quixote-like character who creates a magazine, Cosmopolite, where he denounces the corruption and crimes of the city notables; he is a flawed, doomed hero who carries out his crusade in a world of corruption and perversion (a key subplot deals with pedophilia) and surrounds himself with kindred spirits. Francis Blanche, in his last film appearance, plays an elderly anarchist who fought in the Spanish war, and who leaves the scene shouting "Libertad o muerte!" (Freedom or Death!), words that are well suited to Mocky's vision.
Un linceul n'a pas de poches was a critical and commercial flop, although its main theme, Paul De Senneville and Olivier Toussaint's Dolannes Melodie, won a César award for best music and sold three million records. The film marked the first of many occurrences in which Mocky adapted Série Noire novels, often with interesting results. In 1975 he helmed the first of two Fredric Brown adaptations, L'Ibis rouge, a grotesque comedy-drama based on Knock Three-One-Two and starring the great Michel Simon in his last film role and Michel Serrault as a mad strangler; in 2001 he brought to the screen Brown's 1956 novel The Lenient Beast with La Bête de miséricorde. Other authors who benefitted from the Mocky treatment were Alfred Draper (Á mort l'arbitre!, 1984, from Death Penalty), Gil Brewer (La Machine à découdre, 1986, based on A Killer Is Loose; 13 French Street, 2007, from the novel of the same name), Malcolm Bosse (Agent Trouble, 1987, from _The Man Who Loved Zoos), Elliott Chaze (Il géle en enfer, 1990, based on My Angel Has Black Wings), Elisabeth Sanxay Holding (La Candide Madame Duff, 2000, from The Innocent Mrs. Duff).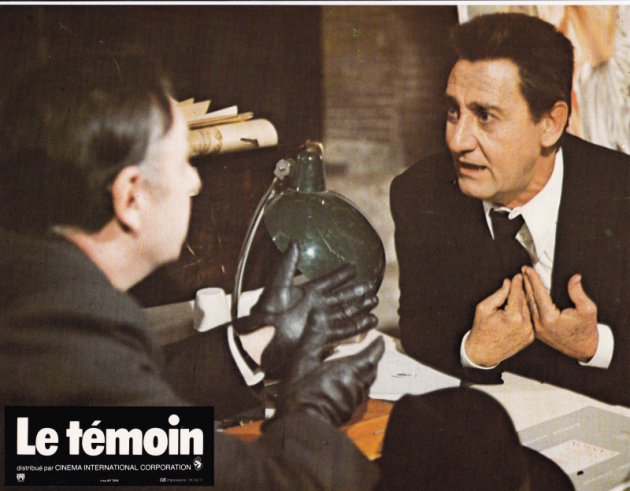 Le Témoin (1978), one of Mocky's most controversial works, was another adaptation of a Série Noire novel, Shadow of a Doubt by Harrison Judd. The book deals with the trial and death sentence of a hateful banker who allegedly raped and killed a little girl. Up to the very last moment, the banker seems about to get acquitted thanks to his money and power, but an upright detective manages to collect enough evidence to have the murderer end up in the gas chamber, even though the key eyewitness is not fully sure the banker is the man he saw after the murder. In Judd's novel, the American justice system is depicted as infallible, but Mocky's adaptation overturns the original story and turns it into a pamphlet on the monstrosity of capital punishment, on the verge of being abolished in France. Le Témoin tells the story of an Italian restorer, Antonio Berti (Alberto Sordi) who moves to France to work on a fresco upon invitation from a wealthy friend, Robert Maurisson (Philippe Noiret). There, he is incriminated for the rape and murder of a little girl, which in fact was committed by Robert. Berti actually saw his friend at the scene of the crime, but Maurisson is protected by his powerful family. In the end, poor Berti is guillotined. The film, an Italian/French coproduction, is somewhat close in tone to Georges Simenon's novels but suffers from some off-key, incongruous comedy bits, and unlike other Mocky films it fails to keep a satisfying balance between drama and grotesque. This was due in no small part to the presence of Sordi, Italy's most popular comedy actor, who was reportedly dissatisfied with the script and Mocky's direction. The film was released in Italy as Il testimone, in a different and certainly worse version: Sordi's character is allowed much more room than Noiret, the dialogue and editing are different, and on top of that the grim original ending is replaced by an awkward denouement in which the Italian prisoner writes a letter to the French President, appealing for clemency.
In the 1980s Mocky explored the crime and thriller genre several times, with fluctuating commercial results. But the results were among his very best works. Shot right after the election of President François Mitterrand, the mordant pastiche Y a-t-il un Français dans la salle? (from a novel by Frédérick Dard)—the story of an ex-president who has been keeping captive for decades a man (Jacques Dufilho) in his family home—was a success. Other, no less inspired (and provocative) works did not nearly have the same fortune at the box-office. Á mort l'arbitre! opens in a misleading way, as a comedy of sorts, with the description of a busload of colorful soccer supporters turning up at a stadium in a provincial town for an important match. The referee (Eddy Mitchell) decrees a penalty which causes the home team to win and leads to a wild escalation of violence after the match. Inflamed by a manic supporter (Michel Serrault), the hooligans track down the referee and his fiancée (Carole Laure) in a local TV studio, chase them through a deserted mall and eventually trap them in the woman's apartment located in a huge tenement complex, in a savage crescendo which recalls Peckinpah's Straw Dogs (1971) and climaxes in a chilling ending. Á mort l'arbitre! earned the cover of the prestigious Cahiers du cinéma, thanks also to Serrault's extraordinary performance, and won a prize at the Mystfest, Italy's most popular mystery film festival. But it performed poorly at the box-office, and the press accused Mocky of overstating the phenomenon of violent supporters. One day later, the Heysel Stadium disaster showed that, unfortunately, the director was not exaggerating.
Shot on a shoestring on location in Mocky's hometown of Nice, and set during one hot summer day, La machine à decoudre (1986) is unrestrained and unpredictable, down-and-out and feverish like its main character, played by the director himself. Gun in hand, the mad Dr. Enger (spelled like en guerre, at war) sets out to put together the money to build a hospital for blind children, whatever it takes. Dressed in white linen and panama hat, two-tone shoes and a satchel with the Red Cross logo on it, Enger steals a vintage Mauser gun from an unemployed young man (Pierre Semmler) who was about to sell him to make ends meet, and takes him and a young night club singer (Patricia Barzyk, who spends at least half of the film naked) as hostages. The unlikely trio wander through the town, with Enger stealing money and cars, breaking into people's houses, raping, shooting, killing. Enger's journey through Nice, from the suburbs to the classy residential areas, turns him into a belligerent version of the delusional character played by Burt Lancaster in Frank Perry's The Swimmer, and a destabilizing presence in a ruthless world. "These times there are madmen everywhere. But, aren't we all a bit mad?" a character says. In the end, believe it or not, Enger becomes strangely sympathetic: it turns out he is an ophthalmologist surgeon who joined Médecins Sans Frontières (Doctors Without Borders) and went crazy after witnessing the horrors of war. Lost and scared, he is besieged by the armed forces and his story is ruthlessly exploited by the local major who, with the elections approaching, tries to get more exposure in the press. The unexpected and surprisingly touching climax is yet another proof of Mocky's predilections for outsiders.
Enger is one of the many mad characters who populate Mocky's oeuvre. Rebels, visionaries, dreamers (the unemployed salesclerk played by Michel Serrault in Bonsoir, 1994), escaped lunatics (again Serrault in Le Bénevole, 2006), serial killers such as the bookkeeper attempting the perfect crime in Monsieur Cauchemar, (2015) or the elderly Monsieur Mardet in La Bête de miséricorde, both played again by the director himself. Mardet is a particularly poignant character. He survived a terrible car accident but lost his mind after compassionately killing his adored wife, severely injured in the crash. Believing he is on a divine mission to soothe the pain of those who lost their beloved, Mardet has turned into an angel of death who murders for mercy.
In Mocky's human comedy, diversity or abnormality are the only ways to escape a suffocating, nightmarish present. Even the most ordinary types feel the need to transgress the rules, as is the case with the repressed museum curator (Catherine Deneuve, cast against type and sporting a curly wig and big glasses) who moonlights as detective to investigate the killing of a group of tourists disguised as a car accident in Agent Trouble. It is one of the director's most polished works, a Hitchcockian thriller poles apart from the wild and rude façade of cheaply made films such as La machine à decoudre and Le Pactole (1985). Mocky transposes the paranoid intrigue of Malcolm Bosse's 1975 novel The Man Who Loved Zoos from mid-1970s America, still bleeding from the wounds of the Vietnam war, to the lethargic bourgeois France under Mitterrand's presidency, where the few remnants of anarchist rebellion (embodied by the drifter played by Tom Novembre, who is obsessed by animals in captivity) are absorbed or eliminated by the system with surgical efficiency. The director's irreverent taste surfaces in several offbeat scenes, such as the confrontation between a killer and his victim in the back of a carnival-time costume shop, with the two men masked as Bugs Bunny and Pluto; and his sympathy for peculiar characters shines in the portrayal of the suave gallery owner with a heart condition and conjugal issues (Richard Bohringer) who moonlights as a hitman. In the second part, to solve the mystery, Deneuve embarks on one of those sad organized trips peopled by the elderly retired and spinsters, allowing Mocky to depict some of his favorite droll, petty and sinister human types and display his trademark biting look at the average man's social behavior.
Noir comme le souvenir (1995), based on Carlene Thompson's novel Black for Remembrance, is another singularly controlled effort. Mocky imposes himself a strict narrative measure and achieves unusual formal elegance, putting aside his propensity for the grotesque but not his uncompromised look on a frightening world, cruel and devoid of any moral center. At times the result is close to Chabrol's work, replete with characters tormented by a past trauma which reverberates on the present and an apparently idyllic province which contains hidden secrets, betrayals, and unspeakable passions. Once again, as in Un linceul n'a pas de poches and Le Témoin, the story revolves around pedophilia (the theme will return in Les Ballets écarlates, 2005). In the chilling opening, a 6-year-old girl is kidnapped by a mysterious man dressed as a clown; her body is found a few days later, violated and mutilated. Seventeen years later, all those who were involved with the hideous murder are killed one by one. The little girl's mother (Jane Birkin) receives strange phone calls from a child voice claiming to be that of her daughter returned from the dead. Is it hallucination or reality? Is she a ghost or a real living presence? Mocky expertly keeps the viewer uncertain between a rational explanation and a supernatural one, following the lesson of Boileau & Narcejac (Les diaboliques), and at times Noir comme le souvenir seems on the verge of jumping headfirst into the fantastique, a testimony of the director's sensibility toward the genre.
5. Mocky and the Fantastique
As noted by Éric Le Roy, "the fantastique turns up consistently in Mocky's body of work, conveyed through décor, sound, dialogue, and setting. Even in films more distant from the theme, the bizarre transpires, the incongruous devours the ordinary, space and time are deformed so as to create an offset universe." 20 Still, all this is declined in the director's own inimitable way, far from intellectualism but equally intolerant of genre trappings and clichés. His deep love for and knowledge of the genre shows also in his frequent collaborations with the prolific French sci-fi and fantasy novelist André Ruellan, who co-wrote many of Mocky's best works, including L'Ombre d'une chance, L'Ibis rouge, Il gèle en enfer, Ville à vendre, Noir comme le souvenir and La Bête de miséricorde.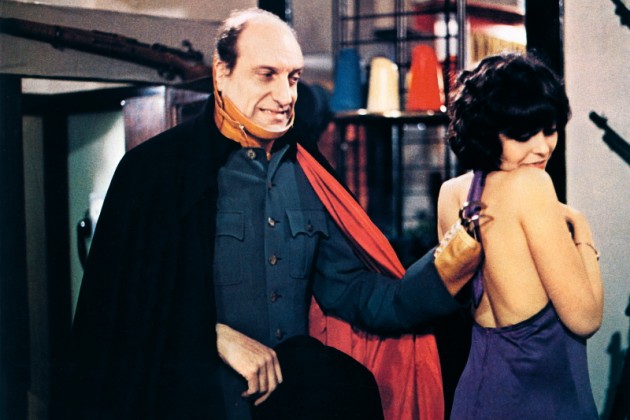 L'ibis rouge
In 1964, upon advice from Raymond Queneau, Mocky chose to adapt for the screen a book by the great Belgian writer Jean Ray, the author of the celebrated Malpertuis (1943; brought to the screen in 1971 by Harry Kümel) and the Harry Dickson stories. Ray had experienced renewed popularity in France in the early 1960s thanks to the publication of the short story anthology Les 25 Meilleures Histoires noires et fantastiques. Mocky chose the 1943 novel La Cité de l'indicible peur (The Town of Unspeakable Fear) and turned it into a vehicle for Bourvil, liberally twisting the plot and adding abundant doses of black humor. However, the result was not a spoof or a farce but stuck to the hallucinated and baroque mood of the novel.
The film tells the story of a goofy policeman (Bourvil) on the tracks of a forger who adventurously escaped the guillotine; he arrives in a mountain village whose inhabitants are terrorized by a legendary "beast," and soon a chain of murders follows. La Cité de l'indicible peur was hampered by the producer and released one month after Jean Ray's death as La Grande frousse. The public ignored it and critics panned it, accusing Mocky of having betrayed the spirit of the original. Some even wrote that luckily the novelist had died before having to witness such a butchery. But La grande frousse alone is enough to grant Mocky a place in any history of Fantastic cinema worthy of that name. Visually, it is nothing short of superb, with eerie mountain landscapes immersed in fog, anthropomorphous monsters lurking in the moors (echoes of The Hound of the Baskervilles) and uncanny axe murders, remarkably photographed by the great Eugen Schüfftan. Immensely aided by a cast featuring such prestigious names as Jean-Louis Barrault and Victor Francen, Mocky employs fantastique and black humor to lay bare the dark side of human nature. The film is a rare bird in French cinema of the decade, far from both Franju's philological evocation of Louis Feuillade's cinema (Judex, 1963) and the light humor of André Hunebelle's Fantômas series starring Jean Marais and Louis de Funès.
In 1967 Midi Minuit Fantastique published a lengthy interview with Mocky which previewed a retrospective held at the Cinémathèque Française. For the occasion, he put together a new edit of La Grande frousse which came closer to his vision. The film was rereleased in 1972 with its original title, La Cité de l'indicible peur, and made an impression on the young cinephiles who knew Mocky only for his polars. His longstanding friendship with Jean-Claude Romer led to their collaboration to the script of Litan—La Cité des spectres verts (Litan—The Town of Green Ghosts, 1982), the director's most emblematic work within the fantastique, which won the Critics Award at the 1982 Avoriaz Fantastic Film Festival and the prize for Best Screenplay at Sitges.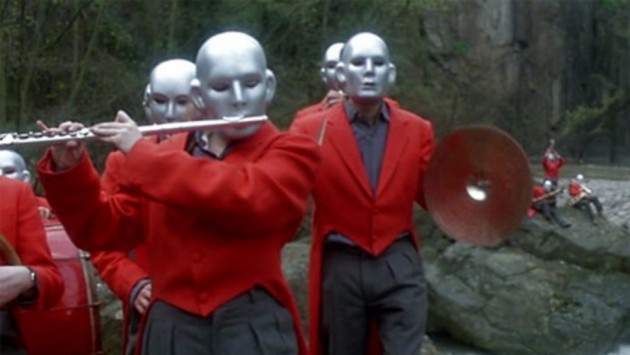 Litan
Influenced by the author's cultural roots, namely the legends and rites of Eastern Europe, the film tells the vicissitudes of a married couple (Marie-José Nat and Mocky) in the spooky mountain hamlet of Litan, during the celebrations for the annual village feast. The woman has a premonitory dream, and she and her husband attempt to flee from the village. Meanwhile, mysterious murders take place, the dead come back to life, and a mad doctor (singer Nino Ferrer) performs strange experiments on the revenants. The plot eludes logic and proceeds through visual analogies, repetitions, Surrealist imagery, with echoes of Kafka and Cocteau. Occasionally, Litan is almost overwhelmed by its own narrative elusiveness, but it has the merit of seeking new ways at a time when gore and graphic violence ruled. The outstanding cinematography, by former Welles and Buñuel collaborator Edmond Richard, captures an arcane landscape of foggy streets, abandoned tanneries, caves and underground rivers, and eerie appearances, such as the musicians and acrobats who hide their features beneath silver masks and recall some perturbing presences in Franju's cinema. Overall, it is an unforgettable experience. Nino Ferrer's score (later released in the album Ex Libris), mixed with excerpts from the works of Dmitri Shostakovich, contributes to the film's unique mood.
The carnival-like atmosphere of Litan returns in the beautiful opening of Ville à vendre. The film returns to the theme of the isolated community plagued by mysterious deaths, but it blends horror and mystery with the grotesque in the tale of a ghost town whose inhabitants have willingly become the guinea pigs of a powerful pharmaceutical company. The plot is one of the most engrossing in Mocky's career, with bizarre references to the myth of Orpheus (the name of the drifter who does the detective work, played by Tom Novembre), allusions to the ongoing economic crisis and conspiracy movie twists. Mocky plays a bizarre Mabuse-like character, a mysterious clergyman who wears lipstick and holds the key to the city secrets.
All these titles have in common an unusual attention to the setting, which becomes an integral part of the story and a character in itself. There is an uncanny red thread tying together the Auvergne hamlet of La Grande frousse and the mountain community of Litan, the greyish blast-furnaces and demolished plants of Ville à vendre and the idyllic Swiss village on the river of Noir comme le souvenir. The latter film is a sort of rational but no less obscure counterpart to Litan, whose images turn up several times during the film on TV screens.
Even in the films outside the fantastique, marginal and peripheral spaces are always vital to the story, evoking "a deep malaise as well as the squalid desolation of an upsetting normality." 21 The frenzied manhunt of Á mort l'arbitre! takes place in a shopping mall which recalls George A. Romero's Dawn of the Dead, and then amid the hallucinated futuristic architecture of Ricardo Bofill's recently inaugurated Les Espaces d'Abraxas. A year before Terry Gilliam's Brazil (1985) which employed it in several scenes, Bofill's gigantic apartment complex becomes a revealing sign of the suburban alienation which creates monsters. Likewise, the squalid housing tenements in the outskirts of Paris and their picturesque inhabitants are an added value in the story of a cockeyed supermarket robbery at the center of Le Pactole, a charmingly immoral tale about the role of money in everyday life. Here, Mocky's sympathy for underdogs is more evident than ever. On the other hand, the adventures of Dr. Enger in La Machine à decoudre take place among the villas with swimming pools, the luxury hotels and the yachts moored at the Nice dock, inhabited by rich men who sunbathe, play golf and have sex, as blissfully unaware of the filthiness around them as they are indifferent to the pain and injustice of the outside world.
6. Filming for Living, Living for Filming
Since the late 1990s, Mocky—systematically ignored by distributors and critics—started releasing his own films. In 1994 he had become the owner of a Parisian cinema specializing in genre films, Le Brady. 22 Later he sold it and purchased two more venues. Accordingly, his works of the new millennium are under the sign of autarky, from production to acting, from editing to home video release on the director's own label.
Mocky's creativity wasn't hampered, though: he kept making one movie after another, even three a year, and often appeared as actor with his then-partner Patricia Barzyk, plus occasional appearances of some famous names (Michel Serrault, Dominique Pinon, Richard Bohringer, Gérard Depardieu…).
The themes were the same as ever. The unspeakable skeletons in the closets of the upper class are at the center of Les Ballets écarlates, about a pedophile ring in a provincial town, while Dossier Toroto (2011) is a bawdy sexual satire about the invention of a miraculous product which makes vegetables grow to gigantic dimensions… and does the same to male sex organs. In addition to original stories, Mocky kept drawing from popular literature and classics alike. Le Mystère des jonquilles (2014) is based on an Edgar Wallace novel, The Daffodil Mystery, while the short films Le Rustre et le juge and Agafia (2015, featuring Depardieu), are Chekhov adaptations. Lastly, the tones ranged from the offbeat to the downright gloomy, as in La Bête de miséricorde, where Edmond Richard's photography covers the living and the dead with a blueish light, heavy as a shroud.
However, the results were often plagued by minimal budget, actors not up to the task, and a directorial sloppiness by now proverbial. Speaking of which, an impromptu "making of" shot during the production of La Candide Madame Duff on a beach near Cherbourg gives an idea of Mocky's method. The elderly director appears like some sort of Don Quixote, heading a small and ramshackle crew. He shouts orders, makes impromptu decisions, gets angry, argues, insults, takes his collaborators to lunch at a shabby restaurant, and comes up with every trick in the book to save on the minuscule budget. To some cinephiles, the short video will bring to mind the legendary shooting habits of another maverick filmmaker, Jesús Franco: all that matters is to keep shooting, always and in any case. What we get to see is a man to whom cinema was life, and making a film was a way to keep breathing, up to the very end.
Jean-Pierre Mocky died on August 8, 2019. Two days later, his son Stanislas Nordey, the director of the Théâtre National de Strasbourg, revealed the secret (an open one, actually) about his father's age: "In fact, my dad's true year of birth is 1929, but he had invented a fantastic story to get four years younger with insurance companies, so he could continue working. Because many companies refuse to insure directors beyond a certain age. It is true that he had [his first son] Frédéric at a young age, at 17 or 18, but suddenly, after this monkey business, he was forced to pretend that he had become a father at 13. And it used to crack him up! Contrary to what the press wrote, Jean-Pierre Mocky has died at 90, and not at 86!" 23
The director's youngest daughter, documentarist Olivia Mokiejewski, revealed that until the very last Mocky was busy working on his final film, Tous flics!, starring Gérard Depardieu and currently in post-production. "He said, "I need to recover fast because I have to keep shooting!" 24 Which is, quite simply, one of the most touching epitaphs I have ever read.
Rest in piece, Monsieur Mocky.
Very special thanks to: Pino Bruni, Frank Lafond, Domenico Monetti, Pete Tombs, Davide Vincenti for their invaluable help.
Notes