The Big Goodbye: Chinatown and the Last Years of Hollywood
The Big Goodbye: Chinatown and the Last Years of Hollywood,
by Sam Wasson
London: Faber & Faber, 2020
pp. 416 paperback; pp.620 Ebook [these are my page references]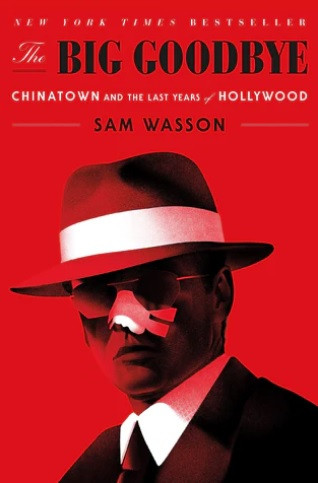 The genus of 'making of' film books has another entry to the newly minted canon with showbiz journalist Sam Wasson's latest tome of production biography following his excavation of Breakfast at Tiffany's (1961, Blake Edwards), Fifth Avenue, 5 A.M.: Audrey Hepburn, Breakfast at Tiffany's, and the Dawn of the Modern Woman (2010). This focuses on the behind the scenes story of a classic Seventies film which represents a pinnacle of the era's cinema, among the finest ever made. Part 1 (Justice) sets the scene. It starts with an event that kicked off an ending and a beginning: the horrific murder in August 1969 of director Roman Polanski's nine-months pregnant wife, actress Sharon Tate and her friends, at record producer Terry Melcher's home on Cielo Drive, signalling the book's intent to use the creation of the film as a trope for the history of Los Angeles, the destruction of the Summer of Love, the weird coincidence with the moon landing. Polanski was determined to exit the city that was responsible for precisely the same horror that had befallen his pregnant mother at the hands of the Nazis when he was a child in the Warsaw Ghetto. "Shove off," his father had cautioned him in 1939. Following the horrific Los Angeles murders, for which he was originally a suspect, he was effectively unemployable in the United States and went into temporary exile in Europe, where he skied; made an unprofitable film (What?); and shot a version of Macbeth in which he was able to give very detailed emotional directions to the actors about violence and the murder of family. He had a lot to work out in his mind, in his life, in his career. When a 1930s murder mystery set in Los Angeles was dangled in front of him he accepted the bait and returned to the city that he said always looked at its best at night, from a distance.
Wasson's writing fizzes with the kind of atmospheric, Chandleresque, decorative description that distinguishes Towne's work but now it's about the writer himself in part 2, Eucalpytus: his early days as the son of a successful Jewish property developer who scorned his artistic ambitions; his romances, in particular the one with dancer Barrie Chase which has the contours of George Roundy's relationship with Jackie in Shampoo, including the heartbreaking final parting; and his success as a mysterious script doctor of films in trouble. These are nicely inked into this biographical portrait sketched against a backdrop of environmental plunder. The contribution of his first wife Julie Payne to his writing life and the inspiration for his first original screenplay are directly stated. Chinatown represented a leap of faith not merely for him but for Paramount studio boss Robert Evans who financed this instead of Towne taking on a big payday project from him, a new adaptation of The Great Gatsby. Wasson traces the development of the script and caustically observes that for Towne, "Writing Chinatown was like being in Chinatown" (154). This after all was a story "whose central precept … represented crushing futility … a Sisyphean infinity loop" (168). It was a state of mind that the writer couldn't adequately communicate, especially since the film wasn't actually going to be set there. He was writing it for his great friend Jack Nicholson (known as 'Irish') and it would be his first leading role. After spending a couple of years painfully drawing out the convoluted layers of story, a lot of it apparently in conjunction with Towne's friend Edward Taylor, a deal was finally struck to make it with Roman Polanski directing. Towne and Polanski holed up in a rental high above Mulholland on Sierra Mar Drive, home of the first screen Philip Marlowe, actor George Montgomery, and tried to rewrite together. Naturally, there was conflict. "Mutual insult was inevitable. As the writer, Towne had to dream out a script; as the director, Polanski had to wake him up (202)." The numerous subplots and supporting characters that Towne loved were sacrificed to a much more linear story: "goodbye to everything that wasn't water" (204). Wasson continues:
They fought. Their arguments were painful. Each was smart enough to see the virtues in the other's strategy; both were correct. (Ibid.)
Wasson analyses the writer-director relationship through the prism of the characters: "Polanski's urge was to gratify Evelyn, Towne pathologized; it helped him to argue his case… Polanski, the newcomer, was an expert audience, coolly objective to Towne's heated subjectivity; and each, armed with a mastery of story sense, could argue his case so compellingly that the glut of good sense led both writers astray" (206). The energy both men brought to the table during their ten-hour days is well delineated, with Wasson giving Polanski a perfectionist streak justified by the rigours of the production to come:
I have no time to think … to conceive and to analyse during the period of shooting. So I have to be sure I can rely on what is written, and if I just film it the way I anticipated, I won't go wrong (206).
At night he partied with his crowd from Rosemary's Baby, along with Warren Beatty, Jack Nicholson and his new girlfriend Anjelica Huston, daughter of director John, and a slew of young girls. It was more than four years since Tate's murder, the Manson Family were in jail for the crime and he felt different from the way a psychiatrist had assured him he would by now, with the passing of the deadening grief and moving on from the tragedy to function normally. Wasson comments that Polanksi was left "to wonder at how an expert could be so wrong, and if he, uniquely scourged, was an aberrant case, stained forever" (206). On the subject of the scene's rather seedy drug-fuelled decadence, Towne said wryly: "The mood at night was –it was the 1970s. We had a good time" (208).
It scarcely mattered to Robert Evans that he had no idea what the script was about – nor did anyone else, it seemed.
What's to understand? I got Irish, the Polack, and the greatest scribe in town. And the period. Los Angeles in 1937. You know what that is? That's a classic. That's romance (208).
This is about a man who bet on his friends. And his friends were reworking a horrifying secret about screenwriter Borden Chase whom his stepdaughter Barrie, Towne's then girlfriend, had discovered in bed with her half-sister in 1949, a story she repeated to him and Edward Taylor one night in 1957. When she told the men Chase had impregnated the twenty-four year old they tried to figure out the relationship of the baby to Barrie: "'Sister!' 'Aunt!' 'She's her sister and her aunt!'" (212). When Towne regaled Polanski with the story it would become key to figuring out the major revelation in Chinatown. The bigger picture, the politics and destruction intrinsic to Towne's vision of a growing city in turmoil, were impenetrable for Polanski. "He was demanding universality from a story Towne had scrupulously grounded in specifics" (Ibid.). Two months later the men were no longer on speaking terms and Towne's elegy for his home town was lost to a more coherent story of menace and depravity. The film was now in the hands of Polanski. And it didn't have an ending.
Robert Evans gave good phone. "Writers had the blank page; Robert Evans had the dial tone" (218 ). From his beautiful Southern California Regency home at 1033 Woodland Drive, Evans ran his talent for talent and got involved in the making of his films, marking him out from other studio heads.
I was never a star fucker … I always writer-fucked (222).
In 1966 Peter Bart could write of him in the pages of The New York Times that he was running a kind of spy system in the publishing world to get ahead on property acquisition, with million-dollar deals going the way of novelists like Irving Wallace and Harold Robbins. "If you own a good story the stars will call you … The directors and writers will be at your door" (228). It was the success of the moderately budgeted Alfie (1966, Lewis Gilbert) that made him realise the success of any project lay in the script and that stratagem helped him drive the studio back into profit. Here was another man desperate not to repeat the mistakes of his father, a white dentist to a black clientele in Harlem who should have been a concert pianist but never achieved his dream. Evans was old-fashioned, a romantic. He liked people. He adored talent. He enlisted Bart to help him find material and they decided to hire a younger generation of directors with taste their watch word. He had to pursue excellence against a bowdlerized board at Gulf & Western who sold the features half of the lot in October 1969 forcing pictures to be shot on location without the benefit of in-house expertise and crews working close to base, saving on overhead but losing on quality and engendering a naturalistic style anathema to an old-school type.
Evans didn't have an office on the lot, he was moved to a small building on Canon Drive near his favourite restaurant, the Bistro, and his daily car-pool to work with Bart proved an ideal time to exchange ideas. But he made more deals at his elegant house than were ever done at Paramount. Love Story (1970, Arthur Hiller) was a calculation to make money that saved the studio in a sea of inherited bloated loser productions. The studio was his. A great run of stone cold classics ensued from this virtually independent production company, a series of personal films that saved money by making art, as chairman Charlie Bluhdorn claimed, equalled only by Warners' output in that era. Bluhdorn gifted The Directors Company to star auteurs Francis Ford Coppola, William Friedkin and Peter Bogdanovich and most of their projects came to Paramount, ensuring great films were released. Then Evans lost Ali MacGraw to his busy working life and had to find another Daisy for Gatsby (1974, Jack Clayton) when she left her husband of a few years to be with Steve McQueen. Robert Evans Productions was a sweetheart bonus from surrogate father Bluhdorn to thank him for saving Paramount, the kind of deal unseen since the days of Darryl F. Zanuck. Evans would have unfettered access to everything the studio offered. The first film out of the gate would be Chinatown –a backward glance of high style, made by a glamorous man out of time who was consumed by painterly beauty, seduced by Old Hollywood and, as he liked to say, in women's pants.
Along with the character traits and backstory on Evans, the pre-production leading into Fall 1973 is the focus of this section, The Mountain. Finding locations that were convincing enough to express the period, Richard Sylbert's decisions regarding visual structure – white, heat, sunlight, water, flora, mirrors, opaque glass (because it looks like frozen water) – were kept from Polanski. There were no accidents in this scheme. Everything was connected with the screenplay's theme. The texture was his. All the design departments reported to him. Wasson characterises his attention to detail as a kind of patricide, another man burdened by his father's expectations and looking to shirk them in a cosmopolitan world. Then the deal done to get Faye Dunaway, an actress who hadn't made the breakthrough expected following Bonnie and Clyde (1967, Arthur Penn), the film which had given Towne his reputation following his Special Consultant credit and changed the face of Hollywood, from Old to New. Assistant director Howard Koch Jr. allotted 12 weeks to prep, knowing that Polanski shot slowly, giving him 68 days but expecting a wrap in 63. Evans explained, "I did what I needed to do for them to do what they needed to do for Roman" (257). For Polanski, "the right casting is always more important than the perfect actor" (267 ) and he shot Polaroids incessantly at the Canon Drive office, day in, day out, until he got all the faces he wanted. All except one.
The search for authenticity extended to Anthea Sylbert's costume design, trading invisible craftsmanship and personal memories against more obvious movie references in a bid to solve the character puzzles by subliminal messaging. "When the Ant does your costumes, you don't have to act as much," (275) Nicholson said. He relished the chance to look elegant on screen after several contemporary roles but he turned up for Chinatown drained after working on The Passenger with Antonioni on location in Spain. His director and producer were anything but elegant as they took a station wagon to the shoot on the first day, laid out side by side with worry and sciatica. Polanski threw up and Evans was removed from the car by stretcher. It was an inauspicious start. John Huston would appear, a father figure and friend to Nicholson and a difficult real-life father to daughter Anjelica, urging her to marry the philandering Nicholson while drinking his way through his own divorce woes. Faye Dunaway's lack of preparation led her to become hated by the crew and she walked out when Polanski pulled a stray hair from her head, only lured back to set by Evans' promise of either an Oscar or a Rolls Royce Corniche. Veteran cinematographer Stanley Cortez wasn't photographing the way Polanski preferred and was replaced by John Alonzo who told his daughter, "he wants the blood to look like blood" (307). It was an otherwise happy set, remembered fondly by a film student intern present throughout. That last part Polanski had not cast? He would play the nostril-slitting bad guy himself. Nicholson would spend his first time as a leading man with a bandage across his face for three-quarters of the film. In the evenings he went to see his beloved Lakers games and the Watergate hearings were on television. '"It was bizarre," Koch remembered, "We were making Chinatown the movie and America was becoming Chinatown the country" (327)'. Editor Sam O'Steen helped Polanski find the film again and Evans hired Jerry Goldsmith to replace the original score by Philip Lambro when Polanski departed to direct an opera at Spoleto. Evans had his romantic film, at last. It would prove a horizon for cinema in a banner year. Meanwhile, Robert Towne, persona non grata on the set, was preparing Shampoo for its March 1974 start date at another studio with Warren Beatty.
Then there is the aftermath. Part 4 (Gittes vs. Gittes) is all about what happened next when the dream of a trilogy told in an 18-year period with Nicholson aging in real time would eventually wither on the vine. The film was a huge success and Towne won the film's only Academy Award, for Best Screenplay, praised by Pauline Kael for Shampoo, which she said got Los Angeles better than Chinatown ever did. Evans was demoted over studio politics and was now just a producer, a living embodiment of what Towne had called "the futility of good intentions." Richard Sylbert would report to new head of production Barry Diller at Paramount who brought in Michael Eisner, moving away from Evans' "people pictures," while Jaws opened wide and the cinema of attractions was back with a bang. Talent agencies CAA and ICM would swallow up the smaller representatives in their own feeding frenzy. Box office trends replaced taste. The tectonic plates of the industry were shifting rapidly. As Towne said, '"Now the deal is everything"' (427).
Jack Nicholson was told by a journalist that his mother was his grandmother and the woman he always believed was his sister had given birth to him. Families were conspiracies after all. While Nicholson was in Aspen in March 1977 his girlfriend Anjelica Huston found Polanski at their home one day with a thirteen-year old girl called Samantha Gailey whom Polanski had been photographing and whose mother was pushing her to become an actress, which she had failed to do herself. The resultant arrest and indicting of Polanski and his plea deal admitting guilt to a single charge of statutory rape has been widely reported elsewhere. It meant Gailey wouldn't have to go to court. Polanski persuaded a judge to grant a delay on a mandatory 90 days at Chino Institute for Men to undergo diagnostic study, on the pretext of pre-production on a new film. Instead he was photographed with a teenage girl at Oktoberfest. He returned as ordered to Los Angeles for sentencing. He served 42 days. When it became clear that the rather corruptible and whimsical judge was reacting to public opinion instead of the crime done, the deal agreed and time served, with Polanski now possibly about to endure an indeterminate jail sentence, both sides of the legal case became allies in the face of what looked like a sham. The director did what his father had advised when the Nazis arrived. He shoved off.
Towne was lost in the mire of writing Greystoke and finally married Julie Payne. Following the birth of their daughter Katharine (both parents apparently unconcerned that she was named after the child born of incest in Chinatown), Towne allegedly started using cocaine and levelled it out with vodka. According to Payne by 1979 he was unrecognisable. Then she started drinking. That was the year that Syd Field's Screenplay declared that Chinatown was "the best American screenplay written during the 1970s" (455). [The Screenwriter's Handbook by Nash and Oakey a year earlier closely examined the text but they're women so they probably don't count.] There followed one of the most injurious divorces in Hollywood during which Edward Taylor gave witness testimony that he had worked full time for Towne on a screenplay called Tequila Sunrise. Wasson quotes extensively from the proceedings and Towne and Payne ended up being awarded joint custody of their little girl, now known as Skip.
Then there was The Two Jakes (originally titled The Iron Jew), the first sequel to Chinatown and set 11 years later, from TEN Productions, a company formed by Evans with Towne and Nicholson, old-style, no lawyers or agents involved. Polanski was obviously unavailable for directing duties. Evans was at an all-time low following the scandal arising from The Cotton Club, a cocaine deal and a murder; Towne wanted to direct; Nicholson hadn't had a great role in years. Jake Berman, a property developer, was supposedly based on Evans and Towne thought he should play him. He delivered an 80% completed script on the day he was marrying Luisa Selvaggio at Woodland Drive. Tension arose during hair and makeup tests, with Evans' plastic surgery showing [he had gone to the guy in Brazil who did Alain Delon]. Towne told Evans that Nicholson wanted him out. Nicholson told Evans it wasn't true. Towne wound up off the picture.
Time moved on, Evans fell out of fashion, Nicholson was a major celebrity and wanted to get The Two Jakes off the ground, particularly since Towne was pondering a third part to the story, Gittes vs. Gittes, about no-fault divorce. Evans would produce, Nicholson would acquire the script but only when it was finished: Towne revised The Two Jakes with Nicholson trying and failing to rein him in so Towne continued but with Edward Taylor. Paramount backed it with Nicholson directing. A suicidal Evans was in no fit state to produce so Nicholson had him coach Harvey Keitel in playing Berman and gave him the much-needed credit anyhow, screening dailies each night for two hours at the house Evans no longer owned. The script revisions were not finished. Towne took off three weeks into production and couldn't be reached on Bora-Bora. After each day's shooting Nicholson was rewriting a film about male friendship. He was exhausted and called on James L. Brooks for help. Once the closest of friends, Nicholson and Towne were no longer on speaking terms. And, not for the first time, the ending to Towne's screenplay was written by someone else. It was pulled together with a voiceover to try to make sense of the confused plot. The film marked the end for Nicholson and Anjelica Huston when he told her he had fathered a child by his daughter's friend, Rebecca Broussard, whom he cast as his secretary in the film. When the film was released it didn't do particularly well. Wasson says of it, "What's worthwhile in it is what's worthwhile in a memory" (489). There would not be a third film. Nicholson managed to persuade the new owner of Woodland to sell it back to Evans. For a group of guys, that place represented their creativity. Every so often, Evans and Nicholson would visit Polanski in Paris, where he was now living permanently. He had decided to survive. Chinatown had been his greatest experience because he had total support.
For him, film, friendship and loyalty were everything.
As the author of the only study of Robert Towne, I have to declare a more than average interest in the subject as presented. Despite much of this material being extant, Wasson also appears to have had an enviable degree of access. (When I started out, David Thomson told me everything I would need was in Towne's study. Needless to say, I have never been in it.) Evans, who died October 2019, talked to Wasson, as did Towne's former wife Julie Payne, who also died 2019; but Towne, Dunaway and Nicholson did not. The most controversial aspect of this occasionally salacious if ripely evocative volume is the claim that Edward Taylor "was a generative intelligence invited not merely to respond to the work as an editor would, but to participate in the creation and evolution of a script moment by moment from a project's inception" (158). This argument for co-authorship is either straightforwardly true or a misunderstanding and exaggeration of a writer's habits. Knowing Towne a little, and how he likes to talk out his ideas and bounce things off people, I find it hard to credit the degree of responsibility which Wasson ascribes to the late Taylor, Towne's friend and the man who accompanied him and Towne's dog Hira (later nominated for an Academy Award for screenwriting) to Catalina Island in the winter of 1971 to write the screenplay. In the course of my own work on Towne I discovered that he had a collaborator of sorts, a college lecturer who worked with him as story editor but who told me she would never have called herself a co-writer. However, everyone connected with Taylor in this telling, including members of his family, attribute to him credits on Towne's work that did not appear onscreen. Certainly his understanding of story structure would appear to have assisted in the original scaffolding of Chinatown, which in its first two drafts (Wasson refers to the Polanski rewrite as the second, whereas it's actually the third) is a wonder of old-fashioned noir storytelling; but Polanski's arguing for more linearity in the shooting draft substantially altered this (and created holes in the story, natch).
Casting the making of Chinatown as the equivalent of an end of days scenario for the film business and a Rorschach of Hollywood and Los Angeles seems even at this juncture a tad premature: this is a position that could only truly be adopted in the wake of the Jaws and Star Wars phenomenon that followed –but even that did not kiss adult content farewell entirely even if the big topics had already been covered. It was more a goodbye to a counterintuitive countercultural lifestyle changed by prodigious cocaine use and accompanied by a parallel addiction to box office. Hollywood and Los Angeles are in a state of constant flux and reconfiguration, responding to trends as much as they do earthquakes. This is really a sorrowful story of friendships and memories and fathers and sons (and daughters) and tragedy and grief and aspiration and atonement, a harking back to an earlier time embalmed on the silver screen in the genre films that influenced Polanski in taking on the production, like The Glass Key (1942, Stuart Heisler) and __This Gun For Hire_ (1942, Frank Tuttle). Towne's original thoughts were a paean to the city of his youth and the terrible corruption that ultimately beset it. Polanski's film arose from the ashes of his life. Nicholson was ready for his first leading role. Everything lined up to make the right film at the right time. It hardly bears repeating (in any sense) that Chinatown was made by a glamorous producer who was consumed by painterly beauty and seduced by Old Hollywood. Now Ben (Argo) Affleck has acquired the film rights to Wasson's book, proving that playful nostalgia ain't what it used to be: it's just another way to make coin. Perhaps we should recall something that Hitchcock said, back in the studios' heyday: it's only a movie. A great one, but only a movie nonetheless. Forget it, it's just Chinatown.
Article was written and submitted in 2020
Biographical note
Elaine Lennon is the author of ChinaTowne: The Screenplays of Robert Towne 1960-2000 (2016).