Reckoning with Right Now: Notes on the 25th Annual Hot Docs Festival (April 26-May 6, 2018)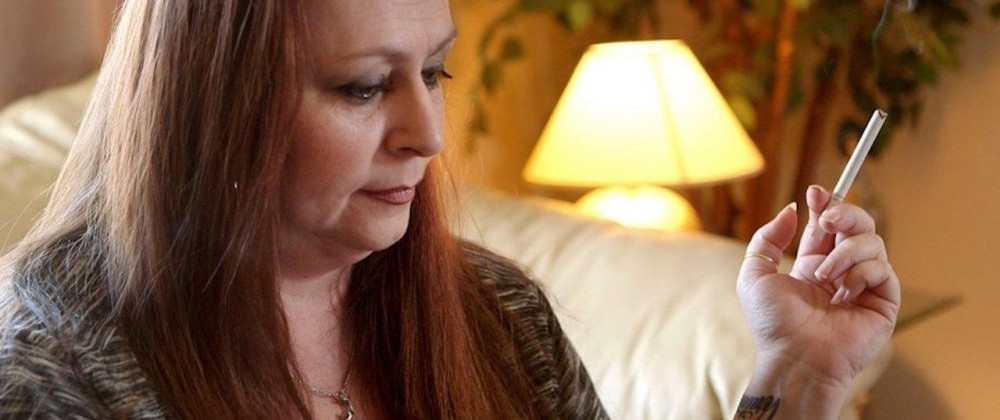 On a blustery February morning in Toronto, around three months before the kickoff of this year's Hot Docs Canadian International Documentary Festival – better known in its abbreviated form, Hot Docs – I went to meet the festival's executive director, Brett Hendrie. Our conversation was affable but also hard to remember. The only thing I recall clearly, three months later, is the momentary awkwardness I felt after noticing that both of us were wearing the exact same slim-fitting, checkered dress shirt.
The focus of this story, and the context for my interview with Hendrie, was an anniversary: 25 years of Hot Docs. Our half-hour chat was for a soft-focus piece that would soon run in a real estate magazine aiming to capture a slice of Toronto and its seasonal arts happenings. From my seat in his office, Hendrie's demeanour was more reserved than exuberant, even when our conversation shifted to the offerings on the (then to-be-announced) festival slate.
He remarked that the sociocultural dialogue stemming from the #MeToo movement would find its way, elegantly, into the programming. (Hendrie did not let slip that half of this year's premieres would have a woman behind the camera.) We also talked about the paradox of how the immense popularity of the non-fiction format in recent years, bolstered through the availability of these offerings on streaming platforms, belied the precarious state of documentary financing and production in Canada. "But," Hendrie said near the end of our interview, "there's a great alignment between the stories that Canadian documentary filmmakers want to tell – social justice, human rights, the environment, arts and culture – and what Canadians want to [see]."
If any major story could arise from my personal festival experience, it would be the triumphant success of several Canadian premieres. Consequently, half of the 20 selections that received the most audience votes, ranked online to drive buzz throughout the festival, had Canadian producers. This documentary-oriented celebration succeeded in its attempt to be a splashy launching pad for national creators. Regardless, with its span of corporate sponsorship and downtown screening spaces, as well as repeated pronouncements from festival programmers to bolster those favourites – "Don't forget to vote!" was an oft-repeated refrain – Hot Docs increasingly looked like a counterpart, or at least a spring appetizer, to Toronto's flagship film celebration.
Unlike the Toronto International Film Festival, where hits and misses often play in adjacent auditoriums, the assortment of titles through which I jotted observations through my 11 days of Hot Docs had a more finite range. There were no complete disasters, although impeccable achievements were about as rare. The subject matter consistently enthralled, even if only a handful of artists brought a pronounced signature or gripping perspective to their work. Too few of these premieres transcended the status quo of mainstream non-fiction storytelling, with their overreliance of talking heads, indifferently presented archival footage, and abundance of narrational authority. Too many documentarians approached their work with an emphasis on telling, not showing. The lack of variety could have easily lulled me into a stupor of disappointment, although occasional bursts of aesthetic wonder and narrative brilliance did provide momentary jolts.
Regardless, in a festival that can only maintain its relevancy through tackling the fiery issues of our time, from totalitarian politics to feminist muscle, there was a severe lack of creative fury on display. I couldn't help but think about how my responses to many of the films, reserved and far from exuberant, mirrored Hendrie's pose from our earlier meeting. It was more than just our dress shirts that matched.
The Truth, All Trumped Up
Our New President
Donald Trump's face was a sight seldom seem within my 27-film festival, but his shadow loomed, and brusque voice echoed, over a significant number of films. One common motif found within local premieres were informational radio broadcasts about the 2016 U.S. presidential campaign, or televised flashes of a swarm of red hats. These moments frequently acted as a narrative shorthand, a grueling reminder of the lopsided state of American sociopolitical life that was about to disrupt the stories. As several of the films at Hot Docs tackled issues involving justice, immigration, law enforcement, and sexual assault, there was little need to remind audiences of the bloviating Commander-in-Chief. A fleeting mention to his administration, about to contribute further to the dysfunction within many of the stories presented, was more than enough.
The substance and nuance afforded to the documentary form should be amplified during an era when the President of the United States lambasts top-tier reportage as "fake news." American filmmaker Maxim Pozdorovkin, however, had a different approach with his relevant and irreverent Our New President, a horrifying look at Russian social life and media manipulation – and a documentary composed entirely of state-sponsored propaganda and amateur video. At my morning screening, Pozdorovkin apologized to the audience for making them sit through the flurry of pro-Trump pandering, before noting that his goal was to make "a film without a single true statement."
At its best, Our New President encapsulated the tactics of Russian mass media to eschew journalistic standards – at one press conference, a beloved news anchor claims that the idea of objectivity is "disdainful" – and spread lies amidst the national consciousness. In a later clip, another figurehead praised one media channel via doublethink, saying it provided citizens "the propaganda of common sense." The film was named from the phrase many Russians reportedly use to refer to the new Oval Office occupant. Despite the doc's delirious obsession with Trump, he didn't even appear until the film's 20-minute mark. Many of the opening segments, set against the backdrop of the 2016 election, revealed how Russian news agencies worked to curry favour for the Republican nominee through undermining the credibility of Hillary Clinton. There was an alarming relationship between conspiracy theories that found a captive American audience online during the primary season and the stories passed off as legitimate on Russian news programmes.
Pozdorovkin foregrounded these tactics of shock and awe, but the fawning over Trump also proved to be tiresome. The filmmaker's apology made more sense in this context: there was only such a capacity that a thoughtful audience at a documentary film festival had for enduring manipulation en masse. Still, it was fascinating to see how none of the media outlets featured in Our New President seemed to have an inkling of self-awareness; they commented on suspicious deaths erroneously linked to Clinton without recognizing similar activities in their own country's recent history. This flummoxing funhouse mirror got surprising mileage off the presentation of fan videos and insipid news commentary, even if the haphazard pacing did eventually test one's patience for the sensationalism.
The seemingly-endless contest that launched Trump to unforeseen heights of publicity and political influence received more of a background treatment in two of the festival's best and most compassionate films. (Courageous women were, unsurprisingly, at the forefront of both.) In Assia Boundaoui's The Feeling of Being Watched, the director doubled as investigative journalist as she searched for answers around wide-ranging surveillance efforts against her Muslim-American community of Bridgeview, just outside of Chicago. As a result, many residents were fearful of cameras: when Boundaoui went door-to-door to speak with neighbours in the opening scenes, she told her cinematographer to stay at the curb to ensure the tenants wouldn't be spooked.
As the director gathered more stories, it became clear that this paranoia and confusion was the norm in the 1990s. The reason: Operation Vulgar Betrayal, a federal surveillance project that tried to prove that local mosques were helping to funnel money to terrorist organizations in the Middle East. Boundaoui's investigative rigor and perceptive storytelling abilities created riveting drama, and much of The Feeling of Being Watched revolved around her aim to retrieve declassified FBI documents that would provide clarity on that prejudicial operation. (The inaction around getting those documents – multiple Freedom of Information requests went unanswered – only made Boundaoui even more concerned.) But the documentary, which briskly and comprehensively explored the tensions of a pre- and post-9/11 America, also presented its main Muslim community with colour and insight: scenes at Eid prayers and boisterous family dinners were vivid and necessary. Unsurprisingly, by its second half, Boundaoui and her camera crew had gained the trust of her community. The cinematographers didn't need to wait on the sidewalk to capture the enduring struggle for security and protection from mass surveillance.
The closest The Feeling of Being Watched evoked Trump directly was a post-election scene, when the director's mother flipped off a televised image of the president and proceeded to rant to the camera. In Blowin' Up, the demagoguery was never seen, although an NPR broadcast's statement that Clinton had a slight lead in the polls proved to be a prescient sign of the way the story would soon turn. In this documentary, filmmaker Stephanie Wang-Breal followed various women with a stake in a Queen's courtroom that assists vulnerable sex workers. (The film got its title from the slang term for leaving a pimp.) Among the compassionate authority figures, firm but friendly, were Judge Toko Serita, and Eliza Hook, a dedicated counselor for a local advocacy group. Instead of pleading guilty to charges of prostitution, these vulnerable women could attend a program; after completion, their case would be dismissed. "You're not getting locked up today," Judge Serita told one of the women as she acclimated to this judicial safe space. "We don't think you're a criminal."
Wang-Breal, in the post-film talkback, explained that she wanted Blowin' Up to resemble a Robert Altman film, with a community of recurring characters and an off-the-cuff feel. She succeeded gracefully, observing the commitment of both the women who vied to better their lives and those trying to push them toward this intervention. The documentary helped to marginalize the criminality, and in doing so reclaimed the dignity, of these at-risk women – many of whom were recent arrivals to the United States. Some of the film's most illuminating moments occurred during the pre-trial patter and post-trial discussions: these observational scenes most clearly evoked the late American auteur. Blowin' Up was a poignant portrait of an innovative, humanist legal system – one that many adjacent American states are reportedly trying to use a model, and also one currently at risk due to the recent increase of deportations.
Regardless, the most revealing look at Trump's America didn't even mention the president by name. (There may not even have been a red hat in sight.) Bisbee '17 was a thoughtful and wholly original deconstruction of modern American identity. It bore a close resemblance to director Robert Greene's previous film, 2016's Kate Plays Christine, in its dizzying look at the relationship between the horrifying historical record and actors' interpretation of those events. Here, the dramatics on display revolved around the centennial of the Bisbee Deportation. In 1917, the town's sheriff and numerous police deputies from the Arizona copper capital rounded up more than 1,200 workers of the bustling Copper Queen Mine in cattle cars – most of whom were not born in the United States and were hoping to ratchet up awareness to unfair working conditions during the war effort – and deported them. A century later, the postcard-perfect community of less than 6,000 is no longer a booming base for copper mining. Regardless, the few remaining residents wanted to commemorate this dismal chapter of local history.
Bisbee '17
The impetus for Greene's film was a re-enactment of this bitter day – think The Act of Killing, but less gruesome – to be performed by a cast of devoted hundreds. Fortunately, the town's mostly deserted main streets have the mid-century look and artificial feel of a desolate Hollywood backlot. What made the director's portrait of the town so insightful were various scenes hinting at the animosity between rural red-state voters and Mexican immigrants. (The town of Bisbee is a short drive from the U.S.-Mexico border.) The spirit of the past cannot remain buried for long; a troupe of characters Greene foregrounded include a retired sheriff descended from both a banished miner and a deputy, and a young actor whose mom was deported when he was a child and is also coming to grips with the parallels. One could sense that the simmering tensions had the potential to shake the town once again.
Greene also gave many of these citizens the space to reflect on this horrific chapter in local history: some wanted to put the past behind them, while others found the actions toward the striking miners to be justified, even "patriotic." There was a ferocity and emotional texturing to the re-enactment performances that showed just how easily some of these actors can don the wardrobe and outlook of Bisbee, circa 1917. In a moment late in this ingenious, layered doc, one of the residents espoused that "the world has changed a lot" since the deportation. I expect much of the Hot Docs audience disagreed with him.
Silence Breakers, Simplified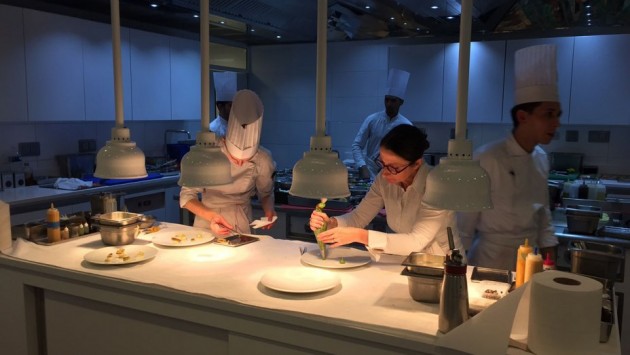 The Heat: A Kitchen ®evolution
When I spoke to Hendrie in February, I asked him if the shift in the cultural consciousness as a result of the #MeToo and Time's Up movements would be felt, palpably, within the programming. He explained that even though these stories of abuse and misogyny now had vaster public visibility, documentary filmmakers had already been focusing on these narratives for years. The festival delivered on his promise. For instance, the opening night film, The Heat: A Kitchen ®evolution, focused on sexism in the restaurant industry. Maya Gallus's film was a more sobering introduction to Hot Docs than past iterations.
But there was also the "Silence Breakers" programme, a curated selection of 10 films and a collection of shorts – all directed by women – that amplified stories about defiant women calling truth to power. It was the skillful efforts of journalists that helped to spotlight these countless abuses by powerful authorities. The merits and prizes (such as the Pulitzer) heaped on these investigative efforts set a high bar for the non-fiction entries at Hot Docs. The documentaries were certainly under pressure to reach that level of immediacy and narrative thrall.
For several of these titles, however, the urgency of the storytelling bumped against the simplistic presentation of the content. Take Nancy Schwartzman's Roll Red Roll as indicative of the issues plaguing several of the selected films within the programme. The documentary examined the trial involving high-school football players from the sleepy town of Steubenville, Ohio that garnered national attention in 2012. However, this chronicle of the events offered little new insight to those already familiar with this headline-grabbing incident – one that created such a furor online that members of the hacktivist group Anonymous besieged the town, praising the female victim for coming forward and shaming authorities for doing too little to help her. The few parts of the story that went underreported made for the most riveting sequences of Schwartzman's film; specifically, grainy footage of police interrogating teenage witnesses, including the team-mates of the two football players convicted of assault, and the fact-finding methods of blogger Alexandra Goddard, who pieced together, through posts and photographs on social media, the timeline of that "night of reckoning."
Roll Red Roll was full of startling admissions from Steubenville locals, including a victim-blaming radio host. But, considering the verdict of this case arrived more than five years ago, the film's primacy was in question throughout. The most nauseating footage, of some teenage boys laughing maniacally over the reports of assaults they have heard, was already a horrifying viral sensation in 2012. This video, a grim reminder of the lack of empathy found in posturing American boys, needed a more thorough contextual analysis. The filmmaker named her doc from the slogan for the high school's football team, the Big Red, but the title also prepared the audience for a searing indictment of sports culture and toxic masculinity that never arrived. The patterns of social violence depicted in Roll Red Roll were distressing, although one wishes its makers were more curious about the lingering effects of rape culture in small-town America.
The spectators at my busy afternoon screening of Roll Red Roll gasped throughout, but the crowd at the opening night premiere of locally-based production Slut or Nut: Diary of a Rape Trial was noticeably rowdier, cheering and even hissing at various moments. Kelly Showker's doc looked at Toronto activist Mandi Gray, who (as the title infers) documented her experience while trying to hold her rapist accountable for his brutal crime. The systems that let her down in this battle were not just legal: Gray combatted an apathetic administration at York University, was flustered by the absence of health care professionals who can readily administer rape kits in a city of millions, and also had to face the ignorance of police officers who told her that she "implied her consent." However, like Schwartzman's doc, Slut or Nut favoured the quantity of the issues it raised to the quality of the filmmaker's inquiry.
What made Showker's début stand out was its unapologetic aesthetic, which mixed Gray's frank, to-the-camera confessions with various styles of assemblage: scrapbook photos, stop-motion animation, inspiring greeting card-like messages scribbled in large, cartoon-like text. But this approach, meant to offer a glimpse of the artistic outlet Gray used to get through this traumatic period, also distracted from the proceedings, and the importance of the film's subject matter clashed against the hodgepodge of artistic approaches all fighting for space within the story. (Several oddly-placed B-roll inserts of downtown Toronto were also egregious.) Some of the visuals were also embarrassingly unfinished. Throughout the doc, Toronto activist and sexual assault survivor Jane Doe recounted her story appearing through the guise of a talking animated fox, but the shoddiness of the computer graphics diverted attention from her urgent testimony.
In some cases, the variety of styles muddled some of the more salient points; in other points, it helped to support them. The re-enactments of Gray's trial, bolstered through some terrific performances from actors playing the prosecutor and defense attorney, helped to demonstrate with potency how staggering the onus remains on victims of sexual assault in Canada. These scenes, set against a minimalist black backdrop, more effectively articulated Gray's outrage. It was a sharp contrast to the other ways Slut or Nut shouted its points. Its attempts to cover all the bases ultimately made Showker's 70-minute doc feel more crowded than compelling.
The best film from the Silence Breakers programme I saw, if not by much, was Cynthia Lowen's infuriating Netizens. The doc sometimes fell into the same traps of cursory analysis as the aforementioned titles but had a more focused narrative thrust. Its story was not original for anyone who has taken a passing glance at the harassment women face online. Netizens presented various tales of Internet abuse and the havoc wreaked by this misogyny on the careers of several impressive women. The most famous figure to be showcased was Anita Sarkeesian, whose online analyses of feminism and video game culture made her a target in the online backlash better known as GamerGate. The most inspiring story came from lawyer Carrie Goldberg, who used her experience as a recipient of stalking to branch outward into fighting for cyber civil rights.
Yet the most harrowing story came from Tina Reine, who lost several lucrative jobs in finance due to the actions of an ex-boyfriend. He created a website claiming she had a promiscuous past, and it pops up whenever one Googles her name. In the doc's most frustrating scene, after Reine recounted the lingering effects this cyber abuse has had on her to a crowd, one spectator mansplained to her why she should just let the consequences of this harassment slide. Netizens suffered partly for not engaging directly with tech companies, and for only partially examining the experiences of those who face exploitation through racialized hatred online. Nevertheless, when it did work, Lowen's film proved to be a powerful exploration of some of the exemplary efforts currently underway to curb cyber-harassment.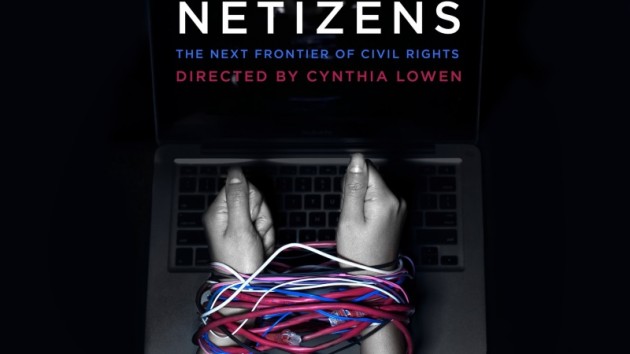 Netizens
Canadian Docs Explore Muscles and Memories
Hot Docs had two kinds of feature audience awards: a broader people's choice award, wherein virtually all festival entries qualified, and a Rogers-sponsored prize for best Canadian documentary, with $50,000 attached for the filmmaker. This season, one film took home both honours: Transformer, from Guelph native Michael Del Monte. The accolades weren't entirely unearned, and one should expect a healthy post-festival life for this revealing character study about Janae Marie Kroczaleski, a trans woman who was once deemed one of the world's strongest men for her power-lifting prowess. ("I was one hell of a guy," she mentioned at the documentary's start.) Transformer explored at least one year in Kroczaleski's life, after she was publicly outed on YouTube; however, instead of focusing on the homophobia that may have trickled through web pages, Del Monte found richer drama as the weight-lifter tried to maintain a fine balance between her drive to retain her muscular form and her personal goal to recognize a woman when she looks in the mirror.
This tension between these external desires was fascinating, as was one sequence where Kroczaleski and her training buddies sunk to sexist, hypermasculine language to rile them up during a high-octane exercise. (Speaking at a post-film talkback, the subject revealed she didn't even notice these vulgar insults until watching the documentary.) While her parents' shame – a mother's embarrassment, a father's revulsion – was disheartening to witness, there was immense joy to be found in the interactions between Kroczaleski and her three teenage sons. They regard her, in their words, as the strongest person they know (pun definitely intended).
The near-absence of mortification from characters peripheral to Kroczaleski was refreshing. In comparison, the hardest moments to watch were graphic glimpses of vocal and facial surgeries. (The point was clear: these permanent, physical changes hurt.) But as the protagonist enjoyed pizza nights with her boys before preparing for club nights out, we witnessed a person growing more comfortable with the contradictions of her lived experience. In the film, she admitted that she has always felt like a woman, and that the constructed masculinity she emblemized for many years was just that: a pose. While there were a few pieces missing to Kroczaleski's story – the financial toll of losing out on the career she used to have may had hindered her ability to pay for the abovementioned operations, for one – it was not hard to see why audiences were roused to give Del Monte's film their vote.
An equally stirring character study about a queer subject made by a Canadian filmmaker was Laura Marie Wayne's Love, Scott. The focus of the film was Scott Jones, a gay Nova Scotian who was paralyzed from the waist down after a 2013 stabbing – an incident that was never considered a hate crime, despite all the evidence. Wayne is a friend of Jones's, and that intimate access to the subject enabled the director to explore the warmth, ebullience, and occasional anguish Jones exuded in long, unbroken takes of confession. We learned about Jones through his memories, whether it was a giant willow tree he reminisced about while flipping through an album of old photographs, or when he returned to the scene of the vicious attack, vividly describing the glare of the orange light that flooded his face as he lay in the alley, helpless.
Love, Scott didn't have a propulsive narrative, and instead unfolded in a collection of scenes that showed Jones's efforts to heal, just as the surrounding community tightened to embrace him. Yet, this compassionately-made character study felt somewhat uncertain in its ultimate destination. Jones, still processing his feelings toward the assailant, explained near the end of the film that he wrote a letter with the hopes of meeting and reconciling with his attacker one day. With this chapter incomplete, so was Wayne's film. The director also didn't dwell on the shocking statistics surrounding hate crimes against Canada's LGBTQ community; this context was vital and, unfortunately, missing from the final cut.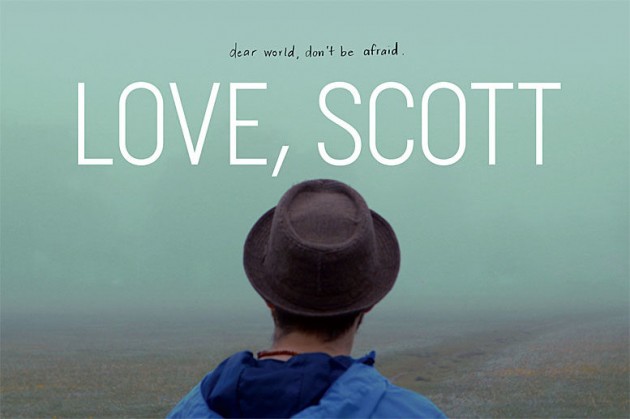 Love, Scott
The best, albeit most unconventional, of the Canadian selections I saw was Samara Grace Chadwick's evocative 1999. One viewing was at least one viewing too little to properly communicate the majesty of what the filmmaker attempted, and experienced during a four-film day, I likely failed to let its waves of sadness and solace completely wash over me. (The disorienting sensation of transcribing my screening notes to a word processor a week after the screening even fit with the documentary's exploration of compromised memory.) 1999 focused on a community of high-schoolers just outside Moncton, New Brunswick, as they excavate through notebooks and diaries, peering back at the flow of the tragic, titular year. That period coincided with an alarming series of suicides at their French-language school, an experience that both devastated them and forged firmer bonds.
Awash in abstraction – spare frames, frosty superimposition, kaleidoscopic refractions of colour – Chadwick's film was itself a phantasmagoria, bending time as these adults reminisced and recalled moments from these darker days. "Between these pages, my best friend died," said one of the mournful adults, while revisiting handwritten passages from the bleary past. Despite the darkness in the story, the adults' shared strength emerged as Chadwick unearthed more testimonies. Together, the subjects revisited their experience of teenage ennui shaped by their small town, the discovery of first love and close friendship, and ill-advised efforts (among the school's staff) to hope to prevent hypothetical suicides. Reflecting on this bewitching meditation on grief a week after the initial screening, I can recall 1999's flow of melancholy and emotion more than any concrete situation. Chadwick's film felt like a quintessential "memory film," its feelings simultaneously potent and fading.
Another disarming Canadian feature was First Stripes, Jean-Francois Caissy's fly-on-the-wall look at the intense three-month recruitment for members of the Canadian Armed Forces in rural Québec. The filmmaker's clean, head-on aesthetic further enabled an intimacy with the rhythms and protocols of the platoon, with Caissy's precision of form matching the meticulousness of the soldiers. He focused many scenes on this perfectionism, as these men and women worked on packing their suitcases compactly or ironing out the creases in their assigned wardrobe. (Only at one point did a corporal refer to the camera's existence, as he ordered a soldier to watch out for the equipment. It was a noticeable blip in the procedure.)
The attention Caissy gave to neatly orchestrated moments of the trainees was also stunning: at the end of the film's opening scene, a five-minute march through a hangar, it was fascinating to watch the instant switch as the soldiers' stances moved from stiffness to relief. It was these gems of juxtaposition that delighted most within the nearly two-hour doc and ensured First Stripes rarely repeated itself. Some may be curious as to why the filmmaker approached the subject with such detachment – at times, the emphasis on order and control made the doc come off as a recruitment tool. But Caissy did not entirely avoid issues of sexism and gender politics within the military, tensions that vibrated beneath the smooth exactness of the aesthetic.
I Believe The Children Are Our Future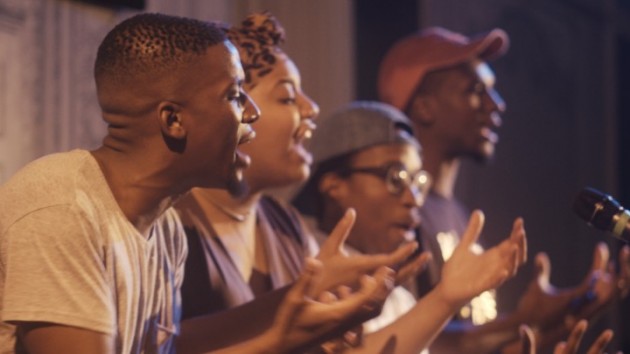 Don't Be Nice
As documentaries filled with outrage, despair, and loathing were omnipresent at Hot Docs, two of the festival's biggest titles filtered this rage, as well as the attacks on climate change and intellect, through packages that could galvanize cheers as well. Nevertheless, some of the directors' tactics to inject an aura of hope – through musical scores featuring string-heavy crescendos, for instance – felt even more canned, given the dignified missions of the young, teenage protagonists. Spontaneous applause even broke out a few times at my half-full screening of Max Powers' slam poetry doc Don't Be Nice. That reaction was no surprise: the film, set against the boiling political climate during the summer of 2016, introduced us to five articulate young adults from New York's Bowery Poetry Club, as they prepared edifying, explosive work on the road to a national championship. Their powerful words fed off the audience's collective response.
The more Powers infiltrated his subjects' personal lives, the more we recognized where the fury and insight that ends up on the slam stages had manifested. In one sequence, which evoked the profane, to-the-mirror rant from Spike Lee's 25th Hour, Afro-Latino teen Noel Quiñones expressed his distaste with being pre-judged as a minority in the United States. In another superb rendering of the creative process, also given a dizzying, quickly-edited music video-like treatment, a young black woman named Ashley August ripped through her crowning achievement, a poem that deconstructed stereotypes related to race and size.
Nevertheless, Don't Be Nice's most compelling subject was Lauren Whitehead, the poetry coach whose cutting remarks about the unfinished state of these creative works rarely sat well with the young men and women yearning to vocalize their complicated experience. At one point, she lamented how the unruliness of the slam performance, rather than the brilliance of the written word, has become what means the most to the judges. In doing so, she criticized how slam poetry's popularity ensures that its imitators navigate tropes rather than dig for truth. Her irritation was represented, perhaps unintentionally so, in Powers' depiction of these verbally-rousing gatherings. The few competitions we saw were captured with clutter, as claps and call-backs from the audience drowned out the words said onstage. The volume often made it hard to observe the purity of the poetry.
There was a regrettable retreat to a vaguely inspirational, Explosions in the Sky-lite ambience during the closing scenes of Don't Be Nice. Another documentary about several inspiring teens, Laura Nix's Inventing Tomorrow, also flaunted the same notes of woozy uplift. These regressions into palatable scene-setting were entirely unnecessary: Inventing Tomorrow is that rare documentary from the "smart kids competition" subgenre where its central figures have already earned that applause. The contest here was the International Science and Engineering Fair. During a period when a certain political administration denies the validity of climate science, Nix's doc proved to be stimulating viewing and the perfect counter-balance to a festival full of alarmism.
The hundreds of kids who descended on Los Angeles for this competition came from 78 countries. From that batch, Nix's doc tracked the paths of eight whiz-kids, all of whom worked on projects focused on environmental sustainability. There were personal stories accompanying each team's research. Indonesian students Shofi and Intan tried to refine a filter to reduce waste, as the local tin mining industry pollute the lake near their homes. Sahithi was behind an app that can evaluate water samples electronically, and she helmed from Bangalore, a city in India where hazardous waste has become a major health issue. Three boys from Monterey, Mexico – Fernando, Jesus, and Jose – concocted a non-toxic paint that can absorb the air pollution that is also a regional health concern. Finally, Jared (an Asian-American from Hawaii) spent much of his free time burrowing through the soil near his home to find traces of arsenic. He wanted to map the spaces where tsunamis have spread this chemical, so that officials can avoid building in these unadvisable zones.
Inventing Tomorrow first broadcasted the tireless efforts of these students, sometimes donned in lab coats and inquiring about matters of scientific significance, before travelling to the boisterous science fair, where they got to mingle with others just as driven, intelligent, and compassionate. The stakes were higher than a mere trophy: the innovations from these students could help to create sustained change. So, the teens' concerns over improper English translations of their presentations were palpable. It was also in these later scenes when the swells of music too often attempted to buoy our investment in the importance of the students' work, when their brilliance had already astonished the audience. One imagines the future is bright, even if the final shot depicted, perhaps too obviously, the daunting challenges ahead.
Featured Image from Roll Red Roll