53rd Karlovy Vary International Film Festival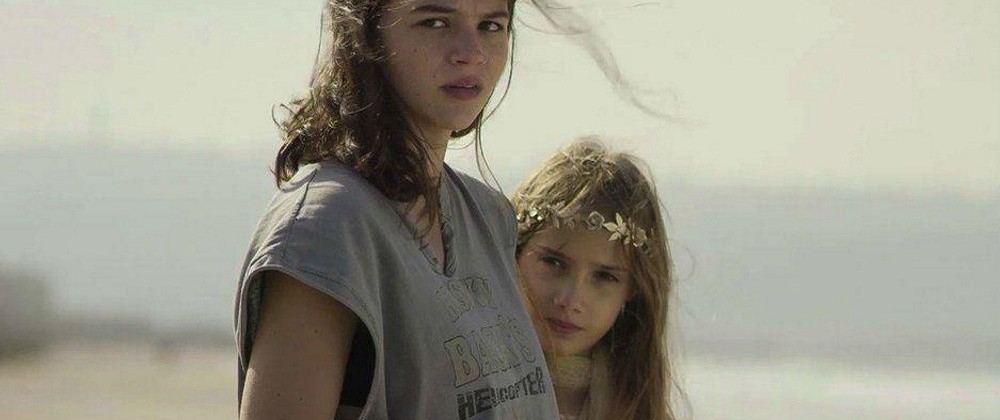 Karlovy Vary International Film Festival, one of the oldest film festivals in Europe, the most important 'A' category festival in Central and Eastern Europe and the only one in the Czech Republic, has preserved its charm after the disintegration of the Berlin Wall and the Soviet system mainly by continuing its strong tradition of serving as a meeting point for the cinemas of the East European countries. With an eye-catching selection of Berlin and Cannes favorites as a bonus, the festival attracts over 600 journalists and many visitors from every part of the globe. A large number of young people come from far away regions with their backpacks and tents and camp inside the city parks to have a taste of cinema and a glimpse of celebrities. The charm of the old thermal city naturally adds to the atmosphere.
Twelve films from various countries were in the main competition this year including Miriam Miente/Miriam Lies (2018), co-directed by Natalia Cabrol with Oriol Estrade, a rare film from the Dominican Republic, about the sweet pains of adolescence for a girl with African features inherited from her now estranged father. Keeping company with white families, her mother hopes that Miriam will meet a white boy someday. She meets someone through a chatline, but it turns out he is black. She does not mind and falls in love with him just the same but does not reveal her skin color. Invited to an all white party, the young man catches the eyes as soon as he arrives, with his good looks but also his color. He targets the white girls to know where Miriam is. When they point to Miriam, dressed elegantly and her haired straightened according to her mother's instructions, but black as he is, he heads for the door.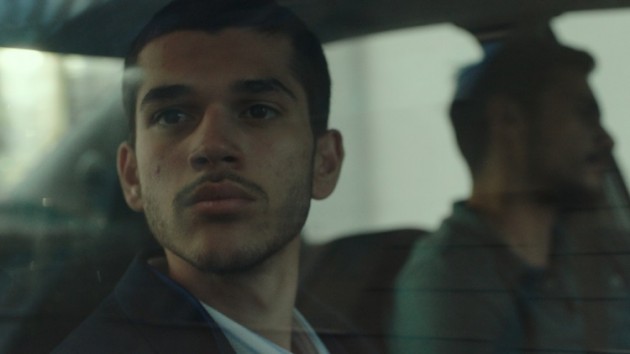 Brothers
Kardeşler/Brothers by Ömer Atay also in competition opens in a delinquent detention center where seventeen-year-old Yusuf has spent four years with hardly a visit from his family. His brother who arrives to fetch him comments: "Our town is dark but wherever you go, they see you", an apt trope for the present atmosphere in Turkey. While Yusuf is anxious to go home to his mother, to find peace and redemption putting his head on her lap, his brother, who has just completed his compulsory military service (where boys become men) arranges a prostitute to make a man out of Yusuf. But his brother's male macho world of guns, prostitutes and bars is not for Yusuf who still has not lost his innocence to join the herd of the cynical survivors of the system, who have long lost their dignity and integrity. Corruption abounds, from high places down to the patrol police. Only bribes work.
Stranded at a gasoline station/motel complex that his brother operates for the Mafia boss-like uncle in charge of the family after the father's death, Yusuf feels more trapped than when he was in his cell in the detention center. At daybreak, the desolate landscape out of a Wim Wenders film, installs the same feeling of the vicious circle of desolation and despair.
The film is noteworthy for taking on from where most honor killing films stop and underscoring the coming to terms with the conscience for those who kill (or are forced to kill) their female next of kin to cleanse their honor. Unlike several other films on the subject, it does not point the finger at the Kurdish population, claiming most honor killings happen among the Kurds with their archaic customs. Another point that the film emphasizes is that, whether they pull the trigger or not, everyone involved is guilty.
In the East of the West competition, Khrustal/Crystal Swan by Darya Zhuk (Belarus, 2018), a film that indulges in wacky hyperboles, takes place in 1997, soon after the trauma of post-communist change in Belarus. Jobs are scarce; the crystal factory cannot pay the employees cash, so it compensates with crystal pieces, which the workers then try to sell at the market –a profound trope that is at the center of the film. Youth with university degrees but no jobs are on drugs and cacophonous music while the older ones try to cope with unemployment or low wages trying to hang on to their patriotism. "One must not leave one's country", the mother declares. The beautiful, intelligent and flamboyant protagonist with a law degree, an eccentric and irresponsible boyfriend who is an addict, and a mother who is trying to hang on to the past (working in the anachronistic museum) sees her future in America. Daily line-ups of the desperate in front of the US embassy are very long. She is advised not to say that she is a DJ at a night-club and that she wants to go to Chicago to immerse herself in the jazz culture of the city, but instead find a human rights festival to visit!
A trip to the countryside reveals more of the despondent people who try to cling to alcohol, sex and old-fashioned weddings for survival. A message the director inserts here, in form of an advice from the protagonist to the young boy who tries to imitate his macho brother and ask for sex is significant for the #MeToo movement. She says, "when you can understand that when a girl says no, she means no, then you have become a man!"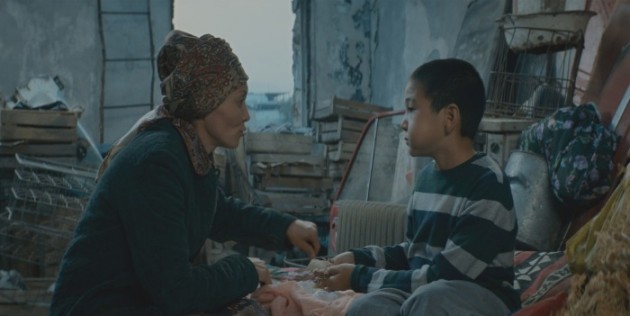 Suleiman Mountain
In the same section, Suleiman Gore/Suleiman Mountain (Russia/Kyrgystan, 2017) by Elizaveta Stishova, exposes the backward traditions of Kyrgyzstan such as shamanism and polygamy showing women's acceptance of polygamy just to have a man around, even if a useless one. The film is craftily shot in Kyrgyzstan by a Russian woman, who benefited from large European financial backing (where Kyrgyz filmmakers face difficulties to realize their projects), but the social ills she exposes are not analyzed or investigated in any manner, except illustrating to European viewers how women, even strong ones, suffer in Kyrgyzstan. Can "the subaltern speak", one wonders?
In the Horizons section, where we normally see the films missed at Cannes or Berlin, Golden Bear winner Touch Me Not by Adina Pintilie (Romania, 2018) was daring in form but not very original in content, even naive at times. The protagonist as a sexually repressed British woman is somewhat of a cliché. Wasn't there a popular play some decades ago, No Sex Please, We're British!
I missed Ahlat Ağacı/The Wild Pear Tree (Turkey 2018) by Nuri Bilge Ceylan, one of the great masters of contemporary world cinema as it was screened before my arrival. I will savor the long wait for another occasion for this film, which I am sure, will not disappoint.
Burning by Lee Chang-dong (South Korea, 2018) is a well-crafted film about dream, fantasy and reality that with its twists and turns catches the audience off-guard with pleasant surprises. Leave No Trace (US, 2018) by Debra Granik is a beautiful blend of nature and human nature, which can nourish each other with the right chemistry. River's Edge (Japan, 2018) by Isao Jukisada, on the misdirected young generation's burdens, was a close examination of a number of troubled teen-agers and a genuine exploration of the subject, unlike some other adolescent tales that exploit rather than investigate.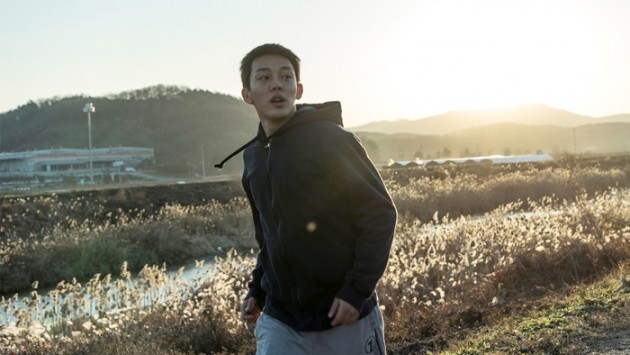 Burning
Se Rokh/3 Faces by Jafar Panahi (Iran, 2018) was an absolute delight to watch coming from an exceptional talent whose creativity does not obey any restrictions. Through the stories of three female performers, the notorious Shahrzad, the 'naughty girl' of film farsi; Behnaz Jafari, the talented actor of serious new Iranian cinema, recognized by the public for her roles in television series, and the young ambitious Marziyeh Rezai, ready to go to any length –negotiate, cheat and lie– to enter an acting school, Panahi sums up the past, present and future of Iranian cinema.
His countryman, the celebrated Asghar Farhani, however, was dull, naive and repetitious in his depiction of a Spanish family in Todos Io Saben/ Everybody Knows (Spain, 2018), with a lack of understanding of Spanish ways of life evident in his tourist-eye shots of beautiful countrysides, the vineyards, and a flamingo thrown in for good measure. Penelope Cruz was not believable at all as a mother of a sixteen year-old and the predominant males, Javier Bardem as the ex-lover and Ricardo Darin as the husband, with their middle age pot bellies made one wonder if all Spanish men were all lucky to marry beautiful and much younger women. Farhadi has tried to apply the About Elly (2007) formula of good mayhem, sudden disappearance and bad mayhem, here as well, but hardly succeeds. One longs for the authenticity and sensitivity of Dancer in the Dust (2002), or Beautiful City (2003).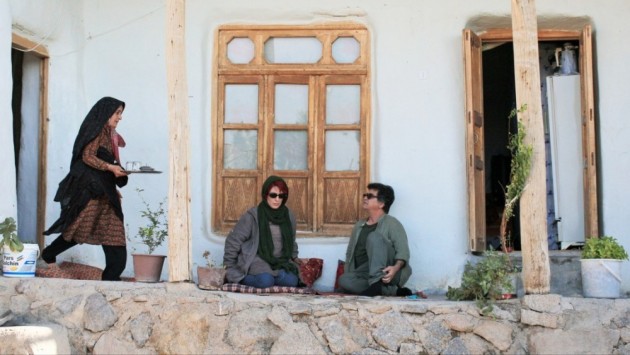 3 Faces by Jafar Panahi
Female Palestinian director Anne Marie's film Jacir's Wajib (2017), which touches on bitter and sweet traditions, survival under Jewish oppression, preserving one's dignity and identity, and the double edged sword –to leave or to stay– was a remarkable accomplishment, marked with a good dose of humor.
In the Another View section, And Breathe Normally (Iceland, 2018) by Isold Uggadottir (Iceland), a Sundance favorite, was about the young mother of a small boy, broke, unemployed and romantically involved with the mother of his son's best friend. She takes a training program to become a border guard and in her ambition to do her job properly, causes the arrest of an African woman with false papers, which becomes a turning point in her life. Her sexual transgressions do not make her a person opposing all borders but she suffers from a dose of remorse. With a twist of fate, she is obliged to seek the help of the detained woman when her landlord evicts her for not paying her rent.
Ein Betulot Bakrayot/Virgins by Keren Ben Rafael (France/Israel, 2017), also in the Another View section, addressed the issues of three generations of women, a disillusioned single mother, a teen-age daughter seeking new horizons and her little cousin on a visit, who tries to conjure the new horizons by make-believe. Trapped in a dead end town with a sea front that stretches to the horizon, the three females rely on their inner strength to live in an indifferent and cynical world.
Hong Sang-soo's Pullipdeul/Grass (South Korea, 2017), his 26th to date, was Hong Sang-soo at his best, again following his characters through drinking binges, empty cafes and bars with his usual self-reflexive touch that I wish other male filmmakers could learn from.
Fathers were absent in most of the films by women filmmakers, often for unexplained reason. Virgins, Crystal Swan, And Breathe Normally, and Suleiman Mountain all focused on single mothers. Obviously, the males escape when the going gets tough! However, Jacir did not follow the classic 'absent father' motif; in her film it was the mother who has deserted the family, having eloped with the man she loved. Another against the grain detail in her film was that the young protagonist who lived in Italy but was now visiting home for the wedding of his sister, was not involved with a foreign girl over there, but in love with the daughter of a famous PLO, which was not well-received by his family, especially by his father who even invites an Israeli inspector/spy to the wedding of his daughter to ensure a promotion from teacher to principal.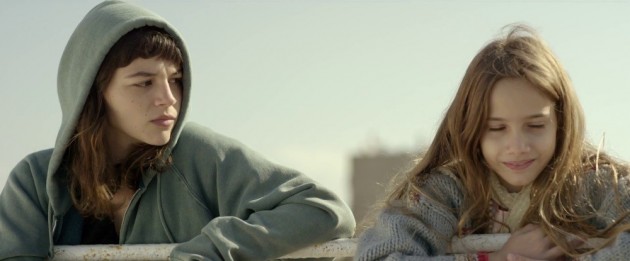 Virgins
The latest Czech Films, ten diverse works; Made in Texas: Tribute to Austin Film Society, including small masterpieces such as Richard Linklater's Slacker (USA, 1991); Baltic Documentary; People Next Door, et al were other fascinating sections. Alas, too many films, too little time!
Among those who were honored were Jaromir Hanzlik, Barry Levinson, Robert Pattinson and Tim Robbins who were all present at the festival. The closing ceremony happened with the traditional pomp of acrobatics and pretty legs; the usual jokes were exchanged between the president and the artistic director, some of which were lost in translation.
Romanian Radu Jude received the top prize, the Crystal Globe for his film about Holocaust deniers and the little known massacre of the Jews by the popular general Ion Antonescu, Îmi este indiferent daca în istorie vom intra ca barbari/I do not Care If We Go Down in History as Barbarians (2018), which also received the European Cinemas Network prize. Accepting the prize on stage, the filmmakers remembered the Ukranian filmmaker Oleg Sentsov, imprisoned in Russia since 2014, who is now on a hunger strike.
Special Jury Prize went to Sueño Florianópolis (2018) by Ana Katz from Argentina, defending the rights of women. The film also received the Fipresci prize. Best Director was Olma Omerzu from Slovenia with Všechno bude/Winter Flies (2018).
Best actress award went to Mercedes Moran for her role in Sueño Florianópolis and Best actor, to Moshe Folkenflink from Israel in Geula/Redemption (2018), a film that received the Ecumenical award. Jury Special Mentions went to Podbrosy/Jumpman (Russia, 2018) by Ivan I. Tverdovsky and Zgodavina ljubezni/History of LoveM (Slovakia, 2018)) by Sinja Prosenc.
East of the West Crystal Globe went to Suleiman Mountain and the Jury Prize of this section, to the Hungarian film, Virágvölgy/ Blossom Valley by Laszlo Csula (2018). Svideteli Putina/Putin's Witness (Latvia, 2018) by Vitaly Masky won the Best Documentary prize and Daniel Zimmerman's Walden (Switzerland, 2018) got the special mention.
Audience award went to Barry Levinson's classic, Rain Man (1988) starring Dustin Hoffman and Tom Cruise.
Featured image is from Virgins