Suspiria (Dario Argento, 1977)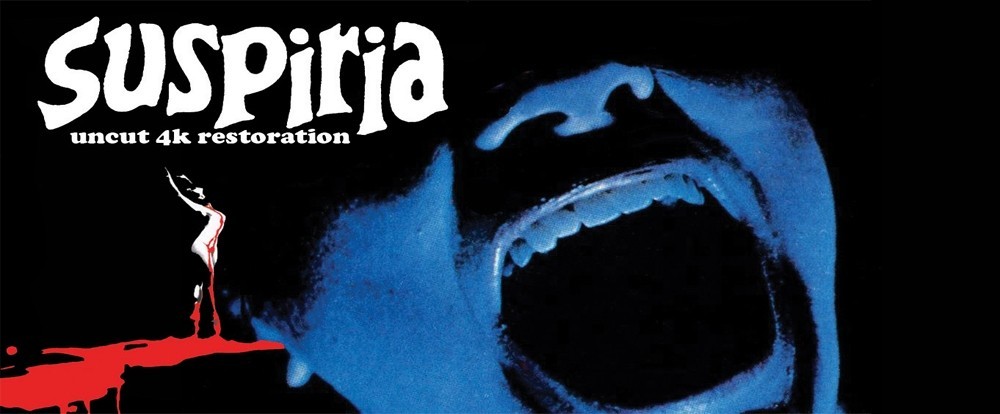 "It's useless trying to explain to you. You wouldn't understand. It all seems so… absurd. So fantastical."
"Susie, do you know anything about… witches?"
A treasure trove of Blu-ray re-masterings has allowed some re-acquainting of myself with the mind-bendingly surreal fever dreams of Italian master Dario Argento; not that his greatest sensual, hyper-violent absurdist flights of the swirling fantastique have ever been too far from the front of my consciousness, actually, it was just deeply exciting to discover that not only is there little to no drop-off from the experiences, but that some of the films even grow larger in what was already significant estimation – especially Deep Red and Phenomena (capturing the elegant, still and sublime beauty of Jennifer Connelly as no film before or since has – well, other than perhaps Sergio Leone's Once Upon a Time in America).
I guess you could say it was with the aforementioned giallo with a supernatural bent, Deep Red, in which Argento first began to really explore the violently fantastical and surreal (as well as those sensual and indulgent flights of fanciful camerawork that often displayed a seriously erotic connection to architecture) and move past his earlier inspired though more straight-forward (if still entirely narratively wonky and artistically unique) gialli, but it was really through his next effort Suspiria's tale of a coven of witches at a German dance boarding house that he dropped the kid gloves and went all-out cinematically bonkers, audaciously throwing aside anything but the most bare bones narrative from which to hang a series of gorgeously realized, color-drenched, cruelly violent and hypnotic set pieces like no one before or since (including himself in what have been some seriously regrettable later years).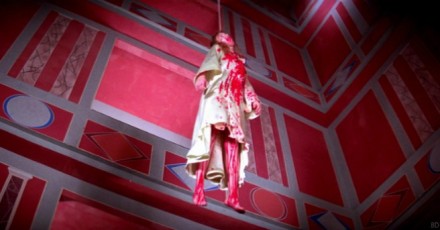 So why I was so ho-hum about revisiting this one out of all the Argento classics I'd recently re-watched, I have no idea. Perhaps it was because I'd seen it so many times that I thought I had already experienced all the magic I could with the film. Whatever the (terribly misguided) reason, it took me to the last screening on the final day of its theatrical run here in Montreal to pull me away from another night of the brooding black and white representations of bleak post-War World II anxiety going on over there at the films noir series at the Cinémathèque Québécoise (with almost of them screened in inferior 16mm dupes, no less) to remind me of the delicious and delirious perverse-Jungian nightmarish pleasures of the master's greatest masterpiece (in a new 4K restoration, no less!).
Right from the beginning, with Jessica Harper's oddly striking (her large expressive eyes and slightly off beauty always remind me of a human-sized sprite or fairy) Susie Banyon arriving from the airport to the gothic dance school in a raging downpour with that ethereal, creepy fairy tale music (oh, that Goblin score) cutting in and out, right on through that insanely sensual and insanely violent murder scene (with the now wildly pounding score accompanied by wails of agony) in a crazily designed hotel seemingly from the mind of some geometric-minded madman and continuing all the way through, with the audaciously vibrant production and lighting hues bleeding all over each other (separating it from the next in Argento's Three Mothers trilogy, Inferno, in which the lighting schemes are equally as bold, yet feel less organic and more artificial to me), it all brought back full force to me what an intoxicating cinematic experience the film is.
The 4K transfer (not that anyone can really experience it above 2K anyway) does look clearer and more gorgeous then ever before, allowing the discovery of all sorts of fascinating details I never knew were there and an even greater appreciation of the lighting and production schemes (and I never quite noticed before how impressive the layering of the score and sound design is). It did, unfortunately, also allow for the odd element we weren't supposed to see as the film wasn't designed for this kind of crystal clear transfer (camera shadow in one shot was a real downer and is now the single moment in the film where the illusion is broken, however quickly).
Seeing it again in this new gorgeous transfer ended up underscoring what I've always known; Suspiria isn't just Dario Argento's masterpiece, or a magnificent visual and aural feast of a genre film; I mean, it is all that, but it's also a true work of art.