Sheffield International Documentary Festival: Forward-Thinking Cinema in the UK's Steel City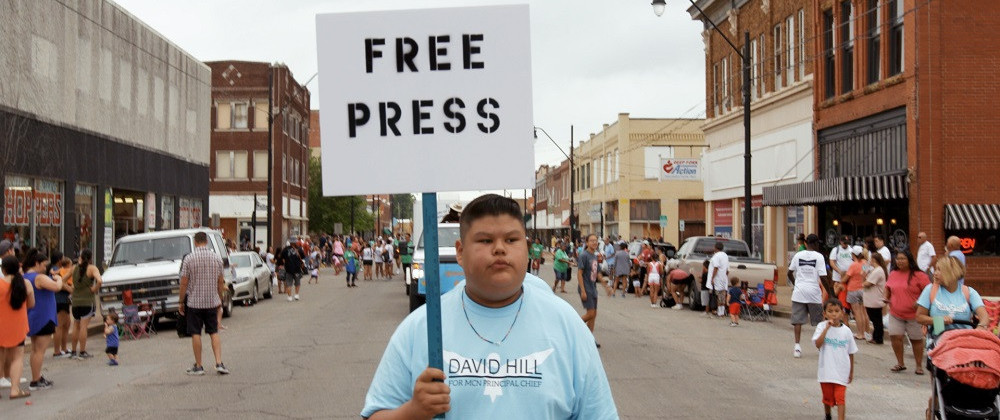 At any contemporary film festival in the UK, especially ones showcasing international films alongside domestic releases, the average film fan is often spoiled for choice by forward-thinking festival programming. Whether it's London, Leeds or Edinburgh, festival audiences can expect to get their teeth into a full house of screenings accompanied by cast and crew Q&As, exhibitions, community gatherings, and awards for emerging global filmmakers. The team behind the Sheffield International Documentary Festival are not exceptional for their global ambitions. However, they do deserve special credit for their dedication to documentary filmmaking and for their efforts to turn the spotlight onto eclectic productions, whether its short films from new directors, retrospective documentaries of neglected life stories, or activist documentaries that explore the impact of individual bravery and collective action against tyranny. As Abby Sun, writing for the International Documentary Association, astutely observes, 'One sign of the festival's continued relevance to UK nonfiction film production is that Brits simply refer to the festival as "DocFest," as if no other documentary festival in the festival could be confused for this one'. 1 Film enthusiasts and industry players joining the 2023 festival, whether in Sheffield or online via the festival's dedicated DocPlayer, were attending the first DocFest since the online-only 2020 festival during COVID-19. They could view one-hundred-twenty-two films from around the world, with specific entries grouped into particular categories, including the International First Feature Competition for debut directors. All feature films were eligible for the Festival's Film Audience Award. In addition, DocFest grouped features into broad categories, including 'Journeys', 'Debates' and 'Rebellions'. While such labels are familiar buzzwords for an ever-shifting media landscape, they became more incisive in the context of special programmes, including 'Perspectives on Iran' which showcased new documentaries from the region, promoting the talents of female directors and the stories of political dissidents. This festival review pulls together the nonfiction releases that are the festival's main discoveries and signal towards new directions for future documentary filmmaking.
Tish (Paul Sng, UK 2023)
Tish, ©Ella Murtha
Regardless of the broad scope of DocFest programming, the festival's opening night focused on home, in the north of England, with a UK-set social documentary. Tish, by the UK-Chinese director Paul Sng, meditates on the impact and legacy of Tish Murtha (1956-2013), the Tyneside photographer known for her hard-hitting photos of working-class communities in Newcastle, UK. Filmed in collaboration with Tish's daughter Ella, the film offers access to intimate interviews with family, interweaving Tish's personal life story and creative ambition with a poignant history of the devastating effects of Thatcher's premiership for the Northeast. It is fitting that, before turning to global injustices and inequalities in other parts of the programming, the DocFest opening night turns attention to UK inequalities that originated in earlier political periods but continue to decimate livelihoods through austerity. Interspersed with re-enactments of pivotal moments from Tish's life, the outskirt of Newcastle is an evocative backdrop that recalls the experience of the 1980s alongside formative moments in Tish's family history. Pointedly screened at the start of the northern DocFest, Tish is memorable as a reminder that arts and culture in the UK is a highly charged, vulnerable landscape that is frequently exposed to punitive austerity that continue to restrict access to the arts in the UK's regional cities and communities.
Tokyo Uber Blues (Taku Aoyagi, Japan 2023)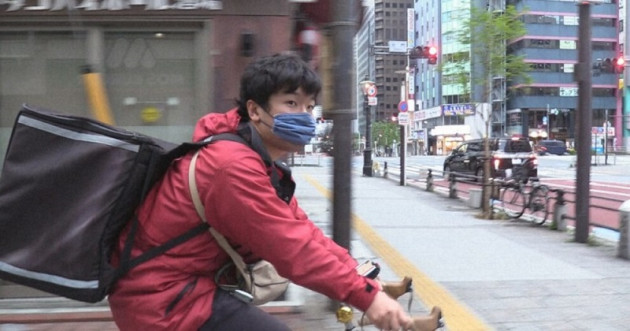 Tokyo Uber Blues
The DocFest's 'Journeys' category groups together a broad sweep of films that feature other complex life stories (including Leo Ragan's look at the life of photographer Lanre Fehintola in My Friend Lanre, 2023). Others take a broader look at the 'Journeys' theme, depicting subjects driven by a fierce conviction to record the impact of spiralling world events upon individuals and communities. Tokyo Uber Blues (Taku Aoyagi, Japan 2023) is one of the more memorable entries that illuminates human consequences of the COVID-19 pandemic, telling the story of the director's sustained brush with the gig economy under lockdown. Filmed on a smartphone and a compact camera, Tokyo Uber Blues shows Taku navigating the dangerous balancing act of the gig economy, pursuing gigs that throw him a lifeline during the pandemic whilst becoming wearily worn down by the isolating effects of precarious employment. This documentary isn't a rally against corporations or ruthless business practices in the gig economy (plenty of earlier documentaries, including The Gig Is Up, contribute to this list). Instead, Taku's film is a more personal testimony about the human cost of the gig economy. It generates tension from the contrast between the on-screen vastness of the eerie post-COVID Tokyo cityscape and the increasing claustrophobia and loneliness of Taku's pandemic life. As he works from gig to gig, his living conditions become devastatingly narrow and insular. The gig economy requires immediate responsiveness – demanding that the worker strip away more and more of his life, earning every payment by surrendering to the consumer market's punishing physical demands. While set in one of the world's global cities, Tokyo Uber Blues is a pithy look at the casual and demeaning cruelty of the gig economy that is infiltrating every major region of every major country, becoming an ever-more crucial part of the evolving systems of global capitalism.
20 Days in Mariupol (Mstyslav Chernov Ukraine, 2023)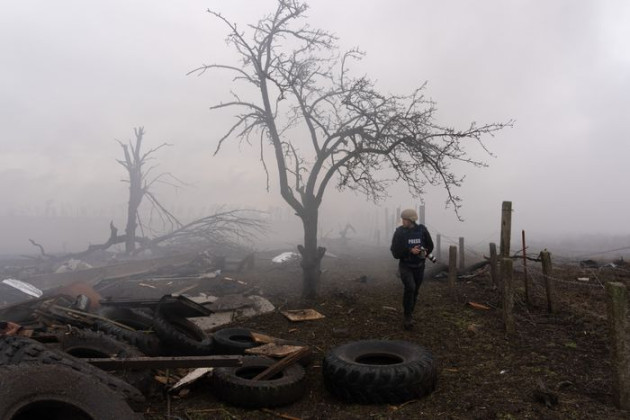 20 Days in Mariupol
The DocFest's most chilling and galvanising films feature individual stories from events and crises, including war. 20 Days in Mariupol created in partnership with PBS Frontline and The Associated Press, is the most memorable of these entries and filmed from the front lines of Russia's invasion of Ukraine in February 2022. Opening in Mariupolm, the strategic port city in the crossfires of the early invasion, Chernov was one of the few journalists on the ground witnessing resistance in the homes, hospitals and streets that became an overnight war zone. This documentary demystifies an ongoing geopolitical conflict, propelled by Putin's aggressive strong-man jargon, and focuses on the human penalty of the war on Ukraine's citizenry. 20 Days in Mariupol is an example of how war documentaries become more than journalistic reporting from the frontline.
Documentaries can be humanitarian archives that document death, desolation, and evidence of war crimes wrought on civilians. Beginning with extended shots of the city shutting down – with tanks streaked with Russia's red 'Z' military symbol, shuddering into deserted streets – Chernov intersperses on-the-ground shots with extracts of the original news reports that used their footage to show worldwide audiences what was unfolding in Mariupol. As Chernov explains in an interview with Filmmaker Magazine, 'our team became the last international journalists present in the city, and I accumulated hours of vital yet unpublished footage, of which I was able to publish only part'. 2 The Associated Press follow the chaos as routes out of Mariupol close and the remaining civilians become even more desperate. Chernov's team takes us to the site of successive missile attacks on residential housing. They also take us to the hospital operating rooms, where morale is low and yet defiance is ever-simmering. When a doctor desperately tried to save a young child from her wounds, pumping her chest in final hopes of a last-minute reprieve, he tells the camera: Show this to Putin. The eyes of this child and crying doctors." There's an immediacy here that conveys the adrenaline of conventional news reports, but these segments are interspersed with intimate interactions with subjects facing horrors and privations of war. Chernov's documentary shows how difficult it is for journalists to navigate the line between recognising the sufferings of its subjects and overly-lionising these subject so they lose their humanity. 20 Days in Mairoupol navigates this fine line with a memorable success that should be a touchstone for all filmmakers.
Beyond Utopia (Madeline Gavin, United States, 2023)
Films across the Sheffield DocFest catalogue also chart the dangers and risks of defying political tyranny. Beyond Utopia (Madeline Gavin, United States, 2023) is an ambitious project that some might have said was impossible. Gavin's film focuses on a high-risk defection network run by Pastor Sengeun Kim, who himself successfully defected from North Korea and now oversees the escapes of his former fellow citizens (sometimes putting himself in personal danger of being deported back to most notoriously secretive regimes in the world). Defectors in Gavin's film include Hyukchang Wu and his family, who cannot navigate the land-mine-rigged border into South Korea. Instead, they must flee into the mountains to travel into China or other surrounding communist countries — where, if detained, they risk being sold to organ traffickers, prostitution rings or handed back to North Korean authorities. Beyond Utopia deftly combines historical narration, archival footage, interviews with defectors, animations of their experiences, and, most chillingly, footage of life in North Korea that the country's inhabitants have risked their lives to smuggle outside of the country. In its most powerful moments, the film's wide historical scope can narrow down –in the space of a few shots– into intense personal moments which see defectors grapple with life outside of their home country – astonished by running water from the shower, available food, and other luxuries of everyday life. Documentaries about life and tyranny in North Korea have become rarer as Kim Jong Un has tightened his authoritarian grip, and especially since the country closed its border with China during COVID-19. These restrictions make Beyond Utopia all the more astonishing for its insights into the high-stakes, practical dangers of escape from North Korea and —as seen, most poignantly, in interviews with escapees— evidence of ideological indoctrination inflicted on its citizens.
Where God is Not (Mehran Tamadon, Iran, 2023)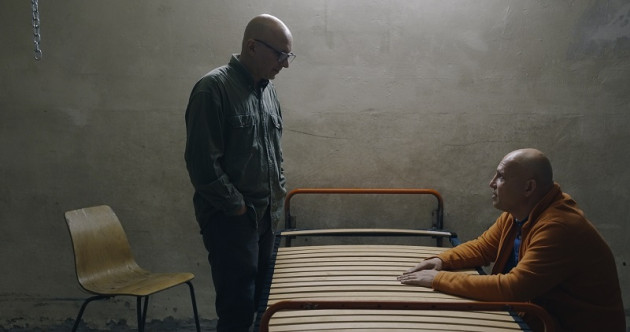 Where God is Not
Beyond Utopia raises ethical questions about the extent to which documentaries across various formats can generate human empathy whilst also watching the unfolding of on-screen trauma from its subjects. Where God is Not (Mehran Tamadon, Iran, 2023) addresses similar themes, opening in present-day Paris with episodic reconstructions of the ordeals of three Iranian prisoners in their home country's notorious Evin and Ghezel Hesar prisons. Most of the film is set in empty warehouses that act as stand-ins for the claustrophobic cells of the reconstructed Iranian prison. We are introduced to Taghi Rahmani, an activist who has spent multiple periods of his life in prison. His gruelling account of physical torture is counteracted by a disarming ability to describe his resilience under extreme suffering. 'Your first time in prison is tough' he admits, 'but you learn from the experience and all the people you meet' Even if they take you through a door to execute you in –in the end you get out'.
Other protagonists, including Mazyar Ebrahimi who was accused of being a spy by a rival business competitor, are woven into an intimate viewing experience that feels like a formal experiment in filmed theatre. As the protagonists tell and reconstruct their experiences, recreating the actions of their torturers, Tamadon sets up a series of eerie alienation effects. He frames each act and lets us queasily watch the protagonists relive their pain and survivors' guilt in ways which help us realise that many aspects of their experience will stay with them until their lives end. In telling these survivors' story, Tamadon's film is as much of a personal story as a political one, depicting the chasm between survivors' trauma and the audience's understanding, movingly lingering on the unresolved nature of these memories.
Bad Press (Rebecca Landsberry-Baker and Joe Peeler US 2023)
For more overtly political themes within the DocFest catalogue, Bad Press (Rebecca Landsberry-Baker and Joe Peeler US 2023) joined other screenings in the festival's Rebellions strand, shifting the focus from victims of persecution to the intricacies and risks of investigative reporting. Journalist Angel Ellis works for Mvskoke Media, aiming to provide a voice to the people of the Muscogee Nation, or Muscogee (Creek) Nation, as a federally recognized Native American tribe based in the U.S. state of Oklahoma. The Muscogee Nation bypasses the reach of the U.S. Constitution – a legacy of a bloody, hard-won struggle for independence for the Muscogee Nation. In late 2018, an election led to the Muscogee's National Council abruptly repealinits Free Press Act, citing negative press as a near-treacherous act against the Muscogee people. With most Mvskoke Media's employees quitting, Ellis feels compelled to stay and try to try and engage her community with the threat to their freedom of speech.
Bad Press is a present-day microcosm for multiple nations' struggle to retain and preserve press freedom in the face of PR-chasing politicians and populist actors. The film is also interesting as a close-up study of the personality types that often propel political clashes, sharing interviews with legislators, representatives and journalists who make this a human story accessible to people across different contexts. Providing such an intimate look at Ellis and Mvskoke Media's remaining workers, Bad Press offers insights into the grinding work of the newsroom whilst —especially fitting for a festival dedicated to non-fiction storytelling– passionately defending independent journalism.
The Sheffield International Documentary Festival, taking place across multiple arts venues in its host city, is an innovative festival that maximises the resources of a regional film festival in thought-provoking ways. The DocFest's international premieres offer emerging filmmakers the chance to showcase original features that look at the current world in all its crises and conflicts. Filming at the level of everyday life, films in the DocFest catalogue offer intimate snapshots of people and communities living through crisis. DocFest affords its audiences immersive experiences that are worth returning for each year.
Notes
Abby Sun, The Preview: Seven Documentaries to Catch at Sheffield DocFest 2023", International Documentary Association, 14 June 2023. The Preview: Seven Documentaries to Catch at Sheffield DocFest 2023, International Documentary Association ↩