Retrovision at Fantasia 2022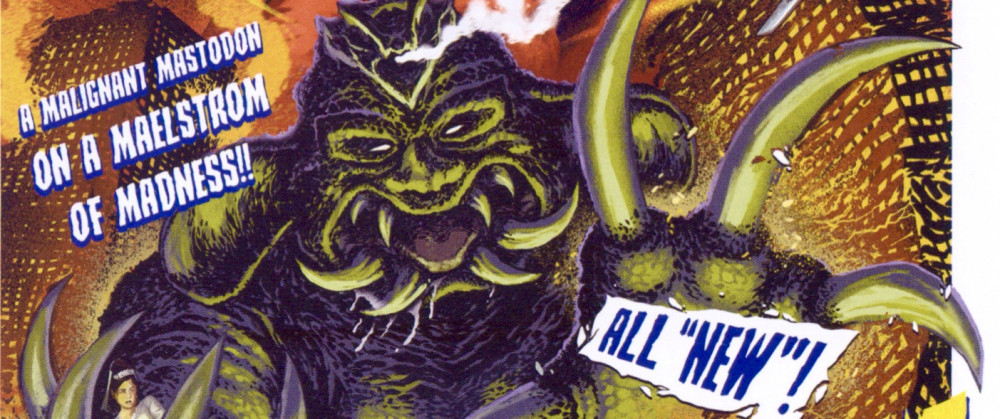 It's a Friday night in the middle of a Montreal July. Instead of occupying a seat at Concordia's Hall Theatre to see John Woo accepting a Career Achievement Award, ahead of a 35mm screening of his 1992 epic Hard Boiled, I'm at the Bell Centre waiting for Roger Waters to take the stage for our local stop on his This is Not a Drill tour. I hate stadium venues for live music and had vowed never to subject myself to shows at Montreal's main show site, home of the Montreal Canadiens, notorious for its poor sound quality and bemoaned by old-timers for replacing the beloved Forum, home to the city's Stanley Cup heyday and host to all the big 1970s rock acts during their prime. The Bell Centre just smacks of the 21st corporate takeover of the fabled rock palaces of the past, venues across North America being rebranded every couple years by everything from big tech companies to oil change franchises, and I'm not one for hanging on to shreds of past glory filtered through new sanitized formations in service of the profit-motive. But I succumbed to the purchase of a Roger Waters ticket back in 2019 shortly after catching a show on his Us and Them tour in Toronto. As an ardent Pink Floyd fan who believes, like Waters himself, that the band died when he left, I had avoided seeing any of the remaining members' solo stuff live. I don't take sides. They were an ensemble, and when the ensemble dissolved it was done. But with the advancement of the years, and my heroes from the 60s and 70s dropping like flies, I figured it was worth checking in with him once before he's gone. I was pleasantly surprised at the warmth he put into all the classic Floyd material at the show I caught in 2018, so when he announced the next tour coming through Montreal I figured, why not? It was scheduled for 2020. Then 2021. By 2022 I had pretty much forgotten I even had a ticket, so when happenstance placed the twice rescheduled show right in the middle of a hot ticket night at Fantasia I had a decision to make. In the end, with $150 on the line, it was the sunken cost that got me. I was a little cranky from the get-go as I made my way to my seat at Bell Centre, and the general vibe of the experience did nothing to shake the mood. The opening newly arranged rendition of Comfortably Numb was captivating, but the show went downhill from there. The novelty I experienced at hearing this material live for the first time in decades had worn out by the end of the previous show, and now things just felt stale, the extra years on Waters not helping matters either. He looked tired, has always been a grump, and to underscore his long-standing anger over the fate of Pink Floyd, many of the tunes were accompanied by scrolling text telling tales about the glory days of his time with Syd Barrett, founder of the band, making sure to make no mention of the existence of David Gilmour even when pictures of all the other previous band members went up on a grand scale. Waters' bitterness over Gilmour's contribution to the band is so tedious by now, and here he is, at age 78, continuing to infuse this bitterness into the very fabric of his shows. By set break it had become too much to handle, and I had a 10 minute window to dash up the street to Fantasia and catch some Woo. I hesitated for a moment at the exit when the security guard emphasized that if I left now I would not be able to come back. Then I bolted, jogging up the street belting "Wooooooo! Wooooooo!" at the top of my lungs (at least in my mind), and I got to the venue in time to hear him give most of his acceptance speech and hoist the beloved dark horse statuette high for the loving crowd. This old man showed nothing but gratitude for the career he's had and the love shown to him by the crowd, aspects of his demeanour that were also apparent during his master class over the weekend (which you can watch in full here).
The film itself had been advertised as a digital copy, but I had heard rumours that it might be a print sourced from a private collection. So when the lights went down and the familiar opening reel judder kicked in, fuzzy crackle through the speakers as the projectionist racked focus quickly on the production logos, it was icing on the cake. This was the place to be in Montreal that night, no question. And I made it. Priorities sorted.
This event kicked off an unusually stellar retro line-up for Fantasia this year, most of which was fueled by exceptional restoration efforts by leading boutique labels like Arrow, Severin, and Vinegar Syndrome along with smaller outfits like Filmcentrix and SRS. While the value of digital film restoration need not be argued amongst cinephiles, there is a question to be asked about the value of theatrical presentation of digital materials originally shot on film. The days of 35mm reigning supreme as the gold standard for quality are pretty much over. Prints can be fantastic, but they can also be disappointing or even downright awful. And as we arrive at the reality of 4K as the new standard, arguments for the inferiority of digital formats are losing credibility. Pristine film projection is rare, and the work being done by restoration companies is often truly revelatory in demonstrating what pre-digital films can look like under ideal circumstances. But there remains a line between domestic and theatrical cinephilia, given the increasingly blurry line that separates home systems and theatrical systems on the line of resolution. For some, the home experience has become the ideal, and the boutique label market caters to this mindset handsomely. It's important to note, however, that festival screenings provide exciting opportunities to premier these home video restorations to enthusiastic audiences, nowhere more enthusiastic than at Fantasia. While it might seem a bit odd to go to a cinema to see a film that you can buy on disc at the vending tables right outside the cinema, Fantasia audiences know that experiencing the film in the context of a festival screening provides the gold standard to theatrical experience, something you just can't get at home. This year's Fantasia clearly demonstrates that we have arrived in the golden era of digital restoration where you can split the difference between cinema and home screenings, having our cake and eating it, too.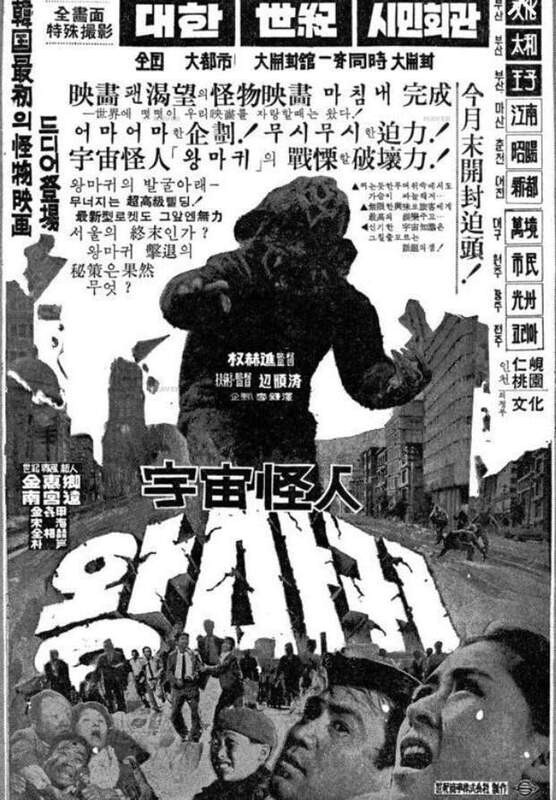 My most hotly anticipated retro title was Space Monster Wangmagwi! (1967), South Korea's first feature-length giant monster movie, long thought lost to the ages and never available on any format outside of its original print distribution. The copy Fantasia presented was a scan of a print that surfaced a few years ago, and at the time of the projection there was no word of any home video release plans. In the year since it was picked up by SRS Cinema and released on DVD and Blu-ray in limited numbers, and I urge anyone interested in kaiju films to take heed. Most of us are used to Japan as the rubber-suit giant of the world, so the South Korean context of Space Monster Wangmagwi! puts an unusual spin and adds a different tone to the proceedings. Particularly striking is a brand of humour rarely seen in the Japanese films that dominate the genre. We can see something here of the new wave of Korean comedy that exploded in the 2000s, of which Fantasia has presented a glorious share. I mean, all giant monster movies are funny to a point. How could they not be? Some are campy, some are serious, but all are comedy when viewed the right way, right down to Shin Godzilla lambasting the perils of governmental bureaucracy in the face of disaster. And Wangmagwi! revels in the opportunity to be explicitly comedic at just the right times, also tied to distinct social commentary. This isn't a film to be derided for its tedious plot line, divergent human-interest sidelines, or wildly low-budget production. Instead, take pleasure in the running scatological jokes that weave all these disparate pieces together, climaxing when a child climbs into the head of the beast and takes a whizz while on pause from executing his battle plan. You won't regret it.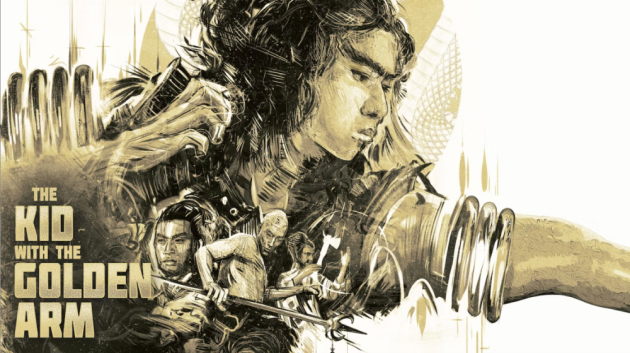 The annual Shaw Brothers entry is also generally a hot ticket at Fantasia. While we didn't get a 35mm print this year, an unusual development for the festival, the studio was well represented by The Kid with the Golden Arm (1979), newly restored for inclusion in Arrow Video's second Shawscope box set. Arrow has done incredible work on these sets, a pure joy in the window they provide into this most prolific of legendary film studios. While The Kid with the Golden Arm isn't regarded as a high water mark for Shaw Brothers action choreography, the main selling point of these films, it does feature highly entertaining ensemble play from its cast featuring the so-called "Venom gang" featuring all six of the actors first dubbed with that moniker through their appearance in The Five Deadly Venoms and who went on to appear in various groupings across a series of Shaw films featured in this box set. The plot is simpler than many kung-fu films, a shipment of government gold requiring protection from rival gangs en route to an impoverished village, with limited attention to the complex backstories and family dynamics that often make these kinds of films difficult to follow amidst the high-flying action and poor subtitle translations. Here the line is clear, the performances on point for the genre, and there's a satisfying ending despite a predictable double-cross twist.
We did get one other 35 print this year, though, and it was a real treat: festival favourite Johnny To's The Heroic Trio (1993), a fine early 90s Hong Kong entry to compliment Woo's Hard Boiled. Featuring a dream-team cast of Michelle Yeoh, Maggie Cheung, and Anita Mui, The Heroic Trio filled in for some of the absurdity we're used to from late-era Shaw Brothers fare (but toned down in Golden Arm) with its supernatural action sequences amplified by the new wave exuberance that swept so many film cultures across the world in the 90s. Blending martial arts with mysticism, comic book flare, and Johnny To's signature urban cop drama grit, the three main characters use their individual talents (invisibility, acrobatics, and a way with a shotgun) to battle an evil tyrant stealing babies across town in search of the new emperor. The action set-pieces are off the charts, requiring something beyond suspension of disbelief (and a blind-eye turned towards some of the suspension cables enabling the stuntwork), moving live-action film very close to the aesthetics of animation in everything from colour-palette and set design to the way characters and their vehicles float through space. Where Woo's Hard Boiled pushed realistic action to operatic heights, To's Trio begins with opera and goes from there. The print was not in finest quality, but in this case it provided a welcome grounding in the historical context of the film's production. The whole thing was steeped in 90s chic, and with 30 years distance that era is now becoming increasingly distinct in its stylistic qualities.
Stepping away from Asian fare now, this year's most substantial retrospective event centered upon the recipient of Fantasia's Canadian Trailblazer award: author, programmer, and filmmaker Kier-la Janisse. Celebrating the 10th anniversary of her book House of Psychotic Women with a newly revised and expanded edition launched at the festival, Janisse was on hand to give a career-spanning artist's talk and introduce a quartet of films cherry picked from the book for restoration treatment by Severin Films. The talk itself was mind-blowing in the extent of Janisse's career at such a young age. I've known Janisse for quite some time now, and yet there were many surprises in her biography that I was hearing about for the first time. A powerhouse of festival pioneering, programming, writing and curation, she has been best known for the House of Psychotic Women book, lauded for its combination of rigorous research and bold personal reflection as a woman working through her identification with some of cinema's most notorious female characters and a vast array of their lesser-known and forgotten sisters. More recently she has launched to broader cinephile notoriety as the director of the comprehensive documentary on folk horror Woodlands Dark and Days Bewitched, the centrepiece of a massive box set from Severin that has set a new bar for the goals sought by retrospective title releases from restoration labels. It has been so gratifying to see Janisse find increasingly substantial outlets for her talents, and to have turned around so quickly to the next release was surprising. Fantasia presented all four of the titles included in the Psychotic Women box with insightful commentary from Janisse: Identikit (1974), I Like Bats (1986), Footprints (1975), and The Other Side of the Underneath (1972). The star of the show here was Liz Taylor in Identikit, featuring a performance simultaneously understated and off the charts bananas as a woman travelling in Rome during a time of social unrest in search of some romantic satisfaction. The transfer did justice to Vittorio Storaro's lush cinematography, and Janisse provided some interesting personal insight into her identification with the film and its relationship to the genre that she has helped to define in her writing and curation. At the time of this writing, Janisse is already on the road in support of her next Severin production, a massive box set of the Emanuelle series. No rest for the wickedly productive.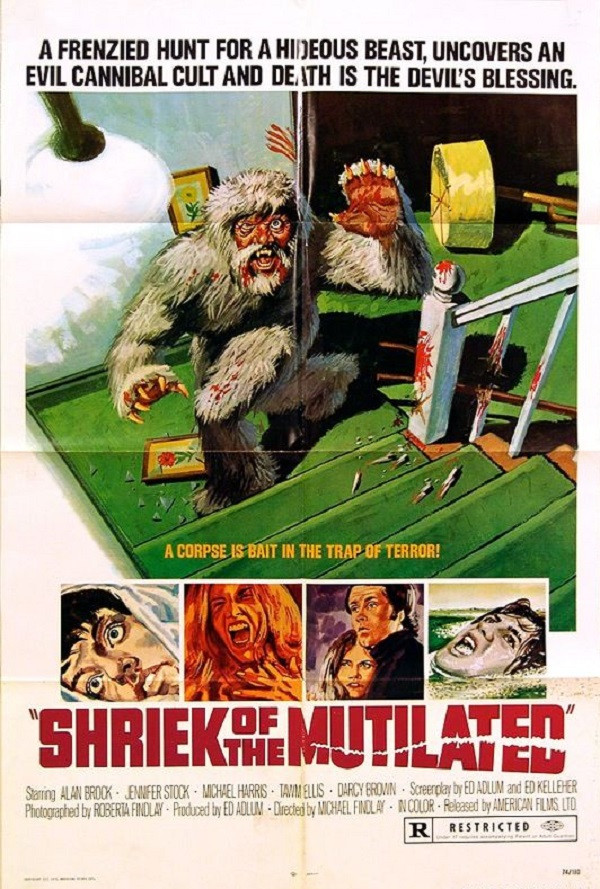 I'm a sucker for Sasquatch fare, so Vinegar Syndrome's presentation of their new restoration of Shriek of the Mutilated (1974) was one of my top picks from the moment it was announced. Most will tell you that Vinegar Syndrome specializes in decidedly lower grade fare, so you have to know what you're getting into to avoid disappointment. But this is one of the strong points of this label, in my opinion: they make some of the best restorations in the business, and they apply their skills to films that most wouldn't think twice about leaving forgotten in the vaults. Their catalog shows a side of largely American cinema that lived in parallel to the films that have been canonized in the worlds of art and commercial cinema alike. These are the films people were making alongside those that have caught and held people's attention, and show a side of the filmmaking world that is a necessary counterpoint to the stuff we've all been taught to know. And history has suggested that it's impossible to make a Bigfoot film that gets credible attention. Perhaps The Man Who Shot Hitler and then the Bigfoot is as close as they'll ever come. But I revel in the B and C grade narratives and pseudo documentaries that have obsessed on the hairy woods dweller over the decades, and knowing what a VS release is likely to be I was ready for whatever this midnight screening had to throw at us. It ended up being a rather intriguing murder mystery disguising itself as a Sasquatch picture by way of an in-narrative disguise that deliver's the film's big Scooby-Doo twist about an all-too-human blood cult preying on college students eager for research credits from their devious professors. But along the way the film delivers several inspired sequences featuring an actor in a furry suit attacking people with gusto. Absolute perfection. The fact that the suit looked fake, and then turned out to BE fake, was the cherry on top. This was an easy purchase at the merch table on my way out.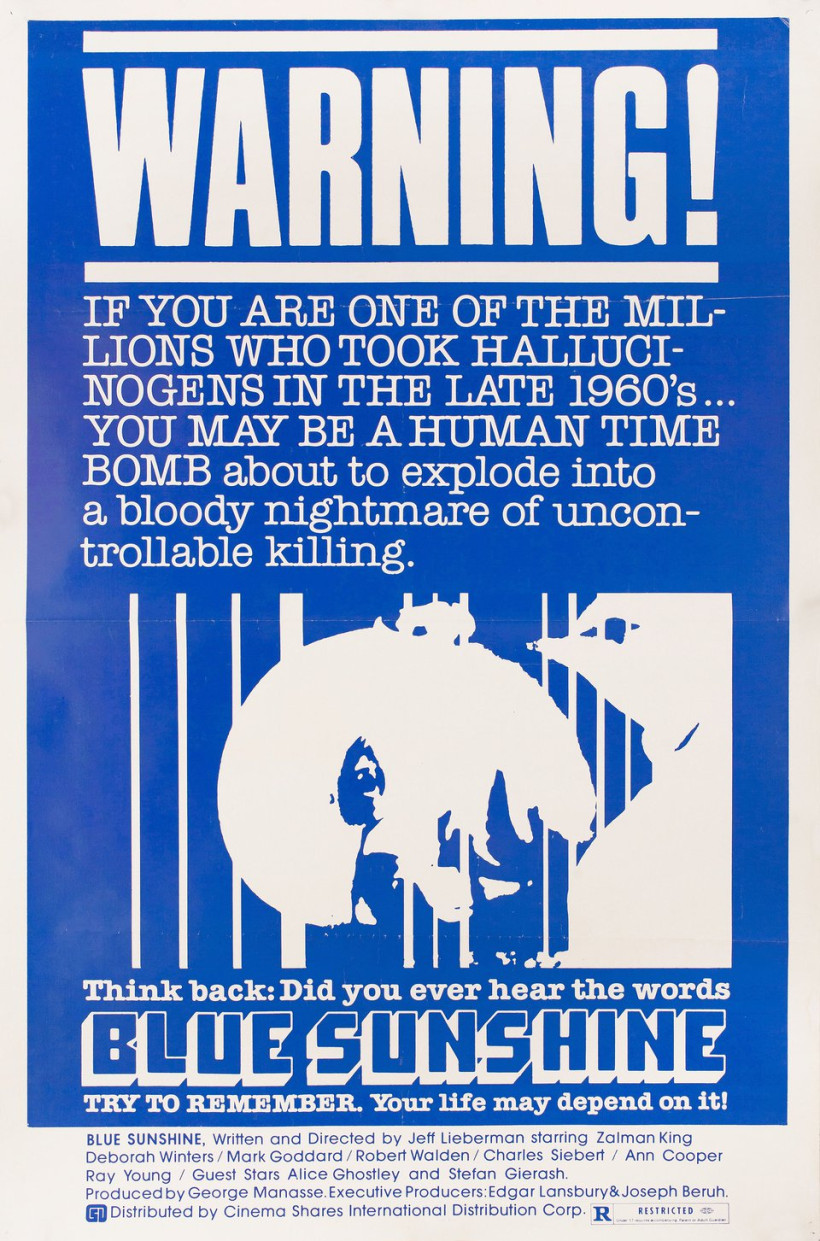 I'm also a sucker for psychedelia. Unlike cryptozoological themes, there is a wide quality spectrum of works exploring the psychedelic realms. Where would we place Jeff Lieberman's 1977 Blue Sunshine, named after a batch of LSD? Closer to a Vinegar Syndrome title than a Criterion title, most likely. But its premise is so deliciously on point for the zeitgeist of the late-70s demise of the last of the hippy culture that was already declared dead shortly after the Summer of Love a decade earlier. A batch of bad acid taken by college students in the late 60s comes back to haunt them a decade later as it awakens from dormancy, pushes all their hair out, and sends them on murderous rampages. Can you hear the Regan era pushing towards its new dawn over America? The narrative plays like a realization of all those warnings issued in Reefer Madness, tied to social anxiety around cultural shifts. The film is also explicitly political, as the character pegged with distributing this bad acid as a student now risks losing his career as an emerging politician on the campaign trail. His nemesis is a dude who looks like Spicoli if he'd been wiped of his pleasure centre, humourless long stares and inappropriately delayed reaction times in the face of some dire situations. If anyone looks like he's taken some bad acid, it's this guy. But no, he's the hero who needs to save the world from the remaining "human time bombs" set to explode at the ten year mark following their college trips. The film is on regular rotation at my place from the old Blue Underground DVD release, and this Fantasia presentation sheds new light on this gem through a decidedly shinier transfer from Filmcentrix, a new player on the restoration and distribution scene who, so far, have released only this single title on bluray. I look forward to seeing what's next from them.
Finally, it's worth giving special mention to three new films that engaged directly in the spirit of retrovision: Shin Ultraman, Legendary in Action!, and What to Do with a Dead Kaiju. Ultraman was certainly high on this year's audience list, a favourite character of Japanese TV from the 1960s here given a shiny reboot from the team that brought us Shin Godzilla a few years back, lauded for its intelligent update on Godzilla lore. Hearing the audience cheering the Ultraman's transformations to battle mode is the stuff this festival is made of. And the film stands as a marker of the profitability of the "shin" premise, to make new what was once old, and to do it with style and relevance rather than appealing to simple nostalgia and well-worn formulas. Such a task is, in fact, the focus of Legendary in Action!, a fictionalized fable about an ageing action movie hero from a Shaw Brothers-like studio hired to play his most famous role one more time by an independent director with little means. The story hangs on the obstacles that stack up against the film getting made, but the heart of the film lies in its love for the history of the wuxia genre in Hong Kong. I was excited by the possibilities opened up by the film's metatextual rendering of action filmmaking, looking forward to scenes that revel in the details that illustrate how these swordplay films are made. Ultimately I was a bit disappointed on this front, the film itself seemingly suffering from some of the same lack of means as its protagonists. The action just wasn't up to the level of its influences. But the spirit of the film was on point, and made for a lovely complement to the wealth of Hong Kong action films on offer from the festival this year. Rising to the top of this trilogy was What to Do with a Dead Kaiju from Satoshi Miki, who graced the festival with the meandering Adrift in Tokyo some years back. Where Shin Godzilla emphasized the problems of bureaucratic response to the large-scale disaster of a living Godzilla, Dead Kaiju answers a question nobody has yet thought to ask: how do we dispose of such a giant monster when it dies in the middle of our city? The film builds effective tension around the possibility that the dead kaiju at its centre might, just might, come back to life and resume its rampage. That doesn't happen. And thankfully so, for it's the relentlessness of the inspired premise that makes the film work so well. That thing is dead, and in its rotting corpse lie all kinds of hazards that pose new threats as yet undiscovered (like a bloating area that threatens to explode with noxious gas), while officials argue over how best to deal with them. Ultimately the film gets us to rethink the entire history of the kaiju genre as we think back to just how many of those big beasties have been left dead at the end of their climactic battles, while also clearly commenting on current environmental issues that loom large like the dead kaiju in all of our living rooms. Together, these three films appealed to our nostalgia for films of the past while showing their continuing relevance for today's audiences, a similar goal to any of the fine restorations featured in the Retro Fantasia series this year.