Red State
Keven Smith Attacks Church and State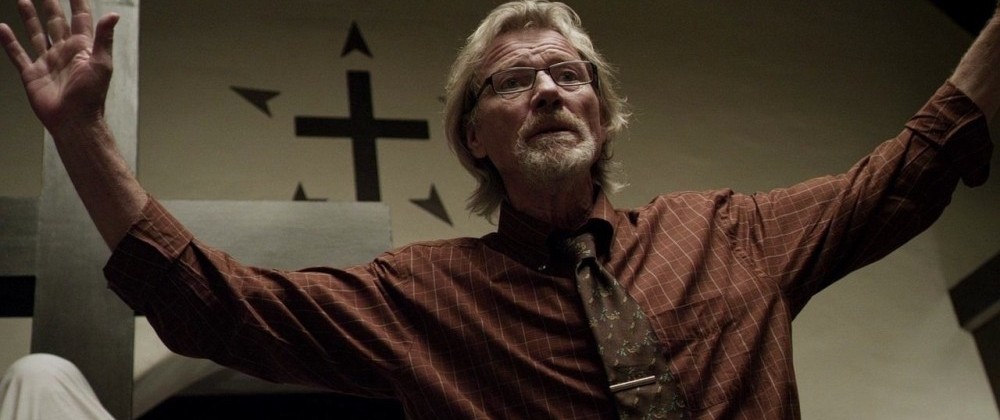 Red State (2011)
Director/Writer: Kevin Smith
With: Michael Parks, Melissa Leo and John Goodman.
The opening feature film at Fantasia 2011, the film fest's 15th year of damaging (as all good things do) our brain cells in Montreal with the best genre films from around the world, is Kevin Smith's new film RED STATE which is about a family/religious cult pitted against a group of FBI agents in a stand-off following a murder investigation that leads to the door of local preacher, played beautifully by Michael Parks.Young gay men are being murdered in a small American town which has a fair number of Christian fundamentalists; three young men from a local school want to buy sex from a local prostitute who is selling her wares on an adult website; the local Sheriff is not what he appears to be, and things turn rapidly more sinister once we get to meet the local preacher in his barricaded church hall.
Apparently, suspicions about this preacher's group having a huge cache of ammunitions and weapons have been investigated by a local ATF (bureau of Alcohol, Tobacco , Firearms and Explosives) agent played by John Goodman (not his best performance). After a shooting incident at the fundamentalist compound, all hell breaks loose when Goodman's team is sent in to apprehend the faithful.
Kevin Smith has produced this film independently from the Hollywood studios, and has personally invested his time in actually promoting and distributing it; much in the fashion of RADIOHEAD with their IN RAINBOWS release a few years ago. He is (for all intent and purposes) ON TOUR with this thing across America, and soon will hit Canada.
Red State is not what one would have expected from Smith (who is well known for his brilliant comedies Clerks and Clerks 2); it is a highly political film, and it leaves nothing to the imagination as to what Smith thinks of his home country at this historical juncture post 9/11. The trailer that appeared a few months back for the film showed what appeared to be Smith's first attempt at a straight faced horror picture, but unfortunately fails to deliver in that respect. It works as a thriller for sure, but does not cross (although it tantalisingly comes very close to it) the borderline of the FANTASTIC, which is hinted at in the trailer. To discuss the particular sequence I have in mind would be to reveal too much of the plotline, and do not want to discourage people from seeing this movie. The storyline is filled to the brim with lots of observations on religion/fundamentalism (of any kind)/political power/human rights, and darkish humor as well (Smith could not resist having humorous banter between the ATF agents which ultimately weaken the aim of the film). I was hoping that the director would have given us a joke free look into the abyss, but sadly it was not to be.
The actors portraying the cult/family led by Parkes are all very good in their respective roles, especially Melissa Leo as the daughter of the preacher who wields guns and AK-47's in a clear homage to Arthur Penn's Bonnie and Clyde.
In a videotaped intro addressed to this year's Fantasia crowd (Smith could not make the screening here in person as he has done with previous screenings) Kevin Smith said that the film had been picked up for Canadian distribution and that he was going to tour it in 5 cities in August of this year; I would urge you to see it if and when it comes to your town, and stick around for the Question and Answer period following the screening, as I'm sure it will be more intense than the film itself.