Teaching the World: World Affairs in Foreign Films: Getting the Global Picture
Seeing History and Society in Osama, Tsotsi, and the Counterfeiters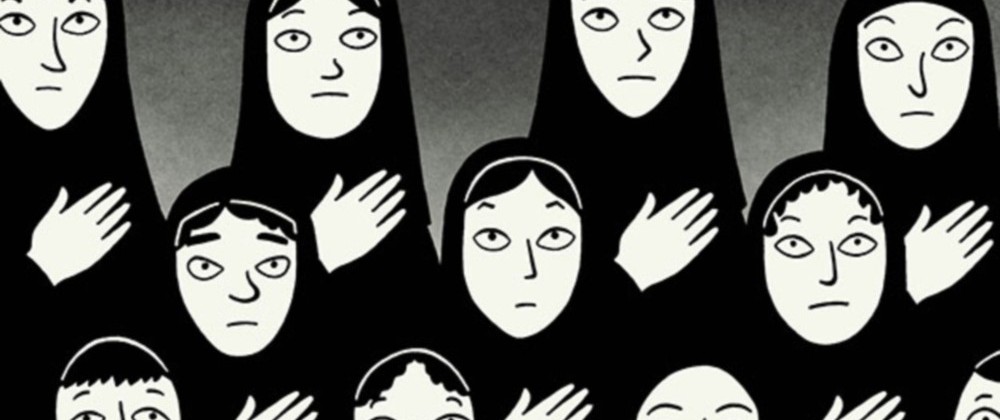 Snow Flower and the Secret Fan
A film directed by Wayne Wang
Screenplay by Angela Workman, Ron Bass and Michael K. Ray
(based on the book by Lisa See)
Fox Searchlight Pictures, 2011
World Affairs in Foreign Films: Getting the Global Picture
A book by Roberta Seret
McFarland, 2011
276 pages
ISBN 978-0-7864-6472-2
What I like about Wayne Wang's film Snow Flower and the Secret Fan is its presentation of contemporary China, with its business offices and art galleries and dance clubs, with its increased opportunity for men and women, with its likeness to cosmopolitan life in other places, and how the film also presents China's past and shows how some people draw ideals from some of the virtues—such as the intimacy of women's friendships—that had been valued then. It is difficult to present both the past and present well, and to acknowledge both the pains and the pride attached to the past; and that makes the film, which follows two parallel stories of female friendship in differing time periods, complex and unique viewing.
Of course, there are always films to see—for the first time, or for a second or third time: the films that have been established as great, such as Citizen Kane, The Rules of the Game, The Stranger, Pather Panchali, Breathless, Easy Rider, 2001, The Godfather, McCabe and Mrs. Miller, but also newer films of entertainment, if not always art: Armored, Attack the Block, Bordertown, Bridesmaids, Captain America, Columbiana, The Dry Land, The Exploding Girl, Fantastic Mr. Fox, Fighting, The Ghost Writer, Hanna, Horrible Bosses, Jumping the Broom, Lymelife, Meek's Cutoff, One Day, Rise of the Planet of the Apes, Saint John of Las Vegas, Sarah's Key, Set Up, True Grit, Welcome to the Rileys, Who Loves the Sun. In Attack the Block, a group of tough-talking urban British kids encounter an invasion from space and rather than run away cringing and crying, arm themselves for a fight, and the kids, the kind that some of us cross the street to avoid, become very attractive and capable comrades, making this a funny science-fiction horror film, even more enjoyable on subsequent screenings. Bordertown has Jennifer Lopez and Antonio Banderas making something significant of their Spanish heritage, as they star in a film about the rape and murder of many young women in Mexico, investigated by the journalists they play. Columbiana stars a sleek Zoe Saldana, as she crashes into an American police car, seeming first to embody a predictable image, a flighty drunken woman—an image she then demolishes, as she plays a shrewd, driven globe-trotting assassin, motivated by the murder of her own Columbian parents (Saldana is exemplifying a form of agency that women of color are not frequently allowed in film). Terrence Howard adopts a soft, weary voice in Fighting, as a street hustler and fight manager for raw-knuckled Channing Tatum, creating the most believable of characters. Jumping the Broom presents its African-American characters with the dignity, humor, and romance that Hollywood has typically extended to those people it values. Who Loves the Sun, filmed in Canada, is the story of friendship and betrayal, and gives Adam Scott a wonderful role as an infatuated but somewhat selfish writer, within a story of natural beauty, family, secrets, and reconciliation (Molly Parker, Lukas Haas, and the rest of the cast are good too).
Snow Flower and the Secret Fan is both art and entertainment and it surprises the viewer: it is about the longtime friendship of two young women whose lives have gone in different directions—one is becoming a successful business woman, and the other, more impulsive, has some artistic inclinations. When they were young, the bourgeois stepmother of the flighty girl disapproves of the friendship, but the friendship survives even after the more grounded girl takes a school test for the other, with their subsequent punishments, and their differing romantic and professional lives. In their youth, the two learn about the kind of old-time female friendship that developed between girls who had their feet bound, a sign of beauty and a form of status (the description and presentation of this remaking of girls' feet is heart-rending: basically, to achieve the desired effect of small feet, the girls feet must be broken in half and bent backward); and in the old days women exchanged messages in a special written language—and we see the two girls, one poor and one rich, whose feet are bound, become friends. The story set in the past follows the beginning of the friendship through decades to its end; and the story set in the present starts from now and goes backward to significant moments. The new friendship is strengthened by knowledge of the old, understanding that love between women has its own traditions.
However, the limit of friendship is considered. How much responsibility should one woman take for another's life? When is compassion or charity to be offered—or refused? It is an irony in both stories, one set in the past and one set in modern times, that the girls who began life in privilege are the ones who have a more difficult time in life (the character and commitment of the poorer girls are more conventional, more disciplined, and more rewarded). The once haughty stepmother of the modern girl comes to know poverty too, and her bitterness is a bracing shock—and yet it seems right, just and true. Life is precarious. Character matters. However, it is great to see how society has changed in China, and with that much of women's lives and options. A friend of mine recently traveled to China. Another friend has lived there for several years. I have not been there—but was able to see Snow Flower and the Secret Fan, a film by Wayne Wang, and that gave me some sense of the country and of what they saw there. (Its cinematographer was Richard Wong, editor Deirdre Slevin, with production design and costumes by Man Lim Chung; and it was produced by Wendi Murdoch and Florence Sloan.) The film augments things I have read, other films, music, theater, etc. That—knowledge where there was once ignorance or a more limited view; a sensuous picture of another way of living—is part of the great appeal of seeing films made in other countries.
Sophistication and sex. Decades ago, when one thought of foreign films, one thought of sophisticated sensibilities and sexual candor. Today, one is more likely to think of a struggle for dignity, liberty, or even survival in the impoverished lives of people living in a dark part of the world. In many ways, the geography of film curiosity and fulfillment has shifted from Europe to Africa, Asia, Latin America, and the Middle East. People whose lives were once dismissed, relegated to disinterest and disdain, have begun to be viewed with respect and sympathy, and more artistic work has been produced with them at the center. It is understood that though those darker and often poorer were not seen in those great films of bourgeois pale people, those films set in European culture centers, the dark ones were there all along, at the foundation or fringes, the people whose labor or exploitation made the comforts of privileged people possible.
Roberta Seret's book World Affairs in Foreign Films considers thirteen distinctive films: Osama, Persepolis, Water, Beijing Bicycle, and Tokyo Sonata (Asia); and Tsotsi, Hotel Rwanda, and War Dance (Africa); and Central Station (South America); and March of the Penguins (Antarctica); and Sophie Scholl and The Counterfeiters (Europe); and Pearl (North America). Containing an introduction, bibliography, and index, the book is organized into chapters, one for each film, and usually within each chapter is basic information about the film's production, curriculum subjects and themes relating to history, sociology, literature and the arts, suggested questions for film screenings (both preceding and following screening), a film plot summary with major points noted, and other information and ideas for the development of discussion.
Roberta Seret provides film instruction for diplomats at the United Nations, and is the founder-president of the organization's International Cinema Education; and her book World Affairs in Foreign Affairs is ambitious, but from the start, one senses how certain nuances can be lost because of that ambition. The reader is told, "Great films don't die, for they are not a victim of taste or time. Osama is such a film" (7). Osama is a much-praised film set in Afghanistan focused on a girl who pretends to be a boy in order to work to put food on the family table. One can read that assertion about greatness and agree—and then think twice about it, and what posterity means—and we know that understanding can increase through time and condition taste and make what was obscure suddenly loom as great. The aesthetic values and social importance evident in great work deserve more explication. Surprisingly, some of the political issues can be similarly reduced: "Gender discrimination is unfair treatment against one person or a group because of prejudice about race, religion, age, sexual orientation, or gender" (8). That is such a general and loaded statement that it is easy to agree or disagree with it. To be more precise, one could say that gender discrimination involves narrow assumptions about what it means to be male or female, and the social place, responsibilities, and value associated with each, leading to personal and political disadvantage for one gender and advantage for the other. The author does, in a subsequent paragraph (and then in another later section), go on to describe the clothing requirements, work prohibition, and subjugation to male approval and surveillance in the central Asian country of Afghanistan, north of Pakistan and east of Iran, as context for the film Osama, about a girl disguised as a boy, a disguise allowing her to work to provide sustenance for her family, a subterfuge both necessary and dangerous.
The context that is provided for the film Osama can be very useful, especially for certain people who have not been paying attention to what has been happening in the world, as in the late 1970s military training of Muslims, the Mujahideen, offended by colonizing Russian atheists, training that is later used against Christians and Jews and the Taliban, who will come to control Kabul and the country (from 1996 to 2003) –until the American invasion in 2001, when the Taliban's influence begins to diminish. The film takes place when the conservative Taliban (Sunni Muslim Pashtun fundamentalist insurgents) are in power. Afghanistan, a country once known for its industrial production of oil, fruit, and carpets, is known now for war and poverty and opium; and in the book, which can be repetitive, the subsequent politics in Afghanistan, with the establishment of a new national constitution, election of a president (Hamid Karzai), and creation of a parliament, are noted; as is the ongoing importance of Islam (submission to god) as one of the world's most active and populous religion, an importance that has been shaping the evolution of this and other nations. The fundamental drama within the society, at the core of the film Osama, is clear, but, on the page, there are not many of the sensuous or subtle aspects of discovery that the passionate film viewer loves. The film book, more about instruction than pleasure, does offer some aesthetic recommendations and observations involving symbols, tone, atmosphere, and look, and makes comparisons to other films (The Kite Runner, about two boys, and Kandahar, about a woman journalist's search for her sister); but, the book mostly cultivates the kind of consciousness that will make those discoveries more possible when seeing a film: the content of a film will be more perceptible, and the artistry, the form, with which that content is delivered will be easier to understand. It might be more pleasing to have an essay on a film such as Osama rather than these chapters divided into sections focused on topic areas, history and facts, with suggested discussions and activities: but the book offers a kind of methodology that is transferable for comprehending the substance of foreign films, such as Persepolis, Water, Beijing Bicycle, and Tokyo Sonata.
The black-and-white biographical film Persepolis (2007), directed by Marjane Satrapi and Vincent Paronnaud, with the aesthetics of a graphic novel, is centered on a girl's development from childhood through college in Iran; Deepa Mehta's Water (2005), controversial even before it was made, set along the Ganges in India during the age of Gandhi, focuses on a seven year-old widow (yes, seven), and focuses on the expectations for girls and women, and how one woman helps to liberate another; Beijing Bicycle (2002), about two young men who want the same bicycle in a twenty-first century changing China, directed by Wang Xiaoshuai, contrasts city and country values; and Kiyoshi Kurosawa's Tokyo Sonata (2008), about men, family, and the loss of work and the resulting poverty and shame in Japan, is also about how the world is changing and affecting individuals.
Three films featured in the book are set in Africa: Gavin Hood's Tsotsi (2005), about criminality in South Africa, based on an Athol Fugard novel, focuses on an orphaned, thuggish boy who comes into possession of a baby that diminishes his inclination to violence; Hotel Rwanda (2004) by Terry George, in which Don Cheadle plays the ordinary man as hero, Paul Rusesabagina during the Rwandan genocide, when Hutus attacked Tutsis; and War Dance (2007), directed by Sean Fine and Andrea Nix Fine, a film that presents a portrait of civil war in Uganda, the brutal killings of parents and the survival of children, who take care of each other and take part in a dance competition.
Tsotsi is interesting for how it directly engages and explores a stereotype: a young black boy is a thug; but the film explores how he became that, and how he changes. Born in a racist South Africa in which many blacks are impoverished, he is orphaned when his mother dies of the acquired immune deficiency syndrome; and he becomes a leader of a gang, steals a car, shoots its woman driver, and finds her baby inside—which he begins to take care of. The rare tenderness he begins to feel is transforming. Roberta Seret gives a succinct history of the South Africa in which the young man has been born—from the 1652 appearance of the Dutch East India Company in South Africa to the 1797 British colonization to the late nineteenth-century first and second Boer war and the 1919 independence, and the creation of racial apartheid laws and the struggle and success of the African National Congress. Originally, the story in the film Tsotsi was set in the 1950s, but the film puts the story in contemporary times—as the real circumstances of the lives of many black boys has not changed, though there are blacks rather than whites who lead the government and more opportunity for some people. Roberta Seret, like many writers and thinkers before her, suggests the relevance of nature vs. nurture arguments, though one wonders when we will simply accept that this (whatever it is) is human behavior in such circumstances: the desperate circumstances provide much of the motive. In terms of aesthetics, Seret briefly considers cinematographic close-ups, setting, dice as symbols, religious references, and music, in how the film Tsotsi follows the young man's journey. To further explore the film, Seret suggests students organize a talk-show style exchange focused on violence, or create their own film trailers for the movie, or, of course, write essays on the film. (She describes how other teachers used the film as a topic in letters with pen-pals in South Africa, or in e-mail exchanges with students at other American schools.)
Hotel Rwanda, in which Don Cheadle plays a sterling character, and sterling because he remained decent in extreme circumstances, and made such a strong impression as a savior of potential genocide victims, is discussed by Seret in terms of human rights, and with reference to the literature of writers such as the disasters-predicting W.B. Yeats, and Chinua Achebe, who presented educated Africans in his novels. In the film, the spirit of the lead character prevents the viewer from giving in to despair; and yet one wonders how often adherence to the facts of history has done the exact opposite thing—confined one's interpretation too much, making it difficult to see how special the individual can be, how transcendent imagination and intellect can be.
The book World Affairs in Foreign Films spans the globe with its film subjects, including Latin America and Antarctica and Europe. The principal train station in Brazil is the location for the meeting of an elder woman and a boy in Central Station (1998), directed by Walter Salles, a work that touches on the sale of human organs, which makes plain how much—and how little—value is placed on certain human lives. The March of the Penguins (2005), an animated French documentary directed by Luc Jacquet, comes in several versions, one featuring the narration of Morgan Freeman, and follows the movement of emperor penguins in Antarctica from ocean shore to an inland breeding space.
Two works –Sophie Scholl and The Counterfeiters– refer back to the Nazi era in Europe, when murder was made into an industrial routine and a national purpose: Marc Rothemund's Sophie Scholl: The Final Days (2005) is that rare German film about this terrible part of German history, but one paying attention to a professor and students who rebel against the Nazis, publishing materials of criticism until they are captured (the title character Sophie argues for individual conscience above the sanctions of law); and The Counterfeiters (2007), Ruzowitzky's Austrian (German-language) film about prisoners in a concentration camp drawn into a plan by the increasingly cash-poor Nazis to duplicate British money, and it is a film, like Sophie Scholl, based on fact, principally on Adolph Burger's autobiography The Devil's Workshop. Finally, King Hollis's Pearl (2009), an Oklahoma Chickasaw nation production, takes its name from an early twentieth-century native girl who falls in love with aviation, becoming a licensed pilot and then a Chickasaw legislator (Paul Lambert wrote a book about her, Pearl Carter Scott: Never Give Up!).
The Counterfeiters is one of the better Holocaust films, for being something of a crime thriller. A counterfeiter becomes a hero in the film –though he is first a private rogue, a criminal, until he is captured by the Nazis and put in the labor camp Mauthausen and then a concentration camp, Sachsenhausen: his artistic skills save his life, as he is used as a portrait painter and then for his money duplication skill, and his street sense often helps to protect others and frustrate the Nazis. In demonstrating how the film can be explicated, Roberta Seret reviews the history of the last century's world wars and the persecution of Jews and other genocides, focusing on nationalism and fascism; and she suggests students look at Austrian culture, and the emergence of fascism and the place of communism in Germany, as well as the use of counterfeiting during war; and she also consider ideas of collective guilt. Seret comments on aspects of the film's style—we know something of the story's end from the film's beginning; and the film uses flashback. It presents several characters as the opposites of each other in integrity and motive (one man's standards are influenced by progressive political ideology, another by bourgeois respectability, another by survival instinct); and the film's use of symbol (a ping-pong game between arguing comrades) and color (a muted color scheme). The film is a work of history but also it is a personal drama and an effective thriller: will the prisoners continue to work together and be able to delay the Nazi counterfeit project, until the Allies have a chance to defeat the Nazis? The film is exciting for its embrace of complexity; and it exemplifies the author Seret's good judgment in picking films to teach and to write about. In conclusion, the book World Affairs in Foreign Films is full of good, and even great movies and is helpful and informative, but it is not brilliant or charming: it is a worthwhile read, of particular use to teachers and students.
(Article submitted March 2012)