Master Class with Paola Sangiovanni
Ragazze, la vita trema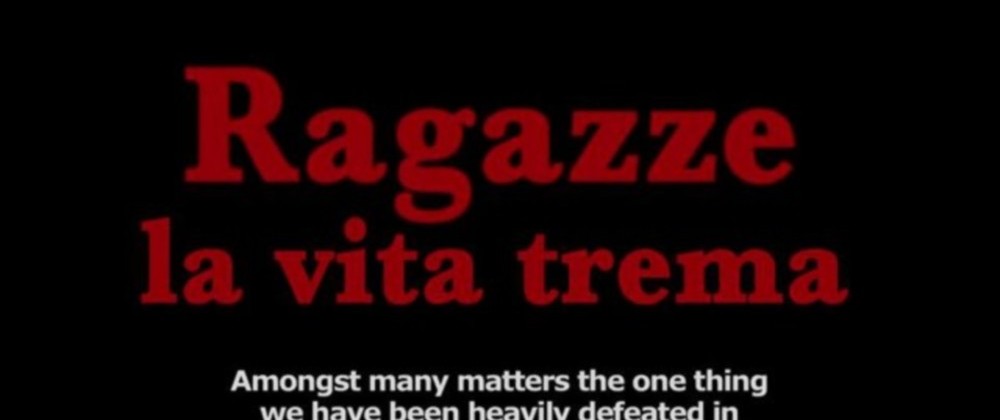 On November 19, 2010, the Mel Hoppenheim School of Cinema at Concordia University, in conjunction with the Montreal International Documentary Festival (Rencontres internationales du documentaire de Montréal – RIDM), hosted a master class with Italian documentary filmmaker Paola Sangiovanni. Sangiovanni's latest film, Ragazze la vita trema (Girls, Life is Trembling, 2009), played at the festival and was the centerpiece for the master class. The film is a personalized, first-person account of the period in Italian social history, the late 1960s, 1970s, which, in hindsight, was a key moment in the development of a genuine feminist consciousness in Italy. Promotional material describes the film in these terms:
It was a tumultuous time, especially for young women seeking to liberate themselves and improve their lives by confronting the entrenched discrimination they faced. It was the dawn of a revolution: feminist groups, student movements, referendums on divorce laws and abortion policy, and the violence of the Red Brigades converged, putting Italy on a collision course with socio-political upheaval. A postcard from an era whose impact was felt around the world.
All in all, the master class provided a very interesting night. Given that it was a pleasant Friday early evening in Montreal, the event was very well attended (about 40 people). The master class was moderated by Concordia University Film Studies professor Rosanna Maule, who performed an estimable task as interlocutor by translating between no less than four languages. In was clear by her body language that Sangiovanni understood English well, but not well enough to respond in the language, so she replied in Italian, with Rosanna translating the question first to her in Italian (when necessary), and then translating her response back into English (and at times French). Near the end Professor Maule even got to field a couple of questions in Spanish!
The event began with a brief introduction to filmmaker Paola Sangiovanni's documentary approach by Maule, and then the filmmaker herself explained her methodology by way of clips and discussion/lecture. This was followed by a digital screening of the feature film, Ragazze la vita trema, and then a long Q & A period.
Sangiovanni began by showing clips from her previous film, the short Staffette (Couriers, 2006), which dealt with women who were part of the resistance movement of World War 2 working as couriers transporting food and supplies. The first clip was the film's opening, which begins with a subjective, hand-held POV shot moving through the woods. This footage, which was shot by the filmmaker, then cuts to footage of the Nazis dropping a bomb into the woods, archival footage filmed by the Nazis during a retreat. Her method here was to establish the subjectivity of the female characters, but at the larger level she edits the archival footage as if it were new footage to detach it from what it initially represented. As she expressed, her films are a personal form of documentary where her voice (literally) and body are never present (she stated how much she dislikes documentary films where the director is present everywhere). She does her own archival research drawing from public, institutional and private archives. Her goal is to "recreate history through memory." Most of the archival footage she uses is silent and then she adds her own music. She also uses archival audio, which she attaches to footage, creating a broad range of possible historical reverberations. The second clip she showed was rare partisan shot footage of partisans running through the woods; and the final clip was Nazi execution footage.
From the many women that Sangiovanni interviewed as part of the research for Ragazze, la vita trema, she chose four as her subjects, the four she felt were the most interesting and engaged. In a sense these four women embody the collective whole of women who contributed to the raising of female consciousness in Italy in the 1960's, 1970's, four woman who can be thought of as 'warriors': Alessandra, Maria Paola, Marina and Liliana. These four women experienced first-hand the tumultuous period in Italian social and political history, the 1960s, 1970s, but from a decidedly feminist perspective, rather than an overtly political perspective (i.e. ideological). Rather than showing this footage for their strict political/terrorist meanings Sangiovanni contextualizes them within the rising femininist consciousness, which saw female social movements fighting for equality and rights (with divorce, abortion, and violence against women being the main struggles).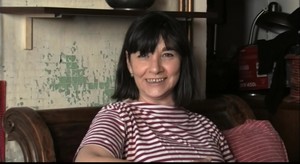 Seeing this stock footage from the 1960s-1970s in the context of a documentary is interesting because there have been many recent Italian fiction crime films that have used similar stock footage of the period, referred to as the 'Anni di Piombo' ('The Years of Lead,' 1960s to the early 1980s), to add a sense of historical truth to their fiction: Best Years of Our Youth, Cento Passi, Romanzo Criminale, Uno Bianca, etc. So it was unusual to see them ripped from one actuality context and placed into a documentary context. In these fiction films real life acts of terrorism and kidnapping against the state, from warring extreme left wing and right wing factions, provide these fictional characters with a realist grounding (with the terrorist Communist Red Brigades and the kidnapping and murder of Christian Democrat Aldo Moro (in 1978), and the bombings in Milano circa late 1960s being key figures/events). Of course these crime films, 'poliziotteschi', were one of the most popular Italian filone throughout the actual historical period. With the events making headlines news on a regular basis, there was no need for stock footage.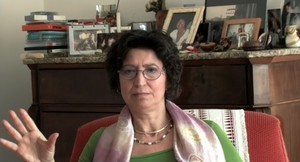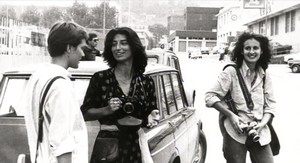 Through their first-hand account we learn how women of this generation who were pregnant out of wedlock were treated as whores, the aggressive, condescending refrain they would hear being, "You had your fun, now pay the price." This passage in the present reverberates when we see stock footage of a young woman wearing a button "Donna non Madonna" (Woman not Madonna). Another woman discusses the grassroots women-run radio station she started, and how women of all ages and classes would come to their studio to recount their frustrations and problems. One of the unifying 'missions' shared by the four women was to curb the patriarchal sense of entitlement which led to almost a cultural acceptance of violence against women, or a mindset which did not do enough to condemn it.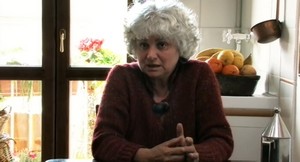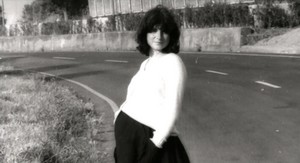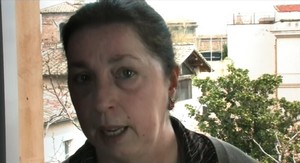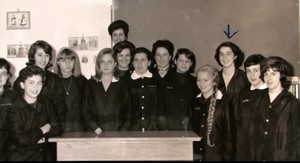 The four women interviewed are intelligent, honest and open about their feelings and the small yet vital role they played in this important historical moment in recent Italian history. Even though the four women are from the same period they appear quite different in their life paths. Alessandra comes from a dark place, having been raped at a young age, and continues to struggle against what she sees is a still patriarchal Italy. Liliana, who admits to a strained relationship with her parents that deprived her of the joys of motherhood, seems the most intellectually engaged; while Marina and Maria Paola seem the least emotionally scarred by their experiences. Two of the women express a strong pacifist philosophy, which is positioned as a gender issue, with men more ready to accept violence as an acceptable tool for political action. The final event that unites the interview subjects is the accidental police shooting of a young woman at a peaceful demonstration on May 12, 1977, Giorgiana Masi. As Alessandra explains, the death of Masi and the arrival of hard drugs into Italy in the 1980s signaled the end of that era of optimism and hope for social change. Overnight, women were afraid to join public demonstrations and drug cartels overwhelmed the legal and crime systems. Sangiovanni provides some touching moments with a montage of a public funeral commemorating the young victim, which is accompanied by a melancholic Italian pop song.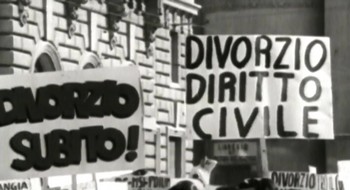 The film's overall montage establishes a wonderful dialectic between the present interviewees, who look back with warmth, bitterness, insight, and candor, at their victories and failures, and the raw energy and sense of youthful hope for change seen in the historical stock footage. The end result is an assessment of that time period that is touching for the personalized approach, and rigorous in an historical/objective sense. Sangiovanni's mixing past/present, visually and aurally (with period pop songs and a haunting original score by Giorgio Giampà), gives the film a poetic style that is often missing in the documentary mode.
Question and Answer Period
The question and answer period was lively and prolonged. Audience members from a cross section of age groups were interested in both the aesthetic and social aspects of the film. Prodded by a question from the floor regarding her the sources of stock footage, Sangiovanni revealed that indeed she also drew from preexisting documentary films, citing two films by Italian documentarist Antonello Branca, one of them about drugs, Storia di Filomena e Antonio: Gli anni '70 e la droga a Milano (1976); this is ironic given the film's consensus that it was the arrival of hard drugs into Italy that poisoned the air for social change. Violence against women is an issue that comes up throughout the film. In the Q & A director Sangiovanni expressed this problem well when she said that the way to get Italy to understand the severity of the problem is for the state to acknowledge that violence against a woman is not violence against a single person but against public morality. The archival footage toward the end became more focused on the political acts of terrorism by Terrorist groups like The Red Brigades, and the separation of individual violence vs. state violence. A woman in the audience the age of the participants in the film stood up and said that she remembered exactly where she was, standing on a bridge in Rome, the day Giorgiana Masi died. The woman asked Sangiovanni why she was interested in this subject, given that she was from a younger generation. Paola Sangiovanni replied that as someone from the first generation after the 1960s she felt an obligation to maintain a continuity between the struggles of the recent past and those of her (and the next) generation of women (and men). She expressed the opinion that young women in Italy are perhaps too removed from the era of female activism to realize the gains they have made have come with a prize. These young women think they are more free to express their sexuality, their clothes, fashion, but these trappings become a new cage. This phase of the discussion was cued in part by an audience member bringing up a name which surely makes most sensible Italians squirm, Berlusconi. The audience member wondered how someone involved in so many sex scandals and is so overtly sexist can be running a country. He asked: Have Italian feminists been silenced? Paola Sangiovanni was quick to reply that Italian women have never been silent, but their voice has been obscured or mystified. The other troubling issue is Berlusconi's media empire, which goes a long way to establishing the popular image of the quaint, attractive, docile, husband seeking woman. In a funny turn that will serve me well as a conclusion, a man in the audience jokingly thanked Sangiovanni for the depiction of men in the film (they are very peripheral), Sangiovanni told us that even though the film gives little voice to men, it is in the end, a film made for men, or at least, a film that men much watch. Indeed, food for thought.