The New Candor in Male Friendship Films: Will Reiser's screenplay 50/50, as directed by Jonathan Levine
Blurring the Lines Regarding Gender and Sexuality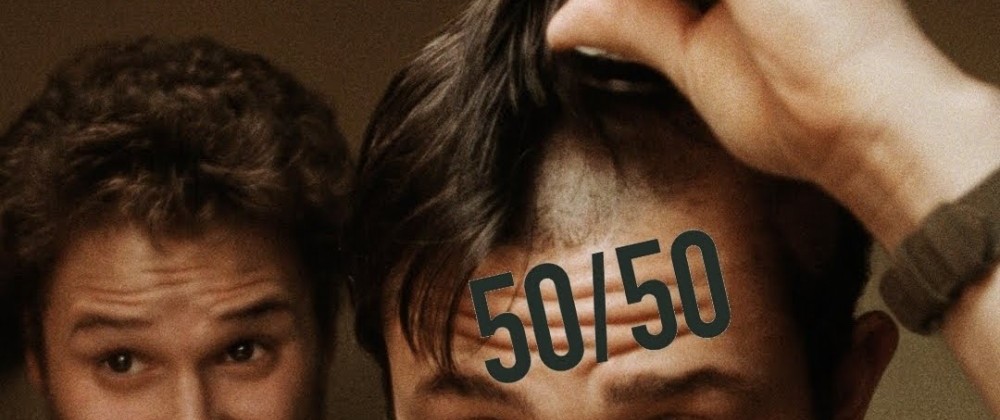 50/50
Starring Joseph Gordon-Levitt and Seth Rogen
Directed by Jonathan Levine
Summit Entertainment, 2011
I suppose my cultivation of male friendships began about twenty years too soon, as the current climate, at least in film, allows for more possibilities for honesty and speculation than most men would have imagined then. In one scene of the comedy-drama film 50/50, about how two young men handle the cancer diagnosis one of them receives, when Seth Rogen's womanizing Kyle commiserates with his ailing buddy, Joseph Gordon-Levitt's Adam, not about the disease but about the sex acts that Adam's girlfriend will not perform, Kyle says that if he were Adam's girlfriend he would perform fellatio every thirty minutes; and later, near the end of the film, when Adam is preparing for a date to arrive, Seth looks at him, and says, "I'd fuck you." Clearly, some barrier has been crossed. One thinks of this watching all sorts of movies, but especially comedies: I Love You, Man and Against the Current, The Change-Up, Couples Retreat, Forgetting Sarah Marshall, The Green Hornet, Hall Pass, Horrible Bosses, The Life Aquatic, New York City Serenade, Pretty Bird, and Role Models. Men talk about their own (and each others') feelings, thoughts, and bodies with directness, sometimes with an affected mockery or hostility, but mostly with a casual acceptance that would have been bizarre two or three decades ago. Part of the honesty probably does have to do with new comfort levels, after decades of feminist and gay liberation consciousness-raising; and some of it probably has to do with the old insecurities—requiring that one speak of the personal in order to confirm that friends are no more strange or queer than can be tolerated. The sexual closet has been opened and inventoried, with a window placed in the door or the door removed entirely from its hinges.
In I Love You, Man, the real estate agent that Paul Rudd plays proposes marriage to his girlfriend, then is made to realize that he has no significant male friends, and he goes about trying to find one. The film becomes an adventurous search for a male who can be like a brother, and involves all sorts of mistakes (one man met seems too old, another assumes that the personal interest is sexual and ends his dinner with a full-mouthed, tonguing kiss); and when the real estate agent's search, which contains the hope and frustration of (asexual) romance, culminates in meeting the honest, funky investor played by Jason Segel, they talk about women and jam on rock songs and support each other's career, achieving a bromance. A crisis occurs when the male friendship leads to the alienation of the real estate agent from his fiancée (the agent loans his new friend money; and has been encouraged by his new friend to wonder why he wants to get married now and to this person). The film I Love You, Man really does probe what men are today, and expectations of what a man and a woman are expected to be and to provide for each other; and is interesting for focusing on a man who has been so sensitive and fastidious and romantic that his primary relationships have been with women. He claims some of his wildness with another man, but together they cannot evade the realm of vulnerable feeling, of complexity, when the energy and questions raised by the friendship affect other relationships. The movie may be the most direct example of the change in male sensibility, but similar exchanges occur in movies like Hall Pass and Horrible Bosses, the first in which husbands and wives give each other permission to cheat (the husbands are more blunt about sex than the wives, but the husbands are as chatty and even as catty with each other as women have been said to be—and one realizes at different points that some men do whine). In Hall Pass, there is even a scene in which Owen Wilson's character, who is thinking of having an affair with a female coffee clerk, comes face to face with an unsheathed black male sex organ and is startled and discomforted (and mesmerized) by its nearness to him. In Horrible Bosses, one of the men is harassed by his female boss; and in another scene two of the men have a brief conversation about which of them would be more likely (more attractive) to be subjected to prison rape. In all directions, this is some new stuff for the mainstream film tradition; and what is most remarkable is how casual all this is, demonstrating how times and attitudes have shifted.
In Against the Current, it is hard not to believe that the widowed, suicidal swimmer's theatrical male friend was not conceived originally as gay; and in The Green Hornet, the near-incompetent hero's admiration for his resourceful sidekick could be described as infatuation. One friend invests in another's dream in Pretty Bird, even after the improbability of that dream is demonstrated again and again—and the investor's faith in his friend is poignant and easily suspect—or would be suspect if the affection were not so transparent and its constancy assumed by both. However, the first time I began to notice these higher, faster currents, rushing this way and that, in male friendships was several years ago, when I saw Pineapple Express, written by Seth Rogen and Evan Goldberg with Judd Apatow (Pineapple Express was directed by David Gordon Green)—and after speaking with a friend about that, he let me know that Apatow, the director of The 40 Year Old Virgin and Knocked Up, may be the master of this new wave.
What makes Jonathan Levin's film of Will Reiser's screenplay 50/50 among the more interesting of the new male buddy films is that it is, being about a serious illness, as much a drama as it is a comedy. (The film was inspired by Will Reiser's actual experience with cancer.) It is genuinely funny, very funny; but its tone—its somber film palette and its score and the depth of its acting—do inspire contemplation and respect. Even though Seth Rogen's character in it is joking, self-regarding, and obsessed with female flesh, it is impossible not to know that he really loves his sick male friend.
The movie focuses on Adam (Gordon-Levitt), who has a girlfriend, Rachael, and his friend Kyle (Rogen), both of the men working at a public radio station in Seattle. Rachael is a painter with some interest in health food and energy, and her commitment to Adam is not sure—the film begins with him complaining that they have not had sex in three weeks or so. Adam, who has been having back pains, goes to a stupidly insensitive doctor and learns that he has spinal cancer. Adam acknowledges with his girlfriend that this condition may be too much for her to handle, and he offers her the possibility of leaving—which she does not take. (She is played by Bryce Dallas Howard, a talented actress who does not yet have a settled screen look or personality. I have seen films featuring her without recognizing her, all the time admiring what she was doing.) Rachael's response seems sentimental, possibly falsely so, while Kyle's response is earthy and honesty and seems genuinely supportive. ("Do you want coffee" asks Adam. "I'm awake now," says Kyle.) There is no suggestion that Kyle will not be there for Adam, who has dinner with his parents to convey the news—and Adam's mother (Angelica Huston), who has been tending her Alzheimer's husband, suggests that she, his mother, move in to take care of Adam. Adam does not seem to lack for care, but he does gain a young therapist (Anna Kendrick), who has not mastered the healing process (she has good intentions but her talk is jargon and gestures artificial).
Kyle organizes a party to celebrate Adam's life, and all who are there try to be comforting, though their own discomfort sometimes makes that difficult. The jokiness in the relationship between Kyle and Adam can seem shallow but it is sustaining (when Kyle helps Adam cut his hair, there is a question about where Kyle's razor has been—what part of Kyle's body has it touched). Yet, when Kyle finds out about the infidelity of Adam's girlfriend, he—with zealous speed—lets Adam know, showing him a phone camera photograph of a kiss. Kyle never liked Rachael; in fact, he never liked any of Adam's girlfriends, which Kyle blames on Adam's questionable taste in women. Kyle encourages Adam to use cancer as a tool of seduction with women (which does work for Adam in at least one instance, though he finds his back cannot handle the pain of sex). Adam does meet other men, mostly older guys, who have cancer; and they share baked goods with marijuana inside—and Adam is blissed out. Adam walking in a hospital hall, near a happy mural, as "To Love Somebody" (Bee Gees) plays, is nearly surreal, but is soon followed by nighttime nausea, the onset of negative responses to chemotherapy. Illness and death are not simply inspiration for humor, but painful and threatening—and that is all here, in the death of another patient, in Adam's headaches and frustration with how other people treat him, as well as with his weakening body. Yet, Adam does begin to see his mother as an individual, not simply a nuisance, and he develops more of a useful friendship with his therapist; and, of course, he has Kyle. However, ironically, what is remarkable about the film is what is no longer unique: the intimacy between its male characters.
(Article submitted March 2012)