Montreal 2014, the Film Year in Review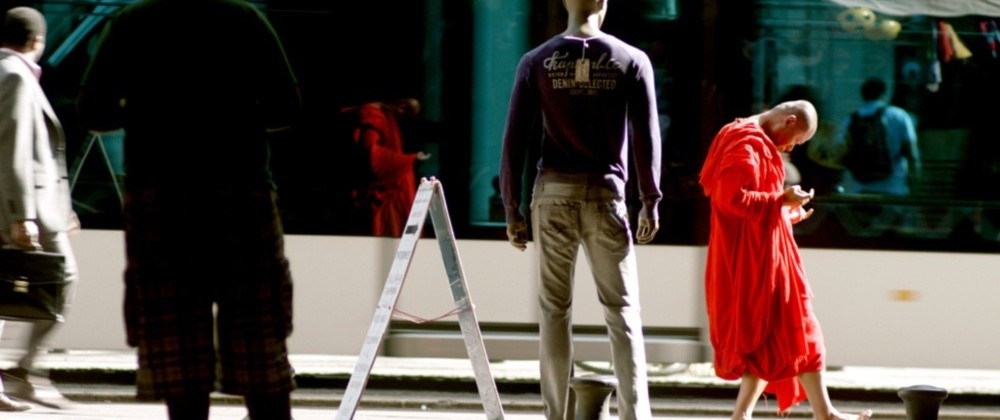 2014 was an OK year for film, and here in Montreal it was good to catch up on some late entries from the previous yeare.g., Rithy Panh's The Missing Picture, Jia Zhangke's A Touch of Sin while the International Documentary Film Festival, RIDM in November, gets better all the time, and was notable for its retrospectives to James Benning and Kazuo Hara (complete), with both men in attendance. Benning was on hand for all of his five screenings (of 10 films), and gave a well-named "master class" at Concordia University. He also gave a workshop at the Vox gallery, where he exhibited two installations, and where he was also on hand all afternoon to talk to visitors. Indeed it was a very good year for documentaries, generally, with Cambodian Panh's aforementioned puppet animation, Teller's exploration of technological-assisted painting in Tim's Vermeer (2013), Göran Olsson's clever compilation of Swedish archival material of African liberation struggles in tribute to Franz Fanon's Concerning Violence, and Laura Poitras' conventional but riveting recording of Edward Snowden revealing his identity in Hong Kong, CITIZENFOUR.
Concerning Violence
It was a very bad year for Hollywood with its franchises and sequelitis, and not much better for so-called U.S. "independents," with Whiplash being arguably the most overrated film of the year, totally misrepresenting both jazz music and jazz education, while typifying, in its Hollywood-ending what is wrong with Sundance existing as a professional calling-card festival. (I've never been there and have no interest in changing my travel plans.) Even Richard Linklater's fine Boyhood was not as original as generally thought. The British TV documentary "Up" series (every seven years from 1963 to 2012) was a clear inspiration to filming the same people over a number of years, but the late Bill Douglas' great "Trilogy" (My Childhood, My Ain Folk, My Way Home) was filmed in Scotland from 1971 to 1978, using the same actors, Stephen Archibald and Paul Kermak as Jamie and his father, respectively. Arguably, the strongest of current U.S. visual auteurs, Wes Anderson came up with the comically magical Grand Budapest Hotel and after Boyhood in August, it wasn't until December that we were able to see two other really good U.S. fiction features, Bennett Miller's conventional, but politically astute Foxcatcher, in commercial release, and Paul Thomas Anderson's visually and aurally witty Thomas Pynchon adaptation, Inherent Vice, in a press screening. Britain fared better, with the best sci-fi horror film that I've seen in a long time, Jonathan Glazer's Under the Skin, and the surprisingly charming Pride (helmed by theatre director Mathew Warchus) based on the unlikely partnership of Welsh coalminers and London-based gay and lesbian activists against Thatcherism in 1984, which is probably my favourite, conventional entertainment film of the year. Additionally, Mike Leigh's dramatically flawed Mr. Turner impressively reflects the great painter's sun worship through Dick Pope's widescreen cinematography.
It was good to see the IMAX film projector used again (perhaps for the last time here) for Christopher Nolan's visually disappointing Interstellar, while it was disconcerting to see the aspect ratio change so often from 70mm to anamorphic 35mm, often within the same scene. Poland was well served in Montreal this year with Pawel Pawlikowski's award-winning Ida (2013), and the Martin Scorsese-sponsored retrospective at the Cinémathèque Québécoise: Jerzy Kawalerowicz's Night Train (1959) was a revelation. FanTasia has now become more than just a genre festival, and this year, they showed two impressive U.S. first features directed by women, Sarah Adina Smith's The Midnight Swim, and Josephine Decker's Butter on the Latch (2013), and a strange, fascinating British documentary on slime mold, The Creeping Garden, directed by Tim Grabham and Jasper Sharp.
There are still discoveries to be made at the much-maligned World Film Festival (WFF), and this year was notable for almost all of its regular funding being pulled by SODEC (Societé de developpment des enteprises culturelle), Telefilm Canada and the City of Montreal. After sending an incendiary response letter to SODEC, the Quebec cultural funding agency, WFF Vice-president Danièle Cauchard, indicated that she would resign her post after this year's event. We all wonder how founder/director Serge Losique will be able to continue, especially considering that he has re-mortgaged the key venue, the Cinéma Impérial, and the festival's long standing communications director, Henry Welsh also resigned after Cauchard's letter. In any event, the People's Republic of China continues to support the WFF, and this year there were three films of real interest from that country: Ning Hao's ultra-violent, but hilarious pastiche of spaghetti westerns, No Man's Land, Diao Yinan's Berlin Golden Bear (top prize) winning crime film noir, Black Coal, Thin Ice and the first film directed by entrepreneur, Zhang Wei, Factory Boss, that won the Best Actor prize for veteran thespian, Yao Anlian. Factory Boss is arguably the first Chinese feature film to support outright capitalism, and is, perhaps a new kind of state propaganda. Regardless, Zhang was a welcome guest at this year's festival, especially because he personally funded a wonderful little celebratory party.
One surprising feature of the WFF over the last three or four years has been that numerous films directed by women have been programmed. I say "surprising" because neither Ms Cauchard nor Mr Losique have ever shown themselves to be "feminists." I suspect that, since women continue to be marginalized in the still-macho/patriarchal worlds of film, that major international film festivals, especially Cannes, are reluctant to programme feature films directed by women. Of the 159 new feature-length films showing this year at the WFF, I counted 30 directed or co-directed by women: just under 19%. Eight of these were directed by South American or Spanish women, most notably the public prize winner, Rastres de sàndal (Traces of Sandalwood) a Spain/India co-production, directed by Maria Ripoll. Arguably, the best film I saw at the WFF in 2014, and almost certainly the best in competition, Soko nomi nite hikari kagayaku (The Light Shines Only There, Japan) was the only one in the "World Competition" directed by a woman, the Korean-Japanese Mipo O(h). It won her the Best Director prize, and was subsequently submitted by the Japanese authorities as their nomination for the Best Foreign-Language Film Oscar. (It didn't make the short list of nine films.) Another really interesting example of a film directed by an East Asian woman is Kuo Chen-Ti 's The Boar King (Taiwan), made following Typhoon Morakot that hit the south of the island in 2009. Starring Lu Yi-Ching, one of Tsai Ming-Liang's regular actresses, and clearly made in a documentary styleMs Kuo is an award winning documentary filmmaker _The Boar King_ is very different stylistically from the independent, long take/long shot films of the Taiwanese "new wave," although clear thematic connections can be made with the 1980s movement.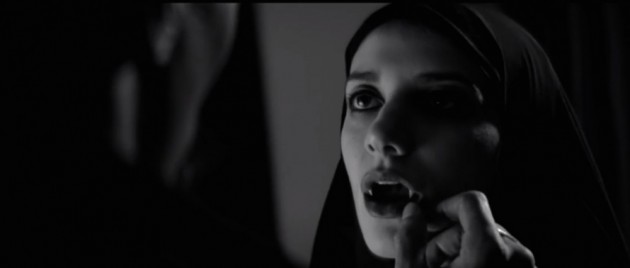 A Girl Walks Home Alone at Night
October's Festival du Nouveau Cinéma (FNC) continues to experience many technical glitcheson five occasions the film(s) I went to see couldn't be shown, and on another (for the impressive first feature directed by Iranian-American, Ana Lily Amirpour, A Girl Walks Home Alone at Night), they couldn't find the sub-titles —but a lot of fine work does get shown, including retrospectives this year to Pedro Costa, and very early stereoscopic, i.e., 3-D films from Canada's National Film Board (195152), along with a digital restoration of King Hu's Dragon Gate Inn (1968, finally sporting coherent English sub-titles, thanks to Teresa Huang). I saw one of my three 2014 "films for the ages," Tsai's Journey to the West at FNC, and another that showed there, Godard's first (and presumably last) 3-D featurethat demonstrates how the format can be made even less "real" than 2-D through framing and camera angleI caught later in its limited release at Montreal's Cinéma du Parc. It is great that FNC show so many short films, but their programming of them tends to be very uneven. This year, though, there was a terrific programme in the FNC Lab competition, entitled "Impressions," in which all nine works were worth seeing, especially two of the prize winners, American Andrew Kim's comic and reflexive, 16mm film, Will O' the Wisp (2013), and Quebecois Alexandre Larose's extraordinary silent 35mm film, Brouillard – Passage #15, one of a number of works made over the last five years, where the filmmaker retraces his steps from his family's country home to a nearby lake numerous times, with the same length of film strip rewound and exposed again (hence "passages"), revealing a magical series of images. I assume that the title of the Lab programme was inspired by Larose's "impressionist" work.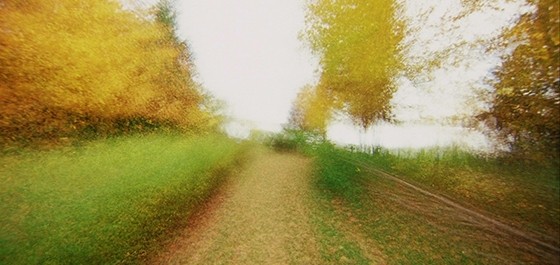 Brouillard Passage#15
With fewer screens available for non-English language releases than ever, it is commendable that a number of the 22 Forum cinemas, now belonging to Odeon/Cineplex are devoted to Asian films. At the end of the year, Asian works were showing on at least three and sometimes four screens, there. We have become familiar with Bollywood products showing at the Forum, but now, there is sometimes a popular Philippine movie, in Tagalog with English sub-titles on view, and as of this writing there are two Chinese films showing. This last development comes from China Lion distributing mainland films in North America, and we are fortunate that EyeSteel Films have assumed the Quebec rights to China Lion titles. I was actually turned away from a sold out screening of the most popular Chinese title of 2014, Ning Hao's Breakup Buddies —Chinese university students in the Montreal area must be well-connected on Facebook, because there are no local reviews, or even descriptions in Montreal print media of these films— and I'm happy to report that Hollywood doesn't have a monopoly on bad, big budget moviemaking. On the other hand, because of China Lion's initiative, we were lucky to get a local release of Ann Hui's impressive three hour long historical epic, Huang jin shi dai (The Golden Era) on the life of female essayist/writer Xiao Hong.

Under the Skin
Three films for the ages:
Xi you (Journey to the West, 2014), Tsai Ming-liang
Trudno byt bogom (Hard to Be a God, 2013), Aleksei German (seen at the Phi Centre in Old Montreal)
Adieu au langage (Goodbye to Language, 3-D, 2014), Jean-Luc Godard
A short list of nine others, in the order in which I saw them, and where:
Tian zhu ding (A Touch of Sin, 2013), Jia Zhangke (in release: ExCentris and du Parc)
Under the Skin (2013), Jonathan Glazer (in release, Cineplex/Odeon)
28 (2014), Prasanna Jayakody (at the World Film Festival, WFF)
Soko nomi nite hikari kagayaku (The Light Shines Only There, 2014), Mipo Oh (WFF)
Cavalo Dinheiro (Horse Money, 2014), Pedro Costa (FNC)
Jauja (2014), Lisandro Alonso (FNC)
Brouillard – Passage#15 (2013), Alexandre Larose (FNC) Best short and Best Canadian film of the year
Small Roads (2011), James Benning (RIDM)
Gokushiteki erosu: renka 1974 (Extreme Private Eros: Love Song 1974, 1974), Katsuo Hara (RIDM)