Michael Snow: A Brief Introduction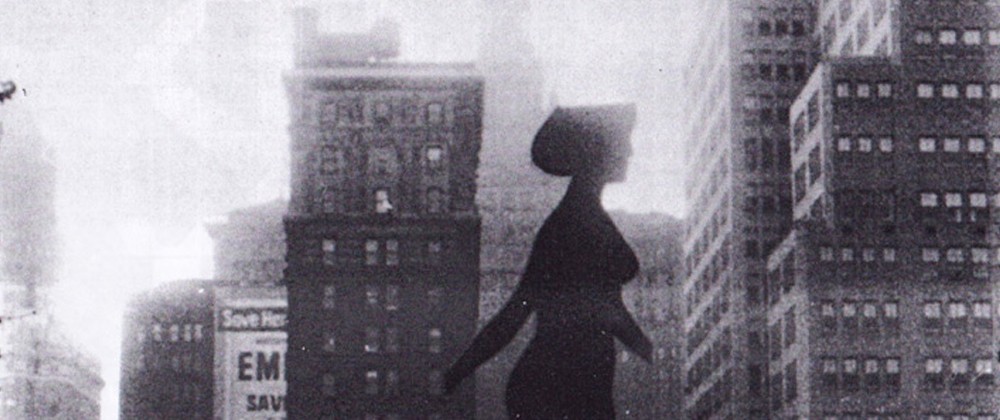 The top of Michael Snow's curriculum vitae reads, born: Toronto, Ontario, 10 December, 1929. Occupation: filmmaker, musician, visual artist, composer, writer, sculptor. As Canada's best-known living artist, Snow is also one of the world's two most highly acclaimed experimental filmmakers (the other being Stan Brakhage, US). Although Michael Snow practiced as a visual artist in Toronto in the 1950s, Canadian art critics as a whole only began to champion his work after he moved to New York City with his wife, Joyce Wieland, in 1962. In the 1960s, he developed a reputation for being an important innovator in the fields of Pop and Minimalist art, with his "Walking Women" series, and with his film work. Retrospectively, his second film, New York Eye and Ear Control (1964), is now viewed as being a key to the important contrapuntal complexities of Snow's oeuvre. In it, the improvised, spontaneous, "expressionist" and "emotional" music of avant-garde jazz musicians Albert Ayler, Don Cherry, John Tchicai, Roswell Rudd, Gary Peacock and Sonny Murray "coexists" with the "classical," measured, "composed," and "intellectual" filmed images (in Snow's own words).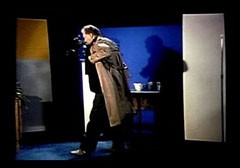 Michael Snow, See You Later, 1990. Courtesy of the Daniel Langlois foundation. © Michael Snow.
Nineteen sixty-seven saw the appearance of Snow's first real "structural" film, Standard Time, in which the main subject appears to be the camera's "panning" movements, and, perhaps the most discussed and admired experimental film ever made, the "45 minute zoom," Wavelength. Prominent art and film historians/scholars P. Adams Sitney and Annette Michelson make claims for its cinematic processes being analogous to "philosophical thought" and "consciousness" itself, respectively. At the very least, Wavelength extends the artist's exploration of temporality linked inexorably with space. He continued in this "movement" mode with (Back and Forth) and his epic "metaphor on vision," La Région Centrale, but earlier, in 1969's One Second in Montreal, he combined a concern for duration with a cross-media exploration of the boundary conditions of film and photography. Snow made a comic parody of Wavelength in the early 1970s with the Dada-esque Breakfast (Table Top Dolly), where the camera itself, tracking forward, destroys the contents of an overstuffed breakfast table. He continued in the comic vein with So Is This, a semiological deconstruction of the English language, which amazingly manages to entertain its audiences with no sound, and only words on the screen.
The term "Renaissance man" is greatly overused, but is an apt moniker for Michael Snow who is an accomplished writer, with significant things to say about visual art and film, and an important figure on the avant-garde, improvisational music scene. He also has a great sense of community, being a principal supporter over the years of Toronto's non-profit cultural institutions including the Music Gallery and the Funnel Film Cooperative, and especially the Canadian Filmmakers Distribution Centre, which he has kept operational almost single handedly by depositing all his films in their care. In 1994 the Power Plant and the Art Gallery of Ontario collaborated on "The Michael Snow Project," an extensive retrospective of the artist's work from 1951–1993, through four separate exhibitions, and which also included the publication of four books. The recent retrospective of Snow's multifaceted work in Montreal at the 2002 Festival International Nouveau Cinéma Nouveau Médias (October 10-20) is evidence of his continued creativity (with a new feature length film, Corpus Callosum, a live concert, the launch of his DVD-Rom, Digital Snow) and importance in the field(s) of avant-garde art.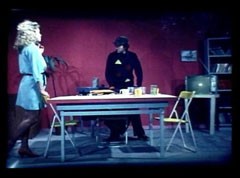 Michael Snow, Presents, 1980. Courtesy of the Daniel Langlois foundation. © Michael Snow.
Films (sound, 16mm shorts, except where noted): A to Z (silent), 1956; New York Eye an Ear Control, 1964; Short Shave (silent), 1965; Standard Time; Wavelength, 1967; (Back and Forth), 1968–69; One Second in Montreal (silent); Dripping Water (co-dir., Joyce Wieland), 1969; Slide Seat Paintings Slides Sound Film, 1970; La Région Centrale (feature), 1971; Rameau's Nephew by Diderot (Thanx to Dennis Young) by Wilma Schoen (feature), 1974; Breakfast (Table Top Dolly), 1972–76; Presents (feature), 1980–81; So Is This (silent), 1982; Funnel Piano (super 8), 1984; Seated Figures, 1988; See You Later (Au Revoir), 1990; To Lavoiseur, Who Died in the Reign of Terror, 1991, The Living Room 2000, Prelude 2000, Corpus Callosum 2002
Selected Bibliography:
P. Adams Sitney. "Michael Snow's Cinema," in Michael Snow /A Survey: 79–84. Toronto: Art Gallery of Ontario in collaboration with the Isaacs Gallery, 1970.
Annette Michelson. "Toward Snow: Part 1." Artforum, Vol. 9, no. 19 (June 1971): 30–37.
Michael Snow, ed. 1948–1993: Music/Sound, The Michael Snow Project. Toronto: Art Gallery of Ontario, The Power Plant, Alfred A. Knopf Canada, 1993.
Jim Sheddon, ed. Presence and Absence: The Films of Michael Snow 1956–1991, The Michael Snow Project. Toronto: Art Gallery of Ontario, Alfred A. Knopf Canada, 1995.
An abridged version of this text appeared in Guide to the Cinema(s) of Canada, Peter Harry Rist, ed. (Westport Connecticut: Greenwood Press, 2001): 212-213.