Tolstoy, His Wife, Disciples, and the Ownership of Art in The Last Station by Michael Hoffman
Spirit and Form Require Each Other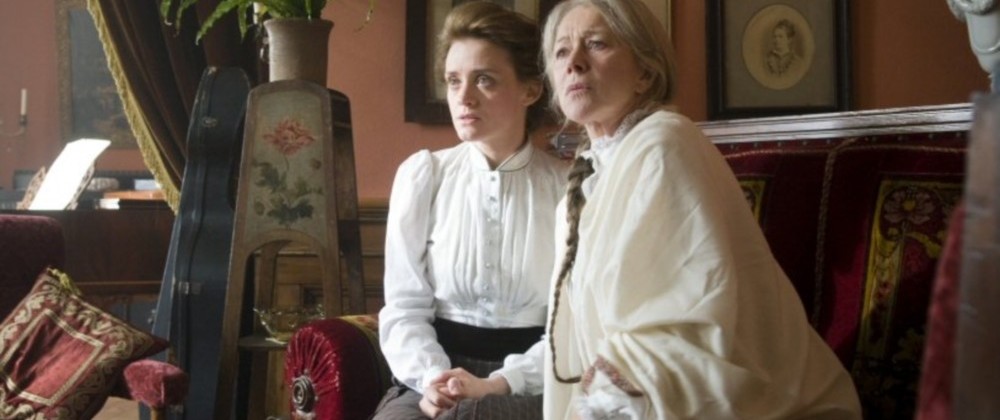 The film The Last Station, written and directed by Michael Hoffman and based on Jay Parini's novel, is focused on the author of War and Peace and Anna Karenina, Count Leo Tolstoy, in the last years of his life, when he was more concerned with spirituality than writing, and was being pressed by his wife on one side and professional associates on the other to decide who would control his work following his death. Tolstoy had become a figured revered for his goodness and wisdom as much as his art, and was loved nearly to the point of worship; and those in his life want his attention, respect, and love, and battle with each other to get his love—and the great prize is the posthumous control of his work. In Michael Hoffman's film The Last Station (2009), Christopher Plummer plays Tolstoy, Helen Mirren plays his wife the Countess Sofya, Paul Giamatti plays his principal disciple Chertkov, James McAvoy plays Tolstoy's new secretary Bulgakov, and Kerry Condon plays the free-spirited young woman Masha, whom Bulgakov meets and loves. The film presents the tensions among family, friends, and lovers, and shows the difference between the reputation of an icon and his reality, and suggests that art belongs to the people in ways that have nothing to do with the possession of copyrights: it is imagination and passion, not law, that grant possession of art.
One of the things an artist does is to take the fragments of human experience and thought and to weave them together to form an intelligible, sensible whole; and the work of the artist seems to present reality but what it does is to give us an interpretation of reality. If many doors are closed to you, and your expression and movement are limited in the rooms you can enter, you begin to look for the people and things that recognize you, that allow you to be and feel alive and whole—and for some people that necessary recognition is found mainly in art. Art is less a mirror than a creation; and the understanding art gives us is understanding we need, understanding we want in our daily lives.
Count Lev Nikolaevich Tolstoi (1828-1910), known in America and much of the western world as Leo Tolstoy, was educated at home and university and became a soldier who wrote novels about childhood and war, and as he gained experience through travel he became increasingly repelled by the wrongs in society. His vision was epic, but he was able to create convincing portraits of individuals, of their ambition, desires, and suffering, and in the second half of the nineteenth-century his great novels War and Peace and Anna Karenina won and sustained his reputation. He published a personal confession that gave his readers an intimate view of him, and encouraged rather than diminished their personal regard. He became known also for the long fiction story "The Death of Ivan Ilyich" and for the novel The Kreutzer Sonata. He is, of course, known as one of the great Russian writers, with Chekhov, Dostoevsky, and Turgenev, one of the men who presented Russian life, revealed the Russian mind and soul, and helped to create world literature.
The film The Last Station, about Leo Tolstoy, is a comedy of conflict and a tragedy of love, and it has two scenes of beginning: In one, Tolstoy's wife Sofya awakens in their country estate, at Yasnaya Polyana, and walks beyond family portraits and a servant sleeping in a chair, and goes down to the cot where Tolstoy has been sleeping and lies next to him, putting his arm around her, and his arm slips away; and in the other, Tolstoy's friend and associate Chertkov in Moscow interviews the admiring, intelligent, but naive Bulgakov for a job as Tolstoy's new secretary, from whom Chertkov expects to get reports on Tolstoy and the machinations of his wife Sofya. Chertkov defines the spiritual movement he and Tolstoy has created as having a political goal, the liberation of the Russian peasant (through passive assistance rather than violent revolution), and Chertkov wants to control Tolstoy's work on behalf of Tolstoy's spiritual movement; and Tolstoy's wife wants to possess the work as an inheritance for Tolstoy's family. Chertkov considers Sofya antagonistic, dangerous, and Sofya considers him calculating, seductive, evil. Bulgakov is the innocent, and he comes to see the appeal, limits, and value of both sides; but, before then, he applies for and gets the job as secretary and takes a carriage to the Tolstoy estate, where the famed Tolstoy and his family are surrounded by diarists and filmmakers. Bulgakov meets Tolstoy in his library, which is full of old, used equipment—a typewriter, a recording device, baskets, files, books, and other things. In his first meeting with Tolstoy, Bulgakov is moved to tears, after being told by Tolstoy that he needs Bulgakov's help with Tolstoy's manifesto against a Russian government that creates new errors faster than Tolstoy can catalog them, when the master takes a personal interest in Bulgakov's essays. Bulgakov had found recognition of his experience in the master's work but did not expect it in the master's eyes.
James McAvoy is a bit of a boy-man, and he manages to balance the innocent and intelligent, the honest and the sweet, the dignified and the sensual; and his Bulgakov is in the early days of his career, and, like many, he can go in different directions. He can be led astray, though how far astray depends on his basic character—which seems good. He is idealistic, and wants to fit in with the spiritual community that Tolstoy and Chertkov are creating; but that can mean that he has trouble recognizing or respecting someone or something that seems to violate the rules of that community—and Masha, who has befriended him, is someone whose spirit leads her beyond the rules. Masha has a blunt, bold approach that is nearly masculine (she chops wood better than Bulgakov does, and though she likes Bulgakov she thinks him a prig and says so). When Masha and Bulgakov make love, violating the commune's expectation of chastity, Bulgakov is ashamed, an attitude that is the opposite of the freedom and the love Masha came to the commune to find. It is a reminder that ideals are interpreted differently. Masha reminds Bulgakov that love and sex between men and women is an eternal fact.
Meanwhile the relationship of Tolstoy and his wife—once that of lovers and collaborators—has gone beyond both love and sex. Together, Tolstoy and his wife are the heads of a family and a business; and they are combatants, their battles notorious. It is frightening to see how much of the worst of one's character can go into defending things one considers the best. She belittles him, seduces him, screams at him, and he deceives her, lying about what is most important to her. Christopher Plummer's Tolstoy has achieved the simplicity of old age; and he can admit his own appreciated lusts and accept how little time he has left. He wants to be true to what he thinks he has learned, even if that means taking his literary wealth out of the hands of his family. Helen Mirren as his wife Sofya refuses to accept what seems the whim of an old, deluded man, and she—charming, maddened, ruthless—fights for herself and her family. The countess goes into arias of rage and sorrow. ("You don't need a husband, you need a Greek chorus," Tolstoy says at one point.) Sofya's daughter Sasha (Anne-Marie Duff) has left her side, and supports her husband, but her son is loyal, though seems to lack influence. Sofya hardly can stand the sight of Chertkov; and it's nearly ironic that Paul Giamatti as Chertkov has not been more attractive on screen than he is here—and Sofya taunts Tolstoy with accusations of a crush on Chertkov, whom she calls a pervert.
Much of the film The Last Station is about human relationships—people seeing, talking to, and touching each other. Those relationships are set in beautiful country, in beautiful rooms; and it is a beauty delicate and earthy, intimate and rich. The film is nicely paced and toned, and never feels too fast or too slow, too quiet or too noisy, too comic or too tragic. One thinks of Shakespeare and Chekhov, although the film is not a blatant imitation of either. A scene can begin with a kiss, and the kiss followed by a laugh, a talk, a shout, and someone leaving the room in search of peace. An argument about property can be marked by held-back tears and lead to a conversation about young love. It is a small film of marvels. With writer-director Michael Hoffman, the cast is supported—and crew led—by production designer Patrizia von Brandenstein; cinematographer Sebastian Edschmid; editor Patricia Rommel; and composer Sergey Yevtushenko. The film is alive and vivid; and contains several significant acts—the hiring of Bulgakov, the erotic consummation of Bulgakov and Masha, the secret signing of a new will by Tolstoy at a desk in a birch forest, Tolstoy's leaving his wife and estate for his own serenity and kissing the ground before he goes, Sofya's attempted suicide, and Tolstoy's taking to a bed in illness.
Chertkov wants Tolstoy's work to become part of the public domain, accessible to everyone, a dissemination of writing in support of a spiritual movement, similar to holy scriptures. It is hard to imagine how such work—for instance the novels War and Peace and Anna Karenina, containing stories very much about established society—can be used for spiritual instruction. I mean, I do recall that the novelist Saul Bellow said that we could not predict from where the new scriptures would come; and I do know that many of the stories considered holy are narratives of conflict and evolution, and not simply statements of wisdom. However part of what makes novels so potent is their indulgences, their profanity—that good novels contain life lessons is true enough, but a good novel, like a good film, can be enjoyed whether or not a reader wants to pay attention to those lessons. Experience is the appeal, the reward.
Chertkov and the other disciples have abstracted lessons from Tolstoy—with an adherence to chastity, vegetarianism, and simple living in imitation of the peasants—and they try to live by those lessons alone, rejecting much of life on behalf of those lessons. Tolstoy had studied Christian gospels, but aspects of his philosophy seem very eastern, reminiscent of Indian thinking, such as Buddhism. Chertkov is upset when Tolstoy is seen to crush a mosquito, a "living thing." It is hard to believe that many people would follow that rigor, but such are the dreams of artists and activists. It is arguable that the most significant lesson to be learned is how to accept life with all its complexity and contradiction, and people in all their greed and misery and rage, and still want to do good, and still be able to wake up in the morning and try to do good.
One of Tolstoy's friends, the doctor (John Sessions), says he thinks that Leo Tolstoy is a divinely inspired prophet; and to that, Tolstoy's wife Sofya says, "No wonder I feel lonely—I'm surrounded by morons." The Tolstoy commune that we see—one of many of that time—is described as a place of freedom by one of its members, the sanctimonious Sergeyenko (Patrick Kennedy), who has the melancholy of a sensual man who is repressing his sensuality, but the commune is not quite free. It is a place of spiritual discipline, a mostly self-chosen discipline that takes place away from the common run of society. In the larger world the peasants are forced toward simplicity; and in the commune the bourgeois adherents to the spiritual movement have chosen that simplicity, and they garden and carry water and practice meditative exercises. Of course, the countess says that the peasants are in the state they are in because they have no willpower, and they drink, and are inclined—as Tolstoy was in his youth—to go whoring; and she notes that Tolstoy and his friends think—falsely—that the poverty of the peasants makes them morally superior. The amusing thing is that Tolstoy himself admits that he is not a good Tolstoyan. Leo Tolstoy has been a giant among men, but still he has been a man; and when he is in his sickbed, his friend and associate Chertkov is surprised by how small Tolstoy looks.